What type of speed pump should you purchase? Well, if we were to recommend, we'd say that you should get the variable speed pool pump. Compared to the single and dual pool pump, the variable speed pool pump allows you to control power. This also allows you to save on energy costs.
To know the best variable speed pool pumps to buy, we've created a buying guide to make choosing easier.
What Is a Variable Speed Pool Pump?
Before anything else, let's discuss more about variable pool pumps and their characteristics.
So, what exactly is a variable speed pool pump?
As briefly mentioned above, there are three types of pumps which are the single, dual, and variable speed types.
A single speed pool pump works at only one speed while a dual pump allows you to choose either a fixed low or a fixed high speed.
The variable speed pump, on the other hand, lets you set the speed at the exact level that you want. You can customize the speed and power of your pump, giving you more control over the efficiency of the pump and the overall energy costs your pump will incur.
That's why more and more pool owners consider the variable speed pool pump as the best pool pump type out of the three choices.
What Benefits Can You Get from Variable Speed Pool Pump?
What exactly makes these pumps the best?
Well, it's really the benefits that the variable speed pool pump offers that make it the best type. Let's delve deeper into the benefits of the variable speed pool pump so that you'll know what they can offer:
They Save Energy
The first and most obvious benefit of a variable speed pool pump is that it can save energy. That's because you can control the power at any rate you want. If you want to save energy, all you have to do is lower the speed and your energy consumption automatically goes down.
They Are Easier to Control
Since you can control the speed of your pump, you have the chance to choose how efficient you want it to work. Also, you can control how fast you want the pump to move which determines how fast the filtering process will be.
They Are Quiet
Somehow, the variable speed pumps are quieter than the single and dual speed pumps. This is most likely because the ability to control the speed allows you to choose how noisy you want the pump to be. With single and dual speed pumps, you only have fixed speeds which may make the pump run with consistently noisy operations.
They May Get You Energy Rebates
There are actually some companies that give rebates if you have low energy costs. In the event that your variable speed pump was able to save you some money on energy costs, you can further save by getting some cashback from the energy companies. 
Features to Look for When Buying Variable Speed Pool Pumps
Now that you know what a variable speed pump is and what benefits it offers, we can move on to the actual buying guide. Our buying guide is made out of two main parts– the buying criteria and the variable speed pool pump reviews.
Before we go to the reviews, we'd like to start with the buying criteria. The buying criteria is made out of factors that you need to take note of when buying the best product. It will also help you determine the most suitable variable speed pump brand and model for your own needs and preferences.
Take a look at the factors that we've presented below:
Mounting Options
First, let's talk about mounting options. For this set of criteria, you have two choices– the top mount and the side mount. The option you choose depends on two things– your pool setup and your preference.
If you can choose any of the two, we'd probably recommend the side mount, especially if you move things around quite often.
Power
The next thing you need to take into consideration is power, which is usually measured in horsepower or HP. Do take note though, that higher doesn't always mean better. Most pumps come in 1.5 hp, which is pretty much enough for good filtering.
But if you have a bigger sized pool, may be a pump with power higher than 2 hp is better. Base the horsepower on the needs of your pool.
Size of the Pipe
Another thing that you need to consider is the size of the pipe. You need to get a pipe that has a size that can take the power of your pump. If you have a pump with a horsepower that's higher than 1 or 1.5, you'll need a pipe size of up to 2.5 or 3 inches. For a pump with higher horsepower, you'll need a pipe with a size bigger than 3 inches.
Voltage
The voltage is important to take note of because it determines how much power the pump consumes. The higher the voltage, the more powerful the pump but the more energy it consumes. Pumps are usually either 115 volts or 230 volts. It's up to you to choose which one suits your needs best.
Speed Settings
Speed settings are what separate the variable speed pumps from the other types of pumps. The more speed settings available, the better the pump. Usually, variable speed pumps can have 5 to up to 7 speed settings. The more speed settings present, the more precise you can make your pump speed.
Interface
The last thing you need to consider is the interface of your pump. The interface is the aspect that makes changing the settings more convenient. For instance, there are some that come with LCD monitors that display the speed settings and the like.
Others come with a control pad complete with all the buttons needed for total control. The choice you make will really depend on which makes it easiest for you to use.
The Best Variable Speed Pool Pump (7 Great Reviews)
1.  Pentair 342001 SuperFlo VS
One of the best things about this pump is that it's extremely easy to use. It has a very intuitive interface that allows you to operate and change settings easily. Aside from just overall ease of use, you'll also notice that the pump has a 24-hour memory retention feature. This handy little feature allows you to keep the last configuration you made for 24 hours!
If you're too lazy to put back the same settings you had or forgot the last configuration you made, this feature can be extremely useful.
24-hour memory retention feature
5 hp pump
Easy to use interface and settings
Three speed modes to choose from
Beautiful clean, white color
Circuit breaker easily trips when you change settings to a lower RPM
How to Program a Pentair Superflo-VS (342001) Pump
2.  Pentair 011018 IntelliFlo Variable Speed Pump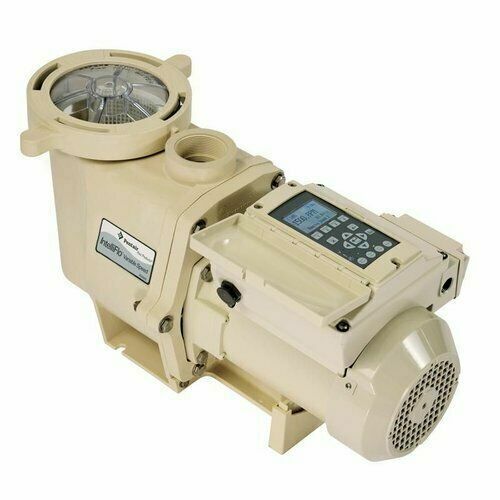 This is probably one of the strongest variable speed pumps that you'll be able to find in the market. To be more specific, this speed pump has a horsepower of 3 hp, which is double the average hp found in most pool pumps.
Other than hp, it also comes with 8 speed settings and a built-in timer allowing you to fully control the speed and operations of the pump. Lastly, this product is built to live long. It comes with diagnostics that protect the pump and ensures it a long shelf life.
90% energy savings compared to regular pumps
Very quiet operations
8 speed settings to choose from
3 horsepower
Pump is built with diagnostics allowing it to have a long shelf life
Built in timer for limiting running time
Programming and Features of the Pentair Intelliflo VSF Pump
3.  Hayward SP2303VSP MaxFlo Pool Pump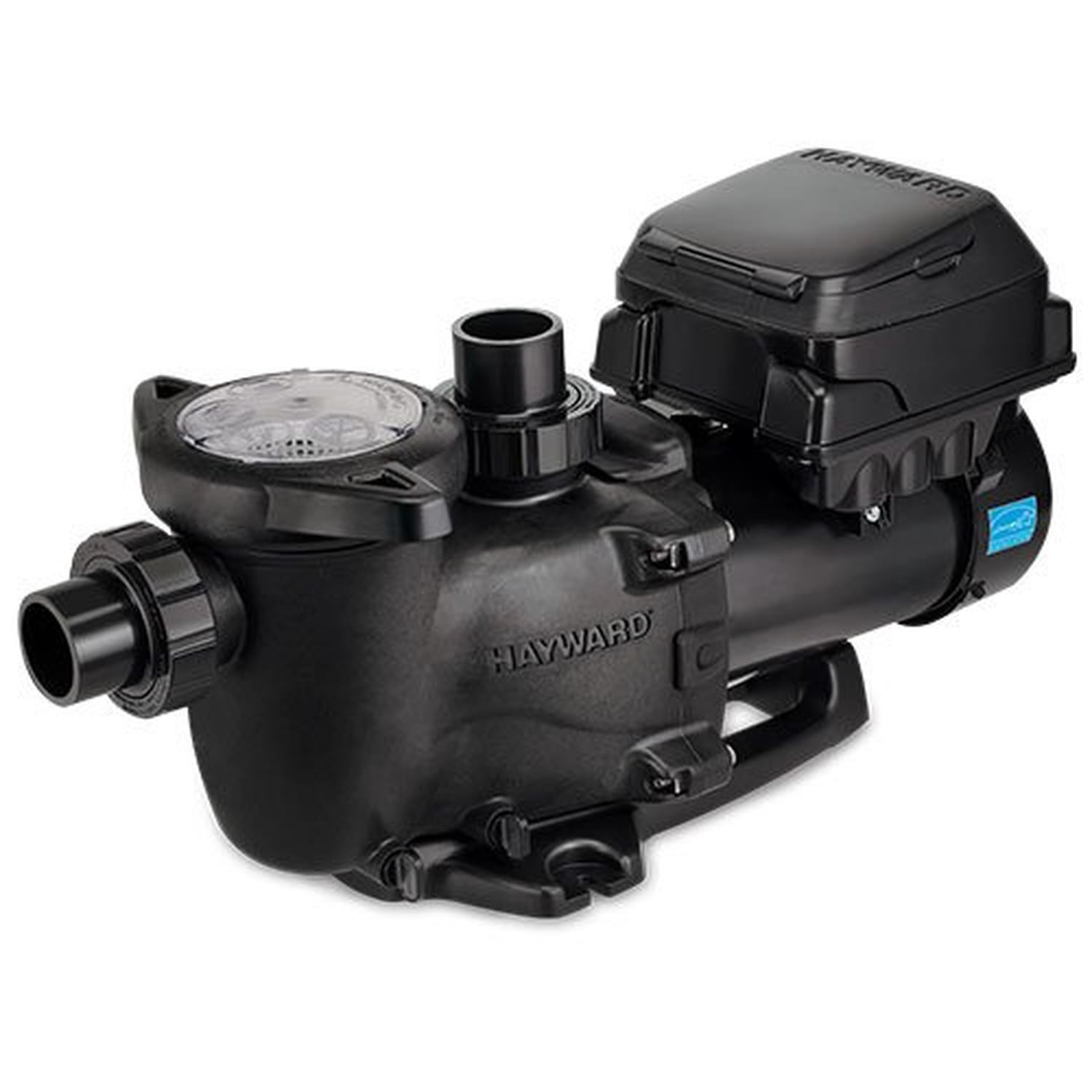 This pool pump is pretty unique in a sense that it comes with permanent magnet, totally enclosed fan cooled motor. This type of technology allows the motor to work at its optimal level, making it one of the most reliable pool pumps on this list. This is a great pool pump for those who need to filter their pools often since the motor can run with incredible efficiency.
Extremely efficient permanent magnet, TFEC motor
Comes in both 115 volts and 230 volts
Speed technology included
Sleek black color
Compact built
Is not very durable
Not known for long shelf life
4.  Hayward SP3400VSP Ecostar Variable Pool Pump
Just like the previously discussed Hayward pump, this one also comes with a permanent magnet, TEFC motor making it equally as efficient and reliable. However, the Ecostar is also known for its ease of configuration due to its fully programmable touch pad.
The touch pad allows you to easily control the settings of your pump. It can even be rotated to different positions to make controlling easier. The touchpad can even be mounted on the wall so that you don't have to go to the pump every time you want to make changes in configuration.
Energy Star certification can grant your local utility rebates
Easy to use touch pad control
Permanent magnet TEFC motor
Touch pad can be wall mounted
Compatible with OmniLogic and other automation systems
Stalls from time to time
Repairs can be expensive
Hayward EcoStar Variable-Speed Pump Installation
5.  Hayward W3SP3206VSP TriStar VS Pump

The third Hayward variable speed pump on this list is known for two things– its horsepower and its voltage capabilities.
First of all, it has a pretty high-power rating being a very robust machine. To be more specific, it has the horsepower of 2.7 hp which is higher than most pool pumps that you'd encounter. If you happen to need a pump with a strong horsepower, this one is a good candidate.
Aside from that, its voltage capabilities allow it to be used in both newer and older pool pads. With this handy pump, you don't need to replace your pool pads.
Dual voltage capability
Has a power of 2.7 hp
Allows up to 90% energy cost savings
Permanent magnet, TEFC motor
Noisier than most other pumps
6.  Harris In-Ground Variable Speed Pool Pump
If you're looking for the most durable pump with the longest shelf life, then the Harris In-Ground Variable Speed Pump is probably the model that you should take a glance at.
The body in itself is already made out of high-quality materials that make this pump extremely durable. First, the body is made out of a thermoplastic material mixed with carborundum and graphite components. That alone tells you that the body is really strong. As for the motor shaft, it is made out of stainless steel, making it quite resistant corrosion and rusting.
Rust resistant motor shaft
Durable thermoplastic body
Does not make much noise
Voltage level of 230 V
5 RPM
7.  XtremepowerUS 1.5 HP Variable Speed Pool Pump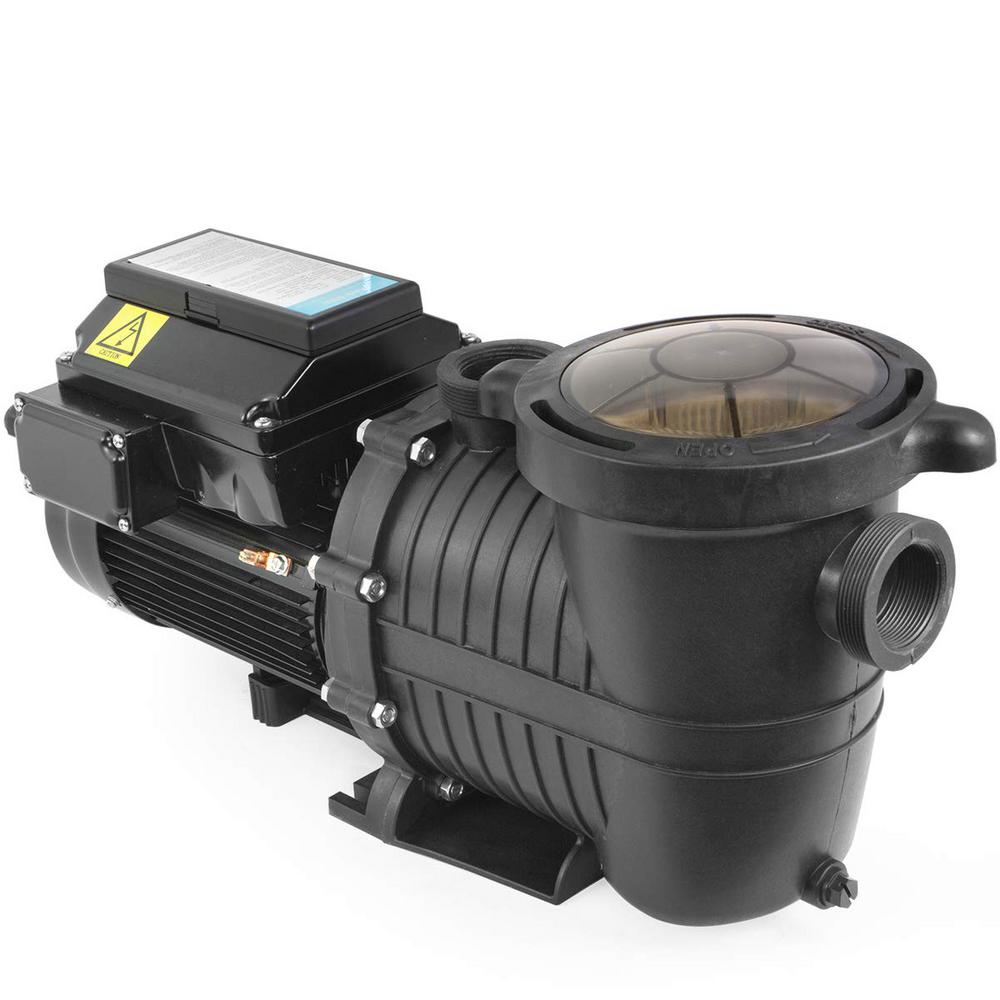 Out of all the pool pumps on this list, this one probably has the nicest control interface. Instead of your usual control touch pad, this one comes with an LCD screen that shows you the exact wattage consumption, timer, and the speed settings.
There's also a 24-hour clock at the side there that can tell you the time of the day. It makes operating the pool pump extremely easy. Also, it has a power of 1.5 hp and a GPM of 101.
Complete LCD screen interface
5 hp power
Clear cover allows you to see the debris basket and drain plug
4 speed settings
Built in timer
A little weak when it comes to moving water compared to other brands
Conclusion 
Now that we're done discussing the best variable speed pool pumps, let's talk about our top choice.
Our favorite pool pump is the Pentair 011018 IntelliFlo Variable Speed Pump. Not only did we choose this product because of its strength (3 hp) but also because of the fact that it has 8 speed settings.
This product has the greatest number of speed settings of all the products on this list. So even with such a high strength, you can control the speed and power with much precision with this pool pump.