If you have an above ground pool, then you'll definitely need the best above ground pool skimmer available in the market. That way, you can keep your pool totally clean.
To make things easy, we created a list of above ground pool skimmer reviews that you can check out to make so you'll have an easier time making your choice.
10 Amazing Above Ground Pool Skimmers that You Shouldn't Miss Out!
In order to make our list, we compared the features of various pool skimmers and eventually narrowed it down to the 10 best pool skimmer products.
We believe that these are the most recommended skimmers to buy if you have a pool at home.
Take a closer look at them:
1.  INTEX Deluxe Wall Mounted Pool Skimmer
The Intex Deluxe Wall Mounted Pool Skimmer is extremely easy to install because you just need to hook it on to the wall of your above ground pool. All you have to do is clip the adjustable brackets to the metal pool side and it's good to go.
Other cool features about this product is that it automatically skims the surface of your pool allowing it to quickly catch any dirt on the top before it gets to the bottom. It also comes with a strainer basket so that you can take out the dirt easily.
Highlighted Features:
Fast cleaning capacity
Can easily be hooked to the side of your metal above ground pool wall
Comes with a strainer basket
Has adjustable brackets
Automatically skims the pool surface
2.  Bestway Above Ground Pool Surface Skimmer
This pool skimmer is compatible with any 15-foot above ground pool. That's because the hook reaches up to 15 feet, enabling it to reach also reach lower parts of the pool. However, it specializes in sucking floating leaves and floating dirt found on the surface of the pool.
Because it can take the dirt on the surface and in the near bottom areas, it is surely one of the more reliable skimmers you can find.
Highlighted Features:
Can be used with 15-feet above ground pools
Good in sucking in floating leaves
Can be used with 800 gallon per hour flow rate pumps
Easy to clean
Simple mounting mechanism
3.  Hayward Dyna-Skim Pool Skimmer
If you're pool is on the big size and tends to collect a lot of debris and leaves, then this skimmer is a good product to buy. That's because it has a large debris collection basket. Skimmers that have small baskets usually need to be cleaned when full before you can use it again.
The beauty of this one is that you don't need to clean out the basket too often. You can use it continuously for longer periods of time.
Highlighted Features:
Big debris basket
Made of heavy duty, durable material
UV resistant ABS built
Easy to remove weir
Can be used with wide seat pools
4.  Swimline Hydrotools Thru-Wall Pool Skimmer
The Swimline Hydrotools skimmer is one of the most durable pool skimmers that you can install in your above ground pool. It is made out of high-quality ABS material, making it have a long shelf life.
It comes with a vacuum plate and fittings that easily allow you to place it anywhere in the wall of your pool.
High quality ABS material
Comes with vacuum plate
Return fittings included
Easy to install
Versatile white design and color
5.  Rx Clear Heavy Duty Wide-Mouth Skimmer
While the overall built of the Rx Clear skimmer is similar to the Swinline skimmer, this one has a wider mouth. Due to that feature, this one has a better area coverage when picking up the debris in the pool.
You'll also love that this skimmer is UV resistant, chemical resistant, and non-corrosive, making it have a very long shelf life and high durability.
Wide mouth
Resistant to pool chemicals
Does not corrode
Resistant to UV rays
High-quality, heavy duty ABS material
6.  Swimline Hydrotools Wide Mouth ABS Pool Skimmer
If you loved the Swimline Hydrotools skimmer that we mentioned above, then you'll most likely love this one as well. This one is pretty much the same as the Swimline Hydrotools pool skimmer except that it has a wider mouth which allows it to have more cleaning coverage.
Just like its predecessor, it also comes with a vacuum plate and return fittings
High quality ABS material
Comes with vacuum plate
Return fittings included in the package
Simple installation
Wide mouth design
7.  Waterway Above Ground Wide Mouth Skimmer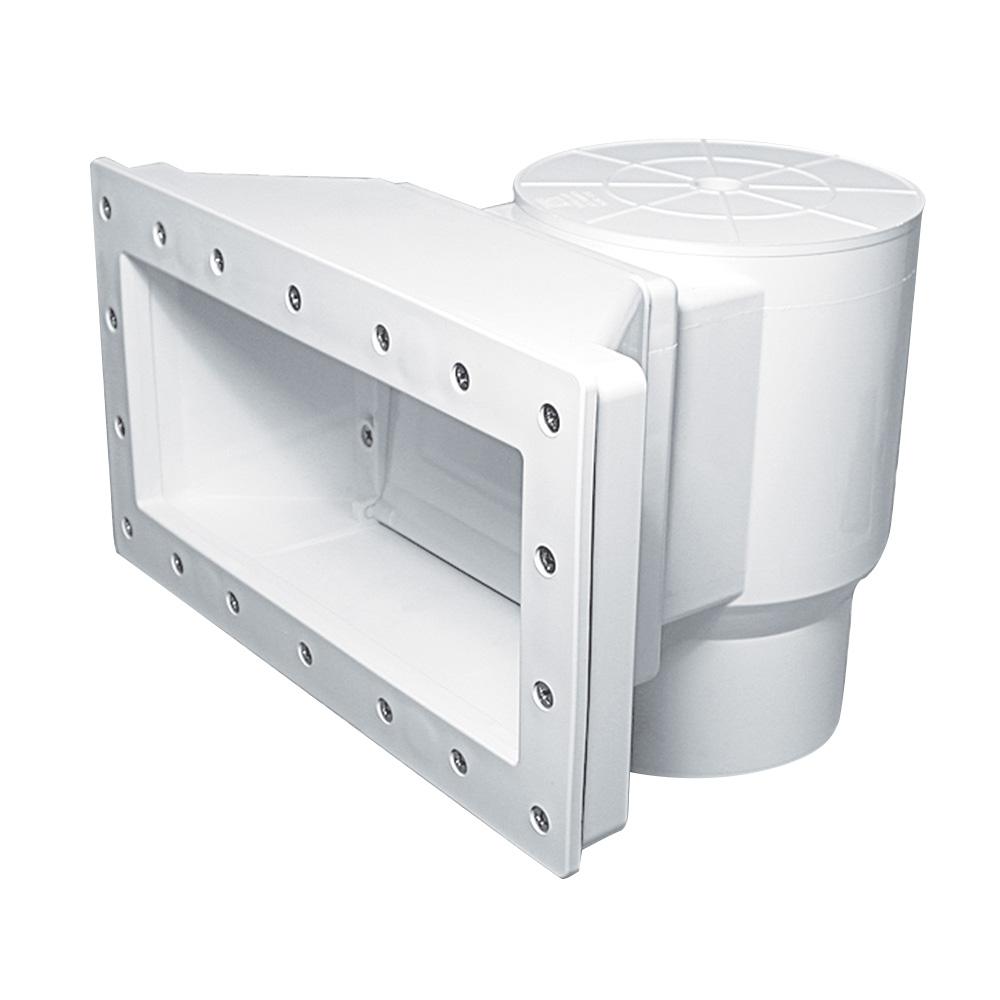 The barrier that you need for your pool is the Waterway above ground pool skimmer. This is an ABS material skimmer that is resistant to corrosion, extremely easy to clean, and very efficient as a vacuum.
Other than that, it's also very easy to maintain and clean up. It's a great product to have if you're not the type to like cleaning out your skimmer filter bags.
Very easy to clean
ABS material used
Resistant to rust and corrosion
Low maintenance product
Wide mouth design
Conclusion 
After going through the above ground pool skimmer reviews that we've presented, you probably have a good choice in mind already. Just in case you don't, let us suggest our favorite product– the SkimmerMotion Pool Cleaner, Skimmer & Clarifier .
We believe that this is the best product because it is a multi-purpose one. It acts as a cleaner, skimmer, and even a clarifier all at the same time. That's why we can really say that it can give you your money's worth.