If you are having a hard time choosing what pool step to buy for your above ground pool, then you are in luck as listed below are the top-reviewed best above ground pool steps right now.
Skim through the list and find the pool step that suit your preference!
Here are the 10 amazing pool steps that are worth every penny you'll spend:
10 Best Above Ground Pool Steps Review
1.  XtremepowerUS 32-Inches Safety Step Above Ground Pool Step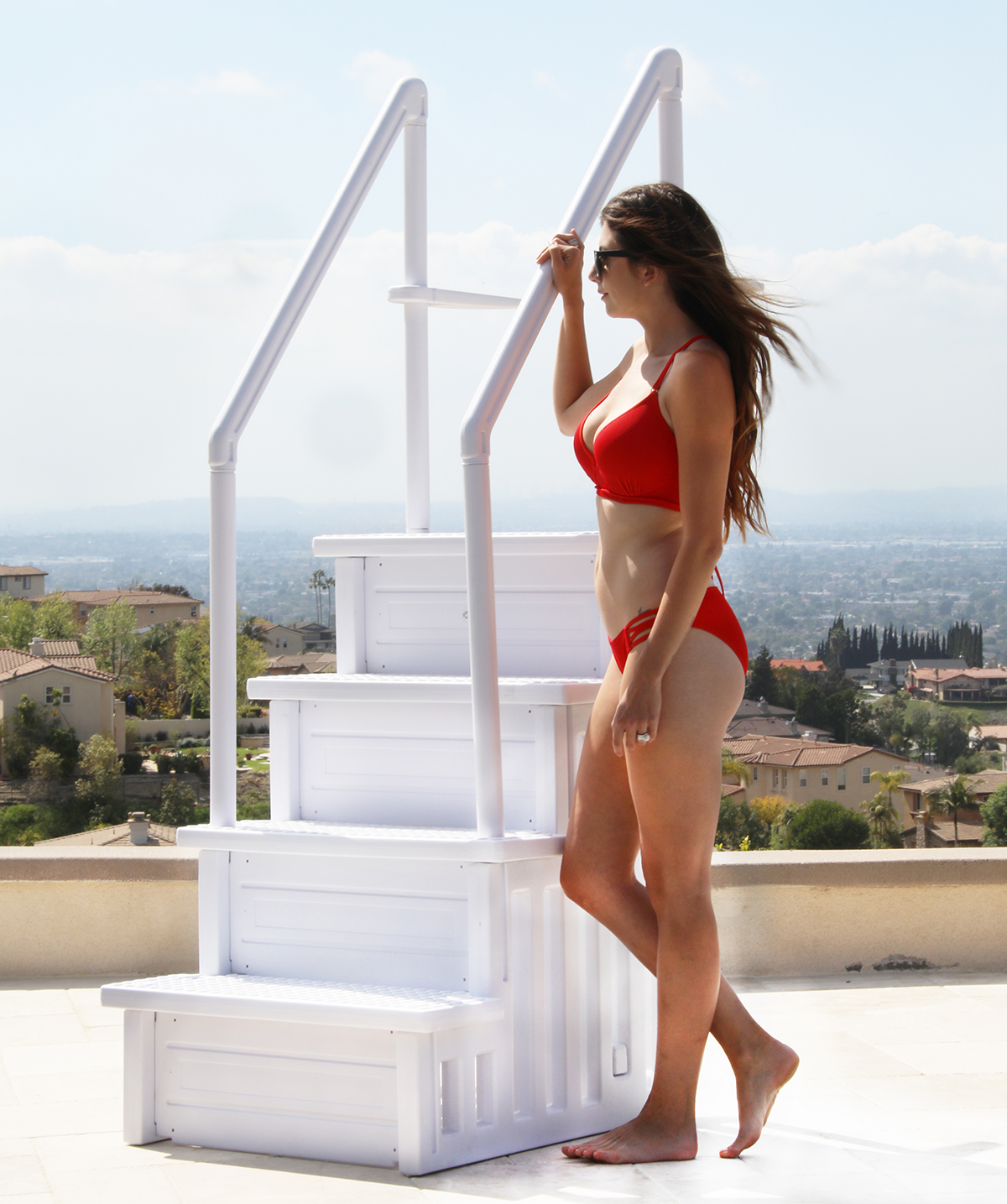 The handle and sturdy structure are two elements that contribute to a safety and secure pool step ladder. Since above ground pools are situated above ground level, the compatibility of the step is really essential to avoid slips when climbing in and out of the pool.
At one glance, one would think this pool step ladder from Xtremepower US is heavy, but you would be surprised that this is actually not as it looks. With an estimated weight of 52 pounds, this product is light enough to move but has a compact design to support up to 400 pounds weight.
Highlighted Features:
With handles on both sides of the ladder to give you full support while climbing in and out of the swimming pool
The frame of the step is also very robust and wide enough for you to step on it comfortably
This also comes with mounting brackets so that it is easier for you to secure and attach this ladder on your pool deck.
Easy to assemble without any confusing installation instruction
Guaranteed to be durable by many users and could even last for a decade if well taken care of
Pets and children also love it as it is very easy and convenient to use
An all-white color to suit any above ground pool perfectly
2.  Champlain Plastics Drop-In Pool Step Ladder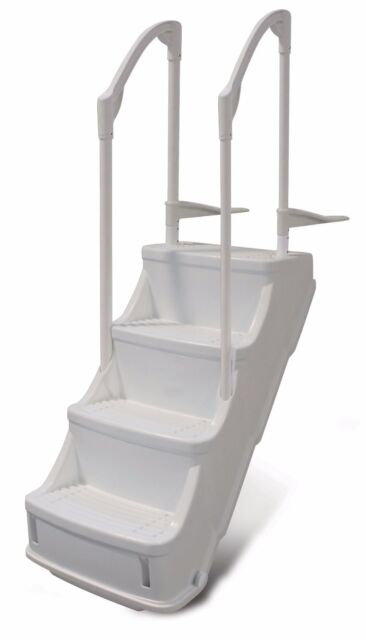 While others love the bulky yet compact steps for safety purposes, this drop-in type of step ladder is suitable for above ground pools with mid-length pools. This is an A entry ladder with each step is fully framed for ultimate support.
If there is one thing that I would suggest for this model, it will be the handrails. I think the handrails are a bit too low. This would be good for children and shorter users but those who are taller might not see the purpose of these. Nevertheless, the steps and the 300 weight limit are great enough to make up for this little snag.
Highlighted Features:
Its slim yet durable steps are just enough for you to climb in and out of the water safely.
The white color gives off a sophisticated look which really makes this ladder suitable for any purposes.
Made from durable plastic material which can withstand constant water exposure
This, too, is easy to put up.
A premium and one of the best above ground pool steps at the moment for its ease of use and installation
3.  Confer Plastics CCX-AG Above Ground Pool Step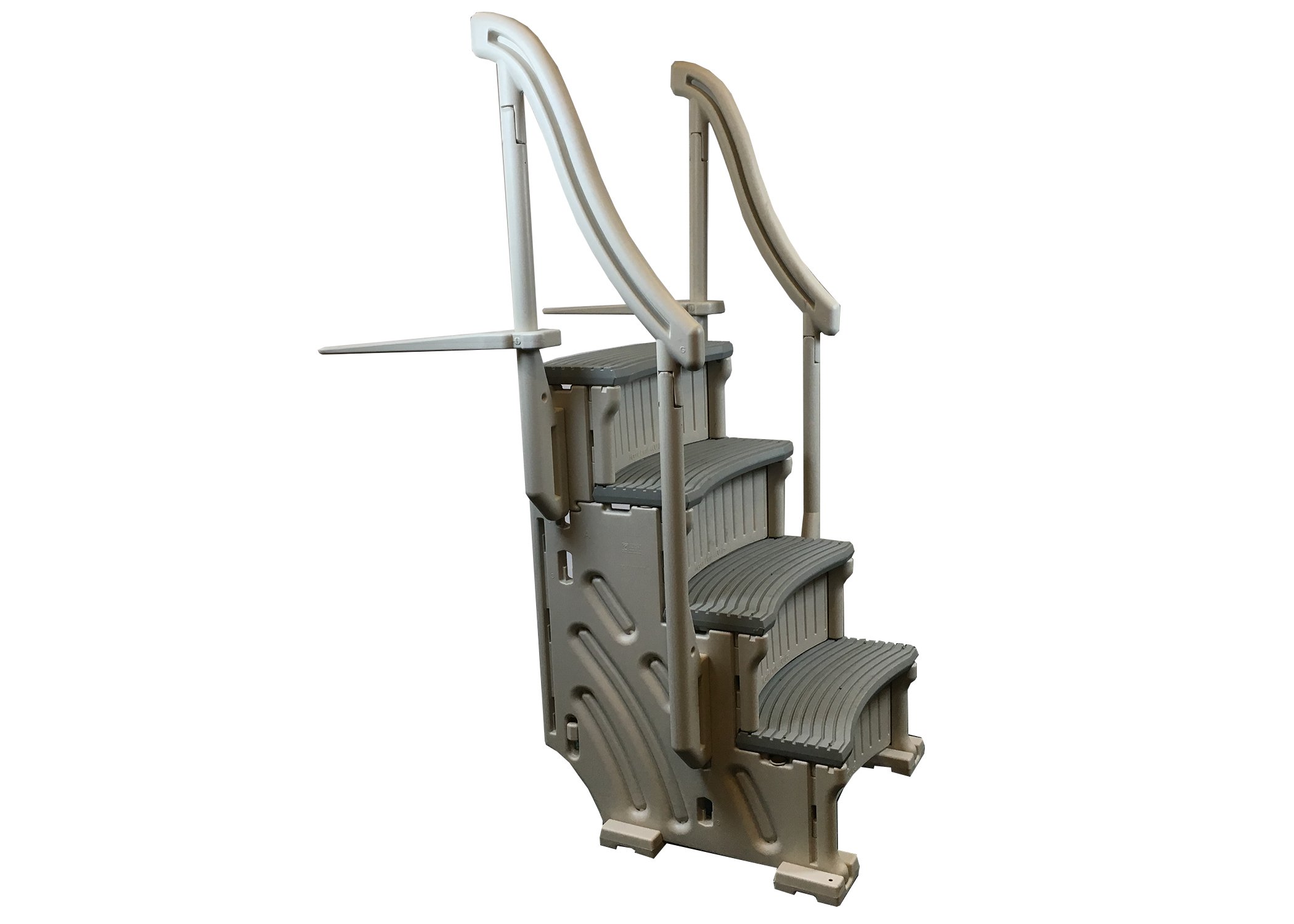 You'd surely adore this Confer Plastics Above Ground Pool Ladder Step. Some people are hesitant to choosing plastic because of durability issues, and instead opt for protected steel ones. But this super strong and chemical resistant pool step is made from resin, which is a kind of unprocessed plastic known for its gluey and viscous property.
The beauty of this ladder step lies in the fact that it can hold up to 400-pound weight and has adjustable pads at its base.
Highlighted Features:
The steps are wide enough for you step on them easily. Each step has a dimension of 27 by 10 by 11 inches (WxDxH)
To support the steps, it is filled with sand or pea gravel so that it doesn't topple easily when in use.
It is also backed by a 5-year warranty service.
The stair is also light enough to move when needed at around 40 pounds once completely assembled.
Users of this ladder has commended it for its sturdiness and premium resin material.
All parts go together easily, leading to a hassle-free assembly.
4.  Swim Time 32-Inches Pool Step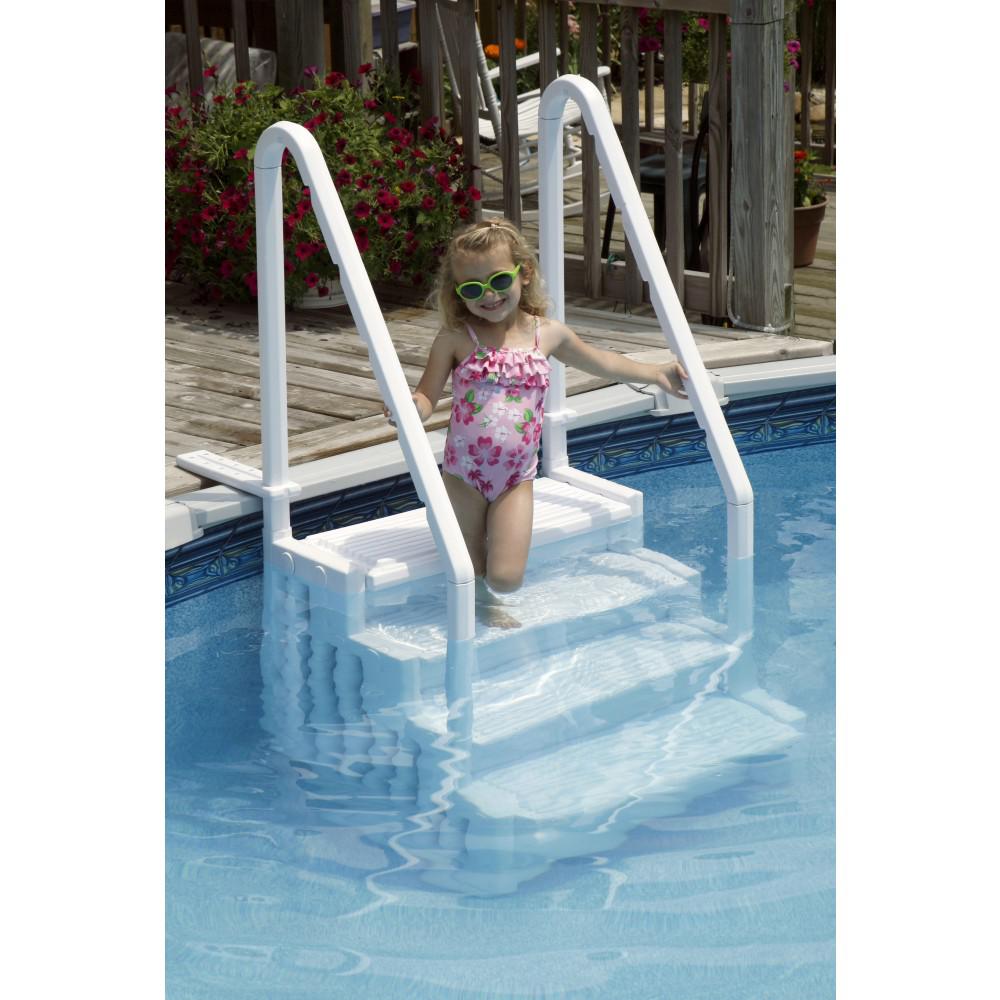 Swim Time has been serving us with different pool products, but one of our personal favorites is this 32-inches above ground pool step ladder. This has a white finish, making your pool look pristine and resort-like.
Want to know why we included this on our list? The main reason is its maintenance-free material. The pool step is made from Polyethylene, which is considered to be the most popular plastic type. This versatile material is mostly known for being toxic-free, thus it is safe to use around children.
Highlighted Features:
This is a traditional pool step ladder with handles on both sides for safety purposes.
Can withstand weight of up to 300 pounds
The steps can be filled with sand and once it's done, the whole set-up is difficult to move, which we personally think a great feature as it makes the ladder steady.
Each individual step is great, wide enough, and robust
You can easily attach this step onto your wooden pool deck
All the parts needed are included in the package, so you just need to follow the instruction to put it together
Assembly is super easy
5.  Ocean Blue 30-Inches Above Ground Pool Step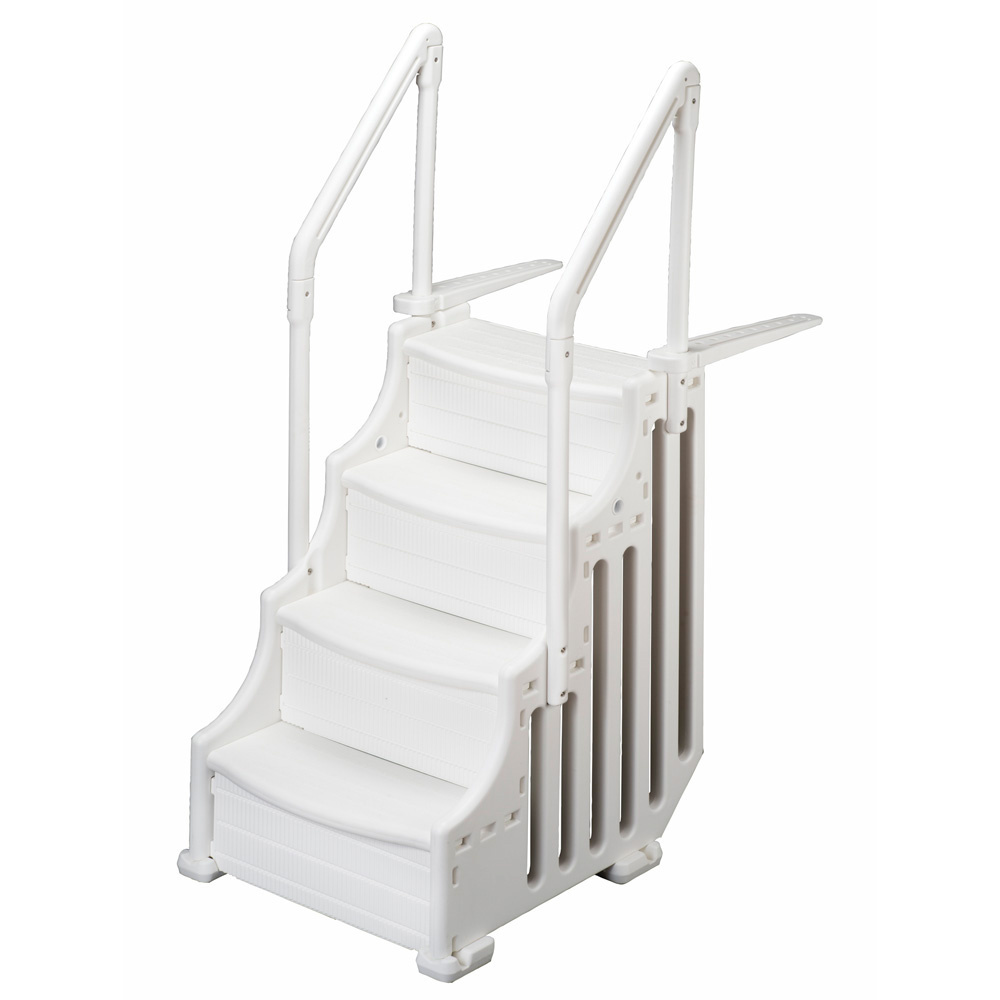 There is really something about white pool step ladder that instantly gives the pool an extra oomph. There are a lot of things to love about this pool step ladder.
Firstly, it has easy grip handrails which are a huge factor why many people fell in love with it. What's more is that the individual step is also textured, making it slip-resistant. If you have a family pool and your kids and pets love to go swimming every day, then safety must be on top of your priority. For that, we think this is the perfect pool steps for you.
As far as the height is concerned, this one is sized 45 inches from top to bottom.
Highlighted Features:
Has a unique yet attractive styling that would complement well any modern or contemporary homes
Minimized accidents with its non-slip, textured steps
Wide enough for users who have bulky body structure at 30 inches width side to side
Item weight once assemble is 58 pounds, a bit heavier compared to other options on the list but this, too, is a well-loved and is considered the best above ground pool ladder for children.
Material is made from durable and premium plastic material; no worries it's toxic-free
6.  Blue Wave A-Frame Neptune Pool Steps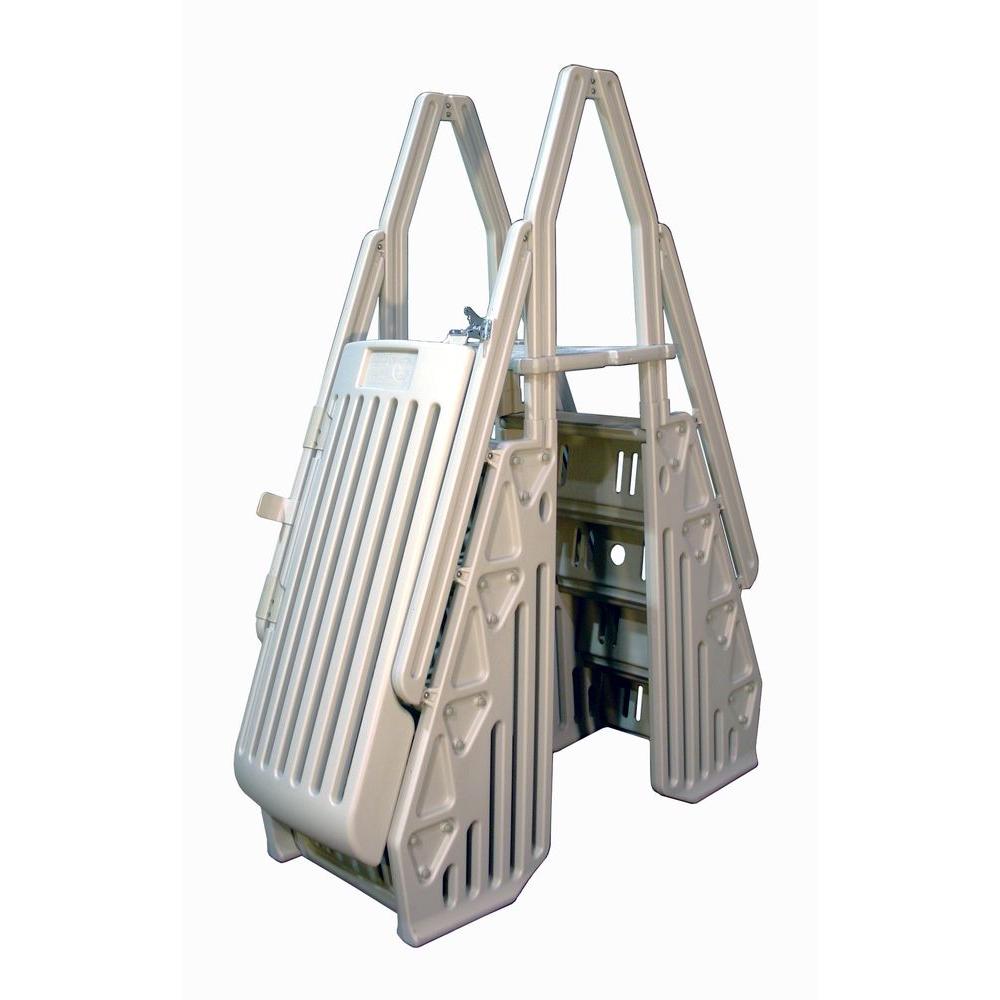 One of the most coveted pool steps in most above ground pool steps reviews is this Neptune A-Frame pool ladder from Blue Wave.
This is an A-frame step ladder which means that users have to climb up and down to get in and out of the pool. With an average weight limit of 300 pounds, this can accommodate both kids and adult users. While this may look a bit bulky, you'd be surprised to know that it only consumes little space at exactly 22 inches swimming space.
One glance and you know that this pool ladder is built to last.
Highlighted Features:
Weight capacity is up to 300 pounds
It also adjustable to fit your pool's depth, from 48 inches to 56 inches.
This is a hybrid pool ladder and step with easy grip handles on both sides.
The A-frame structure makes the ladder easy to transfer when needed.
All platforms and step treads are non-skid, making it a popular choice for safety conscious parents out there.
Made from heavy-duty resin material which is also UV protected, thus can last long even when constantly exposed to sunlight
With a self-closing gate to prevent kids and pets from entering the pool unassisted
7.  Confer Plastics Curved Above Ground Pool Ladder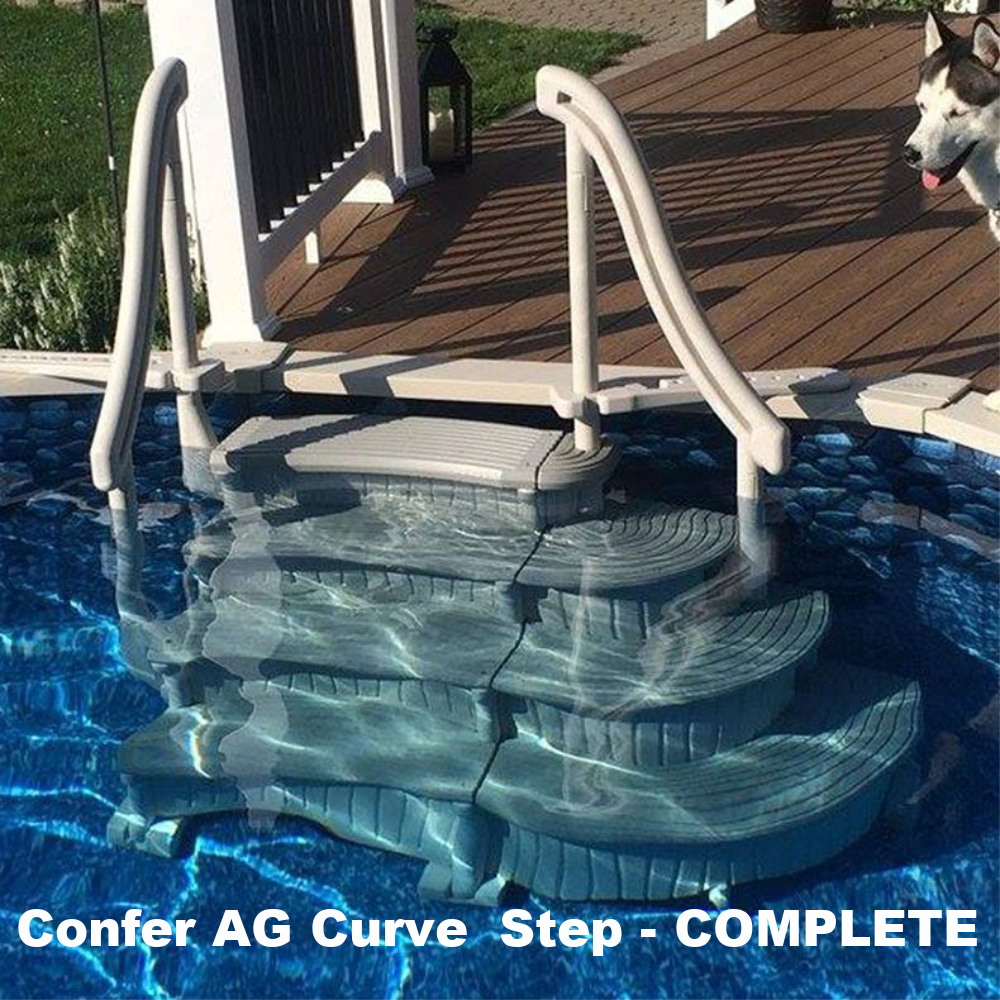 Another entry from Confer Plastics is this curved version of their best-selling pool step. This one has curved steps and adjustable structure. Whether you have a round or rectangular shaped above ground pool, this pool step is still compatible. The base step is on the left side with the curved add-on step on the right side. You can either attach the add on or just use the base step. It's all up to your preference.
Molded to be durable and sturdy, this pool step is wide enough for an easy entry and exit of the pool. Plus, it has neutral tone colors to suit whatever design your pool has.
Highlighted Features:
This is a pool ladder step with incredible durability that makes the users stay loyal to the brand.
Compatible for 47 inches to 58 inches deep pool
The color of the step doesn't easily fade even with frequent use;thus this will continue to look new even after a couple of years.
Can hold weight of up to 400 pounds
The premium resin material is toxic-free, chemical resistant, as well as UV resistant.
Assembly is real quick and the instructions are easy to follow
8.  Blue Wave Wedding Cake Steps Above Ground Pool Step Ladder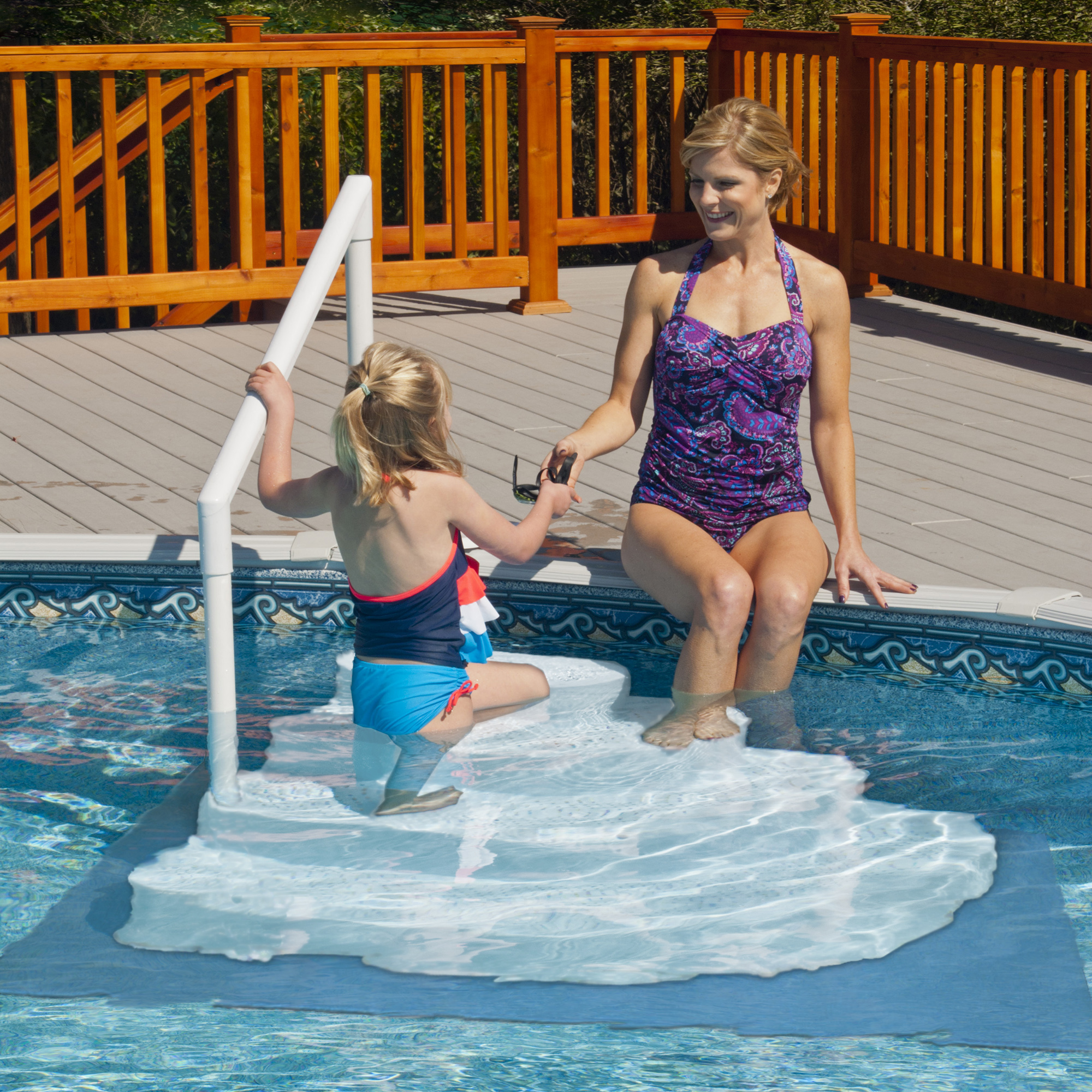 We don't usually go best above ground pool steps without handrails on both sides since we take safety features seriously. However, we know that some pools are meant for adults use and some would put more emphasis on aesthetics. Hence, we found the best pool step for you.
This Blue Wave wedding cake pool step is for those seeking a unique yet attractive-looking pool ladder. With a pretty wide entrance, this pool step would suit users who have bigger body built. The handrail is situated on the left side, leaving the right side open.
Highlighted Features:
With a glossy white finish, this pool step looks immaculate when place in the pool. The white finish also doesn't fade even after years of use.
Despite having glossy finish, Blue wave made sure to make each step not slippery by installing non-skid steps.
The excellent traction of the step is praised well by its users.
The cake form steps also make its difficult for the algae to build up since water is constantly flowing with no obstructions.
This is designed for above ground pools with up to 54 inches depth.
Currently unavailable.
9.  Confer Plastic Heavy Duty 60-Inches Pool Steps
This is a 60-inches pool ladder, so if you have a deeper pool, this is an excellent choice. A lot of users hailed praises for this item, with most of the comment relating to its sturdiness, safety, and durability.
We love the A-frame structure in which the outer steps are made of tread steps for safety purposes while the inner steps are the usual climbing step ladder so that it doesn't take up too much pool space.
Highlighted Features:
Equipped with mounting safety brackets to secure the ladder in place
Adjustable height between 48 inches to 54 inches
This is also convertible and can be used to attached the other end to your pool deck.
Each step tread is non-skid, so slipping is minimized
The side openings enable the water to flow through, thus preventing algae growth.
The materials used are all chemical-resistant, so even if you put in pool chemicals, the ladder remain robust and the color remains the same.
10.  Confer Plastic Gated Pool Steps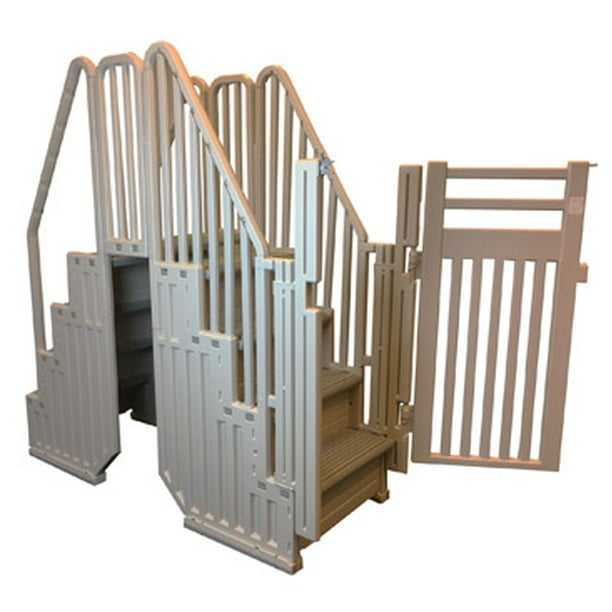 Another hybrid pool ladder and step is this top-reviewed Confer Plastics pool step. With a gated entrance, this item is a popular choice for parents.
We love the solid frame of this ladder and the gate that encloses the steps for security purposes is a plus for those who have kids and pets at home.
Highlighted Features:
Design wise, this is an amazing above ground steps, perfect for family use
You can limit entry to the pool with the gate enclosure.
It fits in pools with 48 to 54 inches depth.
The materials are made from high-grade resin plastic, known for being toxic-free, durable, and chemical-resistant.
Once filled with sand or gravel, the ladder is steady and robust.
Our Top Pick!
Our top choice from the list and we highly recommend this one is the Confer Plastic Gated Above Ground Pool Steps.
This hybrid pool ladder and step has all the safety features you'd want in a pool. And we also love the fact that it doesn't take up too much swimming space. Plus, the gate enclosure allows parents to limit access to the pool to avoid kids using it unassisted.
How about you? Which one is your pick? Comment down below!