Adirondack Chairs are becoming popular in the past few years because of their versatility in style and uses. These are outdoor armchairs, usually resembles a rocking chair, that are constructed with a sloping back.
It was Thomas Lee who invented the Adirondack chair in 1903. He wanted to create a chair that provides comfort and suits well with the other furniture outdoors. If you love to spend some time outside to catch some sun in the morning or count as many constellations at night, then adding the best Adirondack Chairs to your list of outdoor furniture is a smart choice.
Read on below and find out the top 12 Adirondack chairs in the market today!
12 Best Adirondack Chair Reviews (with Pros and Cons)
1.  Birch Lane Ridgeline Wood Adirondack Chair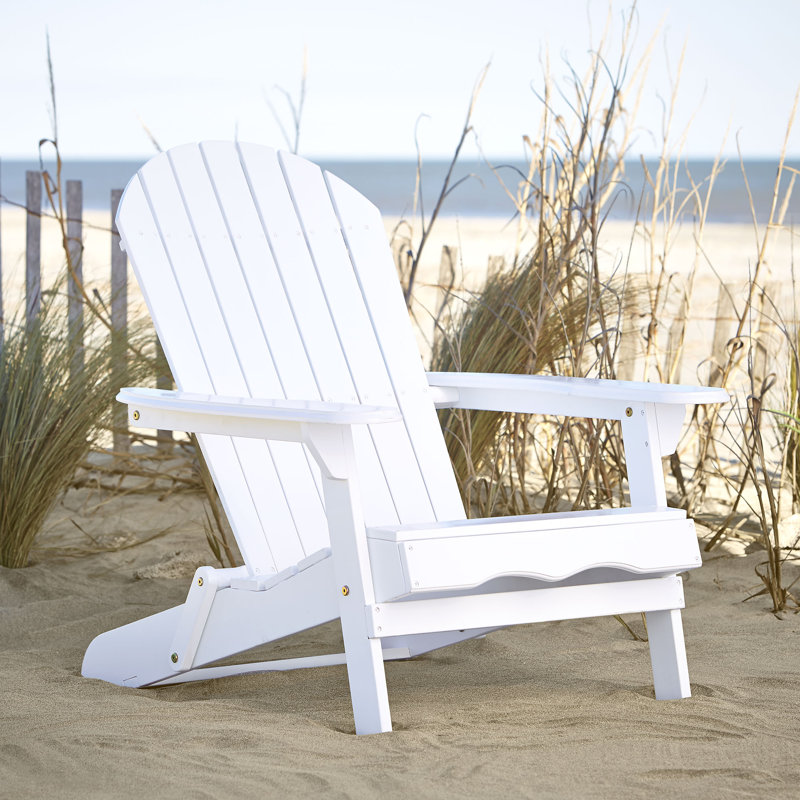 Some people prefer to have Adirondack chairs with a fresh design to match their home interior. I'd say you give Birch Lane Ridgeline Wood Adirondack Chair a try. This chair is made of Acacia wood with a solid frame in a white paint finish.
One thing you'll notice with this Adirondack chair is that it has a wide back, which is great for people with bulky structure. Don't worry though; this is still lightweight enough to be easily carried anywhere you want to.
Birch Lane Ridgeline Wood Adirondack Chair is a good choice for those who want a statement piece chair in the poolside, hot tub area, and in the front-beach resort.
Design-wise, this Adirondack chair is a winner.
With a foldable design for easy storage and transport
Perfect chair accent for front-beach resorts
Also available in different colors: natural, navy, weathered gray, and dark gray
The perfect Adirondack chair for summer time!
Tear and wear resistant
Acacia wood can be quite expensive, so expect to pay a bit more for this chair.
Folding the chair is a bit difficult.
2.  Three Posts Solid Wood Adirondack Chair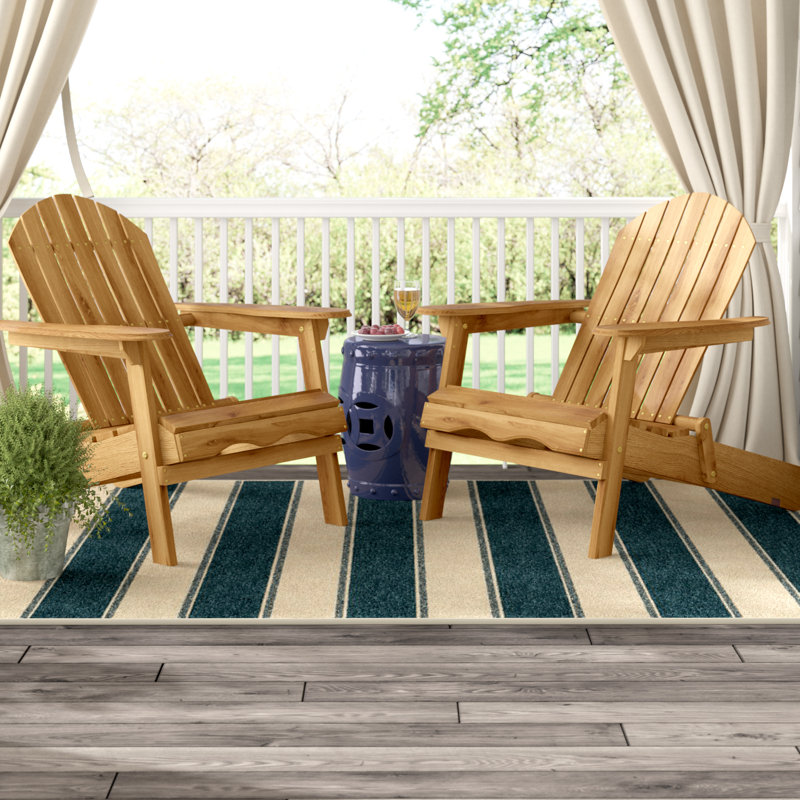 Yet another Adirondack chair made of acacia wood, Three Posts Boone Wood Adirondack Chair is another option if you want a chair with a solid wood material. This one is made in Vietnam and has a total weight of 175 pounds.
The chairs are naturally stained and are sold in a pair, so you'll get two chairs in a single purchase. Looking closely, there is a noticeable wood grain texture on the sides of the chairs, adding to its unique design and appeal.
This is the best Adirondack chair for poolsides and outdoor sofas and patios.
Rust-resistant with a natural stain protection against moisture and other environmental hazards
Easy to clean; you just need to wipe it with a damp cloth and mild soap.
Suitable for rustic and vintage interiors
Available in 4 other colors: dark gray, blue, gray, and white
With a folding design for easy storage
The back is not curved.
These chairs are not sealed when delivered. You might need to coordinate with the seller to make sure the chairs arrived safely and without damages.
3.  Andover Mills Fordyce Adirondack Chair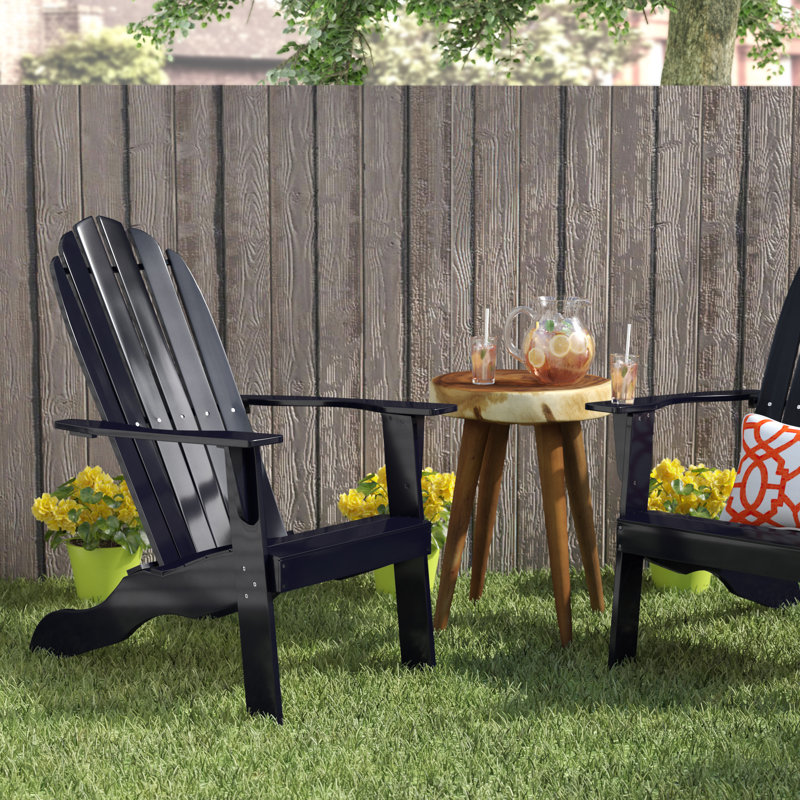 If you want striking color choices for your Adirondack chair, then Andover Mills Fordyce Solid Wood Adirondack Chair is an excellent option. Available in six different colors, the Andover Mills Fordyce Solid Wood Adirondack Chair offers its customers great value for money without compromising quality.
This Adirondack chair is made of mahogany wood, which has a natural darker reddish color. This particular wood is also heavier but is well known for being durable. In fact, Mahogany wood can last up to 40 years with consistent maintenance.
Mahogany wood-lovers wood surely love this Fordyce Solid Wood Adirondack Chair by Andover Mills.
Great color choices, namely: red, green, blue, black, white, and natural stain
Coated with a polyurethane finish to protect the wood from harsh weather, rust, water, and mildew
Has smooth, glossy finish
Very versatile and can be added to different areas in your home
Perfect for backyard garden and
Screws and bolts are made from stainless steel
This requires full assembly, so it might take some time.
Not a folding chair
This needs to be dried softly after cleaning with a damp soft cloth.
4.  Highland Dunes Hinman Adirondack Chair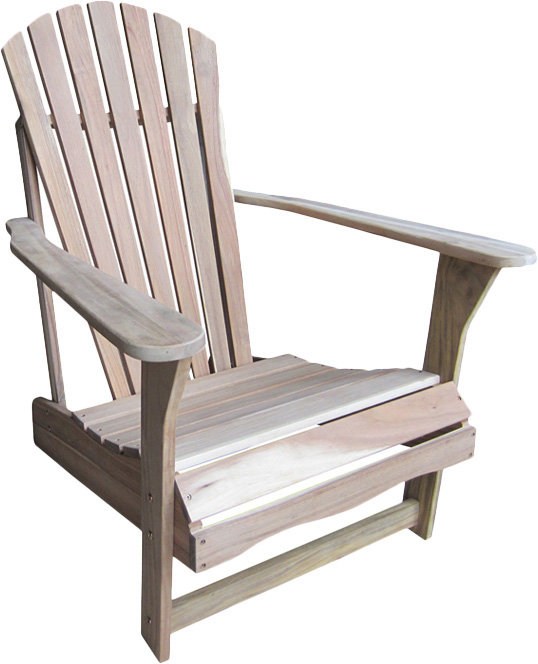 Highland Dunes is a furniture company known for their modern take in designing Adirondack chairs. A good example of their masterpiece is this Hinman Solid Wood Adirondack Chair. With seven stylish color choices and solid frame construction, this chair is a great addition to your patio and deck area.
I appreciate the fact that Highland Dunes allows its customers to choose the finish that they want for your chair. Also, it is important to note that this is made from acacia wood, which is known for being lightweight yet tear resistant.
Choose Highland Dunes Hinman Solid Wood Adirondack Chair if you want a solid yet stylish Adirondack chair.
This is the best Adirondack chair with stylish and modern designs.
Available in bright finishes, the perfect color choice if you want to liven up your balcony and patio
The material is made from high-quality acacia wood
Can be cleaned using a damp cloth
Weather resistant and water resistant
Excellent choice for retreat houses and mountain resorts
Has rounded armrests
Features a straight back; no curve at all
Assembly is a bit time-consuming.
5.  Beachcrest Home Knowlson Adirondack Chair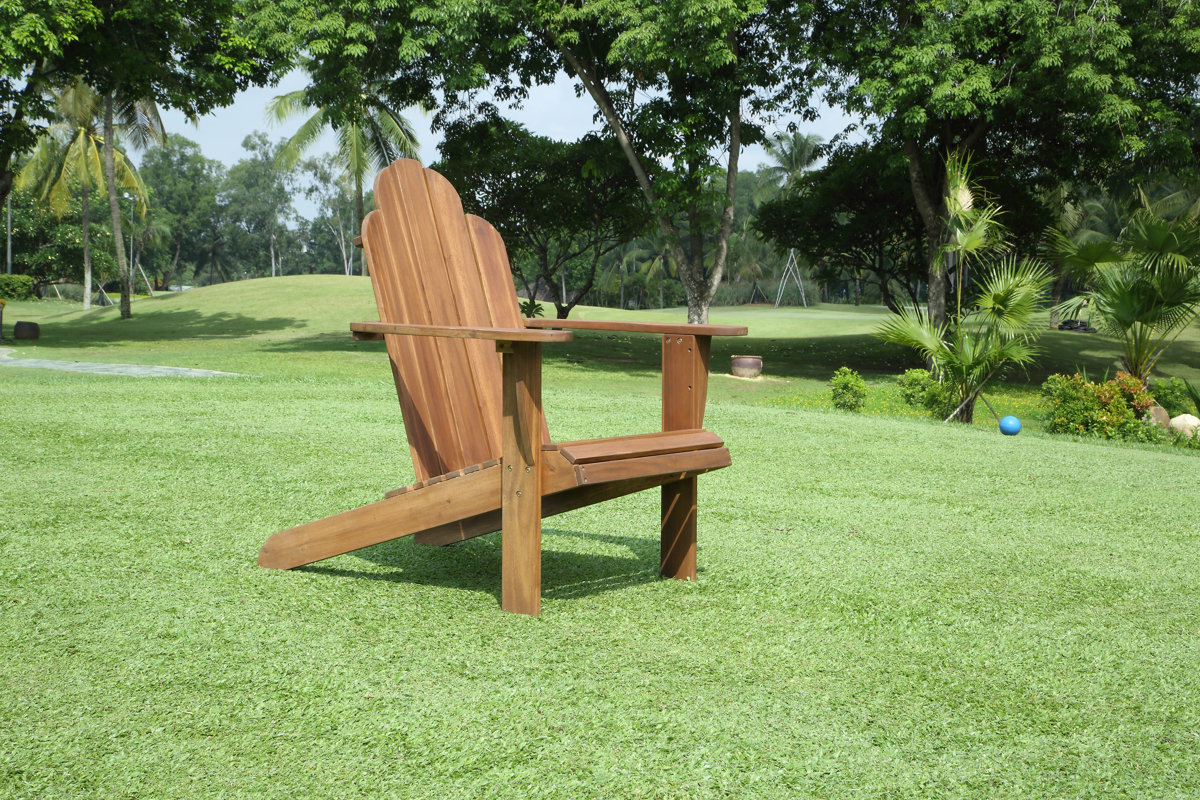 Beachcrest Home is the ultimate go-shop for those who want a contemporary statement furniture piece for their home. Scrolling through the brand's website online, you can still that the brand itself has a high regard in contemporary yet practical designs. Every curve and recess of the furniture is well-thought of to suit their client's preference.
One glance and you'll know this Beachcrest Home Knowlson Adirondack Chair is made with attention to details. Five wooden planks made up the backrest while the armrests have a wide and straight design. But what I love about this Adirondack chair is its rich brown stain that complements well with the chair's traditional planned construction.
This is a must-buy if you want an Adirondack chair with both quality and style. I just love how the wood planks used in the backrest part are curved, thus forming a throne-like appearance.
With wide armrests for comfort
This has a deep seating so that you can get comfortable while sitting.
The slight curve of the backrest is a good idea to accommodate the natural slight curve of the seater's back
Has very durable construction
Made from high-quality acacia wood but a teak finish
Weather resistant
This is priced a bit lower than others
Product warranty is a bit shorter than what most Adirondack chair manufacturers offer. This has only 6 months warranty.
6.  Loon Peak Imane Folding Adirondack Chair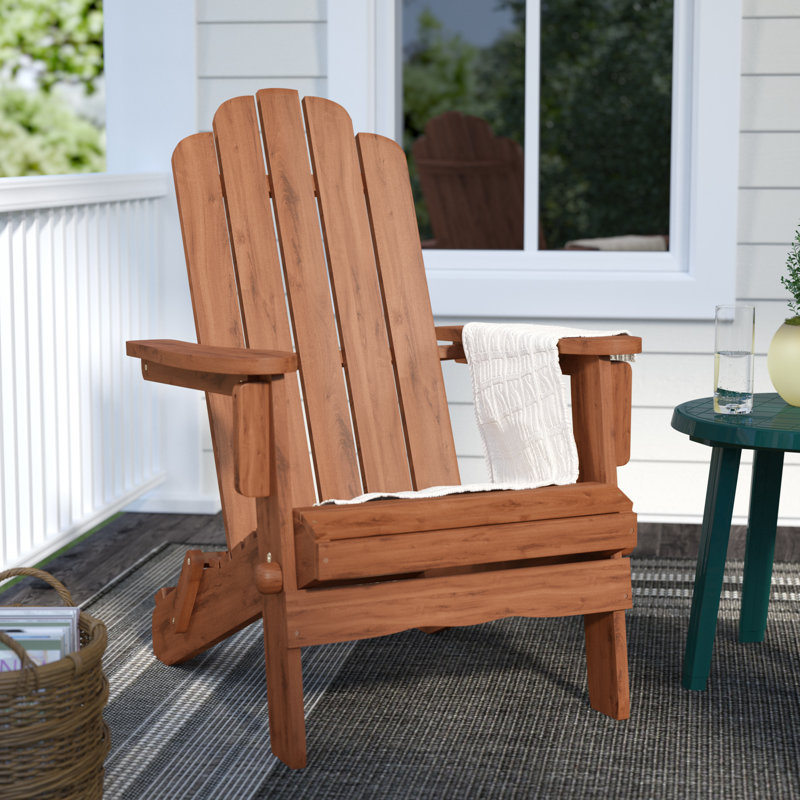 If colorful Adirondack chairs are not your thing, then perhaps this classic Imane Solid Wood Adirondack chair will capture your interest. This elegant wooden chair is manufactured by Loon Peak, a home improvement and furniture company known for their outdoor furniture pieces, such as porch swing furniture and baby furniture.
The Imane Solid Wood Adirondack Chair has a straight backrest with a slightly curved deep seating. Its armrests are also straight but wide enough so that you can get comfortable resting your arms. It has a light brown finish that suits well to both classic and modern houses.
Need a splendid wooden chair sans the bright colors? Look no further than Imane Folding Adirondack Chair from Loon Peak.
Very durable as it is made from solid acacia wood
You can apply a teak oil to maintain its brand new look.
Has a natural wood grain that adds to its appeal
Is made resistant to weather and other outdoor elements
Can be folded, thus easy to put away during winter
Very sensitive to extreme temperatures
Color and finish choices are limited
7.  August Groove Paterson Plastic Chair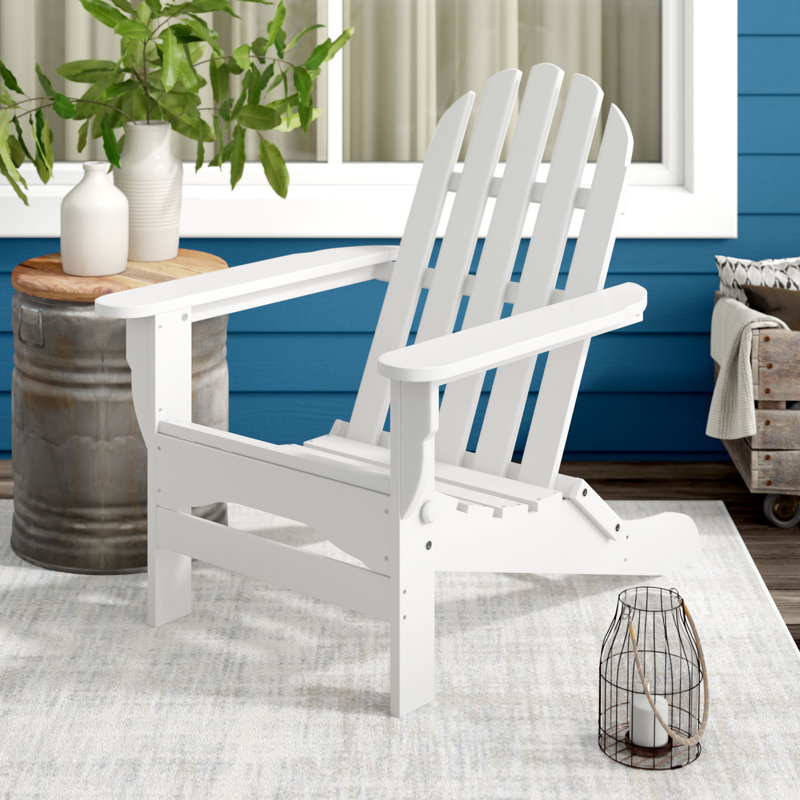 August Groove made a masterpiece with this Paterson Plastic Adirondack Chair. Unlike most of the chairs on the list, this one is made of plastic/resin as its frame material. In terms of color and finish choices, August groove makes sure to offer you a lot of options, giving you 13 finish selections in total!
If you are a green advocate and would love to stick to eco-friendly products, then I can't recommend any better Adirondack chair for you. This is your best choice, as 95% of its materials are recycled. So, bring it on eco-warriors!
HDPE certified with 95% recycled plastic material
Lightweight and durable
Since this is made from plastic and resin, it actually is all-weather resistant.
Requires little maintenance unlike wooden Adirondack chairs
Has 13 finish choices: black, bright red, lime green, royal blue, Aruba, light gray, chocolate, weathered wood, white, navy, white with Birchwood, white with driftwood, and white with antique mahogany
No assembly is required
With 20 years warranty
Very stylish and modern
Foldable
This is expensive. But if you are a serious green advocate, then you already know recycled furniture with this beautiful aesthetics is priced a bit higher.
8.  Polywood Classic Plastic Chair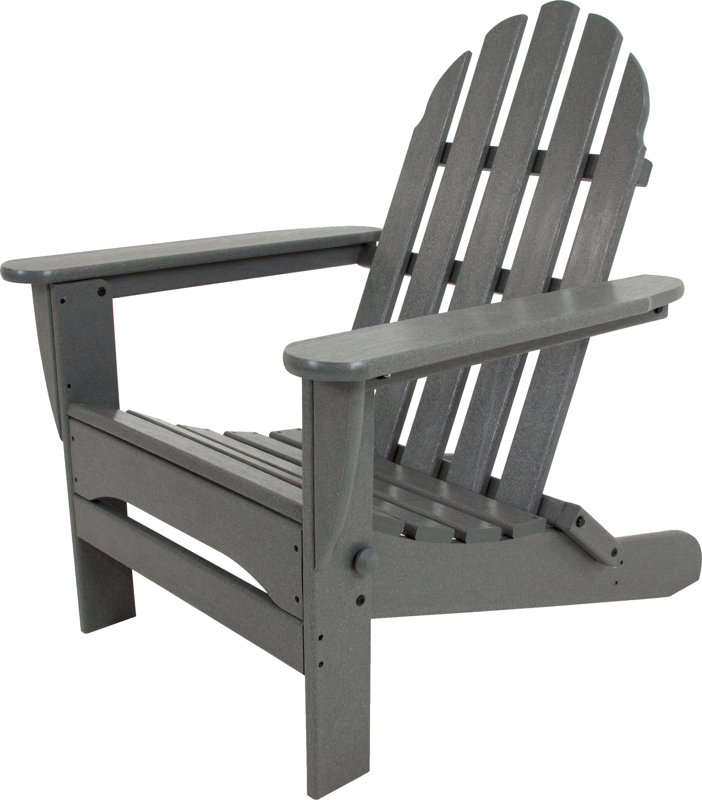 Get your pool ready for summertime with this classic plastic Adirondack chair by Polywood! This is another plastic chair on the list, but the material for this one is not indicated as recycled.
This chair, however, is waterproofed and is resistant to chip, peel, and crack. If you're questioning its quality, then you should know has a Marine-grade quality hardware with heavy-duty construction.
Very durable and heavy-duty
Made in the U.S.A.
Frame material is made of plastic and resin while details are made of Polywood lumber.
Can be cleaned with water and mild soap
Uv-resistant and mildew resistant
Has 13 finish choices
Can be folded
Very expensive; even with a discount
9.  Breakwater Bay Kairi Wood Chair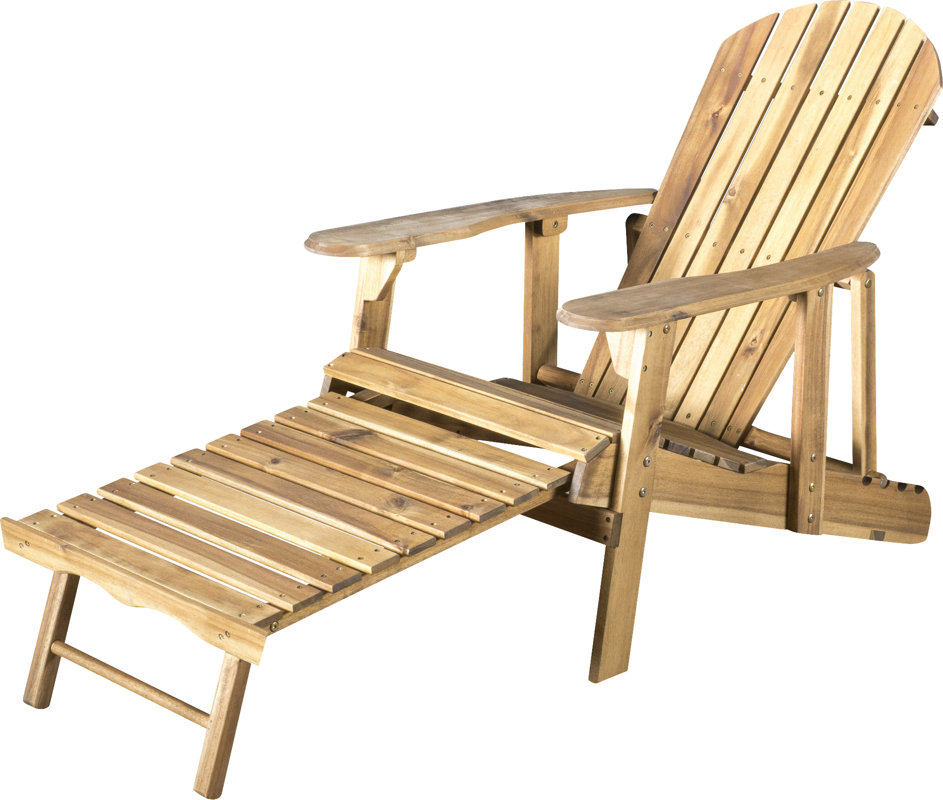 Perhaps you want a bit of style added to your Adirondack chair? Introducing the Kairi Wood Adirondack Chair. This chair has an ottoman extension, so you can extend your feet comfortably just like on a beach lounge chair. This goes well with the patio umbrella.
A different level of comfort is what you can expect from this masterpiece. This, for me, is the best Adirondack chair for beach garden, perfect for your ultimate relaxation escapade!
Made from durable acacia wood
Easy to clean
Weather resistant
Assembly is easy with all the tools provided
Gives the most comfort
Perfect for elderly
Very expensive
Only four color choices
10.  Breakwater Bay Amiya Classic Chair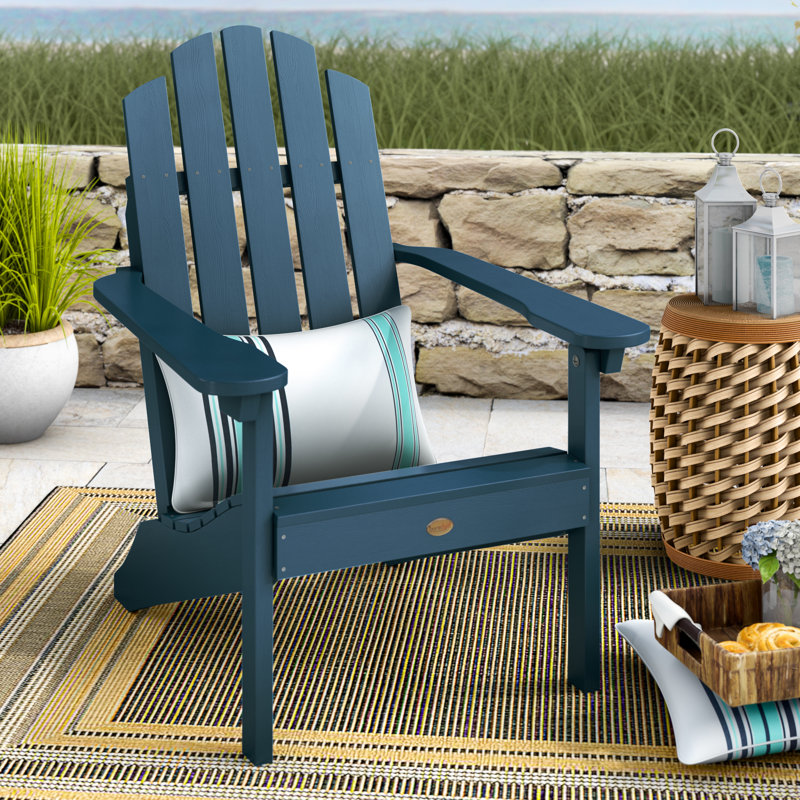 Looking for the best Adirondack chair for cabins, rest houses, and lighthouses? This Amiya Classic Adirondack Chair is for you!
Available in elegant colors to match your motif, this chair also sports a natural wood grain, adding to its elegance. It has a weight capacity of 500 pounds due to its having manufactured wood as its frame material details. Its primary fame material is plastic/resin.
Made in the U.S.A.
You can clean this one using a soft bristle brush
Water resistant, UV resistant, and Fade resistant
Can last for a long time
Easy to put together
Has 12 years of warranty service
Colors are not as dark as advertised
11.  Buyers Choice Phat Tommy Plastic Chair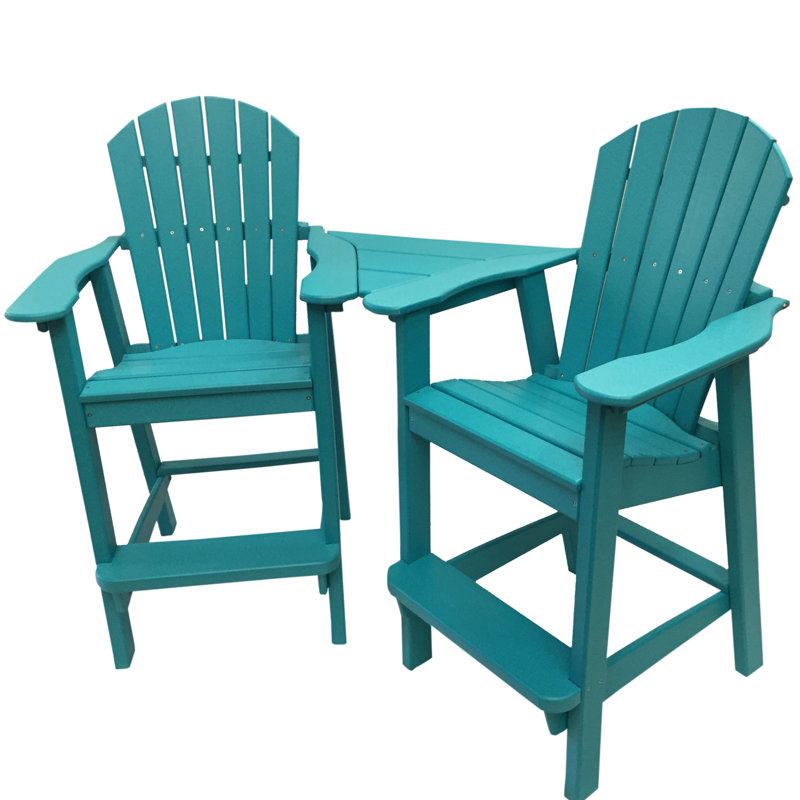 Last but definitely not the least on our list of best Adirondack chairs for 2018 is this Phat Tommy Balcony Adirondack Chair by Buyers Choice.
This comes in a set of two chairs that are tall enough o that you can look through the railing. It has a connecting table at the center of the two chairs, where you can put your drinks.
This chair is also made from recycled poly materials, but its construction and appearance are nothing but stunning.
The best Adirondack chair with the most creative design
Perfect for open bar set-up at the beach
The center table is 25.5 inches, big enough for two drinks
Great for commercial and residential use
Resistant to rotting, cracking, and splitting
The most expensive on the list
Can take up more space
12.  Kilmer Creek Natural Cedar Adirondack Chair
Cedar wood is known for being naturally rot resistant; hence why this is a top material choice for most furniture manufacturers. If you particularly looking for an Adirondack chair made of cedar wood, then the Kilmer Creek Natural Cedar Adirondack Chair is a great product to add to your list.
This is a foldable chair with light natural wood sans the finish. However, this Adirondack chair has a smooth surface, so you can directly apply any finish that you want. Over time, the natural wood color of cedar will slightly change into an ostentatious gray shade— still a good complementary color for whatever home interior motif you have in mind. However, if you want to preserve its natural wood color, just apply your favorite finish to protect the wood.
Overall, the Kilmer Creek Natural Cedar Adirondack Chair is the chair for interior designers as they can choose the finish they want, do a bit of modification, add cushions, and lastly, can be used in different places of the house.
Can last for a long time, thanks to its naturally rot-resistant cedar wood material
Foldable so that you can store it conveniently
Made by Amish craftsmen, which are known for their high-quality made-to-order furniture pieces
The best Adirondack chair for gardens, bonfire areas, and in gazebos.
Very lightweight design and can be transferred to other locations with ease
You may or may not add a finish, which is a plus to those who are trying to cut their budget.
You may need to tighten its bolts and screws over time.
This doesn't have the traditional curve design both on front and on the armrests, which Adirondack chairs are known for.
Conclusion
Not sure which Adirondack chair to buy? Check out my top recommendation below and find out why I think it offers the best value for money!
If you want to stick to classic appearance and wood material, like me, then Beachcrest Home Knowlson Adirondack Chair is an excellent option. The classic wooden planks and natural teak finish are perfect for both traditional and contemporary setting. But what I love about it more is the slight curve of the backrest, which, for me, is important to match the natural curve of our back. Budget-wise, this chair is actually priced lower as compared to other Adirondack chairs with almost the same features.
How about you? Which Adirondack chair is your favorite? Let me know in the comment section below!