Imagine the picture… It is a beautiful summer day. The garden is lush and the lawn beautifully manicured, while the patio screams perfection. What more could you want? How about a daybed? Not any daybed, mind you, but the best outdoor daybed for your buck! Just imagine being able to laze in the warm sun, drinking up the rays while the barbeque is doing its thing. Do you like the picture? Of course you do. But what do you need to know before choosing one? Let's find out
About outdoor daybeds
Deciding on the best outdoor daybed is not just about going to the shop, pointing at the first one you see, and buying it. In fact, you need to decide on the perfect daybed much the same way you would go about choosing any piece of furniture for your home.
1.  Space
Typically, an outdoor daybed would go outside. But where do you intend putting it exactly? If on your patio, is your patio covered? Or is it open to the elements? This plays a role in the type of daybed you get. One that stands in full sun for much of the day, for example, may need some sort of cover to protect you from burning, while you would need to take the material it is made of into consideration. Not all materials can stand up to all types of weather conditions, for example.
Also falling under the category of 'space' is the area space into which it would fit. If space is not an option, a large, round daybed in which you can lounge and really stretch out may be just the thing. But if space is confined, you may decide to consider a more traditional style daybed that fits up against a wall, giving you some room for leg space, to place a table, or in which to walk.
2.  Material
Outdoor daybeds are made out of various types of materials. Those who have a frame made out of solid wood may be treated to withstand different weather conditions, but you may have to treat that wood every so often to ensure that it lasts for a number of years.
On the other hand, those made out of rattan or wicker, or even plastic-treated products, may be able to withstand different weather conditions for a much longer period of time.
Do take these thoughts into consideration when buying your outdoor daybed.
3.  Finishing touches:
The finishing touches, to a large extent, is a question of choice and style. On the whole, though, you may opt to look at cushion and pillow covers that can withstand the elements and that may need only a wipe down in order to stay clean. Alternatively, of course, especially if you are someone that prefers to bring them inside or stow them away safely, you could take a look at cushions and pillows that have zippers. This allows you to remove your covers, wash them, and, after they are dried, simply cover your cushions and pillows again, easily zipping them back up until next time.
4.  Define your style
Each of us has their own unique style. You see this the minute you walk through the front door. Do you want to extend your entire style out to your patio or do you prefer to let your patio have its own unique style that perhaps blends in with your garden design? This is something you may need to take into consideration before making that purchase.
But no matter your unique style, the variety of daybeds that are available allow you the opportunity to pick that perfect fit that complements your home, garden, and your personality.
5.  The finishing touches
Nothing screams style so much as the finishing touches. Finishing touches are a reflection of who you are, and your personal style and flair. Whether you opt for vibrant pillows or mellow hues, or lovely textured throws, the end product tells the story of your style, your space, and your particular personality. So pile them on or leave it minimalistic. The end result is a reflection of you.
Ten of the best: Our outdoor daybed reviews
1.  Aubrie Canopy Daybed by Beachcrest Home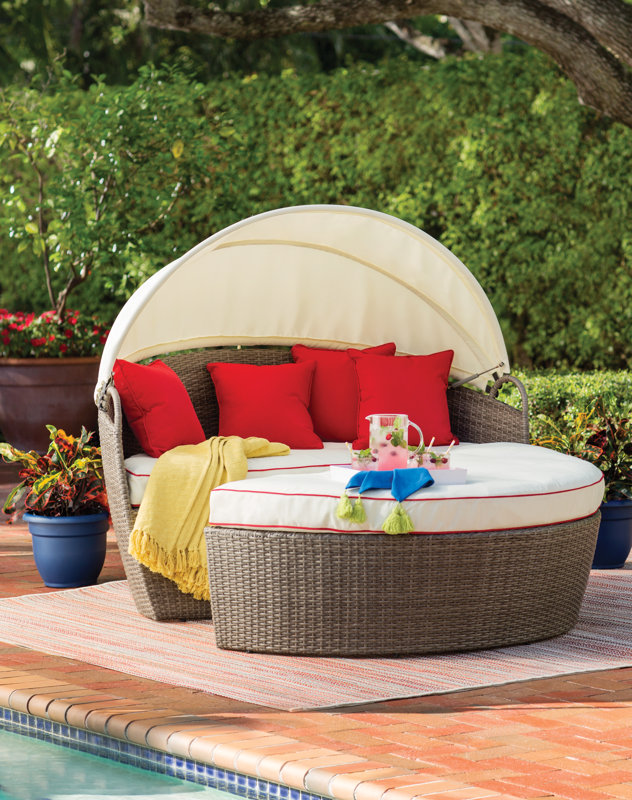 The Aubrie Canopy daybed would suit those who are more of a traditional mindset. It is crafted from bamboo and features a canopy that is ideal for shade on warm, sunny days.
The best features of this daybed include:
It is handcrafted out of solid bamboo
The pillows, cushions, and canopy are included
The product is incredibly lightweight yet sturdy
The canopy is crafted from cotton silk and keeps out rain
The canopy is removable
This daybed is suitable for both indoor and outdoor use
The mattress cover is removable
You can use the daybed with a trundle
Has a solid wood frame
2.  Hatley Daybed with Cushions by Mistana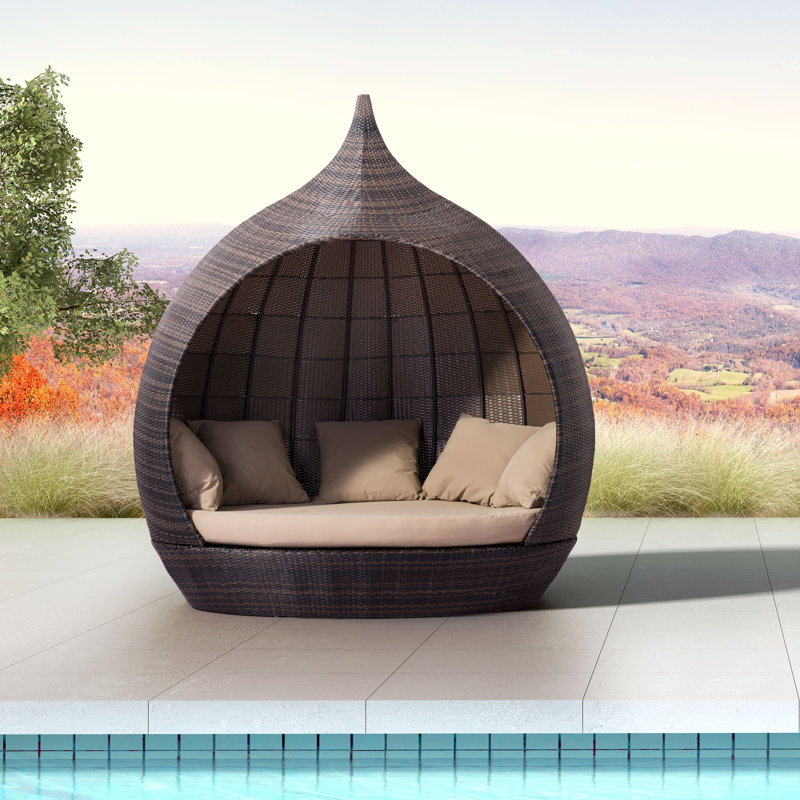 Reminiscent of the east, the teardrop design of the Hatley Daybed envelopes you and protects you from the harsh rays of the sun. The elegant design made of water resistant materials ensure your daybed stays in great condition for a long time.
The best features of this daybed include:
A teardrop design
A curving, structured canopy that not only protects from the sun but is also water resistant
Sports an aluminum frame for added strength
Frame material is wicker/rattan that is woven
The fire resistant cushion covers and pillows are machine washable
3.  Patio Daybed with Cushions by TK Classics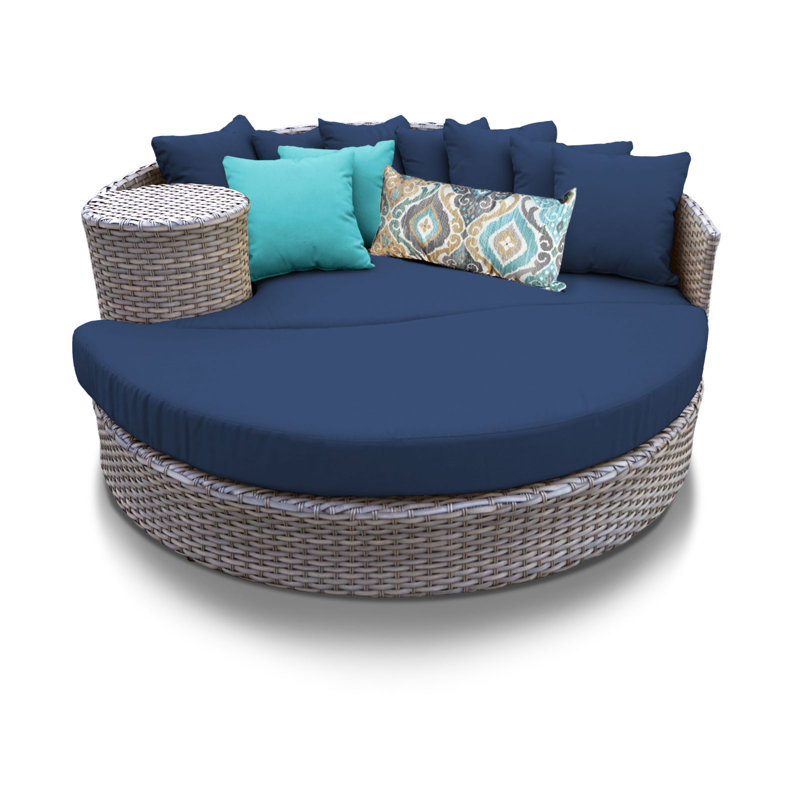 The two pieces of this daybed fit together snuggly, allowing you the comfort of a large bed, or when divided, extra seating space for patio parties.
The best features of this daybed include:
Fine for outdoor use in both summer and winter
Cushions are washable and have zips for easier cleaning
Sports height adjusters, making it perfect for uneven surfaces without worrying about marks on your patio
Made of two pieces, one has a built-in table upon which a glass top can be placed
Installation requires no assembly
4.  Gilbreath Daybed with Cushionsby Highland Dunes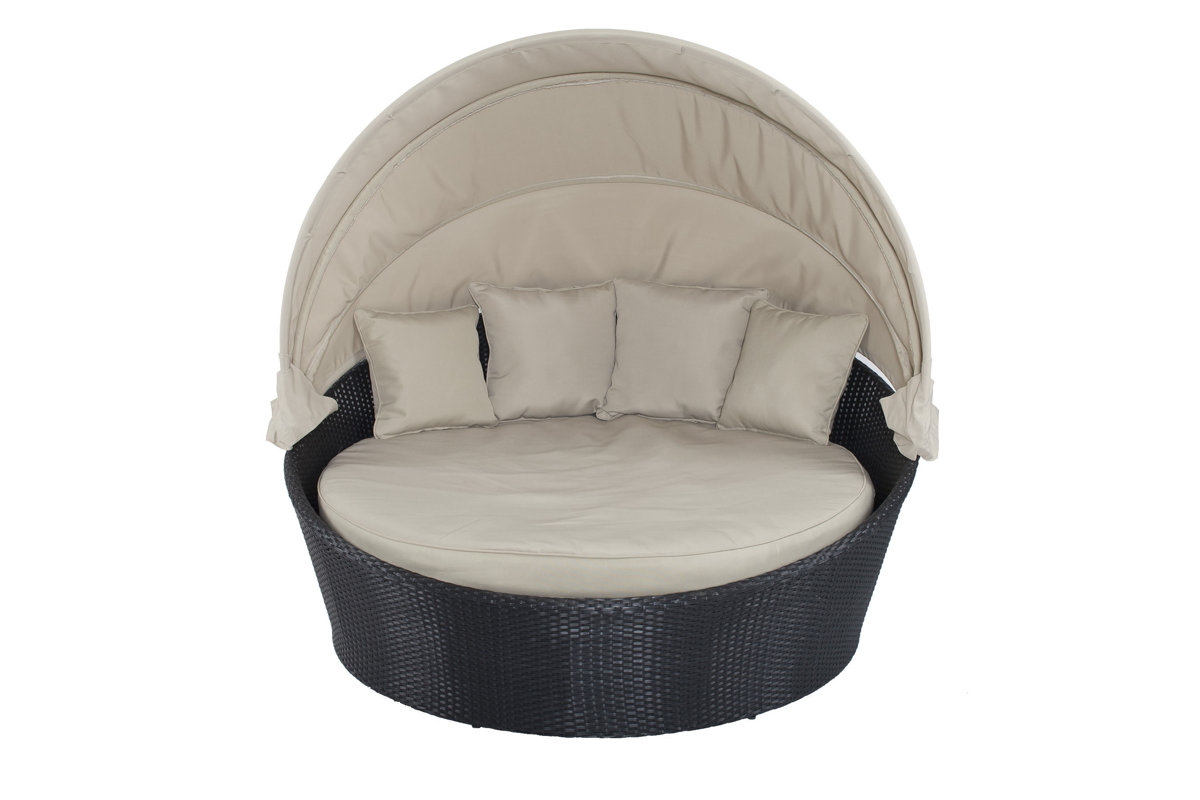 A large, rounded daybed that fits three people! This daybed also features a large canopy that can be opened or closed, giving you the option of dozing in the sun or shade.
The best features of this daybed include:
An aluminum and rattan frame
A beautiful espresso tan finish
The large canopy can be removed
The set includes four throw pillows
Cushions are included
No assembly is required
5.  Ryele Canopy Outdoor Patio Daybed with Cushionsby Latitude Run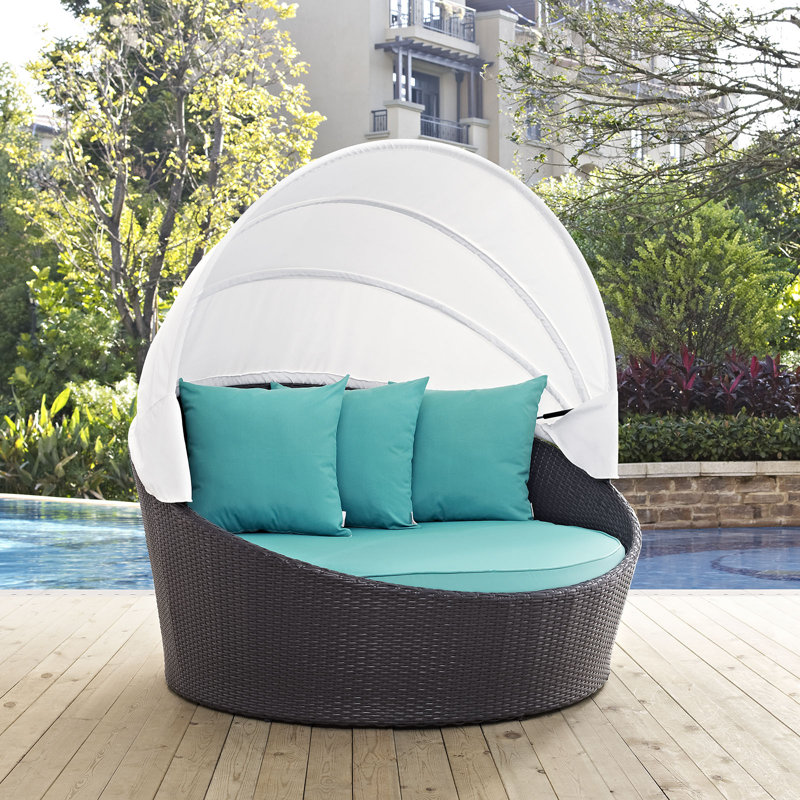 A cozy patio ensemble that withstands the elements year – round. The detachable cushions and pillows with removable covers for easy cleaning and the canopy for shade make this daybed well worth your consideration. With a lovely daybed like this, there is no need for a patio umbrella.
The best features of this daybed include:
A durable yet lightweight wicker/rattan frame
Included cushions and pillows that have removable covers for easy cleaning
A canopy that provides extra shade as and when needed
6.  Crumpton Daybed with Cushion by Darby Home Co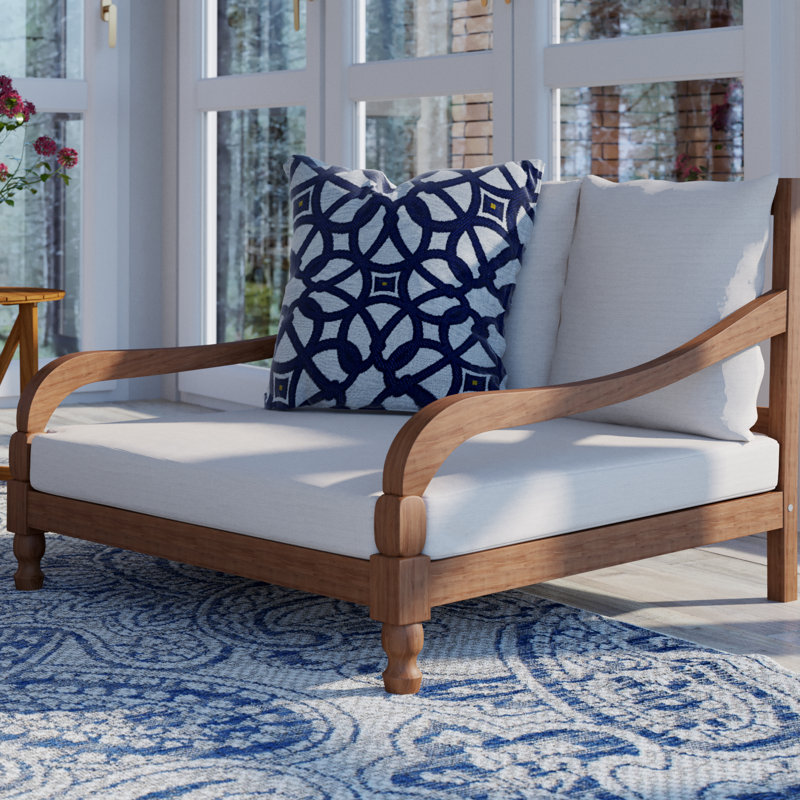 If traditional, sophisticated comfort and style is your thing, the Crumptom Daybed from Darby Home Co is most certainly a good option to look at. The elegant acacia wood frame makes this daybed not only a must-have on your patio but would look equally well inside your home.This is one of those outdoor chairsyou could spend the whole day outside reading in.
The best features of this daybed include:
Made of elegantly curved acacia wood
The frame is topped with plush cushions
The product is fire resistant
Cushions are included
7.  Ansonia Daybed with Cushions by Rosecliff Heights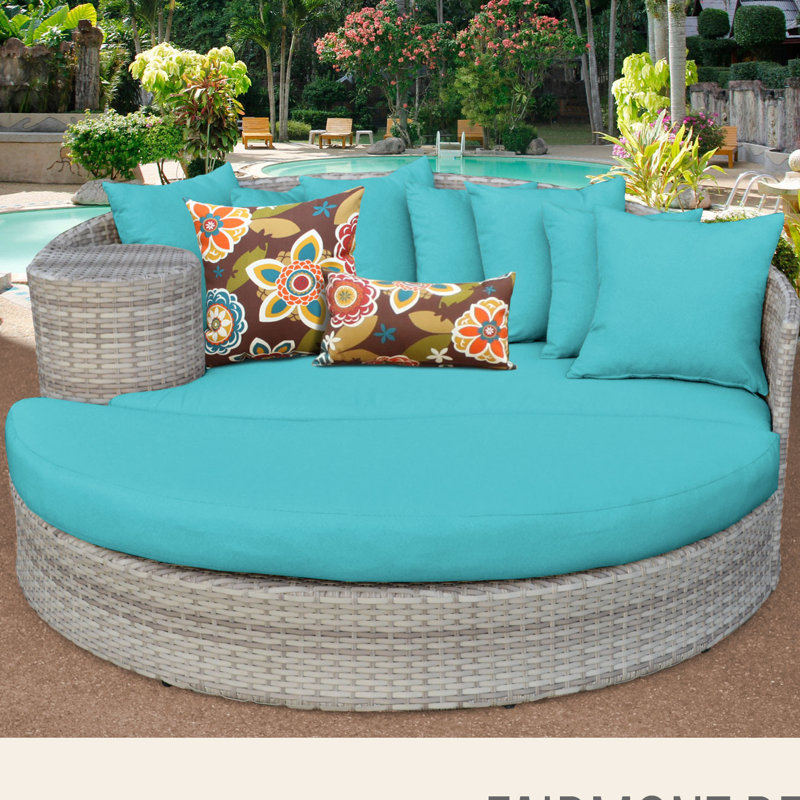 A great daybed for balconies or patios, you can see yourself snuggling up on this daybed even on summer nights while watching the stars. The inbuilt side table is the perfect place for that glass of wine.
The best features of this daybed include:
The product sports a commercial grade construction
The bottom sports height adjusters that will not cause damage to your deck or patio
The thick cushions have zippers for easy removal and cleaning
The aluminum frame is rust resistant
Productarrives fully assembled
8.  Cheval Daybed with Cushionsby Beachcrest Home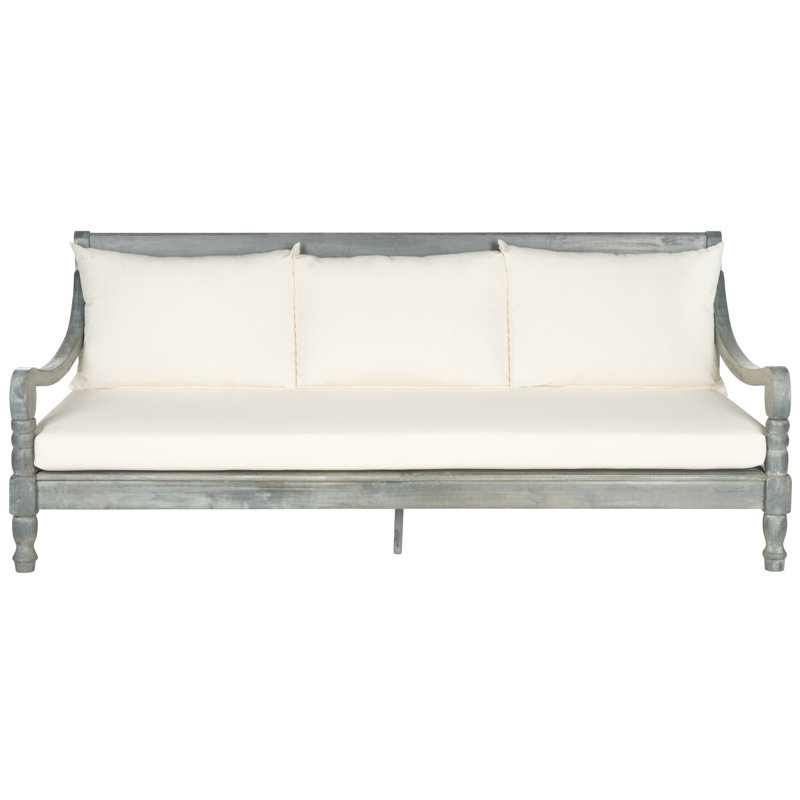 The classically posh British styling of the Cheval Daybed makes this product a serious contender for the title of the best outdoor daybed. The generous proportions and elegant design simply screams luxury. This daybed reminds one more of an outdoor sofa.
The best features of this daybed include:
Solid acacia wood construction
Sports all-weather cushions
The design pays beautiful attention to detail
The daybed has lovely large proportions with a classic British design
9.  Seagle Daybed with Cushions by Brayden Studio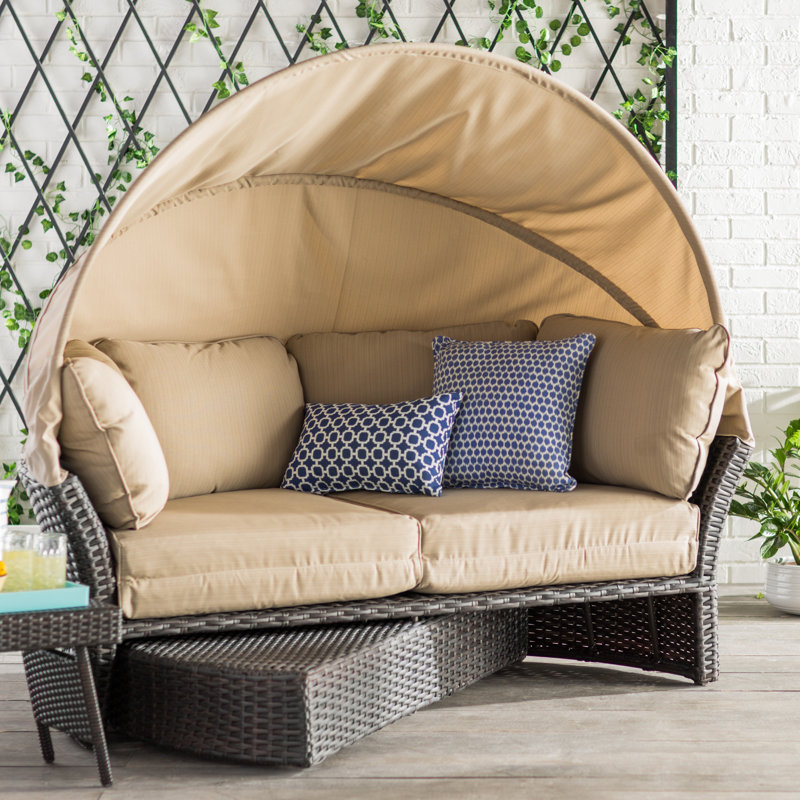 A luxurious daybed that fits in with anyone's outdoor décor, the Seagle Daybed has a beautiful resin wicker mahogany finish that is protected against the elements. If things get too hot, you could always jump into your fiberglass pool to cool down.
The best features of this daybed include:
A woven wicker/rattan frame
A beautiful, rich, mahogany finish
The streamlined frame is both UV and water resistant
An added canopy provides shade and prevents sunburn
Canopy is removable and attaches to the frame with a clamp that prevents it from moving around
Topped with easy to clean cushions for added comfort
10.  Quest Canopy Daybed Seating Group with Cushions by Modway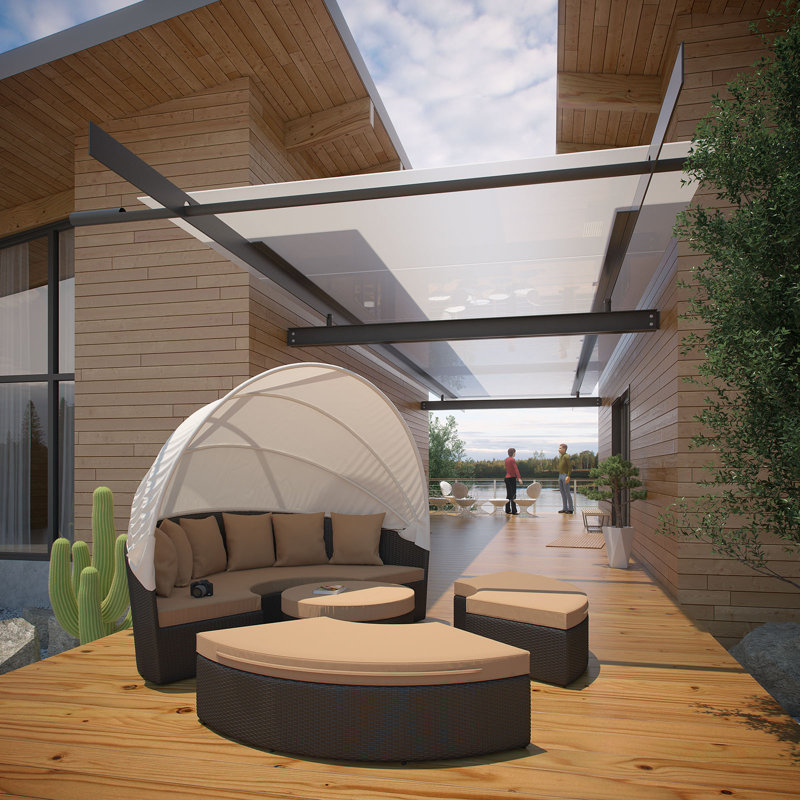 This daybed is made up of four individual pieces that can be fitted together into one large bed, or broken up into individual seating. An added luxury is the canopy that fits over to shield you from the harsh rays of the sun. All that is needed to make life complete is the addition of a hot tub.
The best features of this daybed include:
Consists of four separate pieces that can be joined or separated according to seating needs
The frame is made of wicker/rattan
Includes a back sofa section, two quarter sections without backs, an ottoman, and six pillows
Shade is attached to the main back section
Cushion covers are machine washable
No assembly is needed
Conclusion
To have an outdoor daybed, or not to have an outdoor daybed? The answer to this question resides firmly in you, your lifestyle, your space, and what you want to do with it. What do you want it to tell people of you and your home? Besides offering great seating space outside, it can also serve to brighten up a space and give it that extra touch of style and comfort.
Coming up with a winner for the title "best outdoor daybed" was relatively easy this time. This was not because we had anything against any of the daybeds reviewed, but simply because we were looking around for one for our own patio which is undercover, and runs most of the length of the home. The downside is that it is not very wide, so our winner is the "Cheval Daybed with Cushions by Beachcrest Home".Besides fitting our limited space perfectly, we loved the elegant, classy feel of this daybed and it fits in wonderfully with the rest of our décor as well.