Gather all your outdoor tools and equipment in one place to keep them secure and safe. Purchasing the best metal shed in the market is your best bet to do that.
Find out the best value metal storage sheds in the market today, and get to know the best choice for your needs. Read our reviews and have an informed buying decision now!
Read more: 10 Of The Best Plastic Sheds To Beautify Your Garden
The Best Storage Shed-Reviews of the Best Value Products in the Market Today!
1.  Arrow 8×6 Feet Hamlet Metal Storage Shed
Simple yet useful— this is exactly how you describe this storage shed by Arrow. Arrow is one of the most reputable outdoor storage shed manufacturers for a reason. And this Hamlet Metal Storage Shed is one of its best-sellers.
This storage has a plain white color with a green trim. The light colors of this shed can instantly brighten your backyard. Many put this metal shed on their best garden sheds list.
Best Features:
Constructed with durable electro-galvanized steel
Also coated with treated baked-on enamel that helps protect the steel from rust and corrosion
Has a wide sliding door for easy entry
Offers a total of 230 cubic feet of storage, perfect for outdoor tools and equipment
With a padlock feature to keep your items secure
Available in 12-year limited warranty
Arrow Shed Timelapse Build
2.  Arrow 10×14 Feet Dakota Shed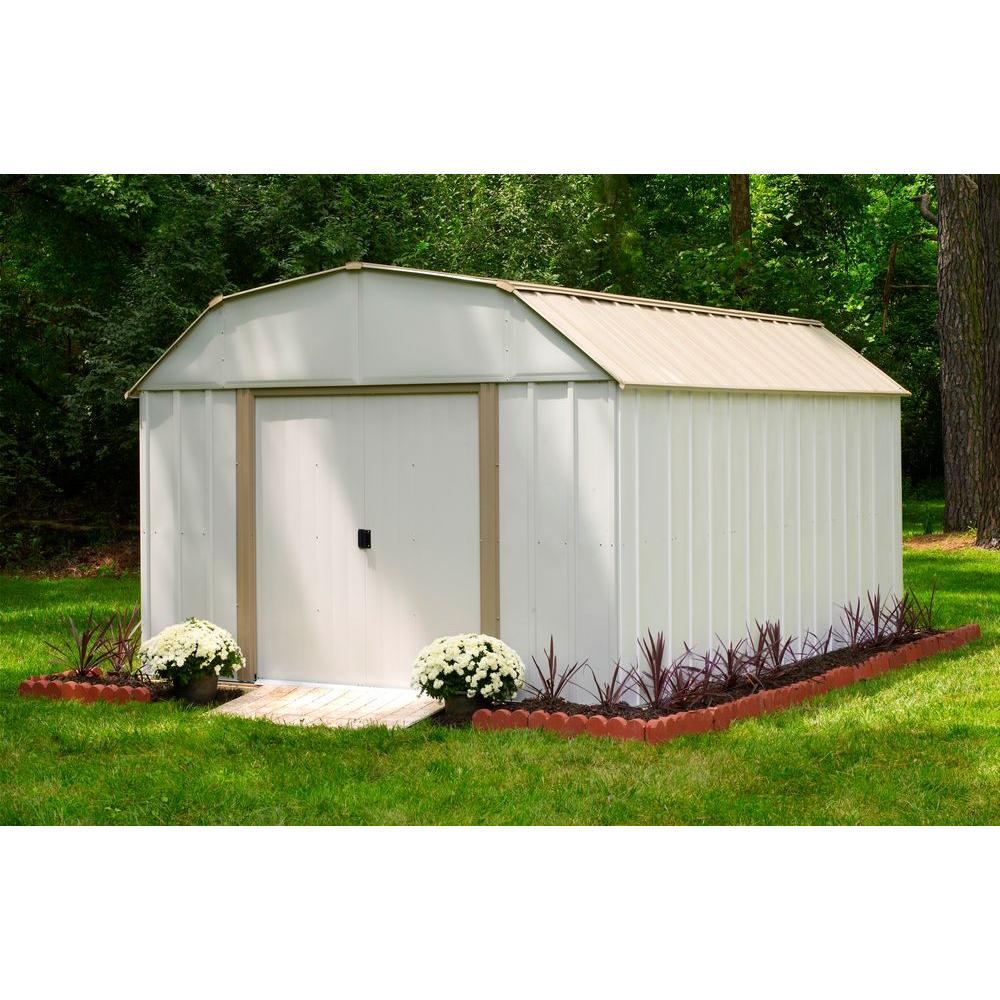 If you're looking for something that closely resembles a house, then the Dakota Metal Shed by Arrow is a great option.
With a beautiful and beige color combination, this 10-by-14 feet metal storage has enough space for your lawn equipment and pool accessories.
This outdoor shed is also equipped with amazing features.
Best Features:
This includes a floor frame kit.
Big enough to store tractors and lawnmowers inside with a total 852 cubic feet of storage
With galvanized steel construction
Has pitched roof sections (both upper and lower), which allows proper snow and rain runoff
Doors are lockable for security
3.  Arrow 10.3×13.7 Feet Oakbrook Metal Storage Shed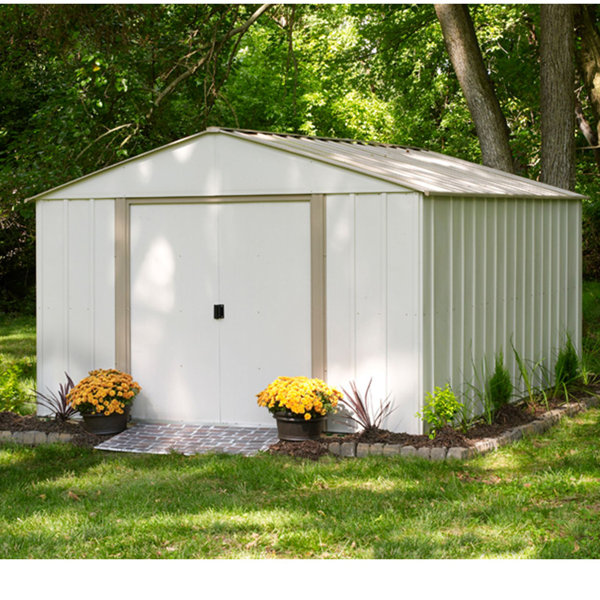 Another amazing metal shed design by Arrow is this Oakbrook Storage Shed. It has around 769 cubic feet of storage space.
But what makes the users happy with their purchase is the wide door opening and the high ceiling of this shed.
Its eggshell color combination also makes the storage shed a stunner.
Best Features:
Has a sliding door type, which makes entry and exit a lot easier
With 12-years limited warranty
Made in the USA
Corrosion- and rust-resistant
Topped with baked-on enamel paint for added protection
Its high gable steel roof design allows you to store big garden tools and long equipment such as ladders.
4.  Globel 9.8×7.9 Feet D Metal Storage Shed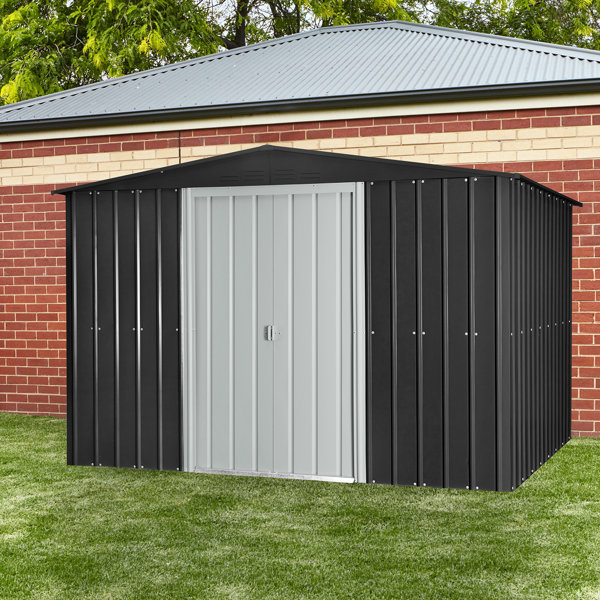 For a mid-range and neutral-colored metal shed, we highly recommend you go for this Storage Shed by Globel.
Constructed from durable materials, this shed is strong and durable enough to withstand different types of weather and other harsh conditions.
The black and gray colors also make it easier for you to integrate the shed in your backyard.
Best Features:
Can store up to 354 cubic feet of space
With a sliding door type for easy access
Features galvanized steel construction
Great for sports equipment and other seasonal items
Has 15-years limited warranty
Fire, rot, and mildew-resistant
5.  OutSunny 9×4 Feet Outdoor Garden Metal Shed
Perhaps you want to add some color to your outdoor view while providing enough storage space for your garden tools? Well, this Metal Garden Shed by OutSunny is the perfect addition.
It has white and green colors, which really suit well if you plan to put it in your garden. The color choice makes the shed camouflage well in the midst of green trees or shrubs.
Best Features:
We love the colors. This gives you enough storage space in a stylish way.
Has durable foundation with its galvanized steel and polypropylene materials
With ventilation, so as to regulate the air circulation inside the shed
UV and water-resistant
Has a sloped roof design, which is perfect for the rainy season as it prevents water to be trapped on the roof.
6.  Duramax Building Products 12×20 Feet Imperial Metal Garage Shed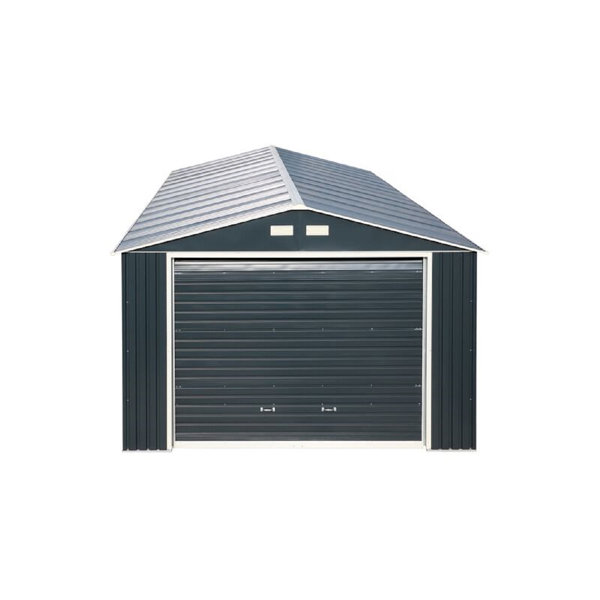 Metal Storage Shed shouldn't be ugly-looking. It doesn't matter if you store dirty tools inside; its outside appearance should be pleasant to look at.
Introducing this heavy-duty and stunning metal storage shed by Duramax— the Imperial Garage Shed.
This is an ideal shed for huge tractors, RVs, cars, and other tools and equipment you can think of.
Best Features:
Constructed with large metal panels to withstand any weather conditions
Its heavy-duty steel construction is galvanized for added durability.
Has 2 doors; one in front and another on the side
With an overhead door, perfect for cars, ATVs, and Lawnmowers
Weather, water, UV, rot, and mildew resistant
Easy to clean and maintain
Made in U.A.E
Offers 10-years limited warranty service
Available in 3 different colors: dark gray, light gray, and off white
7.  Rowlinson 6.3×9.1 Feet D Metal Lean-To Garage Shed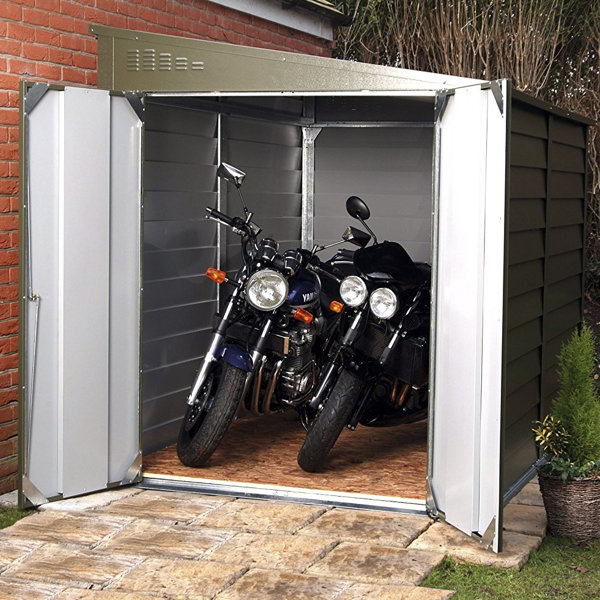 This lean-to type metal shed is the perfect choice for motorbike storage. It's like a garage metal shed but has less space. It can only fit 2 big motorbikes or 3 small ones.
When it comes to material and construction, this metal shed is at the top of the game. This is the best bike shed for motorbike owners.
This has a total storage space of 332 cubic feet.
Best Features:
Offers a reliable way to keep your bikes off the sight; thus, a great anti-theft bike storage
Uses wide double doors to maximize the space and for easy entry
The double doors can be placed on either end of the garage shed.
With a proper ventilation; hence, despite its small space, you'll have enough air circulation.
Comes with a comprehensive assembly instructions manual
Can withstand wind speed of 110 miles per hour
Has a PVC-coated galvanized steel construction
Conclusion
If we were to choose the best metal shed on the list, we'd highly recommend the Duramax Building Products 12×20 Feet Imperial Metal Garage Shed.
This metal shed has ticked all qualities that you should look for in a metal storage shed, namely: durability, ventilation, maintenance, door type, and warranty service. The only major downside of this product is that it's a bit difficult to customize.
We personally love the fact that it has an overhead door, as this door type makes access to the metal shed a lot easier. This is also the best door type if you were to store garden mowers or tractors inside.
Moreover, products made in U.A.E. are known to meet high standards, so we are confident this product is of high-quality. Lastly, this product seems to have a pretty good standing in other online metal shed reviews.
If you have tools and equipment loitering around your house, then it is high time you find the perfect space to store them. Get your own metal storage shed now!