Nowadays, most water sources contain chlorine because it is used as a disinfectant. This is because it has features that can remove disease-causing pathogens. However, chlorine can cause adverse effects. These side effects can include skin and eye soreness and blisters. This is why it is advised that people who live in areas with highly chlorinated water use the best chlorine shower filter to avoid the dreaded side effects.
Best Chlorine Shower Filter Reviews
You must first do thorough research on whether a product fits your needs and demands. Here are a few chlorine shower filter reviews that can help you make an informed choice.
1.  AquaBliss SF100 Shower Filter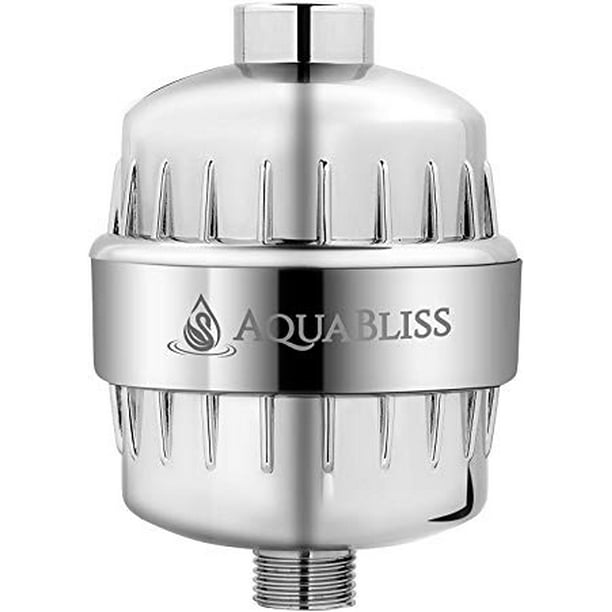 This shower filter has a multi-stage refine system. It includes a ceramic ball, activated carbon, calcium sulfate, redox media, and debris filters. Aside from filtering chlorine, it also helps remove odor and evens out PH levels.
This can last up to 6 months and can filter up to 10,000-12,000 gallons of water. It is easy to install and does not require any use of tools. It is suited to most standard showers as well. Aside from that, it also has a lovely chrome finish that will blend in well into any bathroom.
Features:
Various stages of refine
Chrome Finish
Suited with most standard showers
Affordable
Easy to install
High filter function
There may be leaks if the filter does not fit the shower.
May affect water pressure.
2.  Aqua Eva 15 Stage Shower Filter

The Aqua Eva shower filter has a 15 stage filter system. Aside from chlorine, it also removes solids, heavy metals, and chloramine fluoride. This is why it is ideal for people who are suffering from eczema and sore skin.
In terms of compatibility, it can be attached to combo, rainfall, handheld, and overhead showers. Above all, it does not affect the strength of your current water pressure. It also has odor-eliminating features to improve the quality of your water further.
The water filter range of this product is 10,000 galloons. It also comes with two extra filter packs within the kit as a bonus.
However, during the first use, you may notice that the water is black or gray. Do not worry because this is normal. This due to excess activated carbon in the filter. The water will turn clear after 20 minutes of constant flow.
Features:
15 stages of refine
Two extra filter pack
Complete compatibility
Contains Vitamin C
Contains KDF-55
Made out of ABS Plastic
Chrome finish
8"x3.3"x3.3" in size
Screw-in method of fitting
Easy to install
High refine capacity
Thorough guide manual
Affordable
Long-lasting
Plastic is not that durable
Does not improve water pressure
3.  Limia's Care 15 Stage Shower Filter
This metal shower filter has layers such as metal mesh, cotton, sulfite, calcium, etc. With these parts, it also cleans and removes bad odors from water. Aside from the shower filter itself, you will also get two extra filter packs upon purchase.
Features:
5"x3.5"x5 inches in size
37 lbs.
Made out of metal
15 stage filter system
Easy to install
Complete step by step manual
Has an extra filter
May affect water pressure
4.  MEETYOO Shower Filter
This chrome finished plastic shower filter can be installed in 4 easy steps. It can be used not only in showers but also in washstands and kitchen faucets. It has a 15 stage filter process that removes harmful matters.
Aside from that, this product has a 13,000 gallons filter function. This is a higher figure compared to other brands.
As a bonus, this kit contains two extra filter packs. These can extend the use of the filter for up to 1 year. But that depends on the quality of your water.
Features:
Made out of Plastic
Weighs 1.35 lbs
3"x3.3"x4.6" in size
Chrome finish
15 stage Filters
Can be installed in 4 steps
It has a thorough guide manual
It has extra filters
Affordable
Constant filter quality
5.  Berkey Shower Filter
This shower filter contains a dual media KDF 55 filter. It removes almost all types of toxic elements in the water. If your water quality is not that bad, it can be used for up to 1 year. Moreover, it also lessens the growth of molds and fungi in the shower.
Features:
Weighs 1.46 pounds
5"x4"x4" in size
Dual media KDF filter system
Filters odor and chlorine from water
Easy to install
Works great on the city and hard water
Easy to follow manual
On the costly side
Does not come with an extra filter pack
6.  BWDM Shower filter
This shower filter does not sacrifice quality despite its affordable price. It has a 15 stage filter system that can be easily removed and replaced. Due to this, it is more low-cost compared to other shower filters. Aside from that, its filter system also contains vitamin C.
The BWDM shower filter can be installed on any type of showerhead. It has a standard ½ inch thread that suited with most showers. In terms of the fitting process, it is no-fuss. You do not need to use any tools. You only have to follow a few simple methods.
Features:
Made out of ABS Plastic
3"x3.3"x4.6" in size
Weighs 13.6 ounces
The refine system contains KFD, Activated Carbon, and 13 other stages.
After-sale services guarantee
Easy to install
Active filter function
Affordable
Active customer service
Prone to leaks when water pressure is high.
7.  Miniwell Shower 720-Plus Shower Filter
If you are looking for a shower filter backed by testings and certificate, then this is it. The Miniwell shower filter has passed the SGS testing and obtained an FDA license.
The central part of this filter system of this product is activated carbon. It is equipped with CND technology. This enhances the filtering performance by 99%. Aside from that, it has a double filter design. This removes the chances of slowing the water pressure due to clogging.
Also, another unique feature that you will appreciate with this filter is its transparent bottom. This allows users to see the state of the filter. This hints whether it is time to replace the filter or not.
Features:
CND Technology
Double filter design
Clear bottom
Money-back guarantee
Weighs 1.6 lbs
Made out of Composite
2 GPM flow rate
2 GPM water usage
Easy to install
Works well against hard water
Active customer service
Comes with a free spare cotton filter
Easy to follow fitting steps
It can be a little more costly compared to other shower filters.
How To Select the Best Chlorine Shower Filters
The best handheld shower head with filter is used to remove not only chlorine. It must also remove other harmful chemicals to the skin, such as ammonia and chloramine. The benefits it provides its user is extensive. If you choose the right shower filter, the risk of skin irritation is highly decreased.
That being said, you must use only choose the best chlorine shower filter to reap its gains. Here are a few ways of how to do that:
Identify the Refine System that You Need
Not all shower filters are made equal. Those that have complex filtering mechanisms are typically more useful. They can filter chlorine better and other water toxins as well. Aside from that, some of them also have added benefits, which includes moisturizing features and vitamin C.
Also, the type of shower filter that you need is dependent on the quality of your water. If you have hard or city water, the 15 stage filters are ideal. They filter out many types of chemicals and particles other than chlorine. If your issue is only with chlorine, the KDF and Activated carbon filters will be sufficient.
Check the Compatibility
When choosing the best shower filter, you have to make sure that it is suited to your shower. Most shower filter fits standard shower. However, if you have rain or overhead shower, it would be best if you check the labels first. This will give you an idea of whether or not it is suitable for you. Some models come with their showerheads as well, which makes them more trouble-free.
Asses the Installation
You can quickly identify whether a shower filter is easy to install or not. Most do it yourself fittings are advertised to be so from the start.
It is ideal to go for these types of shower filters. This is because you will not need professional help. Therefore, you can save money.
Conclusion
It is essential to have a good quality of water special when it is used for the shower. You must have the best shower filter for chlorine to achieve that. Hopefully, despite the numerous options available in the market, the reviews mentioned above has helped you in choosing the best chlorine shower filter.