If you have a wide lawn, backyard, or a poolside area in your home or establishment, you're probably here looking for the best outdoor shower in the market. That alone will be a difficult task because there are so many products and brands to choose from.
This is why we have provided you with a list and a guide you can skim through to give you an idea about the outdoor showers. We also have included what you'd love most about the product or what may make you think twice.
Having an outdoor shower to refresh you during a hot day is not a luxury most can afford, so if you can, we hope you invest wisely. This just might be the product that can make you love outdoor bathing more than ever.
The 10 Best Outdoor Showers
1.  Noah Freestanding Outdoor Shower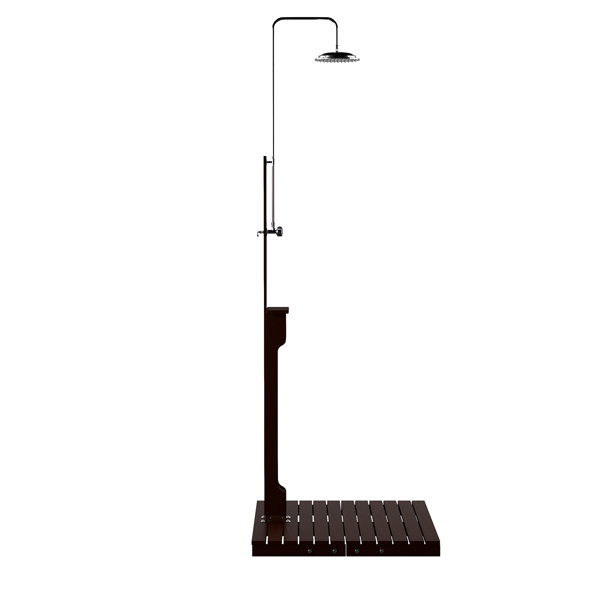 If you're looking for a sleek and elegant shower to accompany you on a refreshing open-air experience, this just may do the trick for you. This freestanding shower from Noah includes features that could qualify it as the best outdoor shower in the market.
It offers the luxury of a rain-style shower with Uruguay Eucalyptus hardwood slats for the base and a built-in shelf to hold your toiletries and bath essentials. Its geometric design and silhouette can be a great addition to your poolside and garden if you prefer the modern aesthetic.
The elevated base keeps your feet free from earth dirt when using the shower.
Assembly will only require Phillips screwdriver.
This piece of equipment requires outdoor plumbing.
It doesn't have a solar heating feature, so hot water will not be available.
2.  Southern Enterprises Curtis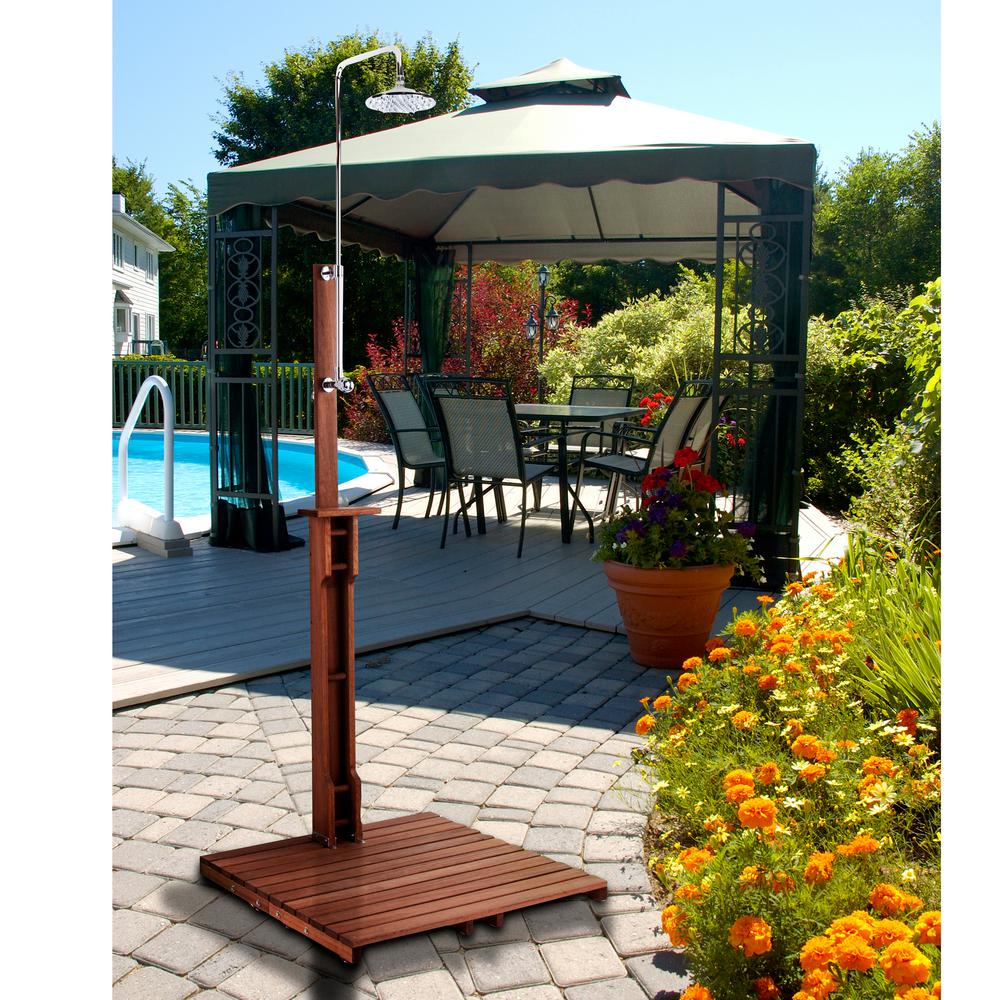 This outdoor shower from Southern Enterprises Curtis can be a great addition to your tropical rest house alfresco poolside. This is made of warm-hued oiled Indonesian Eucalyptus, by custody-certified environmentally responsible manufacturers.
Its sturdy build includes a slatted elevated base and integrated shelving for storage. Having one of the best freestanding outdoor shower products can come in handy and just may be the touch needed to make your vacation better.
Its shower has a heavy rain pattern that can help cool down swimmers on a hot and humid weather.
Many claim it can survive salt-water, so this can be placed in a beach area.
It has a fixed height that cannot be adjusted.
There may be difficulty when assembling the parts.
3.  Giantex Solar Heated Shower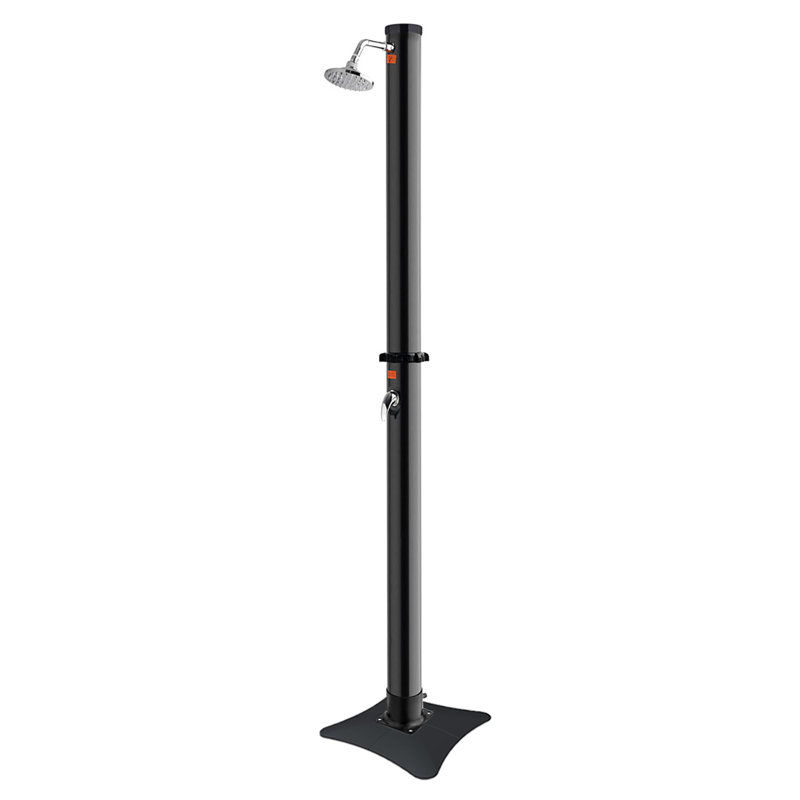 This freestanding outdoor shower from Giantex was designed with solar heating technology, so you can have the luxury of a warm water bath outdoors. It's made of non-corrosive brass and black PVC that can hold up to 9.3 gallons of stored water.
Many buyers can vouch for how easy it is to install, quick to refill, and convenient to use. Its foot faucet is especially useful, and the shower is adequately average. It still hasn't come off as the best outdoor shower in the market, but it's getting there.
You can adjust the temperature of the shower water.
It's an affordable shower fixture that is easy to find in most garden and lawn places.
The water can get really hot, so you must always check the water temperature before going in.
It doesn't include a flooring base, so you will be stepping on wherever it is mounted, usually concrete.
4.  Homewerks

Outdoor Shower Kit 3070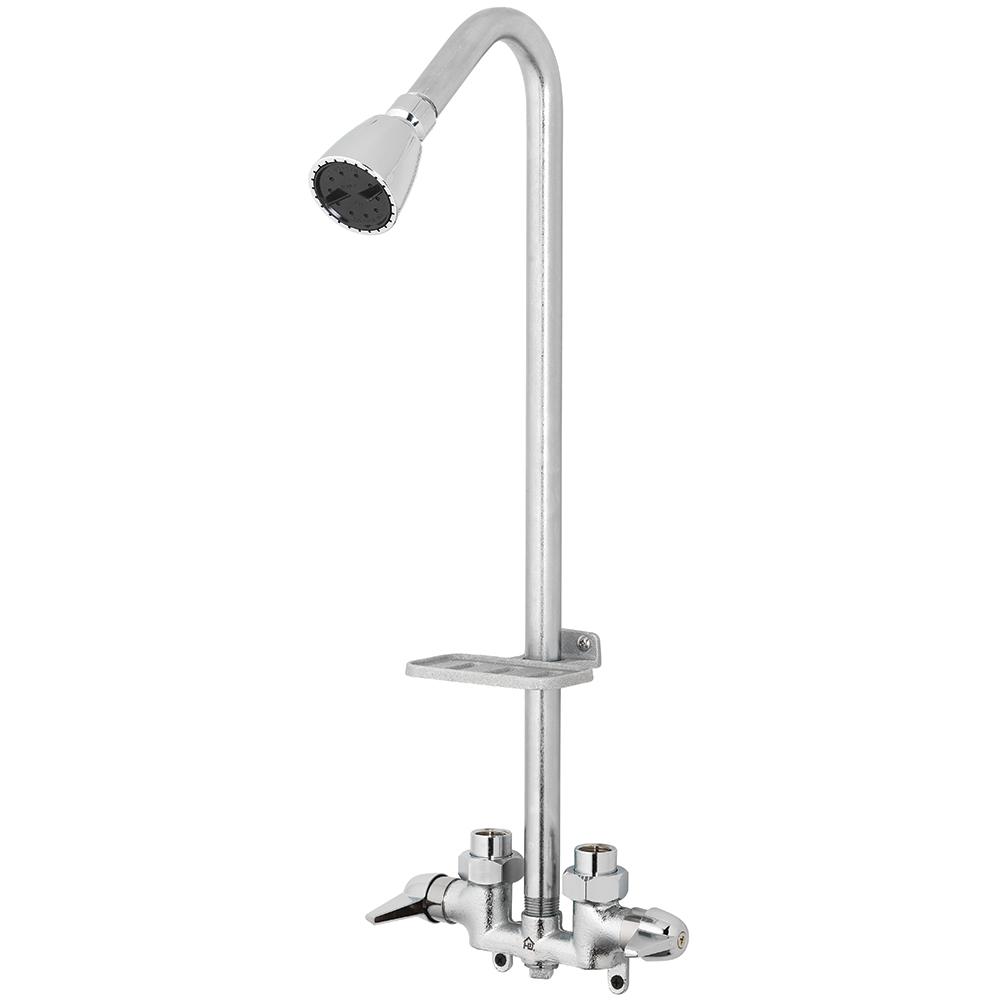 This outdoor shower is industrially-designed with corrosion and vandal resistant chrome-coated brass material that is suitable for poolside and beach fronts. Its high flow shower comes with adjustable controls for both temperature and spray.
It's an affordable piece of equipment to have, and having a hot and cold feature for the outdoors is just what most people need to combat the summer heat. A lot of outdoor shower reviews recommend it for the convenience it offers.
It is easy to install because it comes with fittings of the standard size.
All you need to do to avoid leakage in the pipings is to put some Teflon tape on the threading.
The location of the valves is located at a height that is not ergonomically-considered.
There are no extending features for the fixture, so you have to find an extension piece and a coupling for added length.
5.  Hydrotools by Swimline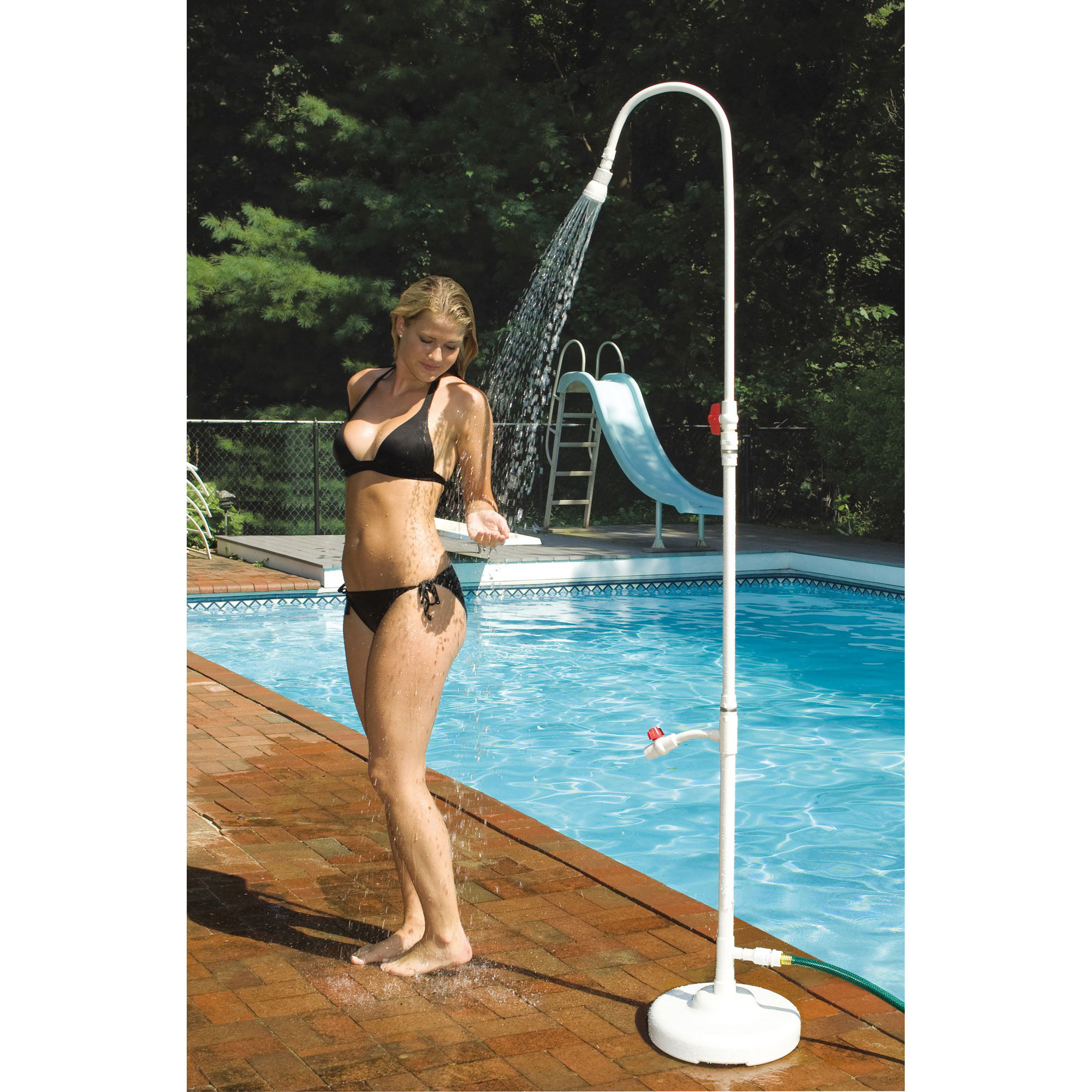 This outdoor shower is made of durable PVC and has the conventional look that works for poolside areas and backyards.Hydrotools by Swimline includes a faucet and a foot wash spigot that's ideal for quick washing before going in or out of the pool.
Users recommend the use of PVC glue instead of Teflon or plumber's tape for the assembly of the components to avoid leaks entirely. Many reviews commend its shower quality, dubbing it as having one of the best outdoor shower heads out there.
The product is affordable and its components are easy to assemble and install
The water pressure of the shower is ideal for frequent use.
It doesn't come with an elevated flooring base to keep dirt off of your feet.
It is made out of PVC and cheap plastic components, so it cannot be expected to last a long time.
6.  Yescom Solar Base Shower
Another valued product because of its solar-powered water heating capacity, the Solar Base Outdoor Shower by Yescom can make a great accessory for your poolside and garden. It can be mounted on any solid flooring surface and needs no additional plumbing set-ups.
This includes a handy setting that can control both the water pressure and temperature of the fixture and is easy to assemble. Outdoor shower reviews particularly include the fact that it doesn't use up electricity; thus, there are no additional energy costs.
This product is eco-friendly and energy-saving.
It as well comes with a temperature cut-off that doesn't allow the water temp to exceed 130 degrees Fahrenheit, thus preventing burns.
You will need to buy an elevated flooring base or mat for this because it doesn't come with the standalone shower fixture.
It may be a tad bit difficult to install, so this may require the assistance of a plumber.
7.  Poolmaster

Portable Outdoor Pool Shower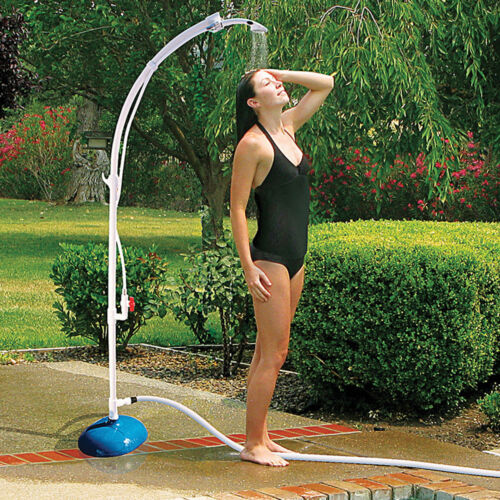 The Poolmaster 52508 is an outdoor shower that you can basically take anywhere around the pool, lounge, or garden. Attach the product to a flexible hose connected to a water source, and it can be placed at any location, as it even has a sand-filled base to keep it standing.
Made with corrosion and weather resistant PVC material, it is easy to assemble and use, making it a handy and convenient companion for the summer. Many outdoor shower reviews speak highly of it as one of the best portable outdoor shower products available.
The showerhead can be removed and handheld or can remain on the stand with a snap back mechanism.
It comes with the ideal water pressure that can easily wash off dirt before going into the pool.
The height of the shower is not adjustable, but it comes at a standard length.
It is not as durable but can last a considerable amount of time.
8.  Outdoor Lamp Co. Poolside

Portable Power Shower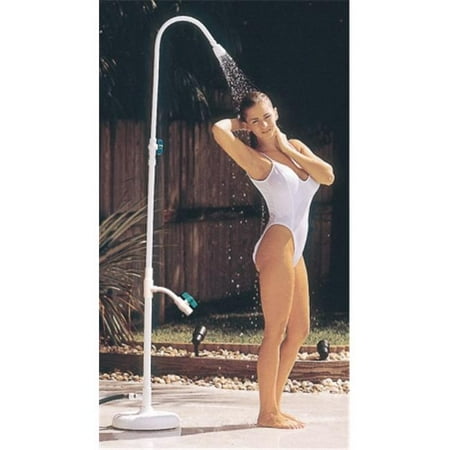 This portable shower from Outdoor Lamp Company comes in a simple design and lightweight construction that allows you to move the product from one place to another. It is made with PVC material, so this means no rust and corrosion.
It's easy to assemble and comes with a head washer, leg washer, and a foot washer for a more efficient shower experience.To keep it sturdy, all you need to do is fill up its base with water, and it's all set.
For as long as the base is adequately filled up, the shower doesn't topple over even with strong winds.
It comes with an instruction kit that is easy to understand and makes the assembly of part more efficient.
Leaks may not be avoided even when using Teflon tape for the threads. We recommend using PVC glue instead.
The height location of the washers may not have been ergonomically considered.
9.  Heated Outdoor Shower
This portable outdoor shower may just be the ideal companion for all the outdoors-y people out there. With its high pressure handheld shower headand an adjustable water temperature feature, this can be a part of your poolside, and you can take this out for camping too.
Its multi-use design makes it viable as an outdoor sink as well. This has brought much convenience to many who did their "stay-cations" in their RVs or those who love warm outdoor showers when camping.
This can be used to give your pets a relaxing warm bath outdoors.
It's easy to operate, adjust, and assemble.
Its sturdy design makes it a more durable option than most showers.
The unit weighs 23 lbs. when empty, so it may warrant the need for a vehicle.
The available connections are made of plastic and many buyers decided to buy another set of stainless steel hose attachments instead.
10.  Signature Hardware 400735 Harlingen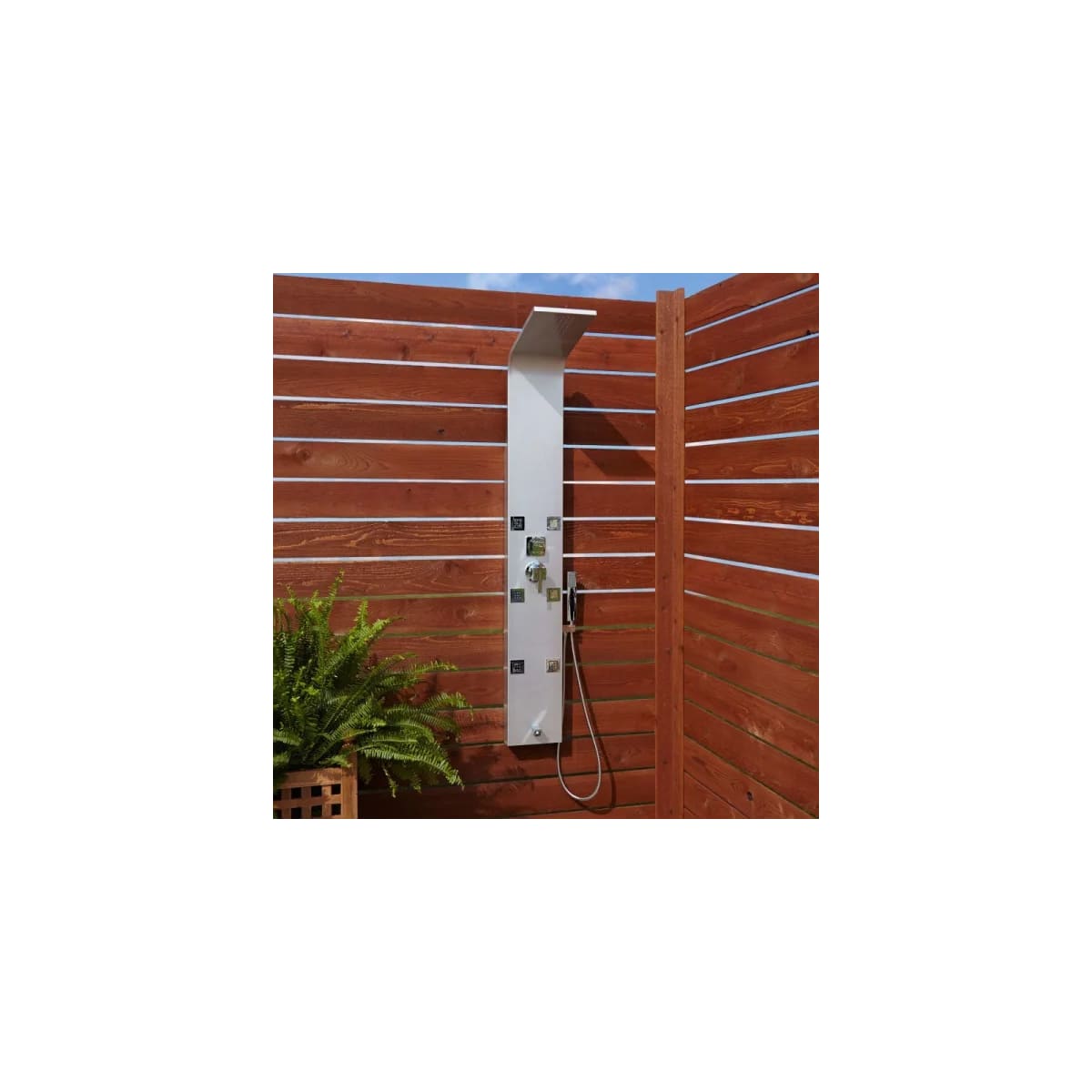 This shower panel from Harlingen is quite on the innovative side, with its minimalist modern design,hand shower, and six jet body sprayers. This wall mounted outdoor shower comes with a built-in shut-off mechanism and diverter and has a premier finish that can resist tarnish and corrosion.
It is sturdier than free-standing ones and will no longer need height adjustment because it will depend on the mounting height. It as well has great water pressure and can be hooked up to hot and cold plumbing fixtures.
With its design, it can be easily incorporated into the architecture of the area.
It offers the experience of a smooth rainfall with body sprays to refresh anyone on a hot day.
The shower is made of aluminium; thus, it is resistant to rust.
Its chic aesthetic comes in a rather more expensive cost as compared to other outdoor showers.
The metal material may get hotter when placed directly under the sun without shade.
what you should consider before buying an outdoor shower
Prior to the purchase of an outdoor shower, one main thing to be taken into consideration is the nature of the need. Is it an accessory to the pool area? Will it serve as a clean-up area before going indoors? Will it be used as a back-up shower area for guests or an area where your dog could be bathed?
You see, there is no ultimate best outdoor shower to cover all your needs, but determining how it will be used can narrow down your choices. Looking into outdoor shower reviews can be a good source of information.
Space and Location
Given that you're fixated on getting an outdoor shower for your home. You should first determine where you want this fixture to be placed.
Look around your home for the most suitable place to place the outdoor shower, and you can start looking for the type that will work well with the space. That will resolve as to what type of outdoor shower you can buy: freestanding, wall-mount, or portable.
The water source is also something you should look into to make sure that your fixture has something to connect to in close proximity. This will also indicate how you can conceal the hose to avoid anybody tripping on them.
Also take note that full exposure of your outdoor shower to the natural will eventually deteriorate the material. Try working with shade, whether they will be built or the shower will just be placed under trees or palms.
Material Quality Check
Always check the material of the product. Many outdoors showers are built for a few months to a year of use while some are built to last, and the material can make all the difference.
PVC doesn't have the great weather-ability as compared to aluminium, but the former is more lightweight. Hardwood elevated slatted flooring gives a more tropical feel, but frequent contact with water will eventually wear it out. This is where concrete or stone flooring comes in as more effective.
CONCLUSION:
With all that laid on the table, you can now narrow down your options when looking for the outdoor shower that will work for you and your home. We, however, have made our evaluations over time, and we've discussed amongst ourselves as to which of those reviewed products served us best.
The cream of the crop, without a doubt, would be the Southern Enterprises Curtis. Aside from its sophisticated design, it offers so much more in terms of convenience and luxury.
It's the sturdiest of all the free-standing types, and its sleek silhouette can be easily incorporated into any outdoor architecture. Even though it doesn't come with its own flooring, this means you can make your own with classic and durable materials like concrete and stone.
To top it all off, you have zero energy costs with this piece of equipment because it draws all its power from the sun. This eco-friendly energy-saving concept is well executed in this product, and it just may be the investment that's definitely worth it.
We hope you find what suits you best!