An outdoor fire pit is a great addition to any home as it allows you to entertain your family and friends in style. There are numerous types of fire pit bowl materials including copper, cast iron, steel, and brick fire.
Nevertheless, copper pit fires are more preferable because they don't break or rust and exude a striking elegance.
Finding the best copper fire pit for your needs can be overwhelming. Here are copper fire pit reviews to help you make informed decisions.
7 Best-Value Copper Fire Pit Reviews
1.  CobraCo SH101 Hand Hammered 100% Copper Fire Pit with Screen and Cover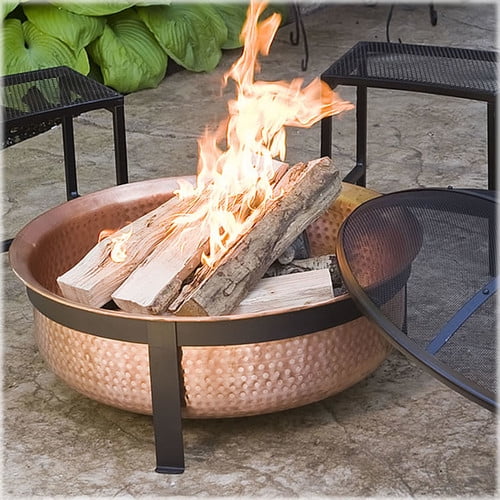 If you are looking for a timeless modern fire pit, then the CobraCo SH101 would be a good choice. This fire pit features a gorgeous solid copper bowl that does not rust and is deep enough to hold a large quantity of wood.
The hand-hammered unfinished texture turns into a classic copper patina when exposed to the air.
Also, included is a sturdy metal stand to keep the bowl off the ground. However, the stand is not rust proof and may require you to periodically spray it.
Extra deep copper bowl
Wrought iron stand
Includes: spark screen, vinyl protective cover
Weight: 29.5lbs
100% copper construction is rustproof
Deeper bowl to make big fire
Modern design
Sturdy metal stand
Heavy-duty screen cover
Screen and vinyl cover depreciate faster
Bowl sits very low off the ground
2.  Catalina Creations 40" Round Heavy Duty Mosaic Patio Fire Pit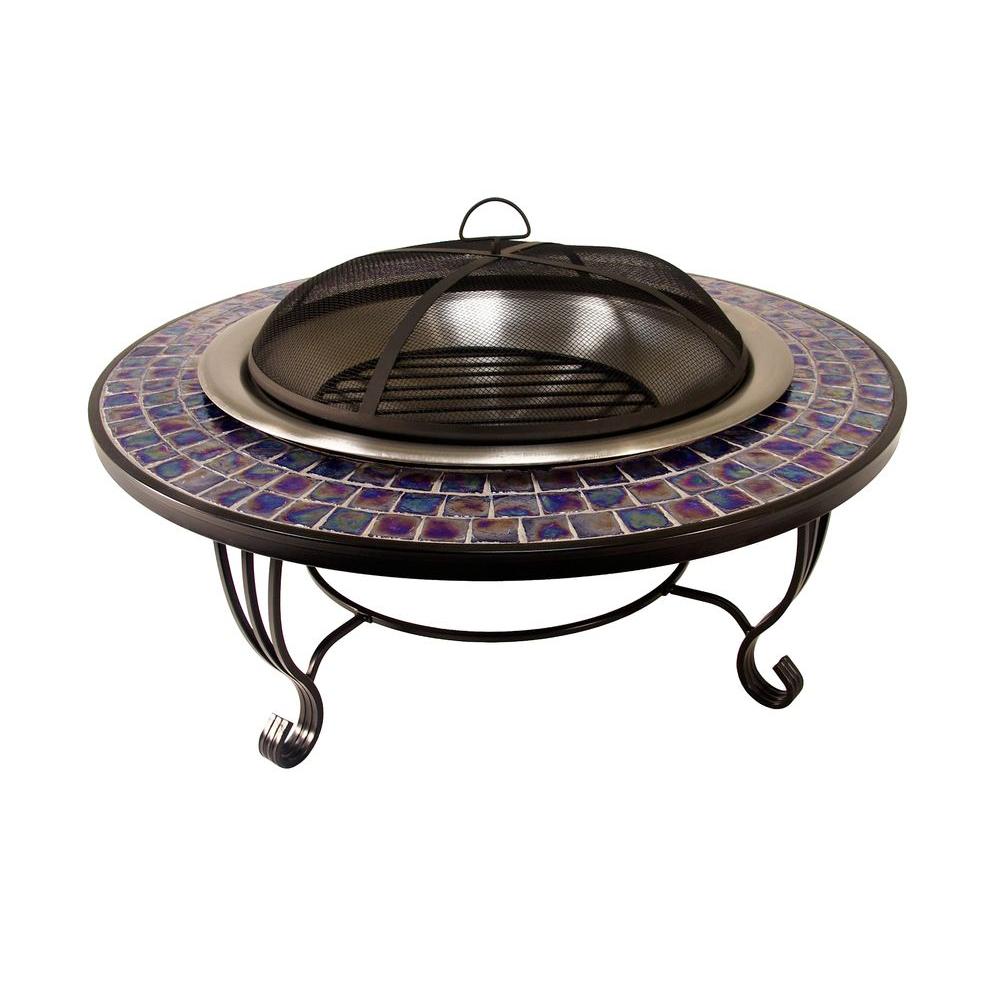 If you are contemplating creating a focal point for your patio, look no further than Catalina Creations fire pit. Featuring a beautiful textured 30" copper bowl and stunning metal frame, it is a great addition for any location.
The best thing about this fire bowl is the fact that it comes with a deep design and integrated log grate so as to increase airflow and keep the fire burning for longer. Plus, the mosaic fire pit is easy to assemble, and it includes storage cover, log grate, spark screen, and screen-lifting tool.
Decorative mosaic design
100% copper fire bow
Includes: storage cover, log grate, lifting tool
Durable due to copper construction
Easy to assemble
Large diameter fire bowl
Rustic-look and modern design to complement any decor
Ember screen likely to develop holes
Some users wish it was a bit taller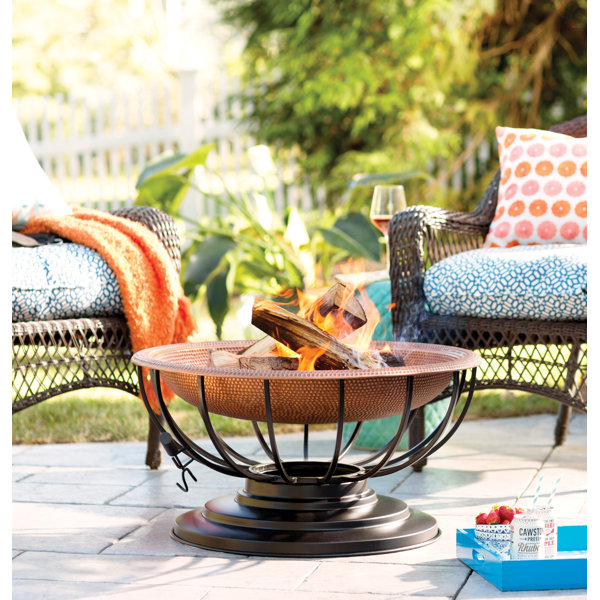 This is another great fire pit bowl that is constructed from sturdy copper. This is the best outdoor fire pit, and it makes an outstanding choice for those who would like to make outdoor evenings more entertaining. Most impressively this fire pit can be converted to a table, thanks to the included fitted copper lid.
Plus, it comes with important accessories like fire poker and spark screen.
Beautiful finish
Mesh covers come with sparks
Includes fire poker, lid, spark screen, and filler
Beautifully designed
Doesn't suffer weather damage
Multi-use
Built from durable copper material
4.  Arteaga Copper Wood Burning Pit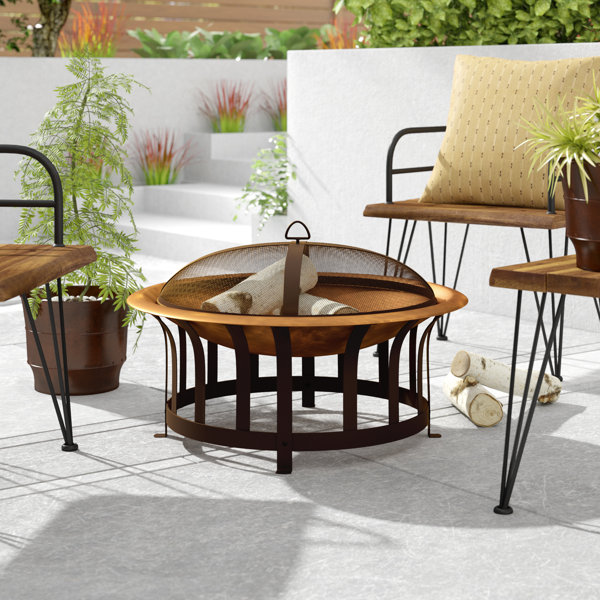 This fire pit measures 30 inches in diameter, and the exterior material is made from copper and steel. It features a circular silhouette and slatted base that makes it pleasing to the eye. Also, included is a fire poker and steel mesh lid, which makes this fire bowl an excellent choice given its price.
Offers 360 degrees view of fire
Constructed from copper and steel
Includes steel mesh lid and fire poker
Easy to assemble
Mesh cage prevents embers from popping out
Lightweight design
Weather-resistant
Prone to rusting
Requires assembling
5.  Millwood Pines Tyrone Hammered Wood Burning Fire Pit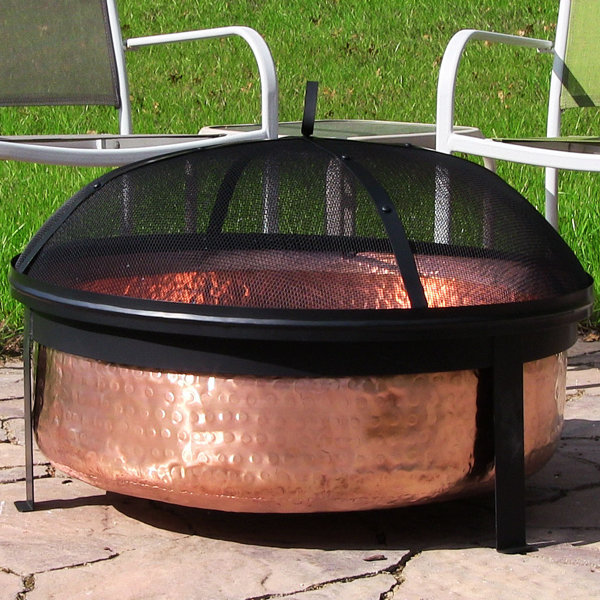 Are you looking to create special memories around a fire? This copper fire pit has all it takes to safely burn wood and keep you warm during your adventure nights. It is ultimately the best wood burning fire pit available in the market. It is built of hammered copper and features a timeless look.
Solid copper construction
Easy to assemble with basic tools
Comes with grate, fire poker, and mesh screen
Elegant construction
Durable
Easy to assemble
Features necessary tools
Handle of the mesh is wobbly
6.  Good Directions Charcoal Fire Pit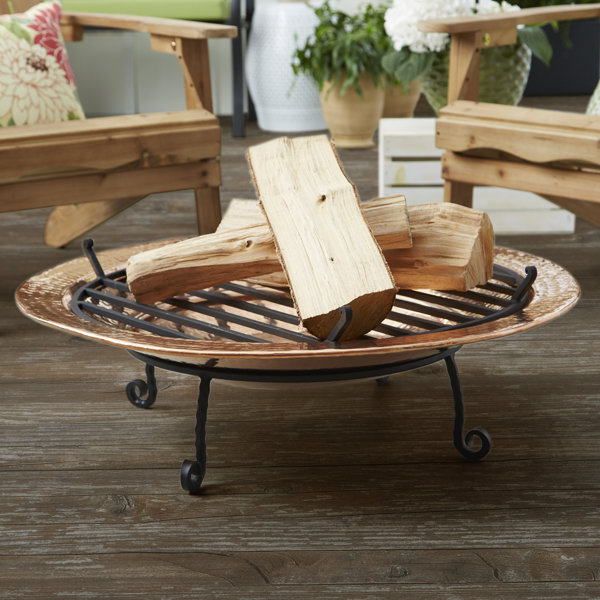 This copper charcoal fire pit is a multi-purpose bowl that can be used to burn charcoal or wood. This fire pit is crafted from copper to ensure sturdiness and durability. Better yet, it is a top-notch product owing to the fact that it is made in the USA.
Unlike most fire pits, it comes in different sizes, allowing you to select the perfect size for your home.
Fuel type: wood and charcoal burning
Includes; 1 stand, 1 grate, and 1 bowl
Ideal for outdoor use only
Stylish and innovative design
Great quality
Doesn't require assembling
Comes in different sizes
Doesn't include storage cover and park screen
Screen rust when exposed to rain
7.  Martillo Round Copper Fire Pit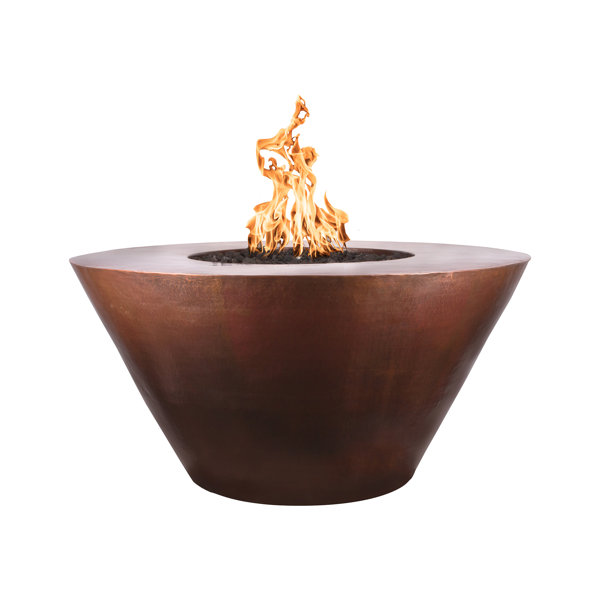 If price is a factor, then this hammered copper fire pit would be a great addition to your outdoor space with Spanish or copper decor. This fire pit is slightly different from other best copper fire pits because it is powered by propane and natural gas.
It is proudly made in the USA; hence, quality will not be an issue. Most importantly, it is designed to be steady in numerous environments.
Exterior material: Copper
Fuel type: propane and natural gas
Burning area material: Stainless steel
Pieces included: Filler, stainless steel fire pan, brass valve with chrome cover, burner, lava rock
Elegant copper construction
Large size to build oversized fire
No assembly required
Omits log grate, spark screen, and cover
Conclusion
When you have the right fire pit, spending time outdoors will be fun and joyful. Basically, all the above fire pits will provide a beautiful place to burn wood, charcoal, or gas as you create special memories around the fire. Also, make sure you consider the important factors when choosing the best copper fire pit for your home.