There are some people who still want to push the swimming season even if summer hasn't arrived yet just to stay fit. Fortunately, this is very much possible if you have the best gas pool heater at your disposal. Our gas pool heater reviews will give you an insight at which brands are the most popular and how to one that can suit your needs.
Products Review
1.  Hayward Universal H-Series Natural Gas Pool Heater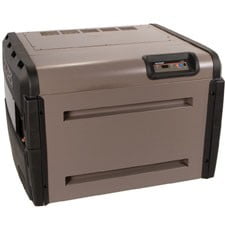 This natural gas pool heater is great not only for pools but spas as well, making it one of the best gas pool heater choices out there. It is quite efficient and environment-friendly because it has little to no nitrous oxide fumes coming from the operations. That said, this natural gas pool heater is both good for the environment and really good for your pool.
Standard Cupro nickel heat exchanger feature
Made for easy installation
Emits very low levels of nitrous oxide
Has a patented polymer head
Has a bypass valve design
Compatible with propane gas aside from natural gas
Able to emit up to 500,000 BTU depending on the model
2.  Pentair MasterTemp Natural Gas Pool Heater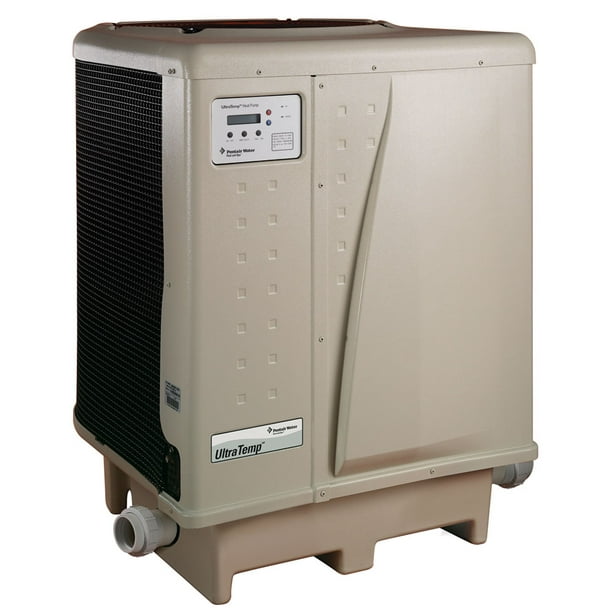 One of the great things about this product is that it heats up relatively fast compared to other gas powered pool heaters. Also, you can easily control the heat that it emits with its digital control panel. You'll also love its look. It has a rather subtle look that may actually look good near your pool and won't look like a bulky eyesore when you install it.
Heat capacity of up to 400,000 BTU
Has hot surface ignition
Digital control panel
Indicator system lights for monitoring
Rustproof exterior
Quiet operation
3.  Jandy Pro Series Natural Gas Pool Heater
If you want something that is a little lightweight, then this may be the best one for you. The Jandy Pro Series heater is known for being compact at a size of 2×2 feet. It is 38% lighter than most gas pool heaters, and it even has a 180-degrees rotating top. This allows you to move it to any angle that you want pretty easily.
Makes use of 83% thermal energy
Low nitrous oxide emission making it environmentally friendly
180-degrees rotating top
Copper heat exchanger
Has stainless steel burners
Comes with hot surface ignition
Digital control interface
Corrosion and rust proof body
4.  Raypak Natural Gas Pool Heater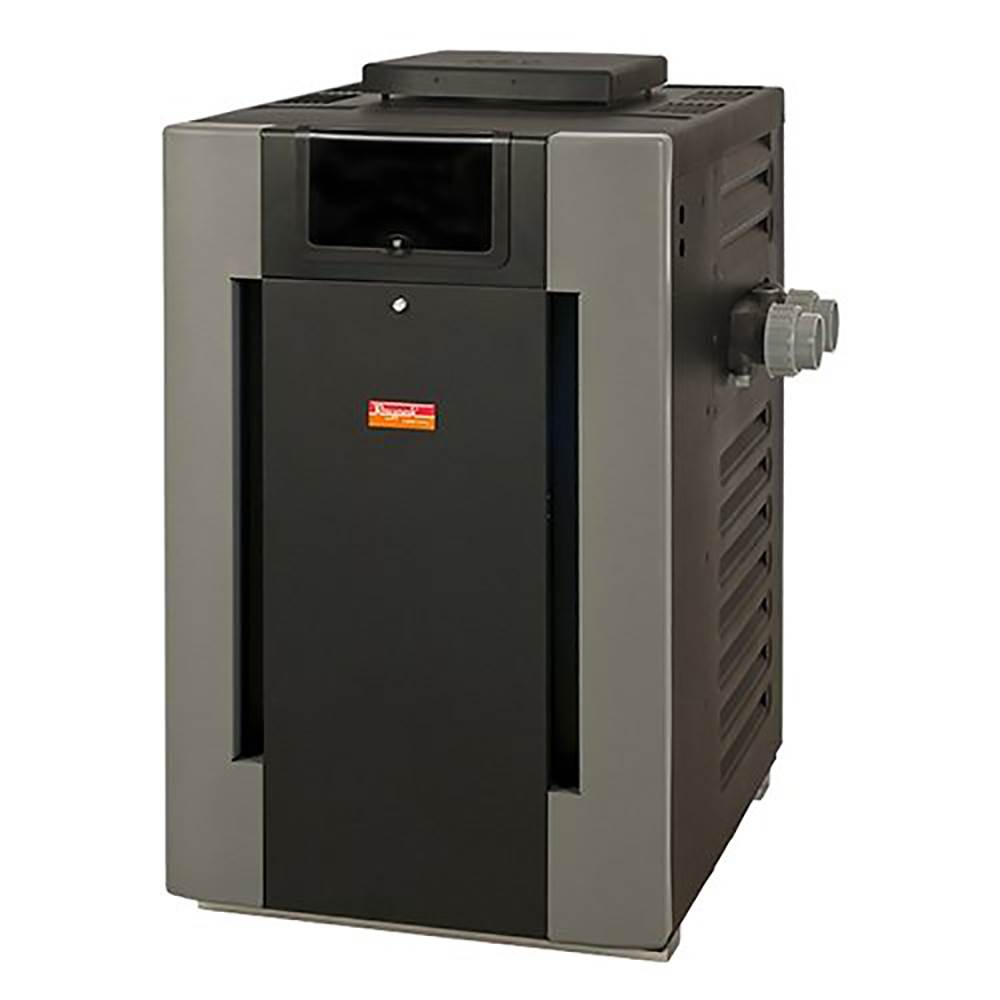 The Raypak Natural gas pool heater is known for utilizing a Unitherm Governor, a feature that keeps the temperature of the water constantly above 105 degrees Fahrenheit. For easier monitoring and control, there is a digital control interface with a user-friendly LCD monitor so that you can see the temperature easily.
Emits up to 406,000 BTU of heat
Has a special Unitherm Governor for maintaining water temperature
Comes with LCD monitor
Digital control panel
Made of wind and weatherproof materials
Made of Cupro Nickel
Rustproof due to its Capron resin headers
Has an easy plumbing mechanism connecting the machine visa 2 inch PVC threads
5.  Sta-Rite Max-E-Therm Natural Gas Pool Heater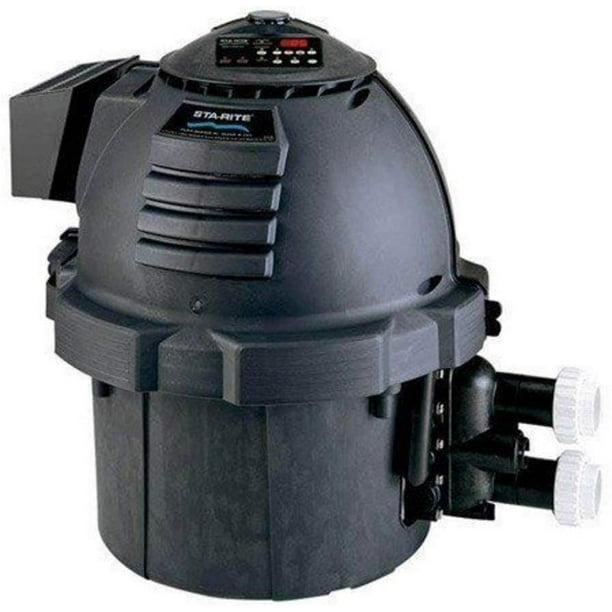 The Sta-Rite Max-E-Therm natural gas pool heater is one of the more technologically advanced pool heaters which has a 6 position control panel, dual thermostat, and LED LCD monitoring system. Other than that, it is also very durable with its heat enclosure made of special Dura Glas and a custom-made Sta-Rite resin to make it resistant to heat or weather conditions.
Has special controls to make it easier to change or configure temperature conditions
Has low nitrous oxide emissions
Made of a very durable material specially made by Sta-Rite
Able to emit up to 200,000 BTU of heat
Has an 84% thermal efficiency rate
6.  Hayward H-Series Natural Gas Pool Heater
This lightweight natural gas pool heater is an above ground heater that makes use of a special draft technology,a function that allows the machine to perform at its peak even in harsh weather and strong winds. The downside is that it can only emit up to 100,000 BTU, making it ideal for use only on pools that measure 450 square feet or less.
Special draft technology function
Has an electronic ignition function
Heat resistant cabinet for cool surface heat
Includes a 120-volt electric cord
7.  Hayward Universal H-Series High Power Propane Pool Heater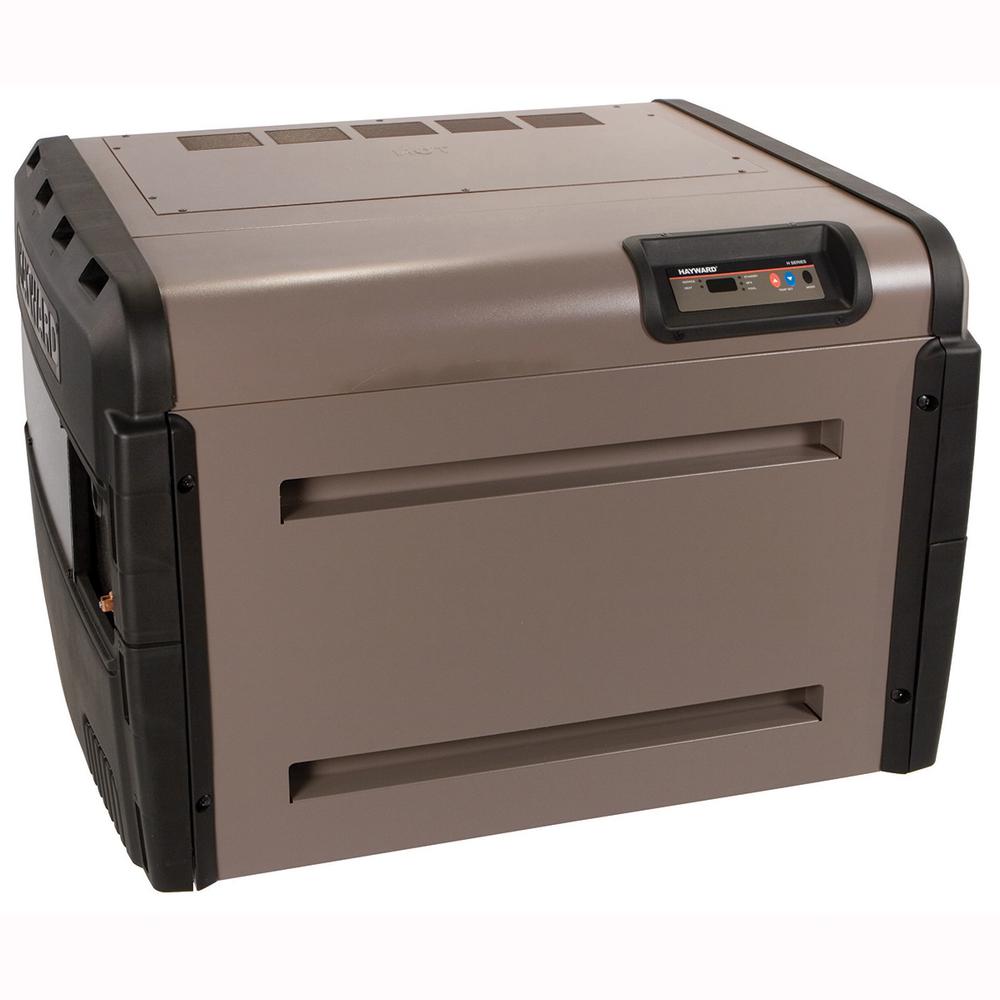 This heavy-duty Hayward propane pool heater can use both natural gas and propane depending on your preference. It is a very powerful pool heater that's able to emit up to 500,000 BTU depending on the model you buy. The great thing is that it can power up really big pools and even spas. What's more is that it's very affordable compared to other similar high-powered heaters.
Has a Cupro-nickel heat exchanger
Natural gas compatible
Built for easy installation
Can emit up to 500,000 BTU
8.  Sta-Rite 333-BTU Propane Gas Pool Heater
This model is known for being another one of the most compact heaters on this list. It is probably the lightest one so far and has a compact size allowing for very easy installation on any pool. Unlike a lot of other pool heaters that offer 83% thermal efficiency or lower, this one offers 84% which is one percent higher compared to most.
Very lightweight structure
Compact retro-fit design
84% thermal efficiency
Rustproof heading
Matte black finish
3 Mod Media filter
Up to 400,000 BTU
9.  PentAir MasterTemp Eco-Friendly Pool Heater
This is pretty similar to the previously mentioned PentAir heater. The difference is that this one focuses more on the environmental-friendly aspect of a pool heater. It is extremely energy efficient and doesn't leave much trace of nitrous oxide emissions. Just like the previously mentioned PentAir heater, this one also creates 400k BTU of heat which is able to fill up a big pool.
Has a manual gas shut off feature
Certified low nitrous oxide traces
Able to create 400k BTU of heat
Has a very fast heating
High-class energy efficiency
Gas Pool Heater Buying Guide
The brands that we've mentioned above are some of the really popular ones that a lot of pool owners know and love. Of course, you have to choose only one out of the choices for your pool. When you go shopping, you have to find the best pool heater for your swimming needs. This buying guide can help you with that.
Basically, these are the things you have to consider when buying a gas pool heater:
Size of Your Pool
The first thing that you have to take into consideration is the size of your pool. The bigger the pool you have, the more heat capacity you need to fill the whole area. Heat capacity is measured in BTU(British thermal unit), while pool size is usually measured in feet (either round or rectangle). Thus, the possible range would be something like this:
15 feet to 21 feet (round)= 100,000 to 130,000 BTU
24 feet (round)= 130,000 to 150,000 BTU
27 feet (round)= 175,000 to 250,000 BTU
12 x 24 feet (rectangle)= 100,000 to 150,000 BTU
14 x 28 feet (rectangle)= 150,000 to 200,000 BTU
16 x 32 feet (rectangle)= 200,000 to 250,000 BTU
18 x 36 feet (rectangle)= 250,000 to 300,000 BTU
20 x 40 feet (rectangle)= 300,000 to 400,000 BTU
Gas Heater Type
The next thing you would want to think of is the type of gas heater. There are two types to choose from above ground or in ground heaters. Take note that there are two types of pools that you may have for your lawn or garden: in ground pools or above ground pools. The heater that you choose will depend on which pool type you have. Obviously, an above ground pool will need an above ground heater, while an in ground pool will need an in ground heater.
Cost
The last thing that you'll need to take note of is cost. Of course, you wouldn't want a pool heater that's way too expensive. At the same time, you don't want a cheap one either because it may explode or stop working.
All of the brands in our propane pool heater reviews are of a high quality and reasonably priced, so you'll most likely have no worries when picking one from the list. Also, these are all well-known brands that we've chosen. They have a better chance of lasting way longer than cheaper brands.
Gas Pool Heater Vs. Other Heaters 
While gas pool heaters are the most preferred option by pool owners because of their power (especially in cold climates), there are also other options that you can choose from. You may also choose to buy an electric pool heater or a solar pool cover.
As compared to gas heaters, electric heaters work much faster. If you want to heat up your pool quickly, then an electric heater may be good for you. If you live in a cold climate area though, it's recommended you stick to gas-powered heaters as electric ones are too weak to match the cold.
As for solar powered ones, they're the eco-friendliest option as they don't use gas or energy. However, they are very costly and work really slow. Since they're quite new, they still can't match the power of the best propane pool heater in the market.
If you're looking for power and heat capacity, gas pool heaters are still the best. This is especially true for natural gas pool heaters. These heaters have the power of a regular gas powered pool heater but are more cost-effective as they don't use fuel.
The best natural gas pool heater is definitely a good investment for any pool owner. It may also be ideal if you get a gas pool heater that is compatible with both natural gas and propane so that if you ever run out of one, then you have the option to use the other.
Conclusion
If you happen to be looking for the best gas pool heater for your home pool, then these ones that we've mentioned above are great choices to choose from. These are some of the widely used and loved gas pool heaters that pool owners love because of their efficiency, functions, and other cool features.
In fact, you'll find that these products all have really positive reviews if you search for them on the internet. By comparing them to the features of other similar products, you'll see that they have some of the best features to boot. With that, they're surely recommended for any pool owner who wants to continue swimming even during the colder weather.