Make grilling fun and comfortable experience with the best grill gazebo in town. You don't want to be toasted under the heat of the sun while grilling, do you? That is why it's always a good idea to have a covered area where you can make a blast while grilling!
Best Grill Gazebo Reviews: 9 Remarkable Grill Gazebo For Your Home
1.  Sol 72 Outdoor Bayamo Steel Grill Gazebo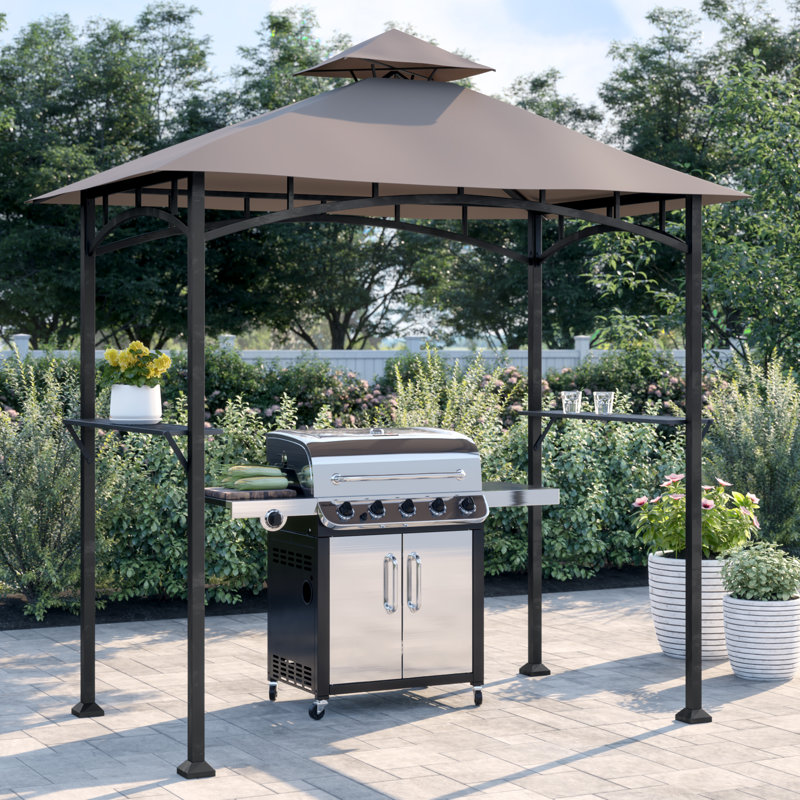 This outdoor grill gazebo is well-loved by many because of its simple yet elegant structure, as well as its budget-friendly price.
Made from metal and steel while the roof is from a polyester material, this stunning gazebo is rust-resistant and robust enough to withstand even when grilling on windy days.
Weather-resistant steel frame and high-grade polyester material for the roof
Fits easily to your backyard with beautiful metal tones
Can be securely fixed to the ground using the eight stakes
This is also compatible and can be fixed to cement patio.
Dimension is 8 feet by 5 feet
2.  Sunjoy Meijer Metal Gazebo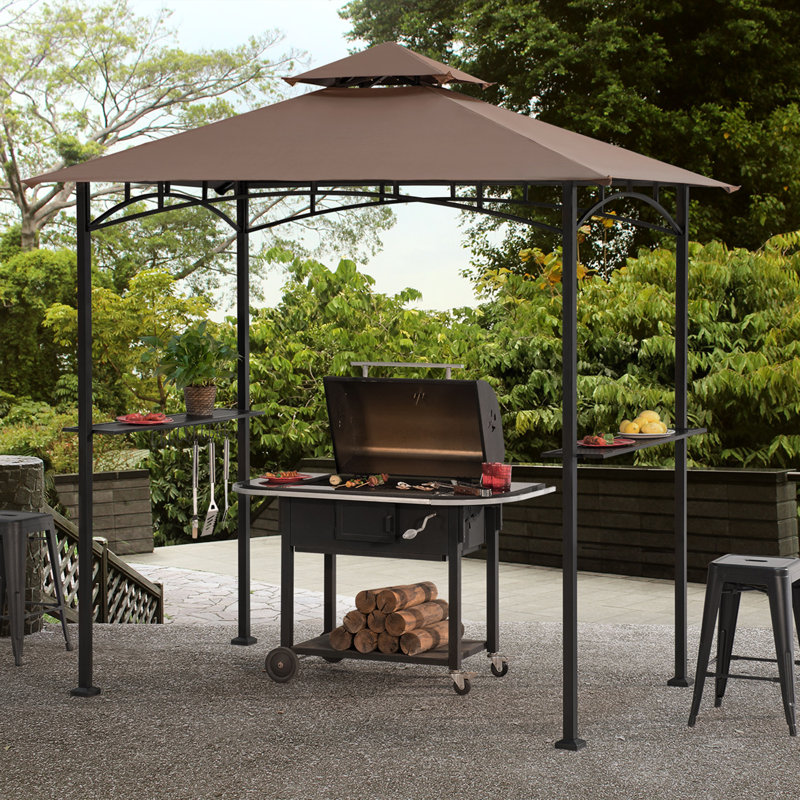 If you love the colors of nature, the you will surely fall in love with this rich brown tone of this grill gazebo.
This metal grill gazebo is one of the best softtop gazebos in the market, thanks to its metal frames and polyester roof. All the metal frames are rust-resistant and are polished to perfection.
Certified to be rust-resistant and weather-resistant, so it can last for years
Easy to assemble with clear instructions
Looks absolutely great with green trees and plant ornaments in the background
Perfect for summer and winter grilling sessions
Dimension is 5 feet by 8 feet
3.  Kozyard Andra Grill Canopy Gazebo
This double-tier grilling gazebo has all it got to be included in our list. It is praised for its impressive durability, from being rust-resistant and UV-resistant to being fire retardant.
Grilling has never been this fun and safe indeed. To be honest, this is one of our personal favorites for many reasons. We genuinely love the shelves on the two sides of the gazebo, giving us plenty of space for the grilling tools.
Premium, powder-coated steel frame that not only makes the structure durable but also helps it remain stable
Sparks and sudden blow of the wind are off on your worry list as this gazebo is fire retardant
The two shelves on the sides are stable and balanced, a good place to put your grilling tools, as well as the meat to be grilled.
Top it all, it is also equipped with 4 pieces of magnetic LED lights that can be detached
Measures 8 feet by 5 feet
Currently unavailable.
4.  Cobana Canopy Grill Gazebo
Another soft top entry with unconventional gazebo look is this one by Cobana. This is justa single-tier roof gazebo but rest assured that the metal used for its frame is robust and sturdy. The frame is powder coated which doubles as a rust protection and added stability.
This is a bit smaller than most grilling gazebo, but the multi-function details of the product are what sold us out.
The soft fabric used for the roof is easy to clean and maintain.
Easy to assemble and actually light to carry around once disassembled
With two metal shelves on two sides, perfect place for tableware and food
May it be summer or winter, this weather-resistant grilling area can withstand extreme weather conditions
Sized 8 feet by 4.6 feet
Currently unavailable.
5.  Palm Springs Deluxe Gazebo
This deluxe grill gazebo has a double-tier roof with smoke vent top. There are two iron meshes on the sides for you to have space for the tools and tableware. The beige colored roof also makes the gazebo easy to integrate in your existing garden landscape. In fact, this is voted as one of the most aesthetically appealing gazebos in many grill gazebo reviews.
This is designed specifically for outdoor grilling.
Looks really stunning
The roof is also fire retardant and well vented.
Powder-coated frame makes it difficult for rust and corrosion to destroy the product
Stable enough and doesn't topple easily amidst a strong gust of wind
Overall dimension is 96 by 49 by 97.5 inches
Currently unavailable.
6.  Master Canopy Barbeque Gazebo
If you want to have more freedom when it comes to choosing the roof color of your grill gazebo, then Master Canopy is the right place to be.
The company offers grill gazebos in different fun colors. One of our favorites from its double-tiered selections is the burgundy one. The rich burgundy color would definitely look great and would stand out in your backyard.
This is a really stable and durable gazebo with all parts of its frame being powder coated.
Guaranteed to be rust-resistant, UV-resistant, and even water-resistant
Has two shelves on two sides
The double-tiered roof allows smoke to escape easily
Users vouched for its quality
Dimension is the usual 8 feet by 5 feet
Currently unavailable.
7.  ALEKO Steel Grill Gazebo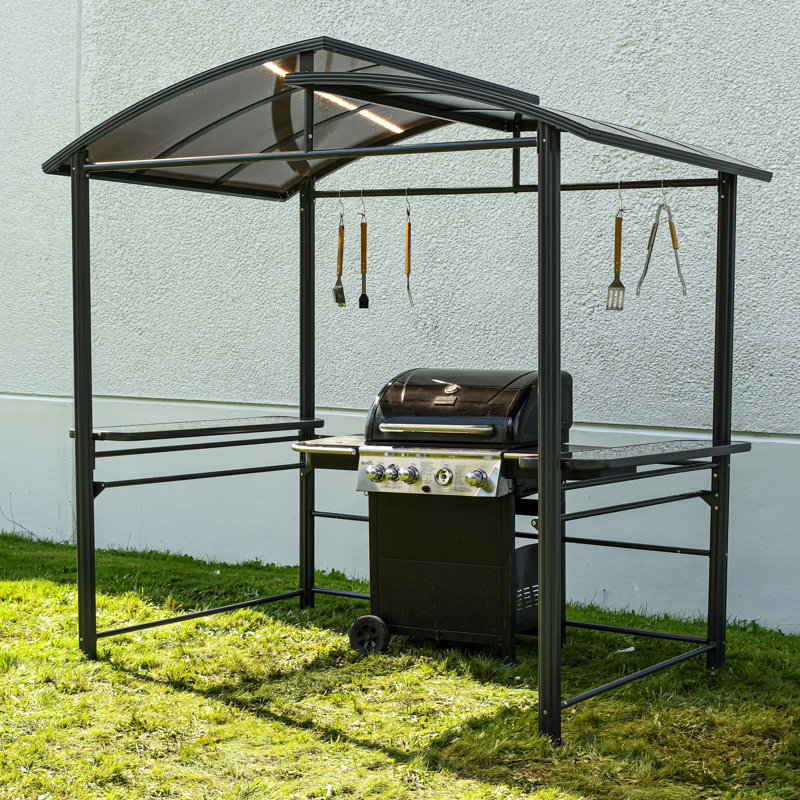 Another interesting entry is this steel gazebo from ALEKO. It's a grill gazebo that you wouldn't want to miss out. The product comes with a gazebo bench as well as table, making you ready for the barbeque party!
At 125 pounds item weight, this grill gazebo is easy to assemble without the need of any special tools.
Well-loved for its sturdiness and easy assembly steps
The roof material is polycarbonate which can resist heat coming the grill.
There are also hook likes if you prefer to hang your grilling tools for easy access.
Comes with serving tables for additional space. Perfect for family g feet by feet by gatherings and hosting picnics at home
Total dimension is 8 feet by 5 feet by 7.8 feet
8.  Shade Trend Steel Grill Gazebo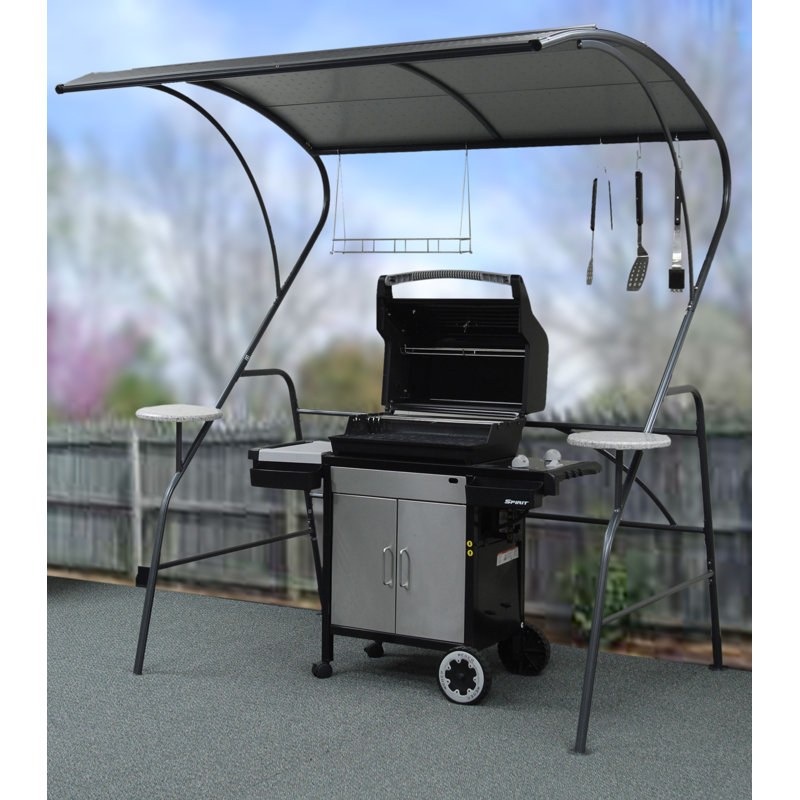 Not many people will like the unique look of this gazebo. However, for those seeking a quirky way to spice up picnics and small parties at home, this is the perfect match.
The steel frame of the gazebo gives it a modern feel but the one-tiered curved roof is what makes this gazebo different from others.
Long-lasting powder coated frame
Perfect for barbeque grill or just a normal cooking session outdoors
Has two side tables which serve as serving area
This also has side curtains and side wall included in the package just in case you want to hide the grilling area
Certified to be weather-resistant
Measures 7 feet by 4
9.  Sunjoy Kennedy Metal Gazebo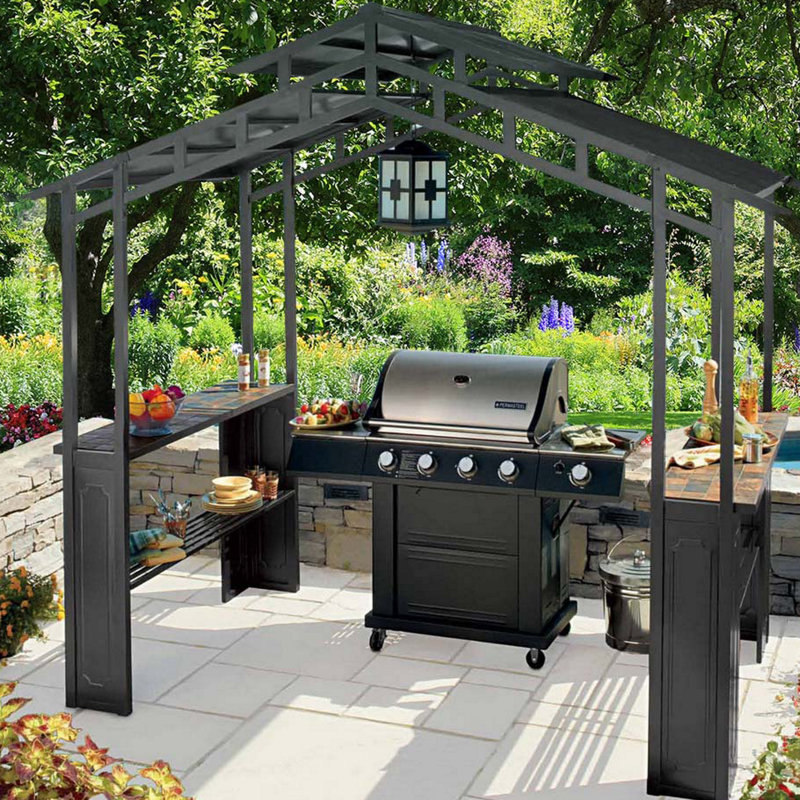 Last on our list is this unique yet stunning grill gazebo. The modern look of this gazebo is what sets it apart from the average ones. Moreover, this gazebo can actually be anchored on a deck and can be fastened on cement surface.
This is the best hardtop gazebo in terms of appearance.
The steel frame is coated and really strong.
Safe to put under a tree since the roof won't get easily dent when heavy branches fall on it
Rust-resistant and water-resistant
Some beams used on the roof are aluminum, so it is lighter than it looks.
Our Top Pick!
As mentioned earlier, the grill gazebo that we highly recommend is the KozyardAndra Grill Canopy Gazebo. We love the look, the details of the gazebo, and the quality and stability of the product. Plus, the 4 pieces LED lights are great additions.