Hot tubs are a short and sweet escape from reality. You can disconnect from the world and just soak in the warm water. You could install it indoors or in your backyard.
Let's face it— having a hot tub at home is a luxury. So, if you're spending on one, buying a hot tub handrail is nothing but a necessary accessory.
Why Use a Hot tub Handrail?
Hot tub accessories are a plethora: hydrotherapy hot tub jets, hot tub cover, entertainment system, hot tub cover lift, and hot tub steps. But if there's an accessory you must definitely invest on, it's the safety handrails.
When getting in the hot tub, it will get slippery. The handrails will provide you a support as you're getting out.
If you're still unconvinced, we listed down the benefits of purchasing and installing a hot tub handrail for your hot tub at home.
Safety
Children, elderly people, and people with joint problems are prone to accidents in hot tubs. They can potentially lose balance as they attempt to go in or out of the tub. But if you have installed a handrail, it will provide support to such users.
Convenient
Where do you place your towel to keep it close enough to reach out and dry? Do you place it on a table or a chair near you? But if you're in your birthday suit, having to get up and exit the hot tub, then pace to your towel might not be the most ideal. Consider this problem solved; brands now offer a handrail set with a towel bar/s that is convenient for your access.
Extra Style
Nothing's fancier than a hot tub with safety features. Many brands offer products that allow you to swivel the handrail to the direction of the person and lock it in place. In this way, the person from the inside of the tub can access the safety handrail without moving much from its place.
What to Look for in a Hot Tub Handrail?
There are many options available on the market that it can be quite confusing to choose the best handrail for your hot tub. To help you out, we listed down below the features you should look for in a hot tub handrail:
Steel material
The main purpose of handrails is to support the user for safe exit and entry in the hot tub. As you get in the tub, your weight is distributed on to the handrail as you grip it for support.
However, if it's made of sub-par, flimsy material, then it could break, come off the hot tub, and could potentially cause an accident. Make sure that the handrails you will purchase are made of strong, steel construction.
Corrosion-proof
The handrail will be constantly exposed to hot water. Rust thrives on metals that are exposed to moisture, heat, and air. If your hot tub handrail is not corrosion-proof, it will be covered with rust. This feature is a plus when your handrail is constructed from durable steel.
Easy to install
If it does not take a repairman or Google to install, then your hot tub handrail is user-friendly. Some brands have a handrail that will not require any drilling to install in the hot tub. If you're not a handyman or lack the basic tools in your toolbox, opt for these types of handrails.
5 Best Hot Tub Handrails
1.  Cover Valet's CoverMate 7930 Side Handrail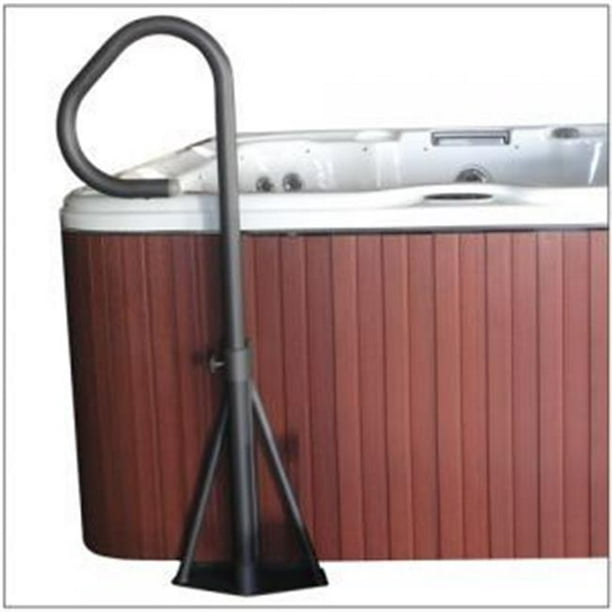 CoverMate's handrail allows the product to swivel 360 degrees. Once you are satisfied with the position of the handrail, you can simply lock it in place with the knob on the lower side of the handrail. Just slip this handrail underneath an empty hot tub and you're done installing it. This is compatible with spas that are up to 40" in height.
Key Features:
360 degrees rotate-and-lock handrail
Has a battery operated light that emits blue light
Easy to install
2.  Guardian Hot Tub Spa Side Handrail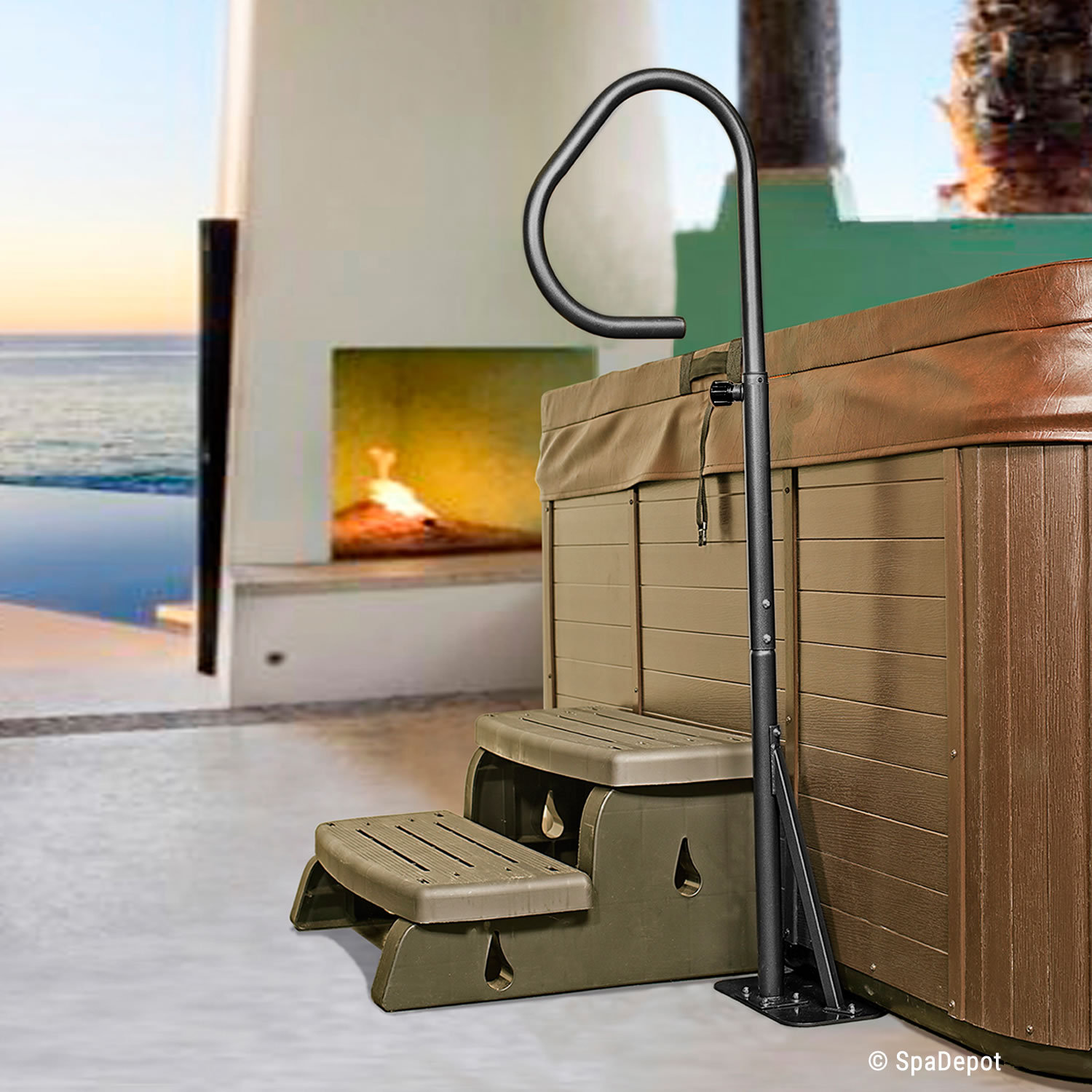 This handrail is made of stainless steel construction that ensures its durability. The double baked-on powder coating on the handrail protects the handrail from exposure of the elements of nature, thus elongating its service life.
You can swivel and lock the handrail in place in four different positions for accessibility. There is no drilling needed with this slip-and-slide installment process. The graphite gray finish adds style to the tub.
Key Features:
Easy to install with its slide-under mounting base
Made of stainless steel
Powder finish for durability
Customizable handrail position
Extra style
3.  Carefree Stuff Swiveling Handrail with Towel Bar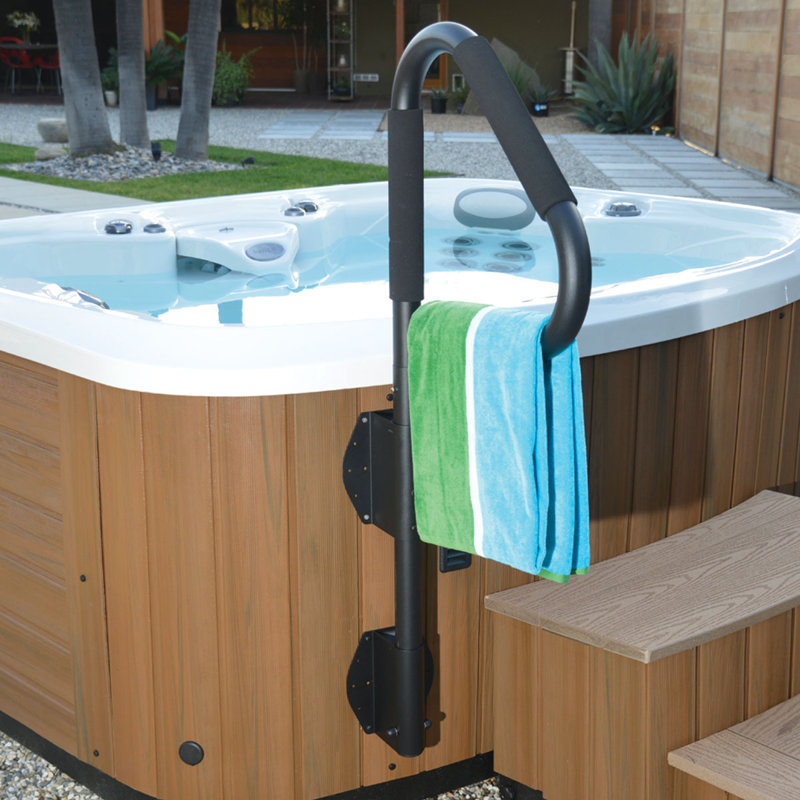 The Carefree swiveling handrail is made of sturdy materials and with a coating that prevents rust from forming. This is important since your handrail is constantly exposed to water. The handrail serves a dual purpose with its convenient design that can perfectly keep a towel dry.
Key Features:
Conveniently comes with a towel bar
Rust-free construction
Swiveling handrail
4.  Leisure Concepts SmarRail Spa Rail
It is made of 2-inch stainless steel construction, making it a strong support for that safe entry and exit. You have a better grip with the textured black cover on the handrail.
However, this mounted handrail requires a few bolts drilling job on the hot tub cabinet or directly on the deck. It still is fairly easy to install as long as you have a driller.
Key Features:
Sturdy material made of 2-inches steel
Made of rust-free aluminum with a powder-finish
Rotating bracket
5.  Leisure Concepts 360 Degree Hot Tub Safety Handrail
This Leisure Concepts Handrail is made for any hot tubs that are positioned above-ground. Its service life is secured with the 2-inch powder-finish aluminum feature.
This product can easily be installed by drilling the screws on each of the two mounting brackets and position the handrail against the spa cabinet.
Key Features:
Powder-coated aluminum material
Handrail can rotate up to 360 degrees
Perfect for above-ground hot tubs
Conclusion
Without a doubt, among the reviewed best hot tub handrails, the Guardian Hot Tub Spa Side Handrail is the best pick. The Guardian safety hot tub handrail is made of strong stainless steel material. It is durable and ensures longevity due to its rust-proof, powder-coating. It can also provide a strong support and will not break under the heavy weight of the user. Just slip and slide this handrail underneath the empty hot tub and you are all set.
So, if you're considering purchasing hot tub handrails, our top pick, the Guardian Hot Tub Spa Side Handrail, is the best product that meets all the criteria and features that you should look for in the best hot tub handrail.
With an installed handrail, your safety in the hot tub is assured. You can now climb into the tub with a peace of mind that you will be able to exit without slipping or falling due to the wet area conditions.
Want to buy other hot tub accessories? Check out our list of hot tub accessories here, and know what accessories are essential and optional.
Thanks for dropping by! 🙂