Do you own a Hot tub? Then you must know the relevance of having a cover lifter! It is not only cost-effective but also makes sure that your tub is hygienic and clean at all times. You have to treasure your bathtubs and one way to do it is to have a cover lifter! Below are 10 cover lifter products available on the internet.
Best Hot Tub Cover Lift Reviews
1.  Lazy Lifter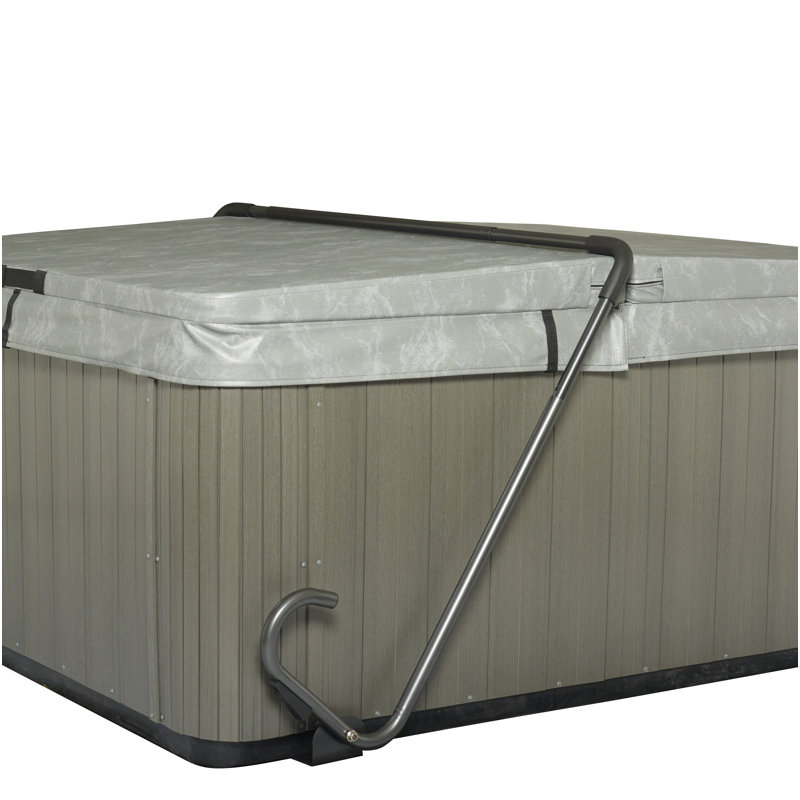 This hot tub cover lifter is designed to remove and replace spa covers smoothly. It is designed as economical and medium-duty to fit most hot tubs. Its tubing is also classified as a heavy-duty that makes it one of the strongest economy lifters. Lazy lifter fits spa 6' to 8' wide. Not to mention, no drilling needed for it is already pre-drilled for easy installation.
Highlighted Features:
Padded Grips
Slide-under plates keeping it securely in place
Durable – it has a double powder coated graphite gray finish
Strong steel construction – no aluminum
Has built-in stop to keep cover off the ground
Has extra-large footplate
No need to drain spa while removing hot tub covers
What We Like:
Adjustable
Can be easily install
1-year warranty
What We Don't Like:
Not for round or octagon shaped spa
Not okay for in-deck spas
2.  Cover Classic Bottom Mount Spa Cover Lifter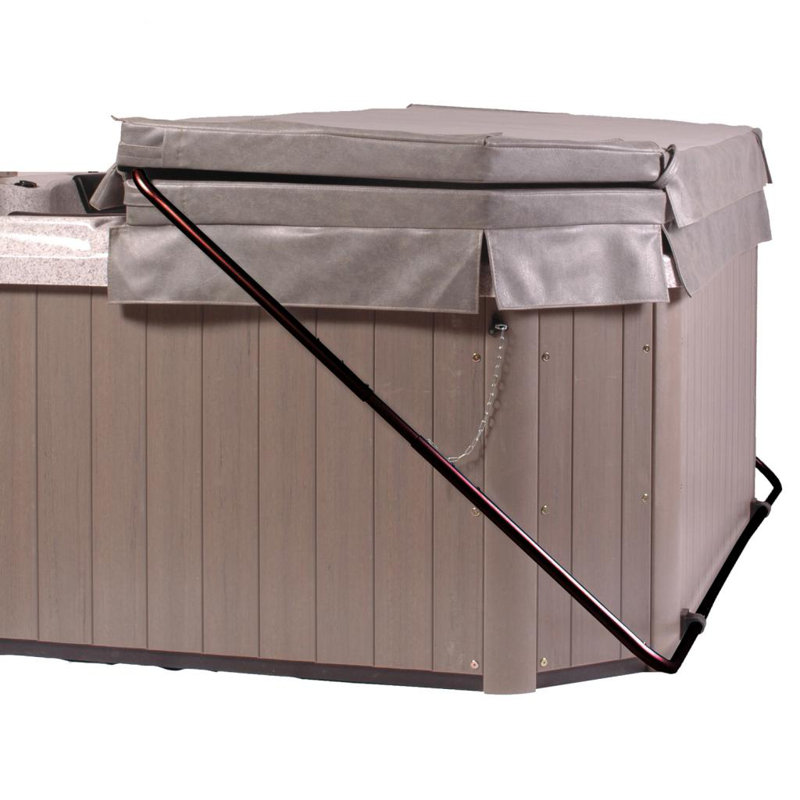 What We Like:
It is extremely easy to store because of its own compact size
It is extremely easy to install and also very easy to use
It does not have any gas shocks, and it does not have cover handling
The cover is made out of a flexible material that is easy to use
The cover is also made out of a very durable material that would increase its shelf life making the product last longer
The price is not too high, but it is not too low either. It is rather affordable.
What We Don't Like:
The instructions are not very clear, and it would take some time to get the whole cover assembled onto the hot tub.
3.  E-Z Lifter Cover Lifter for Hot Tubs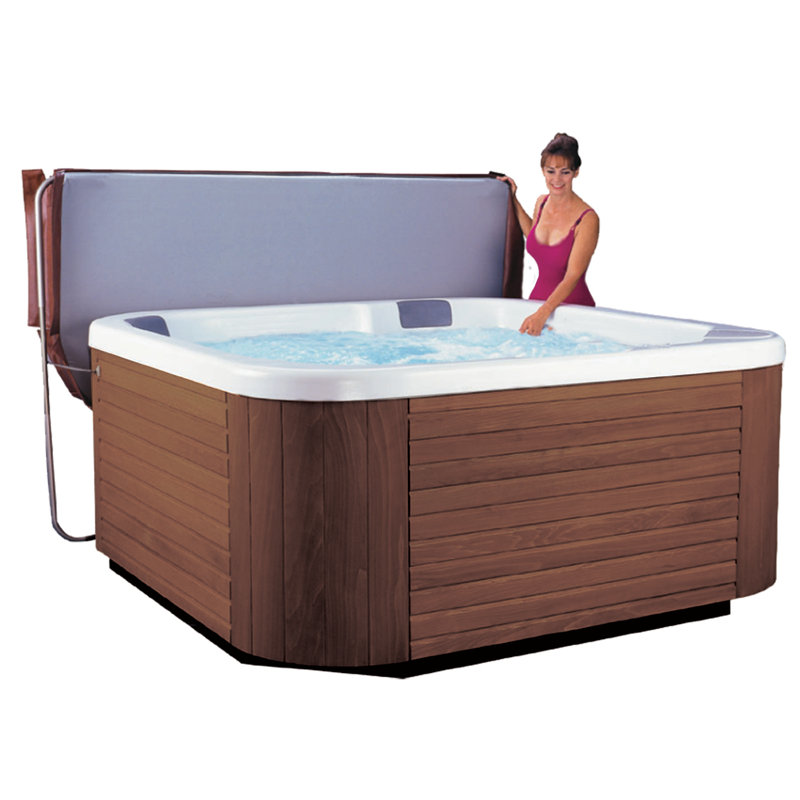 This lifter has the traditional bar style cover lifter. The bar goes to the spa covers' centerfold, so one person can fold the cover in half. This allows the spa cover stored alongside. The cover will also be nestled right next to the tub because of the retaining chain in it.
Highlighted Features:
Mounts in the back of the spa and not on the side.
Fits most rectangular spa up to 96" wide spas
The primary metal used is metal
Product weight – 11 lb
What We Like:
One-person operation
Weather Resistant
The spa doesn't need to be empty when installing
Assembles in minutes
1-year warranty
What We Don't Like:
30 Days limited warranty only
Not for round or octagon shaped spa
4.  SpaEscort Easy Cover Lift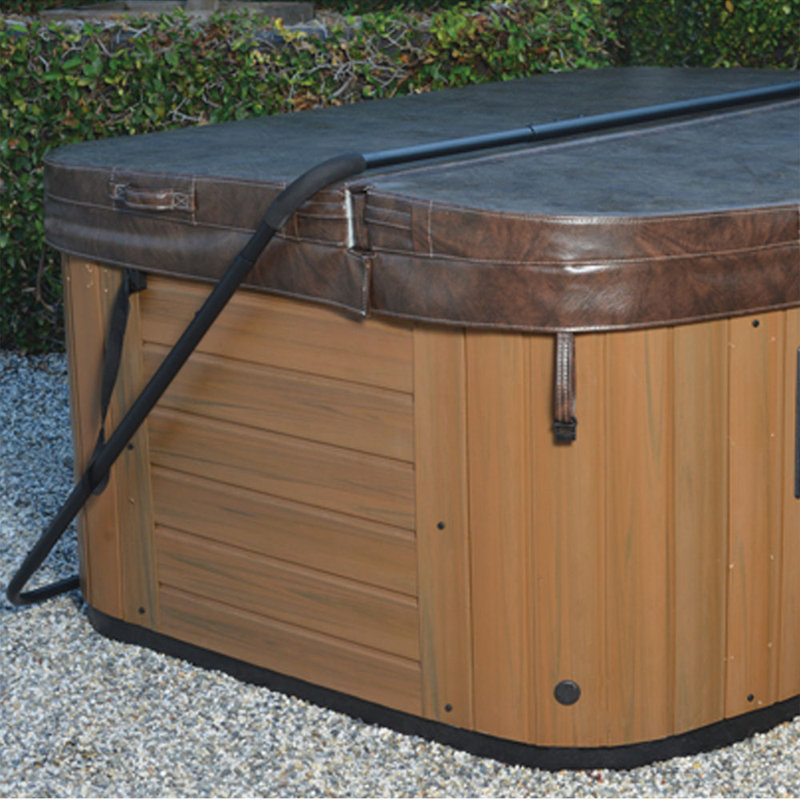 Manufactured using the highest quality materials and powder-coated aluminum tubing that gives the strength needed in lifting covers. This product claims to last for years even with different climates. Uses nylon security straps and injection molded brackets.
Highlighted Features:
Compatible with spas up to 96" wide
4" required clearance per side
18" require clearance behind
Product Weight – 15 lb
What We Like:
Gives a rust-free peace of mind
Fast and easy installation
One-person operation
1-year warranty
What We Don't Like:
Does not include installation instruction but is available on the internet
5.  Lift and Caddy for Spa Cover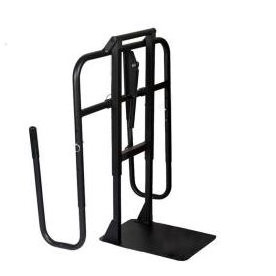 The design of this cover lifter is unique that it can be installed in different sizes and shapes of the spa, such as square, rectangle, round, and octagon. It can be installed easily within minutes and can also be removed without shedding sweat since it is not screwed into your spa cabinet.
Highlighted Features:
Comes with cover lift and caddy
Has gas spring assist for easy and effortless removing of the spa cover
Cover stores at the side of the spa
Adjustable
Accommodated up to 40" high spa
Weight – 22 lb.
What We Like:
Can be installed within minutes
High-grade powder-coated aluminum
5-years warranty
Compatible with different shaped spas
What We Don't Like:
Does not support vertical position
Requires 36" clearance to work effectively
5.  Blue Wave Low Mount Spa Cover Lift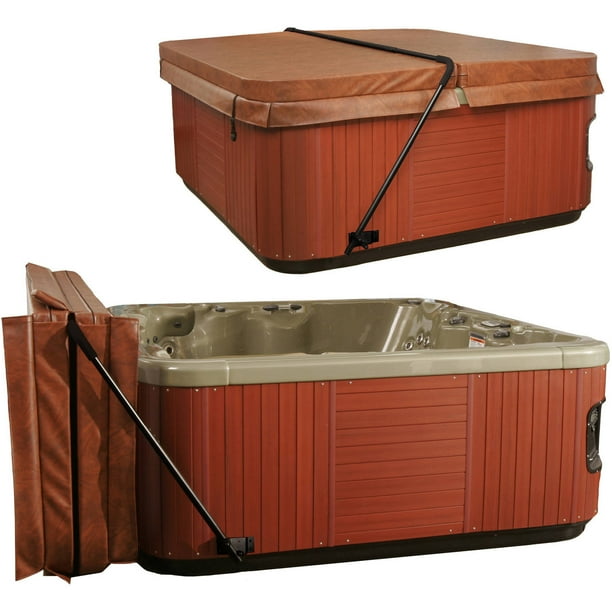 Designed specifically with rectangular and square-shaped hot tubs. The cover lift is a pivot styled lifter which mounts at ground level. The tubs full view can be preserved because the cover can be folded down. It also has a material of powder-coated corrosion resistant steel.
Highlighted Features:
Ideal for outdoors
Low mount design
Compatible with up to 8' wide spas
Includes mounting hardware
Corrosion and rust-resistant
What We Like:
Budget-Friendly
Rust-free
Easy to use
1-year warranty
What We Don't Like:
Does not support all hot tubs
Cannot install brackets properly if the hot tub's corner isn't rounded.
stowing and removing cover might be a tedious task, especially if there is limited space
Some parts are not durable
7.  SpaEscort Swim SPA Cover Roller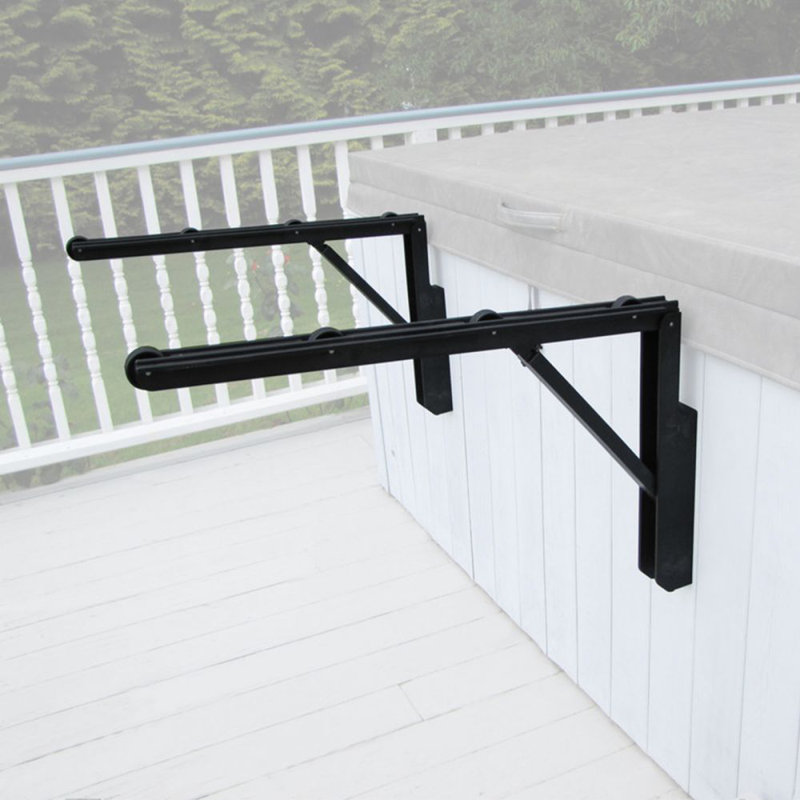 This product allows you to have 3 rollers on each end of the swim spa, so both of the covers will be out of the way. The roller feature is a patented easy on or off roller design of this product.
Highlighted Features:
It can be folded when not in use against the spa cabinet.
Easy to slide because of 5 wheels
No shape limitation
Rollers weight capacity of 57 pounds
What We Like:
1-year product warranty
Can be used in different shapes
Easy to install
What We Don't Like:
8.  Cover Valet Hydraulic Cover Lifter – World's Leading Spa Cover Lift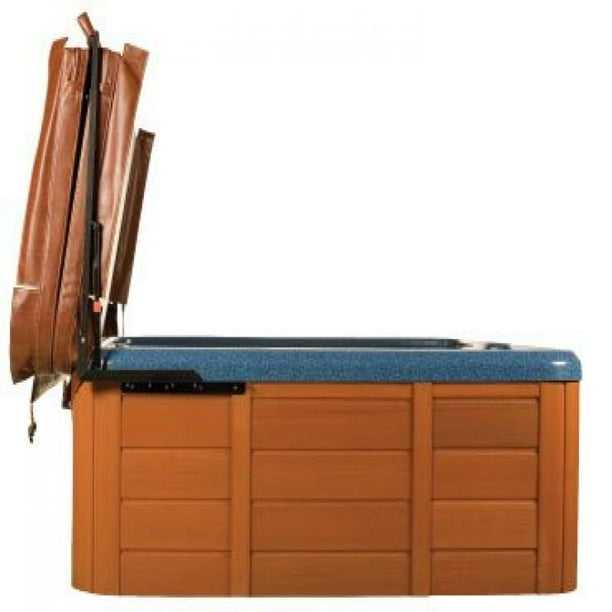 What We Like:
It is extremely easy to lift up because of its flexible material
It is very adjustable which makes it really easy to use
It has a very compact structure and design which would make it very easy to store and use
It's compact design doesn't require it to have such a big clearance space
It is made out of a strong zinc material with a special powder coating
It comes with clear instructions which makes the installation process extremely easy
What We Don't Like:
It is quite expensive if you compare it to other brands in the market
Since the design is quite compact, it does have the tendency to be flimsy
CoverMate Easy Spa and Hot Tub Cover Lift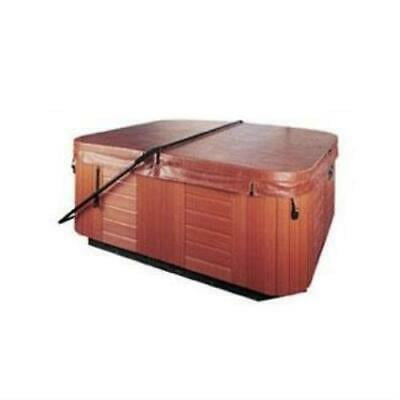 What We Like:
Its design was specifically created for the straight sided hot tubs
It can fit very long hot tubs from up to 6 to 8 feet in width
It comes with foam grip handles so that you won't have a hard time lifting and handling the cover lift
It is made out of very sturdy metal which would make it be able to last for a long time
What We Don't Like:
It needs quite a long clearance space of around 18 inches to the rear in order for it to fit
It would also need a clearance space of at least 5 inches at the side
As compared to many other brands in the market, this is quite an expensive one
Currently unavailable.
Canadian Spa Company Bottom Mount Cover Lifter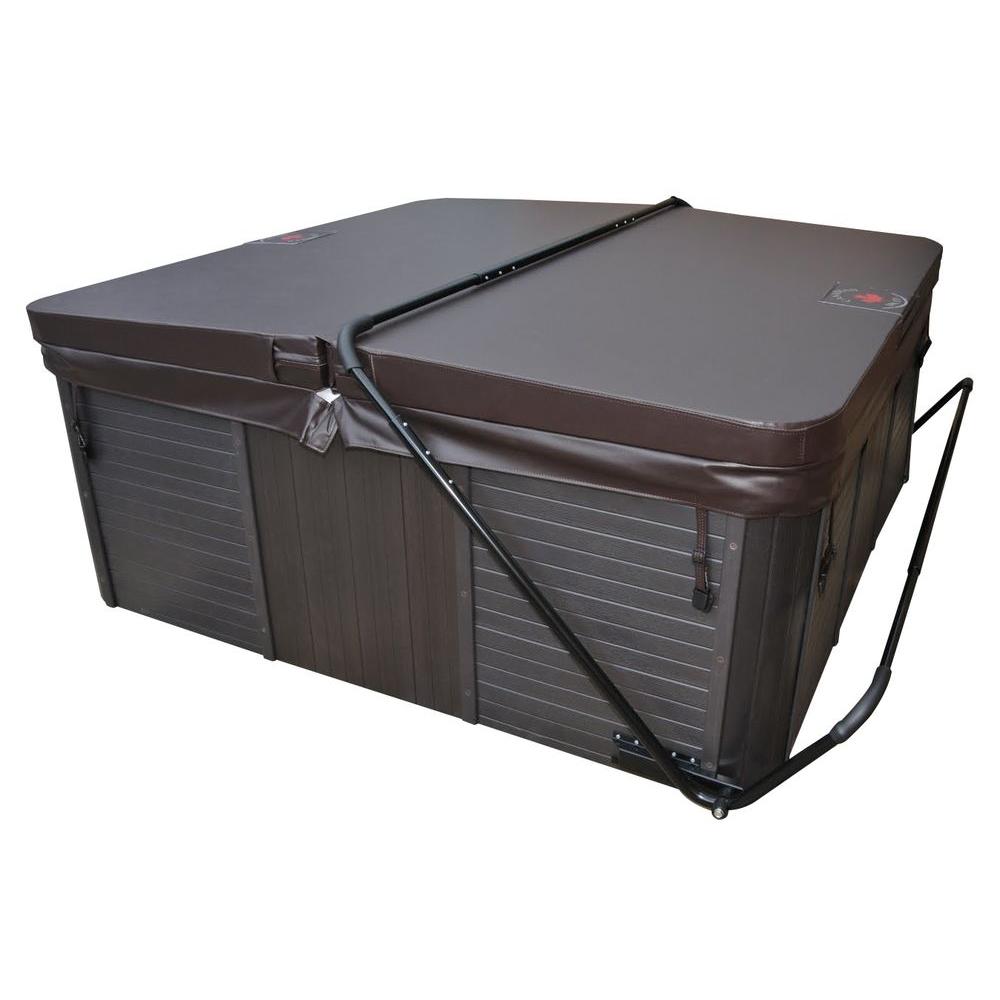 Simple, durable, and reliable are the words associated with the product. It has a contemporary black color and has an anodized aluminum finish, which makes it ideal for decoration.
Highlighted Features:
Mounts directly to the spa cabinet
Foam grip
Safety retaining chains
Fits up to 96"
Requires 12"-18" clearance
Requires moderate clearance
What We Like:
One-handed operation
Convenient and easy removing of covers
Easy to install and operate
What We Don't Like:
More expensive than other cover lifters
Requires some tool in assembling
Currently unavailable.
How the Cover Lifts Help
The cover lifts would make it much easier to open and close the tub. While normally you would have to lift up the cover and place it on the ground, cover lifts make things easier for you by allowing you to simply lift your cover up or push it down just like what you do with a cooler.
The Advantages of Hot Tub Covers Lift
There are many advantages of using a cover lift for your very own inflatable hot tub. However, probably the biggest advantage of using this would be that it protects your hot tub. Do take note that the inside of your hot tub is connected to the many other internal parts of your hot tub via a drain. It is connected to parts such as your hot tub heater or hot tub pump. If debris, dirt or other substances would happen to fall into your hot tub, it could go down your drain and affect the other parts. A cover lift would be able to prevent any falling substances from entering the tub.
It can also keep your pool clean and your pool heater safe. If you leave your tub exposed, obviously, dirt will build up, and you'll have to clean it really hard when you want to use it again. By putting a cover over it, it won't be as dirty, and you can cut down on the cleaning time. It also won't clog the heater by going into the drains.
How to Choose the Right Hot Tub Cover Lift For You
Of course, not all hot tub cover lifts that you find in the market are good. You have to carefully choose which one you would want to use for your hot tub before you make your final purchase. Here are a few things that you have to take note of when choosing the right one.
Shape and Size
The first thing that you have to take note of would be the shape and the size of your hot tub. When you buy your hot tub cover lift, you have to first measure the size of your hot tub so that you'll know what size of cover lift you have to buy. Before you run down to the store to buy the cover lift, just measure the necessary dimensions of the tub and give that to the store clerk.
Attachment Method
Another thing to take note of would be the attachment method of the cover. Most cover lifts would require you to drill them into the hot tub while there are also others that can just slide in easily. The ones that need drilling are definitely the sturdier ones and are the most recommended if you are a heavy hot tub user.
Clearance Space
Clearance space would refer to the space needed to open the cover properly. For example, if your hot tub is located in a tight space, you won't want to have a long cover lift because it won't fit the space. However, if you're tub is outside, you won't mind a bigger and sturdier lift.
Cost
Lastly, we have the cost. Cost is one of the biggest factors of buying a cover lid because the cost will tell you which one you can afford to buy or not. Canvas a lot of choices so that you'll know which ones can fit in your budget and which can't. Depending on which one you'd like to buy, you have to look at the one with the features that you'd like to have and plan your budget around the choices that you have canvassed. It will pay to have around five choices so that you'll be able to know which one is the best for you.
FAQ
Do I Need a hot tub cover lifter?
The answer is yes, you need a cover lifter. It is not just for convenience but also, it protects your hot tub and its cover. A cover lifter is a secret to extend the life of your hot tub cover. It also makes your spa easier to use. As you take your hot tub cover on and off without a lifter, there is a bigger chance of damaging it. Damages in covers might cause you more expense in energy bills since covers help you in saving money by insulating the water from the temperature outside.
If you don't have a cover lifter, you would probably fold back the cover then just slide it off. Also, if you are doing the task of removing the hot tub cover alone, then there is a big probability that at least one of the edges of the cover will bang on the ground and possibly get damage. Getting the cover back in the hot tub is not easy for one person as well. In addition, moisture build-up on the cover may happen in the long run if hot tub covers are not properly folded and kept.
However, on a negative note, cover lifters disrupt the clean lines of the spa, the flat cover look, and its attractiveness. But good news, some cover lifters provide efficiency and aesthetic look of your spa.
How does a hot tub cover lifter work?
A cover lifter usually has a bar resting on the fold of the cover. There is also a child safety lock that you have to unclip in order to fold it back over that bar. As you fold it back another time, the cover will be brought back off the surface of the tub and will be held in its place.
Conclusion
Efficiently regulating heat loss and keeping the tub clean is the use of tub covers, so they are considered as important equipment. Choosing a high-quality hot tub cover lifter requires a budget since some are very expensive.
SpaEscort swim spa cover roller clearly gives everything that you need. Not to mention that it does not ruin the hot tubs aesthetics. The product is just simple to use, has durable materials, and performs well in keeping your hot tub safe and clean. It can also be installed in different shapes, so whatever the shape of your hot tub is, you surely can use it. It also has a heavy-duty capacity of 25 kilograms or 57 pounds and easily unfolds the covers out of your way when using the swim spa because of its three rollers.
You can buy SpaEscort swim spa cover roller here.