Finding the best kerosene heater can be a bit difficult, but you need to be thorough as not only is your comfort on the line, your safety is as well. Hopefully, this buying guide will help you make the right decision that will make you happy and keep you safe.
Kerosene Heater Reviews
If you are looking for the best kerosene heater, then consider the following kerosene heater reviews about some of the best-selling models in the market today.
1.  Sengoku KeroHeat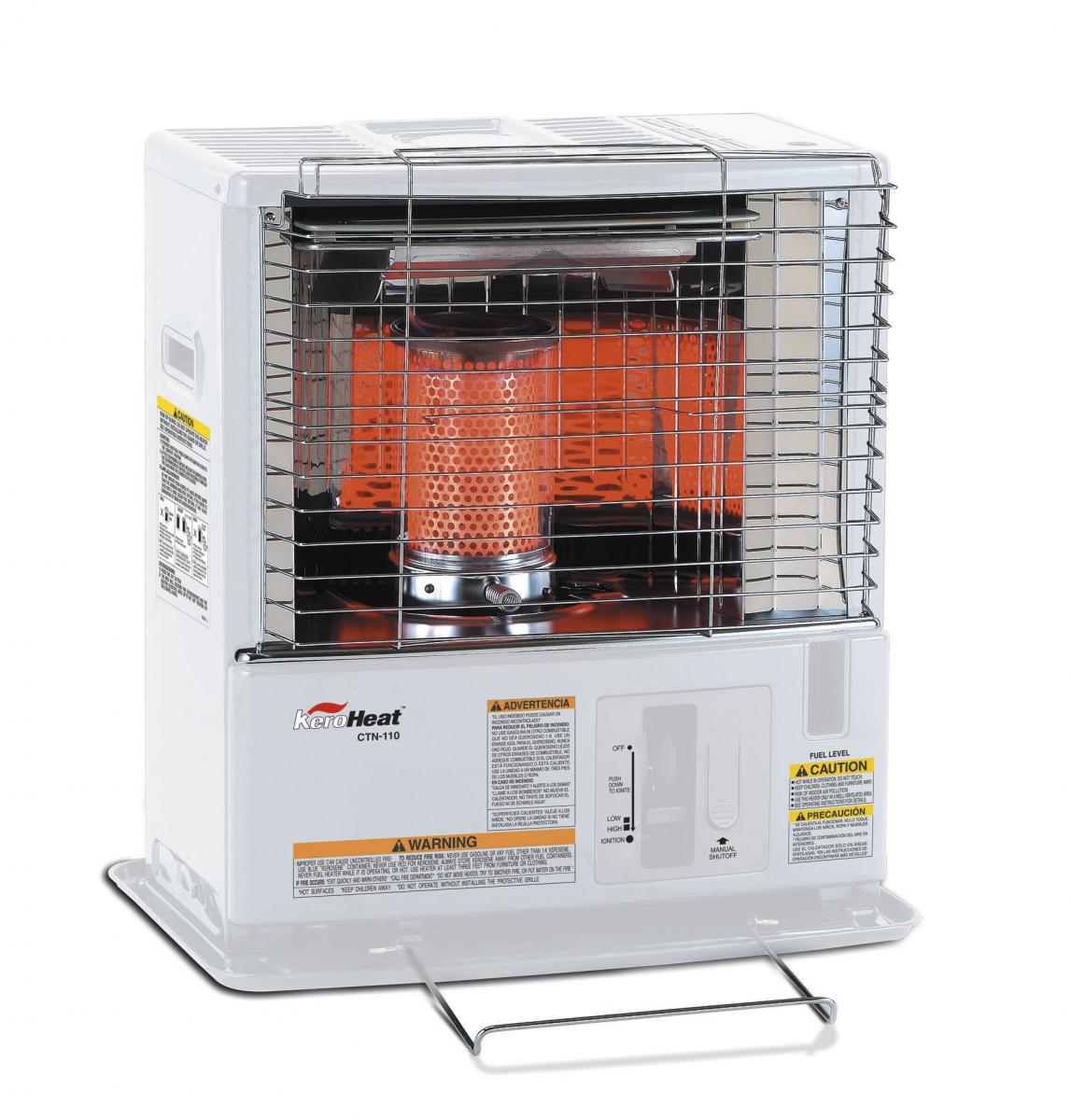 The Sengoku Keroheat kerosene offers an economical option for heating your home. Sengoku has more than 60 years of experience in manufacturing efficient heating equipment for indoor and outdoor use.
The Pros:
Large 1.2 gallon fuel tank – The Sengoku Keroheat can hold enough kerosene to provide continuous radiant heat for more than 14 hours.
Plenty of safety features – You can rest easy when you are using the Sengoku Keroheat, not only does it have an auto shut-off switch for when you do not want it to run continuously, it also has a tip-over switch as well.
The Cons
Igniter does not work well when fuel is low.
2.  Dyna-Glo RMC-95C6B Indoor Kerosene Convection Heater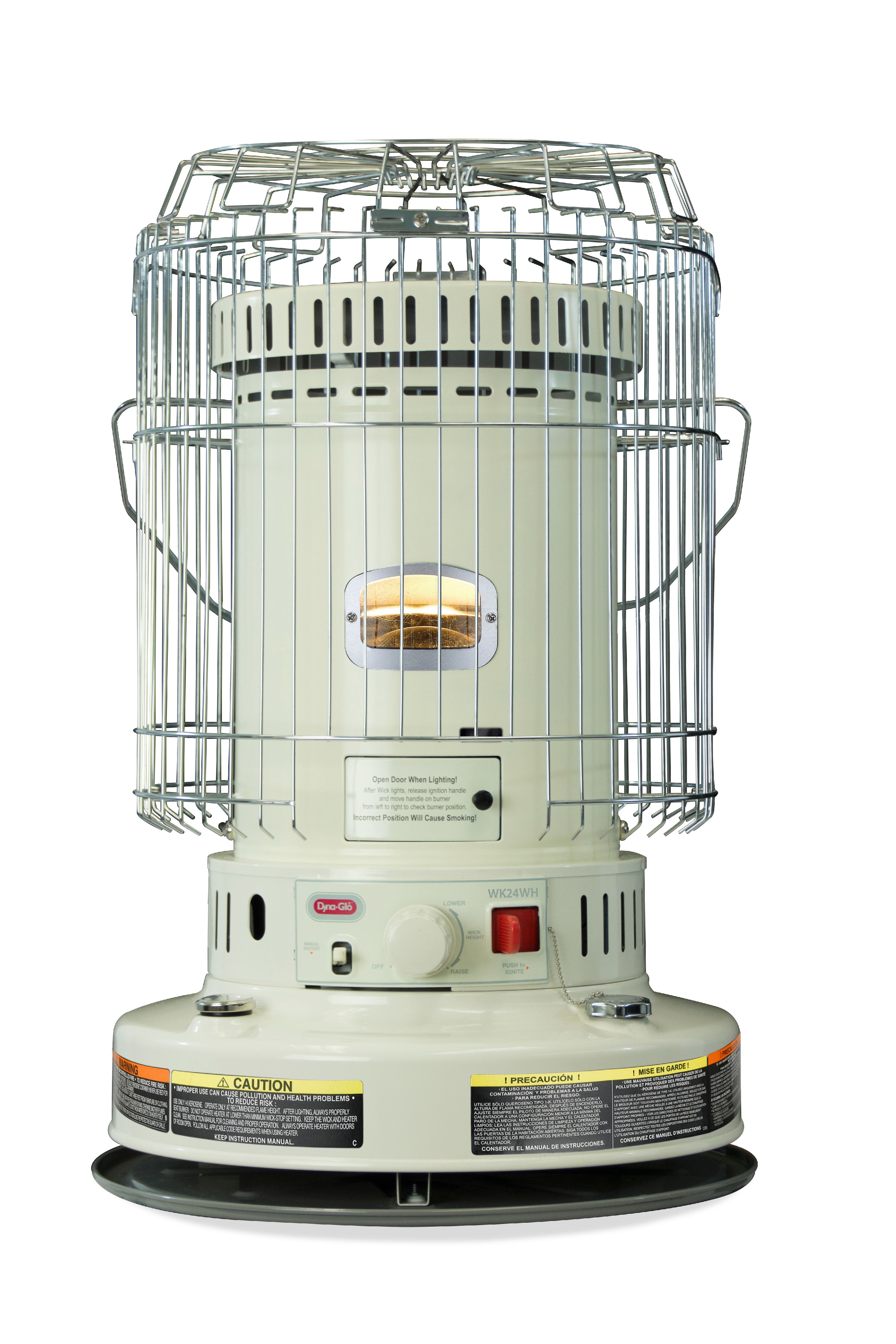 Overview:
The Dyna-Glo Indoor Convection Heater is one of the best kerosene heater for indoor use. If you only need heating in just one room in the house, you do not need to turn up the HVAC, just bring this portable kerosene heater with you.
The Pros:
Completely wireless – The heater runs solely on batteries (igniter), so you do not have to plug the unit in.
Burns efficiently – The Dyna-Glo kerosene heater can burn 99.9% of the kerosene, which means there is little to no emissions; you do not need to worry about carbon monoxide.
One full tank can heat continuously for 11 hours.
The Cons
Adjusting the wick requires a bit of effort and finesse.
3.  Pro-Temp PT-215T-KFA
This industrial kerosene heater is perfect for heating large spaces like garages, workshops, and warehouses. This portable heater is capable of producing up to 215,000 BTU of heat, and it can even run on certain types of jet fuel.
The Pros:
Huge heat output – This portable heater can produce an immense amount of heat, which means it is not just one of the best kerosene garage heater, it can also be used to warm up other large venues.
Can heat up to 5,300 square feet.
Huge 13-gallon tank can heat continuously for an entire work day.
Can use a variety of fuels not just kerosene.
The Cons
The thermostat does not turn on the heater when the temperature drops beyond a certain degree.
4.  DeWalt DXH215HD Forced Air Kerosene Heater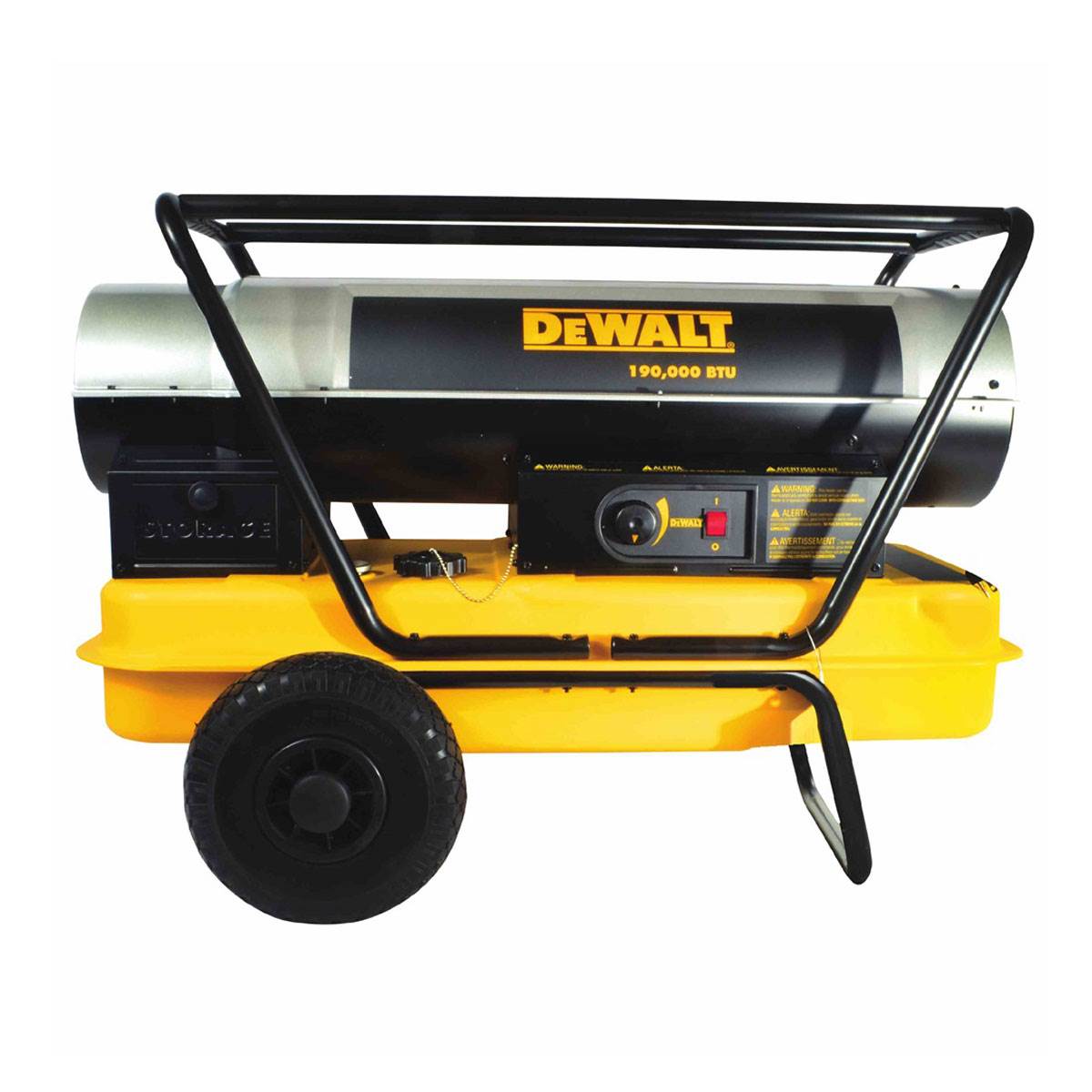 The DeWalt Forced Air Kerosene Heater is the perfect job site companion. The rugged design of this heater allows it to fit right in all kinds of job sites both indoors and outdoors.
The Pros:
Multi-fuel compatible – Although it is marketed as a kerosene heater, the DeWalt DXH215HD can burn a variety of different fuels.
Continuous electronic ignition – This heater has a continuous electronic ignition system to completely burn up fuel. There will be no fuel pooling under the burners of this heater.
Easy to clean thanks to the two-piece barrel.
The Cons
Customer service of DeWalt is not that good. Expect to wait on hold for a long time.
5.  Dura Heat Portable Forced Air Heater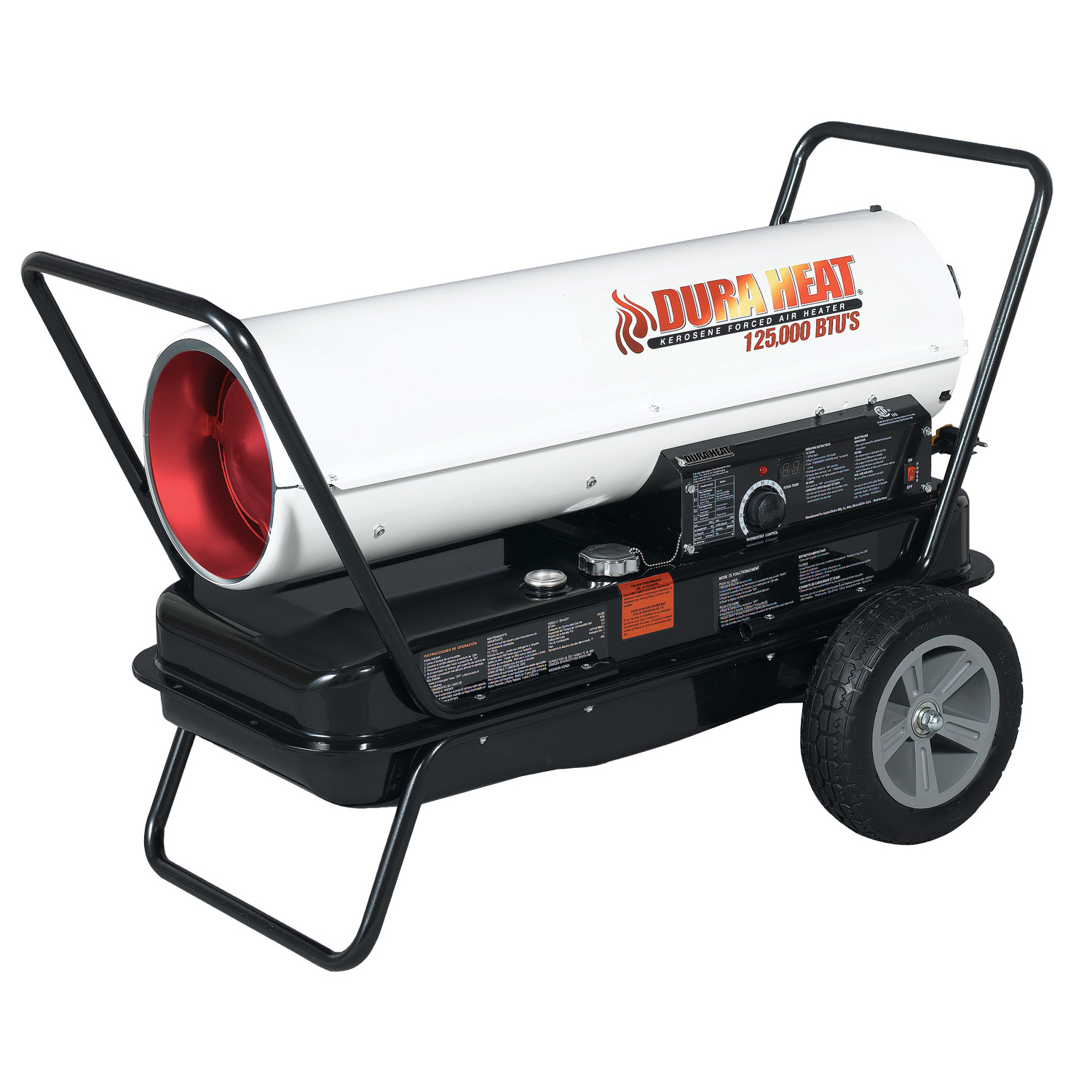 The Dura Heat Portable Heater can produce up to a whopping 75,000 BTU of heat, which is more than enough to warm spaces that are up to 1,800 square feet, sometimes even more. This portable heater comes with all the necessary safety features and also can burn a variety of different fuels.
The Pros:
Multi-fuel compatible. You do not have to look for K-1 kerosene whenever you need to get warmed up, if you have any of the other compatible fuels (of which there are a lot) you can get this heater to run.
Comes with a built-in thermostat.
The Cons
Is not that efficient in burning fuel. There will still be a bit of a smell when you run this heater, so you should run it with proper ventilation.
6.  Dyna-Glo Workhorse KFA220WH
This heater does live up to its name, it is quite a workhorse. The Dyna-Glo Workhorse KFA220WH can produce over 220,000 BTU of heat, which makes it suitable for both indoor and outdoor workspaces or construction sites.
The Pros:
Produces up to 220,000 BTUs of heat. You can heat up a space that is over 5,000 square feet in size.
Can run continuously for 8 to 10 hours depending on the kind of fuel used.
Can run on a variety of fuels.
The Cons
If you will be using this heater indoors, make sure that there is proper ventilation as there will be a bit of fumes coming out of this heater.
7.  Master MH-215T-KFA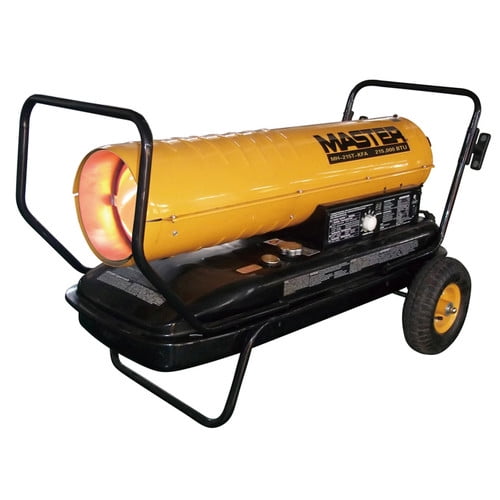 The Master MH-215T-KFA is a kerosene heater that is designed for heating up workshops, garages, and other large venues.
The Pros:
Huge fuel tank – The Master MH-215T-KFA can hold up to 24 gallons of fuel.
Multi-fuel compatible – The Master MH-215T-KFA can run on #1 and #2 kerosene, #1 and #2 diesel, and certain kinds of jet fuel
The Cons
This heater can be very noisy. If you will be using this to heat a solemn event, you should place the heater outside and find a way to funnel the heat inside the venue.
8.  NewMac PRO NMRK-1
The NewMac PRO NMRK-1 is an industrial heater that is designed to provide heat in large workspaces. This heater can produce up to 60,000 BTU of heat, enough to heat up to 950 square feet of space.
The Pros:
Can use either kerosene or diesel fuels.
Has a built-in fuel gauge so you can monitor when it is running low.
Has a continuous electronic ignition system to allow one-touch starts every time.
The Cons
Unlike other forced air heaters, the NewMac PRO NMRK-1 can only run on kerosene and diesel.
Factors to Consider When Buying the Best Kerosene Heater
When you are in the market for a new kerosene heater, there are a couple of things that you need to take into consideration.
The size of the area that needs heating – If you are planning to heat a large area, say around 1,000 square feet or so, then you need to use the heavy-duty forced air heaters that can produce massive amounts of heat. If on the other hand, you will only be using it around the house, you can get one of those portable radiant kerosene heaters instead.
Safety features – You will be dealing with open flames and very combustible fuels so getting a heater that has a lot of built-in safety features, like an auto shut-off switch, tip-over cutoff switches, and the like.
Ignition power source – If you will be buying one of the industrial-size heaters you have no other choice but to use household power outlets for the ignition source. On the other hand, the best kerosene heaters for the home are the ones that are battery-powered, as they are much safer to use.
Fuel type used – Indoor portable heaters can only use K1 kerosene, mainly because it burns cleanly and without any odor. On the other hand, outdoor heavy-duty heaters can run on different kinds of fuels like diesel and jet fuel.
Finding the best kerosene heater can be a whole lot easier once you know what details you need to keep an eye out for.
How to Use Kerosene Heaters Safely Indoors
If you will be using a kerosene heater indoors, there are a couple of safety precautions that you need to follow to prevent fires, personal injuries, or even death.
Fueling
You need to be extra careful when your are fueling your kerosene heater. First, the unit should be off and allowed to cool down to room temperature; the fuel that you will be using should also be at room temperature. If you try to put fuel into a still hot unit, there is a chance that the fuel will combust, which will damage the heater and might even cause serious burns.
You should never refill a heater indoors, always take it outside. The fumes from the fuel might make you nauseated and dizzy if you are indoors and in a non-ventilated room.
Do not refill the heater beyond the full mark. Give enough space in the tank for expansion. Not leaving a space allowance will cause the fuel to leak out when it heats up and expands in volume.
Location
Find a safe spot where you can place your kerosene heater. First of all, it should be placed in a location that is far away from combustible materials, like furniture, curtains, and carpet. Secondly, place the heater away from high-traffic areas, this will lessen the chances of someone accidentally knocking the heater over and spilling the fuel all over the floor.
When to Use
A kerosene heater will take a bit of time to radiate enough heat to make a room nice and warm; conversely, it will also take time to cool down when you turn it off. You do not want to leave a kerosene heater unattended, so turn it off an hour before your bedtime or when you leave the house.
If you will only be staying in the house for an hour or two, you will not have enough time to actually feel the comforting warmth, and you will also not have enough time to watch over your heater while it cools down.
Detectors and Extinguishers
Before you light up your brand new kerosene heater, you need to make sure that your home has all of the necessary safety features, like a carbon monoxide detector, a working smoke detector, and fire extinguishers. You also need to make sure that your smoke detectors are tested every month and swap out their batteries for fresh ones every year.
Smoke and carbon monoxide detectors should be placed in all floors of the house. For instance, the most common place for a smoke and carbon monoxide detector is in the bedrooms and in the kitchen area. Everyone in the house also needs to learn where the fire extinguishers are located.
Storage
Kerosene is highly flammable and very toxic, which is why it needs to be stored in a cool, dry area that is far from the reach of children and pets. Kerosene should also be stored in a container where it will not be mistaken for another liquid substance. The container should be safe for holding fuels and it should be labeled.
Advantages and Disadvantages of Using Kerosene Heaters
Kerosene heaters are efficient. There are many modern models of heaters that boast of 99% efficiency. Less waste means more money saved. However, you should keep in mind that in order to maintain high efficiency, the heater should be well-maintained.
Kerosene heaters are affordable. You can get a good quality kerosene heater for just a little over $100. In addition, kerosene is much cheaper than electricity when used to heat your home.
Kerosene is easy to store. Unlike other fuels, kerosene takes a longer time to spoil, and it does not combust explosively unlike gasoline.
Kerosene heaters can work even without electricity. When the power goes out during a snowstorm, if you do not have a portable generator at home then you will most likely freeze to death. But if you have a kerosene heater you can get warm and cozy inside even if it is below freezing outside.
FAQ
What are the dangers of kerosene heaters?
Modern kerosene heaters are pretty safe to use, but they still pose some dangers so you better be careful when using them. Here are some of the real dangers that kerosene heaters pose:
Kerosene heaters produce a bit of carbon monoxide. Even though most kerosene heaters are 99% fuel efficient, it still produces a bit of exhaust fumes. Make sure that you provide a bit of ventilation in the room you will be using (like cracking a window open) so that there is a way for the fumes to get out.
There will be a bit of kerosene smell for a couple of minutes after lighting the heater and putting it out; if you cannot stand the smell, go outside when turning the heater on and off.
You need to place the heater away from flammable items and clear from any foot traffic. You are still dealing with a heat source here, so there is still a chance that your kerosene heater can start a fire.
Can I sleep with a kerosene heater on in a tent?
Technically, as long as there is enough ventilation for the fumes to escape, you can sleep in a tent with a kerosene heater. Open a mesh window so that there is proper ventilation. Also, place the heater away from the walls of the tent, your sleeping bag, or any other item that might catch fire. If you are using a small tent, just skip the heater altogether and just use a thicker sleeping bag.
Is it safe to use a kerosene heater indoors?
Yes, it is safe to use modern kerosene heaters indoors as long as there is proper ventilation. Some people say that it is a bad idea to do so, but then again there are still a lot of people who use a wood burning stove, and those are more dangerous.
What are the differences between a propane heater and a kerosene heater?
Aside from the obvious fuels used, there are other differences between a propane garage heater and a kerosene heater. First of all, propane burns cleaner than kerosene; when you burn propane it produces carbon dioxide and water, on the other hand, kerosene produces carbon monoxide. However, kerosene can produce more heat. Propane is also much cheaper (by volume) than kerosene. However, you can store kerosene for much longer than propane, which makes it the ideal choice for preppers.
Conclusion
If you live in an area where the temperature is well below freezing for most parts of the year, having the best kerosene heater on hand will be a lifesaver, literally. These heaters can work even when the power gets knocked out, unlike an electric fireplace, infrared heater, or other kinds of space heaters; and when you are dealing with below freezing temperatures, keeping warm will mean the difference between life and death. However, you also need to keep in mind that you are dealing with a highly-combustible fuel, so you better be careful when handling the heater and the kerosene at all times. When you have a good quality kerosene heater, and you take care of it properly, it will serve you well for many years to come.