For men, you can't really enter the summer season without a pair of your favorite swim trunks. Not just during summer, but for several other occasions that involve swimming, you'll actually need more than just a pair of trunks.
If swimming is one of your favorite activities, it only makes sense to invest in several pairs of swimming trunks. However, looking for the right suit actually takes a bit of effort. With that, we have compiled and reviewed 15 of the best men's swim trunks products on the market for you.
How to Choose the Best Swim Trunks
Before you even decide which swimming trunk to choose, let us first talk about the factors you have to consider when looking for the best product. Without further ado, here are a few rules you should follow when looking for the best swim shorts out there.
1. Don't go for elastics. Drawstrings are just fine.
The reason is because both dig into your belly. Hence, if you haven't been working out, elastic trunks might be a bit uncomfortable for you. Drawstrings, however, are slightly negotiable due to their guarantee of security, which is definitely useful especially if you participate in the various beach or pool games. To obtain a sleeker look, a good choice would be to go for a snap and zipper style. Swim trunks with adjustable side-fastened styles are now the trend.
2. Choose the right patterns.
The choice of print patterns actually depends on what body type you have. For skinny dudes, horizontal stripes create an illusion that makes you look as if you have toned thighs. For those with an athletic build, they can feel free to experiment with vibrant colors and patterns. Meanwhile, if you have a bit of a belly, you should shy away from loud designs as it could only draw attraction to your bulging fat. Instead, you can go for a swim suit that comes with smaller prints.
3. Pick the right material.
The best men's swim shorts are the ones made from the quick-drying and lightweight material. Before you even decide to purchase a swim short, you have to check its label first. Ideally, it should be made from nylon and polyamide. Why? Because trunks that take time to dry will only chafe your skin, not to mention they'll also smell funky as they take too long to dry.
4. Pick the right length.
The ideal length of the best men's swim trunk should be in between your waist and knees. Under no circumstance should you go for a trunk that falls below the knees. Not only will it make you look less attractive, but lengthy trunks are easily pulled down by the weight of the water as you emerge from the sea or pool. Then, there's that incredibly high risk of involuntary mooning, especially when you're sitting or paddle boarding.
5. Choose a color that matches your skin tone.
If you don't have a tan, it's a good idea to wear dark colored swim shorts. As you start tanning, you may then start wearing trunks with lighter shades. You might not know it, but a good tan always goes perfectly with a nice pair of swim shorts. You might want to go for neons, but it'd be best to leave them to the lifeguards on duty.
6. Choose just the right fit.
A general rule of thumb is that your preferred short's fit should hug the waist but give you enough mobility. The key word here is "hug". If possible, try on a swimming trunk before buying. Don't settle for loose products as they could chafe the skin when wet.
Reviews on 15 Best Mens Swim Trunks Products in the Market
1. Speedo Men's Marina Core Watershort
The swim trunk from Speedo is made from quick-drying microfiber fabric designed to make you comfortable both in and out of the water. It also comes with built-in sun protection to keep you protected from the harmful rays of the sun.
Pros:
It dries quickly, thanks to its microfiber construction.
There are drain holes located in the cargo pocket.
It has an elastic waistband with drawstrings.
Cons:
It's quite expensive as compared to other products.
2. Kanu Surf Men's Monaco Swim Trunk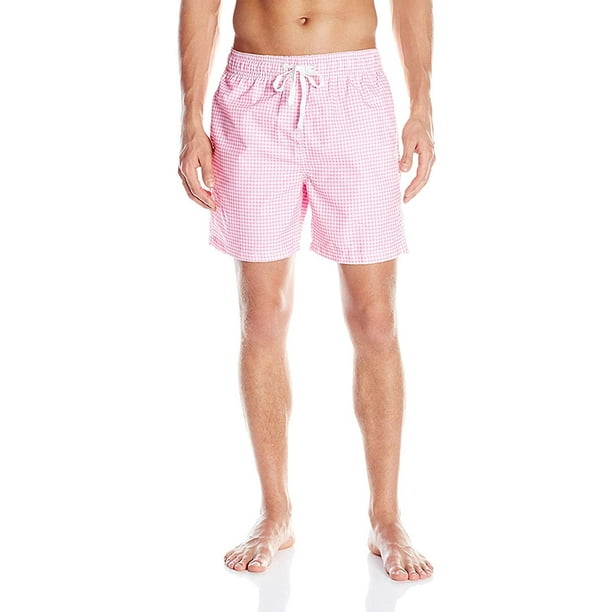 The Kanu Surf swim trunk is fitted with 2 side pockets and one back flap for item safekeeping. It's also made from lightweight fabric to ensure a comfortable experience.
Pros:
It has a quick dry feature to significantly reduce the garment's drying time.
It blocks up to 98% of harmful UV rays with its UPF 50+ technology.
Cons:
The trunk looks quite baggy and its polyester material doesn't stretch much.
3. Columbia Men's Blackcast Water Short
The Columbia easy-fitting water short is created from durable, quick-drying nylon for ultra-fast drying and long-lasting use. With its ultra-fast drying feature, you can simply jump in and out of the water without the need to change.
Pros:
It has the Omni-Shade UPF 50 feature to keep you protected during long hours under the sun.
It has 2 side pockets, a right leg pocket, and a rear zip pocket for easy item safekeeping.
Cons:
There are some complaints regarding wrinkling after washing the product.
4. Funnycell Men's Swim Trunks
Funnycell's swim trunk comes in 13 different colors, allowing you to choose one that suits you best. It's also lightweight and comes with a quick-dry feature.
Pros:
It's an affordable product, which is perfect if you're on a budget.
There are 13 different color choices to choose from.
It has 4 useful pockets and a hidden pocket where you can keep your keys or change.
Cons:
The material is extremely thin.
5. Polo Ralph Lauren Mens Swim Trunk
This product from Polo Ralph Lauren is among the finest products on this list. It's made from 100% nylon material and comes with 100% polyester lining.
Pros:
The trunk fits perfectly as it's the right size and length.
There's a variety of colors to choose from.
Cons:
It doesn't come with a drawstring.
It is a bit too expensive for a swim trunk.
6. Columbia Men's Big Palmerston Peak Swim Short
This product from Columbia features a built-in UPF 50 sun protection and is the ideal choice for those who are active swimmers. It's made from 100% nylon material to ensure comfort in and out of the water.
Pros:
There's an exterior adjustable waistband to make sure it fits you easily.
It also has an interior mesh brief for maximum comfort and secure fit.
Cons:
The elastic is weak, which means you have to rely on the belt to hold it in place.
7. Nautica Men's Big-Tall Swim Trunk
Regardless of where you plan to go for a vacation, this big and tall swim trunk from Nautica is going to be your go-to pair. It's created in a cool and comfortable quick dry construction, allowing you to engage in swimming activities without the need to change.
Pros:
It comes with a drawstring elastic waistband for a comfortable fit.
There are 2 side pockets, one back pocket, and an interior coin pocket for keeping your important items.
Cons:
It tends to lose color after several uses.
8. Tommy Bahama Mens Swim Trunk
The swim trunk from Tommy Bahama is made from quick-drying nylon material to ensure it dries quickly and keeps you comfortable at all times. It also comes with an adjustable drawstring at the elastic waist for a secure fit.
Pros:
It has a mesh interior lining featuring covered elastic around the leg openings.
The product is available in seven different colors to choose from.
Cons:
One buyer complained about the shortage of length from the crotch to the waistband.
9. Calvin Klein Men's Volley Swim Trunk
Stylish, comfortable, and quick drying, this volley swim trunk from Calvin Klein is your ideal partner for your swimming pursuits. It features 100% polyester construction for enhanced durability and comfort.
Pros:
The pockets come with Velcro closure for enhanced security of your items.
It comes with UPF 50+ to provide protection against harmful UV rays.
Cons:
It's quite expensive and is only available in 3 colors.
10. US Apparel Men's Crosshatch Stripe Swim Trunk
This swimming trunk from the US Apparel is crafted using very high standards of quality. You can expect a high quality and durable product that will help you look stylish while on the beach or pool.
Pros:
It's made from 100% polyester material for added comfort.
It comes with a brief mesh lining for a more secure and comfortable fit.
Cons:
The material doesn't stretch.
11. HUGO BOSS Men's Orca Swim Trunk
Go swim in style with this swimming trunk from one of the leading manufacturers, Hugo Boss. The Orca solid swim trunk is made from 100% polyester and comes with 2 side pockets and one back pocket.
Pros:
It comes with drawstring closure for easily adjustable fit.
It features a quick-dry construction to reduce drying time significantly.
Cons:
It's quite expensive and can't be stretched.
12. Parke & Ronen Swim Short
The Parke & Ronen swimming trunk with Angeleno print stretch pattern allows you to remain stylish while engaging in various swimming activities. Its 100% polyester construction also ensures it lasts long and can provide you with the comfort you need.
Pros:
It comes in a wide variety of colorful patterns to choose from.
The 100% polyester material ensures the short dries quickly and easily.
Cons:
It looks too small, making it not ideal for taller men.
13. Original Penguin Men's Earl Volley Swim Trunk
Add some style and coolness to your swimming activities with the volley swim trunk from Penguin. With the trunk's Velcro and tie closure, you can ensure your items inside the pockets are well-protected.
Pros:
The trunk is available in volley or box cut to allow you to pick the type that suits you best.
It's made of 100% cotton to ensure maximum comfort.
Cons:
Some people complained about the trunks' small size.
14. Hartford Mid-Length Swim Short
The mid-length swim short from Hartford comes with mesh lining for added comfort and a number of pockets for item safekeeping. It's the perfect fit with a white T-shirt and sunglasses for a stylish stroll on the beach.
Pros:
It comes with an elasticated drawstring waist for easy fitting.
It's made from 100% polyester to ensure durability and quick drying.
Cons:
The trunk's polyester material doesn't stretch much.
15. Hugo Boss Quick Dry Nylon Swim Short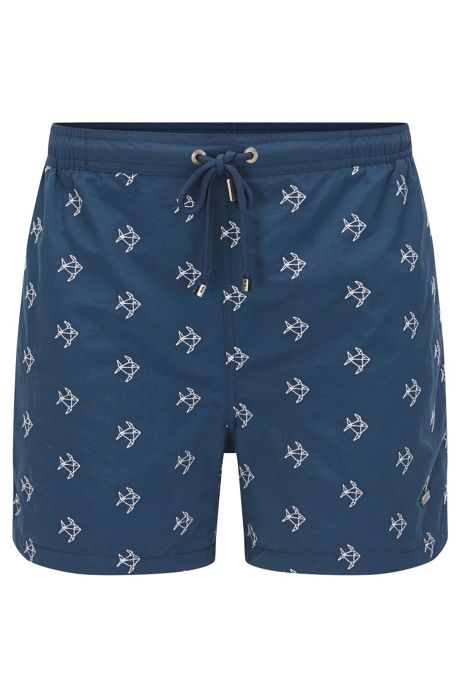 This quick dry swim short from Hugo Boss comes with a pattern designed for the spring season. An elegant and good-looking shorts perfect for any beach or pool activity.
Pros:
It's made from 100% polyamide material for a quick dry fabrication.
It also has an interior mesh brief for enhanced comfort.
Cons:
It comes with a rather high price tag.
Conclusion
Paired with the right swimming gears like swimming goggles, waterproof fitness tracker, mp3 player for swimming and earplugs for swimming, you can definitely have the best summer experience with the best mens swim trunks on the list. However, always remember that some swimming trunks will work best depending on your body type.
Nonetheless, there are no right or wrong choices here. But then again, you have to consider that your choices could have some effect on other people. Whether you like it or not, these are going to be visual judgments.
By reviewing these 20 products, we're able to give you a comparison, as well as the pros and cons each product has. Through this, it will become a lot easier for you to choose which one to buy.