There is no need for clicking on a number of sites to read up and compare products. We've got you covered.
Our Top 12 curations make sure you are not missing out on the best patio dining set out there. At the end of the patio dining set reviews, you'll find the experts' top pick and a handy buyer's guide.
Reviews of The Best Patio Dining Sets
We love to eat out. But that doesn't always have to mean going to a restaurant in the city, does it? With the right patio dining furniture, you can create a whole new room to enjoy your favorite outdoor activity.
We searched far and wide for the best outdoor dining sets. These are what we found:
1.     7-Piece Aluminum Rectangular Dining Set
This is a complete dining set for six from Great Deal Furniture. Made of all-weather-tolerant cast aluminum, the rectangular table and chairs are perfect for long-term use. The table is 68.11" long, 38.19" wide, and 29.53" high. It has an allocation for a patio umbrella.
What We Like:
Likely to last longer, thanks to its cast aluminum make
Assembly is a breeze and takes only an hour
Package includes extra nuts and bolts, washers, and hard plastic foot levelers
Sturdy with a weight of around 300 pounds
What We Don't Like:
Package does not include enough rust-protecting rubber covers for all metal bolts
The sides have sharp burrs that will need filing
2.     Albermarle Aluminum Dining Set for Four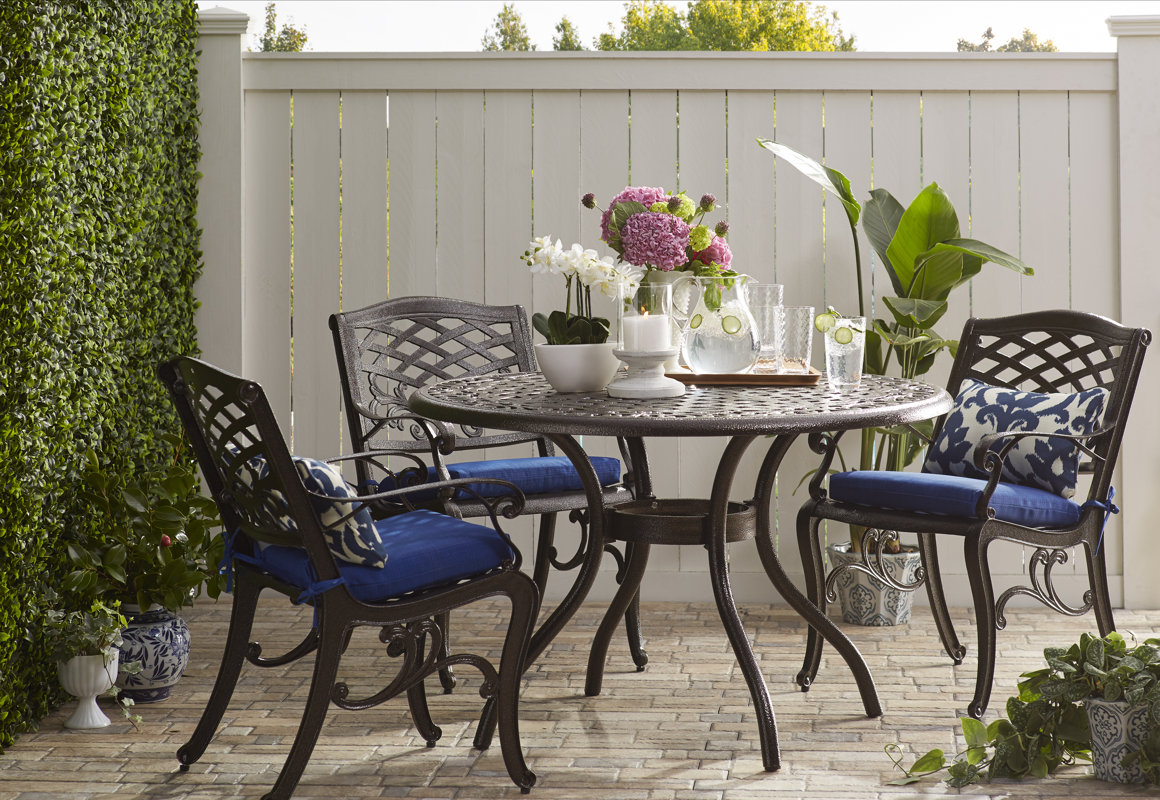 The Albermarle Dining Set brings you that coveted table for four. You will get a round mesh table and four matching chairs all made of cast aluminum. With an antique bronze finish, the set would easily be at home with the rest of your patio furniture. The table is 29.92" high. With a diameter of 47.64", it has a 2-inch hole for an umbrella. The chairs can accommodate 210 pounds.
What We Like:
Can easily be put together
Cleaning and maintenance require only water and some light wiping
The set is sturdy and can withstand rains and strong winds
What We Don't Like:
The chairs are a bit too reclined for dining
Package does not include levelers
3.     Quebec White Bistro Set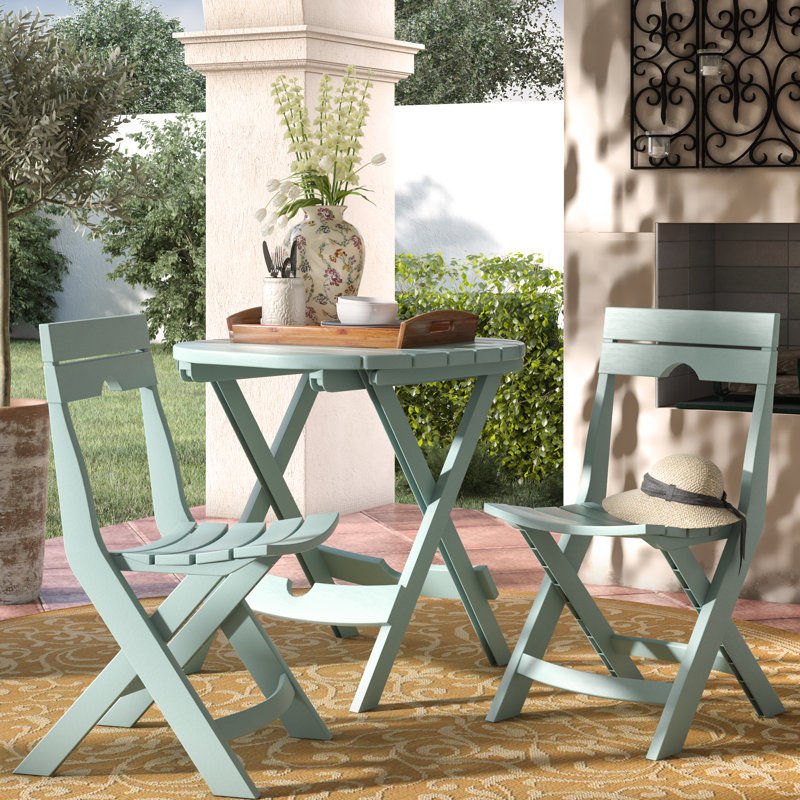 This three-piece compact bistro set is ideal for small patios. The set consists of a rounded-edge square table and two chairs. It has a modest yet classy rustic look. For a budget-friendly price, you will have a long-lasting set that looks perfect for your garden. Made of polypropylene plastic, it is ideal for outdoor conditions. An umbrella hole is included.
What We Like:
The plastic material is rain-, rust-, and UV-resistant
Table and chairs are foldable for easy storage
Furniture care is simple; just a few wipes with a damp cloth
Can be easily assembled
What We Don't Like:
Not sturdy enough for cobbled spaces
It looks and feels plastic. If you're not a fan of plastic, look elsewhere.
4.     Sleek Light Gray Kohlmeier Dining Set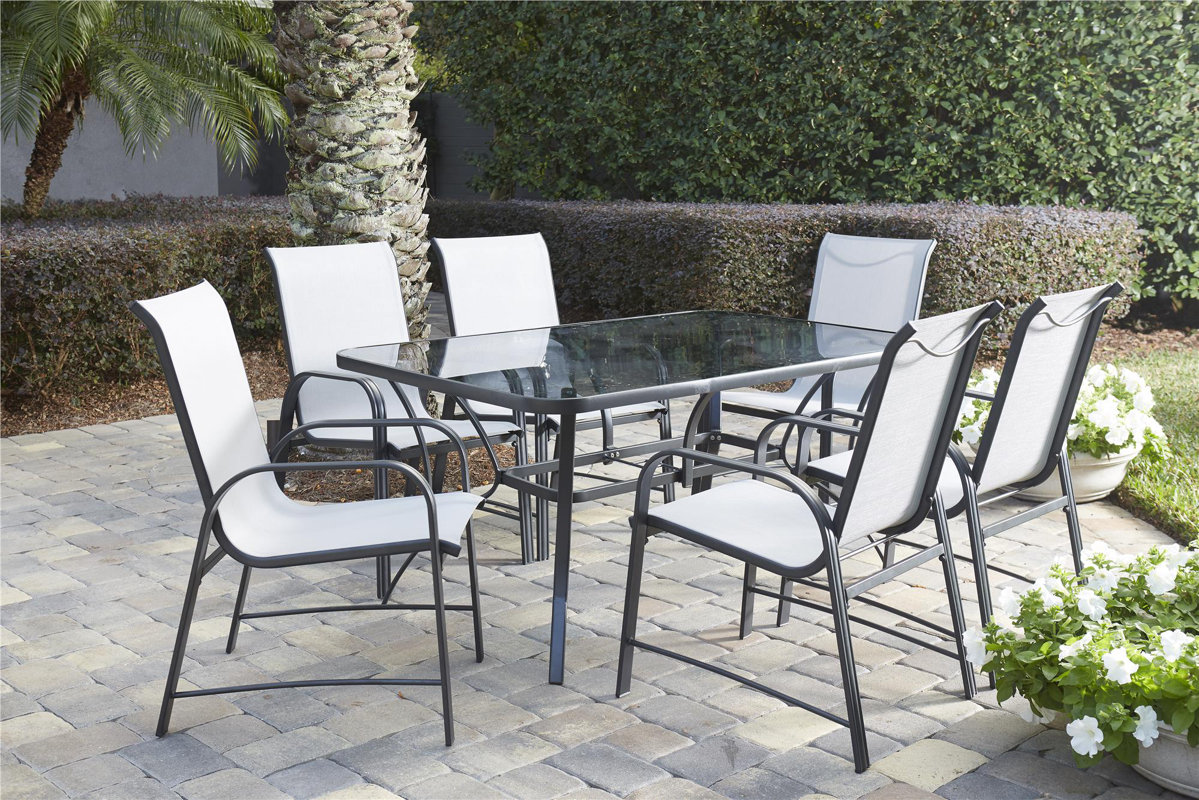 You can never go wrong with a clean-lined sleek dining set. With the sophisticated silhouette of the Kohlmeier Dining Set, you are ready for a chic al fresco dining experience. The set includes a rectangular table with 60" L x 38" W x 28.5" H dimensions and six chairs. The table has a glass top and metal framing. The chairs' fabric back and seat and metal frame can accommodate 250 pounds.
What We Like:
The table can be easily assembled
Chair structure is comfortable for dining
Water- and UV-resistant
What We Don't Like:
Assembling the chairs can be a burden
Chairs cannot be stacked
5.     Nevius 7-Piece Wicker Dining Set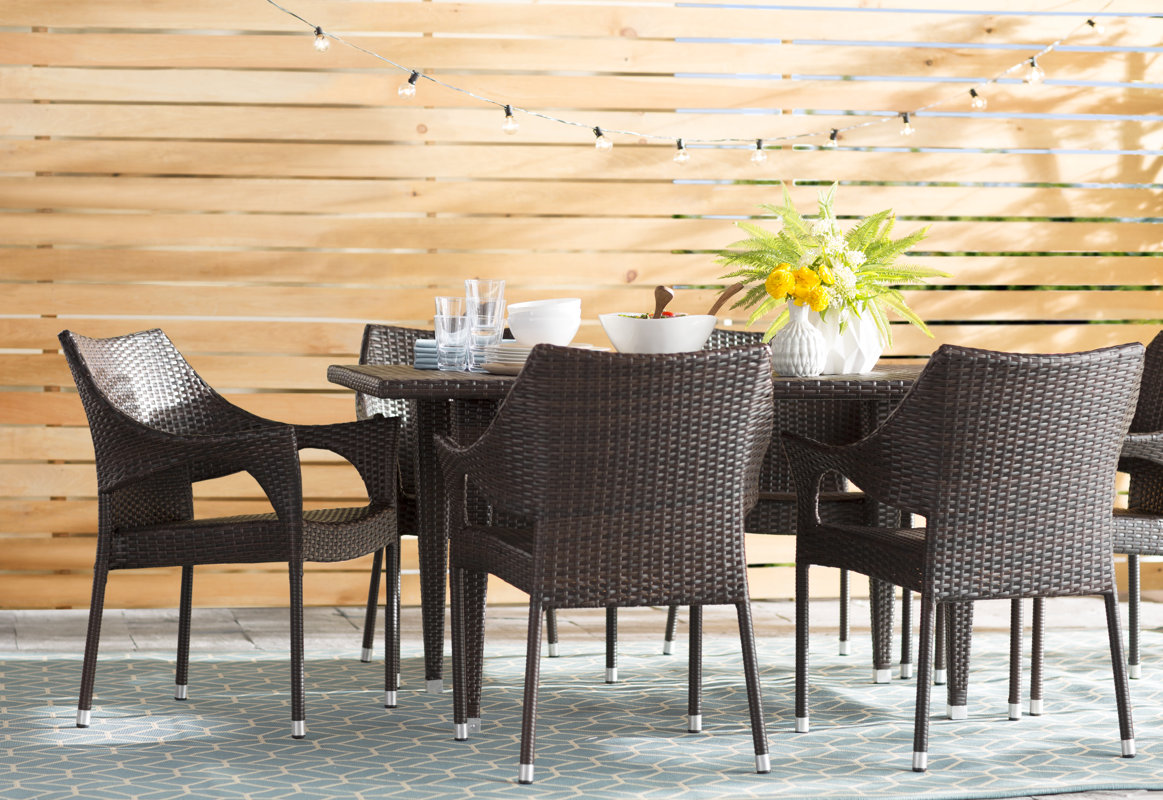 The Nevius Dining Set features a rectangular table and six matching chairs made with iron wrapped in woven wicker/rattan. The table weighs 55 pounds and is 33.4" x 59" x 29" in length, width, and height, respectively. It can withstand a 300-lb weight. The chairs have a 250-lb weight capacity. For a six-seater set, the price tag is reasonable.
What We Like:
The table can be assembled easily; no assembly is needed for the chairs
Needs very little maintenance
Sturdy enough to withstand different weather conditions
What We Don't Like:
Does not have an umbrella hole
The center of the table has the tendency to sag
6.     Belmont Hexagonal Table for Six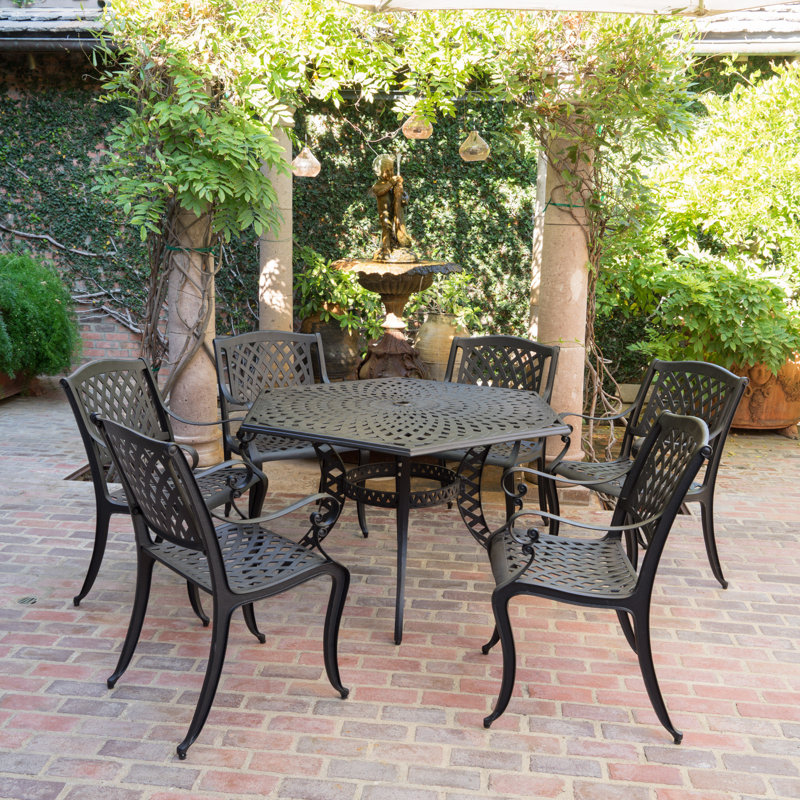 The Darby Home Co Belmont Dining Set includes a unique hexagonal table that can accommodate six chairs. The sturdy metal construction makes the set worthy of its price. It has a 2.5-inch umbrella hole. The table is 30" high. The largest width measures 53". Heavy weights are not a problem. Chairs can hold up to 300 pounds.
What We Like:
The sturdy construction makes it durable against outdoor weather conditions
Takes up less space than oblong-shaped tables but with the same seating capacity
What We Don't Like:
A six-sided table design with four legs make it awkward to position the chairs
Assembly can be burdensome
7.     3-Piece Dining Set by Trent Austin Design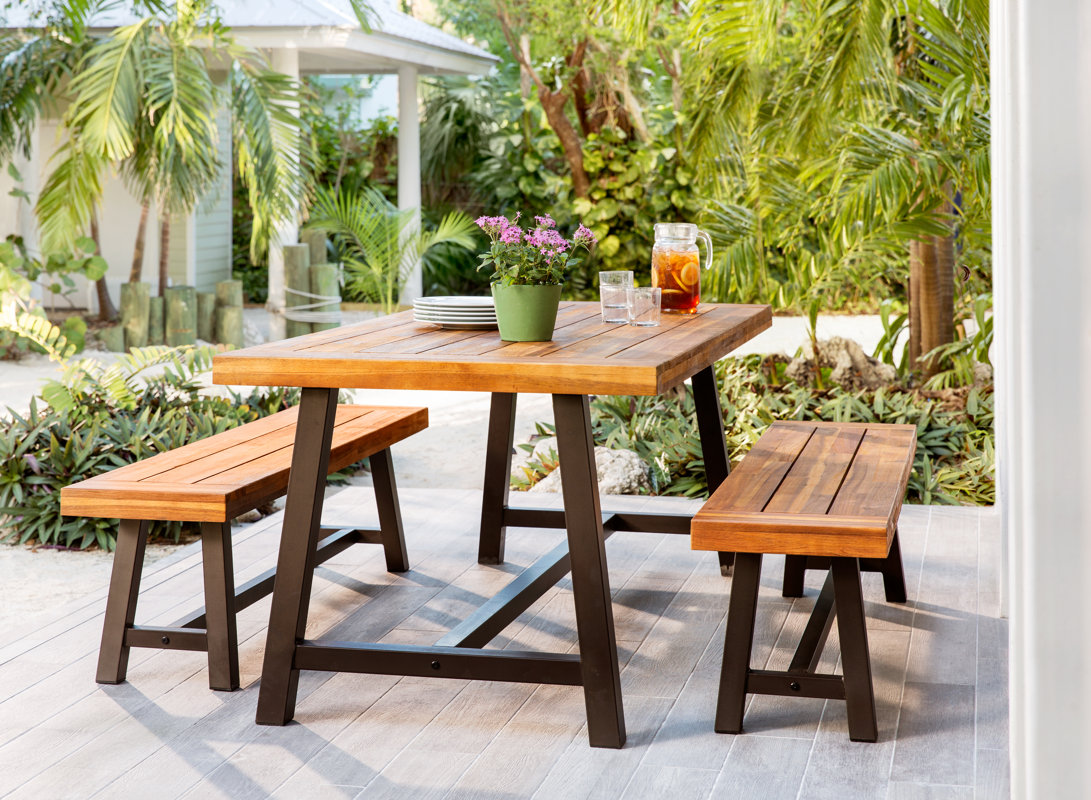 The metal legs and wooden tops are a durable and fitting option for outdoor dining. A rustic feel realness is achieved in this Bartlesville three-piece dining set. It features a wooden table and two wooden benches which are supported by metal. The table stands 29.13" high. Its tabletop measures 33.5" x 71". Thanks to its solid wood construction, the chair can safely hold up to 500 pounds.
What We Like:
The bench design provides a flexible seating capacity
Sturdy construction
Easy to put together
What We Don't Like:
The benches do not fit when pushed under the table
Might need a proper wood coating to protect it from the sun
8.     Burkhardt 6-Seater Patio Dining Set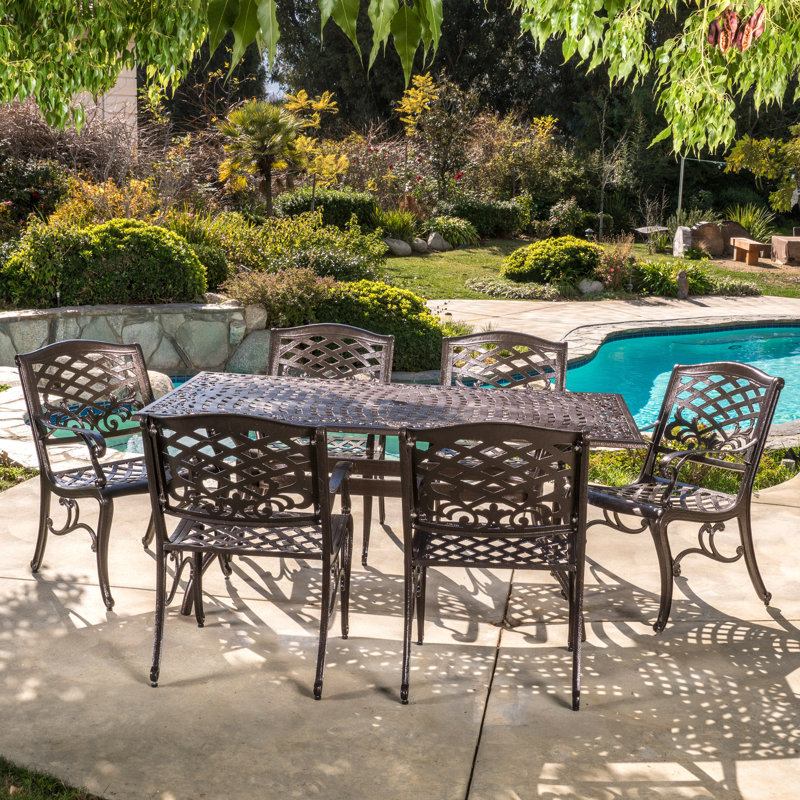 Made of cast aluminum with a hammered bronze finish, this dining set is a good addition to your patio. Its rectangular table can accommodate six chairs comfortably. The latticework, leaf accents, and tubular cabriole legs readily match with a garden landscape. With a 38.19" x 68.11" top, the table stands 28.5" high. The chairs have a weight capacity of up to 300 pounds. A hole for an umbrella has been included.
What We Like:
It is sun-tolerant, water- and rust-resistant
Requires very little maintenance; just a simple wipe with a damp cloth
Lightweight but feels sturdy
Assembly is pretty friendly
What We Don't Like:
There are rough edges that can injure or snag clothing
The chair's leg pads are not very sturdy
9.     Beachcrest Hardwood Bistro Set for Two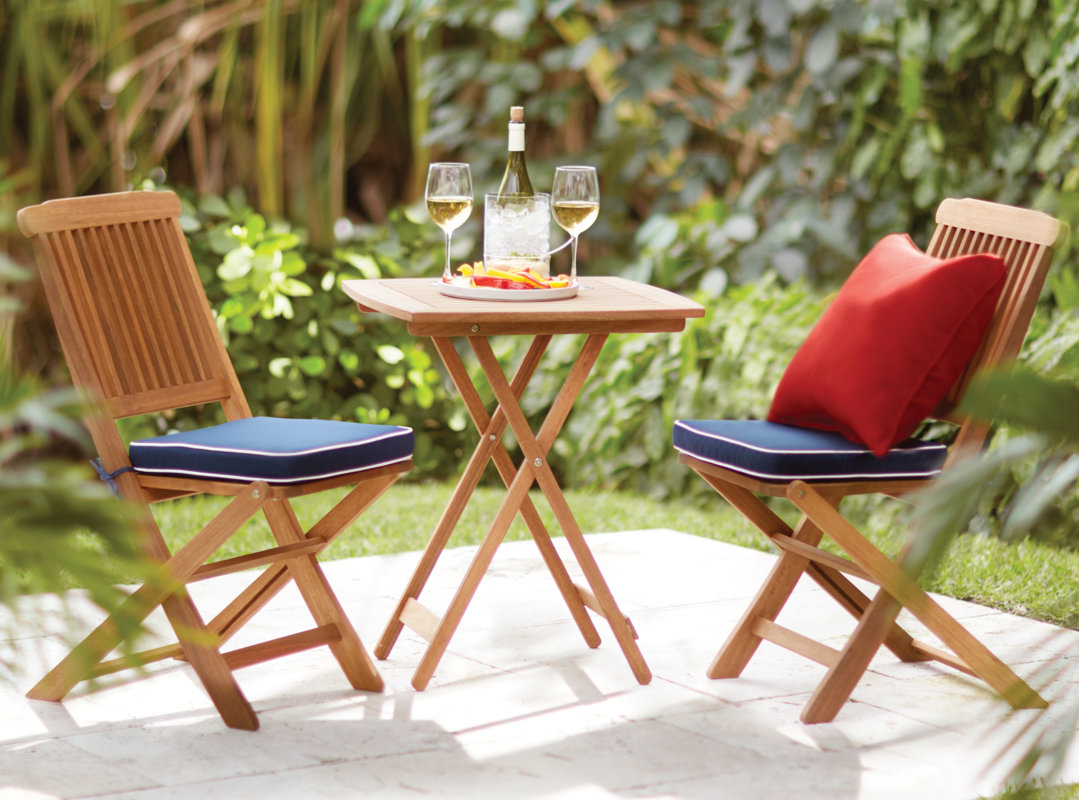 This Bistro Set gives you French dinner feels in a sunny garden. It features a foldable square table and two foldable chairs all made of hardwood. Two piped cushions that are 2-inch thick are included in the package. The chairs can carry 200 pounds max. The square table is 23.5" wide and 28.5 inches high. To maintain the quality of the set, applying linseed oil twice or thrice a year is necessary.
What We Like:
Package includes cushions
The hardwood construction makes it durable
Highly portable and easy to store
No assembly is required
What We Don't Like:
The wood needs regular oiling to protect it from outdoor conditions
The chairs can get tippy over time.
10.     Dorsey Roundtable Dining Set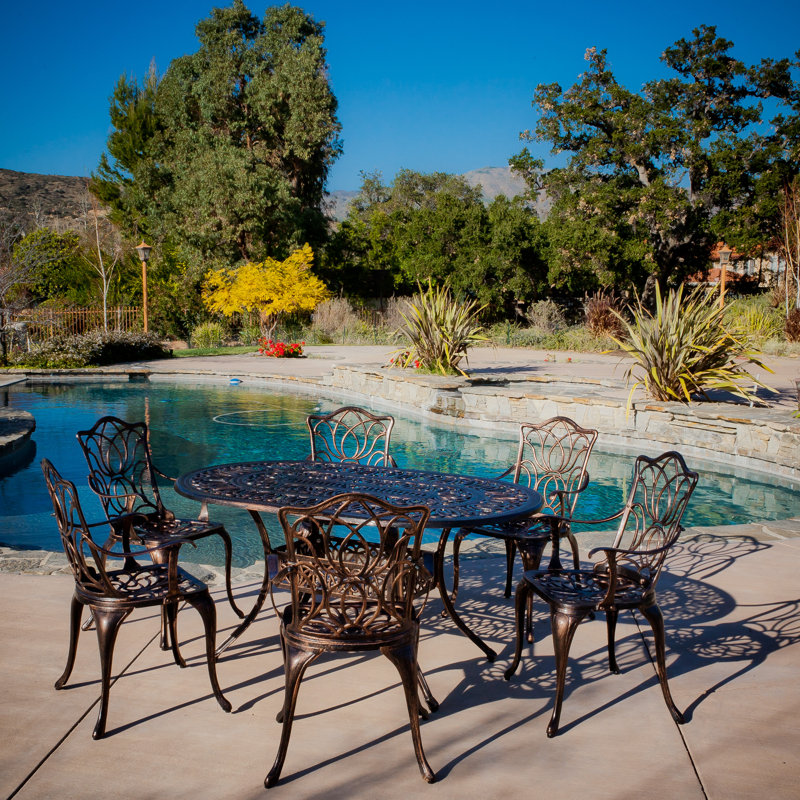 The Dorsey Dining Set features a round table with six matching armchairs which are made of cast aluminum. With its unique intricate design, you can easily invite a royalty to the dining table. It has a sturdy build and is all-weather-tolerant and rust resistant. The table is 35.5" high with a 20-inch diameter. A 2-inch umbrella hole has been drilled. The chairs are strong enough to carry 300 pounds max.
What We Like:
It is durable and can withstand outdoor conditions
Regal and sophisticated design
Requires simple cleaning
What We Don't Like:
The chairs are just 17.5" wide; may be too small for some people
Provided tools may only make assembly difficult
11.     Castelli 9-Piece Cushioned Dining Set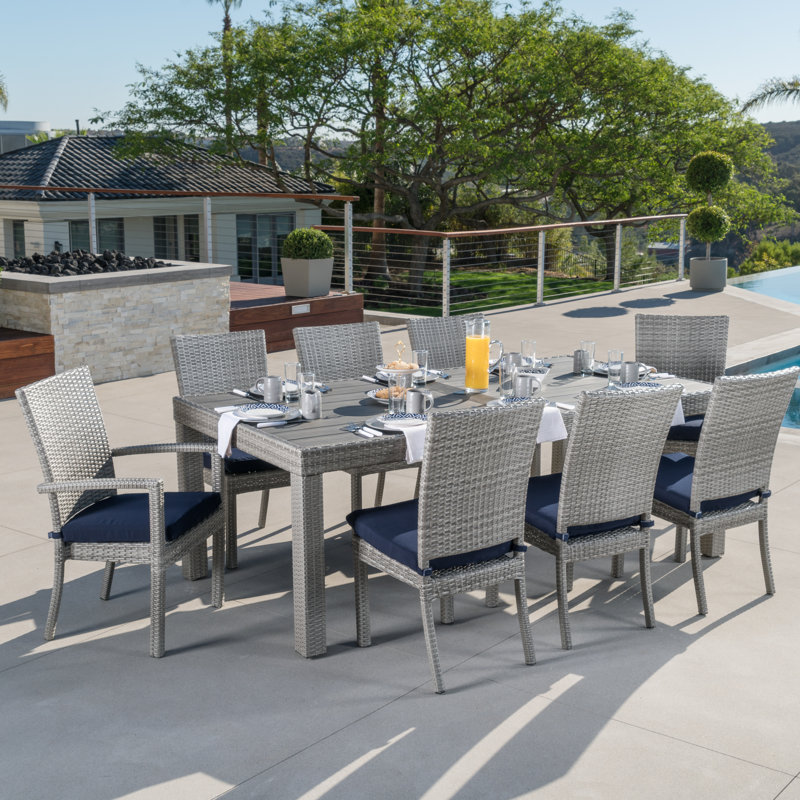 Rugged outdoor conditions are not a problem, thanks to this set's commercial-grade resin wicker build. The Castelli Dining Set can seat eight people without problems. Cushions are included in the package. They are all wrapped in Sunbrella(R) performance fabric that can be easily washed with a mild soap and water. The foams are protected with the patented dry cushion technology. Considering the robust materials in this product, the hefty price is a pretty good deal. The furniture is lightweight but sturdy, owing to its aluminum frames.
What We Like:
Cushion fabric is UV-resistant and does not fade easily
Cushion foam is made with PVC mesh to prevent moisture
Resin wicker material is UV-resistant and anti-fade
Chairs are stackable
What We Don't Like:
The imitated wooden tabletop panels may not be as robust as the other parts
Table is a bit warped, which can keep a water puddle after a heavy rain
12.     Edwards Stackable Patio Dining Set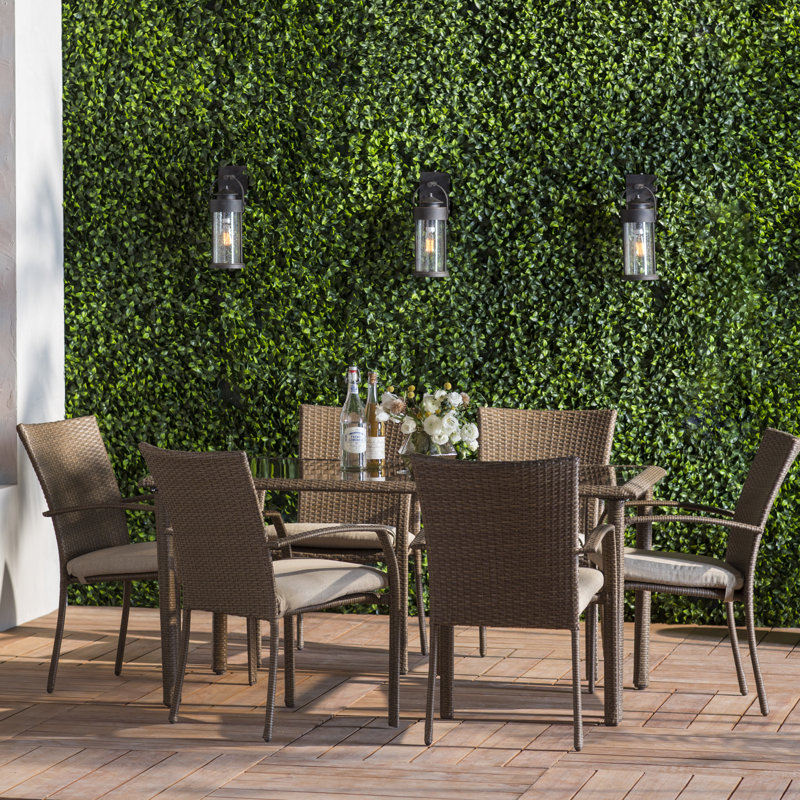 This resin wicker-made Edwards Dining Set can easily find its home in your patio. It features a rectangular glass tabletop held by a sturdy inner steel frame. The package includes six stackable chairs. All components can withstand various weather conditions including the cushions. You have a choice to keep or remove the cushions from the seats.
What We Like:
Cushions can withstand outdoor conditions
Chairs are stackable
Sturdy enough to withstand strong winds
What We Don't Like:
Wicker binding may not unravel quickly over time
Needs a better mechanism to keep the glass in place
How To Choose the Perfect Outdoor Patio Dining Set
Choosing the best patio dining set has more than one factor to consider. It isn't only about the dining set itself. You also have to consider the patio space—size and layout.
Know what style fits with the rest of the stuff on your patio. Will a plastic bistro set match up with the outdoor sofa? Does a sophisticated metal dining set go well with the hot tub and fiberglass pools?
Once you have that already figured out, it's time to think about the construction.
Important factors to consider for outdoor materials
As outdoor furniture, it is essential that they can withstand heat, rain, moisture, winds, or even the snow. That is, if you don't want to be moving them in and out every day. Let's break it down bit by bit.
The sun and a high temperature can cause fading and cracking. Not only that, some materials have high heat retention capacity. That means you can get your skin mildly burned from using an outdoor chair. If you're living in hot climates, check how the furniture is protected from UV rays.
Rain and humidity can cause problems more than you imagine. The likely concerns, if your outdoor furniture isn't tolerant, include mold, mildew, and rot, warping, rust, and corrosion. In areas close to the sea, rusting is a real problem. Always inquire about the furniture's protection against such water-based problems.
Examine the product and see whether it can easily be tipped over on windy days. They should be heavy or sturdy enough. However, in areas where that rarely happens, you can keep your furniture inside to keep them safe.
Difficulty of maintenance
This factor is often overlooked when we are overwhelmed by the pretty appearance. Consider your lifestyle. Think about how you can manage cleaning and maintaining your dining set. Consider the availability of cleaning and maintenance solutions, too. Remember, some materials need more than a damp cloth. Others need oiling and coating.
Some of us are uncomfortable with products that are produced unethically and unsafe for the environment. If you are a stickler for eco-friendly products, look for those certified by the Forest Stewardship Council, Environment Protection Agency, or other environmentally concerned groups.
Budget is, of course, a determining factor. But that does not mean to always buy cheap. At the end of the day, it is about finding the balance between price and value.
Conclusion
Speaking of price versus value, the Castelli 9-Piece Cushioned Dining Set is a worthy buy. Compared with the other sets on the list, it can be clocked us pricey. For its value, though, you can tell that so much was put into protecting it from different weather conditions.
The patented technologies that protect the construction make the Castelli Dining Set easily the best patio dining set. Even the cushion fabric and foam are outdoor-friendly.
Albeit the complaints on its tabletop, you can easily trust the durability of the set. The warping of the material can be prevented or managed. Given the list of its advantages, the cons are easily outweighed.