A fire pit table can make for a welcome addition to any patio. After all, it can perform a number of functions not limited to providing heat and a place for cooking. Since there are a lot of models out there, the best propane fire pit table should be the one that fits your need and budget the most.
12 Best Propane Fire Pit Table Reviews
1.  Bali Outdoors 32-Inch Fire Pit Table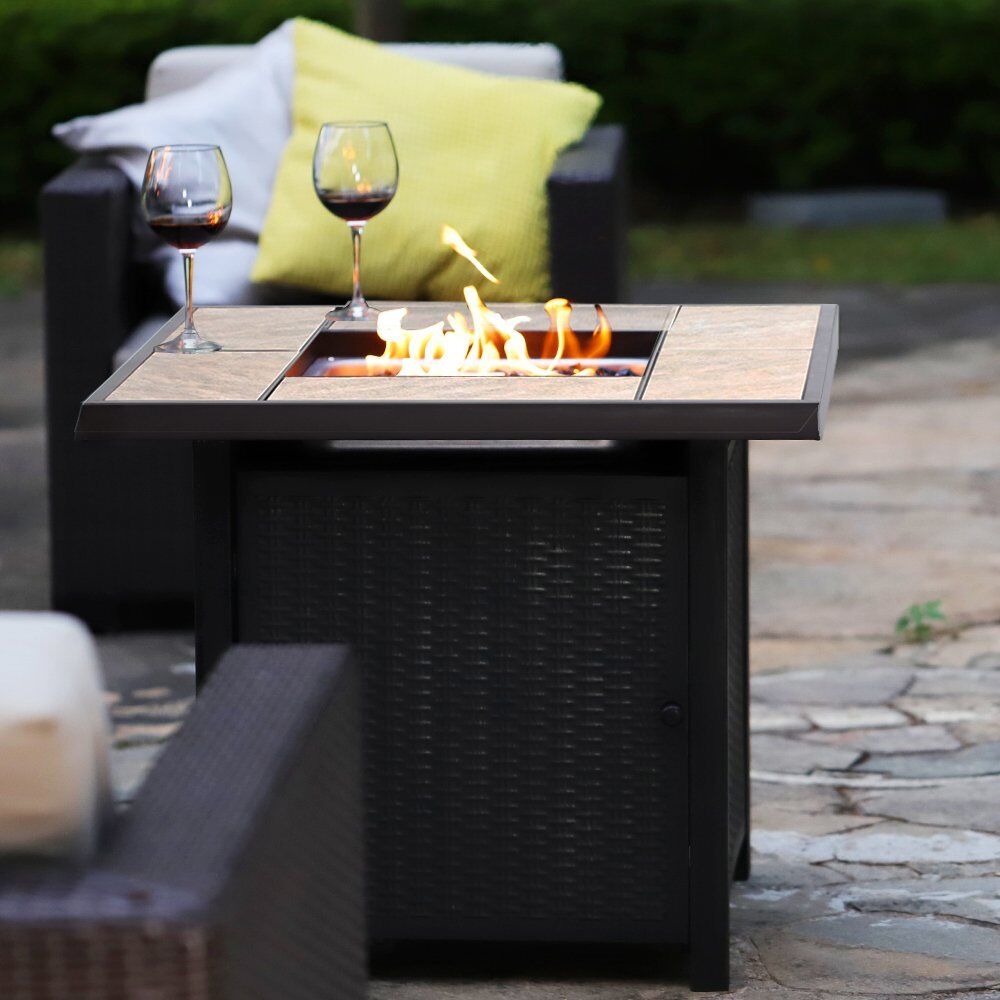 Unique Design – This fire pit table is 32 inches on all sides and is 25 inches high. It is made of a heat-resistant material which maintains its appearance even despite prolonged usage. 
Easy Flame Control – It comes with a CSA Approved stainless steel burner which emits a bright 50,000 BTU flame. Controlling this emission is made easy with the Piezo Ignition System.
Easy Maintenance Access – If the tank needs replacement or the pit requires maintenance, the underside of the table has an easy access feature.
2.  Blue Rhino Outdoor Propane Gas Fire Pit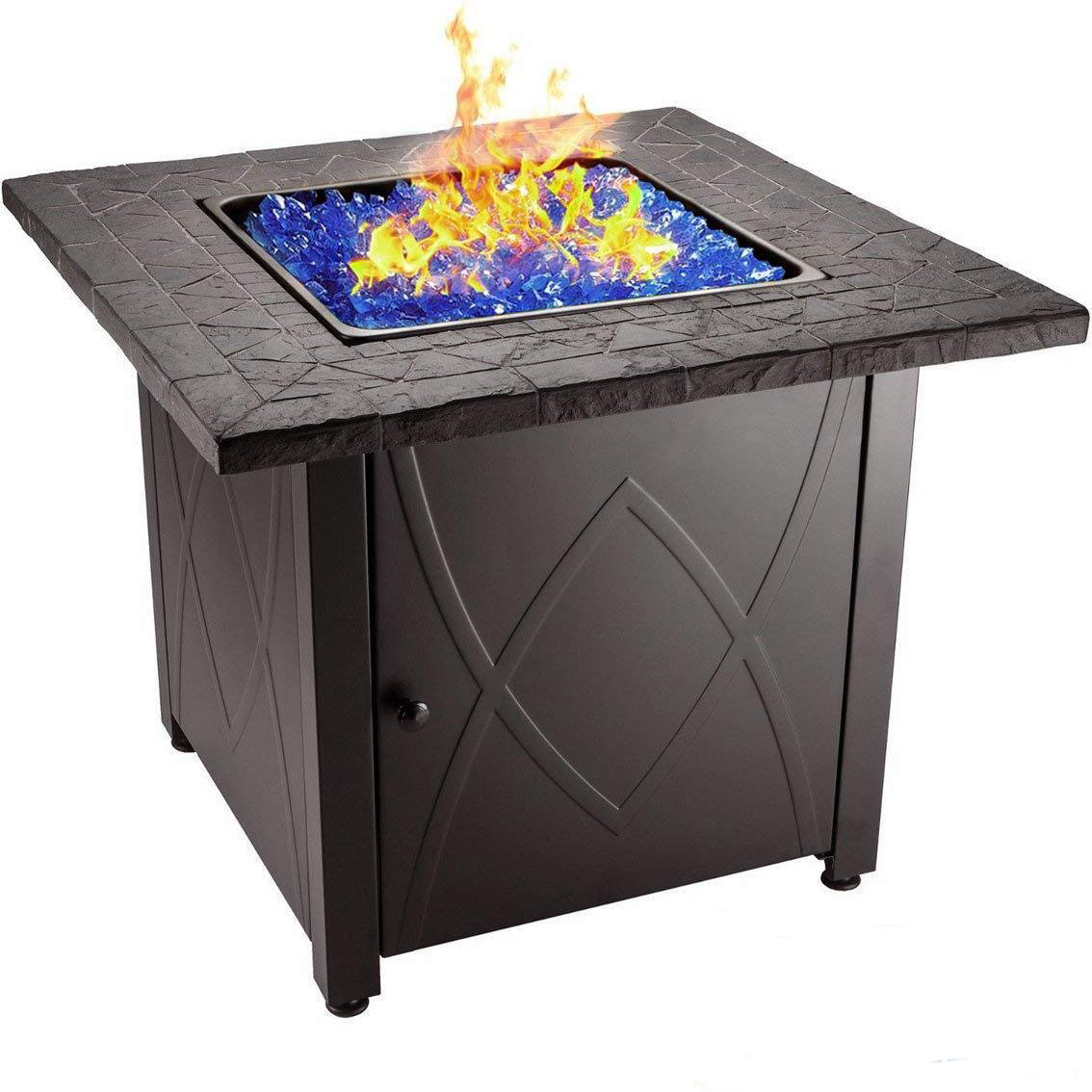 Unique Flame Concept – Unlike your conventional fire pit which uses wood, the Blue Rhino Pit uses fire glass and liquid propane to produce flames.
Design – The Blue Rhino features a sleek design which can complement almost every outdoor patio. It's underside is composed of several panels that hide the source of the heat, giving off a seamless appearance.
Ease of Use – This  outdoor fire pit can be activated with just a push of a button.
3.  Endless Summer LP Gas Outdoor Fire Table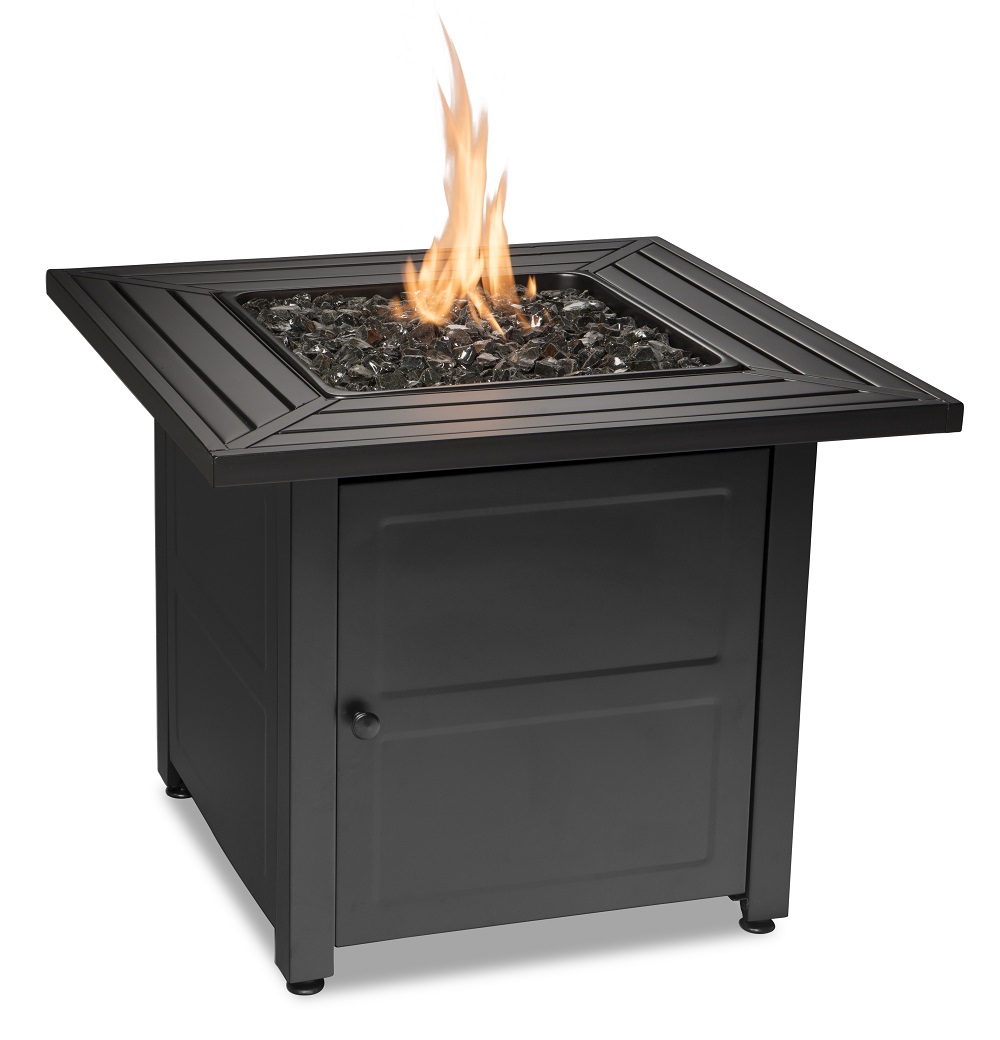 Design – Considered as the best gas fire pit table as far as aesthetics are concerned, the Endless Summer Fire Table comes with a multi-colored slate mantel and leaf patterned side panels to cover the propane tank.
Flame Control – This fire pit table is equipped with a 50,000 BTU stainless steel burner which emits a bright flame. It comes with brown fire glass for a clean flame emission and a protective cover to absorb excess heat.
Easy Integration – Due to its design, the Endless summer table can easily be integrated into any existing outdoor patio design.
4.  Outland Living Series 401 Fire Pit Table

Design – One of the more elegant fire pits to date, the 401 Fire Pit comes with a black tempered tabletop and resin wicker side panels at the bottom.
Dimensions – The 401 Fire Pit is 44 inches long, 32 inches wide, and 23 inches high. This gives it a presence that, with the design, complements the entire outdoor patio.
Flame Emission and Control – Unlike standard fire pits, the 401 uses Arctic Ice Glass Rocks in its pit. It also uses a CSA-approved 35,000 BTU burner connected to a manual control valve.
5.  AZ Patio Heaters GS-F-PC Fire Pit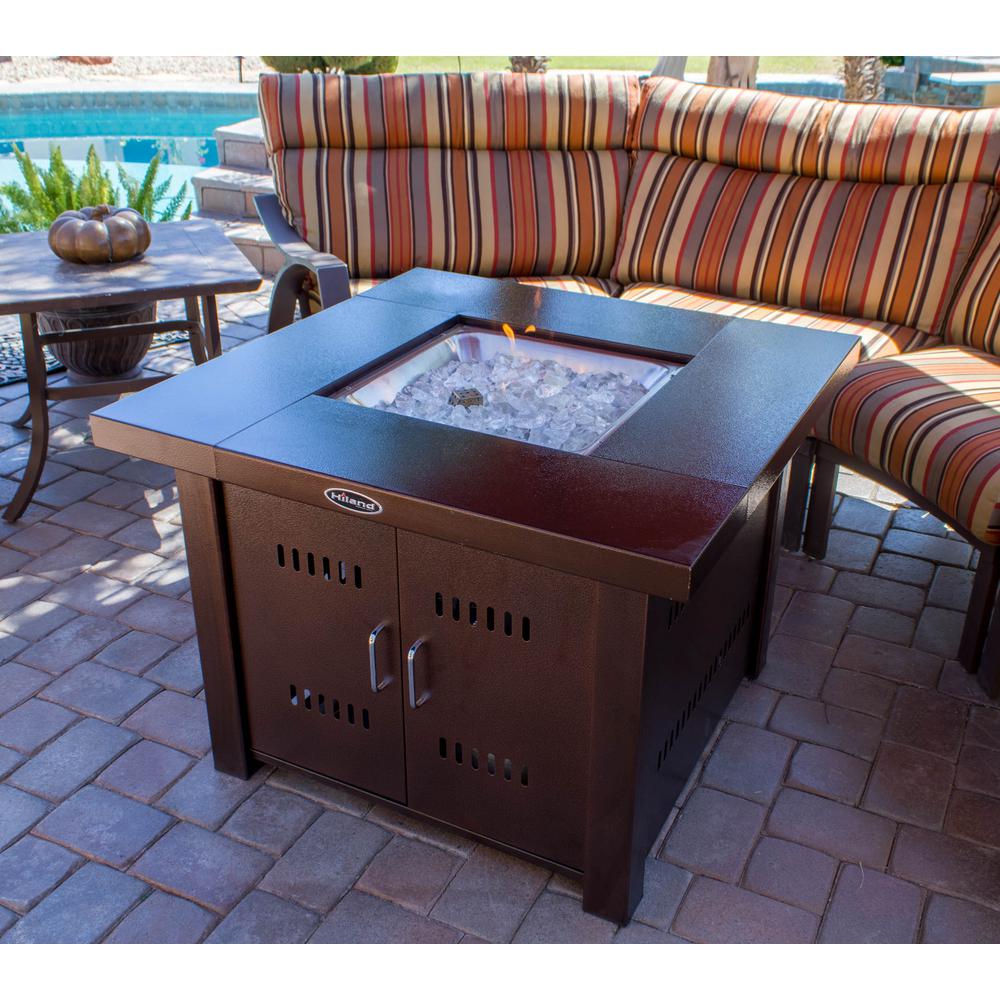 Design – Also considered as the best propane fire pit table currently in the Aesthetics department, this fire pit comes with an Antique Bronze finish. It also has a 38-inch square tabletop and stands 28 inches tall, making it stand out in any patio.
Output – The GS-F-PC Pit comes with a 40,000 BTU stainless steel burner which is easy to access in case it requires maintenance. This is then connected to a Piezo ignition system which allows users to control the flame to suit their preferences.
Delivery Issues – Due to its bronze finish, the logistics of this fire pit can be a bit more demanding than the others. If purchasing this pit, make sure that it comes with the appropriate protective packaging and is delivered and installed by a team of professionals so that it's appearance can be preserved properly.
6.  Legacy Heating Aluminum Fire Pit Table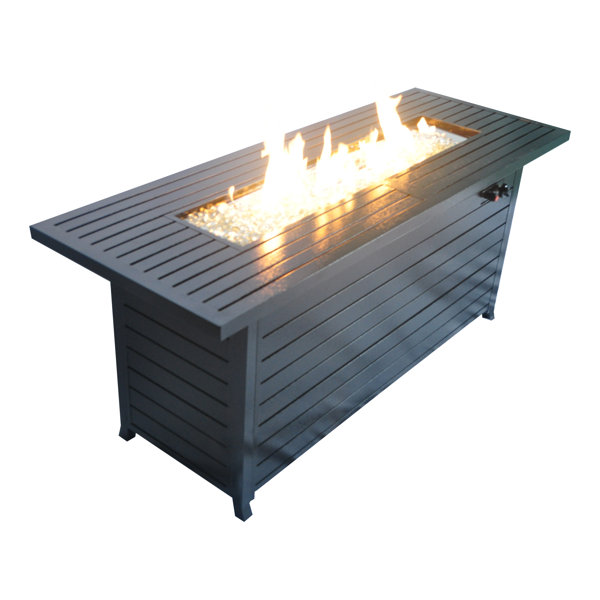 All-Aluminum Build – As the name implies, this fire pit is made out of 100% Aluminum. From the tabletop to the covering of the burner, every part of the burner uses aluminum which is resistant to rust.
Design – The pit incorporates a grated design from top to bottom. This makes the pit light enough for constant relocation while also allowing for even heat distribution. The pit area also comes with a detachable cover for a seamless appearance when not in use.
Fire Emission and Control – The pit is designed to accommodate several heating materials including logs, lava rocks, and glass fire beads. The bottom area can house burners as heavy as 20 pounds and comes with an integrated fire control system. With this, it is easy to control how bright the flames burn in the pit.
7.  Outdoor GreatRoom Naples Chat Height Fire Pit/Coffee Table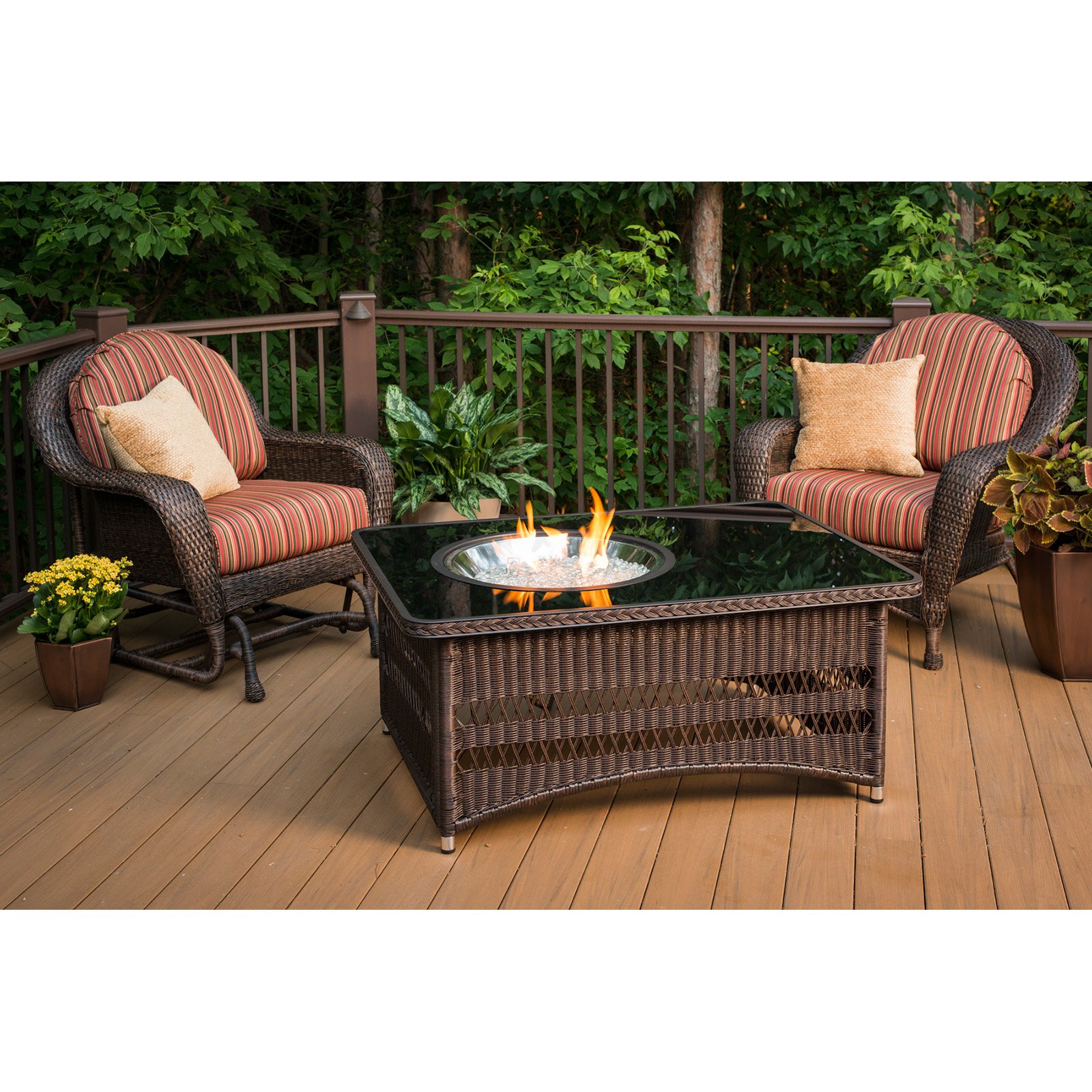 Unique Design – If you are looking for a unique piece of outdoor furniture, then this should be the best outdoor propane fire pit for you. The fire pit comes with a 20-inch, 10 pounds tempered fire glass surface which absorbs a lot of the heat coming from the pit. This is then supported by a base lined with resin wickers at all sides, making for a rather elegant fire pit. 
Output – The GreatRoom pit uses a natural gas conversion system which can produce 60,000 BTU flames. The system works best with propane although it can also work with other gas types. Controlling all of this is a single-button control which the user can turn on and off whenever they like.
8.  Sunbeam Propane Gas Fire Pit Table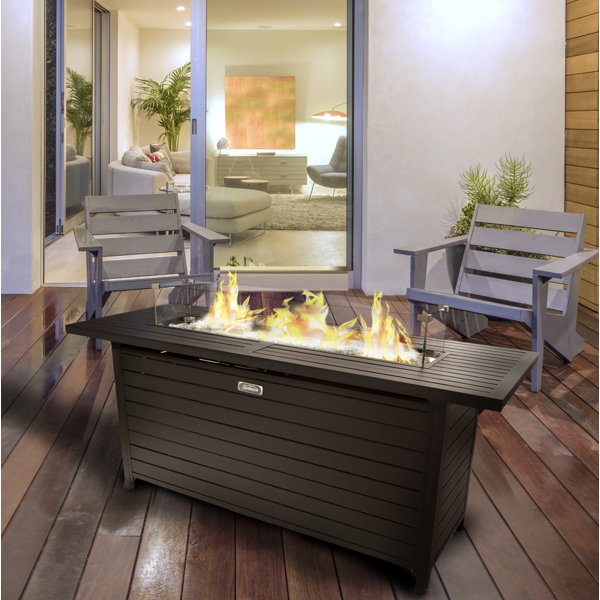 Design – The Sunbeam Fire Pit features a design made out of wood panels from top to bottom. This is then finished with a matte black coating which gives the pit a simple yet modern appearance.
Fire Control – Powering the pit is a stainless steel burner which can produce at least 60,000 BTUs of flames. The pit also uses fire glass for kindling instead of wood, producing a clean fire.
Small Burn Area – The fire bowl actually covers only an area spanning 7.5 X 37.5 inches on a tabletop that measures 24 X 56.7 inches.
9.  Fire Sense Toulon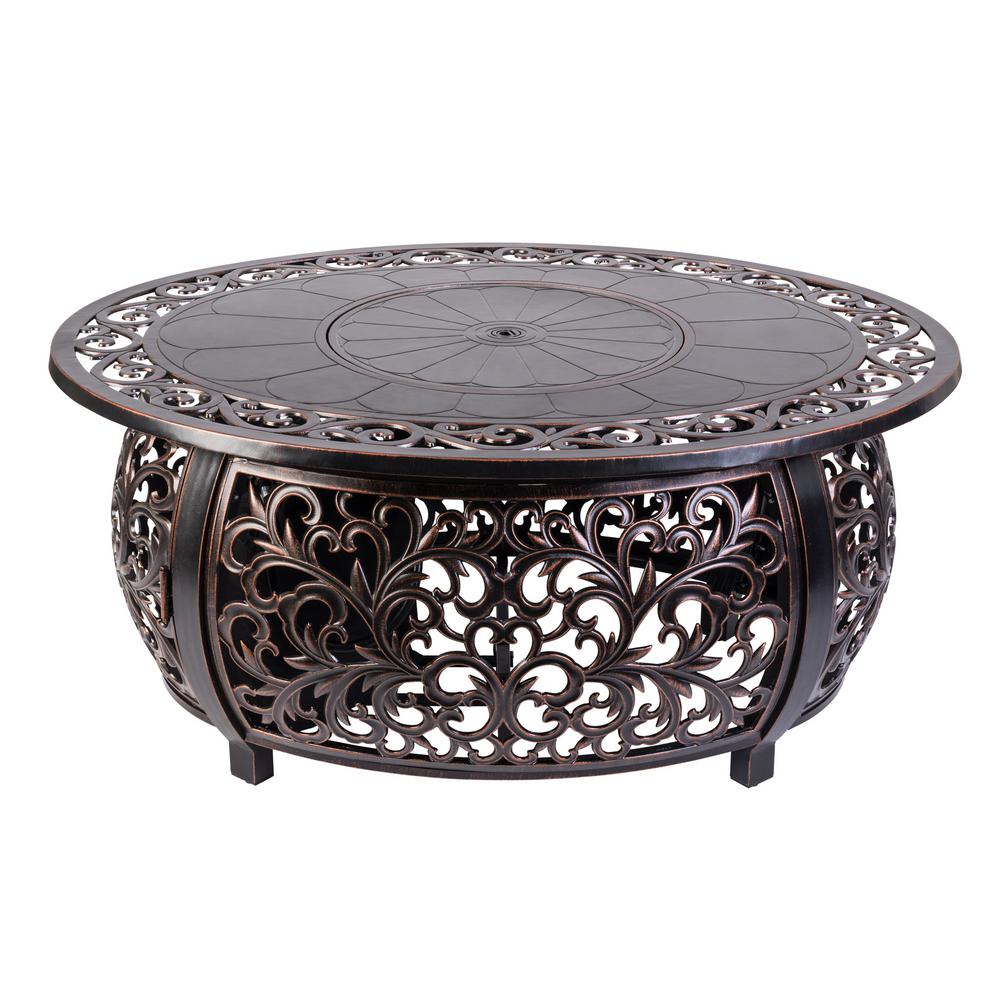 Design – This fire pit table incorporates an elegant, circular design with strong Arabian/Mediterranean inspirations. The table uses an all-Aluminum frame which keeps it light yet very durable.
Output and Control – The Toulon pit employs a burner which can utilize both propane and natural gas as fuel. The burner unit has a 50,000 BTU marking which means that it produces a bright flame.
10.  Montego Crystal Wicker Fire Pit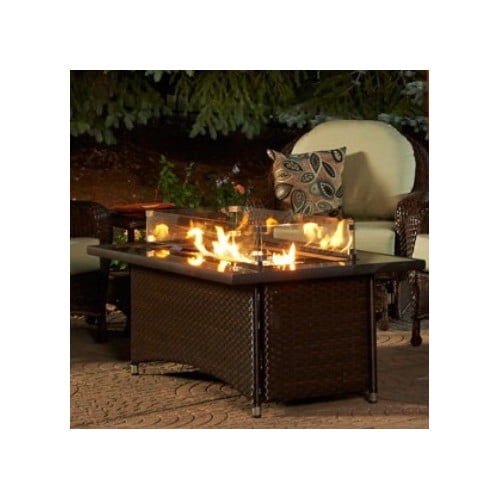 Design – The Montego fire pit is comprised of a black tempered glass table surface and a frame covered with resin wicker patterns. It also has mounting points for wind guards to protect the flame during certain weathers. 
Fire Emission and Control – The hidden 100,500 BTU stainless steel burner was designed for liquid propane although it can be converted for natural gases. It is connected to a one-button control panel for easy ignition and flame adjustment. 
Filler Accommodation – This fire pit was designed for use with lava rocks, glass fire beads, and artificial logs. This means that the fire it produces is warm but does not create smoke and ash.
11.  Charleston Aluminum Gas Fire Pit Table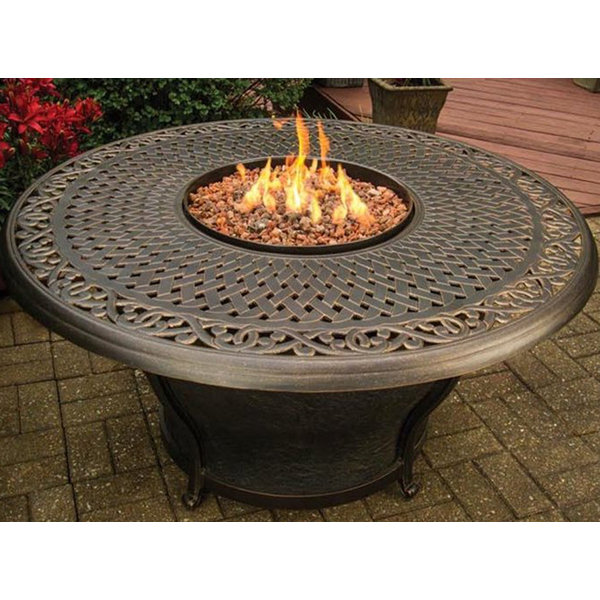 Durability – The Charleston fire pit table is made out of an aluminum frame which is lightweight yet durable and weather-resistant. 
Design – This fire pit incorporates a circular shape and is embedded with elegant patterns all throughout the body, making it a highlight in any patio. 
Fire Emission and Control – The pit is connected to a 400,000 BTU steel burner and uses lava rocks and fire glass as filler. An integrated control system allows users to manually adjust the brightness of the flames to their preferences.
12.  Orren Belle Stone Propane Gas Fire Pit Table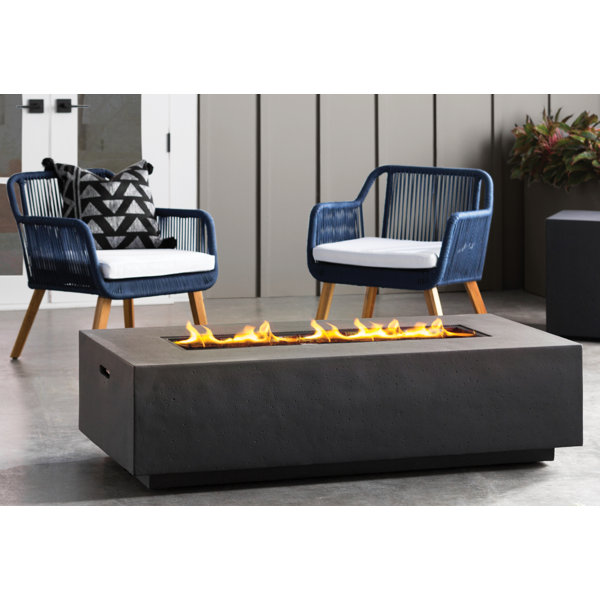 All Stone Build – Using a stone frame covered with magnesium oxide coating, the Orrene Belle Fire Pit is perhaps one of the best propane fire pit tables in terms of durability. 
Flame Emission and Control – Attached to the pit is a 50,000 BTU stainless steel burner which is designed for liquid propane. It also uses lava rocks as filler and comes with flame adjustment settings.
Weight – Due to its stone components, the Orren Belle is one of the heaviest fire pit tables that is currently available. You need to set it at a patio floor with strong base support or on solid earth.
What Should You Look for in a Fire Pit?
When you go about looking for a good fire pit table, you need to know what qualities the ideal one for you should possess. As such, there are several factors you need to look into:
The Style
Regardless of what functions the manufacturer has set for that fire pit table, it should always one of two purposes. If you are looking for a fire pit table that blends with your current layout, wood and wicker fire pits are ideal.
If, however, you want that fire pit table to stand out as a focal point, then aluminum or circular designs are recommended. Either way, that fire pit table has to add some value to your patio/back yard.
The Law 
Not every fire pit table out there is recommended depending on where you live. For instance, there are states that do not allow for fire pits and fire pit tables to be placed in front of porches as well as places where there is plenty of low-hanging vegetation.
Some states even prohibit excessive smoke emission like California and New Mexico due to health concerns. Before purchasing a fire pit table, always ask your homeowner's association or local government regarding laws dealing with wood-burning appliances.
Fuel and Filler 
When it comes to fuel, you will require something that can work with various gas types. A burner that can process liquid propane is the standard in the market but there are models with fuel conversion systems. This would allow them to also process natural gases.
As for the filler, it is up to your preferences. If you love that natural burnt aroma, then you must look for fire pit tables that use wood for kindling. But if you do not like to deal with smoke and ash, then tables that use alternative fillers like lava rocks and fire glass are recommended.
To be on the safe side, refer to propane fire pit table reviews as to the kinds of fuel and filler types your prospective models can accommodate.
Location and Mobility 
Again, look into your area's wood burning laws regarding where you may or may not place your fire pit table. In most cases, you must have it placed in an area with a high vertical clearance and away from highly flammable structures.
You should also consider the table's potential to be relocated. If you want it to be a permanent fixture, there are models out there that can be bolted to the floor.
Some, like the Orren Belle pit table, are made of heavy material like stone or steel. This means that their location is more or less permanent.
But if you are considering having your patio's layout changed frequently, a fire pit table with a lighter frame like wood or aluminum would be preferable.
Conclusion
After all is said and done, you must ask yourself one question: what is the best propane fire pit table for you? Even with some light recommendations above, the ideal one is ultimately up to what you are looking for.
If you are the one that prefers simplicity and durability more over elegance, there are fire pit table models of that type easily available in the market. If, however, you are looking for something as elegant as it is functional, there are various fire pit models out there to choose from.
The point is that there is a fire pit table that will eventually suit your needs or match your style. All you have to do is be diligent enough in doing your research before you start looking for options.