A steam generator is a great luxury accessory that you can add to your bathroom. The difference between a typical steam shower enclosure would be that it generates steam instead of just let out water like a typical shower. This is great for the feeling of extra relaxation after a hard day of work— sort of like a sauna.
Of course, the challenge here would be picking the best steam shower generator. That's why we made a list of steam shower generator reviews along with a buying guide so that you'll have an easy time choosing the best steam generator.
Steam Shower Generator Buying Guide
Now, before we go to the best steam shower generators, it's always good to go through the buying guide first, so you'll have your criteria ready when you go check the features of the steam generator brands.
When you're picking out the best steam shower generator, always keep these factors in mind:
Power
Just like any household appliance, you'll always want to look at power before anything else. Now, the power will really depend on how much steam you want to generate with your machine.
A good figure to use a gauge would be 9kW. Anything lower than that range is not worth the money but anything higher is good. If you can find a 10kW and above generator, that's a pretty powerful choice.
Start Time
Another thing that you have to look out for is the start time of the machine. This refers to how long it takes for the machine to start up. For most machines, it would take a minute to get running but for others, it would be longer. It's best to get the one with a start time of a minute or even just a few seconds. High end steam generators can usually do this.
Size
The size will obviously be determined by the size of your bathroom or wherever you want to put the generator. If your generator is on the small side, then maybe it can fit in the shower enclosure. 
However, bigger ones that are in the 450 cubic feet range probably won't be able to fit. You can install them away from the bathroom, possibly in the basement.
Safety Features
Lastly, you have to look at the safety features of the generator. One of the most important safety features to look out for is the automatic shut-off feature. This is really useful because it prevents overheating.
Basically, it would detect if there is no more hot water inside the machine and will automatically turn itself off. It would also automatically shutdown if it detects that the machine is about to overheat.
Another feature you may want to check out for would be the auto-drain feature. This feature allows the machine to automatically drain the water once the generator is not being used anymore. This will prevent you from storing stale water inside the generator that could result in build-up of bacteria.
Noise
This may not be such a crucial factor to consider, but it does save you from developing a headache because of unnecessary noise. A lot of steam generators produce very loud whirring noises that are extremely annoying to the ears. If you can take those noises, then you don't need to consider this factor, but there are many people who can't stand the whirring sounds.
That's why you'll want to look for a generator that has very quiet operations. Most of the high-end steam generators are very quiet, so you can take that into consideration before you make your purchase.
How a Steam Shower Generator Works
Even if you already know what to look for in the best home steam generator, it's always good to know more about the product that you're going to buy. In this case, it is imperative that you know how the generator works so that you can further fuel your knowledge on how the product is supposed to run.
Here's the skinny on how a steam shower generator works:
Basically, the machine has the capacity to turn water into steam by simply heating up the water until it reaches the level wherein water is converted into vapor. The generator would have a storage space for the water to go in. The machine will then have a built-in heater that would heat the water, and then generate steam that would come along with the shower.
How to Size a Steam Shower Generator
As mentioned above, the size of the steam shower generator is one of the main factors that you have to consider when you buy a steam shower generator. However, a lot of beginners don't really know how to determine the size of the steam shower generator they should get. For that purpose, we added a section that goes into the details of sizing a steam shower generator.
Now, most people would just consider the cubic feet of the generator when they install one. However, that is only one aspect of calculating measurements. You must also take into consideration the height of the ceiling, the proximity of the generator to the walls, and the proximity to the windows.
When you take all of these things into consideration, you'll get an adjusted cubic footage which is bigger than the initial cubic footage. That said, you must always give some extra room for the size.
10 Best Steam Shower Generators Reviews
Let's check out these best steam shower generator reviews:
1.  Steam eSeries Steam Shower Generator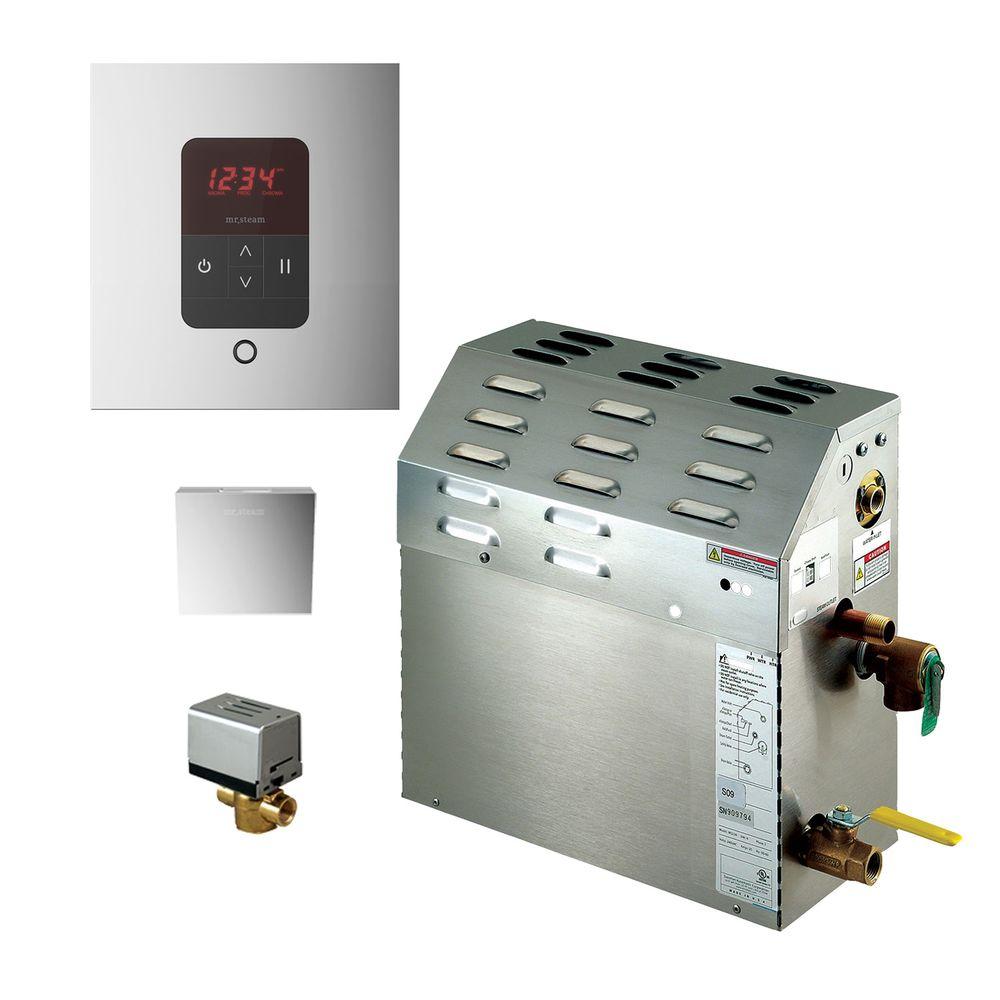 The Mr. Steam eSeries Steam Shower Generator is a great steam shower for most residential apartments. Not only is it pretty powerful and efficient, but it is also extremely easy to install. Some technical things you need to know about it would be that it is 9kW making it a powerful generator. It also has a low voltage 24V control circuit, as well as a full-port manual drain valve.
When it comes to installation, you can install it as close as 20 feet from the bathroom without any problem. It is a little on the big side being 360 cubic feet, but that's already pretty compact for an industrial grade heater. Overall, it is one of the more powerful steam generators that can be for homes. If you're looking for a steam generator for your personal consumption, then this one is good for you.
Best Features:
Electronic control system
Manual drain valve
Stainless steel water storage tank
Safety valve included
9kW power
Mr.Steam MS-E Series Overview
2.  Kohler Invigoration 9kW Steam Generator
If you're looking for something that's even more compact, then this one is the one for you. With a size of 240 cubic feet, it can fit in almost any space. However, it also has some other impressive features to brag about. For 9kW rate of power, this machine has a rather fast start up time of just about a minute.
That's already quite impressive as compared to other products in the market that take longer to start. Other than that, this product also has a self-cleaning feature, allowing the machine to clean itself with just a single touch.
Best Features:
Trademarked PowerClean technology
Fast response technology
Compact 240 cubic feet size
9kW worth of power
Invigoration Series(TM) Steam Generators and Controls
3.  Steam Spa Indulgence Steam Bath Generator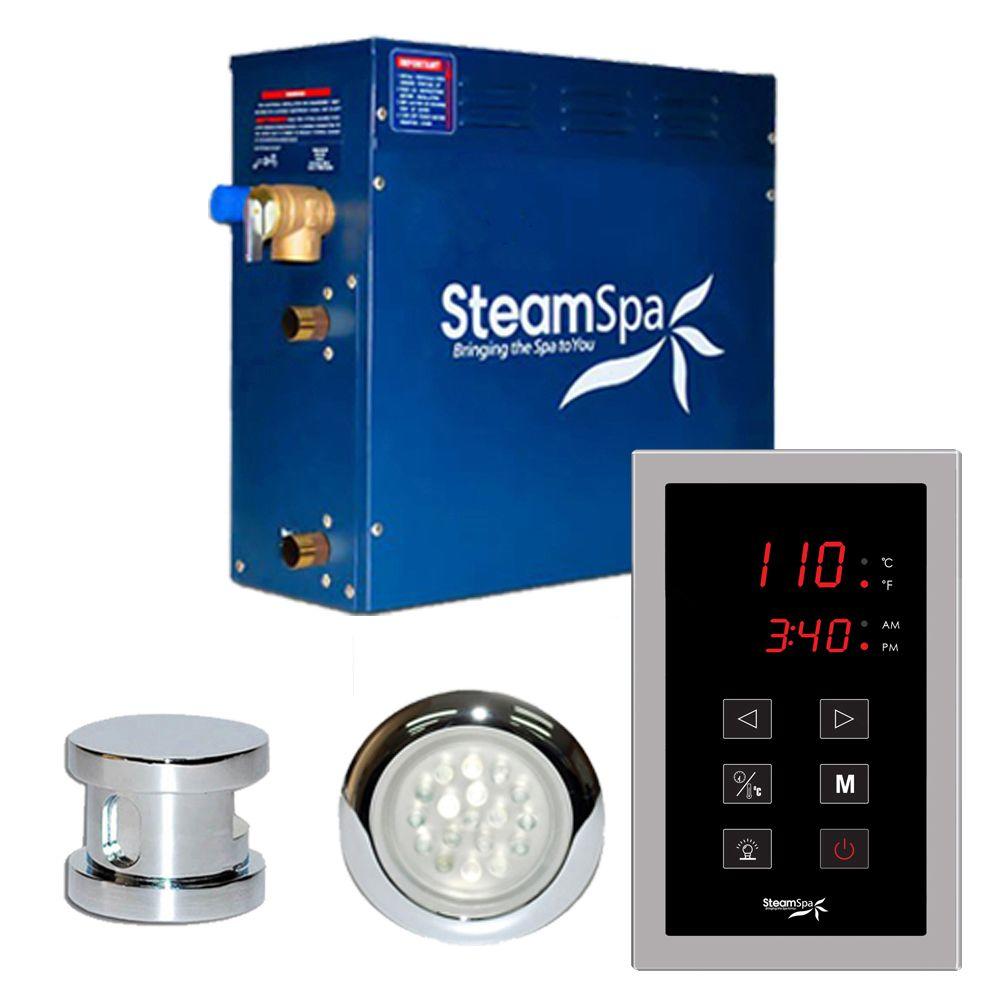 The Steam Spa Indulgence is probably one of the most silent steam bath generators that you'll find in the market. It has a whisper quiet operation, enabling you to enjoy your steam bath without the annoying whirring sound.
It's actually like having a really relaxing luxury sauna in your house. It's also a pretty compact machine having a size of 255 cubic feet, allowing you to fit it in your bathroom without much trouble.
What really makes it a pretty cool machine would be the touch panel control system. This feature lets you control all the functions through an easy-to-use control board. When it comes to ease of use, this steam generator is a good bet to buy. It's also really good for aromatherapy with fragrant mists going through the machine.
Best Features:
Quickstart technology for fast start time
Dual tank technology
Very quiet operations
Unlimited flow of steam
Chromatherapy feature
Aromatherapy mist
Memory settings feature
4.  Steamist 10kW Total Sense Residential Steam Shower Generator
While 9kW is the benchmark of power for most modern steam shower generators, this Steamist product takes it up a notch with a power of 10kW. This machine makes use of two cool features known as the SteadySteam feature and the Instamist.
Now, the SteadySteam feature allows you to have a steady, but continuous emission of steam so that you can enjoy a luxurious steam bath in your steam room. The Instamist feature, on the other hand, allows you to have your mist coming out right away once you start up your machine. It will only take you a few minutes before you'll start to see the mist appearing.
Best Features:
Continuous releasing of steam
10kW worth of power
Very quiet operation
Thin structure and built
Actual ceiling height of 9 ft
Very durable
Steamist Total Sense Collection
Check out New Model: Steamist SMP-15 Steam Generator
5.  EliteStream Luxury Home Steam Shower System
This is another pretty good product that is manufactured by Steamist. This one may not be as outstanding as the ones previously mentioned, but it is definitely reliable. First of all, it is extremely durable with stainless steel tanks to keep the water inside. Other than that, this machine is also made out of only top-grade parts. With that, you can be pretty sure that it will work exactly the way you want it to work.
It's also fairly easy to assemble. It has only a few components that you need to think of— the steam generator, the steamhead, the control system, and the cable. Just put these four parts together and you're all set to use this machine.
It's also very compact to the point that you can fit it in closets. It has the power of 10kW but still a very small size that allows you to save space in your bathroom.
Best Features:
10kW of power
Easy assembly
Compact 15x6x15.5 inches dimensions
Durable finish
6.  Extreme Consumer Sauna Bath
As mentioned in the buying guide, one of the safety features that you should watch out for would be a self-draining feature. This product has one of the best self-draining features that you'll be able to find. This drain can be controlled very easily within the programmable control panel wherein you can immediately drain out the stale water that you don't want to keep inside your machine after you're done with your steam bath.
Other than that feature, this product also comes with a light kit which can also be used for chromatherapy. It is also one of the most powerful generators on the list with 12kW of power at its disposal and has a steam coverage of about up to 700 cubic feet, which means it can produce steam for a few people in a steam bath.
Best Features:
Compact programmable control board
700 cubic feet coverage
12kW of power
Self-draining feature
Free brush and scrub massager in package
7.  Steam Planet Superior Self Draining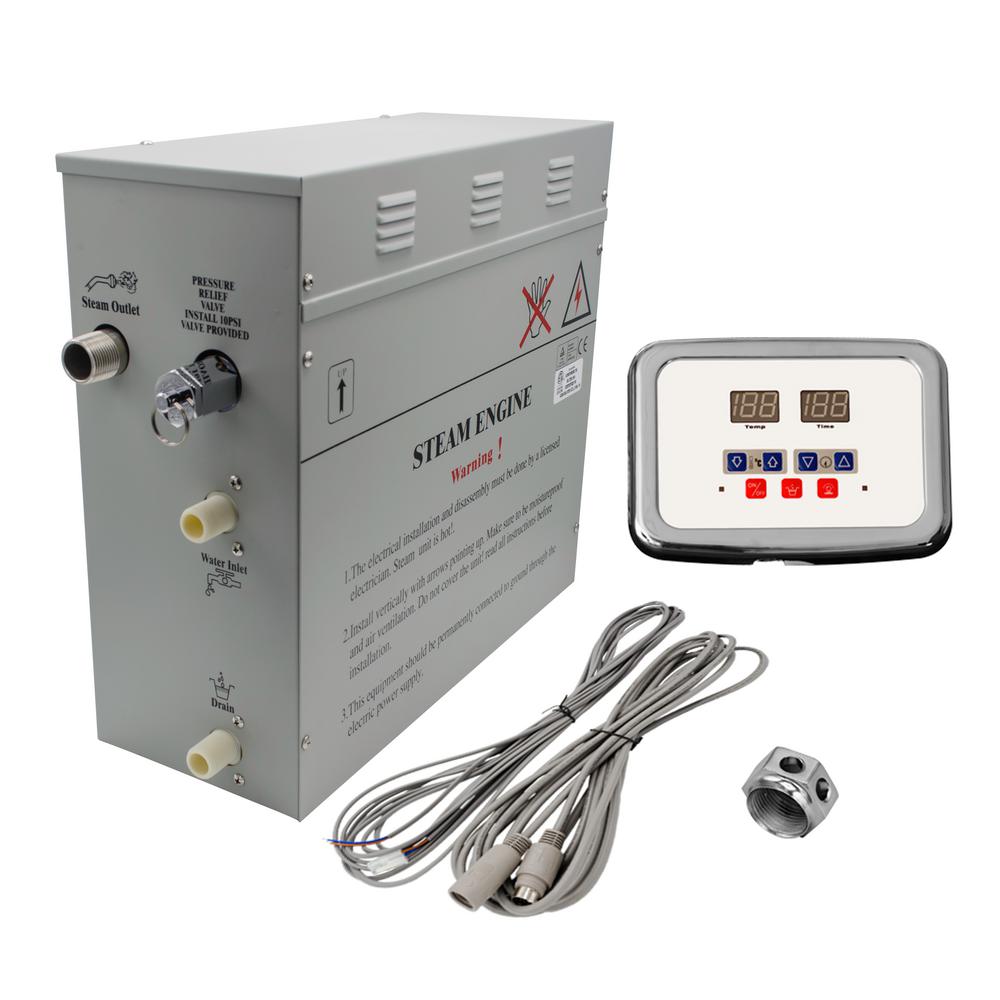 This is another steam generator that has a self-draining feature, allowing you to prevent the growth of bacteria inside your generator's water reservoir. Aside from just the self-draining feature, you'll find that the control system is quite impressive.
First, it is waterproof, so it can be mounted both inside and out of the shower room without any worry of malfunctioning. There's also a 16 feet wire that can connect it to the actual machine.
Also, it has a great aromatherapy outlet, letting you have very nice mist smells. The fragrant mist comes out of the chrome steam head and can easily be controlled via the control board.
Best Features:
Waterproof control panel
16 feet proximity for machine and control panel
Aromatherapy outlet
ETL certified self-drain system
9kW power generator
8.  CGoldenWall Home Spa Sauna Steam Bath
Within this steam shower generator lies some really good safety features that you'll want to take note of. First of all, it has an overheating protection feature which would help prevent the machine from increasing in temperature once it reaches a critical point.
Other than that, it also has a high-pressure protection feature that ensures that the tank won't keep on expanding too much because of the pressure. This is an extremely useful feature if the steam pathway has been blocked and the steam gets stuck in the tank.
Lastly, it has a very efficient self-draining feature that discourages growth of bacteria and mold in the tank.
Best Features:
Self-draining feature
9kW of power
Overheating protection
Overpressure protection
Continuous steam flow
Dual tank technology
9.  HappyBuy Sauna Bath Steam Generator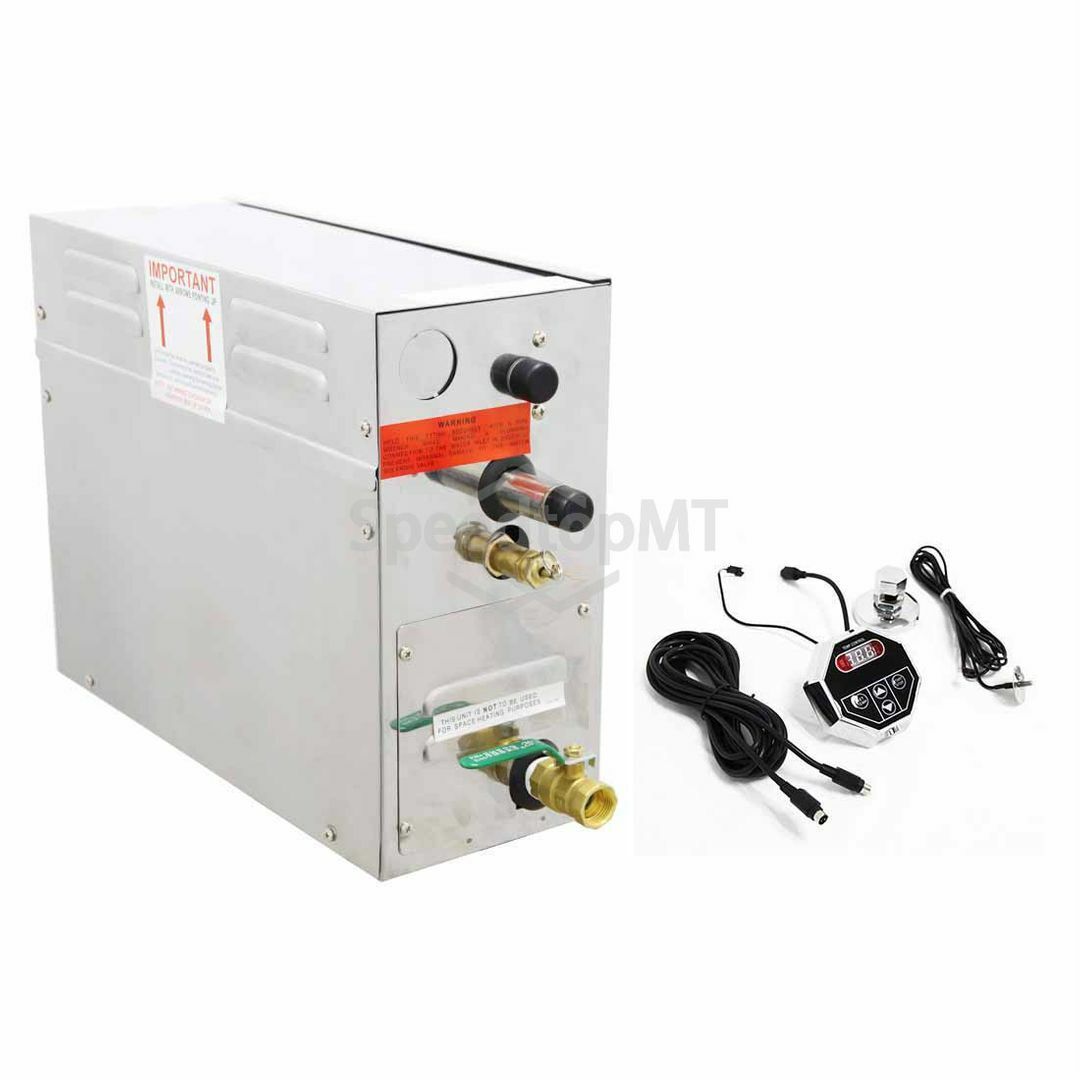 The HappyBuy Sauna Bath Steam Generator is often the choice of a lot of commercial spas, hotels, and resorts for the use of their saunas and steam baths. This in itself tells you that this steam generator is a pretty heavy-duty one. It has a 9kW power with a 400 cubic feet room volume.
To make it ideal for commercial purposes, it has a perfect temperature range setting allowing you to get just the right temperature and the right time period for the machine to run. That's why it is also often used in other industries as well for steam emission. Some of these industries include clothing, packaging, and restaurants.
Best Features:
LED display
Perfect temperature setting
Auto shutdown configuration
Leak protection
Overheat protection
High voltage protection
10.  Amerec Steam Bath Generator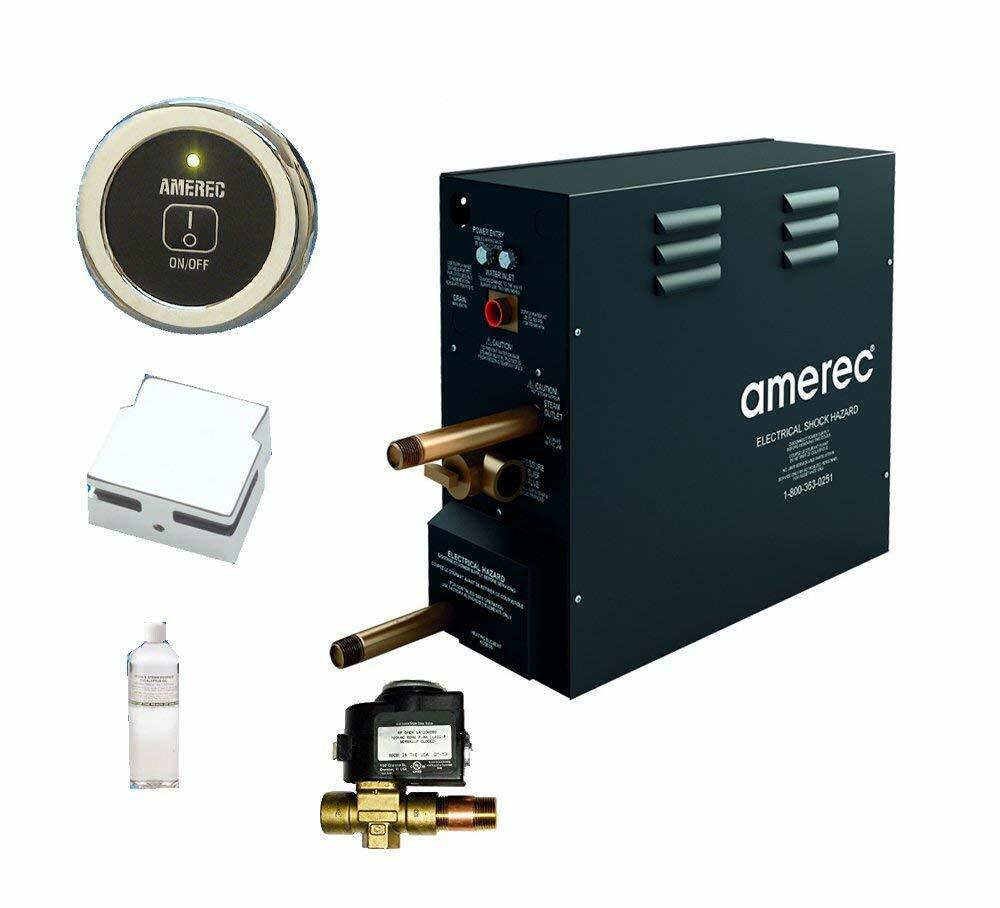 Luxury and practicality are what this handy little product provides. First of all, it has a time and temperature control system that allows you to choose the right temperature for your steam emission, as well as the time period of how long the machine will run. This allows you to have a very relaxing steam bath with the right amount of heat for your body.
To put more on to the table, there is an aromatherapy feature here that allows you to put fragrant aroma oils. This provides aromatic fragrances that can help you further relax. Plus, a bottle of free aroma oil is included in the package. This means you can try out the aromatherapy feature right away.
Best Features:
Auto-flush feature
Temperature and time control system
Aromatherapy function
Free bottle of aroma oil
Steam shower Generator Advantages and Drawbacks
Advantages
It provides a lot of health benefits
One of the main reasons as to why people buy steam shower generators in the first place is because of the health reasons. It is good for blood circulation and also good for respiration. Steam is also really good for other lung conditions such as asthma and wheezing.
It is good for the skin
Another reason would be that it is really good for the skin. Aside from giving you some good health benefits, it also helps to release dirt from the pores by opening it up. The skin will then filter out the dirt and moisten the skin.
It is relaxing as a whole
Finally, it is very relaxing as a whole. In fact, it gives off the same feeling one would get if he or she were to go into a sauna. It is definitely something good for you after a long and hard day of work.
Drawbacks
It is rather costly
Of course, the drawback there is that it is quite costly to install. Aside from the shower head, you'll also need to install a steam generator to your electric shower which is an added cost.
It can be dangerous if not handled properly
If you don't know how to install and maintain it properly, it may overheat which can be a really big hazard to you. If you want to use it, then you know how to use it and take care of it properly.
Conclusion
That concludes our little steam generator review list and buying guide. If we were to select one out of the ten products that we've listed in our review list, then we'd definitely want to go with the most well-rounded product.
With the buying guide as our criteria, we'd definitely pick the  Steamist 10kW Total Sense Residential Steam Shower Generator as our best steam shower generator.
It may not be the most powerful on the list, but it does go above the standard 9kW power generators with its 10kW rate of power. Aside from just power though, it also has a very fast waiting time due to the Instamist feature and can produce a steady, continuous flow of steam due to the SteadySteam feature. It's also very durable, quiet, and compact. To put it short, it is the whole package.