A steam generator is a great luxury accessory that you can add to your bathroom. The difference between a typical steam shower enclosure would be that it generates steam instead of just let out water like a typical shower. This is great for the feeling of extra relaxation after a hard day of work— sort of like a sauna.
Of course, the challenge here would be picking the best steam shower generator. That's why we made a list of steam shower generator reviews along with a buying guide so that you'll have an easy time choosing the best steam generator.
Steam Shower Generator Buying Guide
Now, before we go to the best steam shower generators, it's always good to go through the buying guide first, so you'll have your criteria ready when you go check the features of the steam generator brands.
When you're picking out the best steam shower generator, always keep these factors in mind:
Power
Just like any household appliance, you'll always want to look at power before anything else. Now, the power will really depend on how much steam you want to generate with your machine.
A good figure to use a gauge would be 9kW. Anything lower than that range is not worth the money but anything higher is good. If you can find a 10kW and above generator, that's a pretty powerful choice.
Start Time
Another thing that you have to look out for is the start time of the machine. This refers to how long it takes for the machine to start up. For most machines, it would take a minute to get running but for others, it would be longer. It's best to get the one with a start time of a minute or even just a few seconds. High end steam generators can usually do this.
Size
The size will obviously be determined by the size of your bathroom or wherever you want to put the generator. If your generator is on the small side, then maybe it can fit in the shower enclosure. 
However, bigger ones that are in the 450 cubic feet range probably won't be able to fit. You can install them away from the bathroom, possibly in the basement.
Safety Features
Lastly, you have to look at the safety features of the generator. One of the most important safety features to look out for is the automatic shut-off feature. This is really useful because it prevents overheating.
Basically, it would detect if there is no more hot water inside the machine and will automatically turn itself off. It would also automatically shutdown if it detects that the machine is about to overheat.
Another feature you may want to check out for would be the auto-drain feature. This feature allows the machine to automatically drain the water once the generator is not being used anymore. This will prevent you from storing stale water inside the generator that could result in build-up of bacteria.
Noise
This may not be such a crucial factor to consider, but it does save you from developing a headache because of unnecessary noise. A lot of steam generators produce very loud whirring noises that are extremely annoying to the ears. If you can take those noises, then you don't need to consider this factor, but there are many people who can't stand the whirring sounds.
That's why you'll want to look for a generator that has very quiet operations. Most of the high-end steam generators are very quiet, so you can take that into consideration before you make your purchase.
How a Steam Shower Generator Works
Even if you already know what to look for in the best home steam generator, it's always good to know more about the product that you're going to buy. In this case, it is imperative that you know how the generator works so that you can further fuel your knowledge on how the product is supposed to run.
Here's the skinny on how a steam shower generator works:
Basically, the machine has the capacity to turn water into steam by simply heating up the water until it reaches the level wherein water is converted into vapor. The generator would have a storage space for the water to go in. The machine will then have a built-in heater that would heat the water, and then generate steam that would come along with the shower.
How to Size a Steam Shower Generator
As mentioned above, the size of the steam shower generator is one of the main factors that you have to consider when you buy a steam shower generator. However, a lot of beginners don't really know how to determine the size of the steam shower generator they should get. For that purpose, we added a section that goes into the details of sizing a steam shower generator.
Now, most people would just consider the cubic feet of the generator when they install one. However, that is only one aspect of calculating measurements. You must also take into consideration the height of the ceiling, the proximity of the generator to the walls, and the proximity to the windows.
When you take all of these things into consideration, you'll get an adjusted cubic footage which is bigger than the initial cubic footage. That said, you must always give some extra room for the size.
Best Steam Shower Generators Reviews
Let's check out these best steam shower generator reviews:
1.  Kohler K-5529-NA Invigoration™ Series 9kW Steam Generator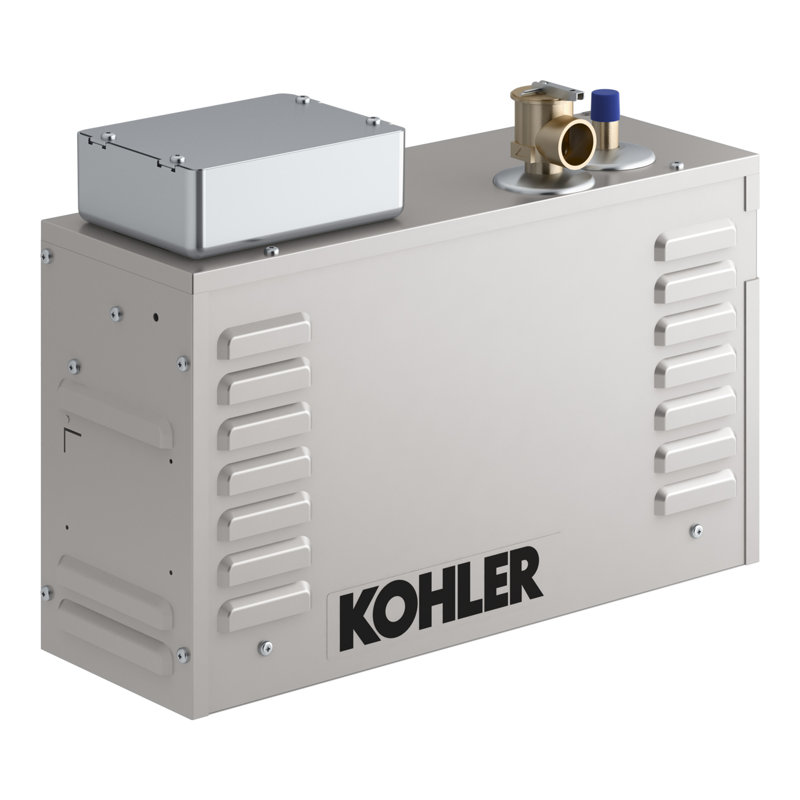 Kohler products can be considered by those looking for a high-end steam generator to provide steam for a steam shower. The company offers a wide selection of shower steam generators, beginning with the smallest one at 5kW and moving up to 18kW.
Before we jump into their shower steam generators, let me tell you a little bit about the company. Kohler was established in Wisconsin in 1873, and people have trusted it to meet their plumbing and bathing needs ever since. Kohler is well-known for combining form and function. This also applies to one of its best steam shower generators, the K-5529-NA, which has a 9kW power supply.

Pros of this Kohler K-5529-NA Steam Generator
With just a 60-second wait time, you won't have to wait long to enjoy a soothing steam shower. This will, of course, benefit all of you who want to relax and cleanse your body immediately after a long day at work.
It also has an automatic power cleaning system that can be activated with a single tap. Simply activate the feature after each use and you can keep your steam shower system hygiene, making it last for a longer time.
It is really easy to use. To control the temperature, set timer, and change other settings, simply do it on the provided display, which is equipped with easy-to-read and clear indicators.
It has efficient water usage too. For a 20-minute steam shower, it uses approximately one gallon of water, making it suitable for you who look for a more eco-friendly option.
For the safety aspect, it has an Auto Shutoff System. Therefore, in case you forget to turn the unit off, the unit will turn itself off.
Cons of the Kohler Steam Generator
When compared to other steam generator units, K-5529-NA is slightly more expensive.
This unit doesn't come with a control kit. You have to buy the control kit separately before you can use K-5529-NA.
It also requires a lot of power to operate. You will need at least a 60A for it to run properly.
After all, this Kohler product can suit a variety of bathroom models and sizes. It's made with high-quality materials and packed with a bunch of functional features.
Key features:
The system has a lightweight aluminum body that is the ideal size for many bathroom types. Its compact size provides a wider range of interior design possibilities.
Along with its ability to quickly produce steam, it is also able to cover up to 240 cubic feet of the shower area. Given its compact size, that is a very good result to have.
For those who suffer from arthritis or other chronic pain conditions, K-5529-NA can provide a memorable pain relief experience. Hot steam showers have long been used to improve circulation and release muscle tension.
Who is K-5529-NA for?
The K-5529-NA is an excellent alternative for those looking for a high-quality and dependable steam shower generator. And, if you don't mind spending top-tier rates for top-tier quality, this one might be a good fit for you as well.
Invigoration Series(TM) Steam Generators and Controls
Read more: Kohler Steam Generator Review
2.  Amerec AX 11kW Steam Generator with Warm Start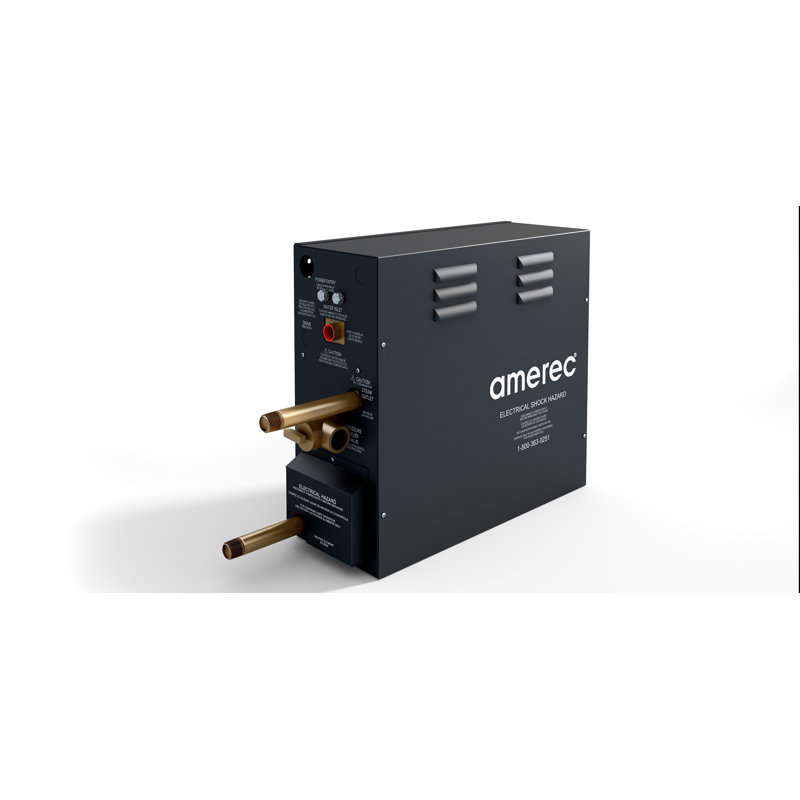 Amerec is a company that strives to offer the best steam shower generator to its customers. Aside from steam generators, they also manufacture sauna rooms and heaters for both home and commercial purposes.
The amerec steam generator is a portable, durable, and energy-efficient product that may be worth your time and money. Let's look at it now.
Pros of this Amerec AX 11kW Steam Generator with Warm Start
Using the best steam shower generator may help you sleep better as this emits soft pink noise.
In case your steam bath is larger than 550 cubic ft., you can combine the generators to heat your steam baths.
The steam head of this steam generator has a fragrance reservoir.
You can use your favorite fragrance, allowing you to have a better aromatherapy experience.
Cons of the Steam Shower Generator
The features of this steam generator aren't as sophisticated as those from other brands with the same price range.
If you are the type of person who enjoys listening to music, then you might feel a bit disappointed since it doesn't have a music feature.
It is a bit pricy.
Key Features
With this feature, steam dispersion is done optimally and as a result, the heat is evenly distributed throughout the entire room. It also helps reduce the time needed to heat the room.
It is convenient to control the steam generator since it is connected to a smartphone app that can be downloaded for free. Aside from that, it also offers a touch screen control and several smart features like calendar programming and maintenance reminders scheduling. 
For added convenience, the steam generator features an automatic flushing and drainage system. This means that after you take a bath, the tank will be drained automatically and be filled with clean water, ready for your next use.
Within just 60 minutes after turning on the generator, you would already be able to enjoy gentle cleaning steam. This becomes possible as it keeps the water in the tank preheated.
Verdict
This generator can provide you higher relaxation state, resulting in better sleep. On the other hand, you will need to bring your Smartphone or speaker with you in your bathroom as it lacks the music feature.
Who is this product for?
For those who are reading this amerce steam generator reviews, this steam generator is for people who don't like waiting for a long time to attain their desired room temperature.
Read more: Amerec Steam Generator Reviews Is it Really RIGHT for you?
3.  Mr. Steam 10 kW Steam Generator Review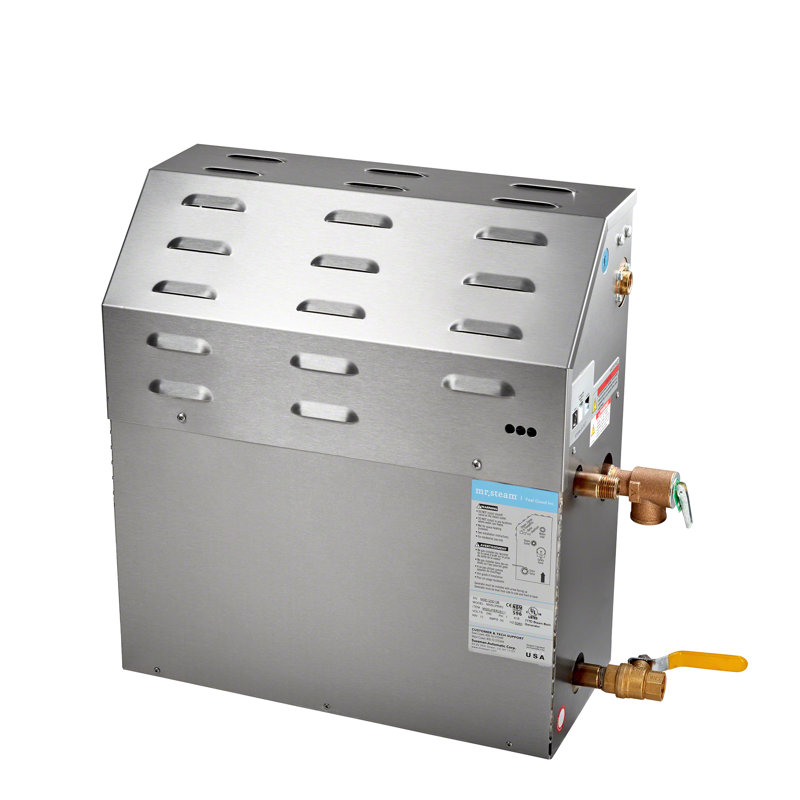 The MSSUPER1EC1 Tempo 10 kW Steam Generator is another state-of-the-art product from MrSteam, a steam manufacturing company with over 100 years of experience in the industry.
It is a leading brand in steam baths and other related products, from steam shower generators, steam showerheads to steam therapy products and towel warmers.
Pros of this Mr. Steam 10 kW Steam Generator
Durable
Sturdy
Easy and convenient
AutoSteam feature
UL/CSA/CE Listed
Extremely Silent
Eco-friendly
Cons of the Steam Shower Generator
It May take 10 minutes for the steam to heat
No automatic drain
Requires professional installation
Verdict
The MSSUPER1EC1 Tempo 10 kW Steam Generator is an excellent choice if you want an efficient, quiet, reliable, and durable generator for your steam shower.
Who is this Product For? 
The MSSUPER1EC1 Tempo 10 kW Steam Generator is perfect for you if you don't want to lose time and money in finding the most convenient and enjoyable way to take care of your overall health.
You can have a pleasant and healing bath experience in the comfort of your home without going to a spa or sauna.
Key Features and Benefits 
The MSSUPER1EC1 Tempo 10 kW Steam Generator is crafted from recyclable stainless steel and meticulously assembled and designed to meet your needs. These generators were specifically engineered to ensure that they are virtually silent, efficient, clean, and green.
I personally like that it is easy to install within 25 feet from the steam room, and since it's not too large, you can tuck it away inside your closet, under the vanity table, in the attic, and even in your basement.
It is made from 100% recyclable stainless steel, and it uses no more than 2 gallons of water for every 20-minute bath, making you use the water more efficiently.
All MrSteam generators come with a unique Autosteam feature that ensures the continuous steam flow, letting you enjoy your steam bath without cold spots or pauses.
It comes with an ASME safety valve to ensure protection from overpressure and blowdown. Plus, it has a 60-minute electronic countdown with a 75-minute limiting safety back-up for device protection.
MrSteam's 5-star customer service is readily available to help you. Whether you have a pre-sales question or you need installation direction, or want to ask assistance for a particular product concern, you can reach their 24/7 technical information support desk anytime for help.
Read more: Mr. Steam Generator Reviews You Can Trust
4.  Steam Spa Royal 12 KW QuickStart Steam Bath Generator Package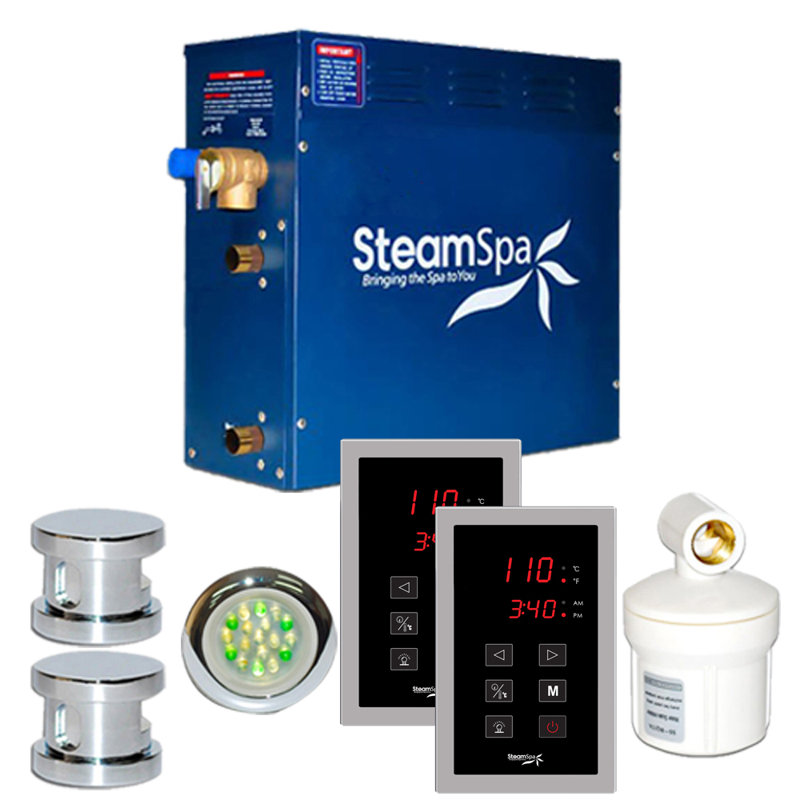 The SteamSpa Royal is a quick install steam generator that offers several indulgences. This includes the QuickStart technology that claims to generate steam in a minute.  This product allows you to have a spa-like experience in the comfort of your home.
SteamSpa is one of the luxury brands carried by SWCORP (Spa World Corporation). Established in 2005, the company manufactures bath fixture brands like Meditub, Anzzi, Atlantis, and SteamSpa.  It is based in Miami, Florida.
Pros of this Steam Spa Royal QuickStart Steam Bath Generator
Quick-start technology
Easy to install
Resources and manuals easily available online
Cons of the Steam Bath Generator
Limited warranty on generator and controls
Safety testing labels not provided
Some product claims not as operative as marketed
Who is this For?
SteamSpa generator is for people who want no-fuss technology that will provide a consistent flow of steam to ensure a luxurious bath experience. Thanks to its QuickStart system, the steam bath generator will generate steam in about one minute and you don't have to wait for long to enjoy your spa experience.
Key Features and Benefits
There are several features that make the SteamSpa Generator the best steam shower generator on the market. They inclyde:
QuickStart System: This feature allows you to enjoy your shower fast since steam is generated in as fast as 1 minute. This saves time and enables you to enjoy the experience right away.
SteamSpa Time and Temperature Control System: This generator is equipped with various controls to your preference. This allows you to customize your steam production.
Aromatherapy Reservoir, Oils, and Chromatherapy: All these functions can be availed for added relaxation and stress relief.
5.  Homeward Bath Superior Deluxe 12kW Steam Generator Reviews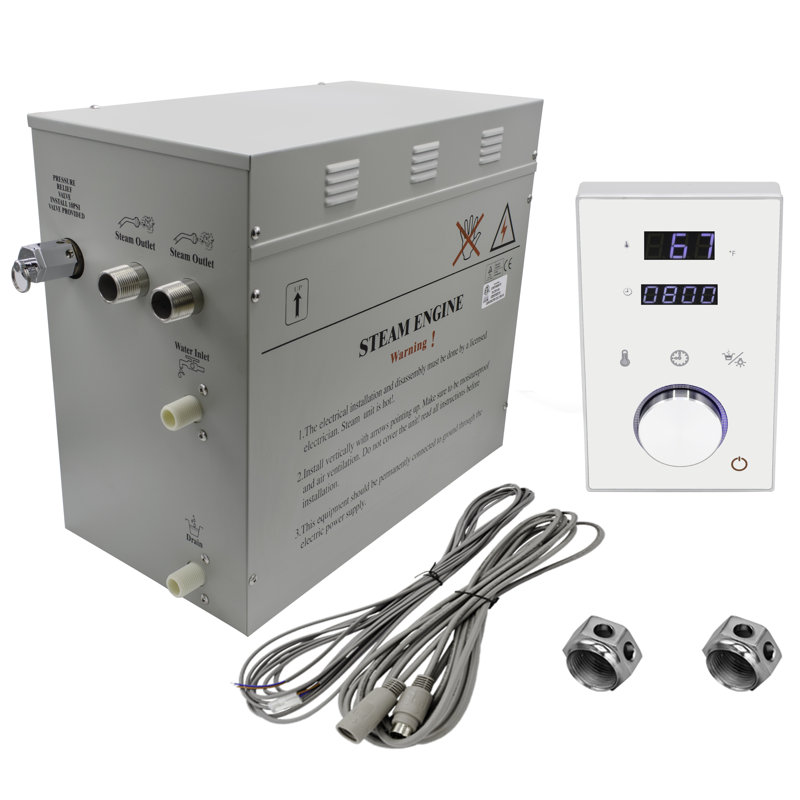 The Homeward Bath Steam Generator is an enclosed, water-tight space that produces steam in the shower room. It offers numerous benefits like hydrating the skin, aids in weight loss, and improves your sleeping patterns.
This unit comes in a package that includes a steam generator box, steam outlet with a built-in aromatherapy reservoir, and control panels to help you experience the therapeutic benefits of steam.
With this product, you can turn your ordinary homeward bath steam shower into a high-class private spa. This unit is manufactured by Homeward Bath is a reputed company that manufactures steam systems like steam generators and much more.
Pros of this Homeward Bath Superior Deluxe 12kW Steam Generator
Enhanced steam experience
Controls steam temperature well
Assists in weight loss
Self-draining
Easy to install
Includes temperature sensor
Cons of the Steam Generator
The sticky behind the touch pad may come loose often
Steam can become too hot
This steam generator will make all the difference in your steam shower. It may be worth considering if you are after a relaxing spa-like experience at the comfort of your home and without incurring much cost.
Who is This Product For?
This product is perfect for people who consider their showers as their safe space to relax and unwind. If you're the type of person who likes to keep your mental health and physique in optimal condition, then you may greatly benefit from the Homeward Bath Steam Generator.
Key Features and Benefits
Programmable Temperature Control: With this feature, you will have full control over the temperature level of the steam and choose the best suited temperature for your needs.
Temperature Sensor: The temperature sensor makes this unit the best steam shower generator as it makes you aware of how hot the steam is. This way, you can decide whether it is too much or too less depending on your preference.
Detachable Temperature Probe: You can easily remove and reattach the temperature probe whenever needed especially during the installation process.
All in One Steam Generator Package: This package comes with everything you need to ensures that you transform your showers into relaxing private spas and enjoy all the therapeutic benefits of steam.
Read more: A Guide on Homeward Bath Steam Generator Reviews
6.  Steam eSeries Steam Shower Generator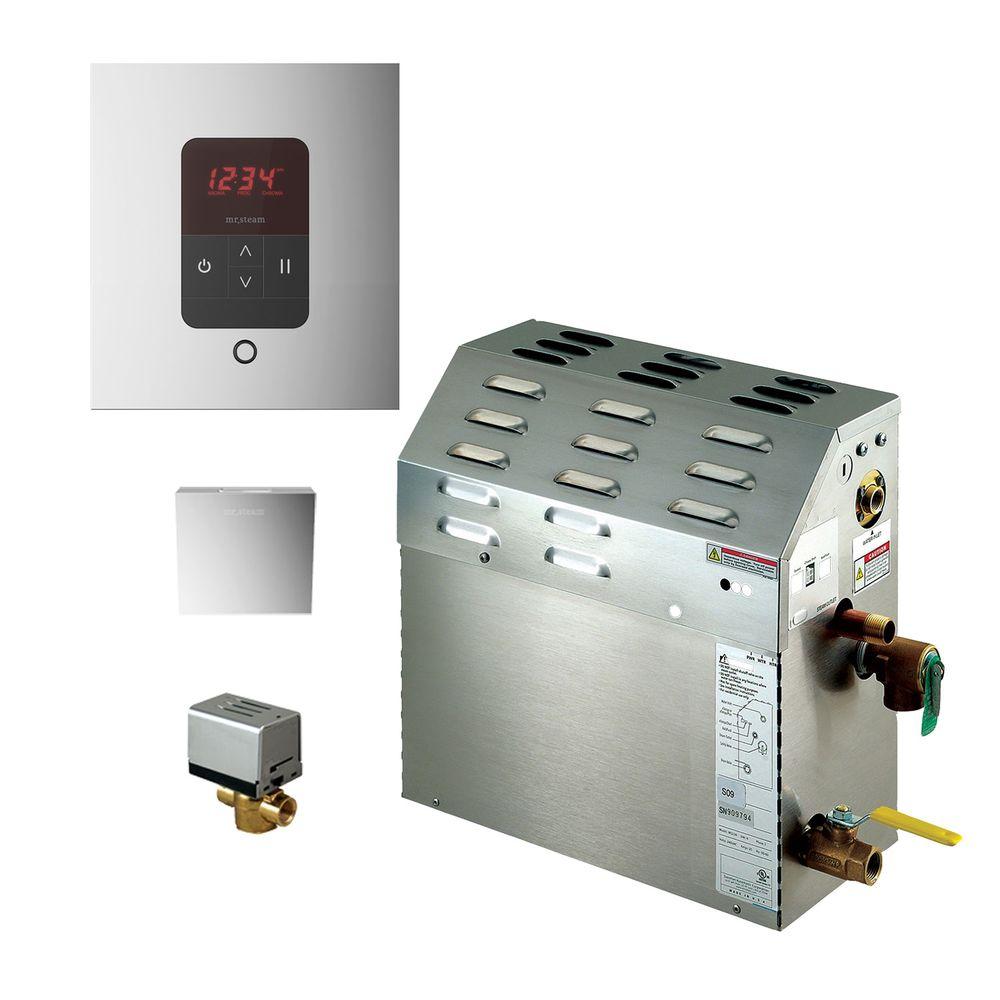 The Mr. Steam eSeries Steam Shower Generator is a great steam shower for most residential apartments. Not only is it pretty powerful and efficient, but it is also extremely easy to install. Some technical things you need to know about it would be that it is 9kW making it a powerful generator. It also has a low voltage 24V control circuit, as well as a full-port manual drain valve.
When it comes to installation, you can install it as close as 20 feet from the bathroom without any problem. It is a little on the big side being 360 cubic feet, but that's already pretty compact for an industrial grade heater. Overall, it is one of the more powerful steam generators that can be for homes. If you're looking for a steam generator for your personal consumption, then this one is good for you.
Best Features:
Electronic control system
Manual drain valve
Stainless steel water storage tank
Safety valve included
9kW power
Mr.Steam MS-E Series Overview
7.  Steam Spa Indulgence Steam Bath Generator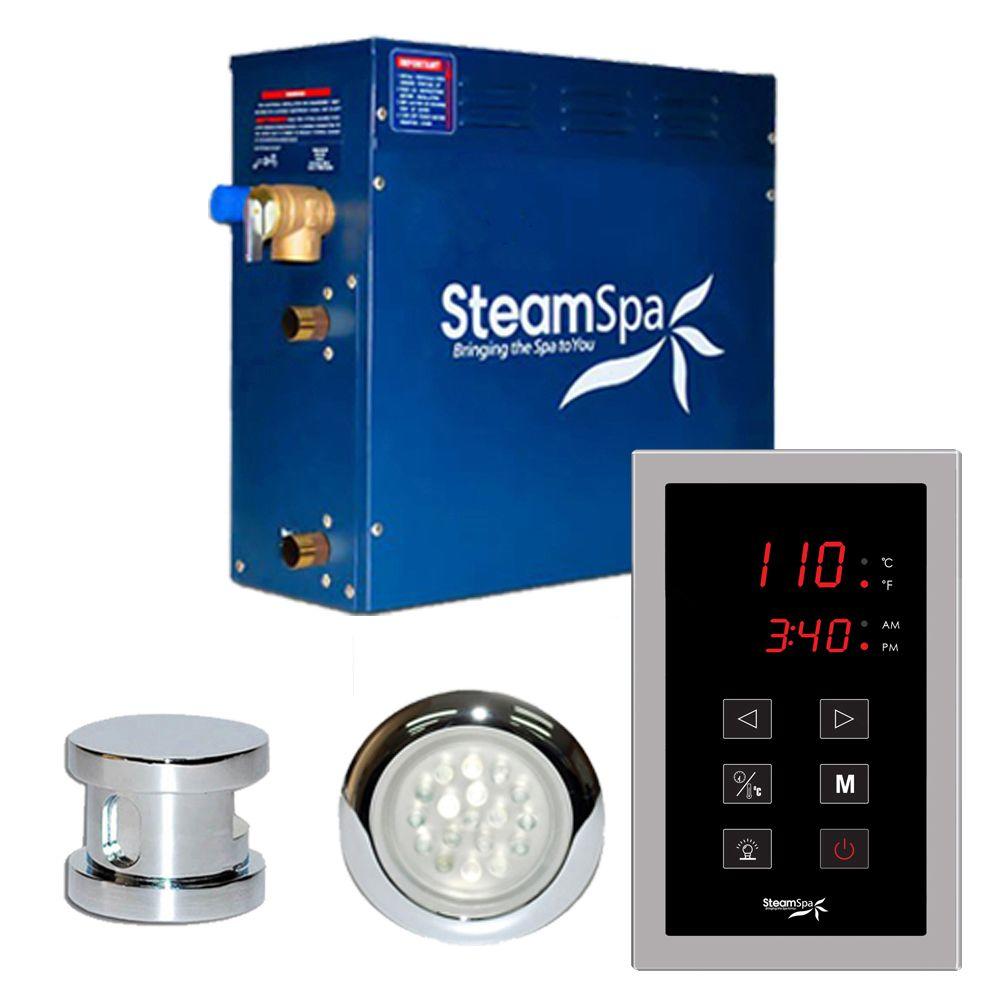 The Steam Spa Indulgence is probably one of the most silent steam bath generators that you'll find in the market. It has a whisper quiet operation, enabling you to enjoy your steam bath without the annoying whirring sound.
It's actually like having a really relaxing luxury sauna in your house. It's also a pretty compact machine having a size of 255 cubic feet, allowing you to fit it in your bathroom without much trouble.
What really makes it a pretty cool machine would be the touch panel control system. This feature lets you control all the functions through an easy-to-use control board. When it comes to ease of use, this steam generator is a good bet to buy. It's also really good for aromatherapy with fragrant mists going through the machine.
Best Features:
Quickstart technology for fast start time
Dual tank technology
Very quiet operations
Unlimited flow of steam
Chromatherapy feature
Aromatherapy mist
Memory settings feature
8.  Steam Planet Superior Self Draining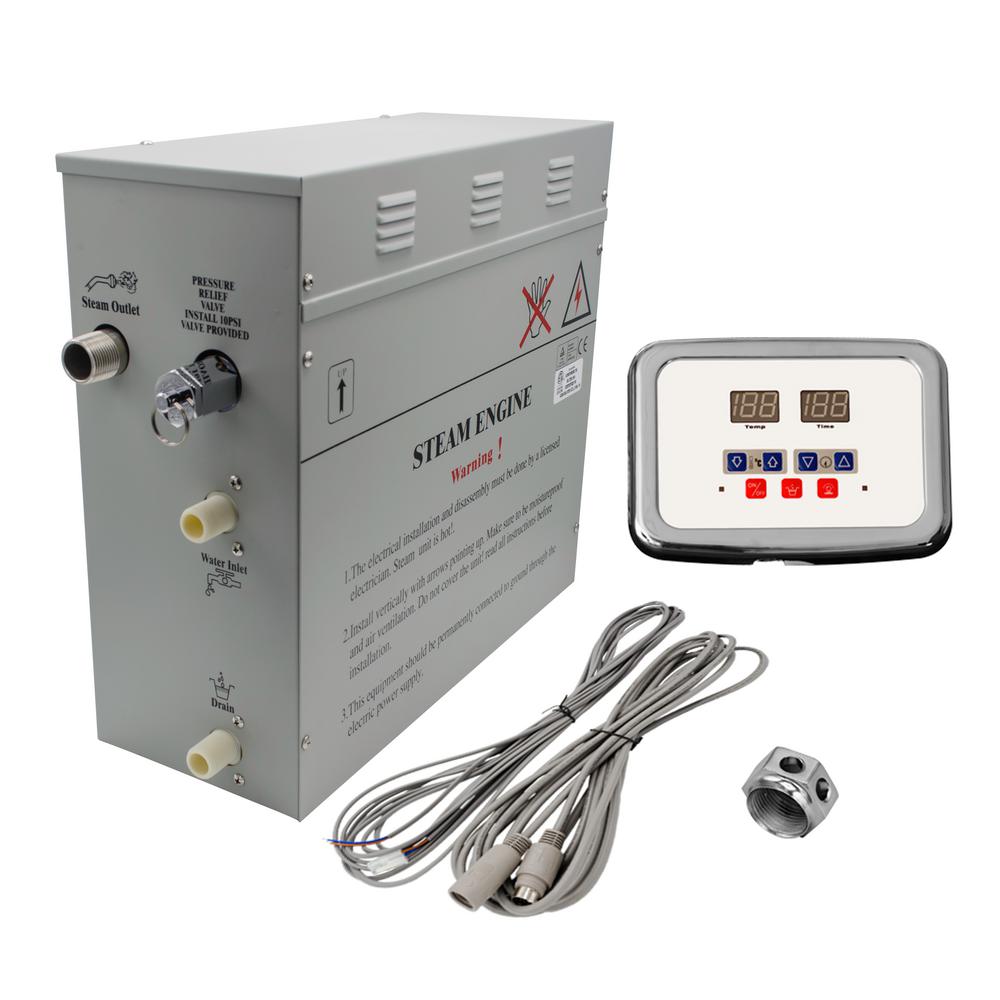 This is another steam generator that has a self-draining feature, allowing you to prevent the growth of bacteria inside your generator's water reservoir. Aside from just the self-draining feature, you'll find that the control system is quite impressive.
First, it is waterproof, so it can be mounted both inside and out of the shower room without any worry of malfunctioning. There's also a 16 feet wire that can connect it to the actual machine.
Also, it has a great aromatherapy outlet, letting you have very nice mist smells. The fragrant mist comes out of the chrome steam head and can easily be controlled via the control board.
Best Features:
Waterproof control panel
16 feet proximity for machine and control panel
Aromatherapy outlet
ETL certified self-drain system
9kW power generator
9.  Steamist 10kW Total Sense Residential Steam Shower Generator
While 9kW is the benchmark of power for most modern steam shower generators, this Steamist product takes it up a notch with a power of 10kW. This machine makes use of two cool features known as the SteadySteam feature and the Instamist.
Now, the SteadySteam feature allows you to have a steady, but continuous emission of steam so that you can enjoy a luxurious steam bath in your steam room. The Instamist feature, on the other hand, allows you to have your mist coming out right away once you start up your machine. It will only take you a few minutes before you'll start to see the mist appearing.
Best Features:
Continuous releasing of steam
10kW worth of power
Very quiet operation
Thin structure and built
Actual ceiling height of 9 ft
Very durable
Steamist Total Sense Collection
Check out New Model: Steamist SMP-15 Steam Generator
10.  EliteStream Luxury Home Steam Shower System
This is another pretty good product that is manufactured by Steamist. This one may not be as outstanding as the ones previously mentioned, but it is definitely reliable. First of all, it is extremely durable with stainless steel tanks to keep the water inside. Other than that, this machine is also made out of only top-grade parts. With that, you can be pretty sure that it will work exactly the way you want it to work.
It's also fairly easy to assemble. It has only a few components that you need to think of— the steam generator, the steamhead, the control system, and the cable. Just put these four parts together and you're all set to use this machine.
It's also very compact to the point that you can fit it in closets. It has the power of 10kW but still a very small size that allows you to save space in your bathroom.
Best Features:
10kW of power
Easy assembly
Compact 15x6x15.5 inches dimensions
Durable finish
11.  HappyBuy Sauna Bath Steam System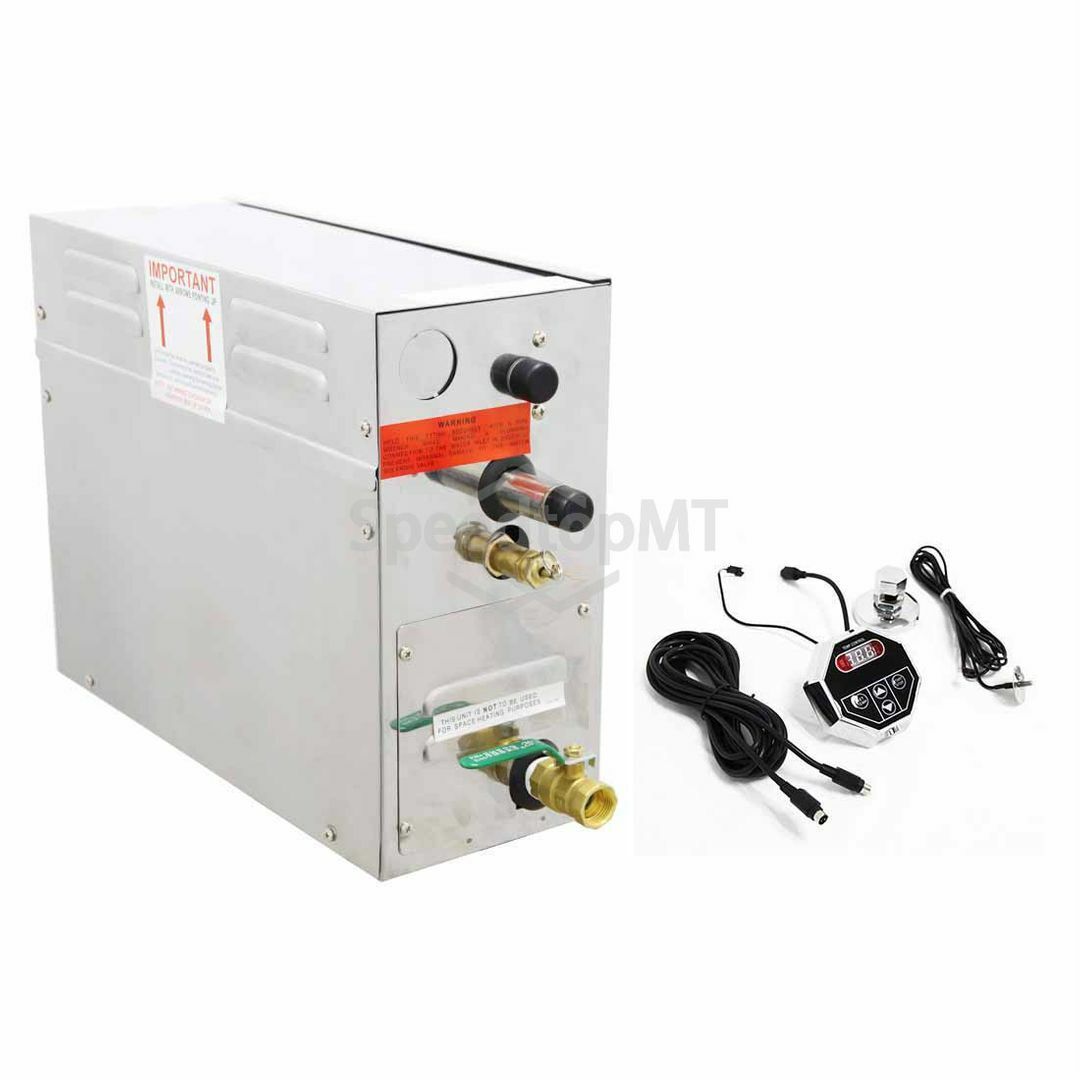 The HappyBuy Sauna Bath Steam Generator is often the choice of a lot of commercial spas, hotels, and resorts for the use of their saunas and steam baths. This in itself tells you that this steam generator is a pretty heavy-duty one. It has a 9kW power with a 400 cubic feet room volume.
To make it ideal for commercial purposes, it has a perfect temperature range setting allowing you to get just the right temperature and the right time period for the machine to run. That's why it is also often used in other industries as well for steam emission. Some of these industries include clothing, packaging, and restaurants.
Best Features:
LED display
Perfect temperature setting
Auto shutdown configuration
Leak protection
Overheat protection
High voltage protection
Steam Generator Advantages and Drawbacks
Advantages
It provides a lot of health benefits
One of the main reasons as to why people buy steam shower generators in the first place is because of the health reasons. It is good for blood circulation and also good for respiration. Steam is also really good for other lung conditions such as asthma and wheezing.
It is good for the skin
Another reason would be that it is really good for the skin. Aside from giving you some good health benefits, it also helps to release dirt from the pores by opening it up. The skin will then filter out the dirt and moisten the skin.
It is relaxing as a whole
Finally, it is very relaxing as a whole. In fact, it gives off the same feeling one would get if he or she were to go into a sauna. It is definitely something good for you after a long and hard day of work.
Drawbacks
It is rather costly
Of course, the drawback there is that it is quite costly to install. Aside from the shower head, you'll also need to install a steam generator to your electric shower which is an added cost.
It can be dangerous if not handled properly
If you don't know how to install and maintain it properly, it may overheat which can be a really big hazard to you. If you want to use it, then you know how to use it and take care of it properly.
Conclusion
That concludes our little steam generator review list and buying guide. If we were to select one out of the ten products that we've listed in our review list, then we'd definitely want to go with the most well-rounded product.
With the buying guide as our criteria, we'd definitely pick the  Steamist 10kW Total Sense Residential Steam Shower Generator as our best steam shower generator.
It may not be the most powerful on the list, but it does go above the standard 9kW power generators with its 10kW rate of power. Aside from just power though, it also has a very fast waiting time due to the Instamist feature and can produce a steady, continuous flow of steam due to the SteadySteam feature. It's also very durable, quiet, and compact. To put it short, it is the whole package.