Swimming is one of the most popular activities during the warmer months. Pool parties are a common sight every summer season. But whether it's a pool party with friends or a simple family bonding, you have to keep your pool properly maintained for your health and safety.
When it comes to pool swimming, hygiene remains important. A pool cover may not be enough to keep your pool clean. To make sure that you and your loved ones will be away from any illnesses caused by bacteria or any other harmful elements, you have to maintain your pool regularly.
To achieve this, you must look for the best inground robotic pool cleaner to make sure your pool is well-maintained.
Everything You Need to Know About Robotic Pool Cleaner
Robotic pool cleaners pick up all sizes of debris in your pool. They also do not attach to the circulation system of your pool. Thus, they do not rely on the pool filter. These little machines run on electricity. While this may sound counterintuitive, robotic pool cleaners are made to work that way.
How They Work
Robotic pool cleaners make use of very low voltage, which is why they are submersible. It comes with long power cords, which you can plug into ground-fault circuit interrupter (GFCI) outlets. If an electrical imbalance is determined, this type of outlet can automatically shut it off so that you will not experience any shock.
What robotic pool cleaners do is drive around your pool, scrub the floor and walls with their little brushes, and vacuum everything up. Most models will leave your pool walls and floor clean while some can even scrub your pool's water line. Robotic pool cleaners also have a built-in cartridge or filter bag for all the debris collected.
Pool Cleaner Models
There are various models of pool cleaners available on the market. There are some models called "double insulated", which means they are made to work safely even without the use of a grounding prong plug. To be safe, it is best if you will still plug those into a GFCI outlet.
There are also solar-powered robotic cleaners for sale. These are also known as robotic skimmers. They float around the pool, collecting debris from your pool's surface similar to hand skimming. While they cannot replace wall scrubbing or vacuuming, you may find this kind of pool cleaner helpful in lessening the volume of debris sinking on your pool floor.
Price Range
Robotic pool cleaners typically range between $500 and $1,500, but there are a few that costs less than $500. While cheaper models can still get the job done, the premium ones have special features such as rapid water release, waterline scrubbing, programmable cleaning cycles, and remote controls.
How to Use a Robotic Pool Cleaner
1.  Assemble your pool cleaner and plug it into a GFCI outlet.
2.  Set up your preferred cleaning options. The settings may vary by model, but common modes include Waterline Only and Bottom Only.
3.  Bring your pool cleaner to the halfway mark of your pool length to prevent the cable from tangling.
4.  Submerge the robotic cleaner, gently shifting the unit from side to side to allow air to escape.
5.  Turn the unit on, and allow it to sink to your pool's bottom part.
(Important note to remember: Do not turn you pool cleaner on before you submerge it in the water as such action can damage the unit.)
6.  Monitor if your cleaner is able to climb the walls of your pool fully. If not, adjust the settings as instructed by the manufacturer.
7.  After you're done using the product, remove the cleaner from your pool. Lift it from your pool, allowing the product to drain all the water before you store it.
How to Properly Store a Robotic Pool Cleaner
To prevent damage, make sure that you store your robotic pool cleaner properly. To do this, make sure that all its attachments and the unit itself are completely dry. Store the pool cleaner in a place that is far from direct sunlight.
How to Maintain a Robotic Pool Cleaner
You also need to conduct routine maintenance on your robotic pool cleaner so that you can use it longer. To do this, you simply need to do the following:
Remove the unit from your pool after it has completed its cycle.
Coil the power cord after you drain the pool water from the cleaner.
Wrap your cord in the opposite direction than your usual routine when storing, if you notice it becoming kinked over time.
Remove buildup from the filter canister or bag by washing it with a hose.
Replace worn brushes immediately to ensure optimum cleaning power.
Top 7 Inground Pool Cleaners – Comprehensive Reviews
1.  Dolphin Nautilus CC Plus 50 Ft. Robotic Pool Cleaner
This robotic pool cleaner is packed with a number of features and excellent cleaning power. It is a must-have for fiberglass pools or any pool type that range up to 50 ft in length.
With its CleverClean Technology, it is able to systematically scan your pool to distinguish the most efficient path regardless of your pool's surface or shape, resulting in an exceptionally clean pool every time.
Features:
Easy to clean, rinse, and reload
CleverClean Technology
Has dual-scrubbing brushes
Comes with patented swivel cable for complete pool coverage
One button operation
Two complete sets of filter cartridges
2.  Polaris Sport Robotic F9550 In-Ground Pool Cleaner
The Polaris F9550 Cleaner offers the best-in-class cleaning performance with the help of its Vortex Vacuum Technology. It can clean any pool terrain with up to 60′ in length.
This product provides a full 4WD wall, waterline, and floor coverage using a scrubbing brush that has solid-blade. It also comes with a remote control for easier utilization.
Features:
Motion-sensing remote
ActivMotion Sensor Technology
Easy lift system
7-day programmable timer
Easy to clean
Rear water propulsion system
Tangle-reducing swivel
Product reviews on youtube:
3.  Aquabot Pool Rover S2 40 Robotic Pool Cleaner
The Pool Rover is an automatic pool cleaner that offers a top access to filter media and a more accurate cleaning system. Its sleek design allows it to maneuver through your above-ground pool or any other pool type to help keep it clean.
This pool cleaner also has an adjustable axle pin, which helps prevent cable tangling and maximize coverage.
Features:
Designed for all pool surfaces and shapes
Comes with a swivel cable
Powerful suction
Plug and play operation
Top access filtration
Product reviews on youtube:
4.  Pentair (360032) Kreepy Krauly Prowler 830 Robotic Pool Cleaner
If you're looking for an eco-friendly pool cleaner, the Kreepy Krauly Prowler may be an excellent choice. Its advanced vacuums, filters, and scrubs can clean most pools within two and a half hours.
This product comes with a wireless remote so that pool owners can easily control its functions, and schedule cleanings even when they are away from home. It also has auto-reverse features which help prevent hang-ups in the pool corners, ladders, and steps for uninterrupted performance.
Features:
Integrated filter
Convenient caddy for easy storage and handling
Superior power and cleaning
Wireless remote for easy control and scheduling
Convenient plug-in
Easy to maintain and clean
Full cartridge indicator
5.  Hayward TigerShark RC9950GR Automatic Robotic Pool Cleaner
The Hayward Robotic cleaner is the best pool cleaner for residential pools. It cleans the pool's walls and floor and scrubs the tile lines as well. It typically takes three hours for this product to completely clean the walls, full floor, waterline, and coves of the pool.
It is equipped with an efficient 24-volt motor devised to use lower cost and less energy.
Features:
3-hour full cleaning cycle
On-board pump
Easy to clean with its patented filter cartridge system
24-volt motor
Ingests acorns
It is considered as an "extraordinary sum for a vacuum".
6.  SmartPool Universal Robotic Swimming Pool Cleaner (Smart Kleen)
The SmartKleen Universal robotic cleaner cleans both smaller inground and above ground swimming pools. It is equipped with energy-saving engineering and self-contained filtration system.
This product also uses very little power and helps reduce your pool's chemical consumption, while increasing water conservation.
Features:
Intelligent navigation
Direct-Drive motor to provide greater tractions for cleaning
Brush-to-port suction
Quick drain system
Lightweight design
2-hour automatic shut-off
Reusable filtration bag
7.  Solar Breeze NX Cleaning Robot Automatic Solar Powered Pool Cleaner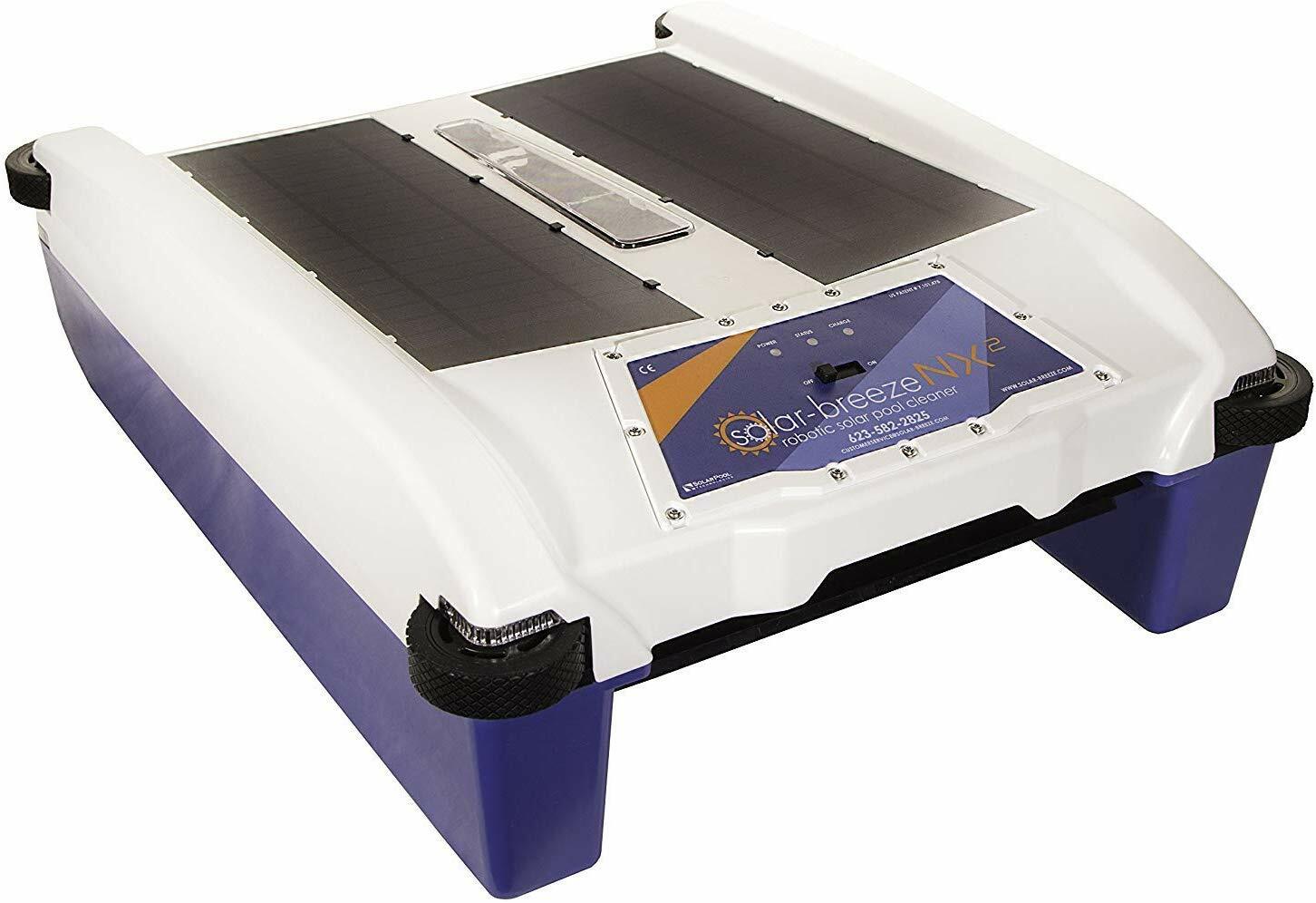 This product helps pool owners save time, money, and energy. This Solar Breeze skimmer is the best robotic pool cleaner for those who are looking for energy-saving products. Since it is solar-powered, you no longer need to use cords, hoses, or other attachments to connect the product to a power outlet.
It is great in removing 90 to 95 percent of debris such as leaves, dust, pollen, and even suntan oils.
The product also comes with a rechargeable Lithium-Ion battery, which the sunlight recharges during the daytime. As a result, the pool cleaner will be able to operate for several hours after sundown with the use of the power it has charged in the battery during the day.
Features:
Cost-efficient since it is solar-powered
Able to operate for long hours
Increased collection capacity
Equipped with a rechargeable Lithium-Ion battery
Product reviews on youtube:
Conclusion
All the products mentioned above offer various features that you may find best for your needs and preferences. But after rounding up the comprehensive product reviews, the best inground robotic pool cleaner by far is the Dolphin Nautilus CC Plus 50 Ft. Robotic Pool Cleaner.
Pool cleaners that are specific for fiberglass and vinyl pools are quite scarce. But Dolphin Nautilus CC Plus Cleaner is safe to use in these types of pools. In addition, it has a smart cleaning technology that scans the area that needs a thorough cleaning. Lastly, its load filter has a large capacity so cleaning bigger pools wouldn't be a problem with this one.
If you are looking for a pool cleaner that works great and is packed with great features to help you attain your pool cleaning goals, this product work best for you. With its deep cleaning feature, no tangle swivel, and large top load capacity, you are guaranteed to get your money's worth.
Bonus tip: Before purchasing anything, make sure you are going for the one that is manufactured by a reputable company to ensure you will get a quality product.