With the summer season fast approaching, you will most likely use your swimming pool a lot. However, frequent use of pool doesn't make investing in an excellent pool cover a bad idea.
Here, we will discuss how to choose the right safety cover for your pool, as well as recommend some best pool safety covers.
How to Choose the Perfect Pool Safety Cover?
Material
You really have to consider your choice of material here. Fortunately, you don't have to get yourself acquainted with lots of option as there are only three popular choices for pool safety cover materials. These are the mesh, tarp, and the solid vinyl cover.
Without question, the mesh cover is the favorite by many. One reason is that it is affordable and can last for long period of time, 15-20 years to be exact.
The solid vinyl requires a pump to keep out water and debris out of the cover. Meanwhile, the tarp cover keeps out the sunlight (which is needed to breakdown chlorine in the water), besides it only lasts for 1-4 seasons.
Size
If you have a 20 by 36 feet pool, you need to buy a pool cover with at least 22 by 38 feet size. Pool mesh safety covers need to be secured by bolts or anchors to keep them in place. That is why you have to allow a 1- or 2-feet allowance for this.
Also, please do measure your pool beforehand before shopping for the best pool safety cover.
Warranty
Others don't really care much about the warranty program, but we insist that you check this out.
Does it come with a money-back guarantee? Maybe a lifetime warranty of parts? For pool covers, a product that offers 15-year product warranty is a great deal.
It is also wise to check whether the brand has headquarters in your country or do they offer superb customer service for returns and replacements.
Budget
Choosing the best cover that suits your pool can be quite a hassle, especially if you a budget to follow. Hence, it is always a good idea to research first the price range of the safety cover you have in mind.
To help you out, we have created a short guide for you:
Solid Vinyl covers are usually priced between $1,800 to $3,500, depending on the size and shape.
A mesh pool cover, on the other hand is priced at $1,200 to $3,000. This is the choice of many.
The tarp cover is available at a cheaper price of $100 but advanced version can be bought up to $250.
Automatic covers could go as high as $5,000 to $20,000. This is the most expensive and
only few people opt for this one.
The Best Pool Safety Cover Reviews
1.  HappyBuy Rectangular Pool Safety Cover (14 by 26 feet)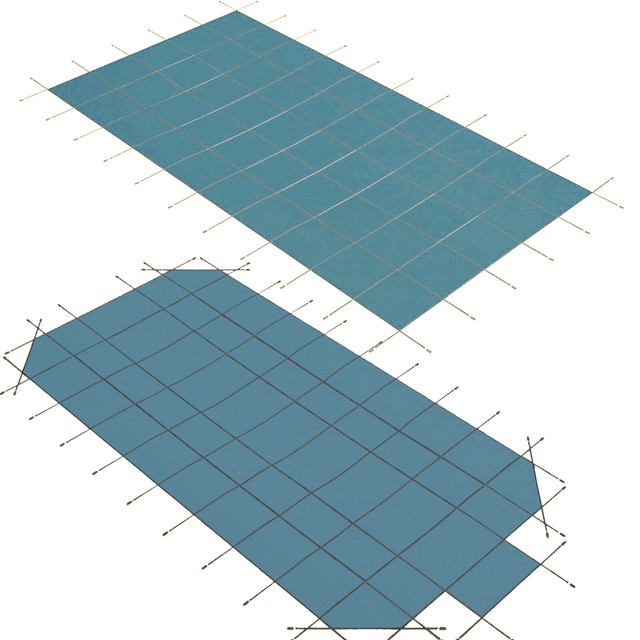 Environmentally friendly products are popular nowadays and that is exactly what makes this pool safety cover such a big hit to many.
It has the conventional rectangular shape which is suitable for a swimming pool with a size of 14 by 26 feet. All the tools needed to set this pool safety cover are included in the package.
Mesh material is tight and strong enough to hold weighted objects on top
Certified to be tough and durable with high temperature resistant material
Also toxic-free, so safe around children and pets
Ground bolts are made of brass
Comes in tranquil green color
The size is a bit too narrow for some pools. Please always check the size of your pool and some allowance for the drill bit.
2.  Blue Wave Rectangular Pool Safety Cover (20 by 40 feet)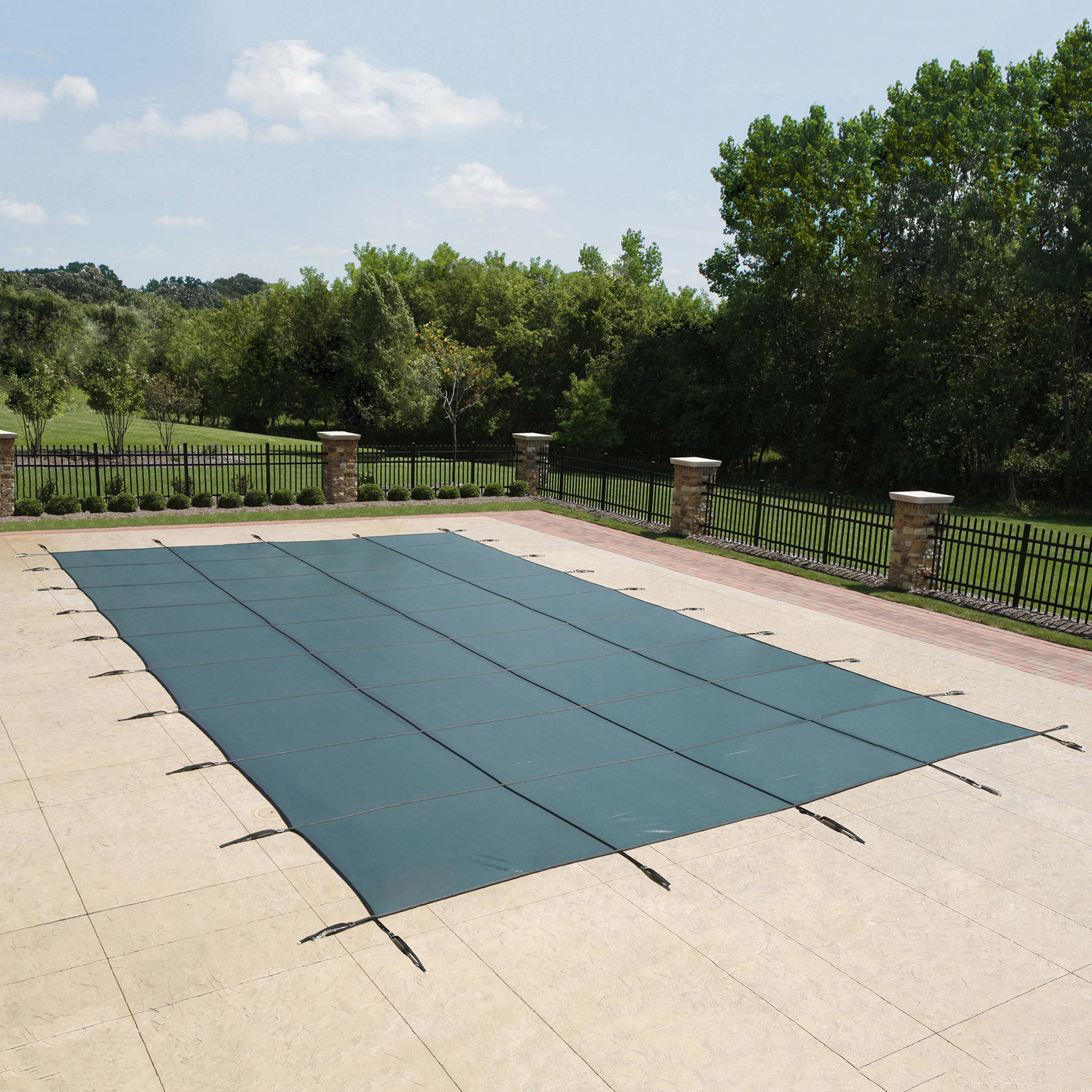 Next on our list is this best pool safety cover from Blue Wave. This, too, has a rectangular shape and can cover with 18 by 38 feet size.
People love this mesh cover because of its undeniable quality and different sizes available. You can also get this in two different colors, namely blue and green.
Made of high scrim mesh material that lets water through but filters leaves and twigs
Comes with all the installation tools needed
Has its own storage bag
Anchors and bolts are made from brass while springs are stainless steel
The edges of the cover are multi-seamed to prevent wear and tear
Proven to be more durable than the average inground pool covers
It is not an easy one to maintain and cleanse.
3.  Lite Strong Rectangular Pool Safety Cover (20 by 40 feet)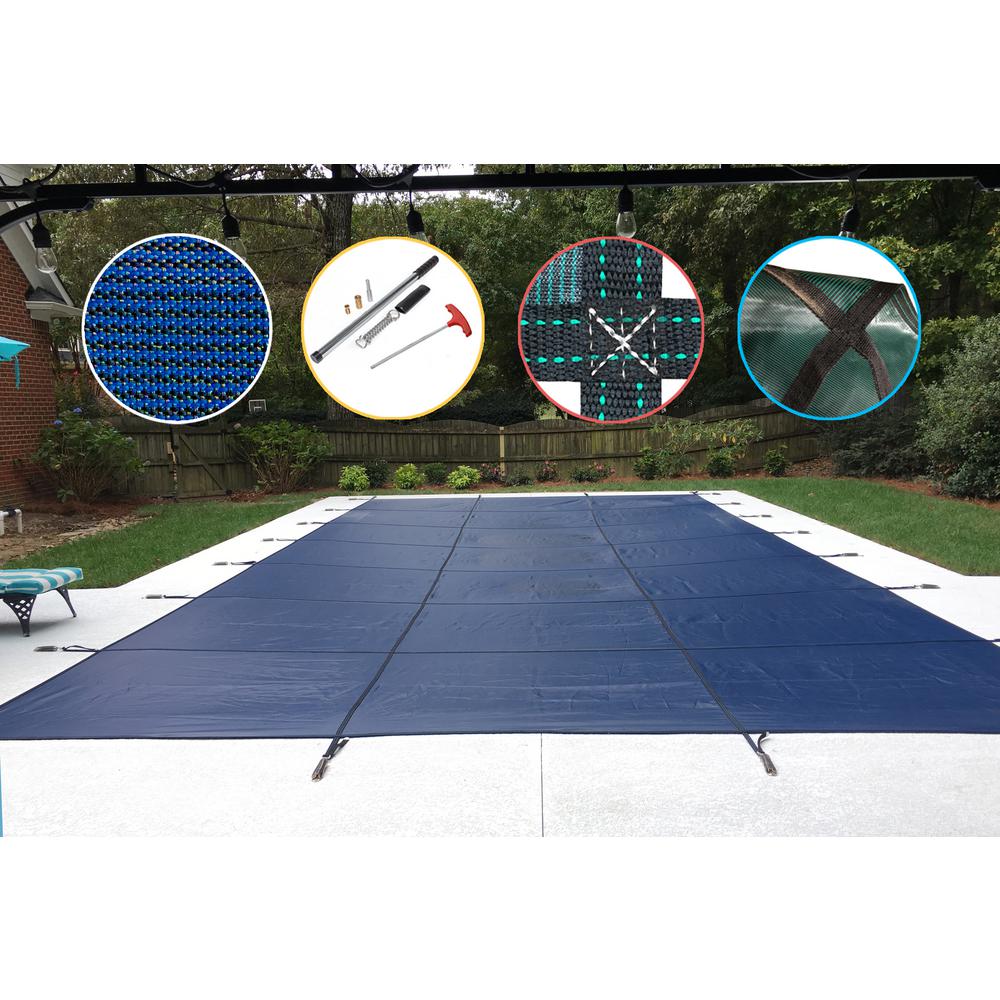 This Lite Strong best pool cover is also hailed as one of the most durable pool covers in the market. Rather than focusing on the material alone, the brand also makes it a point to offer the best inground pool cover that homeowners can use in winter.
The bolts and springs of this cover are all abrasion and fraying resistant. Therefore, it comes as no surprise if people have only praises for this product.
If you are seeking a pool safety cover that can last for years and has great winter protection, then you can't find any better option that this one.
Children and pet friendly cover
Strong and robust enough to hold water, debris, and other objects on top
Comes with all the tools needed for installation
Has its own storage bag
Uses tamp style brass to hold the cover in place
The edges are also multi-seamed to minimize tear and wear
Installation instructions are a bit confusing for beginners
4.  GLI Pool Products Rectangular Pool Safety Cover (16 by 32 feet)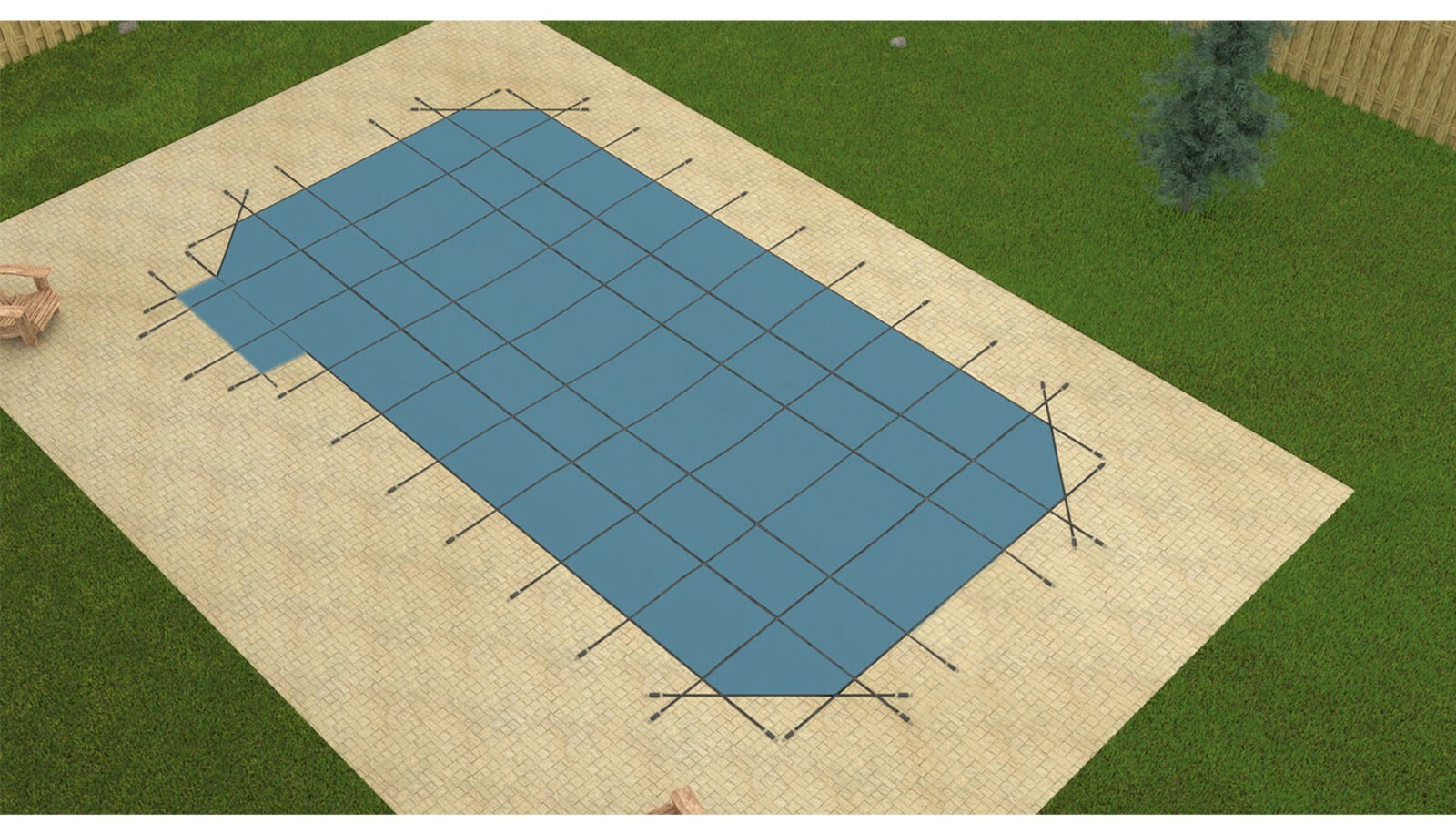 If other brands make use of multi-seamed stitch as an added durability feature, this rectangular pool safety cover from GLI Pool Products made a two-ply mesh cover.
A lot of its users that this best pool safety cover can filter debris well while letting water pass through its mesh material.
The mesh material of this safety cover is rot resistant, as well as mildew resistant.
It also doesn't fade much even when exposed to sunlight often.
Suitable for extreme weather conditions
Known to be a heavy-duty cover with hundreds of customer reviews to back it up
Has withstand up to 4,000 pounds of weight
Not suitable for swimming pools with different shape other than rectangle
Storage bag is only for the installation tools and not for the actual cover
5.  Yard Guard Rectangular Pool Safety Cover (18 by 36 feet)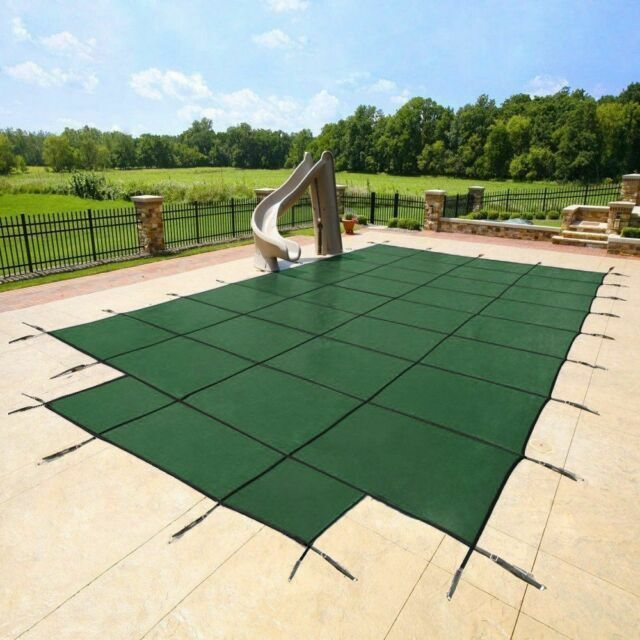 Here's another amazing pool safety cover that is worthy to be called one of the best. While this may be a bit too expensive to some, this offers excellent features that are worth the money.
The cover is made from reinforced material to ensure users of its durability. Majority of the buyers of this cover are satisfied with its quality, durability, and ease of use.
What Yard Guard did to set their product from the rest is to put all the great features found in other covers.
High-quality mesh material
Reinforced for added durability (both the top and bottom have web seam)
Easily lets water though the cover so as not to weigh the material down and damage it
Built using modern technology that makes use of computerized shaping and cutting
Proven to be checked and quality is guaranteed
The warranty service is a bit misleading. It is better to contact the brand directly to inquire about the specific model's warranty.
6.  WaterWarden Rectangular Pool Safety Cover (16 by 32 feet)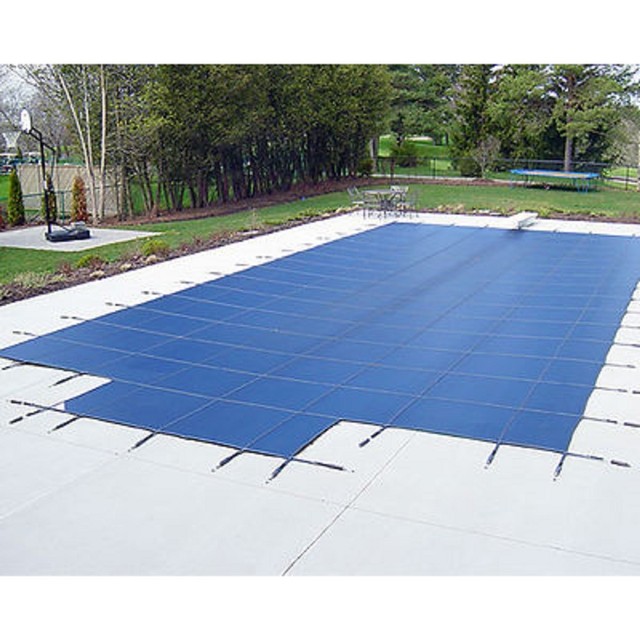 Strong but lightweight are two things that people noticed in this pool safety cover. Even though it is advertised as a lightweight cover, users need not worry about its durability since this cover is equipped with anchors, springs, hooks, and hardware that secures it in place.
Very easy to store and set up even for beginners
Can also be remove from your pool real quick
Top and bottom of the cover are triple-stitched and are also double strapped
Makes use of X-tack stitching
Hardware kits are also crafted from fine and robust materials
Makes use of D-ring springs
Many are not satisfied of its winter protection.
7.  Loop-Loc Rectangular Pool Safety Cover (20 by 40 feet)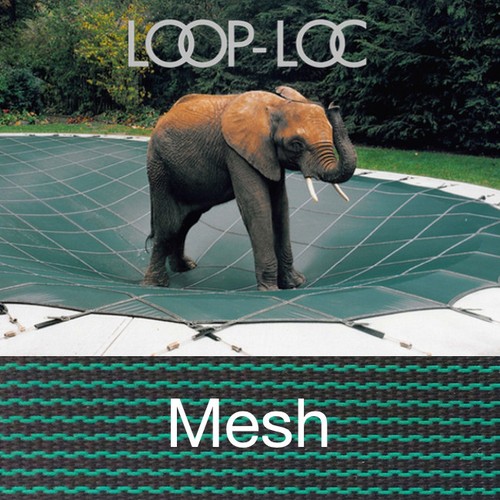 If you have a large pool, then you need to choose one from the best pool safety covers available in the market today.
People's pick in terms of huge pool covers is this Loop-Loc Safety Pool Cover. In addition, this is also guaranteed to be really great in filtering leaves and other debris.
All hardware kits needed for installation are already included
Suitable for large swimming pools
Can last up to 10 years when properly taken care of
The brand and its customer service are all great and helpful
Pets and children friendly
This is an expensive pool safety cover
The Verdict: The Best Pool Safety Cover
If we were to recommend the best inground pool safety cover, it would be none other than the GLI Pool Products Rectangular Pool Safety Cover (16 by 32 feet).
This can last 10 to 15 years, and only takes a few hours around 2-3 hours for the installation. Moreover, disassembling the cover is quite easy even for beginners. It is also made of two-ply mesh material, plus the fact that its mildew, rot, and sunlight resistant.
Choosing the best pool safety cover for your pool need not be complicated. The guide and reviews we mentioned have really good reputation in many online platforms.
So, any favorite pool mesh safety cover? Let us know what you think, and if you have other recommendations you want to share with others.