We all know that garden sheds are pretty important to homeowners because that's where they keep all the necessary gardening equipment, supplies, and other things that need proper storage. Therefore, it's important for you to always buy the best garden sheds you can find.
Of course, buying the best garden shed isn't easy as 1, 2, 3. There are so many things you need to take into consideration. You need to do a lot of research on the different brands available, the factors to note when choosing the best outdoor storage sheds, and more.
That's why we made things a little simpler by creating a list of garden shed reviews for our top picks and a short buying guide.
Check out both of them below:
How to Choose the Best Garden Sheds
First thing's first, let's start with the buying guide so that you'll know what to consider when you choose among the ten choices of the best garden sheds that we chose. This buying guide will list down the criteria that you can use when picking out sheds.
This guide will not only tell you which is the best in terms of features but will also determine which is the most suitable for your needs:
Design
When you're at the store screening the best backyard sheds in the collection the first thing that you'll probably take into consideration would be design. With regard to design, we suggest that you get the one that compliments the look of your home and your garden.
You wouldn't want a shed that would stick out like a sore thumb. Of course, design preference is really subjective, so just get something that would match.
Materials
Now that we're done discussing the design, let's go to something a little bit deeper– the materials used to build the shed. Typically, there are three materials that are used to make the sheds. These are wood, metal, and plastic. Each of them has their own pros and cons. The one you pick will depend on your own needs.
For the wood sheds, you'll enjoy stud framed walls typically made out of plywood. They have a very old look that goes well with pretty much any design of your garden. The only con about wood sheds is that they need maintenance quite often such as repainting, replacing of rotten wood etc.
Plastic sheds are a good alternative. These sheds are typically made out of polyvinyl chloride, otherwise known as PVC. The great thing about plastic sheds is that they don't need maintenance like the wooden ones do. However, plastic sheds can't be repainted, so make sure you're sure of the color once you buy it.
The last type is the metal type which is arguably the most durable of them all. If you're into metallic designs, then this one will be the best one for you. Metal types are also pretty easy to build because most of them come with DIY kits. The only disadvantage would be corrosion and scratching of paint.
DIY or Professionally Built
While most plastic and metal sheds have DIY kits, the wooden ones need to be built from scratch. If you want to make a wooden shed, you either need to be handy with the toolbox or you need to call in a professional. The choice will really depend on your own ability to build a wood shed and a budget.
Zone Regulations
Before you even make a purchase, you must first take into consideration the zoning laws in your area. You may not know it, but there are some areas that are strict with the size, location, and foundation of sheds.
To know that, first call up your town's city hall and ask them for the specific regulations. Once you get a list of the regulations, then all you have to do is follow them when picking out your shed.
Entrance Size
This is actually one of the most important things to take note of because it determines how you're going to get equipment inside. When you choose your shed, you need to decide what you're going to be putting inside.
If you have big equipment like snow blowers, lawn tractors and the like, you'll need a bigger door size. Most sheds are 8×10 feet, but you may want to adjust that based on the things you'll store.
Storage Size
The last thing that you need to consider would be storage size. With regard to that, there are usually three types of sheds: corner sheds, horizontal sheds, and vertical sheds.
Corner sheds typically have dimensions of 3x3x2 feet. Vertical sheds have dimensions of 5x4x3 feet and horizontal sheds are around 3x5x4 feet. The size of shed you choose will ultimately depend on how big your garden is and how much space you want it to take up.
Price
The last factor would be price. It isn't recommended that you get a shed that is too cheap because it might compromise quality. The key is to look for shed makers that are well-known and buy sheds that they sell.
For our list, we only chose the best quality sheds from known brands. Of course, we also picked products that aren't too highly priced.
9 Best Garden Shed in the Market Reviews
1.  Keter Factor 8×6 Plastic Shed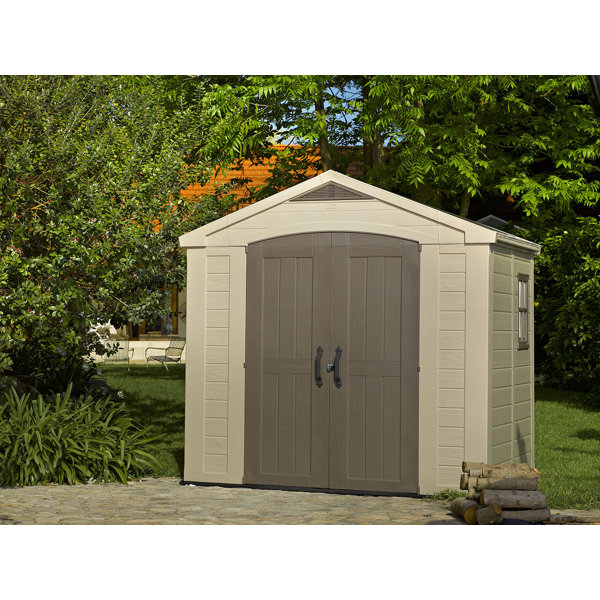 This shed is arguably one of the most beautifully designed sheds that you'll find. It's a classy looking shed that goes well with formal decor and luxury style gardens. It's not all just aesthetics though. It also has a lot of cool features that it brags of. It comes with a 3-D roof that has vents so that you can have ventilation while you're inside.
Other than that, it also comes with a pair of lockable knobs on the front door. All you have to do is buy a padlock or one of those bicycle locks and you're good to go. It's also pretty durable as it is resistant to weather and harsh sunlight.
Also, it is waterproof so you don't need to worry about rain storms. There is also a skylight which can light up your shed easily. Finally, it has a storage size of 285 cubic feet, which is good enough to store power tools used for gardening.
Best Features:
In-built shelves
3-D roof ventilation
2 built in windows
Storage capacity of more than 280 cubic feet
Skylight
2.  Keter Fusion 7.5×9.5 Composite Storage Shed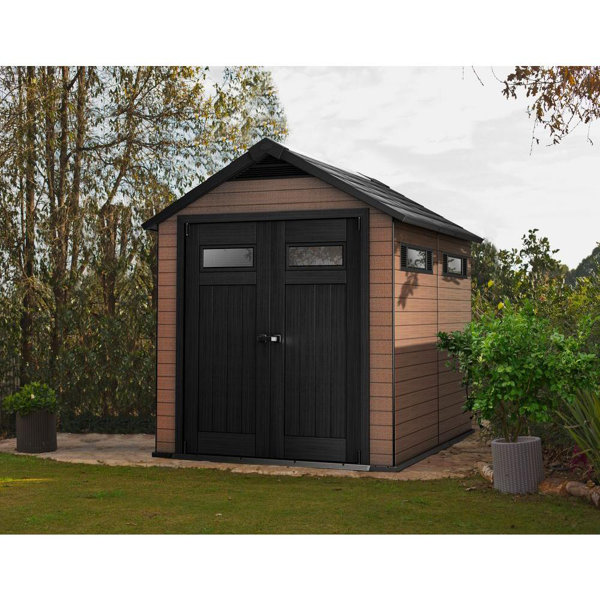 If you're looking got something a little bit bigger than the Keter shed that we've mentioned above, then you'd probably like this one. Instead of 280 cubic feet, this one has a storage capacity of up to 411 cubic feet for stuff. So, would work well for people who have a lot of power tools and a lot of extra stuff in their homes that can't fit anymore.
Now, what makes this shed a little bit more different than the one we listed above would be its design. It is also made out of plastic but not the typical PVC material. It is made out of a special composite material known as WPC or wood plastic composite. That said, it combines the best features of both plastic and wood sheds.
First, it showcases the classic, vintage look that wood sheds provide. At the same time, the plastic feature covers wood's weaknesses. The composite doesn't rot like wood does and neither does it grow molds. Also, it won't attract termites.
Best Features:
Comes with 5 windows
Skylight feature
Weather and UV proof
Very strong resin floor
Beautiful design
3.  Lifetime 8×5 D Plastic Storage Shed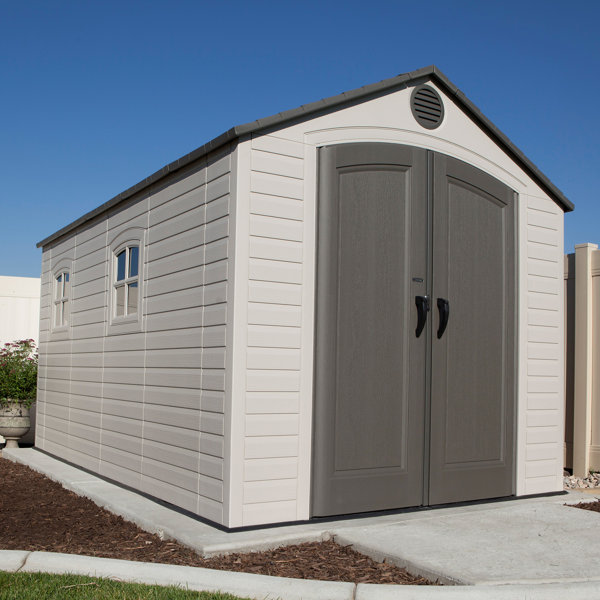 Lifetime's plastic storage shed is all about potential storage capability. That's why it's wider than most sheds are. With that kind of width, you can store in a lot of stuff as compared to the average corner shed. Another that you'll really appreciate about this shed would be its durability.
Although it is made out of plastic, it has a steel reinforced structure. In other words, the frame is made out of extremely durable steel, making it really sturdy. Even if there are strong rain or wind storms, you won't have to worry about your shed being blown away or toppling over. The steel frame is enough to keep it grounded.
Aside from that, it also has a double wall built further contributing to the overall durability of the shed. Being double walled, you also won't really have to worry about noisy sounds when you're inside the shed. The thick walls are enough to block them off.
Best Features:
Quality steel frame
5 built in shelves
Steel roof trusses
Over 700 cubic feet of storage
4.  Palram Skylight 6×7.5 Plastic Shed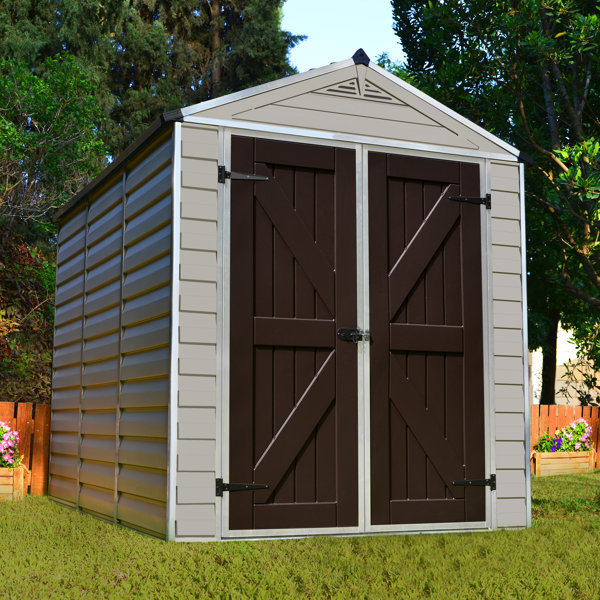 The most unique thing about the Palram Skylight storage shed would be its material. It is made out of very strong polycarbonate panels. These panels are extremely resistant to impact, to weather, and to even storms. Other than that, it won't crack and it won't even scratch. Overall, you can probably get total durability with this shed if you're a pretty rough user.
However, you'll find that even though it is extremely durable and tough, it isn't heavy-duty unlike other shed materials. Somehow, the polycarbonate panels are pretty lightweight even though they're really strong. With this, they are actually very easy to install. Even if you don't call in a professional, you can install this shed in just a few minutes.
Finally, it has an anti-slip flooring. This is pretty useful if you're quite clumsy and slip on slippery wooden floors pretty often. Also, it provides a solid ground for your tools and equipment to stand on.
Best Features:
Lightweight but sturdy polycarbonate panels
Easy to install structure
Weather and UV proof
Anti-slip flooring
Inclusive of ramp
255 cubic feet storage space
5.  Suncast Cascade 7×7 Plastic Shed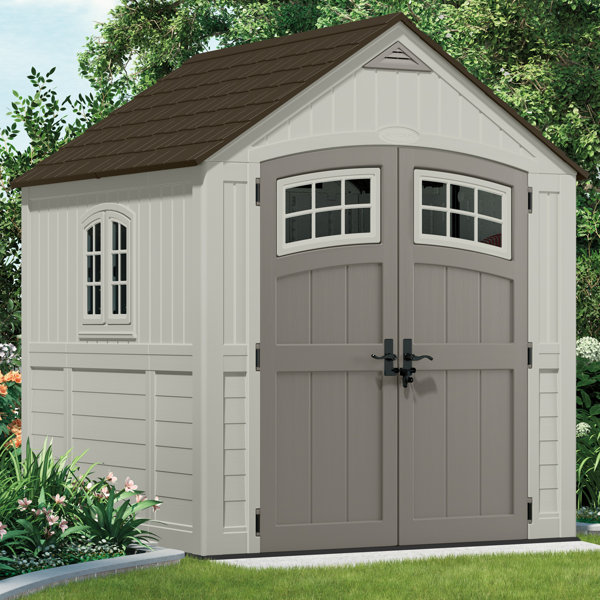 This is the type of shed that is very simple but rather stunning on its own. It doesn't give off a luxury vibe like a lot of sheds do, but it does have its own quaint charm.
If you live in a simple home with a quaint little garden, then this shed will look really nice in it. It's actually pretty ideal for small gardens because it isn't that big in size. Since you have a small garden, then you're not going to need that many tools or pieces of equipment anyway.
Just to give you an idea, it has a storage space of a little over 300 cubic feet, which is enough to store all the things that you'll need for a small garden.
Best Features:
Compact size
Simple but quaint design
Durable concrete flooring
Inclusive of 4 windows
Weather and water resistant
6.  Arrow EZEE 6×5 Metal Storage Shed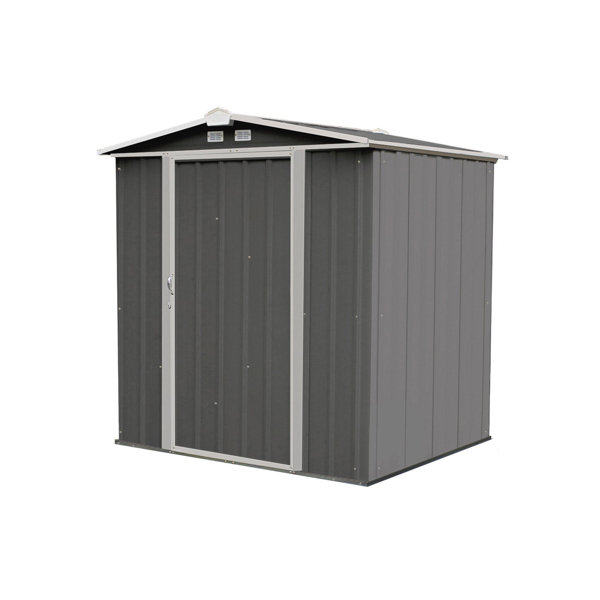 While the Arrow EZEE 6×5 metal storage shed isn't that known for its size and storage space, it is known for its fast assembly and its durability. First of all, this shed can reportedly be built in half the time it takes to build other steel sheds. That's most likely because Arrow doesn't include so many fasteners in its kits.
For regular kits, there are many fasteners for walls for, the doors, and the roof. Arrow reduces all of those and also doesn't include that many nuts and bolts. Everything can be connected pretty easily.
The other aspect it's known for would be its durability. It is known to be twice as strong as most steel sheds and has snap IT panels that would connect the frame in such a way, making it extremely sturdy.
Best Features:
Modern and contemporary design
Strong and tough steel material
Easy to build assembly hardware
140 cubic feet storage space
3-hinge door
7.  Alpine Riverside 10 x 14 Wooden Shed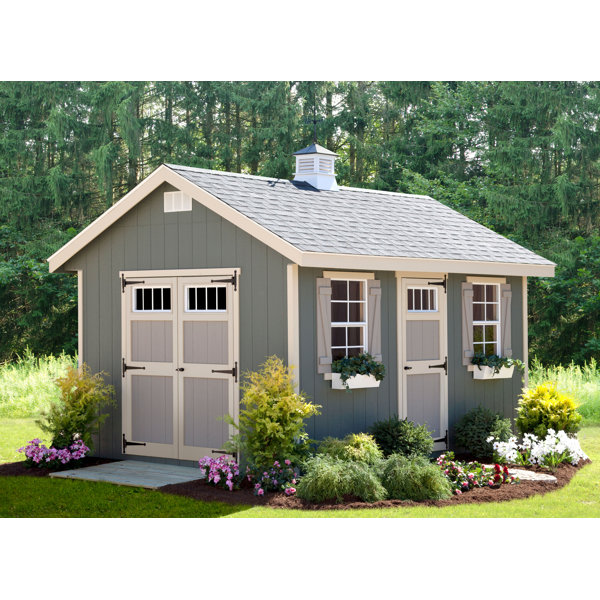 The Alpine Riverside 10×14 wooden shed is a beautiful shed– probably the most beautiful one on the list. It is a rather big shed with a storage space of over 900 cubic feet and has the design of a cottage.
If you have a big garden, then this is perfect for it. Aside from being used as a storage space, you can also stay inside of it comfortably because of the large space provided. It's also got a really good ventilation system, making it very easy to stay inside.
It's also not too hard to build. All you need is some basic carpentry skills and you'll definitely be able to assemble the shed in no time. It's not like most wooden sheds that require either a professional or mid-level woodwork skills.
Best Features:
Very large storage space
Double doors with door lock
2 windows
Weather and waterproof wood
Efficient ventilation
Beautiful design
8.  Outdoor Living Today 8×12 Wood Shed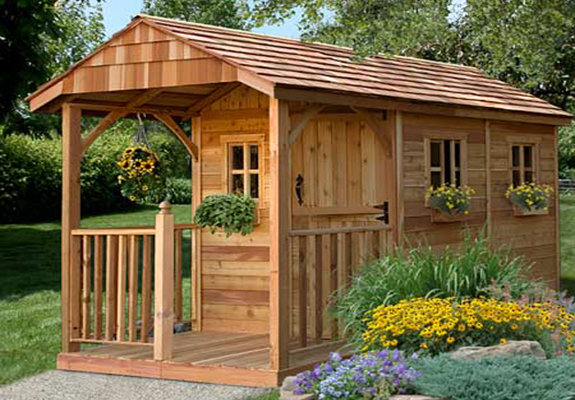 This one is another wooden shed that has a lovely look to it. In fact, it's not just used as a shed. A lot of homeowners use its mini porch to relax. All they would usually do is place a chair and whip out a book. It's like having a mini house in your big garden.
Now, one of the best things about this wooden shed would be the material it uses. It is actually made out of a special type of wood called the Western Red Cedar. This is a premium, top of the line type of wood that is extremely durable. It is the type of wood that is resistant to water, weather, and insects.
It also doesn't decay, so not much maintenance is needed for it.
Best Features:
Stunning design
Western red cedar material used
Comes with a mini porch
3 windows included
Big storage capacity of 500 cubic feet
9.  Flowerhouse 6×2 Portable Shed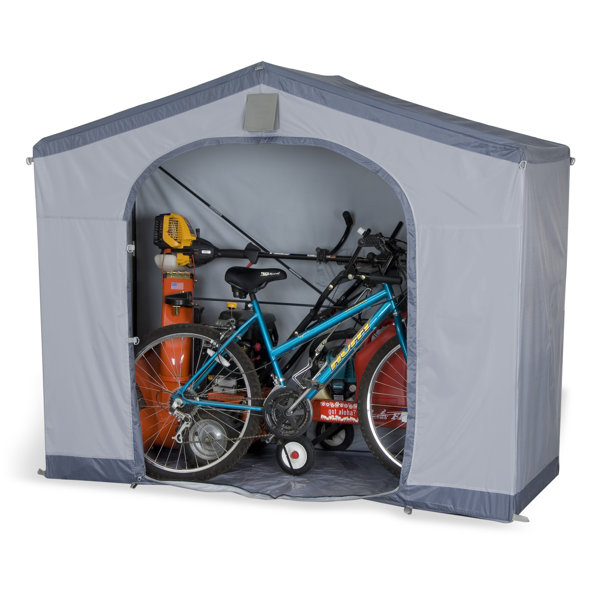 If you're looking for a shed that you can bring around easily, then this is the one you should buy. The Flowerhouse portable shed is only 6×2 feet, but it's definitely enough to store a lot of supplies and tools that clutter up your home or your driveway.
It works pretty much like a camping tent so it's very easy to set up. It also comes with tent stakes so that the shed can be grounded in the event of a storm. To further keep it on the ground, it also comes with high wind tie downs.
Best Features:
Easy folding feature
Locks included
Storage bag for keeping it in
Ventilation
Sturdy flooring
Conclusion
Those are the 9 best garden sheds that we chose based on our own experiences and complete reviews made by homeowners. Now, you may be asking yourself, "which of these is the best one out of them all?"
Well, we would usually tell you that it will all depend on your individual needs. However, if we were to base the answer of that question on overall usefulness and features, then the one that we'd pick would be the Keter Fusion 7.5×9.5 Composite Storage Shed. This one comes with everything you need in a shed– big storage space, beautiful design, strong floor and foundation, and durability. Since it makes use of a wood plastic composite, it gets the best advantages of both types, giving you one of the best choices there is.