Pressure side pool cleaners aid in cleaning the water from your pool. Most of these products are automatic and require a less manual operation. This article will help you decide which best pressure side pool cleaner will fit your pool needs.
What is a Pressure Side Pool Cleaner?
It is an equipment used to clean pool water that uses pressure to suck up dirt and pump out clean, filtered water back to the pool.
How does it work?
Pressure side pool cleaners are using the energy of your current pump to make it work. This pressure serves as an underwater vacuum. It will be very helpful for your pool filter because it also comes with its own vacuum bag where the gathered dirt and debris can be piled up and disposed of once it is full.
Just make sure that the pressure is strong enough for it to do its job accurately. If you have this kind of cleaner, you can now say goodbye to your dirty pool water. Of course, we want to enjoy a clean and clear water free from any dirt and foreign materials that might cause harm to those who will use it.
What are the types of pressure Pool Cleaners?
There is a low-pressure cleaner who shares and uses the pressure from the pool pump.
Then there is high-pressure cleaner that has its own pump.
High-Pressure Vs. Low-pressure poolside cleaners
High-pressure Poolside cleaners are more likely to be advantageous than the low-pressure one. It is because this can function more accurately. You can even set a timer for it to control cost and energy consumption. This way, you will be able to use it for a long period of time.
While Low-pressure poolside cleaners are a bit inconvenient because it is not budget-friendly. It requires a lot more additions like an extra pump, an extra timer, and additional labor, which is not economical.
Reviews on the 6 Best Pressure Side Pool Cleaners
Here are 6 of the best Pressure-side pool cleaners on our list:
1.  Polaris Vac-Sweep 165 Pressure Side Pool Cleaner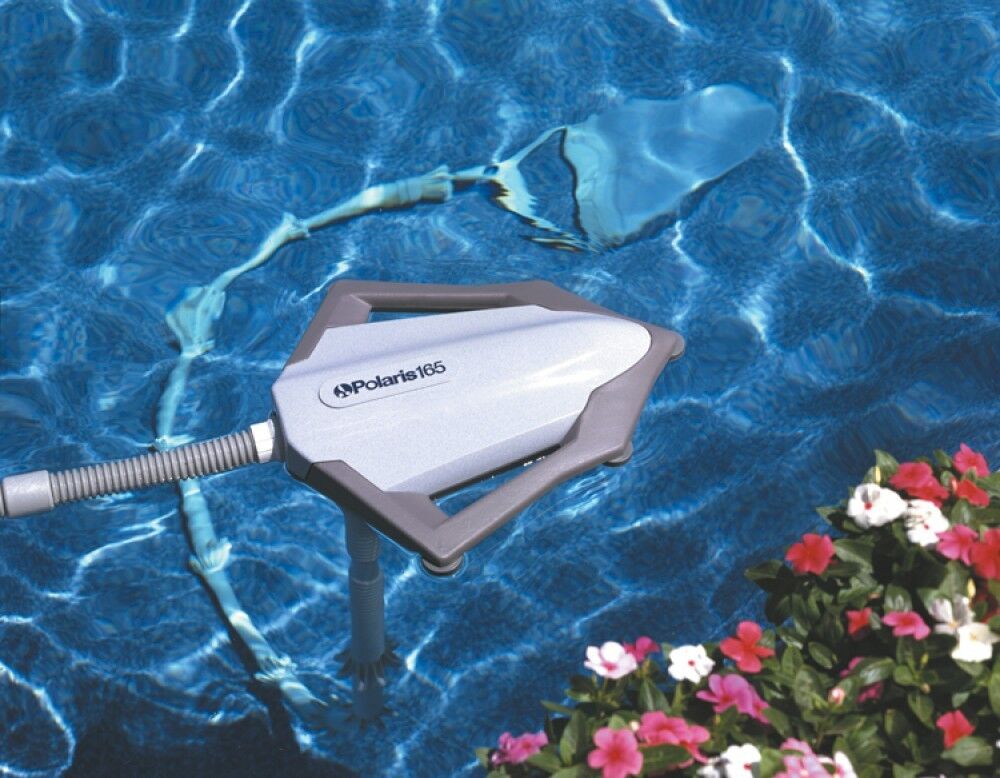 Polaris is an industry leader when it comes to pool cleaners and they have retained a solid reputation for producing quality products. The Polaris 165 pool cleaner is a great innovation loosens all the debris in places that are hard to reach with the help of the jet sweep assembly. It has a pressure side cleaner that sweeps all the sides and lowermost of the pool in three or fewer hours.
The Pros of This Polaris 165 Pool Cleaner
Easy to connect
Affordable price
Efficient-Removes all debris
Suitable for fiberglass or vinyl pools
Has a 32 feet long hose
Doesn't need a booster pump to operate
Designed for pools of 8 feet deep
Contains 1-year warranty
Cons of The Polaris Pool Cleaner
Coils into circles and tangles
Tends to get stuck in the pool
Not ideal for large or concrete pool surfaces
Key Features
32-feet hose
Filter bag
Patented jet sweep assembly
Connects to 1.5" threaded return line
Pressure side cleaner
Verdict
The pool cleaner works well and removes all the debris at the bottom of the pool. It is efficient since it will save you time and money. Due to its small size, this unit works well for smaller pools and is only suited to fiberglass and vinyl. Nonetheless, it is not a great option for large and concrete pools.
Who is this product for?
The Polaris 165 pool cleaner is designed for property owners who want to get rid of built up debris on unreachable surfaces in their in-ground pools. It is a great value for money if you want the efficiency and convenience of a pool cleaner to reduce the overall maintenance time of your in-ground pool.
This pool cleaner uses pressure to sweep off debris that could not be removed manually with ease. It is a high-quality machine that will do a decent job of cleaning your pool. If you spend the whole day cleaning the pool manually and still leave some debris on the ground, this product suits your needs. 
Key Features and Benefits of the Product
Here are key features and benefits of the product:
Jet Sweep Assembly: The jet sweep assembly is perfectly enabled to blow water with pressure to loosen the debris. It touches the surfaces that are hard to reach and sweeps the debris into the filter bag.
Unique Filter Bag: The design of the filter bag enables it to remove the debris before it reaches the pump basket. Thus, it saves the filtration system from quick wear and tear.
36 Feet Hose: This pool cleaner is designed with a 36-feet hose that is long enough to reach the hard areas of the pool. However, a downside of the hose is that it easily tangles and tips over. It is also too stiff, and this can prevent better maneuverability of the cleaner.
Easy Installation: The product comes with a manual that has easy instructions on how to fix the pool cleaner. Even for a first-timer, 5 minutes are enough, and after this, the machine is ready to work.
Value for Price: Considering the perfect work that the machine performs, the price is considerable. You will have value for your money.
Customer Reviews
Polaris 165 pool cleaner reviews are plenty, with most customers indicating that the item served them well. However, some customers were quick to note that they experienced glitches, especially with the hose, which they described as too small. Here are some of the reviews.
"So, I purchased another Polaris. It was the best decision. Works so easily. Moves to every corner of the pool and use the return water. If you insert the hose properly, it won't entangle. I love it. And the price is reasonable".
"I have been operating Polaris 165 for a week, and I have not encountered any problems."
"I don't know the machine flipped over last night. It entangled and lay on top of the coiled hose upside down. The jet spewed water from the pool. I only operate it when I can watch over it."
"Love this product. It makes your pool hassle-free."
"Stays in the same position and goes in circles."
"The pool cleaner only rotates backward and not forward."
Alternatives
Like the Polaris 165 pool cleaner, the Pentair 360228 Kreepy Krauly Racer Pressure-Side In-ground Pool Cleaner is designed to remove debris from inside the pool. However, it is a great alternative because it has 30% faster cleaning pressure and thus offers more efficiency. Its rotating side brushes scrub the surface to ensure effective cleaning.
Also, it captures more debris of large sizes and has LED lights that illuminate during the night.  While Pentair cleans faster and can be used at night, the chassis breaks easily, and you need to repair it regularly. 
Polaris 165 Pool Cleaner FAQ
Where can I buy the Polaris 165 poll cleaner? The product is available in many local distributors and is reasonably priced at Amazon store. It can be delivered locally within 7 days or shipped for international buyers. Usually, it will take a maximum of 3 weeks.
How long should I run my Polaris pool cleaner? On average, your Polaris pool cleaner should take 3 hours to clean an in-ground pool. However, this will depend on the amount of debris in your pool. Also, ensure that it doesn't run for an extended period as this can wear it off.
Can I use my Polaris pool cleaner to clean concrete surfaces? No, the Polaris 165 pressure vacuum is not powerful enough to get rid of dirt on concrete surfaces. It can only be used for vinyl and fiberglass surfaces.
Read more: Polaris 165 Pool Cleaner – We Review The Pool Cleaner That Everyone Is Talking About!
2.  Polaris 360 In Ground Pressure Side Swimming Pool Cleaner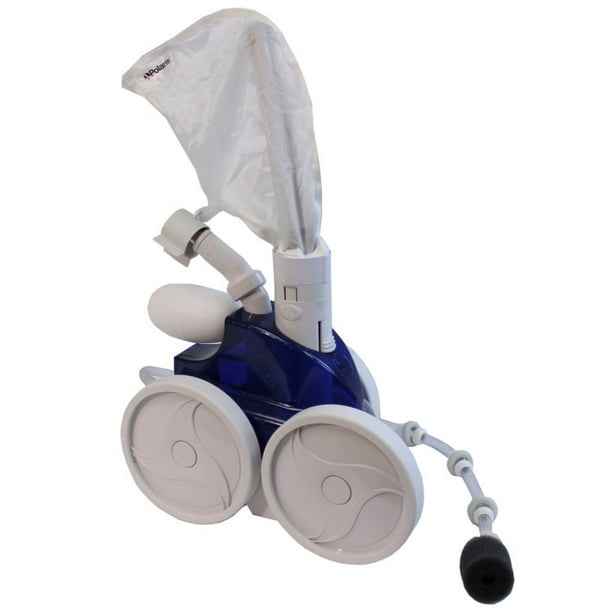 The Polaris 360 is the updated version of the Polaris 280 model. It's basically a pressure side pool cleaner that uses three jet nozzles and can even operate without the need for a booster pump.
It's manufactured by the Zodiac company which is known for manufacturing high-quality products in the swimming pool industry.
Key Features:
Large bottom opening
Advanced cleaning technology
No booster pump necessary
Three jet nozzles
The Pros of This Polaris Vac-Sweep 360
Easy to maintain
Can function even with no booster pump
Comes with three jet nozzles
Belt driven mechanism
Cons of The Polaris Pool Cleaner
Quite expensive
The replacement parts can be a bit expensive
Not ideal for large pools
Verdict
The Polaris Vac-Sweep 360 uses a combination of the belt-driven mechanism and three jet nozzles for quick and efficient cleaning. Moreover, it doesn't require a booster pump and instead operates on your system's ambient pressure, thereby allowing you to save cash in the long run.
Who the Polaris 360 is For
The Polaris 360 is perfect for those who want to clean their pools with a cleaner that doesn't run on a booster pump. Moreover, due to its really affordable price, it allows everyone to save more money while keeping their pool cleaned and well-maintained without the need to invest in high-end and more expensive cleaners.
Compared to other pool cleaners on the market, the Polaris 360 is durable enough to scrub even the dirtiest pool floors, making it possibly the best pool cleaner on a budget.
Key Features of the Polaris 360
No booster pump operation: One of the best things about a pressure side cleaner is that it only uses water that the pump is pumping, thereby placing less strain on your pool pump. However, it means that you will need a booster pump just to create the proper pressure needed by your cleaner. However, the Polaris 360 eliminates the need for that. It can operate even without a booster pump and instead uses the water which is pumped by your pool circulation system. As a result, you can enjoy a far more efficient operation at a relatively lower upfront investment.
Three jet nozzles: Compared to other pressure pool cleaners, the Polaris 360 comes with three jet nozzles for faster and more efficient cleaning.
Belt driven mechanism: Another notable feature of the Polaris 360 is that it uses a belt-driven mechanism as opposed to a shaft-driven one common in most pressure pool cleaners. This means that it contains less moving parts which translate to fewer parts wearing out. As a result, you can benefit from less downtime since the maintenance and repair requirements don't happen that often. Moreover, it's a lot easier and less expensive to repair a worn belt than it is with a shaft drive.
Customer Reviews
"After using for about 15 years, my old Polaris 280 cleaner finally gave up. That was when I decided to buy the 360 as a replacement. After installing it and having it run for about an hour, I found that it's quite efficient in cleaning as opposed to my old 280. It's definitely worth it!"
"It's certainly not the best cleaners in the market, but for me, it works perfectly, is fairly priced, and quite easy to set up. Overall, I think it's worth the price considering how efficient it's capable of cleaning my pool."
"Bought the unit last week. When I connected it to my pool system, I found out that the wheels aren't moving properly. One of the wheels also fell off after very light use. It could have worked perfectly if not for that."
FAQs
Does it come with a warranty?  The Polaris 360 has a standard ten-year warranty for its frame while only a one-year warranty for the other parts.
How much does it cost?  The Polaris 360 is sold at Amazon for approximately $599 with FREE shipping if you're from the US.
What makes it different from the Polaris 380?  The Polaris 360 is generally a cheaper version of the Polaris 380. Compared to the 380, it doesn't require a booster pump to operate which makes it a more affordable option.
Polaris Vac Sweep 360 Pressure Side Pool Cleaner review
3.  Pentair Kreepy Krauly Legend Pressure-Side Pool Cleaner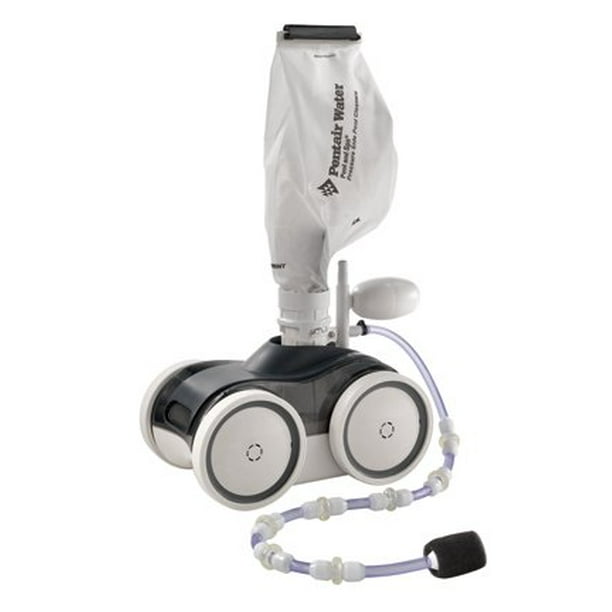 The Legend cleans your in-ground pool with an energy-efficient booster pump at a value price. The Legend Series innovative design hallmarks are its hydrodynamic body and treaded wheels which give excellent traction and stability in any in-ground pool. Its powerful vacuum is designed to easily remove large debris, such as twigs and pebbles.
Highlighted Features:
Hydrodynamic chassis, treaded tires, and front-wheel-drive allow for maximum traction even on inclined surfaces promoting better pool coverage
Its 4-wheel design is more stable than 3-wheel cleaners, allowing for a more unattended and uninterrupted performance
Handles large debris efficiently with its huge intake throat plus high-capacity bag
Available in white or gray housings
30′ hose
Pool Type: In-Ground
The Pros:
Good at cleaning up debris such as palm tree seeds
The Cons:
Requires some adjustment before it performs well
It's backup valve is not always effective in getting out of a step or corner
Installing a Kreepy Krauly Legend Pressure Side Pool Cleaner
4.

Polaris Vac-Sweep 280 Pressure-Side In-Ground Swimming Pool Cleaner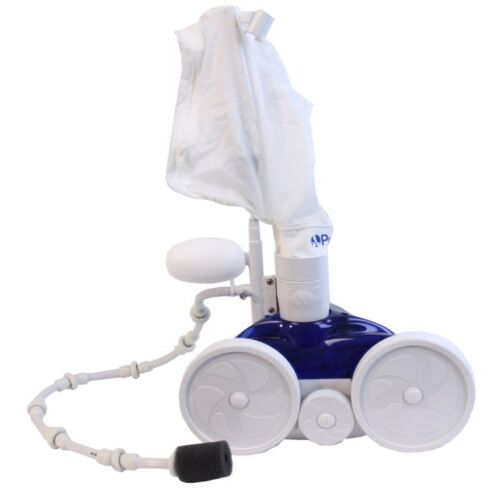 The Vac-Sweep 280 is another cleaner from Polaris for your in-ground pool. It's a cleaner that is pressure-side, but unlike the Vac-Sweep 360, this model does require a separate Polaris booster pump. With an iconic 3-wheel drive, the 280 sweeps, scrubs, and suctions the surfaces of your in-ground pool. Connects readily to a 1.5" dedicated pressure cleaner line and comes with 31 feet of feed hose.
Highlighted Features:
Automatically sweeps, scrubs, and suctions the floor and wall surfaces of your in-ground pool
Cleans pool within 3 hours
Operates on its own booster pump (Polaris booster pump is required and is sold separately)
Connects readily to an available 1.5" pressure line
Comes with 31'feed hose
Pool Type: In-Ground
The Pros:
The Cons:
Experiences difficulty in navigating square corners
Doesn't stay at the pool bottom very well
The tube material reacts with pool water content
5.  Hayward TVP500C TriVac Pressure Cleaner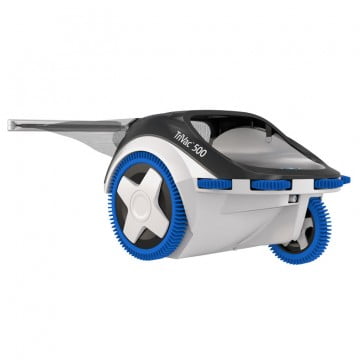 The TriVac 500 Pressure Cleaner operates with a booster pump and is equipped with its patented Aqua Drive Technology, which allows its low-friction wheels to gently traverse the area of your pool as its wide vacuum inlet suctions up dirt and debris. Its advanced sweep hose helps to navigate corners and crevices, while a unique short back-up sequence keeps it on track more efficiently. It features a large debris bag and unique float, keeping maintenance worry-free.
Highlighted Features:
Patented Aqua Drive System with passive low-friction wheel drive allows for excellent coverage
Its unique Backup system allows for quicker turns when it encounters obstacles
Extra-large Bag and makes for quicker maintenance and debris disposal
Large vacuum inlet and 3 high-pressure water jets suction large debris
Wide vacuum nozzle and powerful sweep hose for faster cleaning of almost all areas of the pool floor, coves, and wall
The Pros:
Quiet operation
Easy to install
The Cons:
Tends to break down relatively quickly
Difficult return policy
Hayward TriVac™ 500 Pressure Side Cleaner Reviews
6.  Zodiac Polaris 6-130-00T Turbo Turtle Pool Cleaner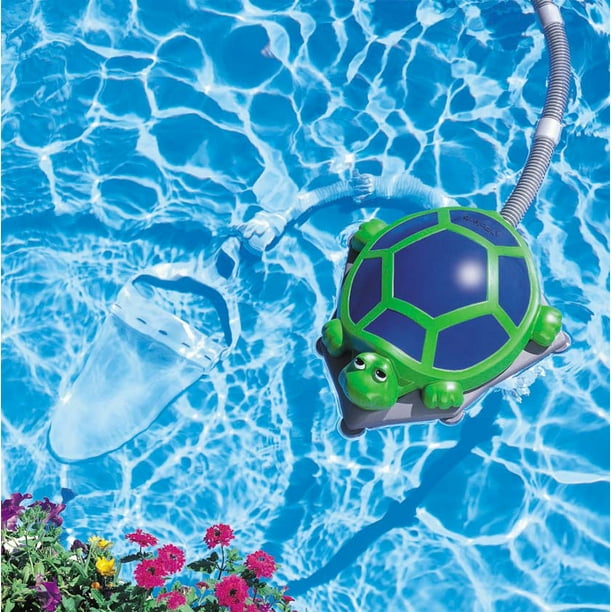 If you have an above ground pool, then let this eye-catching pressure side pool cleaner do the job for you. In a short period of time, you will have a dirt-free pool water.
Thanks to its Jet sweep feature, it explicitly removes the clinging grime that smears the walls and floors of your pool and deposits the dirt to its very own filter bag that can easily be attached and removed. The pressure from the clean water powers up this pool cleaner.
Highlighted Features:
Jet sweep assembly for easy cleaning
Gets you pool cleaned in 3 hours
Decorative and useful at the same time
Can easily clean up to 5-feet deep pools
Gets all the dirt from the bottom of the pool
Conclusion
The following products that we have enlisted above have their own perfect feature that meets every specific need that a pressure poolside cleaner should possess. Despite each cleaner's strengths and special features, in the end, the Zodiac Polaris F5B Vac-Sweep 280 Pressure Side Pool Cleaner- Black Max is chosen as the top product.
It is the most economical among the rest because this type of poolside cleaner is the only one who can turn the dark-colored pool into clearer, cleaner water. Compared to the rest of the poolside cleaners, this is the toughest. The more longer-lasting it is, the better.
Of course, we go for the long-term use of the product. Since it is undoubtedly durable, there will be less hassle when it comes to the lifespan of your pool filter because this pressure cleaner does most of the toughest jobs and does it well.
In addition, cleaning time will be shorter than usual. This enables you to save up on energy consumption. That's a cost-cutting that you could benefit from. It also has a heavy-duty mesh bag that tags along with it as it does its job. This makes its cleaning process more accurate, as it catches the residue along the way.
Not all of these pool cleaners have the special patent jet sweeping assembly that works like magic. It effectively scrapes the dirt that sticks to the walls and all the surfaces. This works best on uneven surfaces, too. Without leaving dark skid marks and without spraying water from the pool, it is no wonder why this is a crowd favorite. Plus the fact that it goes with a long 31-feet hose is very helpful.
We hope you find this article helpful. If you have questions about our top pick, leave us a comment below and we'll answer them the soonest time possible.
Thanks for dropping by, and happy pool cleaning! 🙂