As spring is almost over, the season for summer is about to arrive. The hot weather will definitely set ablaze in the city and around town, and when this event occurs, the demand for swimming will go higher for this weather. One of the most exciting activities that await this season is swimming, which greatly increases the interest of the people during this time. Moreover, the intense heat that follows can be a factor for its high demand.
Besides summer being one of the top reasons, you sometimes want to relieve your stress after a long day at work and do something that eases your sore muscles without having to prepare so much. There are also budget constraints which make you hesitant in making investments even for the sake of your relaxation. With that being said, these problems and worries will eventually pass thanks to the existence of "Swim Spa".
Hence, in the succeeding sections, you will learn more about the best swim spa for home use, as well as its best quality features. Read on!
What is a Swim Spa?
Swim Spa is a machine that follows a counter-current flow of the water. This helps you swim with continuity without ever bumping walls or overlapping to the other side like what usually happens in a pool. It is also an acrylic-structured oasis that is flexible for any mood or event that you are feeling– whether it is a family swim, entertainment, fitness, or relaxation. Not only can you have this technology just for summer, but it can adjust to any weather as well. What's even incredible is that it can be used throughout the whole year across different seasons. Another best part about it is that you can get an inflatable one, which lets you have a joyous above ground pool experience. Its buildable design caters to your needs and what your ideal splashes will be.
Top 5 Best Swim Spa Reviews
To learn more about this machine and its features, here are some of the best swim spa products that you should check out:
1.  Canadian Spa Company St. Lawrence 138 Inches Jet
This Canadian Spa Company Jet Swim Spa is one worth buying. It is made from durable materials and its jets are made from stainless steel. With its amazing features, you can both enjoy swimming and soaking in a hot tub with this swim spa.
To top it all, many users also said that it can retain heat well and that the hydrotherapy effect of this tub is excellent and indeed relaxing. What's more is that you can enjoy some music and be even more relaxed with its lighting mode.
Highlighted Features:
Can fit in a total of 12 people inside (sitting position)
Durable and efficient
Gives you a satisfying hydrotherapy massage
With backlit waterfall effect
Has its own sanitation and filtration system
Equipped with Bluetooth audio and LED lighting
Can be used for both indoors and outdoors
Comes with a marine-grade cover made from vinyl
Has infrared line insulation
2. Canadian Spa Company St. Lawrence 181 Inches Jet Swim Spa
This is another Swim spa tub from the Canadian Spa Company. In fact, this too is a St Lawrence Swim Spa but has a slightly bigger space at 181 inches. This can accommodate 15 people in total.
It is basically the same model with the 138-inches swim spa tub, but because it is slightly larger, then its pump and generator are also a bit more powerful.
It has a total of 4 pumps, 3 pumps at 5HP and 1 pump that runs at 4HP.  This is also equipped with really good features to ensure you will have the best hot tub experience.
Highlighted Features:
Can sit in 15 people inside
Has LED lighting, backlit waterfall, and aroma therapy cannister
Also comes with marine-grade vinyl cover
The tub is also well insulated so that it can retain heat much better
With Bluetooth audio
Made from premium acrylic material
Has superior filtration system that cleanses the tub's water
3.  St. Lawrence 218 Inches Jet
Let's say you want to invite friends over for a good overnight soak in the tub, then a bigger swim spa is what you need. Just like the best permanent above ground pool, this 17-person swim spa tub by Canadian Spa Company is a good investment for people who love to have friends over.
The excellent and relaxing features of this swim spa and tub will surely make your guests have a great time. It has all the relaxation features that you would need in a swim spa and hot tub. Moreover, it has great lighting and audio feature so that you can listen to music while having a great time.
Highlighted Features:
The best swim spa for big families
Designed for relaxation and entertainment all in one
Has a relaxing LED lighting
Equipped with 5 pumps at 5HP
Has multilevel seating
Comes with a marine-grade cover made from vinyl
Well insulated to trap heat inside a lot better
Has its own filtration system and ozonator
4.  St. Lawrence 13 ft. Swim Spa by Canadian Spa Company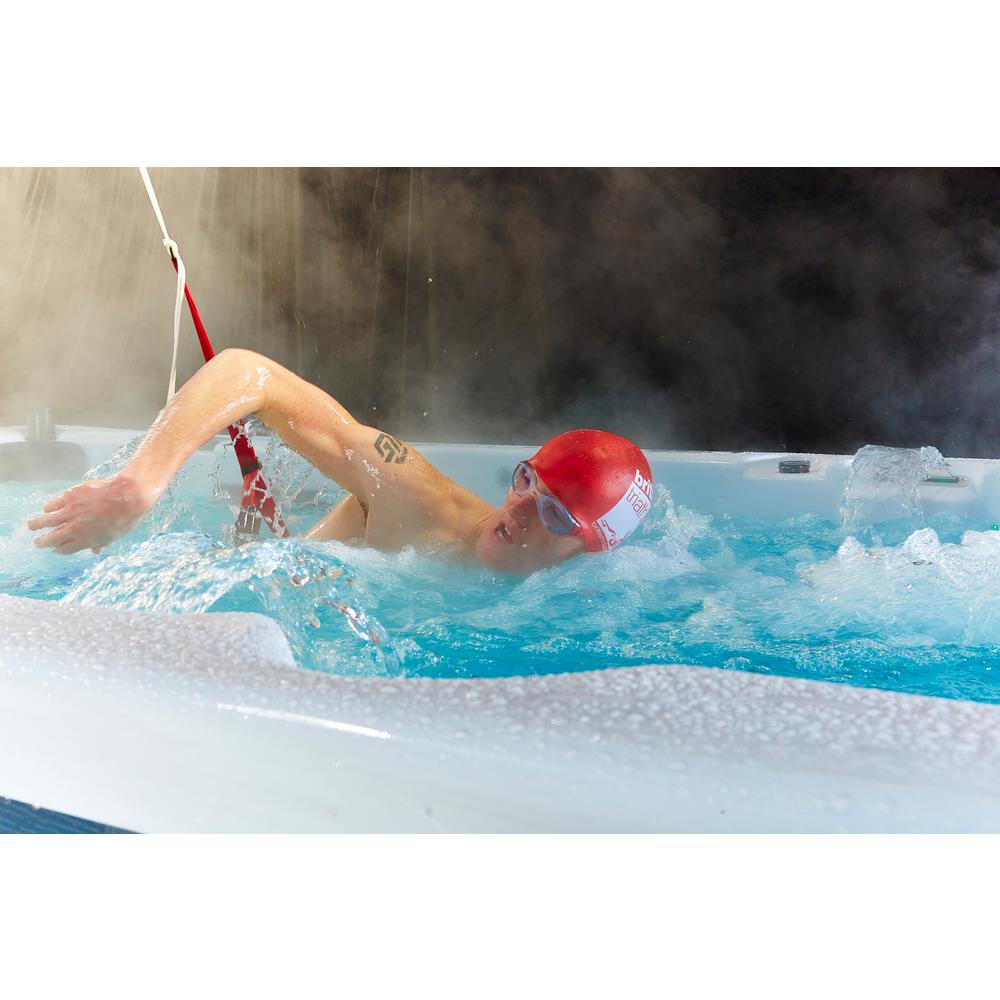 Ever heard of water aerobics? It's a type of electric water exercise in a shallow water. Now, if you want to experience the benefits of a swimming pool and a water aerobics system, then this is the best product for you.
Highlighted Features:
This is a swim spa that is perfect for swimming and aerobics.
You can do a wide range of exercises like jogging against the water current and resistance exercises.
You can also adjust its waterflow and set it to the current that you find most comfortable.
Feel relaxed after having a soothing massage in one of its multi-jet Captain's chairs.
This also has a purification system and a Microban filtration.
And the most special feature it offers? It has a complete entertainment set-up. You can listen to music using the audio system and speakers.
5.  St Lawrence (By Canadian Spa Company)
This product is described as "a swimmer's delight!" that helps swimmers train their skills. The jets can be customizable to any swimmers' swim pattern that can keep you centered in the lane. With this product, you can swim to your heart's desire, as well as have fun with your family and friends in a spacious pool much to their delight and yours.
Highlighted Features:
The "Swim Lane System" is customizable and can adjust to any swimmer.
Their multiple jets are a great accessory for relaxation and training uses.
The size is big enough for kids, teens, and adults.
The multi-layer fiberglass construction has high-density foam insulation in the structure.
It has an efficient heating thermostat to help with the levels of the water.
This product is definitely portable and adjustable to any area.
Why is Swim Spa Better Than a Pool?
After reading the three swim spa reviews and the product's specifications, you are probably wondering "Why is a Swim Spa Better than a Pool?" In this section, we've curated 5 points to present the advantages of swim spa over having just a simple pool. Check out the list below:
Price
In terms of price range, you might think that it'll cost a lot because of the technology behind it and the installation process of the swim spa. However, that is not the case. In fact, the average cost of a swim spa is less than building a pool. People might have thought that this product is only limited to people who are rich, but an average family can also have this kind of set-up in their home because a lot of companies offer quality products at a reasonable price.
If ever you really low on budget, you can always go for the inflatable and portable one. They are not as high-performing as the top branded ones, but they surely give your money's worth.
Installation
In setting it up, a pool may need a bit more space in your backyard; this is a kind of turn off for people who have limited space in their property. Also, one of the problems that most people encounter with a swimming pool is the location. Some think at first that a certain area is a perfect spot for building a swimming pool, but once it is built and completed, problems start to arise and your purchases will be undone and wasted. The swim spa, on the other hand, is highly portable. You can relocate anytime without so much fuss, and you don't have to worry about space. You can get one that is both portable and inflatable- how amazing is that?
Maintenance
Also, the maintenance of the swim spa is less costly. This is because it doesn't require intensive maintenance, and it is pretty durable. Moreover, there is no threat of having too much chlorine, unlike the pool which regularly loaded with chlorine for cleaning. This is because unlike the average swimming pool, algae growth is not much of a problem for swim spa owners.
Safety
Safety is a vital thing to consider, especially for the kids and pets that will accidentally fall in the pool. An average swimming pool doesn't have any pool cover included. This will pose a threat to young kids, as well as an added cost for you if ever you decided to buy one. On the other hand, the swim spa has a safety cover already included in the installation of the product.
Flexible and Adaptable
Lastly, perhaps the most coveted feature of swim spa is that it is very flexible and adaptable to temperature. You can use it both in cold and hot weather. You may set the temperature from cold to warm to hot. Furthermore, you can set the swim spa and hot tub end at different temperature level. This is because a swim spa can also let you experience the best hot tubs experience.
FAQ
Can you really swim in a swim spa?
Yes, you can swim inside the swim spa so that you can work out that muscles. It may look a bit more like a hot tub, but it also has some of the functions of a swimming pool.
For instance, it has enough space for you to spread both your arms and legs.  Swim spa is actually bigger than a hot tub yet smaller than the traditional swimming pool.
The only difference is that you should avoid turning and pushing your feet on the swim spa's sides as it can damage the tub.
What are some major differences between Swim Spas and Hot Tubs?
One major difference is the size. As mentioned, the swim spa is a lot bigger although it resembles the look and some features of the hot tub.
A hot tub's main function is to provide a space where you can sit, relax, and have a good soak in which water massages your aching muscles. In a hot tub though, it is impossible to swim as the space is limited.
The swim spa, on the other hand, is much bigger. Thus, you can freely swim inside. There are also jets situated in various part of the tub. However, one side of the swim spa is where most hot tub functions are found.
Can you use a swim spa in the winter?
Definitely! In fact, swim spas are the perfect swimming pool alternative during winter. It is a hybrid spa that has the best of both worlds.
Since it has the heating and hydrotherapy functions of the hot tub, many people actually love using swim spa in winter months.
Why Buy a Swim Spa?
There are many reasons why a swim spa is a great investment. If you think about it, most people who buy this product only want what's best from a swimming pool and a hot tub.
Firstly, a swim spa is a versatile one where you can relax and soak in warm water. On the other hand, you can just turn off the hot tub setting and enjoy a good swimming session at the other side.
Secondly, it offers both health benefits you can get from both swimming pool and hot tub. If your muscles are tired and aching, then the hot tub setting can help you soothe those tensions away. Meanwhile, the swimming side of the best swim spa allows you to exercise your stiff muscles.
Can You Exercise in a Swim Spa?
Most above ground pools are used for relaxation but the best swim spa can do so much more. You can also exercise in a swim spa as the gentle massages and the warm water help your body relaxed. Swimming in the tub while the warm and gentle water massage can help you destress for the day.
Remember, swimming itself is already an exercise.
Final Thoughts
In conclusion, a swim spa is affordable and can have a wide range of advantages for you. You just have to find the best product that suits your needs. With these three recommendations, you will surely get the best swim spa and hot tub experience all in one amazing product. Why choose between having a pool and a jacuzzi hot tub, when you can have the best of both worlds, right? The swim spa is a flexible technology that can cater to your needs depending on what you want to do within the day. You can do a lot of relaxing stuff with this great product if ever you want a hassle-free break from the stress of work.
So, go ahead and get the best swim spa of your own and enjoy a good swim any time of the day!