EAGO is a brand that's very well-known for providing some of the best and most innovative bathroom appliances. It's no surprise that you'll find some of the best bathtubs from this brand.
If you're interested in buying a good EAGO bathtub, check out our top picks for the best EAGO bathtubs in the market.
7 Best EAGO Bathtub Reviews 
1.  EAGO AM1900 Free Standing Air Bubble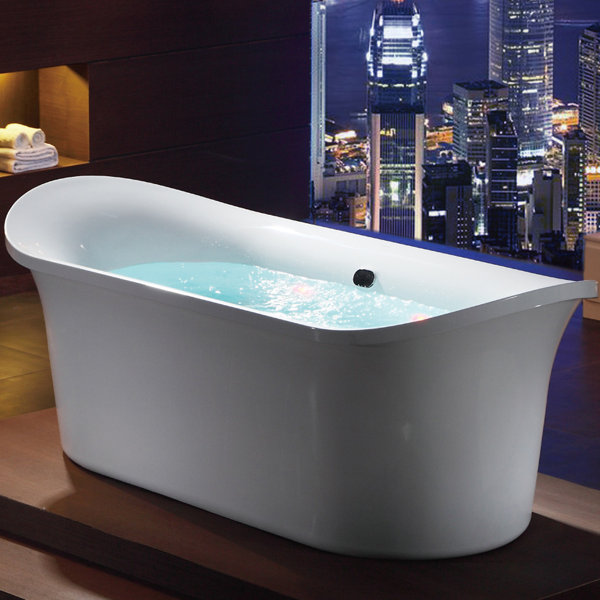 If you're into gentle and relaxing bubble baths, then this is the best EAGO tub for you. The beauty of this free-standing air bubble tub is that it comes with a blower motor that makes gentle bubbles come out and into the bath water.
Unlike most other tubs, this one doesn't force water into the tub with hydro jets. It'll really give you a nice and gentle bubble bath that you can fully enjoy with a glass of red wine on the side.
Comes with an overflow drain and waste drain assembly
Blower motor that can release gentle bubbles
Made out of durable fiberglass material
Beautiful and elegant design
Comes with a chromatherapy feature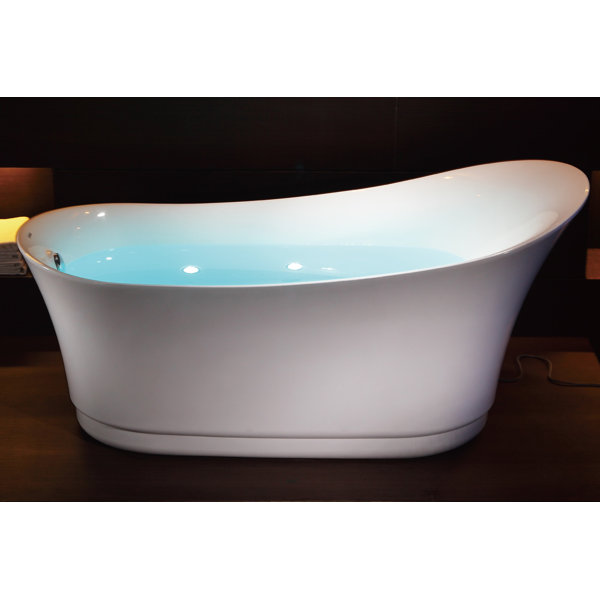 This is a rather well-rounded air bathtub that allows you to fully experience a relaxing and luxurious time soaking up in a nice bubble bath. You'll especially love the features that this wonderful tub has to offer.
First, it comes with a blower motor that can release soft bubbles into the water. Other than that, it also includes a chromotherapy feature that comes with LED lights of various colors. The lights provide the whole relaxing atmosphere. It also has a touch control panel on the surface of the tub for easy use and control.
Blower motor included
Comes with overflow drain
Chromotherapy feature with various LED color lights
Has a concealed touch control panel
Made of slick acrylic material
3.  EAGO AM175-L Acrylic Corner Tub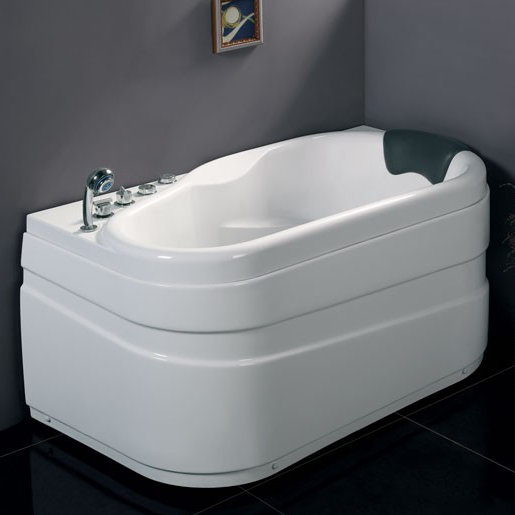 Although this bathtub has a very robust built, it can still save a lot of space because it is designed to fit in the corner. It is a subtle yet elegant bathtub that adds a touch of sophistication to your bathroom.
Other than its aesthetic, you'll also love the power of its pump and hydro jets. To add to the overall shower experience, it also comes with a hand shower on the side that you can use to fully rinse off the soap from your body. This bathtub definitely has a beautiful combination of both aesthetic appeal and also functionality.
Comes with a powerful pump and a set of hydro jets
Has a hand shower included in the side used for rinsing
Includes an overflow drain and drain assembly
Comes with a faucet and tap
Compact design
4.  EAGO AM161-R Single Person Tub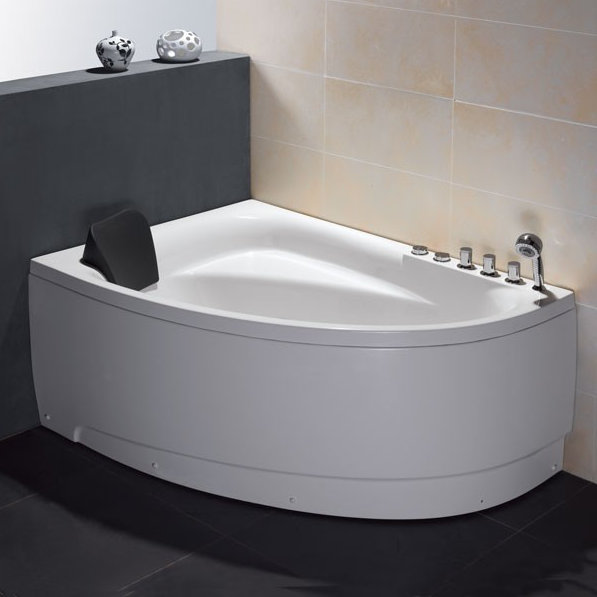 What this tub has is 7 side jets all with strong power to provide you with the best hydrotherapy experience you can ever find. Aside from the 7 side jets, another noteworthy feature that you'll appreciate is the drainable systems. This EAGO hot tub's drain system is patented and very unique. It ensures that there is no water left in the pipes once you finish the draining the tub.
There is also a backflow preventer located in the shower head and the jets to make sure that the water flows smoothly.
Comes with 7 powerful side jets
Powerful pump and handshower
Compact design
Patented drainable system
Beautiful acrylic material used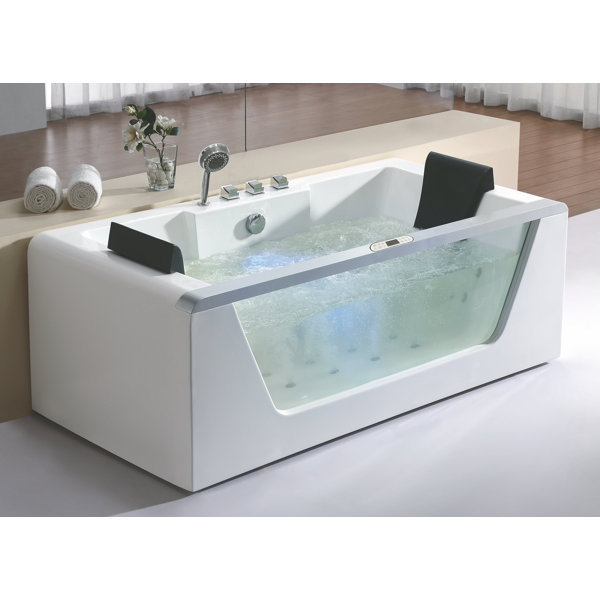 This beautifully designed rectangular whirlpool bathtub is made of some of the strongest material that allows it to have a very long shelf life. To be a little more specific, it is made out of a trademarked steel-reinforced MaxLoad acrylic material.
Not only is it very resilient to wear and tear but it's also extra glossy making it have a shiny look to it. It's also very smooth making it much easier to clean since the dirt or the bacteria usually just slide off.
If you're looking for a tub that's made with the best material, we highly recommend that you get this one. By far, it's one of the strongest tubs out of all the choices on our list of EAGO Bathtub Reviews.
Beautiful design
Extra glossy and easy to clean
MaxLoad acrylic material
Bacteria and dirt proof surface
Freestanding style
This is another rectangular freestanding tub that we know you'd love to take a gander at. Although this rectangular freestanding tub has a more minimalist design as compared to the previously mentioned one, this one's a little more high-tech.
It has a front panel on the side that can be used to control the fixtures and features. You can even control the jets that fill up the water in the tub. It's also made out of the same MaxLoad acrylic material as the AM196ETL model so you can expect it to also be very sturdy and long lasting.
Comes with faucet and tap
MaxLoad acrylic material
Powerful jet
Easy-to-use control panel
Contemporary, minimalist design
7.  EAGO AM199ETL Corner Tub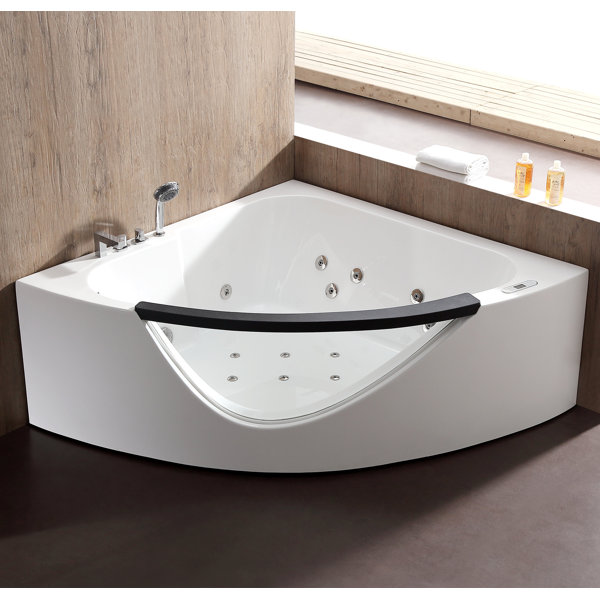 Last on the list is the EAGO AM199ETL corner tub. What you'll really love about this tub is that it prevents build-up of various unwanted components such as mold, bacteria, and even odor. You will also find that it's not hard to clean because of the glossy material the tub is made out of.
Also, it has an inline heater along with a whirlpool jet that allows you to completely monitor the temperature. There are also 4 levels of pressure that you can choose from for a completely customizable bath.
Made of trademarked MaxLoad acrylic material
Extra glossy and easy to clean
Has an inline heater
4 levels of pressure to choose from
Prevents mold and odor
Auto shut down feature
Conclusion
These are some of the best EAGO tubs that you can consider buying. If you were to ask us which one is the best out of the 7 choices, we'd stick with the EAGO AM199ETL Corner Tub.
That's because this one has every feature that you'd need. It is made of the trademarked MaxLoad material making have a long shelf life, an inline heater, customizable pressure levels, mold and odor prevention, and an auto protection feature for the pump.
It's an all-around tub that can give you the full experience.