Everybody deserves a relaxing bathing experience. Let's be honest. Going to a spa for a body massage can be quite costly. It can also be quite inconvenient, especially if it's located away from your home. However, bathtubs these days offer features that can provide you with a personal satisfaction in your own home.
Taking a bath in a bathtub is more than just feeling refreshed afterward. Soaking yourself in warm water can also help induce sleep. Besides, when combined with the air and water jet system, it can also help relieve swelling and pain which is ideal for those who are feeling tired after a hard day's work.
Not only that, but it also promotes better circulation, lowers blood pressure, and increases heart rate. There are also brands that are specifically intended for the handicapped and the elderly.
However, with tons of brands out there claiming that they have the best whirlpool tubs, it can be confusing and daunting to buy one. In this review, we will highlight some of the best Access tubs to help you make an informed decision. 
Why Choose Access Tubs?
Before starting with our Access Tubs review, let's first discuss the reasons why you should choose Access Tubs. Access Tubs are known for their stylish and easy to access bathtubs. They offer tubs that let you go in and out with ease, which greatly reduces the risk of slipping and falling.
Each of their tubs also undergoes operational and safety tests, ensuring the quality of each product. More than anything else, they offer good customer support and long-lasting durability at an affordable price.
Access Tubs Reviews 
1.  Access Tubs Venetian Dual System Bathtub, Whirlpool & Air Massage Therapy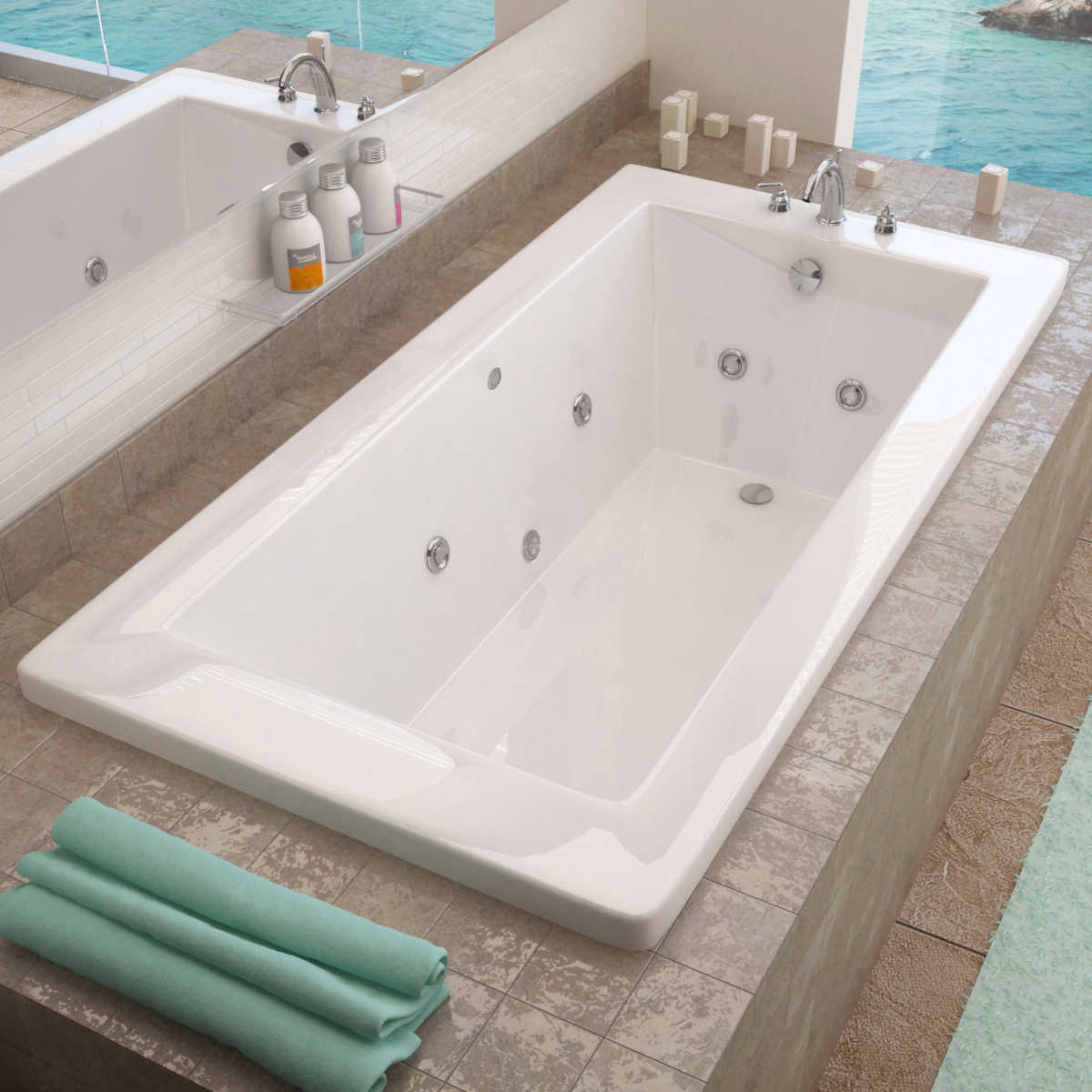 This tub is perfect for aromatherapy bathing. It is available in tub size 36"x60" and 36"x72". Unlike others, it is a drop-in bathtub type with a capacity of 65 gallons. Its jet type is air and water and is designed with 8 jets to enhance your shower experience. This bathtub is a drop-in tub that can accommodate one person.
Highlighted Features
Whirlpool and air systems
Touch Control Pad
LED Lighting system
Aromatherapy bathing
29 jets
Pros of this Access Tubs Venetian Dual System Bathtub
LED lights enhance bathing experience
Designed for 1 person but can accommodate two people
It has strong jets for a better massage effect
Option to choose jets and the air simultaneously or separately
Cons of the Bathtub
Requires a bigger water heater because of its large size
It can be quite slippery
LED lighting only works when the tub has water in it
Access Venetian Dual System Whirlpool Spa Tub Unboxing and Review
2.  Access Tubs Walk-in Jetted Tub
The Access Tubs walk-in jetted tub offers a soak deep, thanks to its 68-gallon capacity. This jetted tub weighs 175 lbs and comes with a seating capacity of 1 person. With this tub, you get to choose what side of the tub you want your drain to be at.  Besides, it empties in a minute, and you can easily enjoy the bathtub with others within a short time.
Besides, this walk-in bathtub is great for seniors. It has a grab bar and all the other necessary items that come together with a tub, making it safe even for the elderly to use. 
Highlighted Features
Capacity: 68-gallon
Weight: 175 lb
Auto drain
Drain location: Left
Inline heater
Seating capacity: 1
Pros of this Access Tubs Walk-in Jetted Tub
The rapid water exit and inline heater works well
Low step for easy in and out
It doesn't take a long time for the tub to be drained
It's quite affordable
The jets work well in providing relief from body pains.
Easy to install
Safety features
Cons of the Walk in Tub
The jets have a short direction range
The pump on button can be pushed accidentally since it is located by the door
You need to turn on your water heater so that the water will remain hot while the tub is being filled up
The jets aren't that strong
3.  Access Tubs Walk-in Air Hydro Jetted Massage Tub
As one of the best walk in tubs, this unit has a height of 38 inches and a width of 32 inches. Its drain is located on the right side of the tub. Considering its size, this one can be a good choice, especially if you have a small bathroom.
It features a low-entry step to make it easy to get in and out of the tub. You can get to enjoy an exceptional bath experience thanks to its air and bubble jet system that comes with 22 jets that are independently controlled. This 53-gallon water capacity unit is a great choice if you are looking for a compact walk-in bathtub.
Highlighted Features
Bathtub type: Walk-in
Capacity: 53 gallon
Number of jets: 22
Air and water jet type
Pros of this Access Tubs Walk-in Air Hydro Jetted Massage Tub
Compact design
Emptied water faster
Easy installation and operation
Easy to clean and maintain
The door opens out
It can fit into the shower stall that you already have in your bathroom
Cons of the Walk in Tub
It takes some time for the tub to be filled with water
The water doesn't come up that high, making it only ideal for shorter people
The dials and knobs aren't labeled
4.  Wheelchair Accessible Slide-in Tub with Air Bubble Massage
According to Access Tubs reviews, this wheelchair slide-in tub is recommended for those with elderly family members. It is designed with a wide door opening for easy accessibility for individuals with disabilities.
It also offers comfort and ease of control. It has a water capacity of 80 gallons and includes a drain. A great feature is that you can make use of its jets to provide you with a good massage, especially on your back and legs.
Highlighted Features
Walk-in type
Capacity: 80 gallon
Drain
Faucet with hand shower
16 jets
Safety grab bars
Pros of this Access Tubs Wheelchair Accessible Slide-in Tub
The floor is slip-resistant
The seat is large and can fit people with a large body frame.
More room since the door is opened outward
It is very simple to operate
Cons of the Walk in Tub
You might need to buy a big water heater to make the best use of it, so that's an added cost.
The controls don't have a label, so you need to read the instructions first before using it.
Conclusion
Of course, there is no perfect product out there. Each has its own outstanding features and aspects that need further improvement. However, it is possible for you to find the most suitable Access Tubs product for you.  Since bathtubs are a great investment, you need to weigh your options well.
Hopefully, with our Access Tubs reviews, you have gained some insights on the best tub for your needs that will give you a spa experience in the comfort of your own home. Nevertheless, one's experience will differ depending on what kind of tub they are using. That is why aside from the price, there are other things that you need to consider when buying one.