Are you looking for the right bathtub for your bathroom? If so, then Bootz bathtub can be your answer. Bootz have been in the industry for more than eight decades. It was founded in 1937 and started its business with fabricating sheet metal for the US Army.
It then started producing bathroom furniture in 1979 until today. With that kind of experience, there's no reason for you to question the quality of their products and services.
In this article, we'll have a look at the reasons why you should buy a Bootz bathtub. We have also compiled the pros and cons of several Bootz products according to Bootz bathtub reviews from real users. 
Why Bootz bathtub?
You should choose Bootz bathtubs due to the company's dedication to their products' quality and their passion for innovation. Like what we have discussed in the introduction, Bootz has been running for more than eight decades. That said, it's impossible for Bootz to stay running for that period if they don't maintain their product quality.
Besides, Bootz always try to make innovations in their products. For example, their new bathtub products are fitted with new features like premium insulation, a deeper and wider bathing area, and a space-saving feature. It simply proves that Bootz listens to what the customers want.
The three innovations above are applied to Bootz's different product lines. The premium insulation is applied on the premium line so that their customers can get a warmer and quieter bathing experience.
Meanwhile, the deeper and wider bathing area is applied on the roomy line for a more spacious bathing experience. Lastly, the space-saving feature is applied on the compact line to fit smaller homes and apartments.
The two reasons above may sound very selling and promotional. So, in the next part, we will provide you with the pros and cons of Bootz bathtub products according to real customers so that you can get more objective comments about Bootz bathtubs. 
Bootz Bathtub Reviews
1.  Bootz Maui NexTile 30 in. x 60 in. x 76.5 in. Standard Fit Alcove Bath and Shower Kit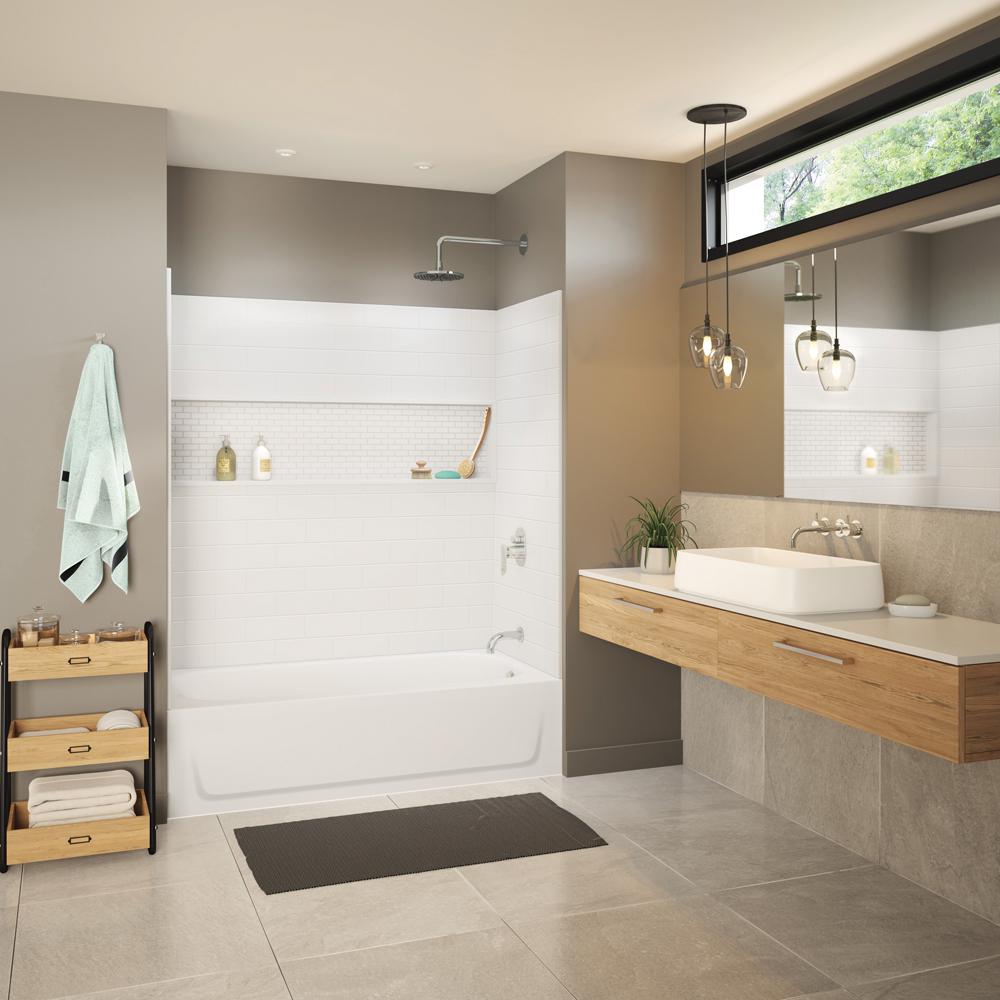 The first Bootz bathtub product we have here is the Bootz Maui NexTile. Bootz claims that Maui NexTile has the deepest bathing area of any bathtub you can find on the market. It has a 35-degree lumbar support and a slip-resistant bottom for a comfy and safe bathing experience.
The material of the Maui Nextile is non-toxic and environmentally friendly. It is claimed to be fade-proof and flame-proof. This means that the color of the material will last for decades and won't burn in case there's a fire in your house.
Moreover, it weighs no more than 85 lbs and is available in both left and right hand choices. Its lightweight design makes it easy to install and the options available allow it to perfectly fit any bathroom setting.
Pros of This Bootz Maui NexTile Alcove Bath and Shower Kit
Good build quality
Its color and material adds a warm and bright tone to your bathroom
Easy to clean with not many nooks and crannies
Easy installation even for inexperienced users
Cons of The Bathtub
The built-in shelf takes up some of the shoulder rooms
2.  Bootz Aloha 60 in. Left Drain Rectangular Alcove Soaking Bathtub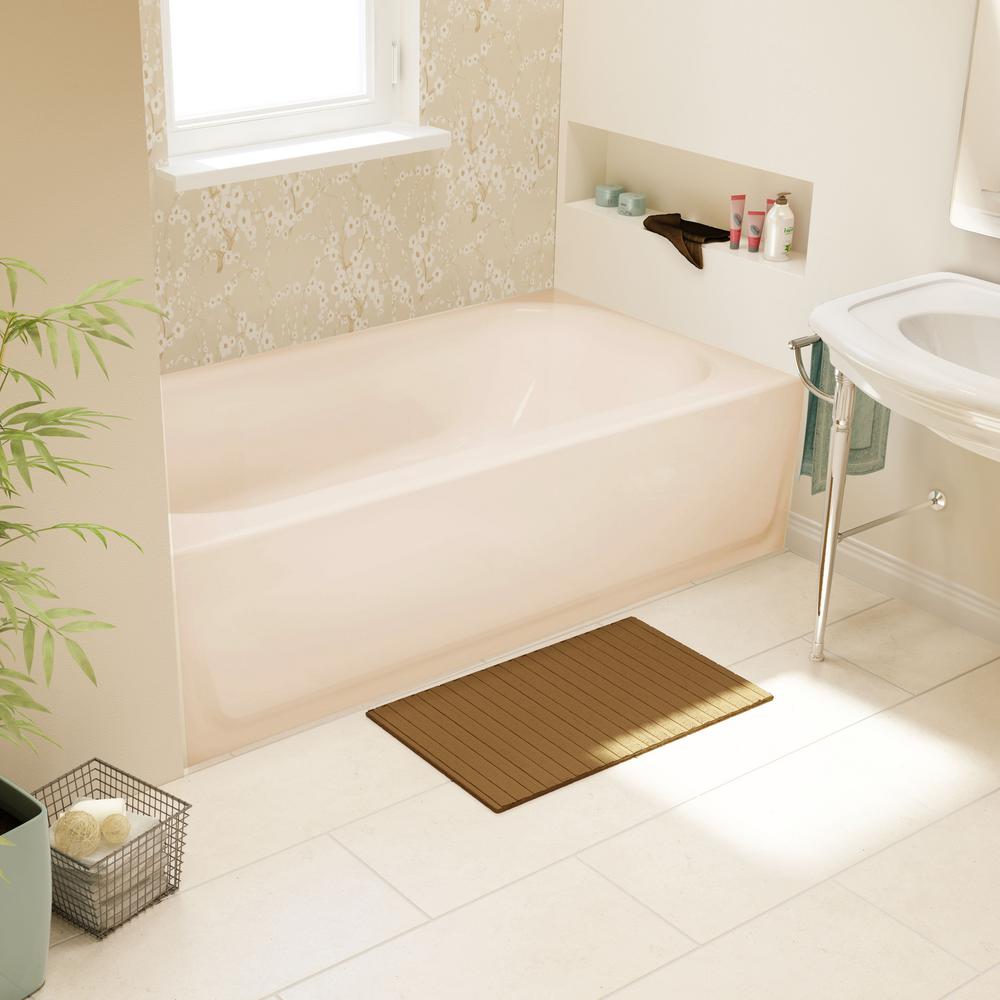 Now, we move to the Aloha bathtub. The Aloha is very spacious with its 32-inches wide design; it's also made with sturdy porcelain material for superior durability. The porcelain is finished with an acid-resistant enamel finish to sustain wear and tear for a longer period.
Underneath the porcelain material, there is steel to reinforce and ensure the strength of the bathtub. The Aloha is also equipped with a full-length slip-resistant surface on the bottom and an attached leveling pad for easy installation. It is lighter than the Maui Nextile with just 70 lbs in weight.
One more thing you should know about the Aloha bathtub is that it has a noise dampening feature. Its timeless design will also make it suitable for different bathroom interior combinations. With its bunch of features, Bootz Aloha is a great value for money product.
Pros of This Bootz Aloha Alcove Soaking Bathtub 
Its light weight makes it very easy to install
The classic design easily matches any bathroom tile pattern
Doesn't take up much space; can fit in a small bathroom
Great bathtub for the price
Cons of The Bathtub
Some users said that the scrub resistant finish wears off after 2 years
3.  Bootz Bootzcast 60 in. Right Drain Rectangular Alcove Soaking Bathtub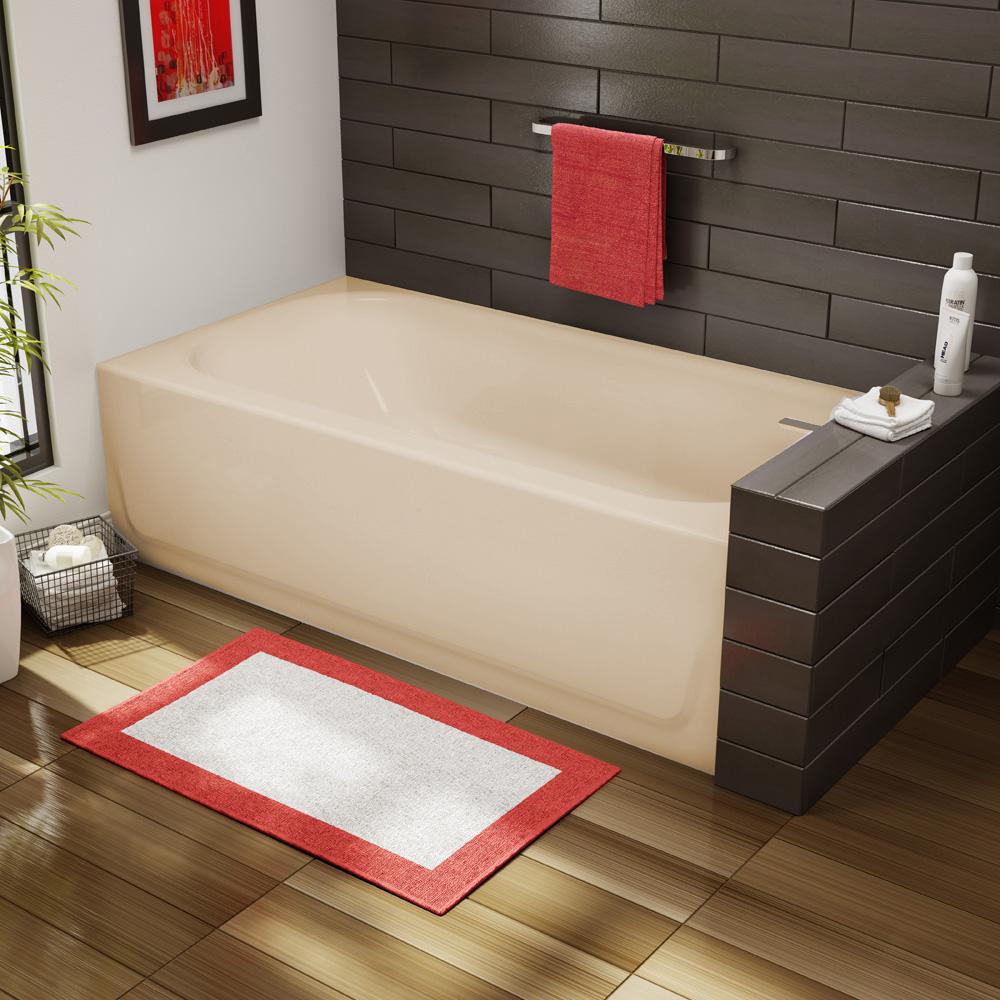 Lastly, we will discuss another best-selling product from Bootz – the Bootzcast bathtub. Just like the Aloha bathtub, Bootzcast is made of a high-quality porcelain material. It is equipped with SYNIRON 2 technology, a specially engineered composite material that can take high heat and impacts, especially during shipment.
If you buy the Bootz Bootzcast bathtub, you will also get the built-in sound dampening feature so you don't have to install it by yourself. This, of course, will be very helpful for DIY installers. The 40-degree lumbar support will also make your bathing experience delightful.
Pros of This Bootzcast Alcove Soaking Bathtub
Super easy installation; in one Bootz bathtub review, a user says that it only took 10 minutes for him to install the bathtub
Easy to get in and get out
Shipment is on schedule
Cons of The Bathtub
The white color option has some pink hue in it; not really noticeable, but it might be better if we give you a heads up
Conclusion
Bootz has many bathtub options for you to choose from. With their decades of experience in the business, you don't need to worry about the quality of their product and services again.
In the explanation above, we have discussed three of Bootz's best bathtubs. We have tried to give you the most objective descriptions of the products by providing their respective pros and cons based on several Bootz bathtub reviews.
You can go to the nearest hardware stores or to Bootz's official website to get the best bathtubs for your taste. Before you pick one, don't forget to get accurate measurements of your bathroom first to make sure it fits.
We hope this article can help you decide if Bootz bathtubs are worth a try.