Aquatica is one of the premier brands of bathtubs that you can find in the market. With its products' luxury design and features, you can definitely enjoy a nice soak after a hard day of work.
If you're not sure which Aquatica bathtub suits your needs the most, then check out our Aquatica Bathtub reviews. By checking out which products stand out among customers, you can choose the best Aquatica tub for you.
Take a look at our top picks below:
7 Aquatica Bathtubs Reviews
For this review, we chose seven of the best Aquatica Bathtubs based on our own experiences and research. We took into consideration other full reviews from other users to narrow down our choices to just these seven Aquatica Bathtub reviews.
We'll be talking about these seven products in detail so that you can understand why we consider them as the best Aquatica bathtubs from the brand. 
1.  Aquatica Purescape Rectangle Freestanding Tub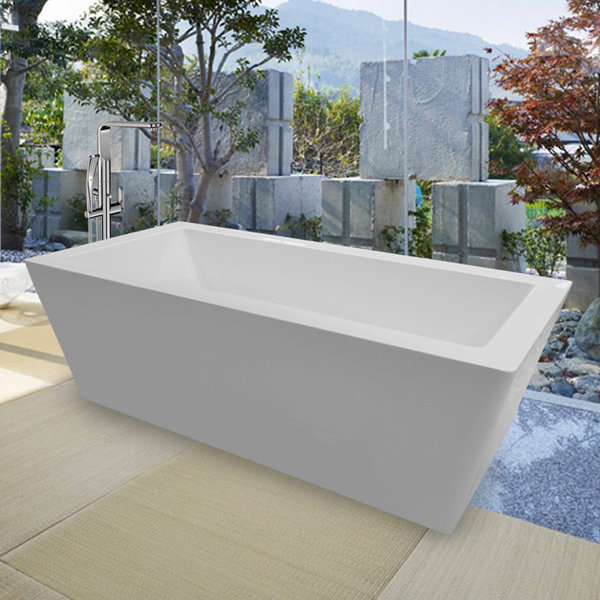 Being a modern-looking tub, the Purescape is designed to look great not only for modern designed bathrooms but also for modern designed swimming pool areas.
If you're into the more contemporary luxury look, then this bathtub will surely make a great addition to the decor. Not only is it pleasing to the eyes, but it's also long lasting. Its beautiful, glossy finish doesn't fade over time and exudes its normal shininess even after constant use.
Best Features:
Beautiful modern design
Inclusive of drain assembly and overflow drain
Long-lasting finish
Glossy and shiny look
Durable acrylic material used
2.  Aquatica Purescape Oval Freestanding Tub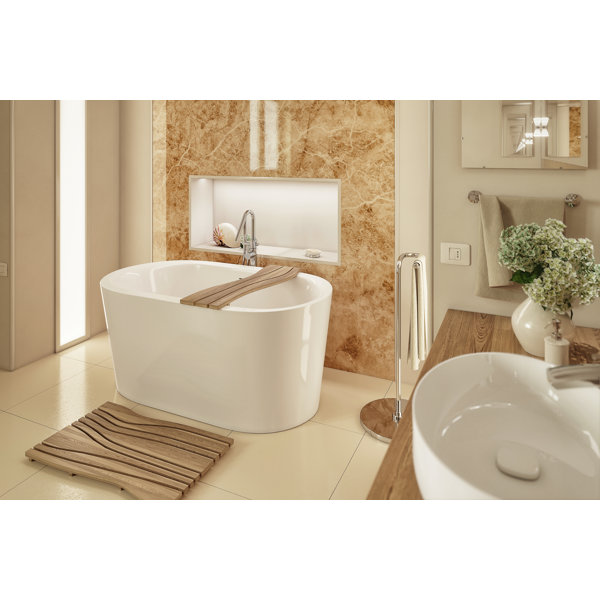 This Aquatica Purescape model is quite similar to the previously mentioned one except for its size and shape. While the previously mentioned rectangle Purescape tub looks gorgeous, many people don't like bathtubs with angled edges as it is not comfortable. The alternative to that is to get a tub that has no edges.
Enter the oval Aquatica Purescape with a structure that's built for comfort. The ideal size, depth, and shape allow you to fully soak yourself in the tub and totally relax while there. While it is smaller in dimension, its built makes it spacious enough to fit two people.
Best Features:
Compact design
Easy cleaning surface
Great heat retention function
Can fit two people comfortably
Glossy finish
3.  Aquatica Sensuality Freestanding Soaking Bathtub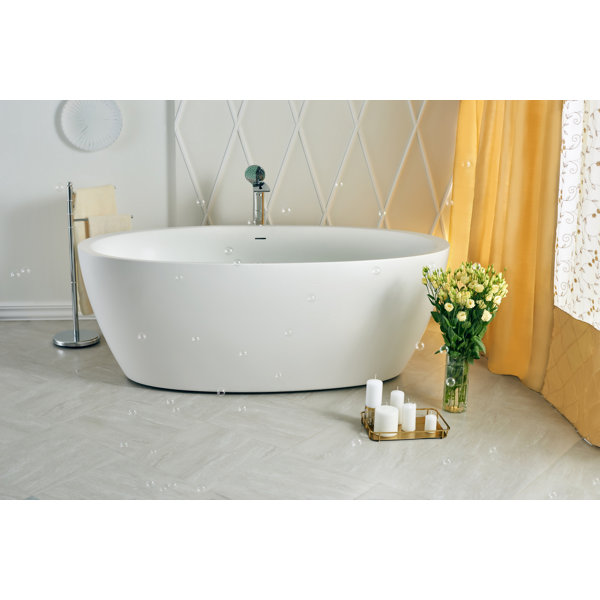 The Aquatica Sensuality is a tub that is truly built for couples because of its design and size. First of all, the tub makes use of a unique Scandinavian design, making it have a luxurious and somewhat vintage look to it.
Other than looks, it has great depth and size— really fitting two people inside. It has so much depth that even both the users can enjoy a full soak without cramping each other's space. Finally, its texture is really smooth, allowing you and your significant other to soak for hours without feeling uncomfortable.
Best Features:
Beautiful Scandinavian design
Aquatex Matte material used
Enough depth for two people
Durable finish
Fire resistant
4.  Lacus Freestanding Soaking Bathtub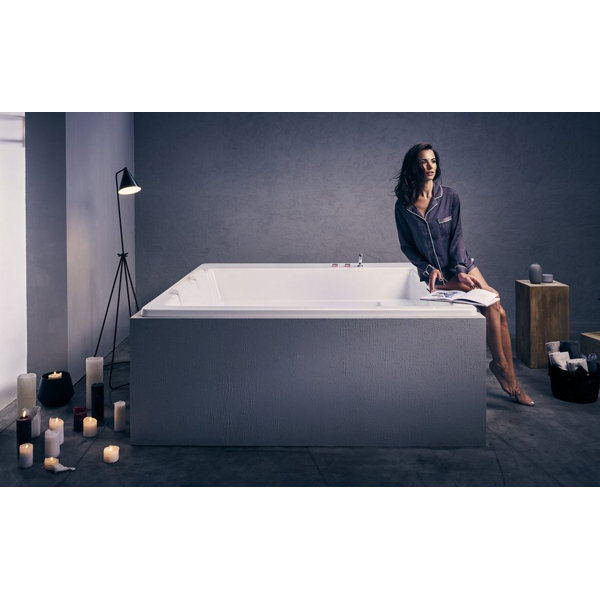 If you're after a spa or hot tub type of experience, then you'll love the Aquatica Lacus Soaking Bathtub. Upon first glance, you'll most likely be reminded of a luxury hot tub because that's how it was meant to look like. It comes with comfy sitting areas that are spacious, wide rims, and chromotherapy jets.
This bathtub is really designed to provide you with an overall spa experience that can help you relax your muscles and cure those back pains.
Best Features:
Spacious built
Can fit two people
Comes with air massage jets
Integrated chromotherapy system
Made of high-grade acrylic material
5.  Aquatica Arabella Corner Soaking Bathtub
The Aquatica Arabella tub is the ideal corner soaking tub to have. Since it is a corner tub, it was built in such a way that it will fit the corner of your bathroom and fit in against the wall. It also comes with a deck that allows you to install the necessary shower controls and faucets if needed. It's a very useful and great bathtub for the common home bathroom.
Best Features:
Compact built
Inclusive of overflow drain
Built in extended deck
Velvet matte material
Easy to clean, white surface
6.  Idea Corner Soaking Bathtub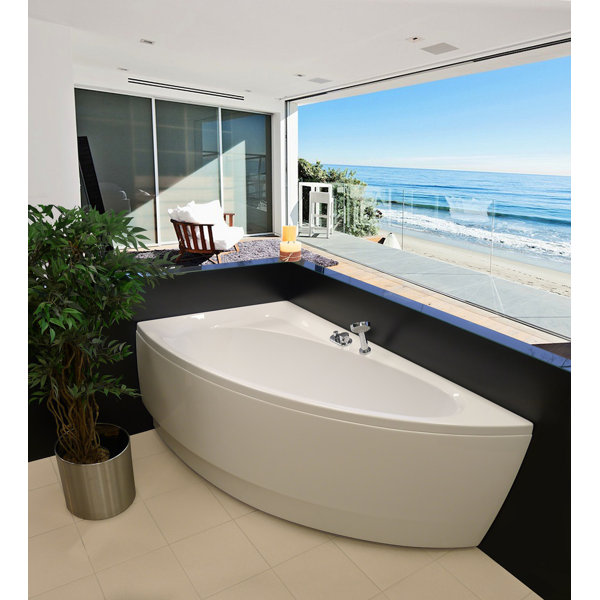 Another corner tub that we added to our list is the Aquatic Idea Corner Tub. The difference between this one and the Aquatica Arabella is the shape of the Aquatica Idea. The shape is pretty unique and is built to really fit itself in the edged corner. With that kind of structure, it will look like it is completely part of the bathroom and not just some tub that you installed. It is very popular among customers who like minimalist designs.
Best Features:
Unique, minimalist design
Thick acrylic walls
Easy fit to any corner
Sanitary grade acrylic
Glossy finish
7.  Pamela Freestanding Whirlpool Bathtub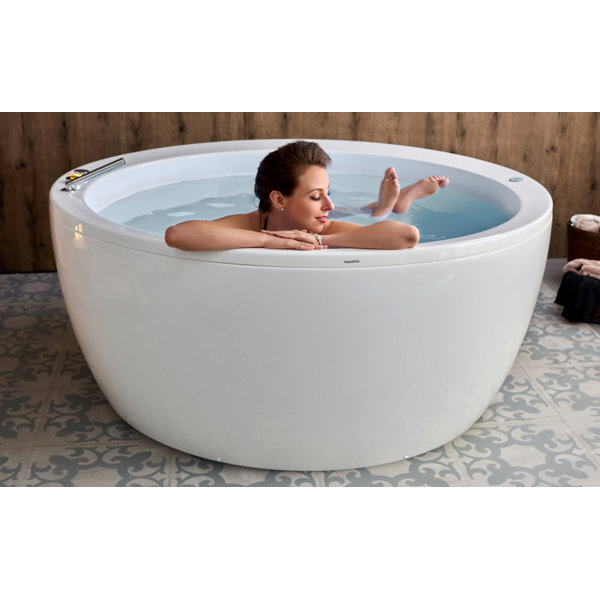 The Aquatica Pamela Whirlpool Tub is arguably one of the most impressive bathtubs that the brand has to offer. This is an extremely innovative hot tub that has a round design and thick walls for durability. It also comes with air jets that come from the Aquatica Relax air massage system. It also has a heat feature that allows you to control the heat of the air massage.
Furthermore, the massage modes are also available along with chromotherapy. It's also really easy to clean because it has its own water purification system. If you can afford this bathtub, it's definitely worth your money.
Best Features:
Air massage system
Chromotherapy system
Ozone purification function
Different massage modes
Made of Lucite acrylic
Conclusion
While all of these tubs seem really great to have, you can only choose one for your bathroom (you can get another one for your outdoor pool but that's another story). So, if we were to choose the best Aquatica tub out of the 7, our pick is the Aquatica Sensuality Soaking Bathtub.
It has the most luxurious design if you're not into contemporary designs. Because of its design, it can pretty much fit any interior look. Also, it has highly extended depth, allowing two people to fit in comfortably.
While it doesn't have massage systems like other more modern tubs, you won't really need these systems. At the end of the day, you just want a good soak in a bathtub that looks great in your bathroom. The Aquatica Sensuality can give that.