The bathtub is a common feature in most home bathrooms, but a lot of people tend to take this for granted when buying one. It's simply because it normally costs a fortune, but a lot fail to realize that a bathtub adds personality to their home's interior.
Choosing the best bathtub can be a daunting task. It is easy to fall for manufacturers who offer cheaper bathtubs but have compromised quality. To ensure that you are buying a quality bathtub, you want to take a look at our 5 best Maax bathtubs reviews. 
Why Maax Bathtubs
Bathtubs are not only meant for washing and bathing. It can be a soothing reward, a place to relax, think, and meditate. Maax understands this appeal, which is why they have manufactured a variety of styles, amusing features, and shapes without them costing a fortune.
Below are some notable features of Maxx Bathtubs that you may want to consider during your purchase:
Gone are the days when you have to manually pour hot water for a hot bath. The digital control feature can make things happen – temperature, jets flow and direction, color, and music. Besides, Maax's digital control is waterproof.
Maax's bathtubs are equipped with jets – air or water – which are responsible for creating a soothing sensation to the user. Bubble bath is also present in both air and water jets. To reduce the usual loud sounds of jets, Maax also included the silent motor technology in their tubs. 
Chromatherapy or underwater LED lights help alter the user's physical and mental state. They are proven effective in transforming one's health and emotion as they cause positive reactions in the body. 
Maax's LED lights offer a variety of colors depending on your mood. From therapeutic yellow to soothing blue and peaceful pink – the freedom to choose is yours.
Most Maax tubs have a freestanding design. This makes them convenient to place in the bathroom because they don't have to be attached to a wall. This also makes your bathroom more spacious. Lastly, this makes them easy to clean and accessible on all sides. 
Alcove tubs are cost-effective. They're very easy to install and come with right and left-hand drains. The addition of an alcove allows you to enjoy several tub and shower combos. They can also be installed to any bathroom size so long as they're surrounded by three walls. 
Maax tubs are compliant with the guidelines set by the American Standards with Disabilities (ADA) Act. Their tubs are installed with non-slip surfaces, there are walk-in tubs for persons with limited mobility, and wide edges are installed for better sitting. 
Maax Bathtubs Review
While it is important to choose the tub that suits your home interior, sometimes it is the budget that hinders you from doing so. To help you with that, we have created our own Maax bathtubs reviews to showcase the best bathtubs Maax has to offer to spruce up your interior without spending too much: 
1.  Maax Bosca Acrylic Alcove Soaking Bathtub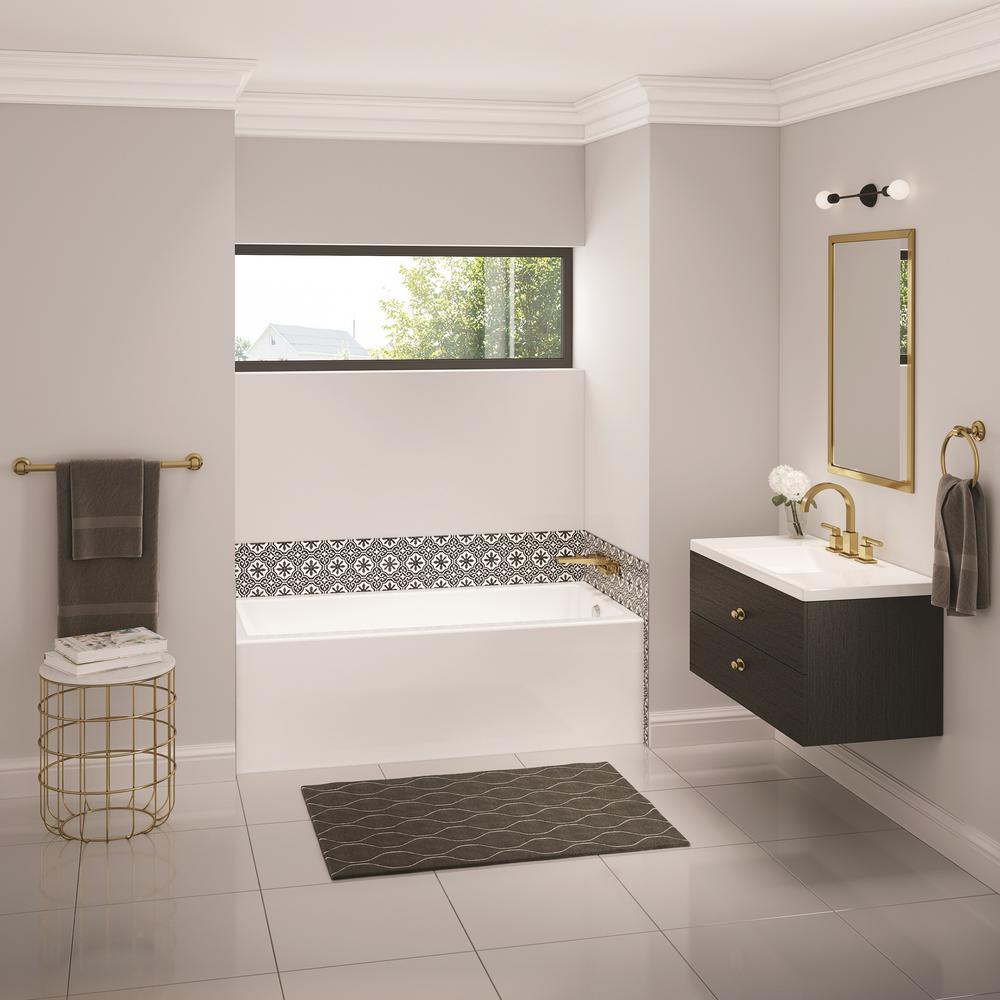 The Bosca tub is oozing with elegance, comfort, and simplicity. It has a rectangular shape with an alcove installation. What makes this tub great, besides its affordable price, is its all-over functionality. From the material down to construction and durability, the Maax Bosca has everything that makes for a superb bathtub.
With a 30-inch width, you can freely recline and stretch your legs however your want. The acrylic material is also scratch-resistant, and it comes with a glossy finish that is easy to clean with warm and soapy water. 
Highlighted Features: 
Alcove installation
Acrylic material
Right and left-hand drain
Cubic design 
Pros of This Maax Bosca IFS 59.75 in. Acrylic Soaking Bathtub
Versatile design
Ease of installation
Easy to clean
Sturdy material 
Cons of The Maxx Bosca Bathtub
Heavy
Might be difficult to transport
2.  Maax Sax 60 in. Fiberglass Freestanding Bathtub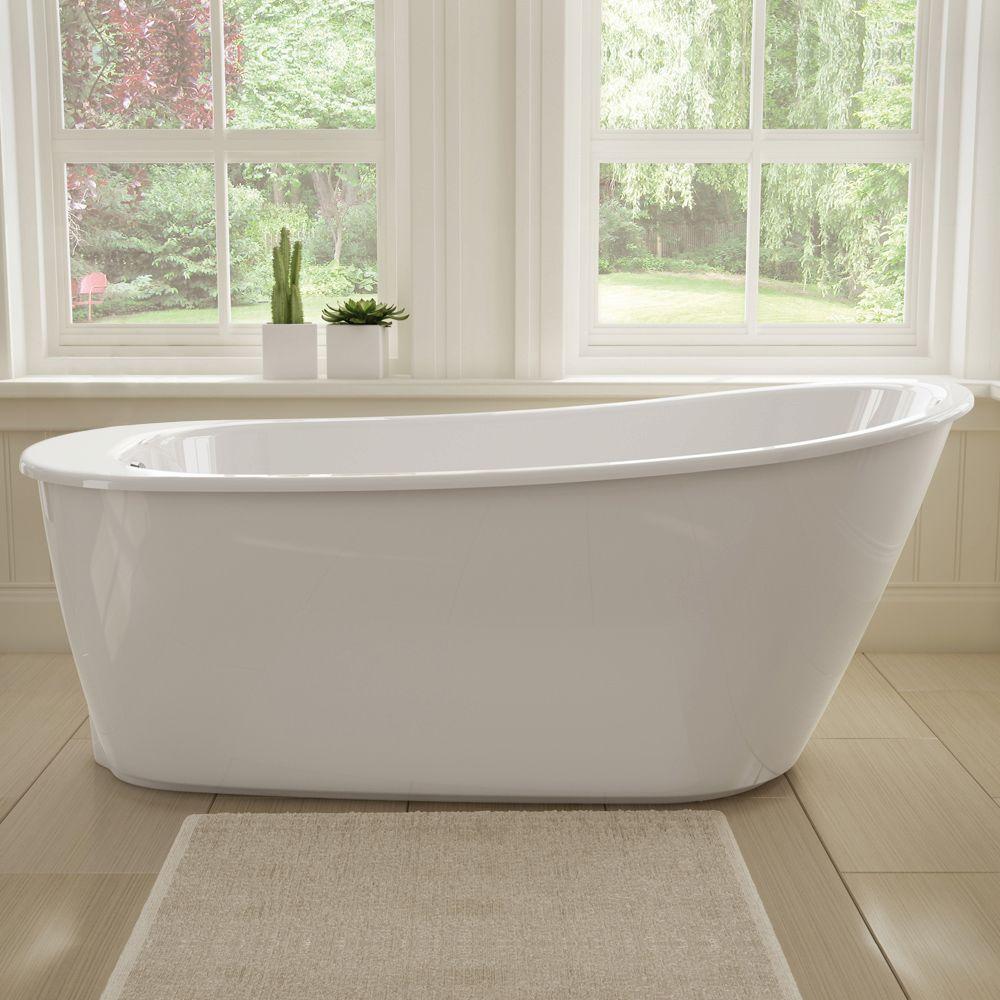 For those who want to achieve a 5-star hotel vibe, this freestanding tub is to die for. It has a classic oval shape that perfectly adds character to your bathroom interior design. Its style offers a variety of placement because it can be placed anywhere and away from the wall or side tiles.
Its 2-piece fiberglass material makes the tub very easy to install and transport. It's also available in 4 colors such as aqua, ruby, white, and platinum grey. 
Highlighted Features: 
2-piece fiberglass material
F2 drain compatibility
Adjustable leveling legs for easy plumbing and installation
Comfortable high backrest
End drain 
Pros of The Maax Sax Fiberglass Freestanding Bathtub 
Can be placed anywhere
Its placement can remedy awkward bathroom edges
Very deep
Modern appearance
Ease of installation 
Cons of The Maax Sax Freestanding Bathtub 
Faucet not included
Depth could be harmful to older people and children
3.  Maax Orchestra 66 in. Fiberglass Freestanding Bathtub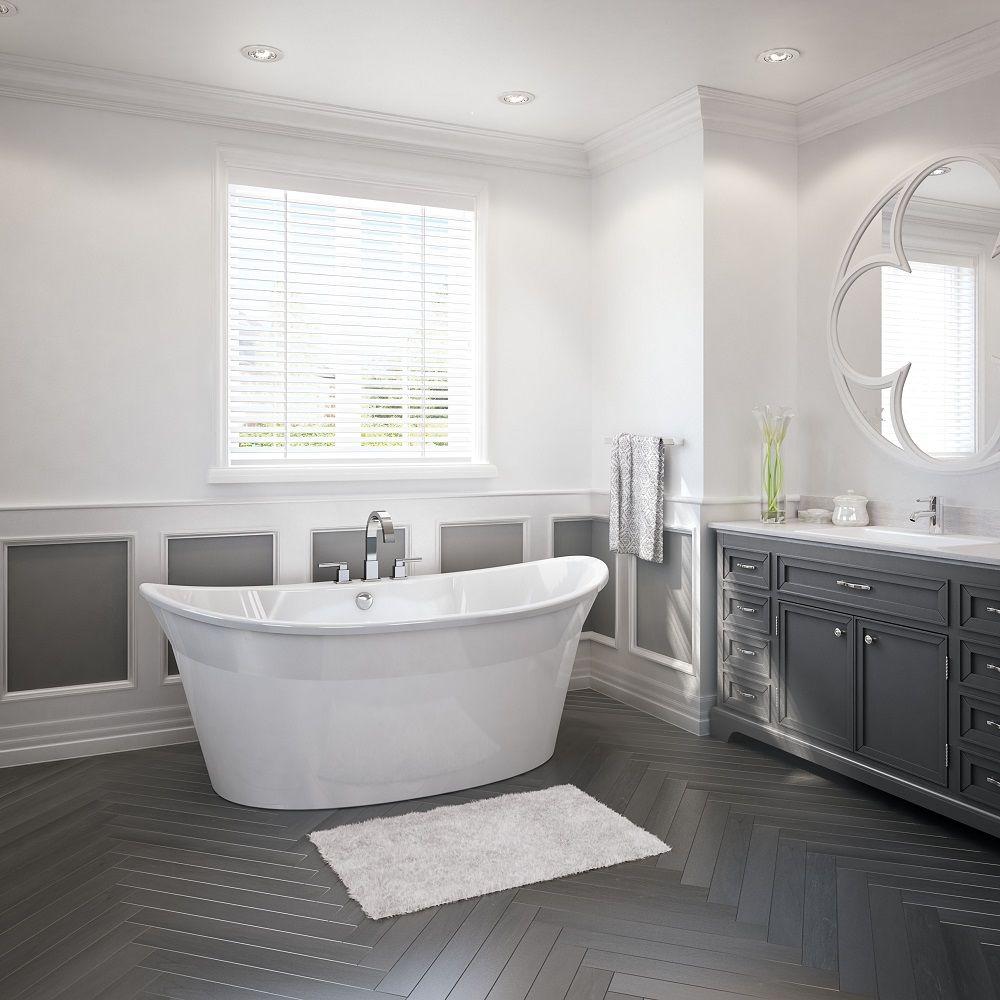 The Maax Orchestra is made of 2-piece fiberglass which makes the tub look luxurious despite its affordable price. It measures 66 inches long and occupies a large space in the bathroom. It is not suitable for smaller rooms but is stylish enough to give you a luxurious vibe.
The water depth is 19 inches which makes it perfect for long soaks and fully immerse bathing. The material maintains hot water for a little while and can be used without electricity. 
Highlighted Feature: 
2-piece fiber
Glossy finish
Minimalist design
Comfortable backrest 
Pros of This Maax Orchestra Freestanding Bathtub 
Sturdy and durable
Depth enough for maximized bathing
Ease of installation
Adjustable legs 
Cons of The Freestanding Bathtub 
Separate purchase for F2 drains are required
Depth could be harmful to older people and children
Not recommended for smaller bathrooms
4.  Maax Delsia 66 in. Fiberglass Freestanding Bathtub
The Maax Delsia is meant for the long haul. It's a 66-inch freestanding tub that's perfect for a deep soak and maximized bath. As it's made of fiberglass, rest assured that this tub is stain and scratch-resistant. It may be lengthy in style, but it is actually simplified and specially built to conserve space.
This tub is sleek and curvaceous enough to fit in various types of interior. It also has adjustable legs for easy plumbing and installation. 
Highlighted Features: 
Stylish curvaceous design
Adjustable legs
Fiber construction
Innovative leveling legs
Comfortable backrest
Pros of This Maax Delsia Freestanding Bathtub 
Ease of maintenance
Reinforced design is ideal for bigger adults
Conserves heat
Simple but supportive
Ease of installation and transport
Cons of The Maax Delsia Bathtub 
5.  Maax New Town 6030 5 ft. Acrylic Left Drain Rectangular Alcove Air Bath Tub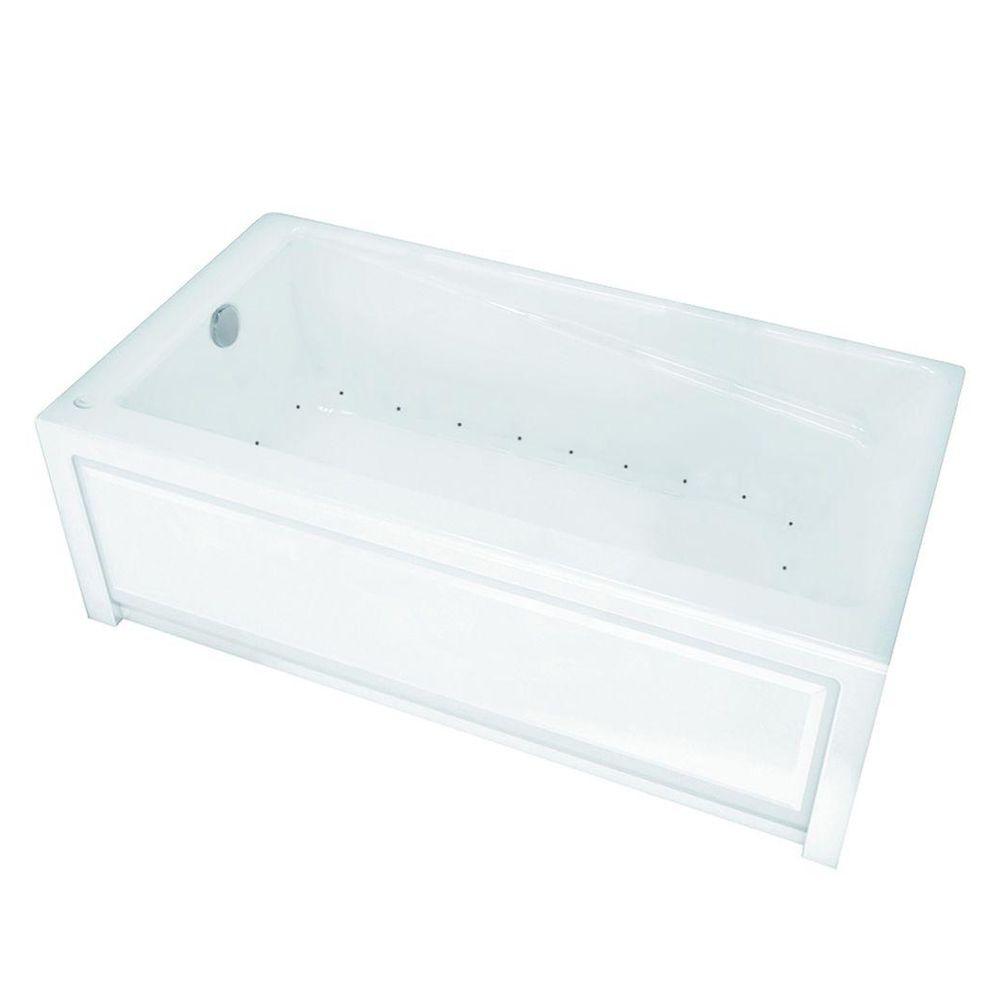 This acrylic air tub is perfect for those who want to remodel or renovate their bathroom. It is equipped with an air bubble tub system to provide a therapeutic and encompassing massage. It is easy to operate with on and off digital power control. It's also made from an acrylic material which makes it easy to clean and warm to the touch.
For alcove installation, the product comes with a tiling flange and access panel. The alcove feature is quite advantageous over the regular tubs. It can be placed anywhere, especially in awkward niches.
It is also an excellent choice for elderly people and children at home because of the slip-resistant acrylic finish.
Highlighted Features: 
High gloss acrylic material
Digital power control
Alcove installation
Textured bottom
Air injectors
Automatic drying cycle
Right and left-hand drain 
Pros of This Maax New Town Alcove Air Bath Tub 
Affordable
Durable
Ease of maintenance
Easy to operate
Adjustable Pegs
Ergonomic Design 
Cons of The Maax Air Bath Tub 
Sensitive drain system
Faucet not included
Final Thoughts 
Bathing has more benefits than showering, and a functional bathtub allows you to have a lavish spa at home. Installing a tub does not need to be expensive as you will be surprised that there are affordable and quality tubs, say the Maax tubs, that you can avail of yourself in the market.
We hope we have helped in your buying decision with our honest Maax bathtubs review. Don't forget that comfort over style is a must. As such, we love freestanding and alcove tubs for that reason alone!