I have considered getting a hot tub for my home but I'm not sure if I want to have it in the garden or rooftop patio. I stumbled upon Coleman's Portable Outdoor 4-Person inflatable hot tub and thought it's better than getting the heavy tubs.
After reading several Coleman SaluSpa 4 Person Square Portable Inflatable Hot Tub reviews online, I've decided to get this for my home. After all, I trust the Coleman brand and the inflatable option is perfect for my situation.
What's Amazing and What's Not
The portable outdoor 4-person inflatable hot tub is manufactured by Coleman which is the leader in outdoor recreation products since 1900. Aside from camping gear, they also make small boats, lighting, and other camping essentials. Their brand stands for toughness and durability for outdoor use.
This is translated on how the Coleman portable outdoor 4-person hot tub is structured and what materials are used. Let's see what makes it stand out and what it lacks.
Amazing Features:
Save on energy with the timer-controlled heating system
Durable tub cover with safety lock clips and built-in air chamber
Cushioned floor with a drain valve
Weak Points:
Can't be used when the temperature is less than 39 degrees Fahrenheit
The timer for the heat pump and filter must be reset every day
Key Features:
Inflatable and large enough for multiple people – The Coleman portable outdoor 4-person inflatable hot tub comes with a travel-friendly spa pump that will inflate the tub in minutes! It's portable, easy to set up, and can comfortably seat 4 adults.
Airjet System and Rapid Heating System – The AirJet system has 114 air jets surrounding the tub while the rapid heating system quickly warms up the water up to 104 degrees.
Durable materials and good build – Coleman's portable outdoor 4-person hot tub is made of puncture-resistant Tritech material. It works great with the superior I beam construction that bears the pool's weight.
Besides, it's one of the best portable hot tubs right now. It is packed with features and very convenient to set up. However, if you live in a state with heavy winter snow, it can be frustrating since it can't be used in extremely cold temperatures.

Who is it for?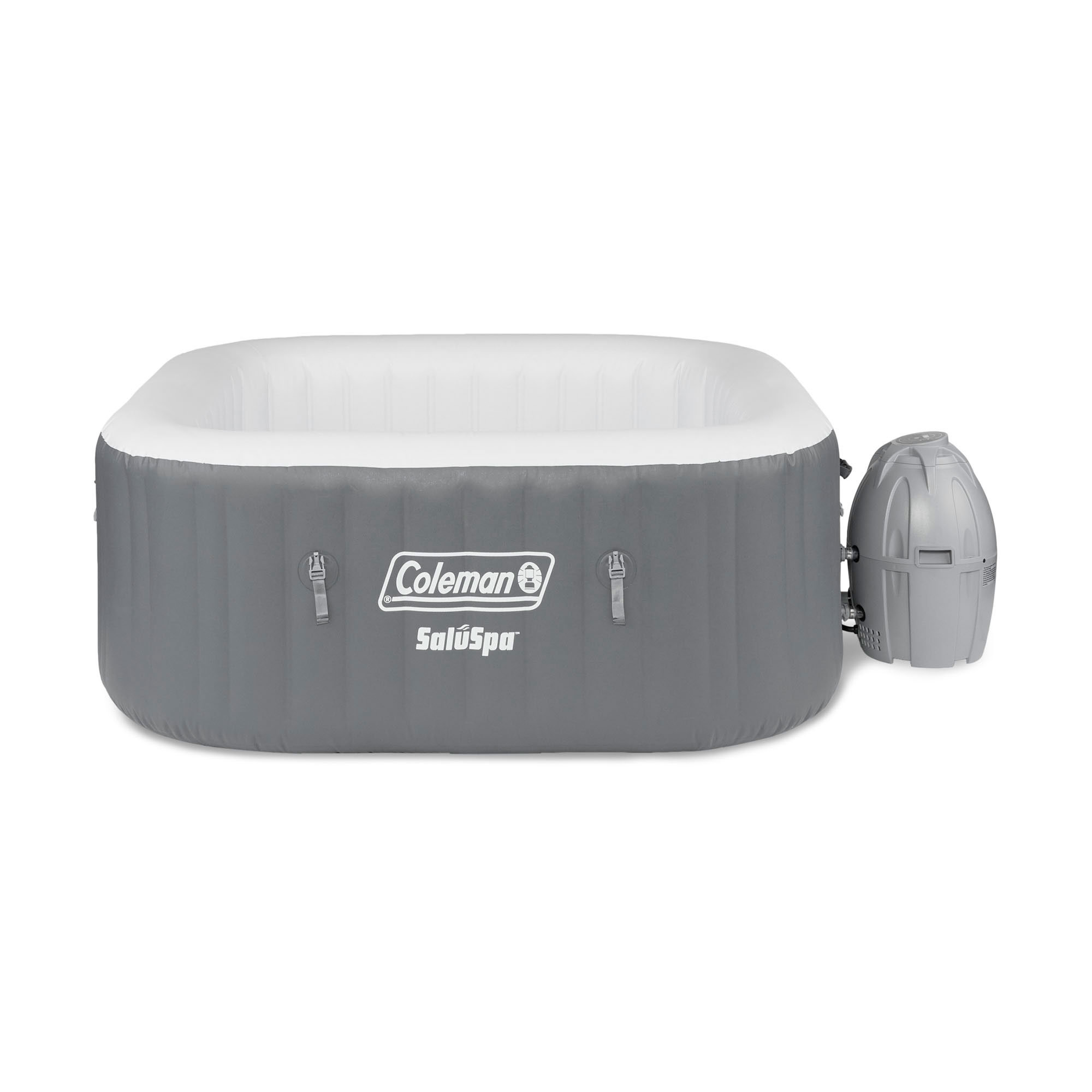 Coleman portable outdoor reviews say that it's best for people who don't want to commit to a large tub yet. It can be deflated and stored during winter and can be rolled out from summer to fall. You can also change locations within the house or carry them when traveling to another place.
Customer Feedback
Most of the Coleman SaluSpa 4 Person Square Portable Inflatable Hot Tub reviews have rated it 5 stars. Here are some of them:
"I have fibromyalgia and this hot tub lets me exercise without pain!" – Donald, ND
"It's a sturdy and easy to set up a tub at a great price." – Jack, MN
When checking online, some of the negative reviews are about product quality and customer service:
"I tried to inflate the tub and found holes in them." – Brenda, NY
"Have spent weeks contacting their customer service to ask about a spare part but no reply" – Gen, MA 
FAQs
What are the product's dimensions and weight?
It measures 2′ 4" H x 5′ 11" W x 5′ 11" L and weighs 1,938 lbs. when filled.
How long before the pool gets inflated?
It takes about 10-15 minutes for the pool to be ready and inflated.
What is included in the product package?
It comes with a pool liner, reinforced pool cover, Airjet system, chemical floater, portable spa pump, and repair kit.
Additional Tips
The spa must be filled with water before operating the pump to avoid damage
Always put on the spa cover when not in use. Exposure to direct sunlight will damage the spa's surface.
The safe temperature range for healthy adults is 100°F (38°C) and 104°F (40°C).
Final Words
I highly recommend that you take home Coleman SaluSpa 4 Person Square Portable Inflatable Hot Tub. After considering the pros and cons, I am convinced that it is perfect for me. It has the features I want in a tub and I highly trust Coleman's durability.  You can order yours and start enjoying your portable and convenient hot tub today!