Hot tubs generally take the form of a small pool of heated water and are usually utilized for hydrotherapy. The problem with the normal hot tubs is they are stationary and can't be moved. So the world introduced a variant, the inflatable ones. Now they cater to the same purpose of a hot tub, but with added mobility. Inflatable hot tubs can be filled with air using air pumps, whenever they are needed. They can be folded and stored when they aren't required thus saving space in the house.
What is the Premium Mont Blanc Bubble Inflatable Hot Tub?
Who hasn't fantasized about having your spa at home? You can enjoy luxury as well as therapeutic benefits in the comfort of your own home with The Premium Mont Blanc Bubble Inflatable Hot Tub. It is a round-shaped inflatable hot tub with a smooth built-in control system and an already attached inflation pump. Its vinyl structure has a water capacity of 245 gallons.
This inflatable hot tub from MSpa hot tub can accommodate up to four people. It boasts a lavish Epi-leather exterior and a Rhino-Tech material with six layers and reinforced PVC. It flaunts 118 whisper-quiet air jets that let out bubbles within minutes to sufficiently surround and massage your body. Thanks to its External LCD control system, you can conveniently regulate the heat and temperature in just a few clicks.
This Premium Mont Blanc Bubble Inflatable Hot Tub has two sizes: 28″ H x 71″ W x 71″ D and the 28″ H x 80″ W x 80″ D size, respectively.
Key Specifications
It has a water capacity of 700 Litres
It weighs 31kg
Has 118 Air Jets
Can accommodate a maximum of 4 persons
A heat increasing rate of 1.5 – 2°C per hour
The control system is at 220 – 240V / 50Hz
A 1500W heater
A 3-level massage air blower (300W, 500W & 720W)
A filter pump at 12V / 60W
An Integrated Ozone Generator at 5.5W
Ozone output of 30-50 mg/hour
The set also encompasses a wired controller, a heat preservation bubble mat, a wrench, digital lock, a garden hose adapter, two filter cartridges and a base, an inflation hose and bladder, and an owner's manual.
Pros of this Premium Mont Blanc Bubble Inflatable Hot Tub 
This inflatable hot tub offers many general advantages. One is portability. They can be moved around the place with ease. They can also be kept indoors or outdoors. It is compatible with any place. All it needs is the air that will be inflated into it. It can also be stored easily for a long duration and reduces maintenance costs. These are the specific pros of the said product:
It's 2-in-1 since it can function as a hot tub and a jacuzzi
Made up of a lavishly looking Epi-leather material
It has a durable Rhino-Tech material that has a 6-layer reinforced PVC construction with anti-bacterial treatment
It's a convenient plug and play system
Its heat output is efficient and the air jets allows the removal of lactic acid in the body whilst relieving pain
However, there are also some cons. First of all, it doesn't have structured seating. Unlike other tubs, the inflatable lacks a proper seat to lean back on. Also, it heats up slowly as it uses an electric heater and they take up more time than gas heaters. These are the other cons when using an inflatable hot tub:
Cons of the Inflatable Hot Tub
It's hard to control the temperature when the bubbles are on
The heater is prone to problems
There's also the risk of water leakage that goes into the inflatable part of the tub
The makers of the Premium Mont Blanc Bubble Inflatable Hot Tub which is the MSpa are already established as a brand that provides outdoor hot tubs. The company flaunts numerous patented technologies and is considered one of the pioneers in the industry.
Should I buy the Premium Mont Blanc Bubble Inflatable Hot Tub?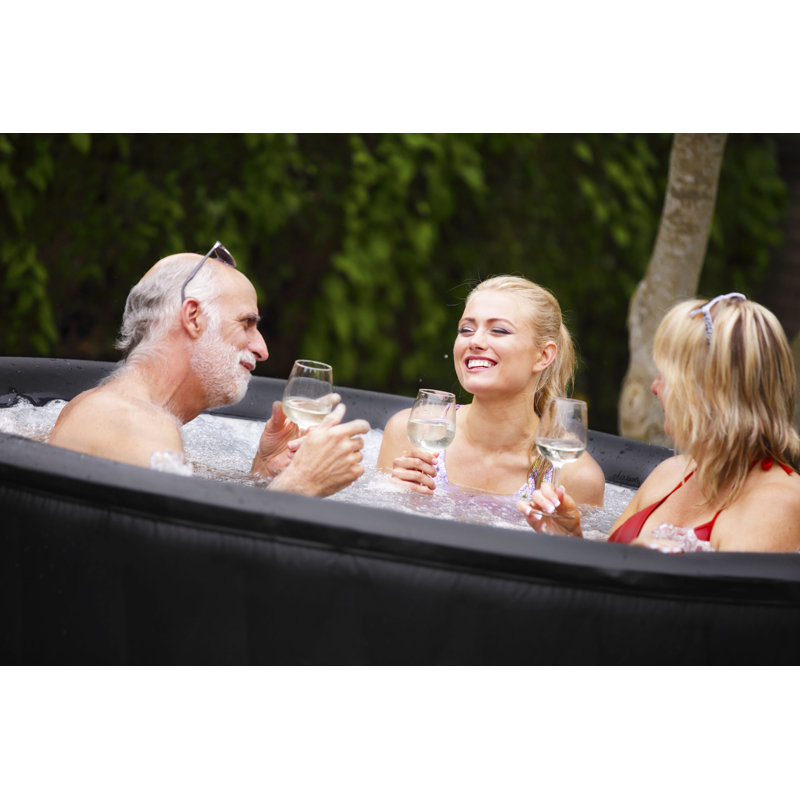 The Premium Mont Blanc Bubble Inflatable Hot Tub reviews overall suggest that they are totally satisfied with the inflatable hot tub. It's perfect when you just want a cheaper version of a hot tub and if you can't do maintenance that much when it comes to these things. Another commentary is that the tub is so spacious that even her son who is tall can fit in. It's also easy to put together and very effortless to control.
Verdict
This portable hot tub is the ideal solution for a stressful day at work or in school. It creates a peaceful relaxation in the comfort of your home. Think of a delightful family gathering spot without all the distracting electronic gadgets!