You never really know how much you needed a bath tub until you finally get one. Bathtubs can offer a therapeutic and relaxing experience after a long and busy day. Sterling bathtubs are no exception as they are designed to offer great luxury, relaxation, and value to everyone.
In this Sterling bathtubs review, we will explore more about the Sterling bathtubs and highlight the top three products from this brand.
Why Choose Sterling bathtubs
Getting yourself a bathtub for your home can be quite a task. Indeed, it can be difficult to take a pick from the many products in the market. Sterling is among the best bathtub brands in the market that is renowned for crafting low-maintenance, durable, and functional bathtubs to suit any bathroom aesthetic.
Here are the reasons why you should consider choosing Sterling bathtubs.
Sterling is Backed With Experience
Sterling is a part of the Kohler Company, and they have been in the business of producing durable bathroom fixtures for over a century. Sterling is a reliable manufacturer that manufactures bathtubs with quality and comfort in mind. Due to their extensive experience, you can be assured that their products are among the best in the market.
Sterling products are designed to be simple, functional, and easy to assemble. You won't need the assistance of plumbing professionals to set them up in your bathroom.
The brand is also aware of their users and clients' needs. Therefore, they design their bathtubs accordingly to ensure maximum comfort and optimal use.
Not everyone has enough time to clean and organize their homes because of their hectic work schedule. With this in mind, Sterling bathtubs have been manufactured with materials that are easily to clean. They can easily be cleaned without the need of harmful chemicals.
The tubs also come with storage potential to minimize clutter. The ergonomic design of these fixtures also plays a major role in offering you the ultimate relaxation.
Sterling has made a name for itself for manufacturing bathtubs that stand the test of time. Their line of product is made from Vikrell, which is a highly durable and flexible material can last for a long time with proper maintenance.
All their products are stylish without compromising on comfort. Most of Sterling bathtubs are designed with built-in armrests and other comfort features to give you a luxurious experience.
Best Sterling Bathtub Reviews
With so many bathtub models on the market to choose from, finding the most suitable you're your needs can be overwhelming. Here are the top products we've included in our sterling bathtubs review to help you make an informed buying decision.
1.  STERLING Store White 5 ft. Rectangular Alcove Bathtub with Left-hand Drain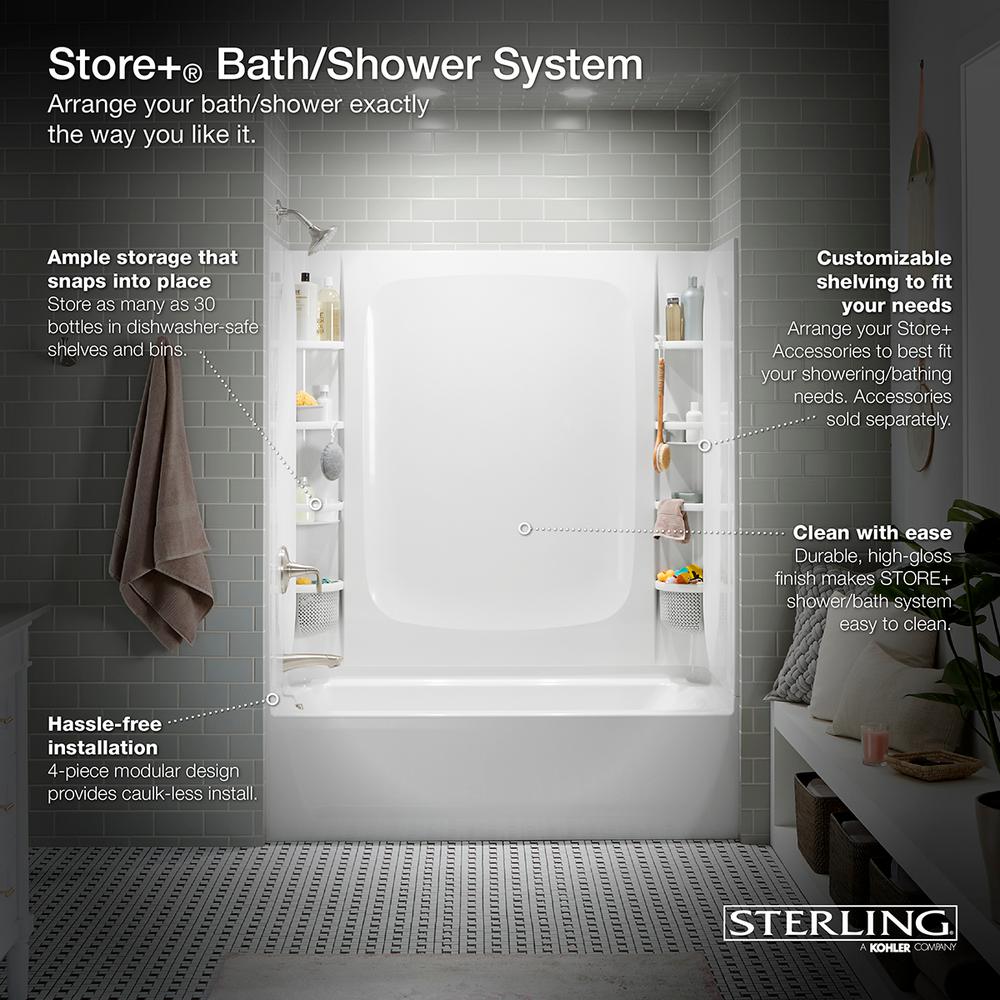 Designed to be customizable and manageable, this alcove bathtub from Sterling is among the best bathtubs in the market. It is an ideal choice for people who are big on keeping their bathroom organized. This is also a good pick for those who are on a budget.
This is just the right size for optimum soaking comfort. It offers adequate storage potential and works great for bathrooms with alcoves or rectangular dimensions.
Something else that stands out about this tub is the enhanced stability of the surrounding wall. This way, it is able to create a watertight barrier. 
Highlighted Features:
Made with high-grade acrylic
Modular components are interchangeable
Interior shape slopes to provide lumbar support
Wainscot allows for an above bath deck tile installation
Manufacturing standards conforms to the ANSI and CSA national consensus
2.  STERLING Lawson White 5ft. Rectangular Drop-in Soaking Tub with Reversible Drain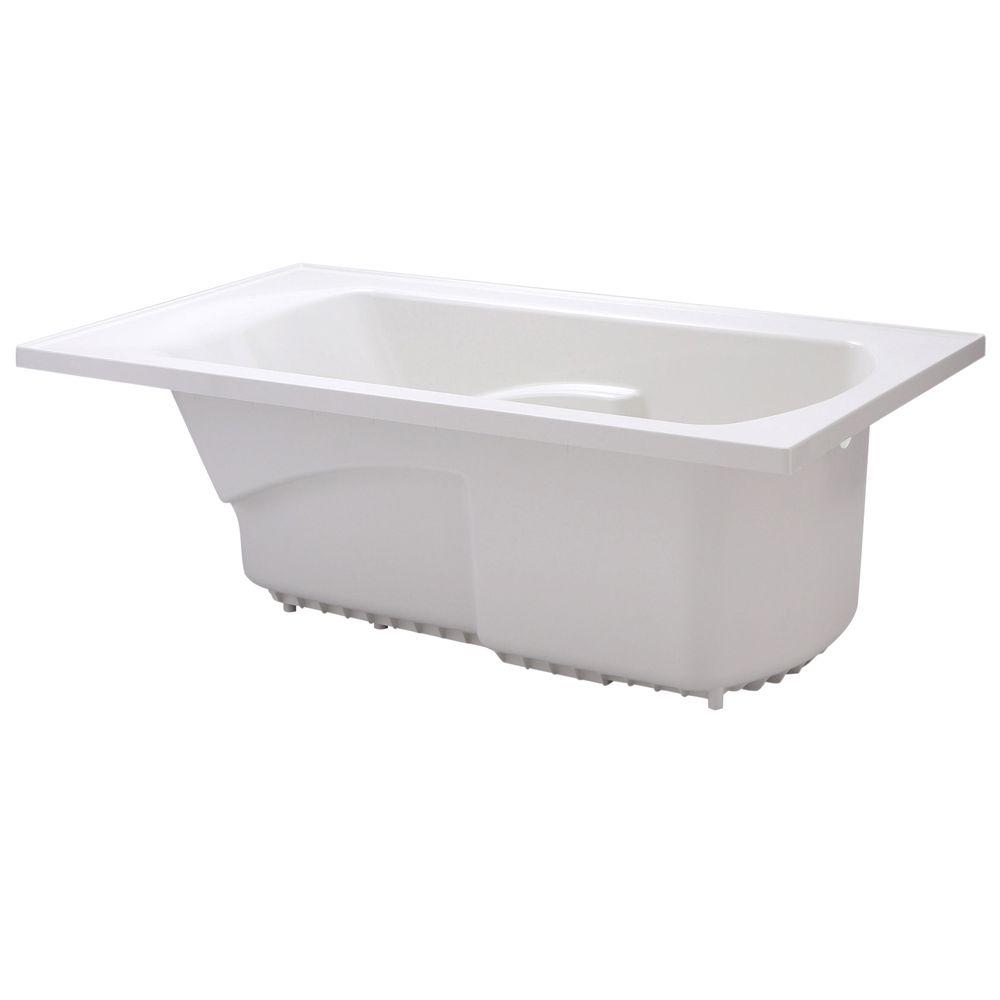 This drop-in bath is made of Vikrell, a solid composite of resin and fiberglass. This makes it an excellent option for those who are seeking a modern and contemporary option. Besides, this is a great choice if you have a concrete niche where a tub can be placed.
Not only is this Sterling bathtub durable, but it is also easy to clean and maintain. You are guaranteed a crisp white surface that is designed to last. It is also ergonomically designed with adequate flat surface to rest your arms or put your bath products.
Furthermore, it is among the best bathtubs in the market thanks to its contoured interior that ensures lumbar support. Minimalists are more likely to find this bathtub suitable for their needs.
Highlighted Features: 
Stain and scratch-resistant high-gloss finish
Adjustable orientation end drain to either be left or right-hand
Convertible alcove installation with flange kit
Drop-in installation
Vikrell material composition
Reversible drain type
Contoured interior for lumbar support
3.  STERLING Store White 5ft. Rectangular Alcove Bathtub with Left-hand Drain and a 12-piece Accessory Wall Set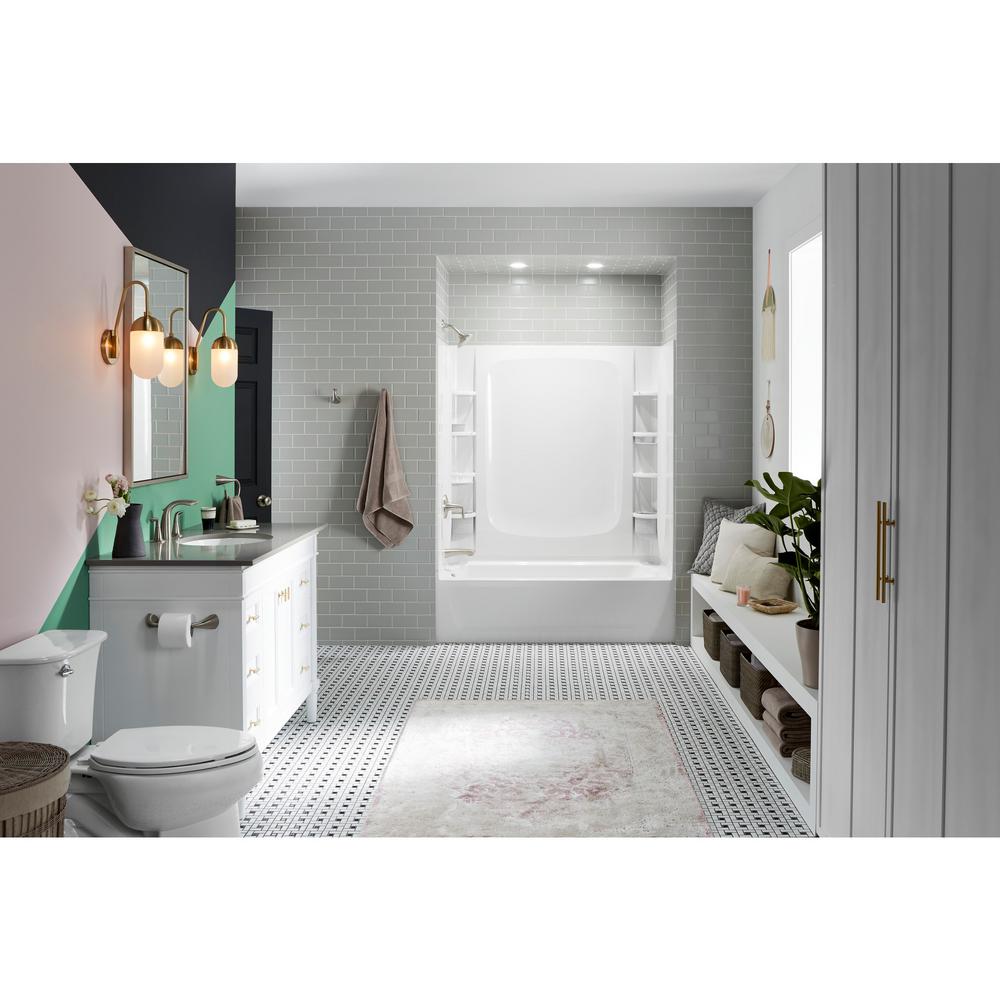 Another modular choice form the Sterling brand is still an alcove bathtub. However, this one comes in a complete set for maximized bathing and storage potential. This bathtub comes as a ready system that you can just incorporate into your home.
Impressively, it also comes with wall shelving sets where you can store all your bath paraphernalia and products for reachable access. This way, you can maximize you showering space. Your bathing experience will be comfortable and clutter-free and you won't have to worry about making a mess.
Crafted from durable and low-maintenance Vikrell material, you can be assured that this bathtub is resistant to stains and scratches. Therefore, this ergonomic and customizable bathtub is worth your investment so you can enjoy a relaxing bath for years to come.
Highlighted Features: 
Vikrell material composition
Simple to assemble and install
Deeper bathing well with contoured interior for lumbar support
12-piece wall set for ample storage space
Durable high-gloss surface that is stain and scratch-resistant
Fully customizable and adjustable modular design
Conclusion
If you are searching for the best bathtub for your needs, we hope that this Sterling bathtubs review can help make an informed decision. Remember, you don't need to break the bank to grant yourself a little luxury at the end of the day.
All of the Sterling models above have impressive features and are undoubtedly worth checking out. They are made from quality materials and are a great addition to any bathroom. They do not skimp on comfort and are designed to ensure that you get the most out of your bath.