Saunas aren't just great for entering a deep state of relaxation. They also offer several health benefits to their users – from improving blood circulation to detoxification. However, it can be challenging to choose the best home saunas nowadays.
When it comes to excellent home saunas, no one quite beats TheraSauna. With that said, check out this TheraSauna review to learn more about why they have the best infrared sauna models in the industry.
Why TheraSauna?
Before diving into the TheraSauna reviews for their top-rated product, let us discuss TheraSauna. Here are some of the reasons TheraSauna products are top-rated in the industry.
Made of non-toxic Aspen Wood- safety is a primary concern when it comes to using a sauna. This is an aspect that TheraSauna has considered and hence built their saunas from Aspen Wood. It is a type of wood with no disastrous side effects.
MPS Control- their saunas use MicroPower Select, an android touchscreen. You adjust all the controls through these control panel which is relatively easy to use.
Ceramic heaters- TheraSauna uses ceramic heaters, which are safer and more efficient. Thus, they outdo both carbon and ceramic heaters with their 96% rate of efficiency. Besides, their TheraMiters have a lifetime limited warranty.
Stable heating system- TheraSauna uses a patent technology that ensures their TheraMitters have a stable heating system, making them the best-infrared sauna manufacturers.
Best TheraSauna Product Reviews
Now that you understand why TheraSauna takes the lead in the sauna industry, let's dive into these TheraSauna infrared sauna reviews. Here are the top choices for the best infrared sauna models.
1.  TheraSauna Two-Person Infrared Sauna with MPS Touch View Control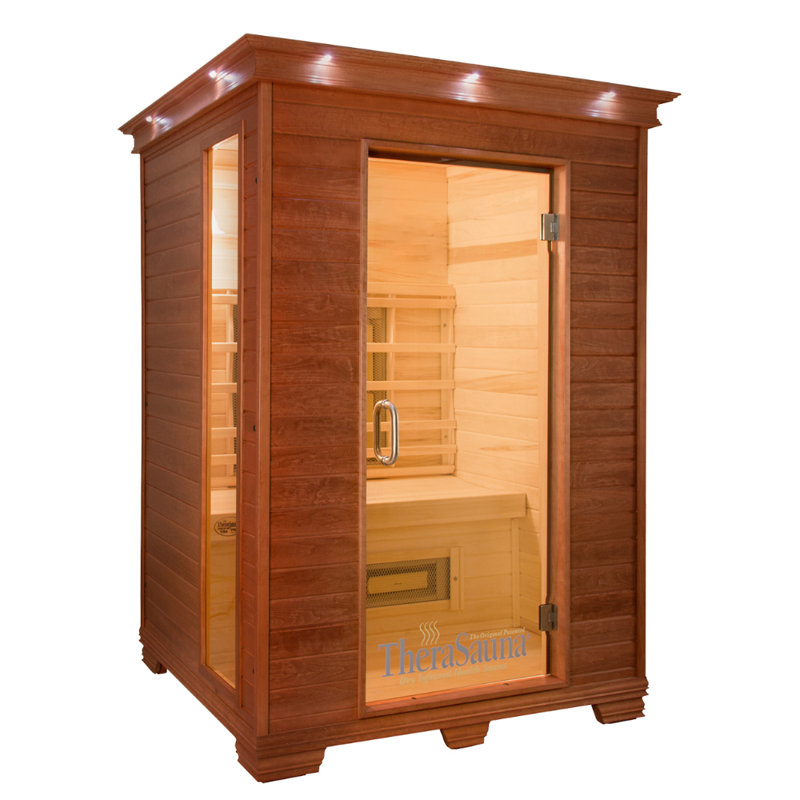 It doesn't matter why you have to buy a sauna. You will get more value by adding this sauna to your home. The comfort and ease of enjoying a warming session inside this infrared sauna are unmatched.
Aside from this, it is well-sized for indoor use with two people's capacity at a time. It offers complete relaxation and rejuvenation through its high temperatures of as much as 140 degrees Fahrenheit.
When it comes to design, this TheraSauna model stands out. It has an exterior cabinet made of pure wood. Thus, it uses carbon heating elements which are more effective since they heat evenly. Also, carbon elements have more extended durability compared to ceramic heating options.
Unlike other saunas that take a lot of energy, this sauna only needs a 120 volts outlet and 20 power amps. Given its compact size, you can place it in the corner of your bedroom. Alternatively, you can put it in your bathroom or home gym.
You will love the ease of operation of this sauna. It has a friendly user interface and a touch view control system. The LED control panel allows you easy access to operation when you are both inside and outside the unit.
Highlighted Features:
Ten heaters
Has vents
Warm mahogany finish
Adjustable temperature with a maximum of 140 Degrees Fahrenheit
120 volts and 20 Amps
Has a lifetime limited warranty
2.  TheraSauna Three-Person Infrared Sauna with MPS Touch View Control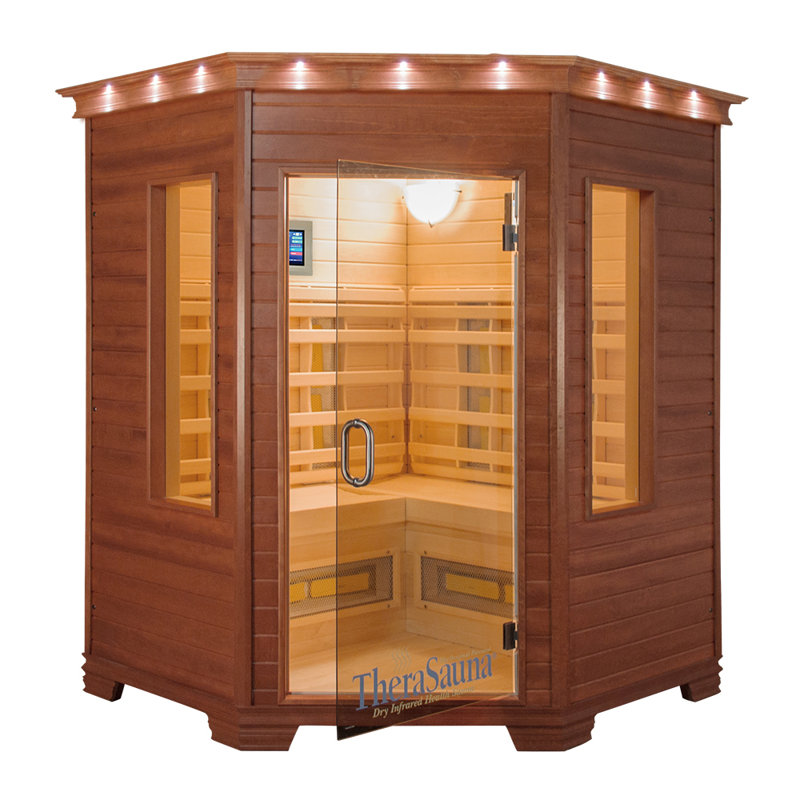 A sauna is a comfortable yet simple way to enjoy the soothing sauna experience and relaxation in heat. If you are from a large home, you can settle for this three-person infrared sauna.
It has an impressive zone approach when it comes to heat management. Therefore, you don't have to worry about each of the three people getting maximum heat. Besides, it has an adjustable temperature for different zones of the body.
Its closure system makes it easy for you to get into the sauna and out without any struggle. Furthermore, it has vents included to ensure maximum comfort for the three of you.
Unlike other saunas in the market, these TheraSauna heaters surround you with wave heat with deeper penetration than a carbon heater. It also boasts the fastest temperature increase time. This state-of-the-art infrared panel is safe, effective, and easy to control.
Three people can comfortably relax in the room while listening to music. The patent controller allows you to set the sauna to turn on according to a schedule. Thus, it is ready when you are.
Highlighted Features:
12 heaters
Vents included
Adjustable temperature with the highest temperature being 145 degrees Fahrenheit
Required 120 Volts and 20 amps
It comes with all tools required and a lifetime limited warranty
3.  TheraSauna Four-Person Infrared Sauna with MPS Touch View Control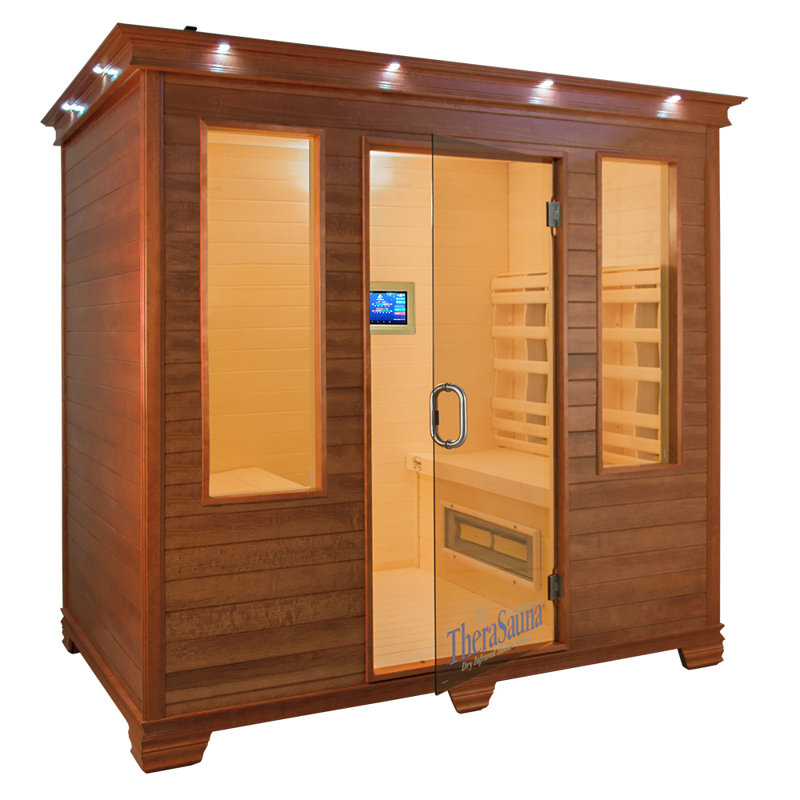 If you want to share the experience with more people, this four-person infrared sauna will meet your purpose. Traditional saunas rely on hot rocks over which water is poured to generate steam.
The steam would then feel the space and give a relaxing effect. However, today, things are different. TheraSauna models make the most of heating elements and external steamers.
For a sauna designed with enough elbow room for four people, you can consider this still compact. It is constructed using Aspen wood. Inside, you will find two benches facing each other. It can comfortably seat two people on each bench.
You can now enjoy the company of others in your sauna. This sauna is well-designed and can accommodate two adults.  This large sauna has to meet the ends of each individual. It has 12 ceramic heating elements, and the sauna can get as hot as 145 degrees Fahrenheit.
It uses a safe and radiant infrared heat source that reaches as much as 2.5 inches below the skin surface. It is the same source of heat that doctors and physical therapists use. Thus, it provides health benefits such as pain relief for people with arthritis and an improved immune system.
This infrared sauna is spacious on the inside, which makes it comfortable for all people inside. Its construction assures you of odor resistance and natural durability. The slatted floor further helps in ventilation, so you don't need to worry about a thing.
Highlighted Features:
12 heaters
Has vents
It has a warm mahogany finish
Has an adjustable temperature with a maximum of 145 degrees Fahrenheit
It needs 120 volts and 20 Amps
It comes with a lifetime limited warranty
4.  TheraSauna Single-Person Far Infrared Sauna with Soft Touch Control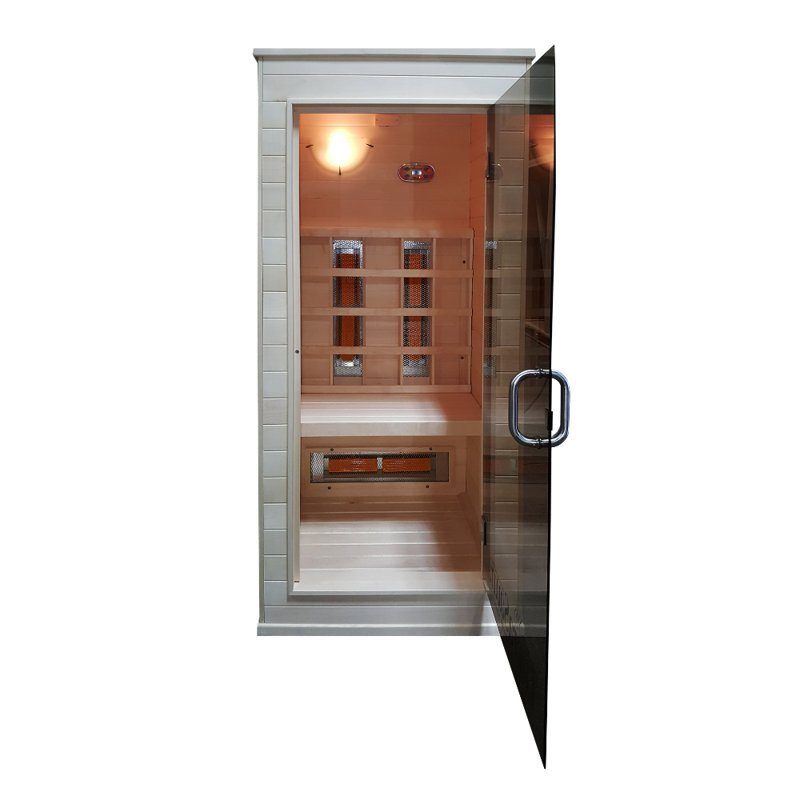 How would you like to enjoy a sauna in the comfort of your home? You can now get this TheraSauna for one person and enjoy a relaxing time. The heaters and the stable heat technology ensure this sauna delivers consistent heat. The heat is also constant throughout your stay in there.
The events ensure you remain comfortable. You will certainly enjoy the ease of adjusting settings due to the soft-touch control of the system.
You can use the intuitive MPS (MicroPower Select) to customize the heat and change temperature settings during your soak. It also has a timer that helps you set your sauna time automatically. 
Highlighted Features:
Six heaters
Has vents, a time, and a door
Adjustable temperature
Maximum temperature of 145 degrees Fahrenheit
Requires 120 Volts, 15 Amps
It comes with a lifetime limited warranty
Conclusion
TheraSauna saunas are easy to operate because of the MPS control system. The user interface is technologically advanced and effortless to use, whether inside or outside the sauna.
Moreover, all the saunas are made of Aspen Wood to guarantee your safety. They also have vents for additional protection. All TheraSauna units come with a lifetime limited warranty. Get your sauna today and experience the soothing effects of heat therapy.