The term sauna originated in Finland which literally means "bathhouse". Aside from its relaxation purposes, saunas are also considered as a form of socialization by most people.
Saunas can be found in places like the spas, gyms, and healing centers. Some even have their own saunas at home.
There are various types of saunas that you can choose from. They all vary depending on their heating systems, and they come in different sizes and shapes. One type of sauna is the home or indoor sauna.
Home saunas are beneficial for you and your health. Not to mention that having the best home sauna is also a good investment for your home.
The Best Infrared Saunas and Their Many Benefits
10 Benefits of Home Sauna
Aside from the fact that home saunas are great for your body, it also has extensive benefits for your health.
1. Saunas are stress fighters
Almost all sauna users attest that using sauna reduces their stress. Medical studies state that stress has a negative impact on your health. In fact, the majority of diseases are partially stress-related. The heat that comes from the sauna improves blood circulation, relaxes the muscles, and stimulates the body to release endorphins.
2. Saunas boost longevity
According to a medical study in Finland that involves Finnish men; frequent use of saunas may help you live longer – for men, at least. The research was conducted for 20 years by following middle-aged men. The unequivocal result shows that the more frequent men go to sauna and the longer they stayed, the lower the risk of developing cardiovascular diseases.
3. Saunas soothe both joint and muscle pain and relax the muscles
The heat that comes from sauna releases endorphins which are essential in minimizing muscle soreness, especially after an intense workout. Also, the heat can cause dilation of the blood vessels and increases the blood circulation. Increased blood circulation helps speed up the healing process of minor cuts and bruises. The sauna heat relaxes the muscles by reducing muscle tension.
4. Saunas detoxify the body
Lead, mercury, cadmium, and arsenic are toxins that are commonly absorbed from the environment. According to a study, these toxins can be released from the body by deep sweating. The heat coming from the sauna stimulates the sweat glands to produce sweat, thus eliminating the toxins out of your body.
5. Saunas are good for the heart
A sudden exchange in body temperature (cool to hot or hot to cool) increases your heart rate. The heat effect of sauna causes a significant increase in the cardiac output that boosts blood circulation. This strengthens the heart muscles and reduces the chance of developing heart disease.
6. Saunas maintain healthy skin
Spending time in a sauna opens your skin pores. The heat from the sauna causes deep sweating and removes bacteria from your skin. Deep sweating removes dead skin cells and makes your skin look vibrant. It cleanses the skin pores, and it helps in capillary circulation.
7. Saunas increase metabolic rate
Regular use of sauna burns body calories and increases metabolic rate. The heat increases heart activity, lowers blood pressure, and increases oxygen demand. These effects are similar to cardio exercise.
The body will then convert the calories into usable energy and promote weight loss. It is believed that sauna heat can actually burn 600 body calories in 30 minutes. The weight loss for sauna users are merely water weight, and it can come back quickly.
8. Saunas are mood and brain boosters
A study shows that exposure to sauna heat increases levels of norepinephrine (sharpens your focus), prolactin (nerve damage repair), and dynorphins (feel-good sensitivity). It also increases BDNF (brain-derived neurotrophic factor), which is essential in the growth of new brain cells and improves brain function.
Finland's observational research shows that exposure to sauna heat reduces the risk of developing Alzheimer's disease and other dementia.
9.  Saunas fight cold symptoms
The heat and steam of sauna reduce incidents of influenza and colds. Its steam vapor clears up sinus congestion.
10. Saunas give a wonderful feeling
Sauna goers agree that the warmth of sauna is good for the body and soul. It serves as a pampering treat that makes you feel better, looks better, and sleep better.
Read more: Sauna use linked to longer life, fewer fatal heart problems at https://www.health.harvard.edu
A variety of sauna products are widely available in the market. We have conducted home sauna reviews of different sauna products. This will serve as your guide in deciding which home sauna is best for you.
10 Best Home Saunas- Full Reviews
1.  Radiant Saunas Harmony Oversized Deluxe Portable Sauna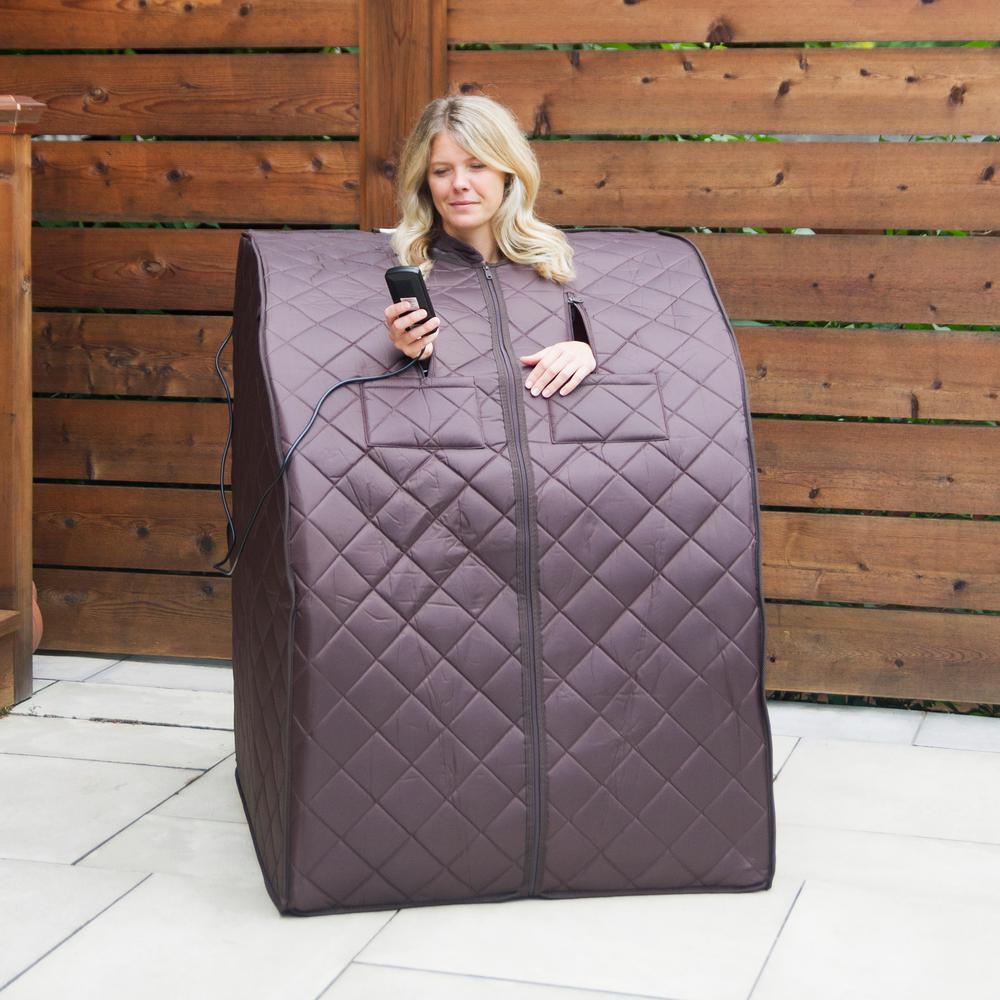 This Harmony oversized deluxe sauna is one of the best home saunas that provides a relaxing and comfortable space wherever you go. As one of the best portable infrared saunas, it is made out of polyester material and is created to accommodate one individual with a maximum height of 6 feet and 5 inches.
No worries with assembly since it can be assembled and disassembled within minutes. As such, this sauna is perfect for home and traveling use. You also have the option of 6 different automatic timers and 5 levels of pre-heat.
Highlighted Features:
One-person capacity
Four carbon heating panels that are perfectly positioned
Heated foot pad
Padded floor mat which is removable depending on your preference
Sturdy metal support
Comes with a handheld controller
No tools needed for set-up
Easy fold for storage
Assembly time with an average of 10 minutes
Portable
Low EMF emitting sauna
Lightweight
1-year limited warranty
Prone to damage
One-person sauna
2.  JNH Lifestyles Joyous 2-Person Far Infrared Sauna (MG217HB)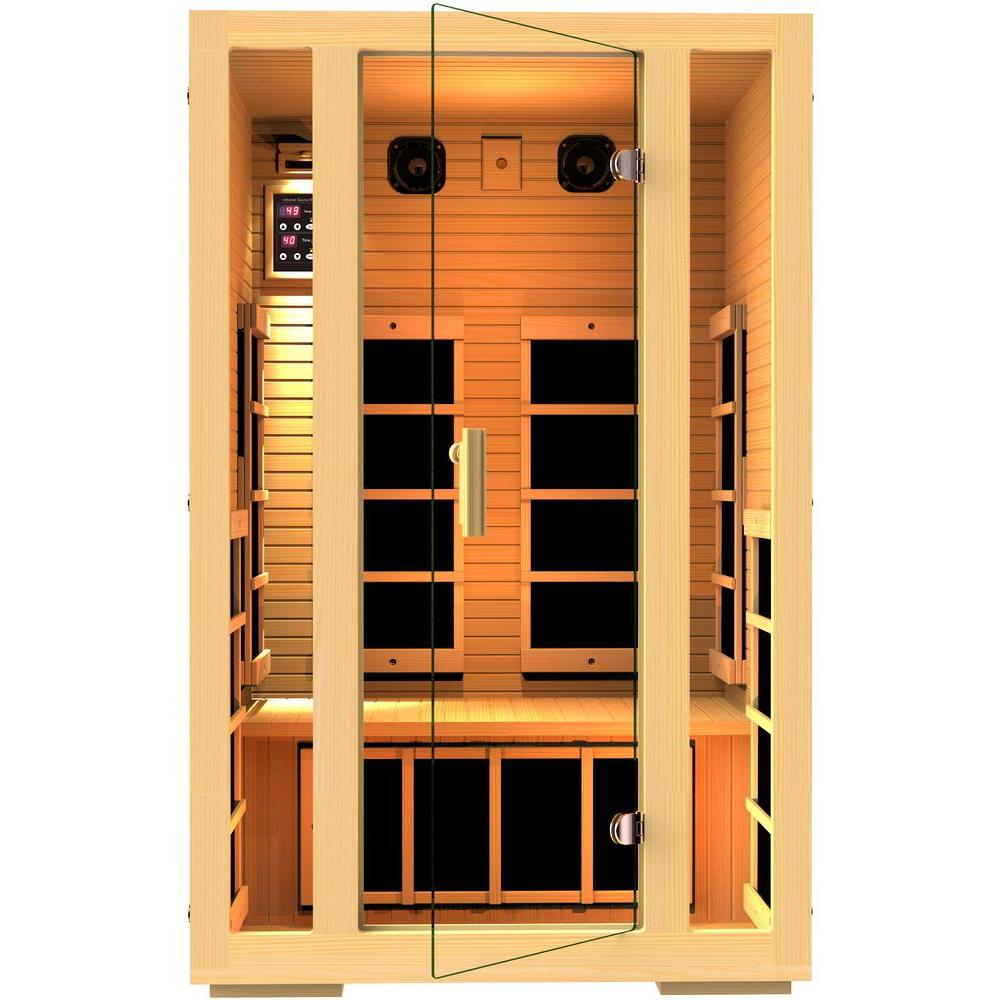 This product is incredibly popular and considered as one of the best infrared saunas among all the JNH saunas. It is perfect not just for partners but also for those individuals who prefer a wider space for their sauna. Despite this, it's still compact enough to fit anywhere in your home.
It offers several health benefits as well such as detox, stress relief, weight loss, and other positive benefits that you can get only from infrared saunas. Also, this JNH sauna ensures that no heat will be able to escape during your therapeutic time because of its dual-wall construction.
Highlighted Features:
2-person capacity
Seven carbon fiber infrared heaters
Made up of Canadian Hemlock wood
Digital control panel
Dual wall construction
Built-in aux control
Comes with 2 Bluetooth speakers with remote control
Perfect for 2 persons
The heaters provide full coverage
Chemical-free wood
Simplified system
Easy to use
Easy to Assemble
Has exterior wall for sauna's protection
Expensive
Requires some tools in assembling such as a screwdriver
See-through door
Not portable
3.  Maxxus Lifesauna Aspen Upgraded 2-Person Infrared Sauna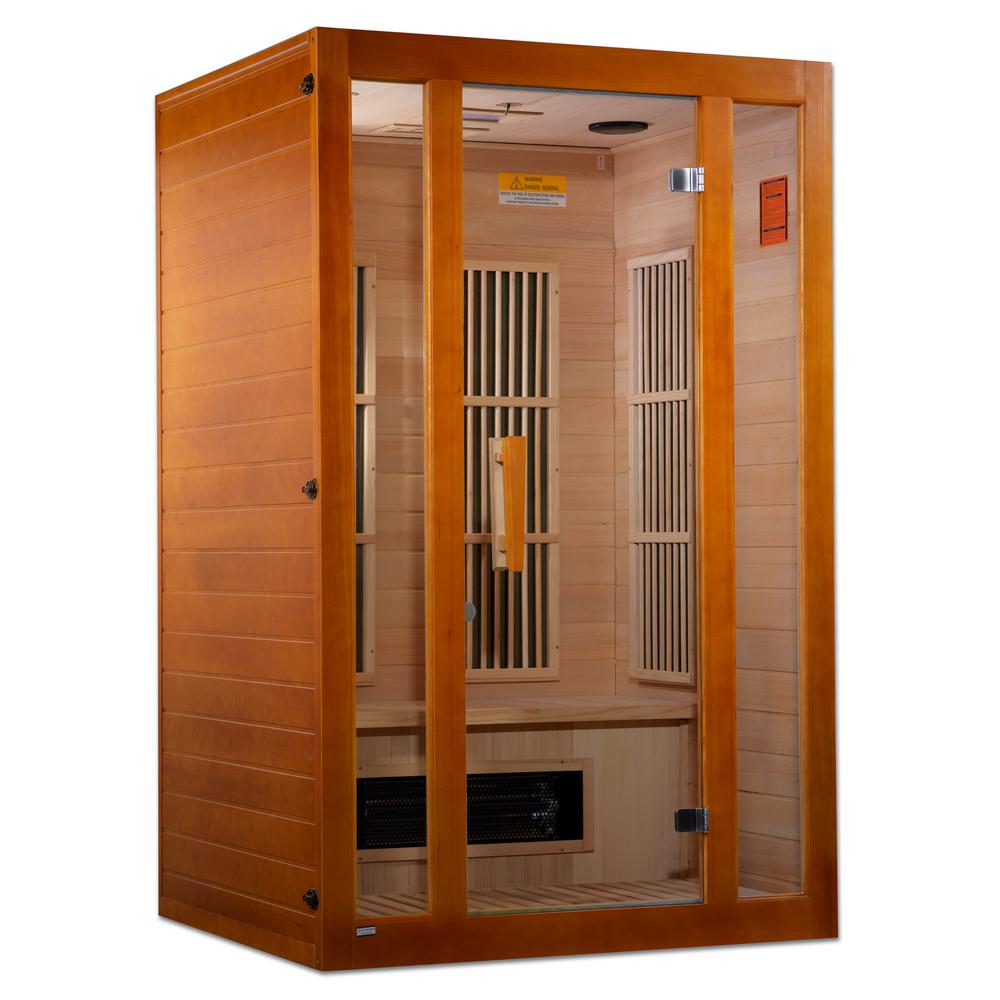 This sauna provides a low EMF FAR Infrared to its users together with a clear tempered glass door and MP3 connections. This product is perfect for 2 persons, whether be it your special someone or friend, who wants to feel relaxed and rejuvenated.
The heat it produces is said to be wider and distributed evenly because of the well-engineered carbon tech heating panels. A product for healthy living and longevity with cost-effectiveness seems to be the tagline of the product.
Highlighted Features:
2-person capacity
Oversized heaters
Made with natural hemlock wood
Tempered glass door
2 Full-length windows
Feet reflexology heater
Roof vent
LED control panels
2 dynamic speakers
Carbon tech heating panels
Double panel walls
Materials used are reforested
Heats up faster and retains heat efficiently
Cost-effective
Easy to assemble
2-years warranty
Quite expensive
Comes with poor instructions
4.  Radiant Saunas 2-Person Hemlock Infrared Sauna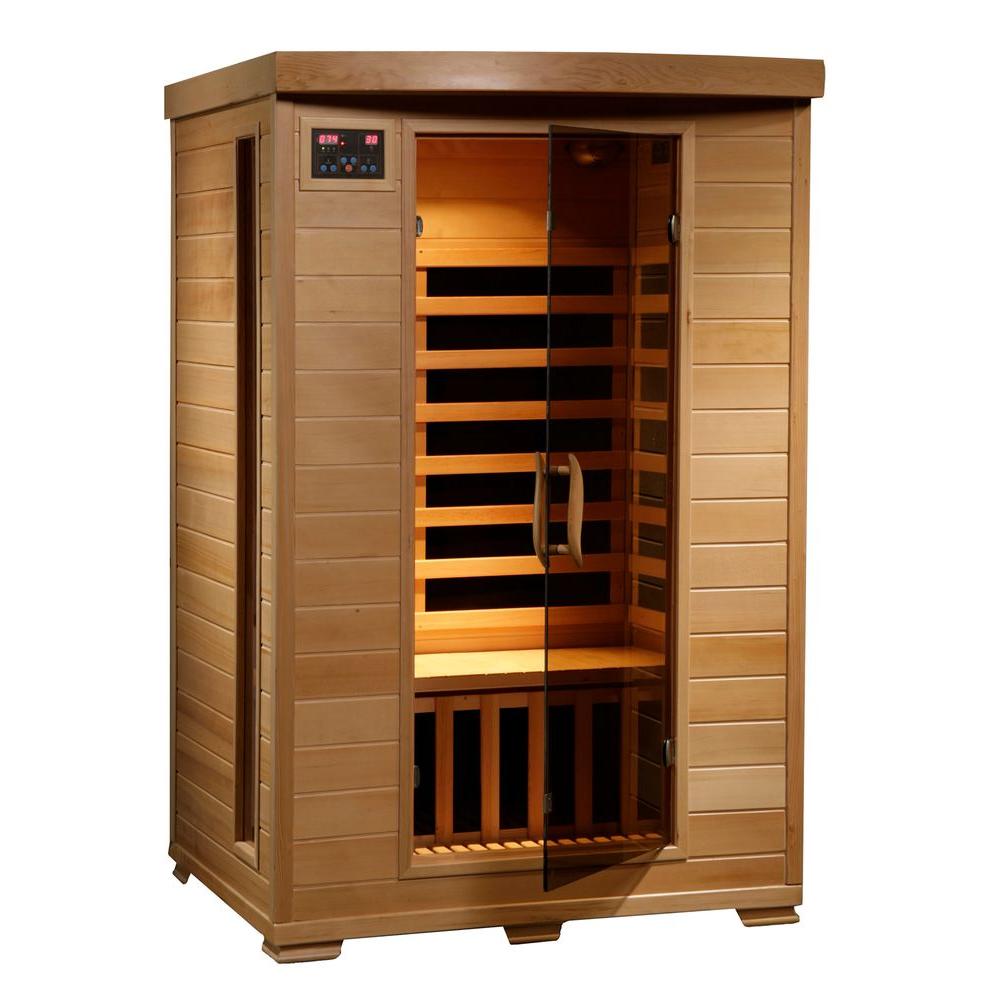 This 2-person sauna is perfect for relaxation and rejuvenation, especially when enjoyed with a partner. Its size is convenient and compact enough that it virtually fits in any room in your house. It also comes with a towel hook, backrests, magazine rack, and mp3 plug-in.
It also features 7-color therapy lights as well as an oxygen ionizer. Constructed with solid hemlock wood, it is easy to assemble and built to last long.
Highlighted Features:
Dual interior and exterior LED control panels
6 carbon heaters positioned strategically
Tempered and tinted 8 mm glass door
High-quality sound system
Made of solid, premium-grade hemlock wood
Scratch-resistant
Adjustable roof vents
Has interior reading lights
Ensures relaxation
Solid construction to last longer
Provides warm and air evenly
7-year warranty
Radio does not have good reception
Does not comes with cleaning instructions
Home sauna reviews state that it takes too long to heat up
5.  Dynamic Lugano 3-Person Low-EMF FAR Infrared Sauna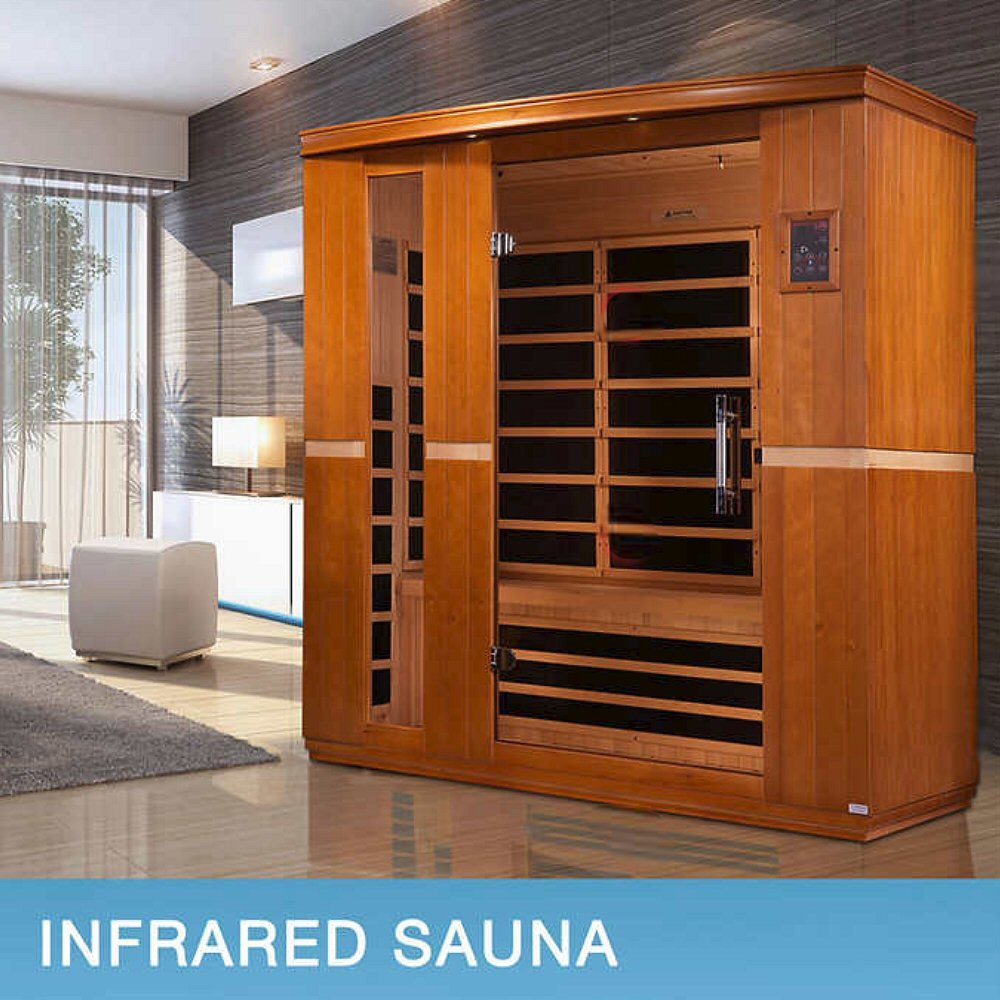 This sauna offers an environmentally-friendly and energy-efficient infrared sauna. This is made with reforested Canadian hemlock that surpasses the standard in the industry. Hence, the resulting product is a sauna with excellent quality, faster heating time, and incredible energy efficiency.
Highlighted Features:
Three-person capacity
Made with 100% Canadian hemlock
9 FAR infrared heating panels
Has both interior and exterior LED controls
Comes with music system
Chromotherapy
Bronze privacy tempered glass door
Easy assembly
Bluetooth Compatible
Has MP3 Player Auxiliary
Accommodates more person
Includes warranty
Indoor use only
Needs bigger space
6.  Maxxus Infracolor Upgraded 3-person FAR Infrared Sauna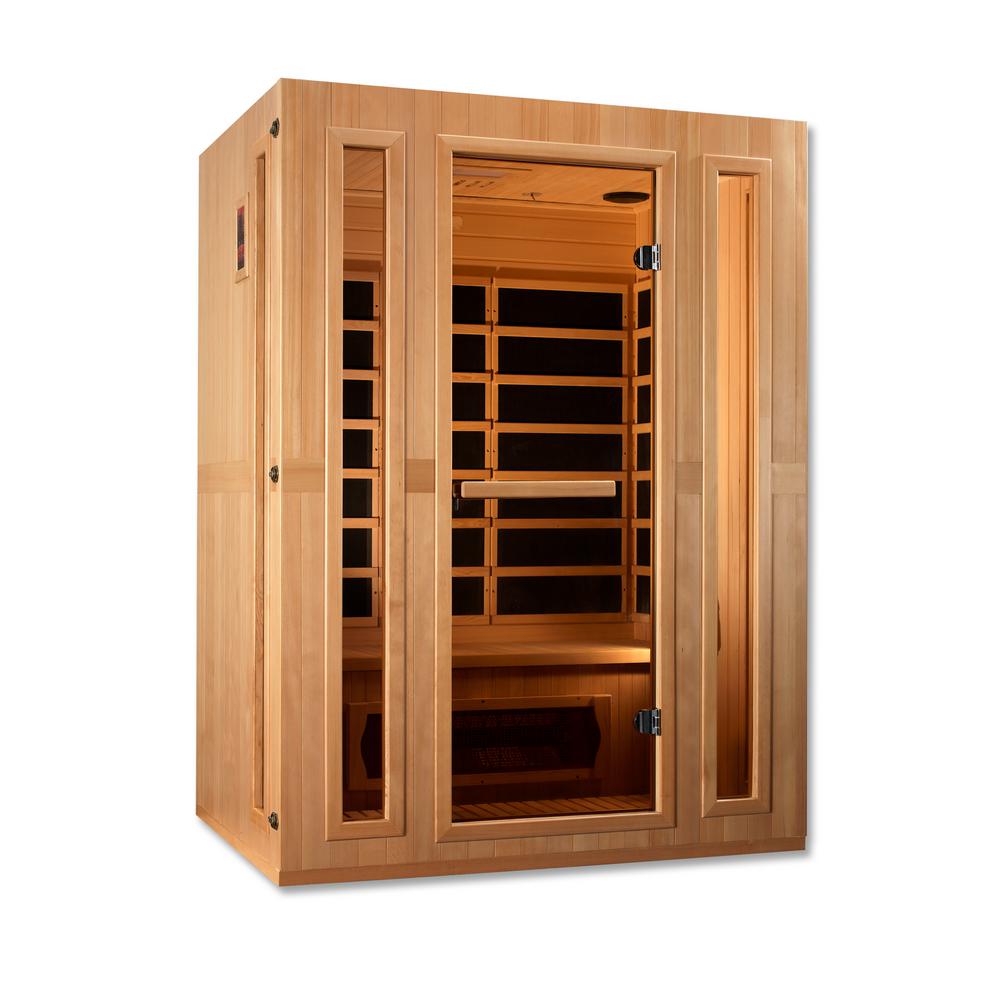 Tagged as "The best of all worlds," this sauna is made with a combination of ceramic and carbon tech heaters which provide the therapy and detoxification that you deserve. The product has an additional 25% heating capacity for therapy and has an infracolor infusion mood lighting system. Indeed, it is one of the best infrared saunas in the market.
Highlighted Features:
Sound System
Far Infrared Therapy
Oversized Heaters
Has digital controls inside and outside
Fresh air vent for optimum air circulation
Glassdoor that is tempered
Has side windows
It has several health benefits such as increase blood circulation, helps in clearing cellulite, etc.
Accommodates 3-person
Easy to assemble because of interlocking panels but needs at least 2 person
Bluetooth technology
Can be installed everywhere
2-years warranty
Requires 20A circuit and 20A receptacle
Expensive
7.  Better Life 3-Person Carbon Infrared Corner Sauna with Chromotherapy, Lighting, and Radio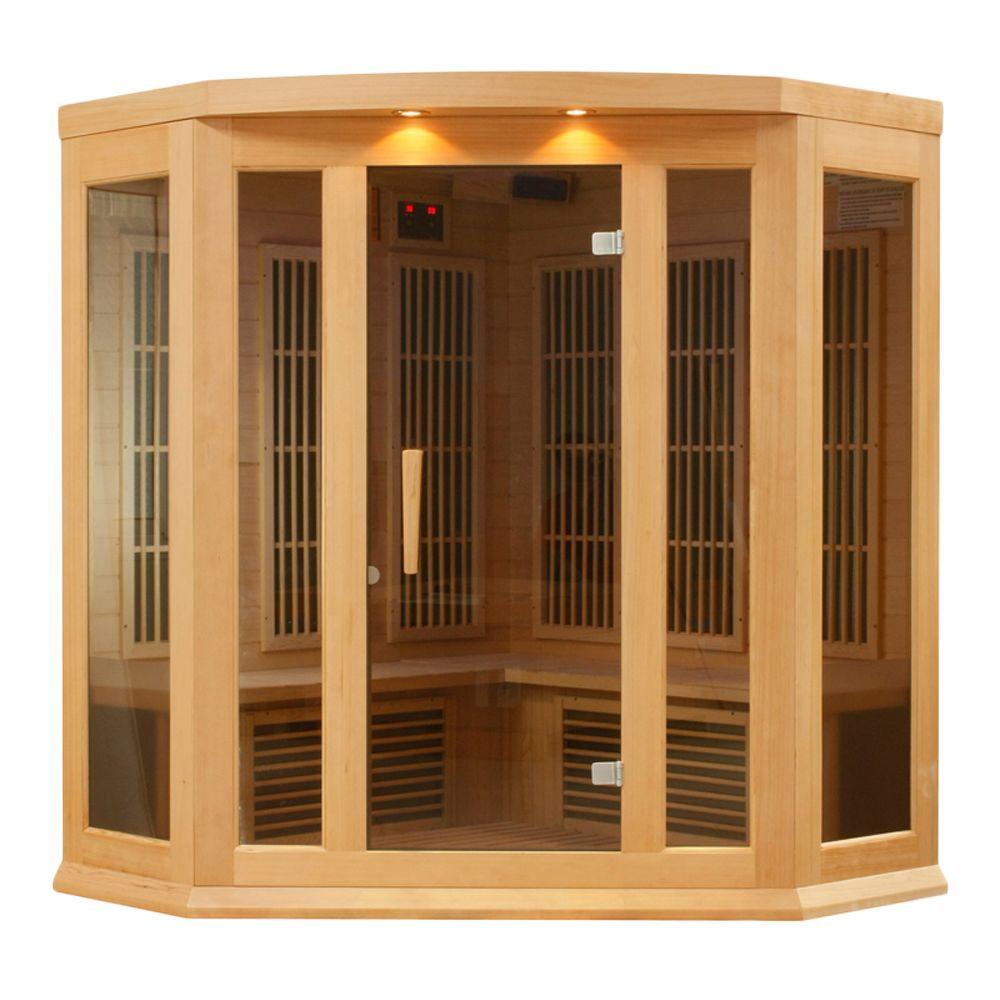 This sauna is simple and quick to assemble which gives true to its purpose "ease of use." You can start using it just by plugging the sauna in a 20A and 120V outlet and it's ready for use. It can be placed indoors, even when you have carpeted flooring.
This sauna offers both convenience and relaxation that you deserve, hence, it is one of the best home saunas available in the market.
Highlighted Features:
9 carbon FAR infrared heating panels
Comes with CD radio
Chromotherapy
Health benefits such as improving blood circulation, immune system, and skin tone.
Glassdoor is tempered
Has 2 full-length side windows
Easy and convenient to assemble
FM, MP3 Auxiliary and USB connections are available
7-year limited warranty
Bluetooth connection is not available
Heavy with 425lb in weight
Requires 20A receptacle
8.  ALMOST HEAVEN SAUNAS Madison 3-Person Cedar Indoor Electric Sauna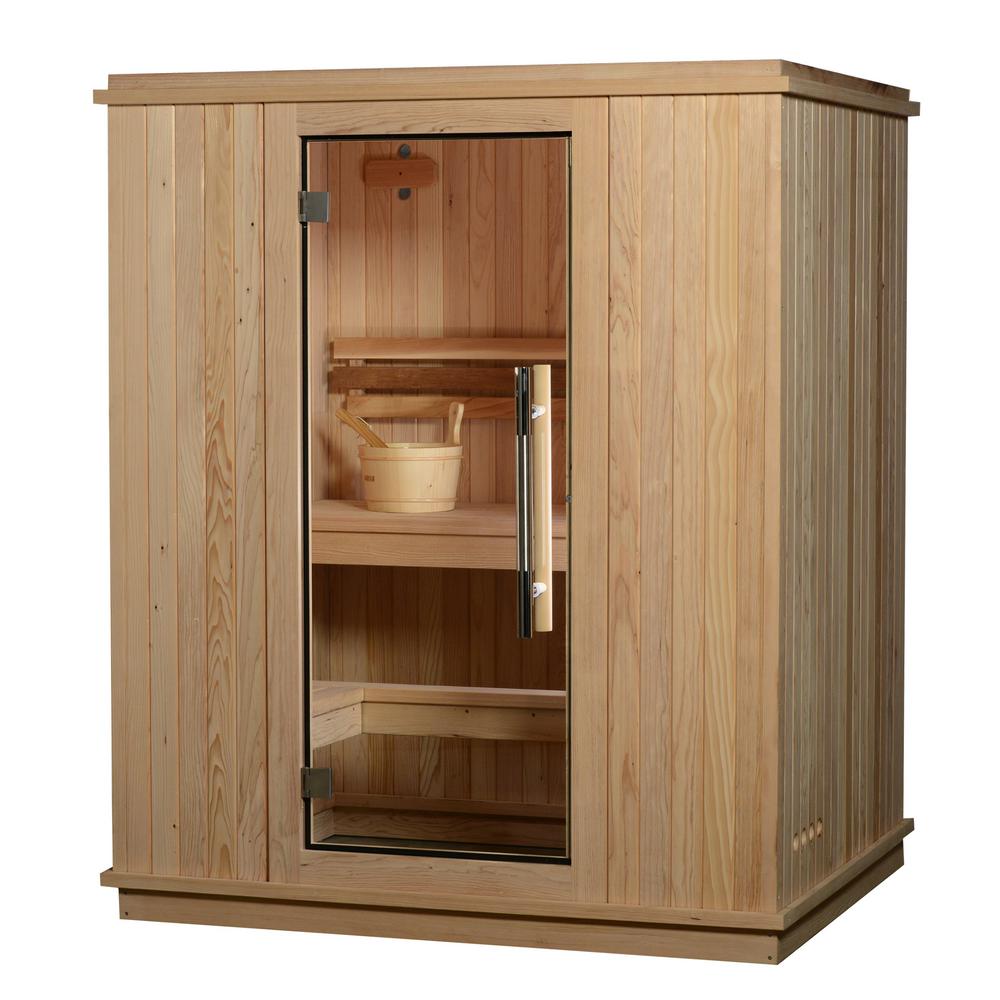 This indoor steam sauna from Almost Haven has a compact design that ideally fits every space. It even comes with pre-assembled walls and roof.
The existing floor of the house will serve as the sauna's floor, however, you have to place it in a suitable existing floor such as concrete, ceramic, vinyl, laminate, and tile. This sauna is capable of providing the ultimate sweating experience.
Highlighted Features:
Made up of tongue-and-groove softwood
Pre-assembled wall and roof
Tempered glass door
LED light
Dial-controlled 4.5kw heater
Has several accessories such as magazine rack, backrest, leg rest, robe hook and drink shelf
Accommodates 3-person
Easy assemble
Has manufacturer warranty
Cannot be used in carpeted flooring
Product's weight is 635lb
Some home sauna reviews said that it is hard to operate
9.  ALMOST HEAVEN SAUNAS Audra 4-Person Cedar Electric Canopy Barrel Sauna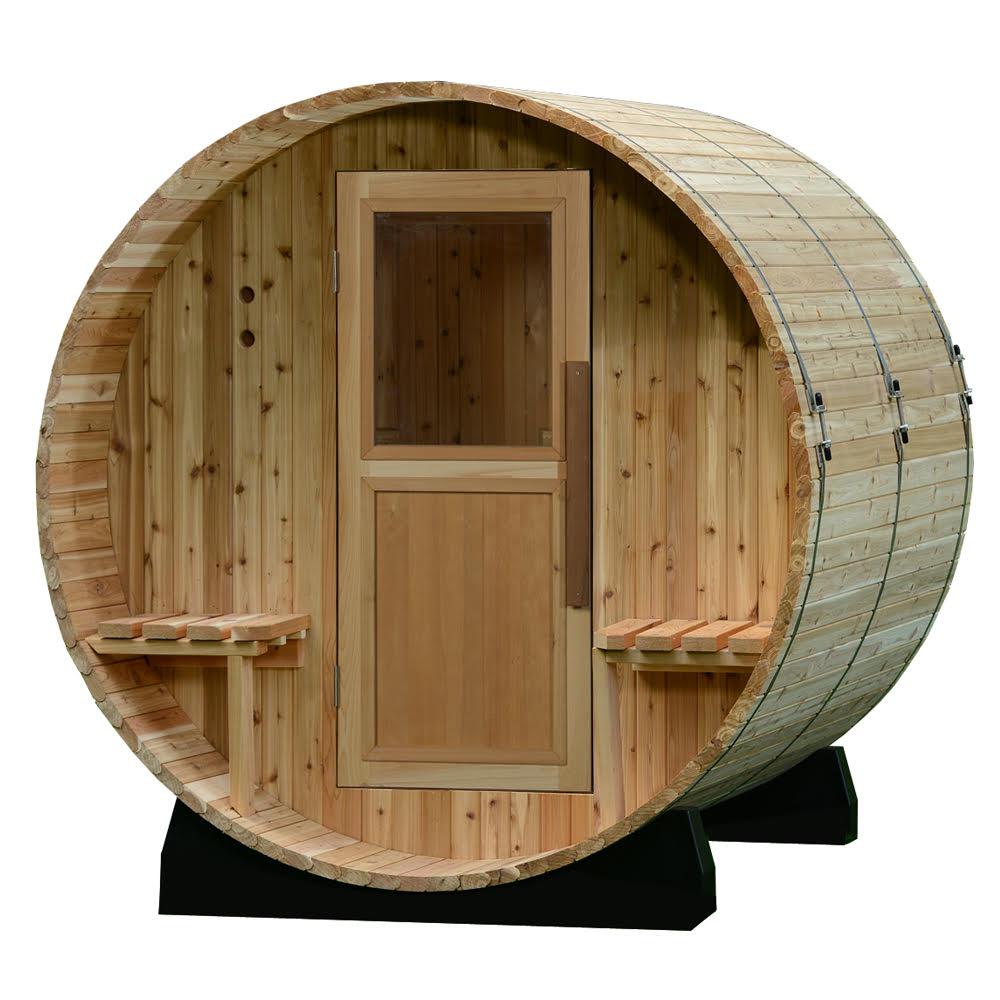 It's a simply designed yet highly effective sauna. The front wall is set back and acts as a decorative porch together with two benches opposite to each other for sitting purposes. This interior bench allows a maximum of four individuals inside the sauna.
The ball and socket designs are held in place by bands made out of stainless steel and minimal fasteners. The sauna also sits on weather-resistant polymer support cradles which is perfect for both indoor and outdoor use. This is not just one of the best home saunas but also, one of the best traditional steam saunas.
Highlighted Features:
Made of cedar wood which is perfect for insulating
Doors made of cedar and windows are tempered
Provides soft-accented glow
Dial-controlled heater
40lbs of sauna stones
Comes with cedar made accessories such as backrest, leg lift, drink shelf, magazine rack, and robe hook
Indoor and Outdoor use
Can accommodate up to 4 people
Limited lifetime warranty on room
5-year warranty on heater
Heats up quickly
Heavy with 800lb in weight
Takes hours in assembling
Electrician required in set-up
10.  Durherm Infrared Sauna
This sauna emits EMF (electromagnetic fields) minimally and uses little electricity. You can fold it up for easy storage in the closet or under your bed.
It is portable that you get to enjoy a sauna experience anytime, anywhere. It features three heater panels that are made of tourmaline that emits negative ions and infrared waves.
Best Features:
This sauna is spacious enough that it can accommodate anyone, whether small or large.
It is sturdy and delivers heat fast.
The unit is easy to assemble.
It includes a remote control to manage temperature.
It generates heat in a small period of time.
Frequently Asked Questions about Home Sauna
What is a home sauna?
A home sauna is an enclosed room designed for heat sessions. The heat produced in the room causes a person to sweat, which is found to be beneficial to the health. The exceptional heat of a home sauna produces either wet heat or dry heat.
How can you differentiate a wet sauna and dry sauna?
Most saunas make use of a heater and volcanic rocks. The rocks are heated at a high temperature. For wet sauna, the heated rocks are splashed with water to create a moist and form a steam.
On the other hand, the rocks for dry sauna doesn't make use of water, they are just heated. The mere difference between the two is the presence of humidity.
What is the difference between an infrared sauna and traditional sauna?
The difference between a traditional sauna and infrared sauna depends on the heat and humidity.
The traditional sauna uses heat with the temperature of 185°F to 195°F. It also uses water to generate steam and creates a humid experience.
On the other hand, the infrared sauna uses a milder temperature that ranges between 120°F to 150°F. The heat is penetrated into the body through infrared rays.
Where can I place my home sauna?
The home sauna can be placed on any surface – tiles, concrete, laminate, any surface that does not absorbs water. Also, it is not advisable to place it on a carpet as it absorbs odors and sweats.
How much will a home sauna cost?
The cost of a home sauna depends on the sizes, the quality, and the included accessories.
Should I be concerned about any health problems?
In case of any history of high blood pressure, heart disease, and the like, you should first consult your physician before a sauna bath.
Is infrared safe?
Infrared has been used already in medical practices. Infrared saunas use light energy that is beneficial to the body and does not cause harm.
Are home saunas safe for children?
Saunas can be used by children aged 12 years and above. Children below this age are not yet capable of thermoregulating.
When is infrared sauna not recommended?
The use of infrared sauna is not recommended for pregnant women, children below 12 years old, those who are under the influence of alcohol, and those who can't handle the extreme temperature.
Conclusion
All of the products stated above have their features, pros and cons, however, the Maxxus LSIF-03 stands out and can be considered as the best home sauna as of now. The manufacturer and designer of the product gave justice to the tagline "Best of all worlds."
It has heater below the bench which helps in improving your circulation, unlike the other products reviewed above. Its infracolor chromotherapy light system, together with its Bluetooth technology, makes it perfect for relaxation, rejuvenation, and therapy.
It also comes with digital controls that are available both on the inside and outside of the sauna which makes it more convenient to use than the others.
Also, the only cons of this product are the 20A circuit and receptacle requirement which is available in hardware stores so the installation of this sauna is still pretty easy. If you want to buy this product, click here.