The term sauna originated in Finland which literally means "bathhouse". Aside from its relaxation purposes, saunas are also considered as a form of socialization by most people.
Saunas can be found in places like the spas, gyms, and healing centers. Some even have their own saunas at home.
There are various types of saunas that you can choose from. They all vary depending on their heating systems, and they come in different sizes and shapes. One type of sauna is the home or indoor sauna.
Home saunas are beneficial for you and your health. Not to mention that having the best home sauna is also a good investment for your home.
The Best Infrared Saunas and Their Many Benefits
10 Benefits of Home Sauna
Aside from the fact that home saunas are great for your body, it also has extensive benefits for your health.
1. Saunas are stress fighters
Almost all sauna users attest that using sauna reduces their stress. Medical studies state that stress has a negative impact on your health. In fact, the majority of diseases are partially stress-related. The heat that comes from the sauna improves blood circulation, relaxes the muscles, and stimulates the body to release endorphins.
2. Saunas boost longevity
According to a medical study in Finland that involves Finnish men; frequent use of saunas may help you live longer – for men, at least. The research was conducted for 20 years by following middle-aged men. The unequivocal result shows that the more frequent men go to sauna and the longer they stayed, the lower the risk of developing cardiovascular diseases.
3. Saunas soothe both joint and muscle pain and relax the muscles
The heat that comes from sauna releases endorphins which are essential in minimizing muscle soreness, especially after an intense workout. Also, the heat can cause dilation of the blood vessels and increases the blood circulation. Increased blood circulation helps speed up the healing process of minor cuts and bruises. The sauna heat relaxes the muscles by reducing muscle tension.
4. Saunas detoxify the body
Lead, mercury, cadmium, and arsenic are toxins that are commonly absorbed from the environment. According to a study, these toxins can be released from the body by deep sweating. The heat coming from the sauna stimulates the sweat glands to produce sweat, thus eliminating the toxins out of your body.
5. Saunas are good for the heart
A sudden exchange in body temperature (cool to hot or hot to cool) increases your heart rate. The heat effect of sauna causes a significant increase in the cardiac output that boosts blood circulation. This strengthens the heart muscles and reduces the chance of developing heart disease.
6. Saunas maintain healthy skin
Spending time in a sauna opens your skin pores. The heat from the sauna causes deep sweating and removes bacteria from your skin. Deep sweating removes dead skin cells and makes your skin look vibrant. It cleanses the skin pores, and it helps in capillary circulation.
7. Saunas increase metabolic rate
Regular use of sauna burns body calories and increases metabolic rate. The heat increases heart activity, lowers blood pressure, and increases oxygen demand. These effects are similar to cardio exercise.
The body will then convert the calories into usable energy and promote weight loss. It is believed that sauna heat can actually burn 600 body calories in 30 minutes. The weight loss for sauna users are merely water weight, and it can come back quickly.
8. Saunas are mood and brain boosters
A study shows that exposure to sauna heat increases levels of norepinephrine (sharpens your focus), prolactin (nerve damage repair), and dynorphins (feel-good sensitivity). It also increases BDNF (brain-derived neurotrophic factor), which is essential in the growth of new brain cells and improves brain function.
Finland's observational research shows that exposure to sauna heat reduces the risk of developing Alzheimer's disease and other dementia.
9.  Saunas fight cold symptoms
The heat and steam of sauna reduce incidents of influenza and colds. Its steam vapor clears up sinus congestion.
10. Saunas give a wonderful feeling
Sauna goers agree that the warmth of sauna is good for the body and soul. It serves as a pampering treat that makes you feel better, looks better, and sleep better.
Read more: Sauna use linked to longer life, fewer fatal heart problems at https://www.health.harvard.edu
A variety of sauna products are widely available in the market. We have conducted home sauna reviews of different sauna products. This will serve as your guide in deciding which home sauna is best for you.
25 Best Home Saunas- Full Reviews
1.  Dynamic Infrared Santiago 2 Person Indoor FAR Infrared Sauna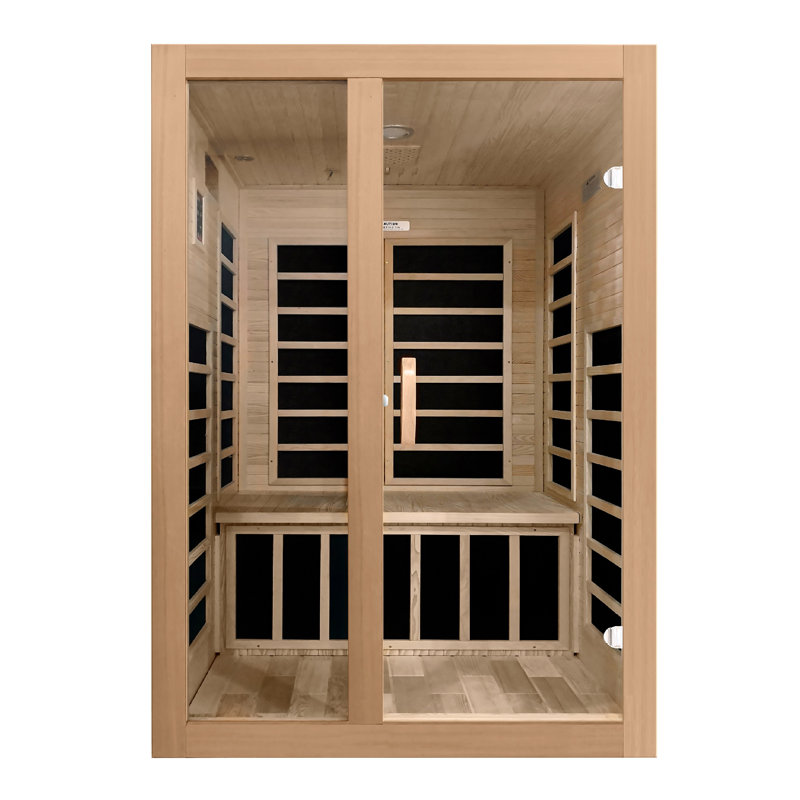 The Dynamic Infrared Santiago sauna has a thick interior that helps it retain heat for a longer time, making it one of the best infrared sauna on the market. The energy loss is minimal, and the carbon energy heating panels are 25% larger than the, thus penetrating the skin 40% more.
The Pros:
It helps clear the skin pores
It helps get rid of wrinkles
It assists in regulating Blood pressure levels.
Cons:
The use of an infrared sauna is not recommended if you are pregnant
If you have open unhealed wounds, I recommend not using the sauna.
If you have chronic heart disease, spending a long time in the infrared sauna can leave you exhausted and dizzy.
Key Features:
Built-in music system
LED control panel
7 carbon heating elements
It weighs 330 pounds
Interior lighting system
Who is this Product For?
Anyone who loves the feeling of relaxing for 15 minutes and working up a sweat is welcome to try out the product. But if you have any chronic health issues, I recommend that you consult your doctor before proceeding.
The product is ideal for fitness enthusiasts and athletes as it helps them recover quickly from muscle pains.
Customer Reviews
Many users, including myself, tried the products and were satisfied with the results. "I didn't know how truly wonderful this product was until I tried it myself," says AnnDunn.
"I purchased the Infrared sauna a year back, and I can't imagine my daily routine without it. It helps me relax and work up a sweat," says Michael, one of the first customers to buy the product.
Though the product got numerous positive reviews, a few people didn't enjoy it as much. "After a 20-minute session in the sauna, I feel dizzy and dehydrated", says Douglass, who recently ordered the product.
Additional Tips
Drinking water before stepping into the sauna helps you avoid dehydration.
The sauna temperature ranges from 100 to 180 degrees F, so choose the temperature that puts the least pressure on your skin to avoid irritation.
The recommended time is 15minutes, but you can go up to 20 minutes for one session. Longer than that can cause harm.
FAQ
Does using an infrared sauna benefit your health? Few types of research show the positive aspects of using a FAR infrared sauna, but the research is not concrete.
Who shouldn't use the sauna? If you are pregnant or have chronic heart disease, using an Infrared sauna may cause fatigue, dizziness, dehydration, etc.
Read more: Dynamic Infrared Santiago 2 Person Indoor FAR Infrared Sauna Review: Is it worth it?
2.  Dynamic Infrared Single Person Indoor FAR Infrared Sauna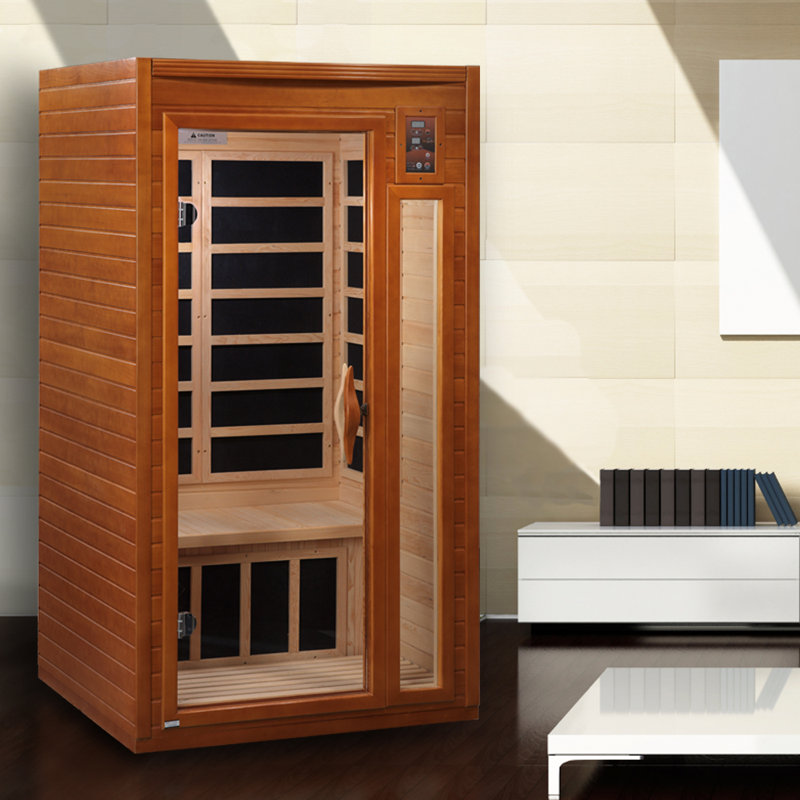 This product is designed and manufactured by Dynamic Saunas. Its source of heat is Far-infrared whose effect is just the same as that of the sun. It is a one-person sauna, and it is powered by 120 V a.c. This product has remote control by Bluetooth compatibility.
The Pros:
Good heat retention
Lighter weight
Has remote control
Bluetooth compatible
Low power consumption
It never gets too hot
The Cons:
Assembly on site is required
Takes a longer time to reach its maximum operating temperature
Cannot be installed near damp environments like swimming pools
Verdict:
The design of this product is excellent. It has good heat retention meaning there is no unnecessary heat loss. Its remote-control capability makes it even more convenient.
Who is this Infrared Sauna for?
Do you want to gain all the health benefits of a sauna without ever leaving your house? then Dynamic Infrared Single Person Indoor Bluetooth Compatible FAR Infrared Sauna is for you. It will make a valuable addition to your home because it is the best available quality for its price
Dynamic Infrared Single Person Indoor Bluetooth Compatible FAR Infrared Sauna Key features.
EMF rating of 10. This low EMF rating allows you to enjoy the health benefits of infrared sauna therapy
Thick Hemlock wood construction. This allows for a good heat retention capacity.
1450-Watt energy consumption.
Venting is included for temperature regulation.
Limited to indoor use only.
Resistant to warping for enhanced service life.
Maximum heat capacity of 140 degrees Fahrenheit
Operates at 120 Volts hence can be easily hooked to your mains power supply
Includes control panels both on the exterior and interior for convenient management of the system.
Bluetooth compatible with AUX Mp3 player output
Remove control inclusive
Seats one person
Does not require cleaning chemicals hence easy to take care of the project
Has antimicrobial properties therefore no need to worry about disinfection
Tampered glass door is included
UL and ETL listed for quality assurance and monitoring
5-year warranty included
Adult product assembly is required with the only required tools only being a screwdriver and ladder
Timer included for accurate timing of your therapy sessions
The interior dimensions are 5′ 8" H x 3′ W x 2′ 8" D."
Customer Reviews
"Excellent construction and very easy to assemble. Absolutely on hassles''
"It takes an incredibly short time to warm up. You only need 10-15 minutes before you can get in. I am proud of this purchase.''
"I had to wait for 40 minutes before it reached 130 degrees Fahrenheit which is the temperature I enjoy in saunas. I expected a much shorter heating time''
FAQs and Additional Tips.
What time does it take to reach the maximum temperature? It takes a maximum of 40 minutes to reach its maximum temperature of 140 degrees Fahrenheit.
What are the interior dimensions of the Sauna? The interior dimensions of this infrared sauna are 5′ 8" H x 3′ W x 2′ 8" D."
Is it possible to install my sauna in the bathroom?  No. Do not install the sauna in damp areas including the bathroom, near the swimming pool or the basement.
Read more: Dynamic Infrared Single Person Indoor FAR Infrared Sauna
3.  Dynamic Infrared San Marino FAR Infrared Sauna
Dynamic Infrared San Marino 2 Person FAR Infrared Sauna is manufactured by Dynamic Saunas, a company that is a leader in the industry and has been manufacturing saunas for many years. It is designed to provide users with deep relaxation, stress reduction and improved circulation.
Pros:
The sauna is easy to set up and use.
It's made from quality materials, so you get top-notch durability and safety.
It has a good heating capacity, so it can heat up your body very quickly.
The temperature control is really accurate and consistent.
Cons:
It can be a little noisy when it's on high, but nothing too bad.
Features:
Fits 2 People: The sauna is designed to be able to fit two people comfortably and smoothly.
40-degree temperature: It features a 40-degree temperature and 120 volts of power. The temperature can be adjusted easily with the touch of a button. Not to mention, the infrared sauna's heating process heats up very quickly, and in just 15 minutes you can enjoy its full benefits. It also has a remote control that allows you to set the timer from anywhere in the room so that you don't have to get up every time you want to use it.
Bluetooth enabled: The sauna comes with a Bluetooth-enabled controller and can be used independently or paired with other devices via Bluetooth. This way you can listen to music or news while being treated with the infrared rays from the sauna.
Solid wood: Its solid wood-hemlock wood construction makes it durable enough for long-term use so you don't need to worry about maintenance or repairs on this product.
Who is this product for?
Dynamic Infrared San Marino 2 Person FAR Infrared Sauna is for anyone who wants to experience the benefits of infrared sauna therapy. It's for people who want to feel relaxed and rejuvenated or those who want to lose weight without dieting.
It's a great alternative to other types of saunas, which require going outside or using a traditional metal tub. That makes this sauna an ideal choice for those who have limited space and can't dedicate too much time to exercising every day.
It's a great option if you want to do something on your own without having to find an expensive gym membership or wait on someone else's schedule.
Key features and benefits of the product
The 2 person FAR Infrared Sauna from U-Lite is a great addition to your home. It features adjustable heat controls and easy-to-use remote control for better control over your sauna experience.
This allows you to keep track of how much time you spend in the sauna and how much heat you are using up so that you can make adjustments accordingly.
It is a freestanding sauna that can be placed anywhere you want, including indoors. The ergonomic design makes it comfortable to use, even for long periods of time. The sauna can also be used by one or two people at the same time thus bringing efficiency and convenience.
Customer Reviews
"My husband and I have been using it every week for the last few months, and we love it! The heat is very relaxing and soothing, and it's so nice to be able to work out your muscles without having to go to the gym."
"The unit is quiet and heats up quickly, as advertised. It's easy to use and set up, although there are some parts that can be a little tricky to assemble on your own if you're not familiar with working with electronics."
FAQ & Additional Tips
Make sure that you're comfortable in your sauna before getting in. It should be as warm as you can tolerate without sweating profusely or having a hard time breathing normally. If not, adjust the temperature accordingly until you reach this point.
Read more: Dynamic Infrared San Marino 2 Person FAR Infrared Sauna Review
4.  Dynamic Infrared Bellevue FAR Infrared Sauna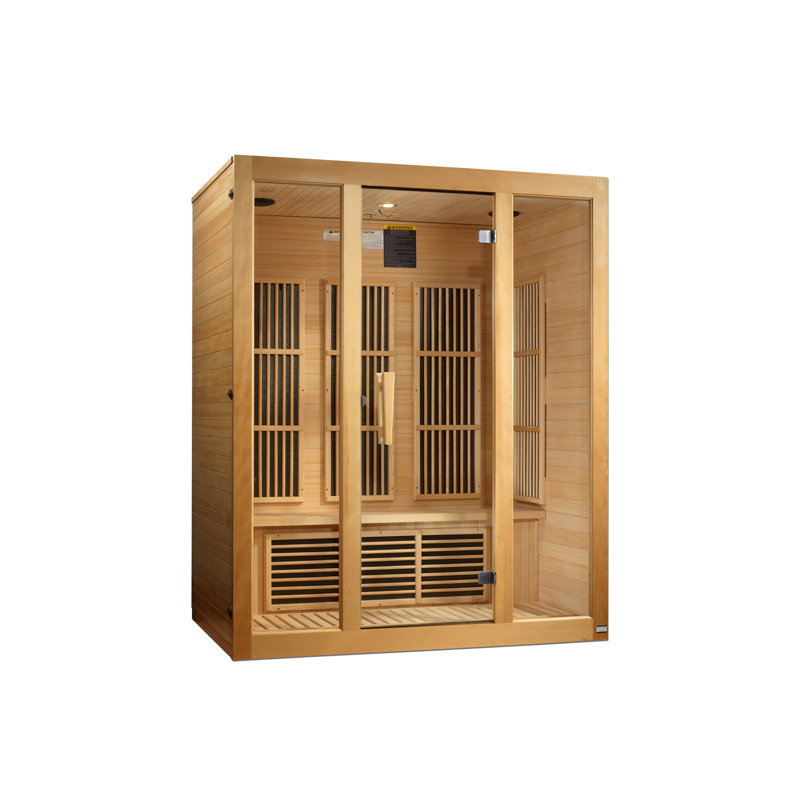 By integrating current technology and energy-efficient FAR infrared carbon heating panels, the developers at Dynamic Infrared have created a sauna that helps you eliminate body toxins, enhance blood circulation, and reduce discomfort from tight muscles.
To begin, you will notice that the sauna walls are double-paneled with extraordinarily thick oak planks, which translates to excellent heat retention and energy efficiency. Furthermore, because it is made of re-forested Canadian Hemlock wood, this sauna was designed with the environment in mind.
To maximize therapeutic benefits, this sauna employs low EMF FAR infrared that may penetrate skin 40% deeper. One advantage of the heating element is that, unlike ceramic heaters, it will never need to be replaced.
It also seems that Dynamic Infrared's engineers have worked hard to ensure the comfort of its customers. They include a soft-touch control panel inside with an LED display that displays sauna temperature and time settings.
You may also use the lower bench warmer, which provides the same soothing effects on your feet and legs. If you want to listen to music while you're in the sauna, simply hook your phone to the built-in Bluetooth connectivity or connect the MP3 auxiliary adapter.
The Pros:
Can comfortably accommodate three adults
Easy media connectivity
Durable double-panel walls
Decent sound production
The Cons:
Professional installation may be required
The unit is relatively heavy due to the thick walls
Only available in Hemlock
Who is this product for?
This infrared sauna is ideal for three kinds of people: singles who love intimate conversations with their best friends, young families with an only child, and elderly couples who no longer have their children around.
Key features and benefits
Ideal for a home indoor private sauna
Made of tough Canadian Hemlock wood
Installable in any indoor location, including the basement and walk-in closet
It includes a convenient LED control panel
Simple media connectivity via Bluetooth and MP3 aux
A 2-year warranty deal for electronic parts
120 V electricity is required, as well as a dedicated receptacle and breaker
What Do Customers Say About this Product?
Customers have praised how simple it is to set up and how quickly it heats up. Michael, a Texas customer, noted that he just required 20 minutes for the sauna to reach 140 degrees.
Customers don't seem to have many complaints about this sauna. However, Thomas, a Saint Louis customer, claimed that he couldn't find the correct outlet for his unit.
Other Alternatives
Dynamic Infrared isn't the only player in the market that sells 3-person saunas made of Canadian Hemlock wood. Radiant Health has also entered the arena with its Elite infrared sauna lineup's E-3H model.
Radiant Health saunas also use low EMF infrared heating elements. It differs in that it includes a CD/AM/FM player instead of Bluetooth connectivity, which makes the sauna more suitable for elderly users.
FAQ & Additional Tips
What is the return and exchange policy at Dynamic Infrared? All returns with Dynamic Infrared must be processed within 30 days after delivery. More significantly, the products must be returned in their original packing, in returnable condition, and with proof of purchase.
Can you bring it to my home? Dynamic Infrared does not provide white glove delivery. This means that the delivery men are only accountable for delivering to the sidewalk or the front of your gate.
Read more: Brief Guide about the Best Dynamic Infrared Bellevue FAR Infrared Sauna
5.  Dynamic Infrared Lugano 3 Person Indoor FAR Infrared Sauna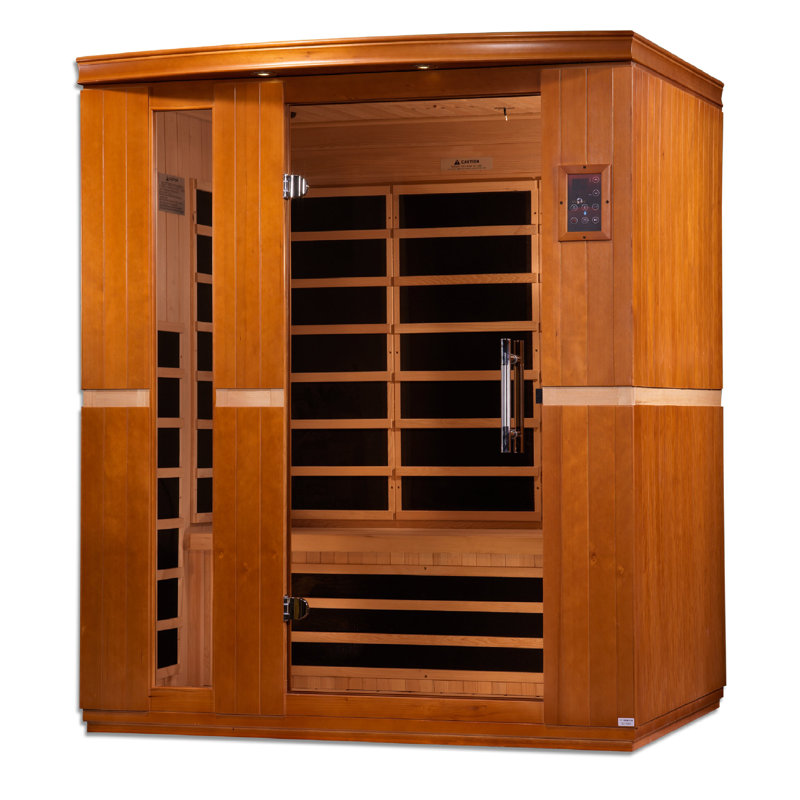 Before you make the final decision of investing in the Dynamic Lugano 3 Person FAR Infrared Sauna, you need to know its features first. 
Made of reforested Canadian hemlock planks, Dynamic's sauna provides energy-efficient infrared rays that provide a softer and even heat ideal to your body. It uses dry heat which is ideal for people who find humid air overwhelming. It can be controlled to your desired heat levels to induce relaxed sweating.
The product is manufactured by Dynamic Saunas Direct who is dedicated to creating high-quality infrared saunas.
The Pros of This Dynamic Lugano 3 Person FAR Infrared Sauna
Straightforward assembly requiring only two people
Comfortable space
Can reach a perfect heat of 145 degrees Fahrenheit
Its Bluetooth feature makes it more enjoyable
Energy-efficient design
Cons of The Infrared Sauna
Can take time to heat, usually around 30 minutes
Its infrared panels at the back are too hot
Key Features:
FAR infrared heat
Spacious
Bluetooth compatibility
LED lighting
Verdict
This product offers great features that will make you enjoy your sauna treat. The Bluetooth feature will help you avoid boredom and make you spend enough time inside. Furthermore, it can accommodate up to three people at the same time.
Who is this product for?
This innovation is designed for people who want to enjoy health benefits. Since the infrared rays induce detoxification, blood circulation, and relaxation of muscles, it can effectively replace exercises.
It is also ideal for people who want to upgrade from the traditional saunas. Since traditional saunas have to heat water to provide steam that will necessitate sweating, it will mean more power is used to boil the water.
Key Features and Benefits
FAR infrared heat: The infrared rays used by this sauna penetrate the body and heat it from the inside. The temperature will not be affected, but your body organs will feel the effect of the heat. As a result, you will manage to bear the temperature inside and attain the maximum benefits during your stay inside the sauna. This heat will also work in conserving energy since the sauna can release heat that is enough for the body but not the surrounding air.
Spacious: This sauna measures 5′ 9" H x 4′ 9" W x 3′ 5" D, thus providing enough space for three people. Two people can also share the space for great comfort. Such a space is ideal because the infrared rays will manage to penetrate each part of the body without a struggle.
Bluetooth compatibility: The sauna's Bluetooth feature allows you to stream your audio and listen through its built-in speakers. This innovation is great because you won't be tempted to sleep for the 20 or so minutes that you will spend inside. The feature will make you feel more excited as you listen to your favorite music.
LED lighting: The LED lights make you feel like you are out in the sun. They stimulate a glowing and happy mood as you observe the changes in your body.
Customer Reviews
Here are some of what people have to say about the product:
"It looks so amazing in our space….and the radio and light are amazing as well."
"This sauna is beautiful and heats up in just 15 mins. The Bluetooth feature is also awesome! I definitely love it!!!"
"The sauna takes about 30 minutes to reach the desired temperature. This room is good in every way you look at it in terms of quality, durability, and elegance."
"I really love it. After I used it, I felt relaxed while my back pain and tense muscle were relieved. Since I started using the sauna, I lost two pounds of weight already."
Read more: Dynamic Lugano 3 Person FAR Infrared Sauna: We Review The Home Sauna That Everyone Is Talking About!
6.  Dynamic "Monaco" 6-Person Ulta Low EMF FAR Infrared Sauna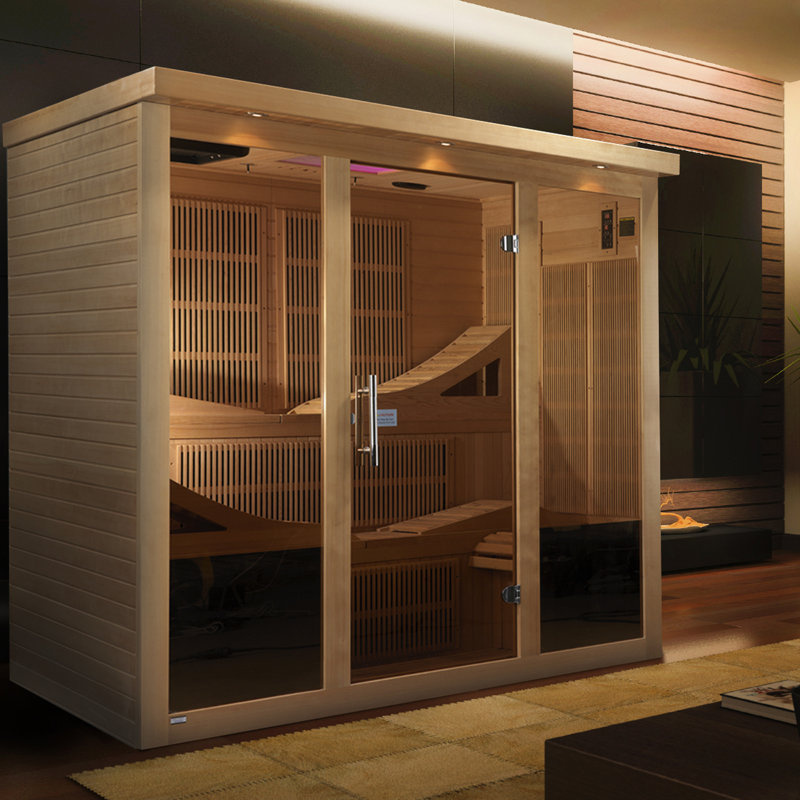 Dynamic Infrared's "Monaco" low EMF infrared sauna is a great option for those who want to reap the benefits of saunas in the comfort of their own homes. Not only does it does a great job of providing its users with the health benefits of saunas, but it also has several features that make the experience more convenient and enjoyable. 
Key Features
Chromotherapy Lighting: Like many of their other sauna models, the Monaco model uses the company's unique chromotherapy lighting that allows users to achieve their wellness goals such as pain relief and reduction of inflammation while sitting back and relaxing.
Low EMF: One of the most notable features of this model is that it emits a lower EMF radiation which reduces your risk of suffering from various illnesses because of the radiation.
Capacity to Sit 6 Persons: This model's interior dimensions are spacious enough to accommodate up to 6 persons, allowing you and your whole family to enjoy and reap the benefits of your home sauna together.
Additional Convenient Features: Aside from its main features, the Dynamic Monaco 6-Person Ulta Low EMF FAR Infrared Sauna model also comes with several convenient features like 2 seating benches, a remote control, a separate control panel, and an auxiliary input for mp3 players.
These features allow users to enjoy the sauna experience even more, giving them the ultimate comfort and convenience.
The Pros of This Dynamic "Monaco" 6 Person
Spacious and wide enough for 6 persons
Comes with several convenient features
Emits only a low level of EMF radiation
Uses the effects of different lights to achieve your desired results
Cons of The Infrared Sauna
Can be difficult to assemble, especially alone
Who is it for?
This particular sauna model is perfect for larger families who want to enjoy and reap the benefits of a sauna together. Moreover, it's also ideal for those who are concerned about what a high level of EMF radiation could do to one's health.
Verdict
Dynamic Infrared's Monaco 6-Person sauna is overall a great option for those who want to achieve their wellness goals even with their busy schedules. It's large enough so that the entire family can benefit from it, and it has numerous features that make the sauna experience convenient, comfortable, and enjoyable.
However, its assembly can be challenging, especially when done alone, but it's a small price to pay for the benefits you can reap from this sauna.
Customer Reviews
Check out what the other customers have to say about this sauna model in these Dynamic Infrared sauna reviews.
"The sauna was everything we hoped for and more! My family and I use it almost every day!"
"Its overall design is well thought of and well-engineered. It's perfect for those conscious of their health like I am."
"It heats up quickly and it's the perfect addition to my home's bathroom."
"It's overall a great sauna. My only complaint is that the manual and instructions could be clearer. The fuzzy print on the manual made the assembly more challenging than it should have been."
Read more: Dynamic Monaco 6-Person Ulta Low EMF FAR Infrared Sauna Reviews
7.  Clearlight® Sanctuary™ 1-Person Full-Spectrum Infrared Sauna
Here is a quick list of what this sauna promises:
iOS/Android Smartphone Control
Medical Grade Chromotherapy Included.
Built-in charging & audio station.
Distinctive door handle/smartphone cradle
Reservation Mode
True Wave® carbon/ceramic low-EMF far infrared heating technology
ELF shielding with the lowest ELF levels in the industry.
Flawless "furniture grade" cabinetry (8mm thick glass front and ceiling)
Italian-designed sauna with a glass roof
Easy Installation (normally about 60-90 minutes)
Comprehensive Limited Lifetime Warranty
Programmable Timer
Some Clearlight Jacuzzi® Sanctuary™ 1-Person Full-Spectrum Infrared Sauna Reviews have summarized the features and benefits but nothing beats the experience of being in one.
Pros:
Very affordable
Design
Easy to install and operate
Cons:
Limited Size
May need an add-on for more comfort
After purchasing one, I had the sauna installed by a technician in less than two hours. Provided there is enough space allotted for the sauna, the installation should not look out of place. Do not forget to put enough space on its outer surface.
Power Requirements and Consumption
The sauna operates efficiently. With only 120 volts, the sauna can work plugged into any standard household outlet. There are no special electrical preparations needed and the best part, you do not have to spend a lot of energy.
Compared to its other brand contemporaries, the Clearlight Jacuzzi® Sanctuary™ 1-Person Full-Spectrum Infrared Sauna is more affordable in costs and power consumption.
Comfortable and Purposive Design
Is the design great? Definitely.  The mahogany interior is carefully and aesthetically integrated with tempered glass as its doors. For added comfort, you can choose to put on a cushion. The dimensions are perfect for personal use.
The light's colors are comfortable for the eyes. Some claim that even light can be a form of therapy. And if you want, you can get an add-on of red light for only $1,799. The lighting is great for relaxation and even for light reading. But then again, the entire structure is for one person.
How is it inside? Since it is a one-person sauna, you can expect limited space. However, there is an ergonomic backrest. You'll have to stretch by standing up from time to time if you are one who easily gets too tired staying seated for a period. To add to that, anyone who may experience fear of closed spaces will not like staying in one even with the perfect dimension and design.
And then there is the wood experience. The timber used for the sauna proves there is nothing very synthetic used. While inside, you won't smell the strong odors most cheap saunas emit due to the use of glue. Perhaps due to the brand being in the market for more than 20 years, the integration of design, traditional sauna, and technology worked well together.
Heating and Safety
Is there even heating distribution? Definitely. The positioning of heating targets the calves, the legs, the abdomen, and even the neck. How are the lights? The lights used do not emit too much heat even at close range. Staying seated for a time is enough to achieve desired results.
Technology Integration
Presetting the sauna is easy thanks to its "reservation mode." If you want to set the sauna ahead, you can do so even up to 36 hours in advance. The patent-pending door can function as a tablet holder to keep you entertained. Did I mention it has a built-in Nakamichi speaker?
FAQ & Additional Tips
What should I look for in an infrared sauna?
Consider the dimensions you want for your space first and foremost. Then look into the specs. Some infrared saunas may come more affordable for you with a limited number of features.
Lastly, check the material. Cheam material can be easily detected through the wood used. If you feel you need to read more about which sauna suits your test, checking this list of best infrared saunas might help.
When is the best time to use a sauna?
Getting in your sauna in the morning can start your day right while going in at night soothes your body and prepares it for sleep. However, if you go to the gym, a session after a workout is great for your muscles.
Read more: Clearlight Jacuzzi® Sanctuary™ 1-Person Full-Spectrum Infrared Sauna Review
8.  Clearlight® Sanctuary™ Yoga 4-Person Full-Spectrum Infrared Sauna
The Clearlight Sanctuary Yoga 4-person full spectrum infrared Sauna is a sauna designed with full spectrum technology. It offers the benefits of infrared wavelengths that guarantee the deepest penetration for an unmatched sauna experience.
The sauna is manufactured by Clearlight, which is reputed for designing top-notch full-spectrum saunas for homes and businesses. The company also provides near, mid, and far infrared technology for its products.
Pros:
It can fit up to 4 people
Superior craftsmanship
Smartphone compatibility
Full spectrum infrared
Low-EMF heaters
Cons:
Requires a lot of space
A bit pricey
Heavy
Verdict:
Clearlight Sanctuary Yoga 4-person sauna comes with impressive and advanced features that are rare in most models. This explains its high price. Ultimately, it is the best infrared sauna if you have the budget and the space.
Key Features and Their Benefits
The Clearlight sanctuary Yoga 4-Person Full-Spectrum has the following key features;
Quality Craftsmanship: This four-person sauna is made from high-quality material and the latest technology. Like other Clearlight saunas, this model has the best-testing record when it comes to canceling both ELF and EMF.
Full Spectrum Infrared Heating: There are power carbon-ceramic heaters to ensure that the infrared wavelengths penetrate your body, giving you a relaxing experience. The infrared heating panels also ensure that heat is evenly distributed in the sauna.
Reservation Mode: This sauna is designed with a reservation mode that allows you to preset it for up to 36 hours. This can help enhance your sauna experience.
Mobile Application Compatibility: This sauna can be controlled from anywhere thanks to its compatibility with a mobile application. This means that you can customize your sauna experience from your own comfort.
Comfortable Features: It features a backrest and flat bench for a comfortable sauna experience.
Medical-Grade Chemotherapy: Clearlight Sanctuary Yoga sauna offers a lot of health benefits, thanks to its chemotherapy feature.
Sound Speaker: There is a sound speaker where you can play music as you relax in the sauna. The speaker supports Bluetooth so you can have an immersive experience.
Who is This Product For?
The Clearlight sanctuary yoga 4-person full spectrum is a great choice for anyone that wants a high-tech sauna that includes healing therapy and can be controlled by an app. Also, people suffering from dementia, arthritis, high blood pressure, and Alzheimer's disease can greatly benefit from this Sauna.
Customer Reviews
Here are some Clearlight Sanctuary Yoga 4-Person Full-Spectrum Reviews to know what other people think about it.
"The Sauna is very good when it comes to relaxation. I found it to be very accommodative, spacious and comfortable while using it. It has powerful heaters that warm up quickly and effectively".
"The Sauna got me a bit light-headed at first. I guess it was because I had used it as a first timer but overall, it is good."
"I like the design and build of this sauna. However, I find it too big for one person."
"My family loves to spend time in this sauna. It has ergonomic backrests and we can play music via Bluetooth. Worth the investment."
FAQ
What is an infrared sauna? An infrared sauna uses electromagnetic wavelengths or radiations to warm your body. This process is different as the heat around you is not heated too much.
What are the health benefits of infrared Sauna? The infrared Sauna has several benefits, such as improving sleeping patterns in a person, weight loss, and detoxification of the body.
Read more: Clearlight Sanctuary Yoga 4-Person Full Spectrum Infrared Sauna Review You Can Trust
9.  Clearlight® Sanctuary™ Corner 4-Person Full-Spectrum Infrared Sauna
Clearlight Sanctuary corner 4-person spectrum infrared sauna is a wooden cabin reinforced with infrared heaters to heal and detoxify the body. The infrared sauna is available in basswood or cedar and is furnished with full-spectrum infrared technology.
Pros:
It has a capacity of 4-persons
Uses infrared technology
Constructed from high-quality material
Has a connect app
Easy to install
Cons:
The infrared sauna is expensive
Increased risk of dehydration if you spend too much time in the sauna
Limited use in outdoor space
Key features:
Capacity: 4 people
Heaters: True Wave full spectrum and True Wave far infrared heaters
Doctor designed and endorsed
Complete lifetime warranty on every component
Build in charging and audio station
Reservation mode.
Easy installation without power tools required
Verdict
If you are having physical or mental health problems, purchasing this 4-person full-spectrum infrared sauna will help you get maximum relaxation leading to health benefits. This is also the best infrared sauna if you want a relaxing and healing sauna session in the comfort of your home.
Who is This Product For?
This sauna has a capacity of 4-persons and can be suitable for two different couples or a family of four. It can also be suitable for you if you have physical or mental health problems such as stress, an infrared sauna will be suitable for you.
Features and Benefits of the Best Infrared Sauna
Clearlight Sanctuary Corner 4-Person infrared sauna comes with plenty of features that can b beneficial for you. They include:
Full-Spectrum Technology: This sauna is effective and safe due to its full spectrum technology that provides deep penetration of infrared heat. 
Android Smartphone Control App: This sauna is compatible with Android and iOS smartphones. The control app allows you to control the infrared sauna from anywhere in your household.
Doctor Designed and Endorsed: Having been designed by doctors and endorsed by renowned professionals, this sauna is made with high-quality material and state-of-the-art technology. This also means that it can offer more health benefits than a regular sauna.
Reservation Mode: Something that makes this infrared sauna stand out is its reservation mode. This feature allows you to activate your sauna in advance for up to 36 hours.
Door Handle: Impressively, the door holder of this sauna acts as a tablet holder. This allows you to enjoy streaming and entertainment and still receive all the benefits of your sauna session.
Medical-Grade Chromotherapy: Clearlight Sanctuary Infrared Sauna offers many health benefits sore muscle recovery, greater relaxation, and pain relief. This is thanks to the medical-grade chromotherapy LED lights that offer additional benefits of healing to your session. The LED lights can also offer cosmetic benefits including healthier skin, scar and acne reduction, anti-aging, and more.
Bluetooth Surround Sound System with Inbuilt Speakers: To enhance your relaxation session, this sauna comes with inbuilt speakers and a Bluetooth surround sound system. This ensures that you get an unparalleled and euphoric experience during your session.
Easy Installation: Installing the sauna is easy since it does not require power tools. Generally, it can take less than 90 minutes to install it.
Customer Reviews
"It is a better quality than what I used to have. It is easy to install and use and it helps me experience healing and detoxification at the comfort of my home".
"I love this infrared sauna. I could no longer afford to visit spas and I decided to buy my spa. Although the price was high, it was worth buying it".
"I am happy with the sauna I ordered. Nevertheless, it took a long time to get delivered to my place".
Frequently Asked Questions
Is infrared heat safe? Yes. Infrared heat is harmless and does not contain UV rays. Therefore, they don't have health risks to children.
How do I clean my infrared sauna? They are designed to be easily and quickly cleaned. Avoid harsh chemicals to clean your sauna. Look for non-toxic and environmentally friendly cleaning products.
What should I wear when getting into the sauna? When getting into a sauna, you should have minimal clothes. Underwear and bathing suits are most appropriate for use in the sauna.
10. Radiant Saunas 2 – Person Indoor FAR Infrared Sauna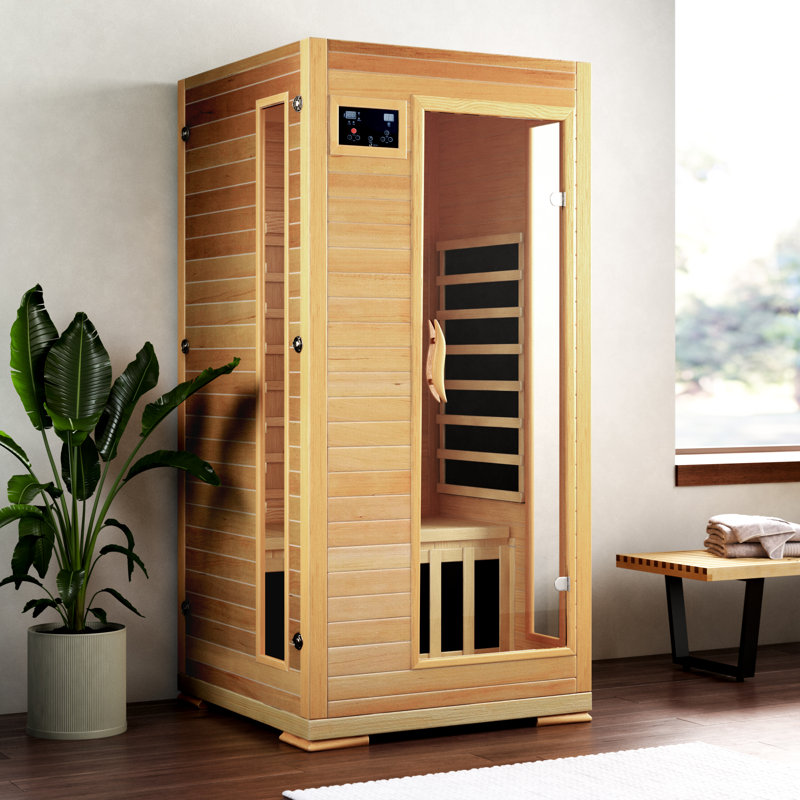 The Radiant Saunas 2 Person Infrared Sauna is a well-built and quick-heating infrared sauna manufactured By Radiant Health Sauna Companies. Their company is one of the more prominent names on the market, having sold thousands of units in Canada and the United States.
Their two-person infrared sauna comfortably fits two persons at once, and it offers you the ultimate relaxation experience, all in the comfort of your own home. Thanks to its solid construction and various features, it's one of the best infrared sauna models out there.
The Pros:
Quickly heats up to 141 degrees
Good exterior and interior layout
Highly durable and long-lasting
Easy to navigate with touch controls
Offers enough ventilation for comfort
The Cons:
Careful assembly is necessary
Can only seat two persons
Verdict
Overall, this infrared sauna is an excellent choice if you're looking for something with a solid structure that can heat up quickly. It also offers the best bang for your buck and comes with enough accessories that allow you to enjoy the product.
Who Is This Product For?
This two-person infrared sauna is best for those who want to relax and unwind in the comfort of their home. It's also an excellent choice if you're a healthcare practitioner who uses saunas for your services.
Key Features and Benefits
Slim Frame and Aesthetic Wooden Design: The Radiant 2 Person Sauna can complement your home well because its design gives it additional character. It also has a nice appearance that blends well with different home interiors. Its slim frame also allows it to fit almost any part of your house.
Plug-and-Play Design and Built-In Speaker: Thanks to this, you can easily connect the unit to an outlet. It also comes with other features that enhance your sauna experience, such as the built-in speaker that you can connect to using an AUX cable.
Solid Wooden Construction: The Canadian Hemlock wood used for this sauna gives it a sturdy construction. It also offers an excellent strength-to-weight ratio, and it attaches firmly to surfaces for better durability.
Other Customers Reviews
"I love the Infrared Sauna, it heats up to 120 degrees Fahrenheit  in about 30 minutes, and then the temperature slowly climbs up to 135 In an hour ."
"I am really satisfied with this sauna. My only concern is that it gives off an EMF reading 30 times higher than the safe level.
"Great deal! Easy to assemble! I assembled mine in less than an hour."
Read more: The Ultimate Radiant Saunas 2 Person Infrared Sauna Reviews
11.  Radiant Saunas 5 – Person Indoor Bluetooth Compatible FAR Infrared Sauna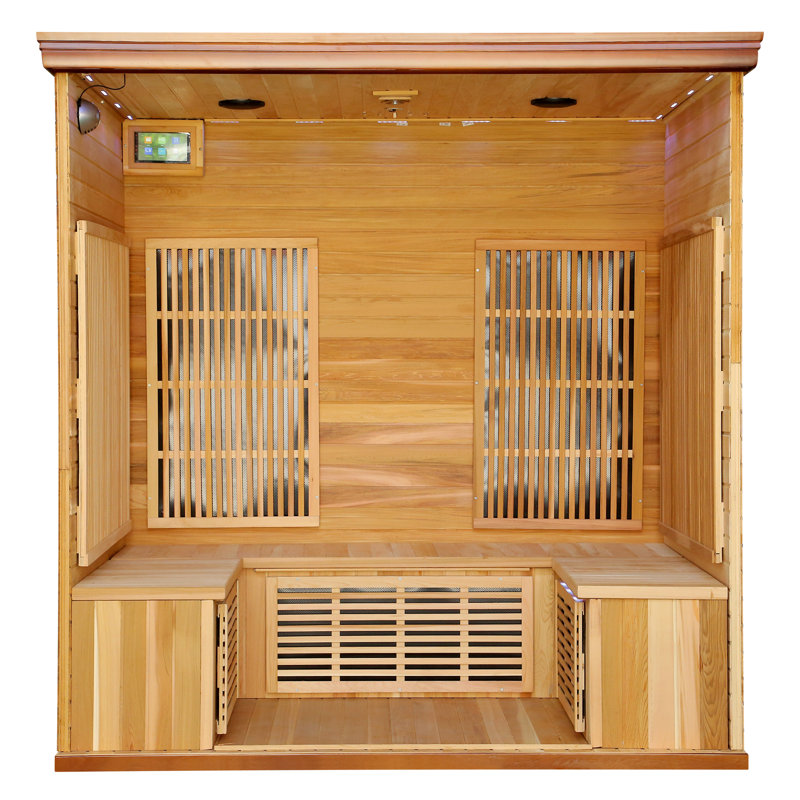 This 5-person sauna is a luxurious and relaxing sanctuary with a Canadian red cedar construction with heat-insulating properties. This infrared sauna is manufactured by Radiant Sauna, which is renowned for its groundbreaking innovation and saunas with contemporary designs.
The Pros:
Lighting system for a calming effect
Impressive healing properties
High-quality construction
Ergonomic backrest for relaxation
Easy installation
Water-resistant
It does not warp
The Cons:
It requires adult assembling
This might not be advisable to you if you have pre-existing health issues
Verdict
This 5-person sauna comes with a plethora of features that offer maximum relaxation. It is designed with innovative heating technologies to give you the ultimate relaxation and health benefits.
Who is This Product For?
This product is for people who want to relax at home with friends and family. This will benefit those who are health-conscious and in the market for a high-quality unit that will offer benefits from pre-existing treatments while providing relaxation.
Key Features and Benefits of the Product
There are several benefits that this infrared sauna offers. They include:
Canadian Red Cedar Construction: This sauna is made from Canadian Red Cedar. This softwood is known to have heat-insulating properties that minimize power usage while giving you the relaxation you need.
Ergonomic Backrest: This infrared sauna comes with an ergonomic backrest that offers additional back support during your session. This added level of comfort can greatly enhance your experience.
Calming Lighting System: The Radiant 5-Person Sauna is intentionally designed with a calm lighting system for maximum therapeutic benefits. Its calming lights give a therapeutic color inside the sauna room. Generally, it can enhance your energy, mood, and cellular activity.
Accommodates Up to 5 Persons: Whether you want to bring your family and friends or a romantic sauna date with your favorite person, this 5-person sauna may be ideal for you. It is an excellent way to enjoy a sauna experience in the comfort of your home or safe space.
Control Panel: This sauna comes with a panel control that lets you tweak and customize your settings easily. It also comes with remote control for easy control.
Seating Benches: This sauna includes three seating benches for ample support and comfort during your session.
Customer Reviews
Still wondering whether this unit is best suited for you? Read on Radiant Saunas 5 Person FAR Infrared Sauna Reviews from previous customers.
"At first, I was hesitant to buy online because there are just so many shops, and who knows which one is trusted. It's a great thing I found this website that sells legit Radiant Sauna Premium Elite 5 Person Indoor Bluetooth Compatible FAR Infrared Sauna. Now, I have my own mini spa at home which I and my family and girlfriends can enjoy."
"With its latest infrared heat technology, this sauna provides ache, tension, and pain relief. Aside from the perspiration that warmly opens your pores and takes the toxins out of your body, this sauna rejuvenates, relaxes, and takes all my worries away."
"I love this sauna. However, it requires professional assembly."
Read more: The Ultimate Radiant Saunas 5 Person FAR Infrared Sauna Reviews
12.  Radiant Saunas Sirona Indoor FAR Infrared Sauna
The Sirona 3-person sauna uses FAR infrared technology. Compared to other saunas on the market, it seems more innovative and unique, and some may say it is the best infrared sauna out there.
It fuses the best of both worlds: technology and style. Aside from that, there are also additional features that keep the user more comfortable.
Pros / Advantages:
It has a sleek contemporary design with engineered wooden exterior panels being laminated to "Grade A" reforested Western Canadian hemlock, which provides optimum inner heat-retention.
It has an elegant touch of rich mahogany on the exterior.
It has great construction: safety glass, an easy-clasp assembly system, and heavy-duty door hinges.
It has commercial-grade heating panels.
Electronics include a touchscreen Bluetooth control pad, interior lighting, high-performance speakers, chromotherapy, and a ceiling accent Star lighting.
Cons / Disadvantages:
With all of the great design and additional electronics, the price can be quite expensive.
The assembly requires at least 2 people with basic technical knowledge.
Verdict:
Overall, based on the available Radiant Saunas Sirona 3 Person Indoor FAR Infrared Sauna reviews, the product is very appealing to anyone who loves saunas. There are tons of features from the construction down to the usage.
It can even contribute to adding elegance to one's home due to its beautiful exterior design.
The Intended Users of The Product
The Radiant Saunas' infrared sauna applies to any homeowner who likes to have a personal sauna. Seeing that it can accommodate 3 people, the space demanded is quite large.
If you own a resort or hotel, this can be a great asset for the business. Not only does it serve its purpose as a sauna for the customers, but it also won't disturb the overall aesthetics.
Key Features And Benefits
Infrawave Technology Heater Panels
The technology used for the heater panels is different from the rest. It uses FAR infrared, which generates heat as light waves.
Compared to traditional saunas, they generate convectional heat by heating rocks. Furthermore, the time to heat the room is much faster than traditional saunas, taking only 10 to 15 minutes.
This infrared sauna doesn't only serve its purpose, but it also makes any room look elegant. The rich mahogany exterior is being made better with the lamination of Western Canadian hemlock.
User-friendly Electronics
Aside from the infrared technology, the controls and lighting are extraordinary. The control pad can be navigated with a touch and is equipped with Bluetooth connectivity.
Furthermore, the lighting utilizes chromotherapy, meaning that the illumination contributes to the improvement of the bodily senses. Also, don't forget about the high-performance speakers in which you can blast any good music while sweating.
Customer Reviews
"This sauna is so relaxing I'm very pleased with it so far! Assembling it was easy thanks to the thorough directions. Although it did take my husband and myself about two and a half hours to assemble. I love how its interior and exterior look. The functions are also really easy to operate (lights, radio, ionizer, sauna). Warming does take some time so we turn it on twenty to thirty minutes prior to using it. It definitely gets you sweating!
"It's really difficult to assemble alone….since I live alone, it became a whole day project for me….."
Frequently Asked Questions / Additional Tips
Is it coming in one piece, or do I have to assemble it? Assembly is required and at least 2 people are needed.
How many amps do this use? 15 or 20? The power rating of the item is 15 amps.
Is this sauna for indoor use only? This sauna is for indoor use only.
Can you install the sauna inside the house? The item can be installed inside the house. You just want to have a dedicated outlet and enough space around the unit for airflow.
Read more: Radiant Saunas Sirona 3 Person Indoor FAR Infrared Sauna Reviews: Read BEFORE Buying
13.  HigherDOSE Full-Spectrum Infrared Sauna
The HigherDOSE full-spectrum infrared sauna is an excellent innovation by the HigherDose Company, which has revolutionized saunas. In fact, this company has helped thousands achieve overall wellness using their products.
With that said, the Higher DOSE full spectrum infrared sauna provides the most luxurious way to sweat out all your toxins.
Not only is this sauna incredibly fast, taking only 10 minutes to work instead of 60, but it also has responsive LED lights that change color according to the set temperature for a calming experience.
Moreover, this sauna is a classic product with a wireless remote to control the LED lights, making it one of the best full spectrum infrared sauna models available. In addition, the seamless operation gives you a chance to enjoy relaxation with ease.
Aside from this, the HigherDOSE full-spectrum infrared sauna provides healthier heat capable of killing almost all bacteria present. Moreover, while other typical heating systems might be exhausting, this infrared sauna will ensure that you enjoy a deep sweat that won't deplete your body's essential elements. As a result, you won't feel overly hot even during long sessions.
The Pros:
Spacious enough for three persons
Quick to give effective results
Helps boost energy without overheating
With built-in LED lights
Comes with remote control for convenience
The Cons:
Somewhat long waiting time to allow sauna to heat up
Not ideal for limited spaces
Key Features:
Big size
Ease of use
Comfortable
Who Is This For?
Overall, the HigherDOSE full-spectrum infrared sauna is designed for those who want to experience the benefits of sauna therapy at home. In this case, the high infrared heat penetrates deep down the body organs to induce sweating, joints, and muscle relaxation.
Key Features of the HigherDOSE Full-Spectrum Sauna
Improves heart health: Spending time in this sauna helps bring down the blood pressure to healthy levels. This reduces the risk of heart attack from elevated blood pressure.
Reduces depression: Regular sauna therapy can help you improve your mood and alleviate depression that affects both the mind and body.
Detoxifies your body: This sauna helps the body sweat out the toxins that have accumulated in your body, allowing you to detox and improve your overall health.
Burns calories: Regularly sweating during sauna sessions can help burn excess calories, which can be helpful when you're trying to lose weight.
Relaxation: This sauna also provides a convenient place where users can relax and unwind after a long and busy day.
Customer Reviews
These are some of the HigherDOSE full-spectrum infrared sauna reviews from customers who bought and used the product:
"This really works as described. I get such a good, healthy sweat inside my Higher Dose Full Spectrum Infrared Sauna. High quality, highly effective. Would recommend"
"If you are looking forward to having a comfortable sauna experience, HigherDose  Full Spectrum Infrared Sauna should be on your bucket list."
Read more: HigherDOSE Full-Spectrum Infrared Sauna Review
14.  Westinghouse 2 – Person Indoor Bluetooth Compatible FAR Infrared Sauna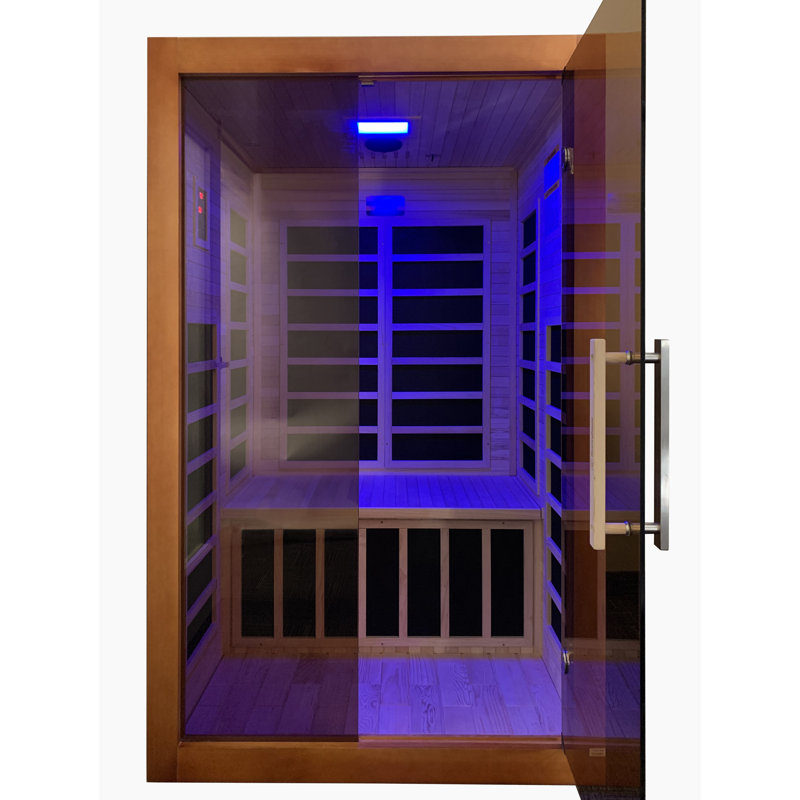 The Westinghouse 2 Person FAR Infrared Sauna is a product of Westinghouse, an American company with an established reputation in household appliances and technology since 1886. The Westinghouse sauna provides ultimate detoxification through its unique infrared sauna therapy.
The following are the features of the Westinghouse 2 Person FAR Infrared Sauna
The Pros:
Instructions for installation are very easy to follow.
Assembly and installation take only 25 minutes
Very practical, modern, and high-tech
It is made from Hemlock wood, so it is durable
Very reasonable price
The Cons:
The package does not include assembly, so you need to assemble it yourself.
Heat is not evenly distributed.
For w\Whom is the Product Intended?
Whether you are a regular sauna goer or not, a sauna is a good option if you care for your health and are open to natural alternative ways of health and wellness. A sauna at home is highly recommended for people who experience chronic stress, cardiovascular conditions, and skin problems.
Key Features
The key feature of the Westinghouse 2-Person FAR infrared Sauna is its innovative digital LED control panel that is very easy to operate. Even older people who are not technology-oriented can easily use it.
A 2-person capacity does not take much space in the house.
Seven high functioning infrared carbon film heating panel
User-friendly interior digital LED control panel.
Therapeutic colored LED lights with brown-tinted tempered glass door.
Bluetooth MP3 player with speakers
1700 watts total heating power
Made of Hemlock wood
Customer Reviews
The best way to ensure that a product is good is through customer reviews who have experienced that product first-hand. The following are Westinghouse 2 Person FAR Infrared Sauna reviews from customers.
"I need to set it up, but the pieces look solid." Carmen, Bellevue, WA
"Had this sauna for a few weeks. So far, so good. No issues. My 7-year-old and I put it together." Brad, Duncan BC
"For the price, I can't complain. Very easy to put together. The cuts were not 100% straight, and it did not snap together perfectly (A few gaps in some places), but overall I am happy with how it turned out." Riley
"I love my new sauna. It was relatively easy to set up with me (a smaller woman) and one tall, strong guy. The door is pretty heavy, so be careful there. I've been using it every night. I love the Bluetooth music feature from my iPhone. It gets nice and hot and has zero issues. Highly recommend it." Leah W
Read more: The Ultimate Westinghouse 2 Person FAR Infrared Sauna Reviews
15.  Maxxus Lifesauna Aspen 2-Person Infrared Sauna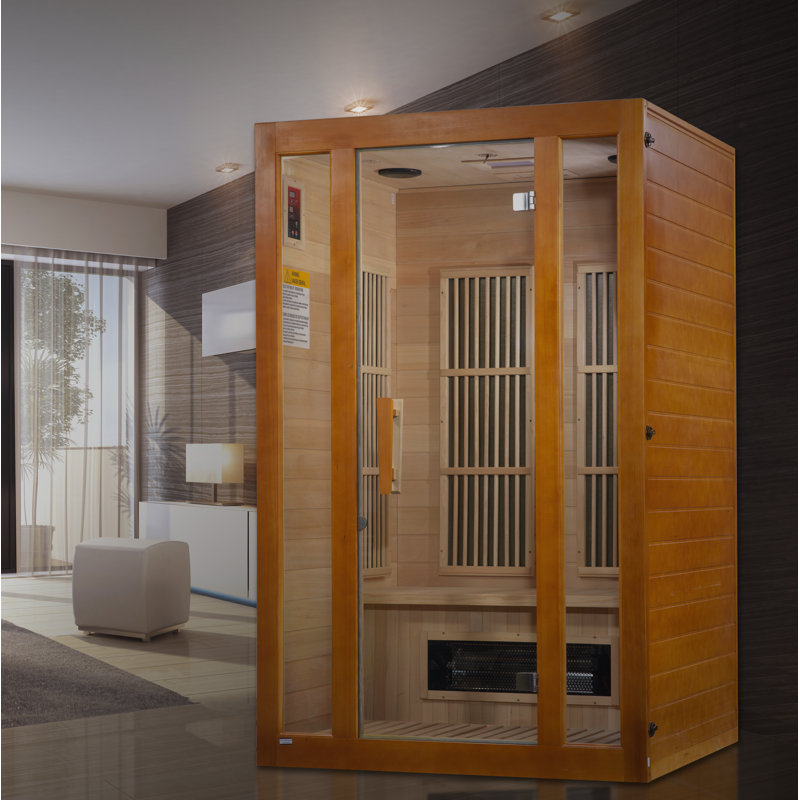 The Maxxus Lifesauna Aspen 2-person Infrared Sauna might be a good option for you. The product is made from the finest Canadian hemlock wood. The combination of ceramic and carbon tech heaters provides optimum min healing and purification that calms the mind, body, and spirit with its best infrared sauna. It can help you burn up to 600 calories in just 30 minutes of relaxation.
The Pros:
Quick installation
Modern technology features
Energy efficient
The Cons:
It takes 40 minutes to heat up.
The price does not include assembly
Since the product is made from Canadian quality wood with careful attention to detail and modern technology, it performs better than any other sauna on the market.
Who is this Product For?
So, whether you are looking for a sauna for your wellness center or for personal use, find one that provides genuine clinical benefits. But suppose you are a regular sauna goer, or you want to use the sauna as an alternative health and wellness solution. In that case, it is recommended to have your own sauna at home.
Key Features
The package includes 5 large carbon tech heaters for all-around therapy such as supercharging your cell power, detoxifying heavy metals and chemicals from your body, slowing down aging, reducing blood pressure, and many more.
The built-in speakers for music are added to the sauna for complete relaxation.
Multi-spectrum infrared therapy improves circulation in the skin and other parts of the body.
Customer Reviews
The following are Maxxus Lifesauna Aspen 2-Person Infrared Sauna reviews from customers.
"The assembly was really quick, so we were able to enjoy it almost immediately, and it was well packaged, so it arrived in good condition. I highly recommend this one"
"This sauna has been in my possession for approximately a month. It's fantastic, and I use it virtually every day. The vendor was fantastic. They contacted and emailed to organize the shipment within hours of placing the transaction. Shipping from California to Virginia took just over a week, which says a lot. I'd been saving for this for a year, so I did a lot of research and read a lot of reviews before deciding that, while this model was less expensive, it had all of the features I needed. The speakers and aux wire are both functional. "
"The package had arrived with damage, a good thing the item was in tacked. Assembling is so easy. But after a month of continued use, the handle fell off. Heats up fast enough."
"I've been having health problems, so I bought this sauna to detox. The vendor contacted us to discuss delivery and was extremely kind. It took around 30 minutes to assemble and was pretty simple. They performed an excellent job in designing this device. My only criticisms are that the instructions were not very comprehensive and that it does not support Bluetooth.!"
Frequently Asked Questions
Does it have to be vented? A fresh air vent should be installed to get optimum air circulation.
Does this produce infrared in all three spectrums? Multi-spectrum infrared therapy improves circulation in the skin and other parts of the body.
Are there restrictions on installation? The only limitations indicated in the instructions are not to put it outside, in moist locations, or near bathtubs or showers. We value your business and hope to serve you again in the future.
What are the power requirements? 110-volt, 15-amp plug-and-play design; a 15-amp circuit breaker is required.
How many calories can you burn using the Maxxus Lifesauna Aspen 2-Person Infrared Sauna? You can burn 600 calories in 30 minutes.
Is this safe to use by kids? Yes, EMF is extremely low for safety.
Is it suitable for outdoor installation? Not at all. It is not suitable for outdoor use.
Read more: Maxxus Lifesauna Aspen 2-Person Infrared Sauna Reviews
16.  Dynamic Infrared Maxxus 2 Person FAR Infrared Sauna Reviews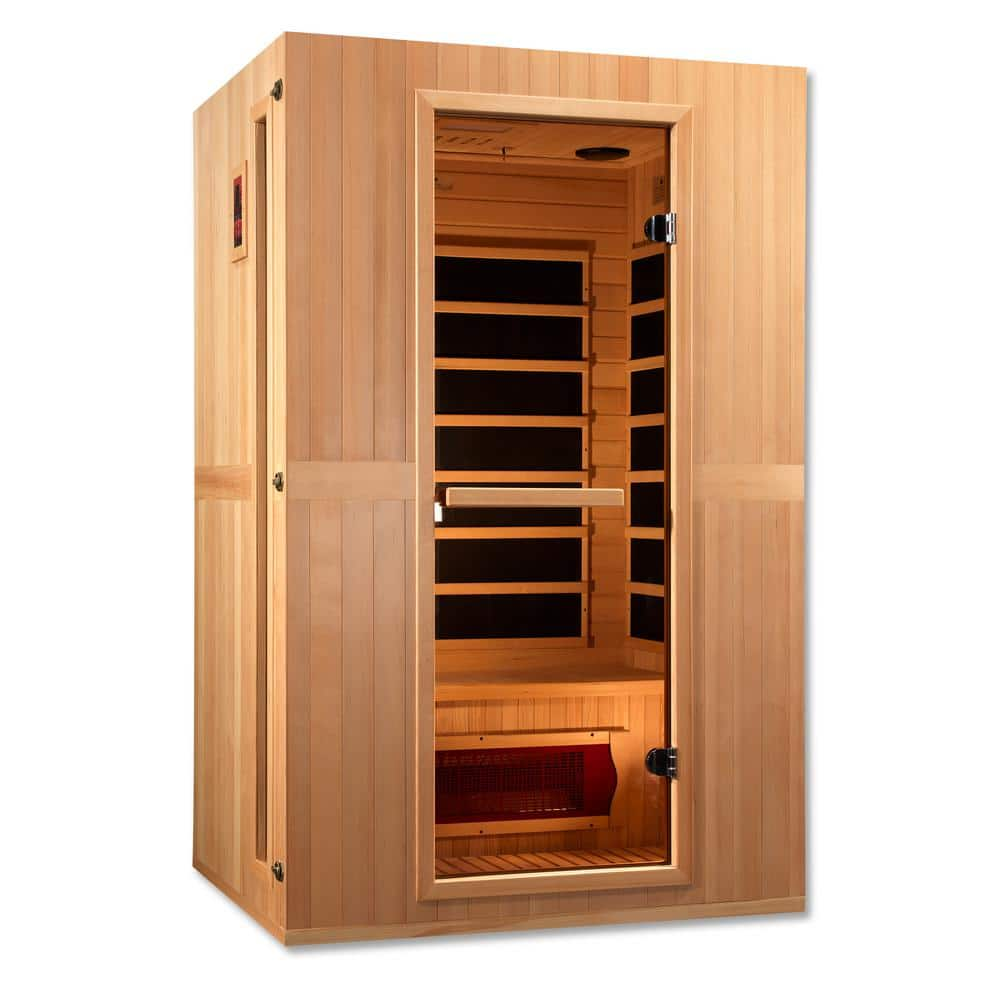 The Maxxus 2-person infrared sauna is manufactured by Dynamic Infrared. It is built from a reforested Canadian hem that exceeded the industry standards as it retains heat longer. It also heats faster while consuming less energy, making it an energy-efficient product for a good value.
This unit can accommodate up to 2 people. It is equipped with 6 panels: two on the rear, one on the bench, another one on the floorboard, and 2 on the side. The heating panels penetrate the skin for a maximum of 40%, thus ensuring great performance.
Pros of this Maxxus 2-Person Infrared Sauna
Easy to use and install
Lightweight
1-2 person capacity
Convenient interior leading lamp
Excellent dimensions
Environmental-friendly construction
Cons The Infrared Sauna
Mostly out of stock in the market
Some pieces may be heavy
Key Features
6 heating panels
140F max temperature
Interior reading lamp
MP3 connection
Low EMF carbon heating panels
Verdict
The best energy-efficient infrared sauna that's available for a relatively affordable price.
Who is This Product For?
The Maxxus Infrared Far Sauna can accommodate up to two persons. It is 275 pounds in weight and has excellent dimensions of 75" 42" 50". As such, this sauna is suitable for a small family with standard-sized residences such as a condo, apartment, or mobile homes.
Key Features and Benefits
The low EMF is such a buzzword in the wellness community. EMF means electromagnetic field, common radiation that our cellphones emit. High EMF is harmful to the skin, hence many manufacturers advertise low EMF.
The MP3 connection works as a great relaxation feature. The Maxxus is Bluetooth-enabled so you can meditate with the most relaxation tune.
The wood structure seating allows you to sit upright. The seats are wide enough to stretch and even lie down. This will help you determine the most comfortable setup for you.
Customer Reviews
Best investment for value
"Best purchase ever! Thank you to the person who previously reviewed and said that "you need one strong person and a helper." That was right on! My son put it together for me in less than two hours with me as a helper." – Linda, Wayfair
Most convenient and easiest to install
We are so happy with this sauna. It was easy for the 2 of us to assemble. Everything's great so far. It's been a week since we purchased the sauna and we have already used it twice. – Brandee, Wayfair
Excellent addition for home interior
Super excellent! This is a welcomed addition to my home gym! – Reece, Wayfair
Frequently Asked Questions
What is the difference between Maxxus Far Infrared with Infrared Sauna? Infrared emits wavelengths of light while far infrared is a region of such spectrum.
Can infrared far sauna boost the immune system? Yes. It is the most impressive benefits of an infrared sauna. The boosts came from the high heat of the sauna.
Can I use the infrared far sauna every day? Yes. In fact, the best result will happen when used every day.
Additional Tips
If you want to try the best relaxation effects of a sauna, here are some tips that you want to consider:
Don't drink alcohol and drink a lot of water instead. Once you drink alcohol the day before, or even an hour before going to a sauna, you'll become dehydrated after the session.
Enjoy the rainbow! Make use of color therapy to experience all the benefits of each color. Try to avoid the urge of switching the color you want and feel every color instead.
Meditate and don't use your phone inside. Most people enjoy the sauna with their phones in hand. Make use of the time to meditate, relax, and lay down. Moreover, phones are harmful to the hardware of your sauna.
Read more: In-Depth Analysis of Maxxus 2 Person Far Infrared Sauna Reviews
17.  Maxxus Infracolor (3-Person Capacity) Far Infrared Sauna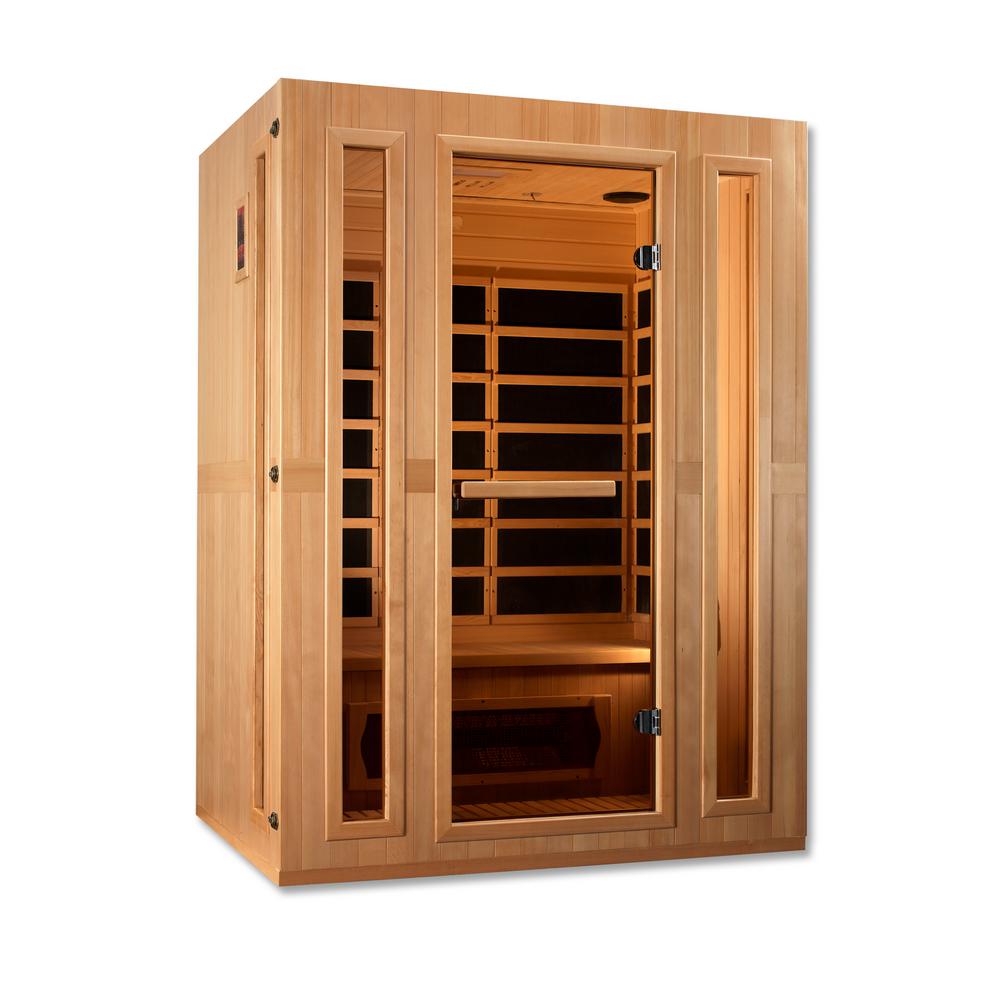 The Maxxus Infracolor 3-Person Far Infrared Sauna promises to be cost-effective and beneficial to health. It is created by Maxxus Saunas, which promoted the FAR infrared carbon heating panels in the product as energy-efficient and can help in resolving various health issues, such as improving skin tone, burning calories, easing sore joints, and muscles, boosting blood circulation, releasing body toxins, and many more.
Pros of this Maxxus Infracolor 3-Person Far Infrared Sauna:
Easy indoor installation
Low EMF for safety
Warms up quickly
Cons of the Far Infrared Sauna
Not suitable for outdoor installation
Some of the illustrations in the included instruction are hard to follow
You can't use the sauna's remote to adjust the volume of the speakers
Key Features
Oversized heaters
Far infrared therapy
Bluetooth sound system
Infracolor chromotherapy light system
Promotes optimum air circulation with its fresh air vent
Verdict
The upgraded features of the product might be loved by people who always want to be up-to-date with technology. You need not worry if you are the type who prefers the basics since this sauna seems easy to use once installed.
Who is this Product For?
The product manufacturer said that their saunas lines, including this one, were designed for outstanding value and ease of use. You can easily install this indoors and use it right away.
While it has certain advanced features, which might alienate the non-techies, they seem to be adaptable and could be worked on with a minimal push of some buttons.
You can easily monitor time and temperature in its LED display.
It has a soft-touch control panel for ease and convenience of operating the product.
It includes a lower bench heater and reduced wattage floor to avoid burning sensations typically experienced in certain sauna brands.
You will also enjoy the product if you love playing music while enjoying the heat and health benefits it provides.
Key Features and Benefits of the Product
Six carbon tech heaters (oversized) – maximizes the heating capacity of the product.
One bio-ceramic infrared heater underneath the bench – allows greater circulation inside the sauna.
The combination of Carbon Tech and Ceramic heaters – can be useful for detoxification and can help alleviate pains caused by bursitis and arthritis and burn about 600 calories in half an hour.
Infracolor Infusion Mood Lighting System – the latest technology in relaxation therapy utilizing the colors used in Chromotherapy.
Overall design and construction– help boost the immune system, release body waste and toxins, improve skin tone, clear cellulite, and increase blood circulation.
Customer Reviews 
Here are some of the people's feedback about the product:
"I'm in it almost every night! It relaxes my entire body, and I sleep well after."
"I only had a problem with a basic loose connection but have managed it since then. Everything has been great so far other than one of its speakers doesn't work."
"I think they are stretching it when they say it could fit three people because two are just comfortable."
FAQ & Additional Tips
Does it require special plugs? This product operates at 110 volts and requires a 20-Amp plug and receptacle.
Where can I find its cord? You will find it in the back.
How long does it take before it reaches its maximum temperature? It only takes up to 30 minutes for the sauna to reach 140 to 150 degrees.
Can I install the product outdoors? It is stated in the product description that this is not suitable for outdoor installation. You will also void its warranty when you put it outdoors.
What is the product dimension of its exterior once installed? Width – 55.25 inches, height – 75 inches, depth – 41.5 inches
Read more: Maxxus Infracolor 3-Person Upgraded Far Infrared Sauna Review & Buying Guide
18.  Almost Heaven Saunas Auburn 3 – Person Indoor Traditional Steam Sauna in Fir
Auburn 3-person steam sauna is a space-efficient sauna model from the Almost Heaven Saunas brand. This traditional indoor steam sauna is crafted with useful features to give you a warm and welcoming feel in the comfort of your indoor or outdoor space.
The Pros:
Excellent quality
Multi-level seating
Easy assembly
Interior LED lighting for great ambiance
Beautiful design
Cons:
Instructions for installation can be confusing
Key Features:
Material: Solid wood
Maximum temperature: 195°C
One heater that is heated through traditional steam style
Pre-assembled roof and wall sections
Multi-level seating in horizontal slant benches
It comes with a vent and searing benches
Verdict:
The Almost Heaven Auburn 3-person steam sauna is beautifully crafted and has what it takes to give you a relaxing and therapeutic experience. The only issue is that the instructions may not be apparent, making it hard to assemble for some people.
Who is the Almost Heaven Saunas Auburn 3-Person For?
If you want to enhance your lifestyle and complement your home setting, get the auburn 3-person from Almost Heaven Saunas. It is the best indoor traditional steam sauna for any space-conscious person who appreciates the health benefits and relaxation of sauna bathing.
Key Features and Benefits
3-Person Capacity: This traditional steam sauna can comfortably seat up to 3 people. This makes it one of the best small traditional steam saunas on the market.
Easy to Assemble: All the parts used to craft the Almost Heaven auburn 3-person are handcrafted. This makes it easy to assemble the sauna at home, with easy DIY instructions, in just a few hours.
Highly Versatile: The sauna can go on any tile, vinyl, ceramic, laminate, or concrete surface. Hence, it makes for an authentic sauna experience in almost any home. However, it is not recommended to use on a carpet.
Design: The sauna comes in a kit with pre-assembled roof and wall sections. There is a long bench, with a footrest, inside the sauna for added comfort. Also, it has a small sauna design, making it an excellent choice for those with limited space.
Outstanding Performance: The Auburn 3-person is capable of delivering an intense sweat bathing experience.
Customer Reviews
"It has been a great experience starting with fast cross country delivery. The customer service is professional, courteous and extremely knowledgeable."
"High quality design and construction was my big concern and it was fully met. There is no heat or moisture leakage into the room. Helpful staff in all stages of planning and setup."
"Outstanding sauna from a brand with outstanding customer service. The quality of the sauna is excellent, the installation went smoothly."
"My father and I had to spend over 7 hours putting together the sauna in a room just a little larger than the sauna. We had to stop and scratch our heads a couple of times over the instructions. We could have finished faster had the instructions been clear. We were also frustrated that they didn't include a 6 inch drill bit in the kit."
"This was our first experience with a sauna and it very refreshing. My gradson said that the experience was more than expected."
Frequently Asked Questions
What's included in the sauna kit? – Auburn 3-person comes with all the pieces you will need to assemble your sauna room, including stones, a lighter, and a heater.
What are the operational costs? – The unit only draws power when it is in use. It will operate efficiently on a 220v heater and draws about 40amps of power.
How long does it take to heat up? – This primarily depends on how warm or cold your area of residence is. But generally, the sauna will heat to 190F in under 60 minutes.
What sort of maintenance is required? – You require very little maintenance for this traditional steam sauna. Typically, you might need to tighten the bands or ASD filler staves after some time.
Read more: Almost Heaven Saunas Auburn 3-Person Indoor Traditional Steam Sauna Review
19.  Almost Heaven Saunas Worthington 4 – Person Indoor Traditional Steam Sauna
The Worthington Sauna is easy to assemble. It's made by one of the top brands when it comes to products of this kind, Almost Heaven Saunas.
It's a stylish indoor sauna with a front wall made entirely of glass. It features an L extension and full-length top bench enough to fit a maximum of four people.
The Pros:
Durable. All the interior space, including the ceiling, benches, duckboard floor, and walls, is high-quality spruce.
Easy to assemble. This indoor model only takes two individuals to complete four to six hours at most for experienced builders.
Offers an almost-authentic sauna experience. It features an 8kw electric heater from Harvia, which can heat up to 150F to 190F in just half an hour.
Cons:
Expensive. If you are on a tight budget, other models may be more suited for you.
Some people find it hard to assemble. This problem may be due to the pretty vague manual that comes with the product. I did not have this problem, but maybe it's because I'm an experienced handyperson.
Not that roomy. It was advertised to fit up to four people, but manage your expectations, especially if the users are mostly on the heavy side.
Key Features and Specifications
Material: Spruce wood and tempered glass
Heat Source: Traditional Steam with a maximum heat of 195F
Dimensions: Interior – 77"L x 57"W x 78"H; Exterior – 80"L x 61"W x 80"H
Verdict
If durability is an important feature for you, then you will love the Worthington Sauna. This could also be a good choice if you're into stylish and modern designs that add elegance to your home.
Who is This Product For?
The Worthington Sauna is built for individuals who want to achieve relaxation and elegance. It's also for people looking for saunas they can share with two or more people.
Key Features and Benefits
Designed for maximum relaxation. Each bench features a backrest for comfort. The model comes with interior LED lighting that offers soft illumination, giving you the authentic sauna experience.
Built for privacy. Worthington is made from a fully tempered glass wall that's lightly tinted.
High-quality heating. You can adjust the stainless-steel electric heater from Harvia up to 195F.
Straightforward and easy to build. It only takes 4 to 6 hours to complete the sauna.
Customer Reviews – Almost Heaven Saunas Worthington Steam Sauna
"Setting up the sauna was a breeze." – Albert
"The company's customer support is accessible any time." – Shawn
"I love that it's durable and looks elegant." – Jia
"It was almost perfect, but I had to pay a handyperson to set it up because the manual was hard to follow." Linda
FAQ & Additional Tips
How hot can the Almost Heaven Sauna get? The maximum sauna temperature varies per model, but on average, it can range between 150F to 195F. The Worthington unit, for instance, can heat up to 195F in less than an hour.
Where do Almost Heaven saunas originate? The company is in West Virginia and has been a leader in sauna manufacturing for over 40 years.
Which kind of sauna is best for home? We recommend buying an infrared sauna. It provides a milder temperature, which ranges between 120 to 150F.
How much does the Almost Heaven Worthington Sauna cost? You can buy the Worthington Sauna for prices ranging from $4,000 to $5,000.
Read more: Almost Heaven Saunas Worthington 4 Person Indoor Traditional Steam Sauna – Features and Product Review
20.  Almost Heaven Logan Cedar 1-person Electric Sauna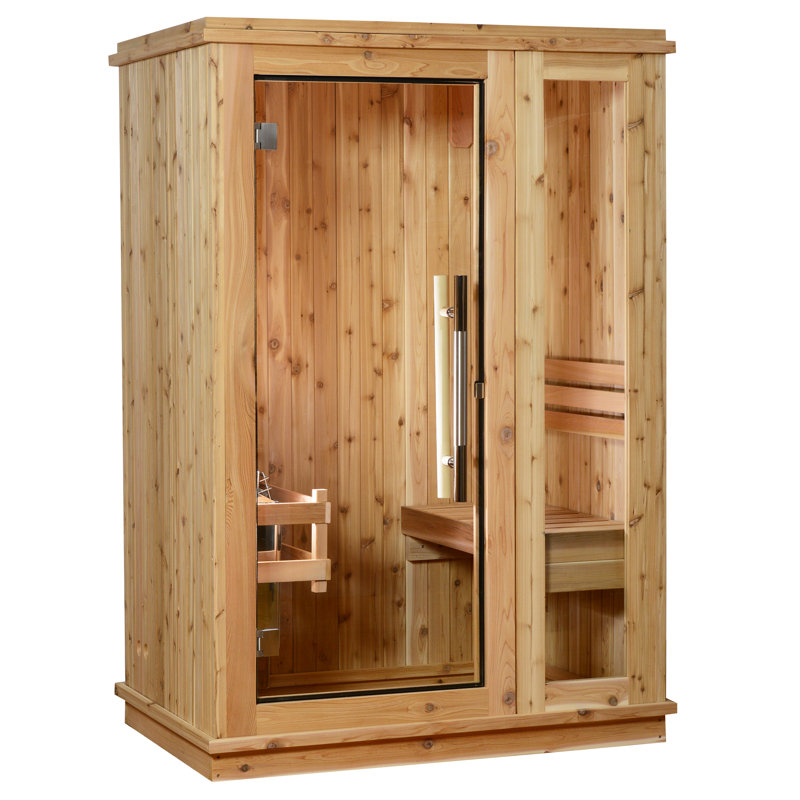 The Logan Cedar 1-Person sauna is the best home sauna for indoor use. This sauna comes with a double-window and is built with classy rustic cedar lumber. Also included is an accessory kit of red cedar which includes a robe hook, leg lift, back rest, magazine, and drink shelf. In addition, it has a wide horizontal slat bench which is ideal for one person to relax.
While the sauna has no flooring, it can use your existing floor. The type of floor can be laminate, vinyl, tile, concrete or any other solid material. However, use of a carpet is highly discouraged.
It has a dual-controlled 4.5kW Finnish-style water over-the-rock steam heater. This means that you may get either dry heat or pour some water using the spoon provided over the heated stones according to your preferred humidity.
Highlighted features
Pre-assembled rustic cedar wall and roof area
Comes with a red cedar fixture kit
LED light bulb of 110 volts and regular plug-in
Dial controlled 4.5kW stainless steel steam heater
5-year warranty
Has a tongue-and groove-lumbar section
Meant for single users
Pros
Flexible vent
Has a timer that can be delayed for up to 8 hours
Weather and mildew resistant
Ideal for indoor use
Cons:
Only one person can use it at a time
Can only be used indoors
Omits floor
21.  Almost Heaven Saunas Audra 4 Person Traditional Steam Sauna
The Almost Heaven Saunas Audra 4 Person Traditional Steam Sauna by Almost Heaven Sauna is an excellent option for those who want to enjoy the benefits of a steam sauna but don't have the space for one. The unit is designed for four people, so it's ideal for couples or families with children.
Here's a look at the pros and cons of the product:
Pros:
The sauna is made of high-quality materials and is durable.
It is spacious.
It has a nice design and appearance.
Easy to set up and use
Highly effective in reducing pain, inflammation, and joint discomfort.
Heats up quickly and retains heat efficiently
The heat comes from steam instead of electricity, making it eco-friendly.
Cons:
You must be careful when using it as it can get hot quickly.
Key features
Shape – barrel
Material – wood (cedar)
Source of heat- traditional heat
Adjustable temperature
Temperature – up to 195°F
Verdict
The Almost Heaven Saunas Audra 4 Person Traditional Steam Sauna is designed to provide an invigorating and relaxing experience. The heat and humidity produced by the product can increase circulation, detoxify the body and ease muscle tension.
Who is This Product For?
If you're looking for an affordable way to get into the relaxing world of steam baths, this product is a must-buy. This sauna is great for people who want to take a break from their everyday lives and unwind at home.
The sauna also has an LCD that allows you to monitor the temperature of the water inside.
Key Features and Benefits
The Almost Heaven Saunas Audra 4-Person Traditional Steam Sauna is a great choice for those looking for the best indoor traditional steam sauna.
Comfortable benches: It makes your sauna experience relaxing. The second area includes two more comfortable benches and has room for two people at once. The third area also has two more benches.
Overhead cabinet: You can use this to store your belongings in the sauna. There is also a small shelf on the wall.
Adjustable heat: The heated bench has two heat settings, which you can adjust between 104 and 195 degrees Fahrenheit.
Adjustable Air Flow Controls: They allow you to control the temperature in different areas of the sauna.
Customer Reviews
"I love its look, and it's very easy to use. The controls are easy to use, and there are many different options available from which you can choose how you want your sauna session to go." – Maddie
"The first issue was that the water level sensor did not work correctly and caused me to run out of water within 30 minutes of starting. I contacted customer support, who told me that they would check into it but never really followed up with me on solving my problem." – Ken
"This sauna is quiet enough for use at home without breaking up family time or bothering other people. You don't have to worry about being uncomfortable in this sauna because it has plenty of room!" – Bridgette
FAQ & Additional Tips
How hot do Almost Heaven Saunas get? Almost Heaven Saunas get hot, but they have adjustable temperature control. You can set the temperature of your sauna. They can be heated with wood or propane, ranging from 80 degrees to 195 degrees Fahrenheit.
Are barrel saunas good? Barrel saunas are the perfect solution for people who want to relax in a steamy hot room. Barrel saunas are usually made of wood, and they have a heating system that can heat the air inside the barrel to very hot temperatures.
Read more: Almost Heaven Saunas Audra 4 Person Traditional Steam Sauna – Product Review and Buying Guide
22.  Almost Heaven Princeton 6-person Electric Barrel Sauna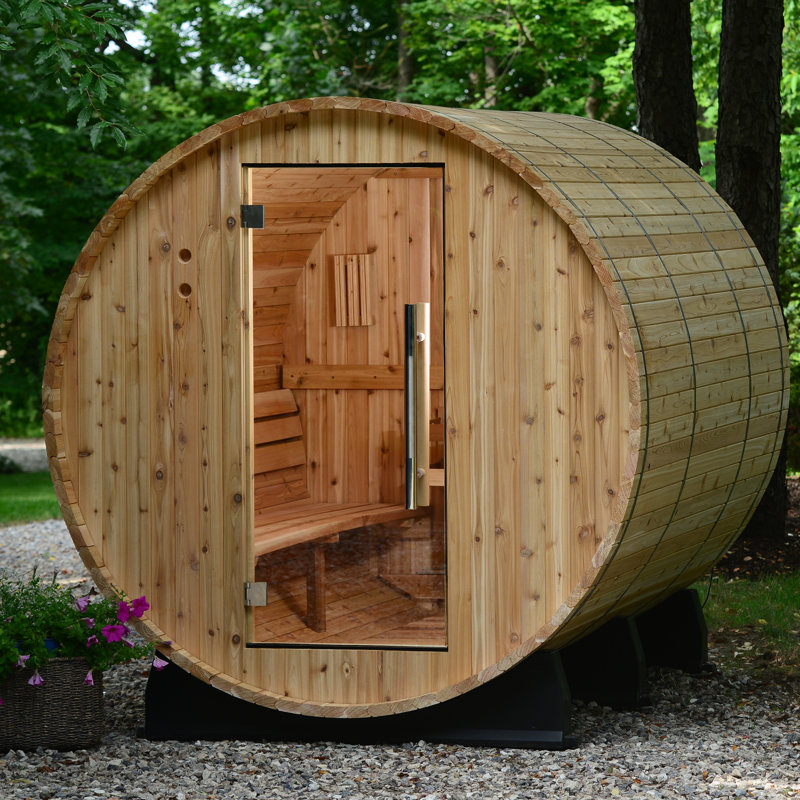 If you are looking for a traditional sauna to accommodate your entire family, then this 6-person unit from Princeton is the best traditional sauna for you. This traditional sauna features a classic barrel design. Its simple design is energy saving since it minimizes excess space. It is crafted from rustic cedar, which is a soft lumber known for its great insulation abilities. The interior is spacious enough to cozily seat 6 individuals.
It is also encouraging to know that it is designed using a ball-and-socket profile held in place by stainless steel bands. Few fasteners are used to show off the smooth wood. It allows for maximum heat circulation due to the curved walls.
Highlighted features:
Mounted on polymer support cradles
Stainless steel hinges, fasteners, and bands
Pre-fixed lumber profiles and end parts
Meant for indoor and outdoor use
Ball-and-socket cedar lumber
Two benches facing each other
Comes with red cedar 5-piece accessory kit
Contains a dial controlled 8.0kW KIP electric heater
40 pounds of sauna stones
Includes timer
Pros
Can be used both indoors and outdoors
Spacious
Energy saving
Long lasting
Cons:
Has a limited life warranty
Set up depends on size of home
23.  Almost Heaven Saunas LLC Salem 2-Person Traditional Steam Sauna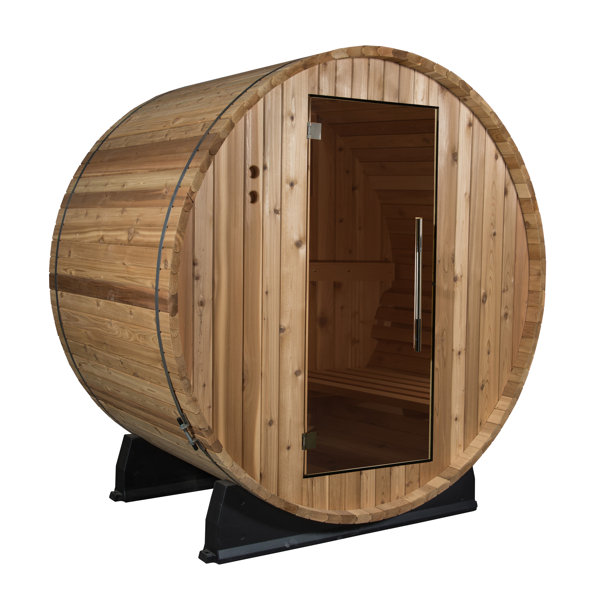 Almost Heaven is hailed as one of the most trusted traditional steam sauna brands in the market because of their efficient and effective products. The Salem Traditional Sauna is a coveted 2-person sauna among couples.
This is quite affordable, generate satisfying, powerful heat, and is constructed with high-quality materials to meet the user's need.
Pros:
Suitable for homes with small spaces
Sturdy build quality
Reasonably priced
Cons:
Only fits 2 people
Made from untreated red cedar wood
Requires raincoat for outdoor use
Key features:
Powered by Harvia 4.5kW electric heater
It can reach up to 185F in only 45 minutes
A sauna kit is included in the package
This product is the ultimate example of a beautiful and practical traditional sauna, suitable for anyone wishing for a true sauna experience at home. It is reasonably priced and, thanks to its size, can be fitted in the majority of homes.
Who is this product for?
Are you a young couple who likes spending weekends relaxing in a traditional sauna? If this is the case, the Almost Heaven Saunas Salem Traditional Steam Sauna is a fantastic option. Don't be worried about a lack of space; it can be placed in a little corner of your basement.
Benefits of the product
The compact design and powerful electric heater are the two primary advantages of this compact traditional sauna. It lets you have a fantastic sauna experience at home without spending a fortune!
And, don't forget about the health benefits you may get from having regular sessions in this sauna. For example, if you have reoccurring pains from arthritis or other severe ailments, this sauna may provide comfort.
What Do People Say About Almost Heaven Saunas Salem Traditional Steam Sauna?
"This small barrel sauna is the best buy I've ever made! I really recommend Almost Heaven. The cedar wood quality is excellent, and the Harvia heater is fantastic."
"It's a little smaller than I anticipated, but it's absolutely awesome. It will fit in my downstairs "yoga studio" and I love the thought of using it in the winter."
"What a fantastic purchase! The only drawback is that you cannot replace the heater with a bigger one. Otherwise, it would earn 5 stars."
"I've been using this sauna for a few days. My sauna was completely filled with water after the storm. I believe you should make people aware of the raincoat for the sauna ahead of time."
Above are some of the Almost Heaven Saunas Salem Reviews we found online. People are typically delighted with the product and have few complaints. However, as mentioned in one of the reviews, if you plan to use the sauna outside, you should get a raincoat.
FAQ & Additional Tips
How do you use Almost Heaven Saunas Salem Traditional Steam Sauna? Enjoying a sauna traditionally involves alternating between dry, wet, dry, wet, and cool-down periods. A cool-down period can be as simple as waiting outside the sauna or as extreme as leaping into an ice bath.
How does a traditional sauna experience differ from an infrared experience? A traditional sauna provides heat to deliver a full-body sensation, promoting joint and muscular relief as well as a slew of other therapeutic properties. Infrared saunas, on the other hand, do not heat the space but instead use infrared rays to permeate the body.
Read more: Almost Heaven Saunas Salem Traditional Steam Sauna Review: Is it worth it?
24.  Radiant Saunas Harmony Deluxe (1-Person) Portable Sauna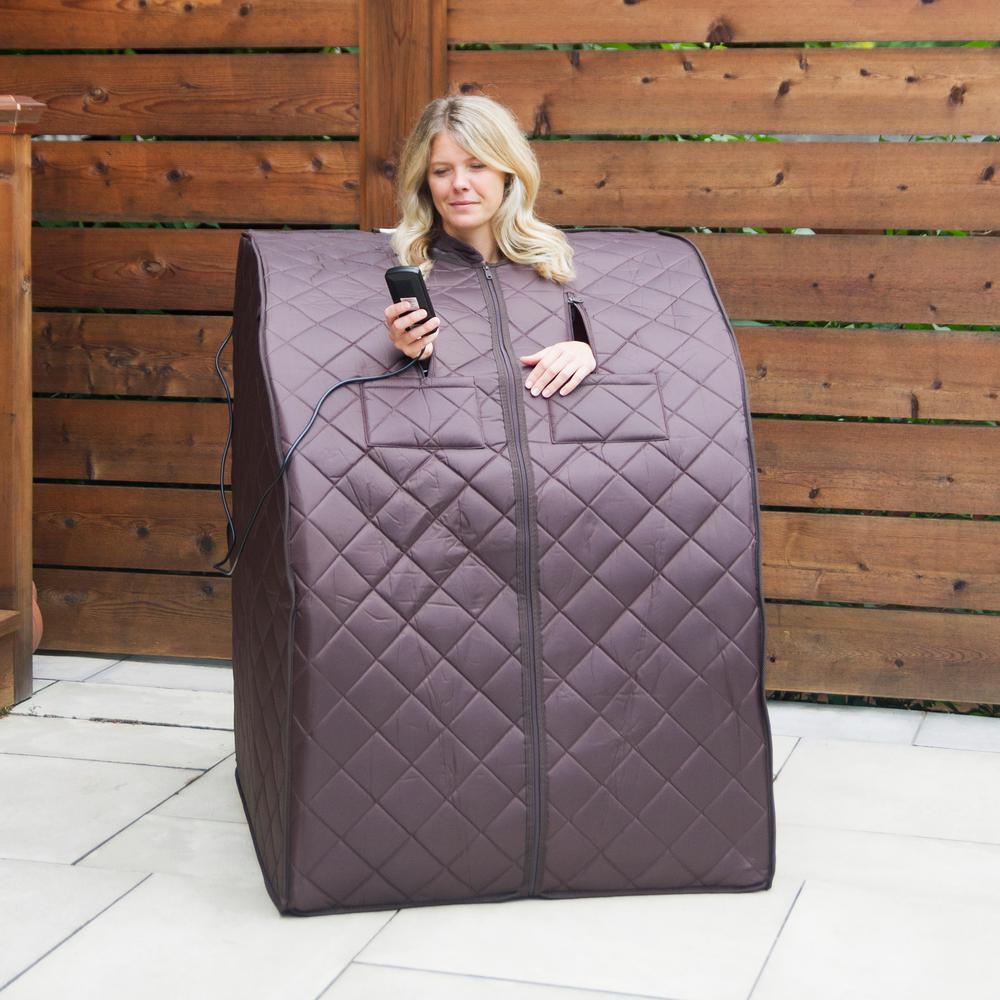 The Radiant Harmony's Harmony Deluxe Portable Infrared Sauna is a handy home equipment that provides the comfort of a sauna wherever you are.  However, it has its advantages and downsides.
The Pros of This Harmony Deluxe Portable Infrared Sauna
Affordable
Quality construction
Produces high heat
Easy to set up
Cons of The Portable Infrared Sauna
High EMF levels
Takes long to heat up
Defective parts
Key Features and Benefits:
Here are the key features and benefits of this sauna:
Easy to Set Up: This portable sauna is easy to set up and requires minimal space. You can enjoy a warm sauna anywhere you go since it folds easily and can be set up in less than 2 minutes. The accompanying chair, footpad, and floormat are easy to set up as well.
Quality Build: The chair has a comfortable armrest and has a metal build that can support up to 220lbs.  This portable sauna is made of fully insulated polyester fabric and has sturdy stitching that can withstand moisture. You can take anywhere weighing only 22 lbs. or 10 kgs.
Affordable: This sauna is a great alternative if you don't have the space or the budget for a cabin sauna. I also like the fact that it consumes low voltage, so it won't affect your power bill that much.
High heat: The Radiant Sauna's Harmony Deluxe Portable Infrared Sauna reviews rated that it heats up hot enough for a satisfying sauna break. This portable sauna has a maximum temperature of 150 Fahrenheit enough to sweat out the toxins. Radiant Harmony's Harmony Deluxe Portable Infrared Sauna is a handy and affordable addition to your home. It lets you enjoy the comfort and practicality of a sauna without paying $20 each visit.  Depends on what you believe, high EMFs can be a concern especially if you will use it often.
Who Can Benefit from This?
This sauna is best suited for:
People who want to detoxify
I heard that sweating can be good for you since you relive your body of toxins and excess sugar and salt.
Patients with Lyme disease and fibromyalgia
Infrared saunas are reportedly good for patients of these diseases. Fibromyalgia is a painful musculoskeletal disorder with fatigue and sleep issues. Lyme disease is an infectious disease caused by Borrelia bacteria which is carried around by ticks. For fibromyalgia, the increased temperature eases the muscle pains while for Lyme disease patients the heat kills off some of the bacteria.
Customer Reviews
Most of Radiant Harmony's Harmony Deluxe portable infrared sauna reviews have a 75% 5-star rating at Amazon. Most reviews often said price and functionality as the top reason.
"In the manual, it says it takes two minutes to unfold, I found it actually takes less than one minute to unfold or store away. It is easy to store in your car if you were going somewhere".
However, the highest-rated review comes from a Lyme disease patient saying that after using it he "I do notice an improvement.  My sores were lessened, and I don't experience as many tingles under my skin. I'm so glad I found this sauna!".
However, most negative ratings are due to the recorded high EMF levels. One user said it was a "human microwave". Another user didn't like the burnt plastic smell when they started using it.
Several complaints about factory issues have been reported like missing foot pads, defective chairs, and error codes controllers. Although the company responds immediately, it can be a hassle for someone who is expecting a pristine product.
One YouTube reviewer noted high EMF levels for Harmony Deluxe Portable Infrared Sauna reaching as high as 60 milligauss. Average EMF for a household appliance is up to 1 milligauss .
FAQS:
What is the warranty for this sauna? The Radiant Harmony's Harmony Deluxe portable infrared sauna has a 1-year warranty included. As we mentioned they do have a good after-sales service which you can count on.
How do I clean my Harmony Deluxe sauna? After using it, use a damp cloth to dry the PE foam inside the sauna box.  Don't pack it up immediately and let it cool down.
How do I adjust the temperature? The footpad, side and back walls are covered with 0.1 mm conductive heating elements coated with heat-activated FIR material. Using the controller, it can adjust easily to your desired temperature and the footpad automatically adjusts as well.
Read more: Harmony Deluxe 1 Person FAR Infrared Sauna Reviews
25.  Radiant Rejuvenator Portable Sauna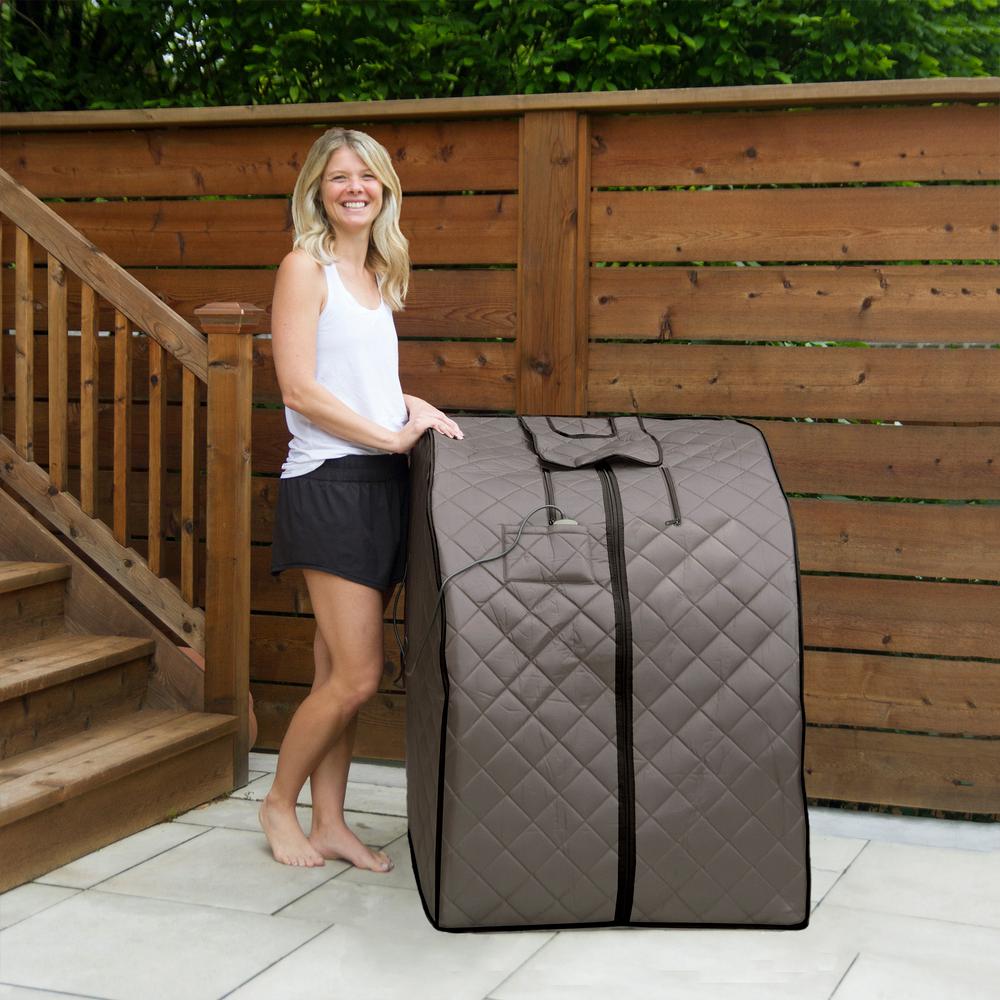 The Rejuvenator Portable Sauna is a cleverly designed sudatory made by Radiant Saunas. To set your expectations, however, this product is manufactured primarily for recreation and relaxation, so it must not be used for medical purposes.
Measuring 28 inches wide, 33.5 inches long, and 38.1 inches tall, this unit has cabin-like dimensions that are enough to accommodate one person.
It includes an insulated and padded sponge floor mat and a foldable chair for quick set-up. While sitting, you even get to adjust the heat using its handy remote for both temperature and timer control.
Made of cotton insulation, a satin polyester exterior with three layers, and a reflective polyester inside material-lock that is sewn together, the panel of this unit ensures sturdiness. It has a padded and double-lined neck collar as well as interior and exterior front compartment zippers to make sure infrared heat does not leak.
This unit has a built-in thermostat and three energy-efficient low EMF carbon fiber heating panels that emit heat at a maximum temperature of 150 degrees Fahrenheit (or 65.56 degrees C). You could select from five options for preset heat temperature levels, too.
The product might be most suitable for indoor use, but do not worry because it features a modern yet transitional aesthetic. Additionally, the gray finish allows it to blend in any spacious area in your home. You may also bring it for outdoor travels if you want.
The Pros of This Rejuvenator Portable Sauna
Energy-efficient carbon fiber infrared heat panels
Material includes sturdy, moisture-resistant satin polyester
Five (5) preset heat temperature levels
Dual interior-exterior zippers on the front compartment
Easy and quick set-up for storage or traveling
Cons of The Portable Infrared Sauna
Can only accommodate one person
Max temperature might not be enough for others
The chair is too small and slightly uncomfortable
The user manual is hard to follow
Not intended for medical purposes
Key Features
An integrated automatic shut-off safety mechanism
Modifiable temperature
Three-layer exterior satin polyester fabric
Verdict
Despite a few minor flaws, including a foldable chair that is a bit small and uncomfortable, the Rejuvenator Portable Sauna might be still worth checking out. The above review might serve as your resource to help you consider owning the product.
Who Is This Product For?
This lightweight infrared might be a good product recommendation for people whose hands are mostly on deck and who are conscious of their health but have little time to pamper themselves. If you want to reduce stress and fatigue or lose weight the easy way, it is a good starting point.
Customer Reviews
Check out what other customers have to say about this portable sauna with these Radiant Saunas Rejuvenator Portable Sauna reviews:
"Initially, I had second thoughts about owning this product because I thought it couldn't get any hotter, being a person who's always cold. But when I decided to buy it and gave it a try, I sweat out a lot. I also appreciated the design because my head doesn't get hot. I tell you, it's definitely worth your time and money."
"Toward the front, there are side panels that don't give off enough heat, which surprised me. Maybe I got a defective unit."
"Such a valuable product! It can be set up quickly and cleaned easily."
"I ordered it in hopes of sweating out without the need for active exercises. It's unexpectedly easy to set up, but does it heat a lot? I don't know. I've tried to let it heat up for about 10 minutes and adjusted the temperature gradually, but still, it doesn't get hot enough. What a letdown! I'll return this product instead."
"Between losing weight and reducing stress, I had no issues with this product. I love it!"
"I was expecting that more heat would come out. Otherwise, it's a great product."
Review: Radiant Saunas BSA6310 Rejuvenator on Youtube
FAQ & Additional Tips
Do I need to add something for it to heat up? This portable infrared sauna is a dry heat unit which means you do not need to add water or anything else just to get it heated up. It is entirely different from a steam sauna.
How hot does this product can get? The portable infrared sauna has a maximum thermostat of 150 degrees Fahrenheit (65.56 degrees C). If you set the temperature to the range of 130 to 150 degrees Fahrenheit, you will sweat in about 15 minutes.
Does this unit have any chemical smell to it? No, it does not have a chemical smell at all.
Can the chair be replaced? The foldable chair is not replaceable since it comes together with the unit upon purchase.
How long should a person spend time in a sauna? The maximum time a person should stay in a sauna is half an hour. Also, take note that this product has a collar, so you should not stay in it for more than 30 minutes.
Read more: Radiant Saunas Rejuvenator Portable Sauna Reviews
Frequently Asked Questions about Home Sauna
What is a home sauna?
A home sauna is an enclosed room designed for heat sessions. The heat produced in the room causes a person to sweat, which is found to be beneficial to the health. The exceptional heat of a home sauna produces either wet heat or dry heat.
How can you differentiate a wet sauna and dry sauna?
Most saunas make use of a heater and volcanic rocks. The rocks are heated at a high temperature. For wet sauna, the heated rocks are splashed with water to create a moist and form a steam.
On the other hand, the rocks for dry sauna doesn't make use of water, they are just heated. The mere difference between the two is the presence of humidity.
What is the difference between an infrared sauna and traditional sauna?
The difference between a traditional sauna and infrared sauna depends on the heat and humidity.
The traditional sauna uses heat with the temperature of 185°F to 195°F. It also uses water to generate steam and creates a humid experience.
On the other hand, the infrared sauna uses a milder temperature that ranges between 120°F to 150°F. The heat is penetrated into the body through infrared rays.
Where can I place my home sauna?
The home sauna can be placed on any surface – tiles, concrete, laminate, any surface that does not absorbs water. Also, it is not advisable to place it on a carpet as it absorbs odors and sweats.
How much will a home sauna cost?
The cost of a home sauna depends on the sizes, the quality, and the included accessories.
Should I be concerned about any health problems?
In case of any history of high blood pressure, heart disease, and the like, you should first consult your physician before a sauna bath.
Is infrared safe?
Infrared has been used already in medical practices. Infrared saunas use light energy that is beneficial to the body and does not cause harm.
Are home saunas safe for children?
Saunas can be used by children aged 12 years and above. Children below this age are not yet capable of thermoregulating.
When is infrared sauna not recommended?
The use of infrared sauna is not recommended for pregnant women, children below 12 years old, those who are under the influence of alcohol, and those who can't handle the extreme temperature.
Conclusion
All of the products stated above have their features, pros and cons, however, the Maxxus LSIF-03 stands out and can be considered as the best home sauna as of now. The manufacturer and designer of the product gave justice to the tagline "Best of all worlds."
It has heater below the bench which helps in improving your circulation, unlike the other products reviewed above. Its infracolor chromotherapy light system, together with its Bluetooth technology, makes it perfect for relaxation, rejuvenation, and therapy.
It also comes with digital controls that are available both on the inside and outside of the sauna which makes it more convenient to use than the others.
Also, the only cons of this product are the 20A circuit and receptacle requirement which is available in hardware stores so the installation of this sauna is still pretty easy. If you want to buy this product, click here.