The key to your pool's efficient circulation is having the best waterway pool pump. It is the most important pool equipment you should have because if the pump doesn't not work, everything about your pool won't work too.
However, buying the best pool pump is a lot stressful than maintaining your pool in its best condition. The reason behind this is because of the various brands, types, and prices you need to consider. To ease your stress, we will help you in your waterway pool pump buying process.
Why Waterway Pool Pump
No matter what type of pool you have, a decent waterway pool pump is an indispensable requirement. Why? Find out the reasons below:
Powerful and efficient
Waterway pool pump ensures the quality of the pool water and its filtration. It makes your pool water clean, clear, and safe. Since it is responsible for circulating the pool water, it removes bacteria, suspended particles, and most importantly, purifies the water.
Low Maintainance
Some ground pool pumps are very high-maintenance. This is not the case in the waterway pool pump. A pump that is high-maintenance would fail at some point. How? Because it is quite difficult to do it often that you will stop sooner or later.
Waterway pool pumps, however, have many features for ease of use. For instance, it is equipped with a debris basket that helps gather the dirt, dust, and other particles from your pool.
Durable
Waterway pool pumps are quite expensive thus you need to make sure that the one you intended to buy will last long. This type of pump is a bit different from the others because it takes care of itself because of the automatic overload protection. Hence, even if you are not diligent enough to take care of it, it is not a risk at all.
Easy to install
Waterway pool pumps don't have loose parts. For this reason, the installation is not complicated. It is also equipped with a rotatable end making the installation procedure a lot easier. The installation manual is also easy to understand; therefore, hiring a pro for installation is not required.
Best Waterway Pool Pump Reviews
Now, that you know some of the important features of a water pool pump, it's time to know the best pool pump brands with more remarkable features. Let's take a look at our waterway pool pump reviews, shall we?
1.  Waterway 1.5 Horsepower Hi-Flo II Swimming Pool Pump Above Ground PH1150-6 HiFlo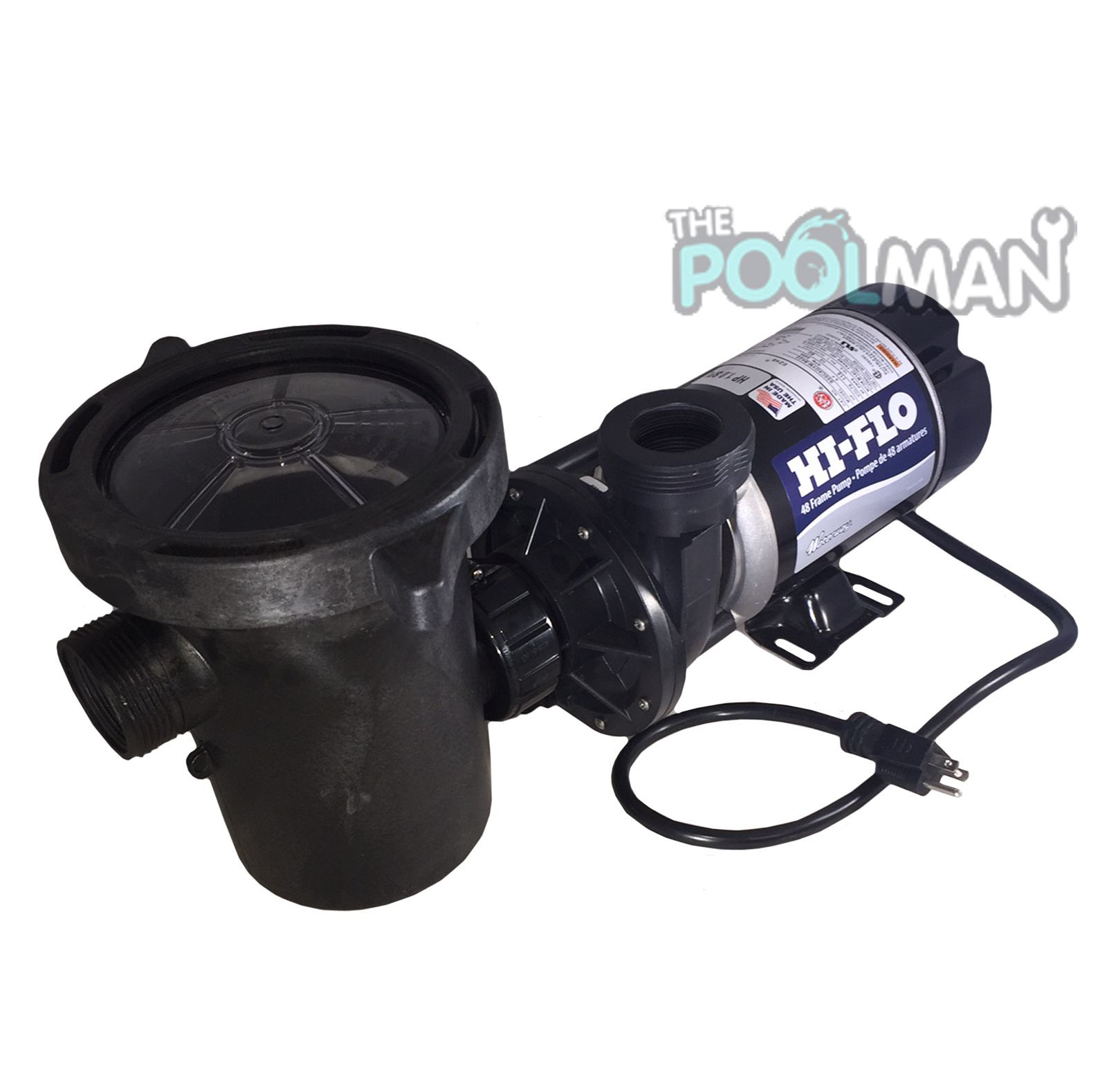 This Hi-Flo pump is specifically designed for efficient and powerful performance. It is built in such a way that you won't need any tools to remove the strainer. With this pump, purifying the water won't consume much of your time thanks to its fast circulation cycle. It has the best high flow performance perfect for above ground-box-pool type with 1 1/2 inch plumbing lines.
Having the ability to run at superior speed, cleaning the pool would never be a hassle. The only downside of single-speed though is the high maintenance cost. It would consume high power, thus can be a little costly. Overall, this is worthy for those looking for a new system or a replacement pump.
Highlighted Features:
Rotating wet end
large strainer trap with two-piece clear lid
3 power cord
3 prong grounded
5-inch NPT internal threads
The Pros of This Waterway 1.5 Horsepower Hi-Flo II Pool Pump
Energy saver
Durable
Highly efficient for box type pools
Ease of maintenance
Cons of The Pool Pump
Product is banned in Florida and California because single speed is prohibited
The Control panel is a bit difficult to manipulate
2.  Waterway Supreme 48-Frame Above Ground Swimming Pool Pump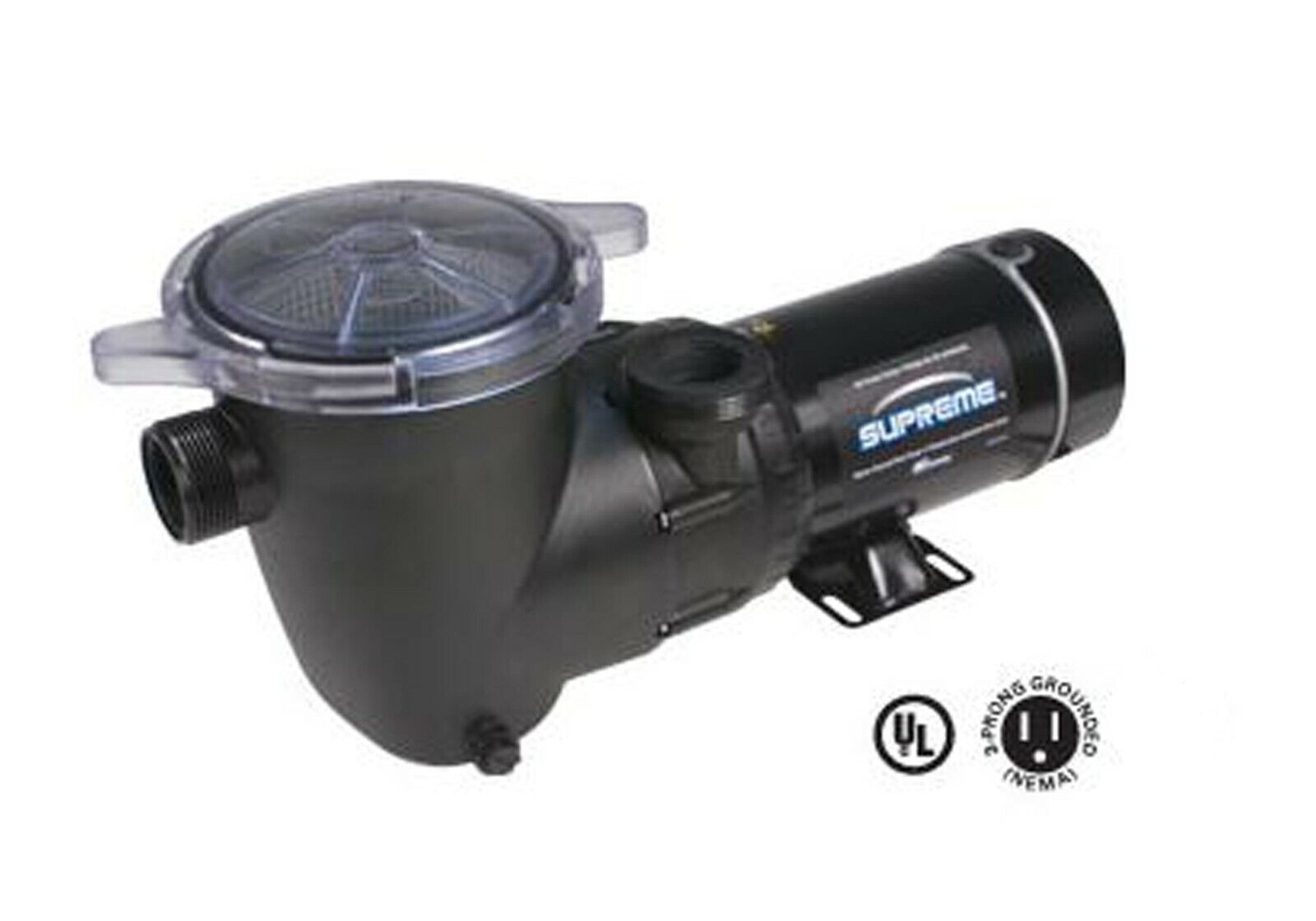 Supreme is best known for its technologically advanced features, and this specific model would prove you that. This unit is particularly built for the cartridge, water purification, and sand filtration for all sizes. It is compact and easy to maintain. It has a heavy-duty motor made from stainless steel that prevents rust and corrosion.
This 48-frame unit comes with 4 models. Each model differs in features, size, and speed pump. If you are looking for the fastest circulation and best cleaning weapon for your pool, buy the ones with dual speed. Other remarkable features, however, are its non-drip and heat resistance because it enhances the pump's durability.
Highlighted Features:
Rotating wed end
Extra Large 7-inch trap with one-piece clear lid
Superior side-discharge performance
1 2/2 inch thread and FPT intake
2-inch thread and 1 1/2 inch FPT discharge (for other units)
The Pros of This Waterway Supreme 48-Frame Pool Pump
Compact size
Powerful Suction
Ease of maintenance
Rust, Corrosion, and Heat resistant
Non-drip
Cons of The Pool Pump
May have clog issues on the strainer
A bit noisy especially on high speed
3. Waterway Champion 1 HP Inground Swimming Pool Pump CHAMPS110

The champion water pump is a winner when it comes to high performance, jet action spa, and cleaning and filtration system. If you are the type of person who looks at the features rather than the brand, this particular unit is worthy of your investment.
The product has a self-priming function for fast and enhanced priming. It also comes with a thermal overload protector to prevent overheating due to overuse. The leaf trap basket may need a little maintenance, but it is efficient enough to gather debris on the pool.
Highlighted Features:
Self-priming
Leaf Trap basket plus cam lid
56 frame motor
2-inch unions
The Pros of This Waterway Champion 1 HP Inground Swimming Pool Pump
Powerful cleaning and filtration system
Durable
Cost-effective
Cons of The Pool Pump
4.  Waterway SMF In-Ground Single Speed Swimming Pool Pump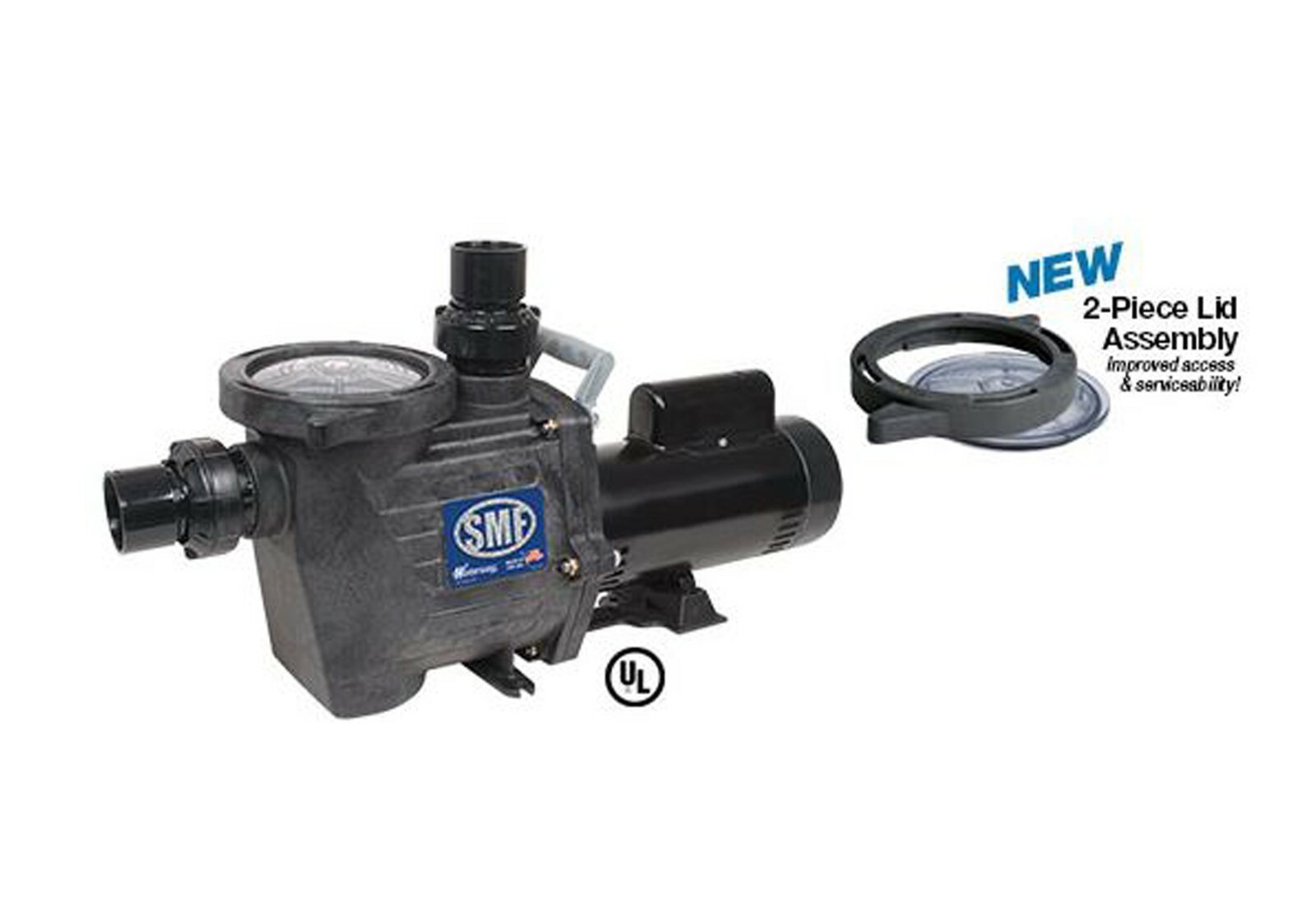 The most versatile feature of the SMF pool pump is its quiet operation. You would rarely encounter an efficient operation yet producing no sound. For this reason, this can be a great pump for hotels, resorts, and other places surrounded by many people who can be disturbed by the sound.
The unit has a 2-inch swivel union to prevent the need for re-plumbing. Besides plumbing efficiency, this specific feature assures great alignment. Most of the features like silicon seals, pot, and other bases are adjustable making it easier for your installation.
Highlighted Features:
2-inch swivel union
Volute for reducing sounds
Silicone carbide seals
One-piece pot
Quite operation
Adjustable parts
Ease of installation
Cons of The Pool Pump
5.  Waterway Plastics 3721621-1D Executive 56 Frame 4 HP Spa Pump, 230-Volt Hot Tubs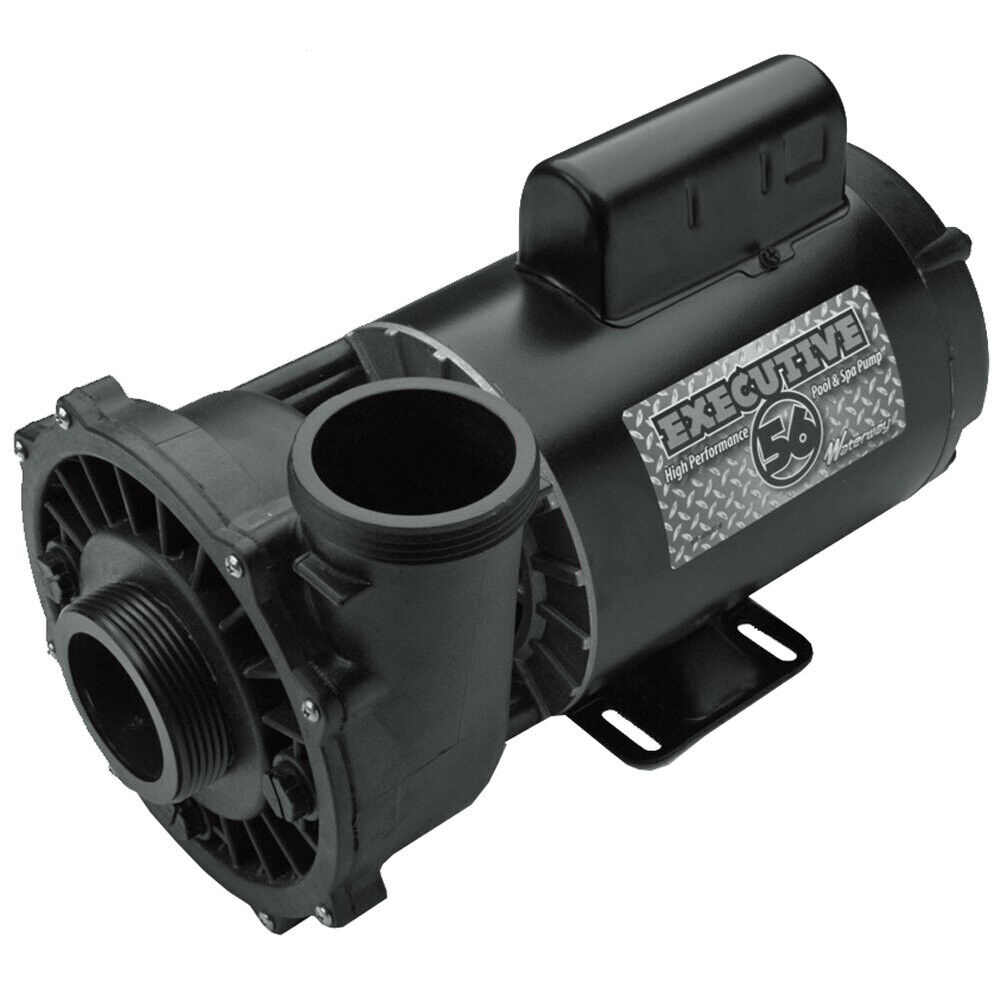 This waterway pump pool is not tough on the horsepower while improving enough energy to pump the water pool. It has a 54-frame motor that promotes the unit's longer life and added performance. With the clear lid, you can easily tell if the unit needs emptying.
It is normal to have a noisy pool pump, but this is not the case with this unit. The Executive pump operates and runs smoothly and quietly. This is because of the ball bearings with moisture resistance. With its ability to run 2 motor speeds, this unit can perfectly clean the pool without costing you so much time and money.
Highlighted Features:
Executive wet end
Two double ball bearings
Two-speed motors
Large 2-inch intake
The Pros of This Waterway Plastics Spa Pump
Various speed
Power saver
Durable
Cons of The Pool Pump
May not be efficient for commercial pools
Control panel tends to be a bit fiddly
6.  Waterway Plastics 3312610-14 Tiny Might Circulating Pump 115V 1″ Union for Pools

Because of its powerful horsepower, this brand has the reputation of being one of the highly-rated pumps in the business. It is best to use for bout above ground pool and in-ground pools. The model is compact in size, lightweight, and has durable materials. It has a powerful motor that ensures that the water in your pool is pump thoroughly and efficiently.
Another commendable feature of this model is the less pressure it uses when pumping. In this way, customers are assured of the quality and durability of the product. The low pressure does not only save expenses but also assure a quite system and operation. Everyone aims for low-cost and quite pumping, hence this is an excellent investment to your pool must-haves.
Highlighted Features:
Rotating wed end
Adjustable bases
1-inch barb
1-inch union
The Pros of This Waterway Plastics Pool Pump
Highly efficient in performance
Runs smoothly and quietly
Low-cost functionality
Affordable
Cons of The Pool Pump
Low pressure is not recommended on commercial pools
Final Thoughts
The pool pump is a key element to your pool paraphernalia. It helps maintain the beauty of your pool and keeps it clean and safe. Without it, everything we want for our pool would never really work out. With this waterway pool pump reviews, we are sure that you will be able to decide which pump is suitable for your pool needs.
The products outlined here are carefully researched and chosen; hence, it is certain whichever brand you would decide to buy, it will serve you the best and maintain your pool's topnotch state. Make sure that take care of your pump to make your investment stand the test of time.