The winter spells come along with chilly temperatures, and the cold freezing nights do not go well with most of us. After doing an extensive research, I discovered that wood stoves are among the best ways people can heat their homes.
This formed the beginning of Wiseway Direct Vent Wood Pellets Stove reviews.
Wiseway Pellet Stove Review
About US Stove Wiseway Pellet Stove
The US Stove is a reputable company that provides quality pellet stoves that eliminate the need for electricity to heat up spaces. Their pellet stove is an excellent and cost-effective way to heat up any home, business, tent, patio or garage. The combustion efficiency of this stove is 75% and it can heat spaces of between 800-2000 square feet.
Pros
It easily heats a whole house to 2000 square feet
It reduces the emission of Carbon dioxide
Helps to get rid of waste from landfills
Does not require electricity to heat up
Features glass viewing window
uses environmentally friendly biomass fuel
Cons
You will need the assistance of a chimney installer to install it.
Key features
The stove has a unique appearance that attracts a glance at first sight. Regardless of its' looks, the following is a summary of its key features.
Functions
The Wiseway pellet stove can be compared with wood stove because it uses a natural draft but uses a specially designed fuel, which enables it to generate a good level of heat to the users.
The stove has a well-devised burner system that functions on continuous feed without using mechanical input.
When using the modern stove, one can manually control the heat without having to depend on electricity. This stove can also be used as a source of power by adding a water jacket that heats water, converting it into steam, thus charging the battery system, which can power electronics and lights.
Pellet fuel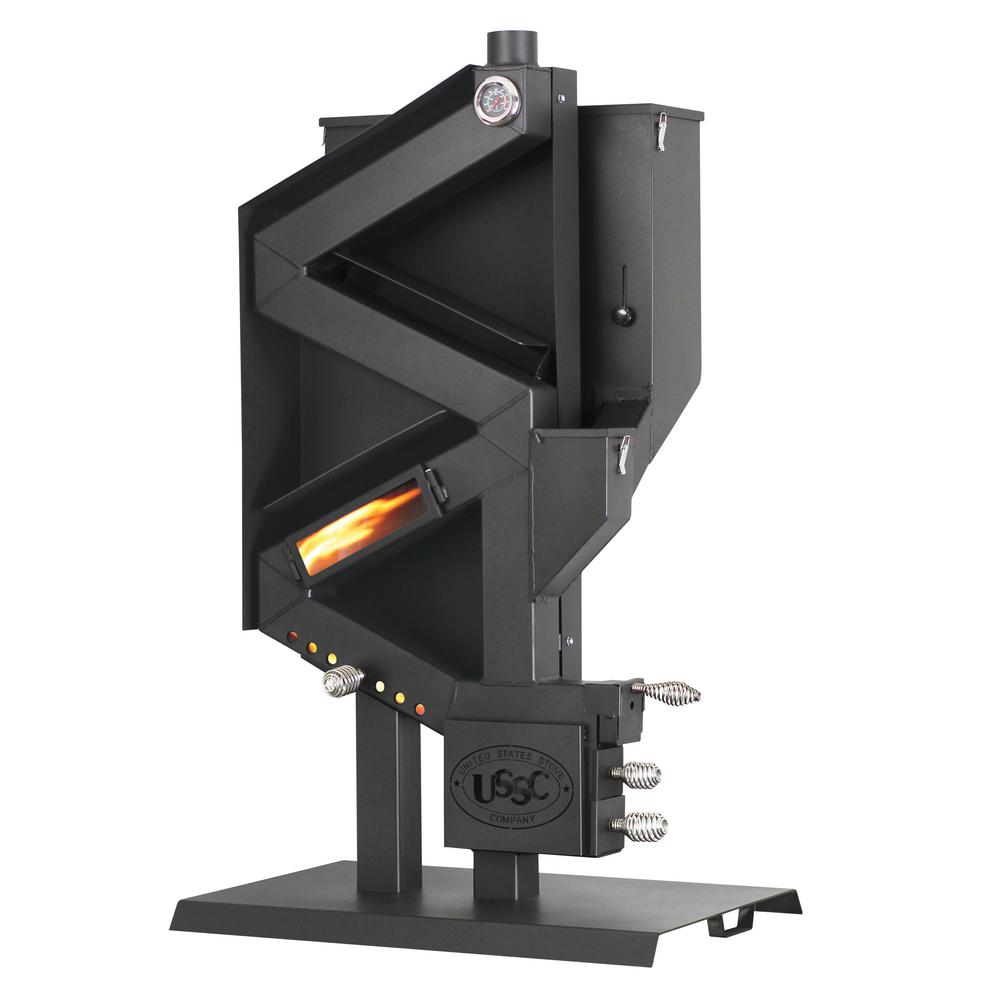 Wood pellet is used to heat more than a million homes in America. Wood pellets are highly effective biomass fuel made from recycled wood waste. Burning pellets produce enough amount of heat.
One impressive feature of this stove is that it can easily function without using electricity. This mechanism works because the stove uses natural gravity feed system, making sure that the stove does not encounter mechanical failures that need costly repairs.
According to the US Stove wiseway pellet stove reviews, Wiseway stove does not need a blower to be heated up, but a blower is available for those who want the heat to spread quickly in the house. An echo fan is attached to the stove, which acts on the heat formed.
Installation
First, you will need a nose plier to fix the temperature gauge; once you are through, you will fix the damper slide by simply sliding it into the right position. You will also need screwdrivers to turn them clockwise so that the damper slide will be secured.
Lastly, you will fix the primary burn tube, secondary burn tube, and ashtray tray. The chimney system and the stove are risky and hazardous; thus, they need to be installed by professionals.
Cleaning and maintenance
According to the US Stove Wiseway pellet stove reviews, GW-2014W does not require maintenance at all. The replacement of a typical auger mechanism with a gravity feed system makes it impossible for the stove to call for periodic maintenance and repairs. However, we were informed that the stove should be kept clean always
Cleaning the stove requires some effort. You need to come with a schedule of cleaning the stove regularly. You are also supposed to keep checking of any residue building up in the stove.
Safety
WiseWay has not left any room for error as far as safety is concerned. The wood pellet stove is made with great attention to detail and places high regard for accuracy.
You are guaranteed safety because almost all its parts and components have been tested and approved by the national safety standards. However, users are supposed to be extra careful when using the stove since the temperatures can get extremely high when it is functioning.
WiseWay Pellet Stove Reviews from customers
 WiseWay Pellet Stove has received positive testimonials and review from customers in Homedepot. By the time of writing the product has been reviewed severally with an average rating of 4-star rating.  It is among the best pellet stove in Homdepot.com, Wayfair.com.
Wiseway Pellet Stoves Demonstration
Alternatives
Another zero- electric wood pellet stove I found is GW7400 made by United States Stove Company. It easily fits in your living room as opposed to the Wiseway pellet stove.
Additional tips
There are additional optional accessories that can be fitted to the GW-2014W pellet stove to make it function effectively. Even though the stove radiates the room and produces a lot of heat, sometimes it requires a boost.
You can choose to attach an optional fan to help in bringing the warmth in the house. Try using small echo fans, but you should not use electricity to run it.
The GW-2014W is designed to move it from one place to another; you may choose to purchase spare wheels for the pallet stove.
FAQ
Where can I find EPA certificate for WiseWay pellet stove?
There is a searchable EPA certified wood heater Database. The database gives information of heaters which comply with 2015 new source performance standards for residential wood heaters.
Is it safe to run the Wiseway pellet stove overnight?
Yes, Wiseway pellet stove is safe to run overnight because it provides consistent heat safely. Unlike traditional stoves, this model has technology that enables it to read certain conditions that will make it shut down automatically.
Final thoughts
As is evident in this wiseway pellet stove review, the wiseway pellet stove has multiple uses and benefits. My experience with this type of stove has been awesome, saving me from the cold weather and keeping my house heated up.
It keeps my house warm, but it also gives me a lot to talk about, especially when I am visited by friends. It has been considered as one of the best pellet stoves which will keep your house warm. If you are interested in this stylish yet effective pellet stove, be sure to check it here.