A whirlpool is a whirlpool, right? Wrong. You have whirlpools, and then you have some of the best whirlpool tubs around. And yes, there is a difference, if you are interested in quality, functionality, style…and price.
So what do you need to look out for when looking at the best whirlpool tubs before making that final decision?
What you should know before buying the perfect bathtub
It is not the same as buying a set of mugs for the kitchen where you just decide on the color and style. There is much more to than that.
Your Bathroom
What does your bathroom layout look like? Where would you put the bath? Where is your plumbing situated, and more importantly, your drain? How much space do you have?
By answering these questions, you know where the drain should sit in your bathtub, where your bathtub is to fit (making the type of bathtub you should look at easier) while taking your plumbing needs (do you need to make changes?) into consideration. And don't forget, in the case of buying a bathtub, size does matter!
Choosing the Bathtub
Once you have the size and shape of your bathtub figured out, as well as placement of faucets and the drain, you need to decide on the specific features you want. In the case of more luxurious bathtubs, you need to decide on whether you want air jets, water jets, or a combination of both. Many bathtubs have the latter – it is just a question of finding them.
Then you need to look at the added extras. Some bathtubs have radios, Bluetooth connectivity, a hand shower, and a list of other added features. Many of these are mentioned in our product review section – do take a look and see what is available. You might be pleasantly surprised.
The last step
Now that you have drawn up a list that incorporates your limitations (usually determined by the bathroom space involved as well as the placement of the plumbing and draining), as well as your must-haves, wants, and nice-to-haves, it is time to go about looking for the best jetted tub, best Jacuzzi tub, or generally all-around combination tub for you. So have fun!
10 Best Whirlpool Bathtub Reviews
1. W3260SP-01CMH Sparta Whirlpool by Clarke Products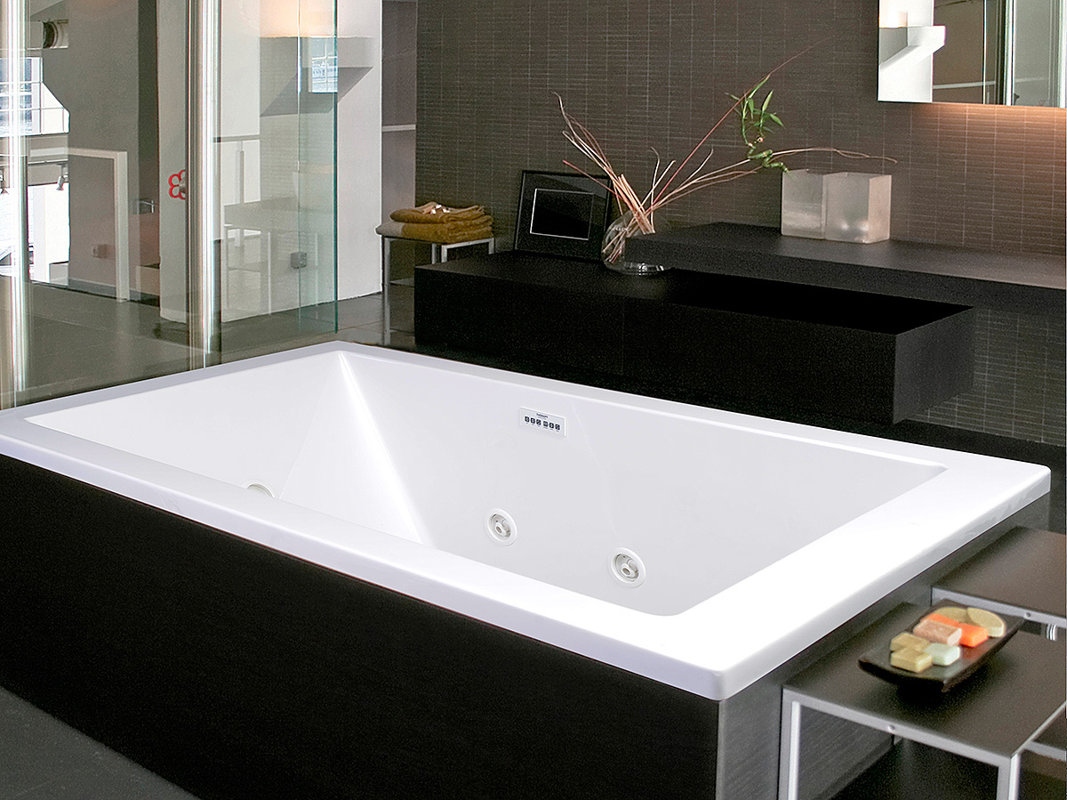 This whirlpool bathtub has a clean, modern design to give an enjoyable bathing experience to anyone, no matter your size.
What customers say
Customers believe this is a great buy. They loved the minimalist design and the great functions and quiet running ability.
The hot tub has a flat lip
It is manufactured from durable acrylic
Has an overflow drain
Installation is drop in with an undermount
Comes complete with eight jets
See all Clarke Products Whirlpool Bathtubs on Wayfair
2. American Standard EverClean Whirlpool Bathtub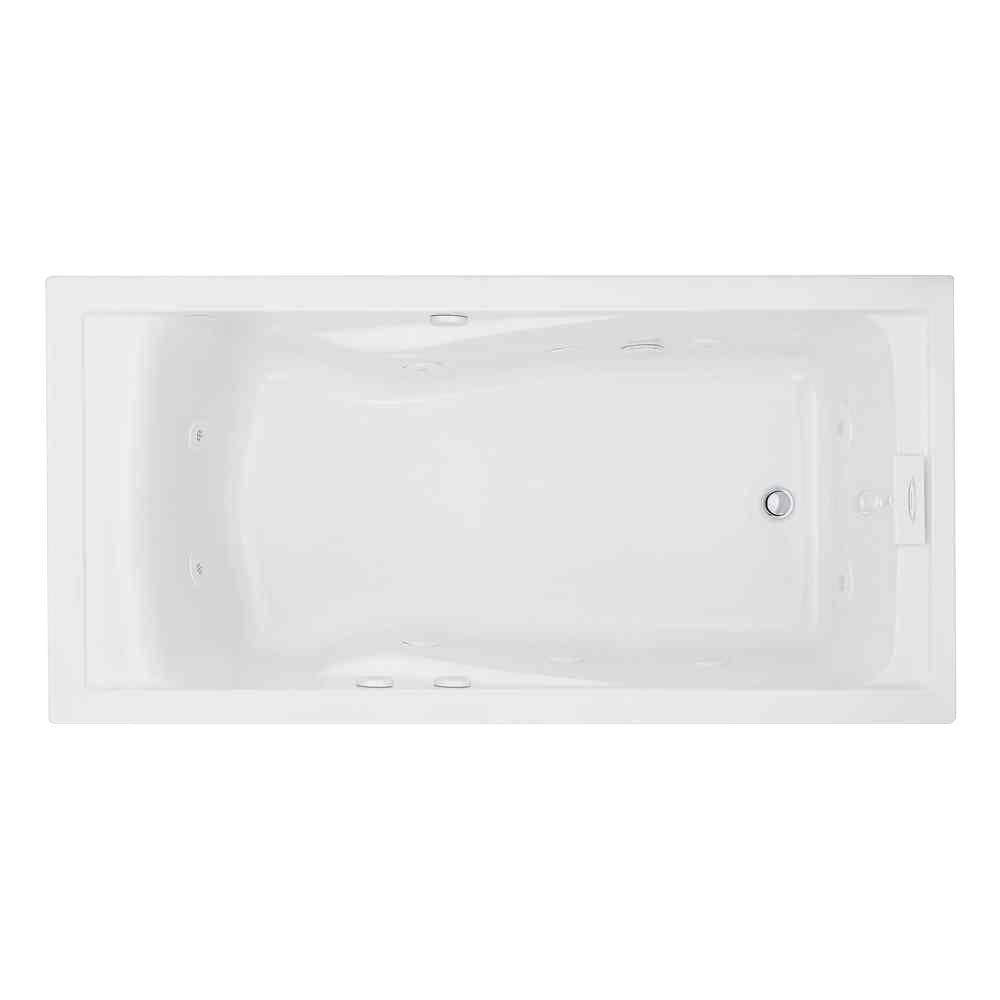 A six-foot best jetted tub contender, this bathtub has a patented antimicrobial additive that is directly molded into the water circulation piping. This discourages the growth of mildew and mold in the piping system, keeping the tub cleaner for longer.
What customers say
Customers had quite a lot to say about this tub. They liked the strong jets, the deep-soaking ability of the tub, and the long length. The easy installation was also mentioned as well as how easy it is to clean.
The product incorporates ten fully adjustable clean jets for a great therapeutic massage
Made of acrylic, the bathtub is reinforced with fiberglass for durability
An antimicrobial additive is molded into the water circulation system, inhibiting mold and mildew growth
Easy operational access is granted by means of three air volume controls
Comfort is ensured by two molded armrests and lumbar support provided
Tub floor is designed to be slip-resistant
A heater connection is provided if you want to add a heater
See all American Standard Whirlpool Bathtubs on Homedepot
3. KOHLER Archer Drop-in Whirlpool Bathtub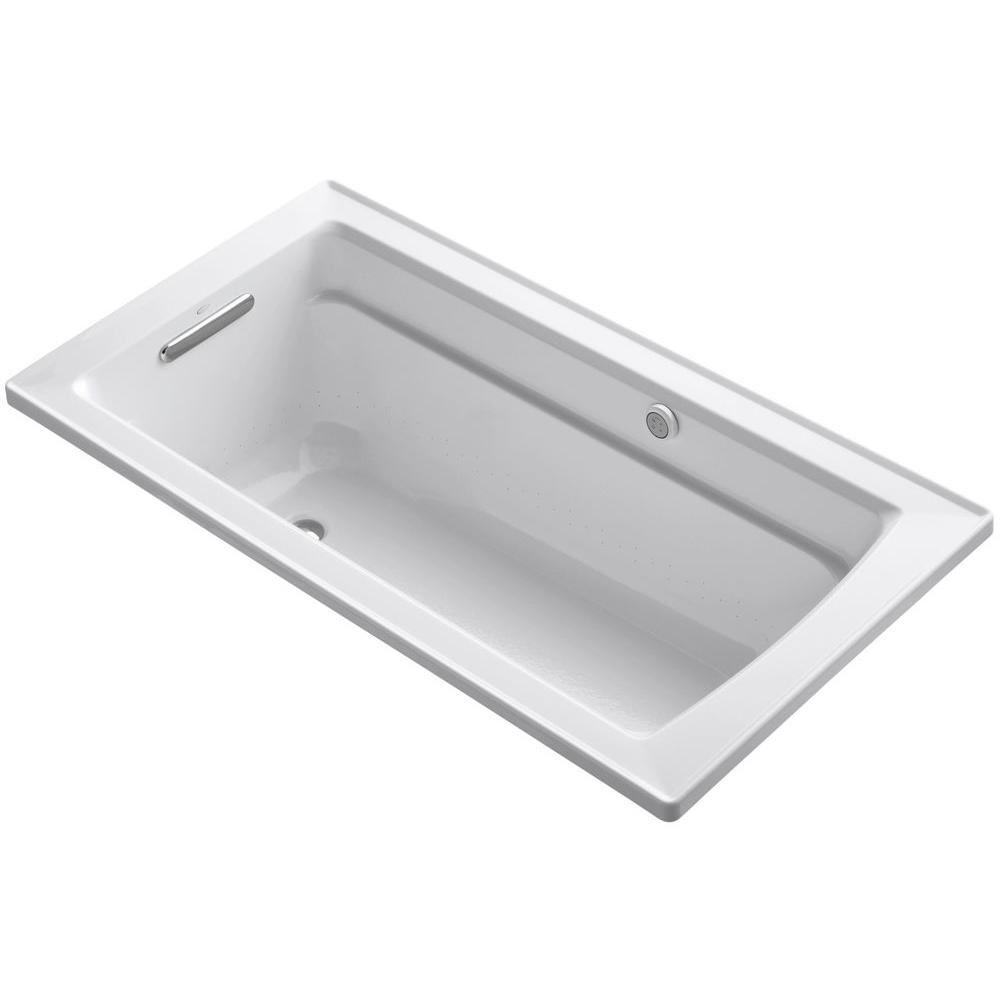 Probably one of the best air and whirlpool bathtubs we reviewed, the massage hydrotherapy experienced by the thousands of air bubbles that massage your body released by the 120 air jets gives your body a great massage. Add to this the clean, sophisticated beveled design, and you are ensured of a deep, comfortable soaking experience.
What customers say
Clients love the fact that this tub gives a gentle massage and lots of bubbles, while the air heat keeps the water warm for a long period. Also mentioned was that no water remains in the jets after use, which prevents mold from forming due to the purge cycle that blows any remaining water out of the tub's jets. They also love that it is very easy to clean.
Best features of this product
The bathtub has 120 air jets
Massage intensity is adjustable to 18 different levels by means of the variable-speed blower
Sports a 19-inch step-over height while maintaining the same depth as a standard 21-inch bathtub
Extra comfort is supplied by the molded lumbar support
Has a reversible drain
See all KOHLER Whirlpool Bathtubs on Homedepot
4. SDS California Bathtub Whirlpool Jetted Bath
The only negative thing to say about this bathtub is the size. It caters to shorter people, but other than that, it is a real gem
What customers say
Clients feel this is a great spa tub with wonderful, powerful jets that give a great massage. Special mention was also made of the awesome heater.
Best features of this product
The bathtub is outfitted with three skirts allowing for either left or right-hand corners
Water jet pump is included
Has five adjustable massage jets and three back jets
Air bubble pump with a switch is included
Has eleven air bubble jets
Includes a handheld shower wand
A padded waterproof pillow and ozone water cleaner are included
Underwater LED a bonus plus computerized LCD screen control panel with full functions
Has a water level sensor and an FM radio with one speaker antenna and Aux input for an iPod
5. WF3467RD Royal Air and Whirlpool Water Jetted Bathtub by Spa Escapes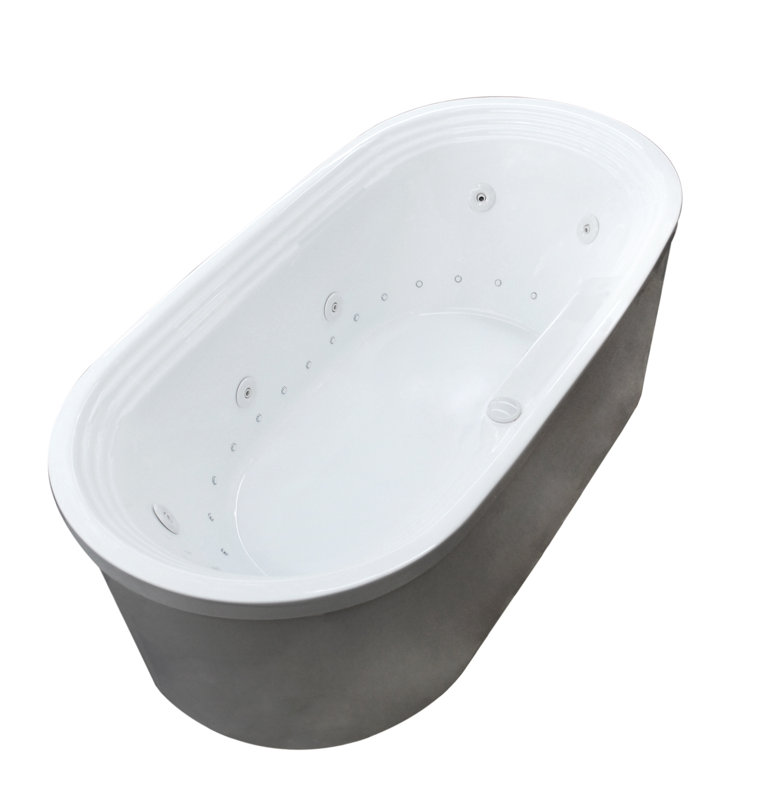 A freestanding tub, this elegantly designed bathtub can have any placement you desire in your bathroom.
What customers say
Clients were impressed with the tub's elegant look. The strong jets were also mentioned as well as the heater which enables them to soak for much longer. They also mentioned that laying in the tub was a relaxing, comfortable experience.
Best features of this bathtub
Centrally placed drain
Consists of a two-piece, non-porous acrylic construction which makes for easy cleaning
Reinforced with fiberglass for added strength
This freestanding bathtub can be placed anywhere in the bathroom (depending on water availability and drainage)
Bathtub includes both air and waterjets for maximum massage availability
See all Spa Escapes Whirlpool Bathtubs on Wayfair
6. AM128 Whirlpool Bathtub by Ariel Bath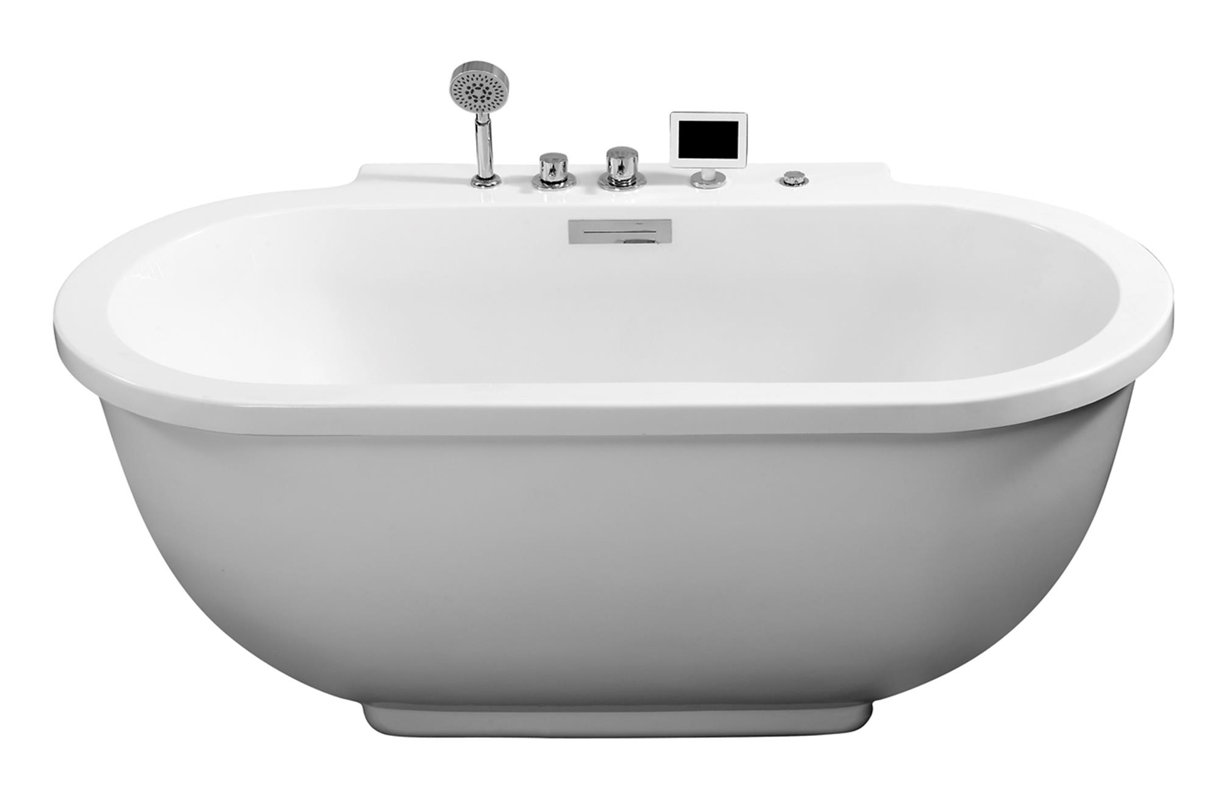 A pedestal whirlpool bathtub that gives a great massage experience just like an indoor hot tub, this bathtub has a sleek, luxurious, elegant design. The state-of-the-art hydro massage system is perfect for anyone who needs to relax after a hard day at work or workout at the gym.
What customers say
The thing most customer reviews have in common when it comes to this bathtub is its perfect length and depth for adults. Special mention was also made of the jets that deliver a strong body massage, while they find the radio of good quality with great sound as well as reception.
Best features of this bathtub
Because it is a pedestal bathtub, it is easy to place in any bathroom, depending on water and drainage
Manufactured from acrylic and enameled steel, the bathtub is functional and sturdy
A sophisticated look that blends in well with most décor styles
Handheld showerhead and thermostatic faucet
Incorporates an auto pipe cleaning mechanism together with an ozone disinfecting cleaning system
A sense of serenity is catered for with the LED chromotherapy lighting supplied
Has an onboard FM radio and Bluetooth capability with built-in speakers
Has a waterfall faucet
See all Ariel Bath Whirlpool Bathtubs on Wayfair
7. Universal Tubs Sunstone Whirlpool Tub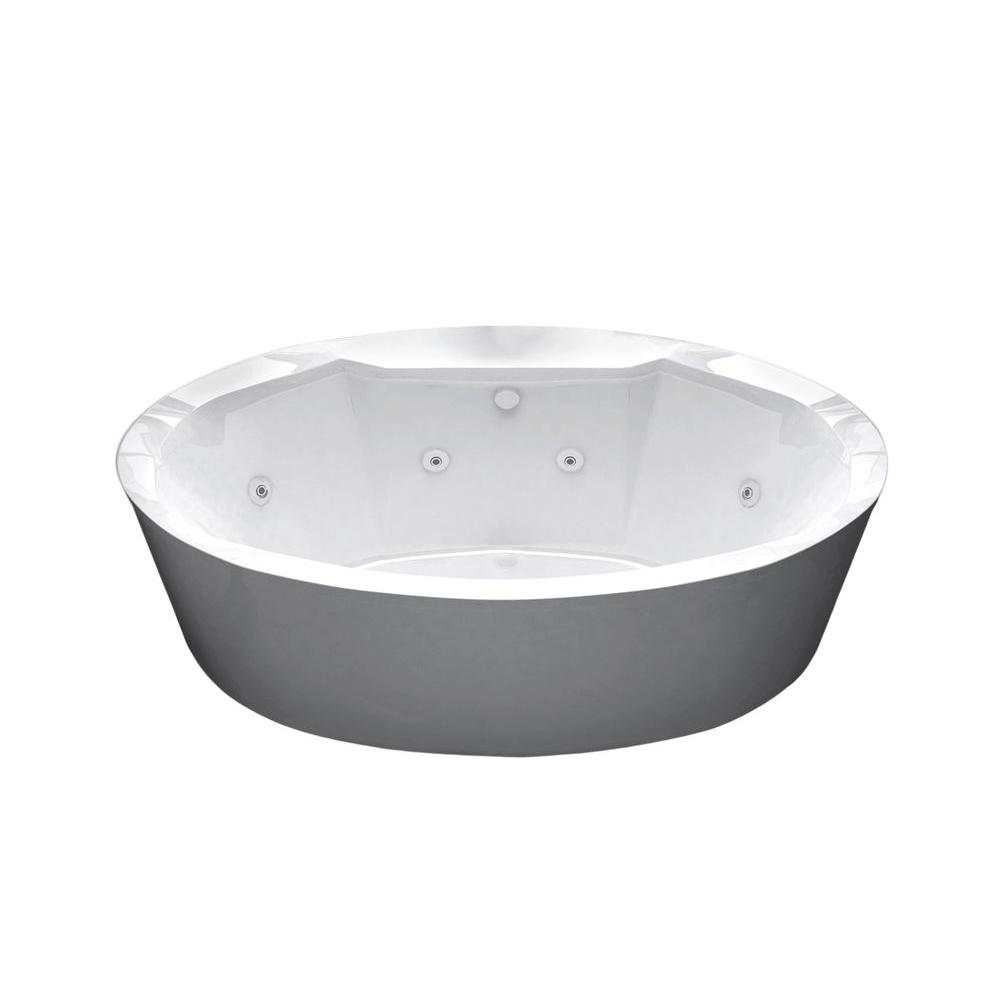 This freestanding, oval-shaped bathtub has eight fully adjustable directional water jets – giving a great massage to aching muscles. It is also safe to use with aromatic oils and salts for a real spa-like experience.
What customers say
Customers like the fact that this tub is quite deep and value for money. They also commented on the great style and easy installation process.
Best features of this bathtub
Water is kept at a steady temperature due to a friction heater
Sports a pneumatic button control
Bathing salts and essential oils can be used safely with this bathtub
A one-piece acrylic construction boasting a nonporous, easy to clean surface
Has a fifty-gallon water capacity
See all Universal Tubs Whirlpool Bathtubs on Homedepot
8. BR-16W8-BI-R Whirlpool Bathtub by American Acrylic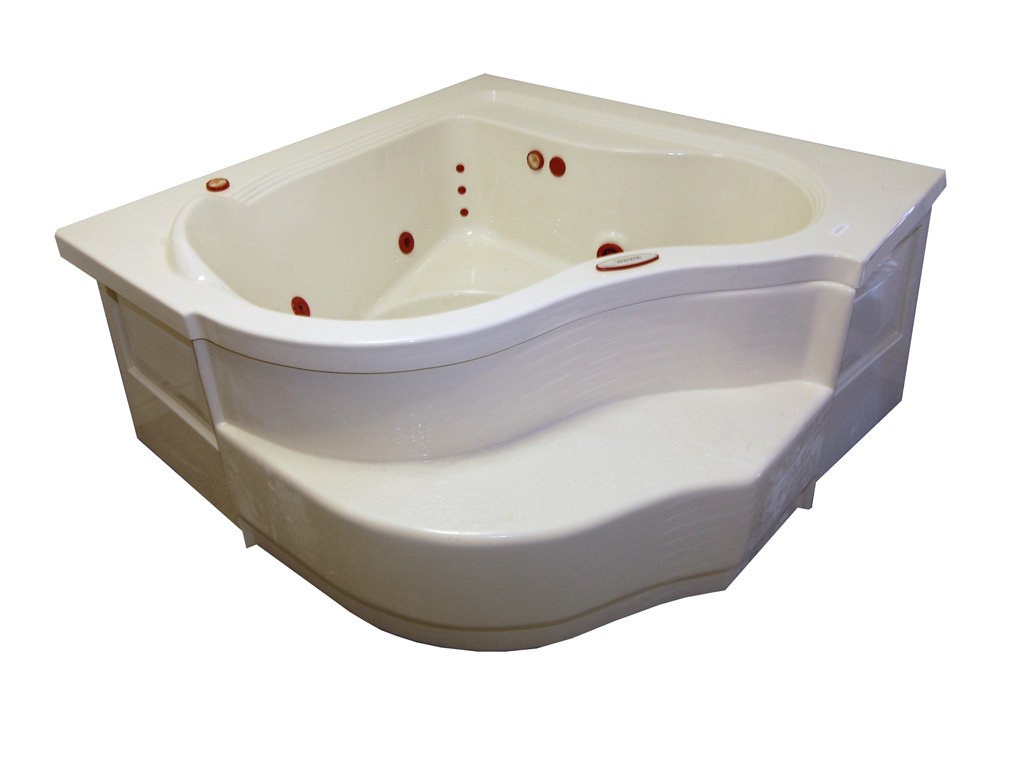 A beautiful addition to any bathroom décor, the corner placement and step up puts this bathtub a contender for the title of best luxury bathtub any day.
What customers say
Three things stood out for customers who purchased this tub – the value for money, the easy assemble, and its stylishness.
Best features of this bathtub
A deep whirlpool corner bathtub
Made of easy to clean, durable, acrylic
Has an 84-gallon water capacity
It is a freestanding unit with a center drain placement
See all American Acrylic Whirlpool Bathtubs on Wayfair
9. Whirlpool Bathtub Corner Hydrotherapy by Simba USA Inc.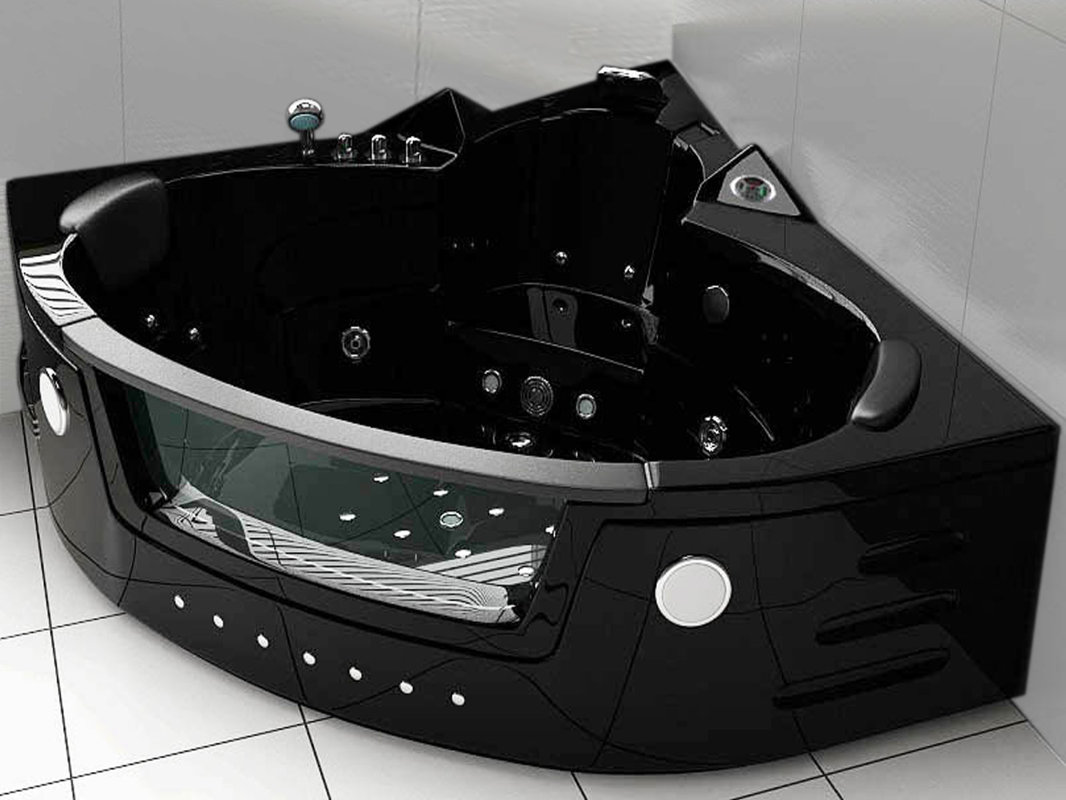 If you are into sexy features for your bathroom, you should seriously take a look at this bathtub. Constructed of acrylic, the black finish and added features makes this bathtub an excellent addition to any modern bathroom.
What customers say
Customers were impressed about how easy it was to install this bathtub
Best features of this bathtub
Comfortably seats two people
Has 4 adjustable massage and 12 whirlpool jets
The 250W air pump has eight air nozzles
Powered by an air jet control system
Sports three large LED underwater lights and two padded headrests
Includes an FM radio and two loudspeakers
Incorporates a shower wand and waterfall faucet
Has a switch, pop-up drainage, a towel rack and a backwater valve
An automatic circuit breaker ensures electric leakage protection
Built out of high-quality sanitary acrylic – in black
10. HandiTub Whirlpool & Air Jetted by Therapeutic Tubs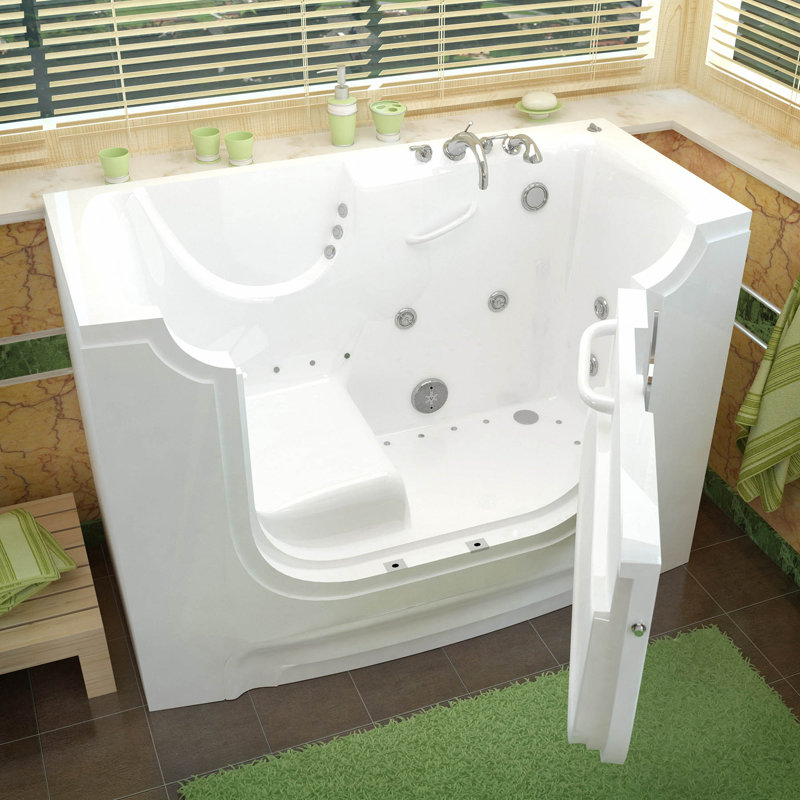 This is our contender for the title of best walk in tub.What makes it so special is that it has whirlpool functions designed for a walk in bathtub, making it perfect for those who are mobility challenged.
What customers say
Customers feel that this tub exceeded all their expectations. Particular mention was made of the Ozonator as well as the fact that the bathtub drains within less than two minutes while filling takes about ten.
Best features of this bathtub
It has a triple gel coat that is reinforced with fiberglass and is supported by means of a stainless steel frame
Has an ADA compliant molded bathing seat, safety grab bar, a slip-resistant floor pattern, a low threshold entry and a wide opening door that is wheelchair accessible
Is fitted with 12 fully adjustable, directional whirlpool jets and 26 air injectors
An inline friction heater maintains the perfect water temperature
Health and wellness are promoted by means of the chromatherapy lights
Bathwater drains within the space of a minute due to the efficient auto drain system
The bathtub has a purge cycle
See all Therapeutic Tubs Whirlpool Bathtubs on Wayfair
Conclusion
It took a whole lot of head scratching to finally decide on our personal favorite. There were so many contenders! After much discussion, however, we decided on the 0762179102359 Whirlpool Bathtub Corner Hydrotherapy 59″ x 59″ by Simba USA Inc. This bathtub is different. It is sexy. It has all the added features you could probably want. And, making a huge statement in any bathroom, is the fact that it is black!