A whirlpool is a whirlpool, right? Wrong. You have whirlpools, and then you have some of the best whirlpool tubs around. And yes, there is a difference, if you are interested in quality, functionality, style…and price.
So what do you need to look out for when looking at the best whirlpool tubs before making that final decision?
Health Benefits of Whirlpool Baths 
Whirlpool Baths are not only luxury additions to bathrooms because they have health benefits as well. Here are some of them: 
Better Skin 
Taking a regular bath in a whirlpool tub is an effective way to improve your skin's appearance. Because the blood flow is enhanced in your body, the toxins are eliminated, which results in youthful and glowing skin.
Improved Mental Well-being 
Many people have a whirlpool bathtub installed because of the psychological benefits. When you just sit back, take a deep breath, and allow the water to flow on your body, you can calm your soul and forget all your anxieties. Though it will not solve all your troubles, you can feel more relaxed and prepared to take on new challenges after climbing out of the tub.
Arthritis and Joint and Muscle Pains 
Arthritis and other conditions of the joints are eased because of the water buoyancy from whirlpool tubs. The pulsating water gently massages muscle pains from exercise or strain. You will notice pain reduction from joints and muscles when you soak in your tub a few times a week.
Increased Circulation 
Increased circulation and improved blood flow in the body are made possible by warm water in the tub. Therefore, there is an improvement in the function of different body organs. Also, it contributes to protecting the heart. Better blood flow can also help to improve your focus and relieve tension headaches.
Insomnia and Stress 
A long and hot bath in a whirlpool tub can improve sleep. This is also a safer alternative compared to taking sleeping pills. It promotes good sleep and eases tension and stress through the warm water you soak in.
Respiratory System 
Since there is dewy air produced from the hot water, it can help relieve respiratory ailments. When you relax while lying in the tub, it can help with asthma, bronchitis, and congestion.
Digestive System 
The digestive system can be boosted just by soaking in a whirlpool bath. The toxins and wastes are flushed out from the body; your digestive system works better. As a result, you will less likely suffer from constipation or indigestion.
Skin Cleansing 
When you are in the tub, the heat from it opens your pores. Then, the water cleans out toxins and dirt from your skin. Aside from feeling rejuvenated, you also have brighter and better-looking skin.
The Best Whirlpool Bathtub Reviews You'll Want
1.  Pedestal Whirlpool Bathtub by Ariel Bath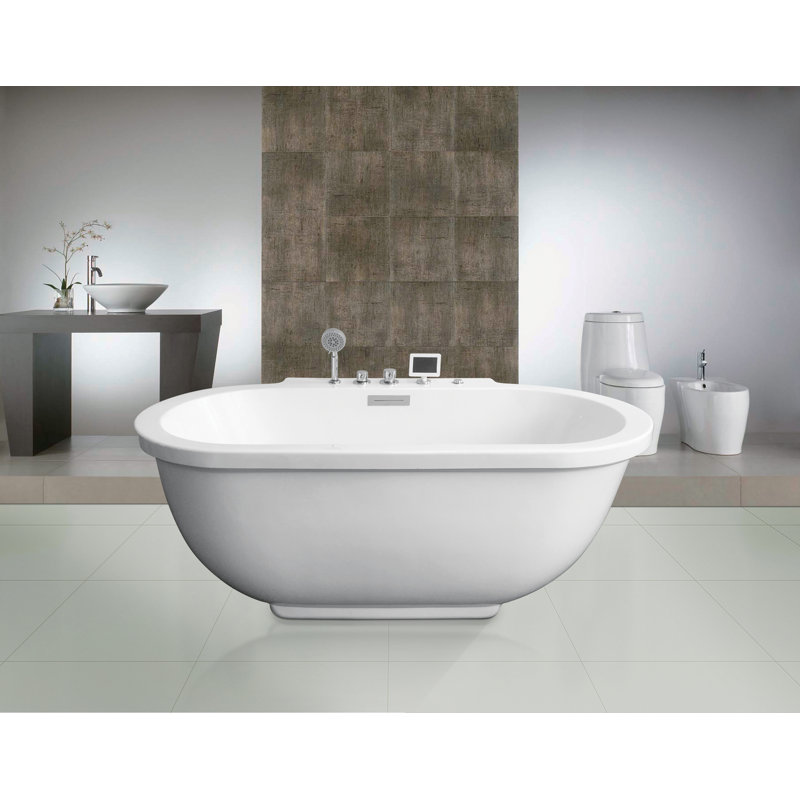 This bathtub is the best freestanding whirlpool tub from Ariel bath. Besides having an elegant, highly-functional, and sleek design, you can have a great bathing experience because of its hydro-massage feature. This advanced massage system makes your tensed nerves relaxed, and your senses calm. It also has a radio so that you can listen to music while immersing your body in the tub.
Made from enameled steel and acrylic, this bathtub can last for a long time. It is easy to incorporate in any decor because of its sophisticated white finish. The oval tub is broad and deep so you can enjoy a refreshing warm bath.
There is also a portable showerhead and thermostatic faucet where you can change the water temperature to your preference. You do not have to worry about germs since it has ozone disinfection and auto-pipe cleaning mechanisms. It is also not hard to maintain. You can use a mild abrasive solution to get rid of the stains, odor, and germs.
Highlighted Features:
Acrylic reinforced fiberglass
Ergonomic design
State-of-the-art hydro-massage system
LED chromotherapy lights, radio, touchscreen controls, and Bluetooth technology
2-year limited manufacturer's warranty and 30-day return policy
What We Like:
Large and deep
Easy to install and operate
Extra features work well
Great customer service
Value for money
What We Don't Like:
Control design can be better
Remote control tends to get damaged easily
2.  EAGO AM161-R Single Person Corner Whirlpool Tub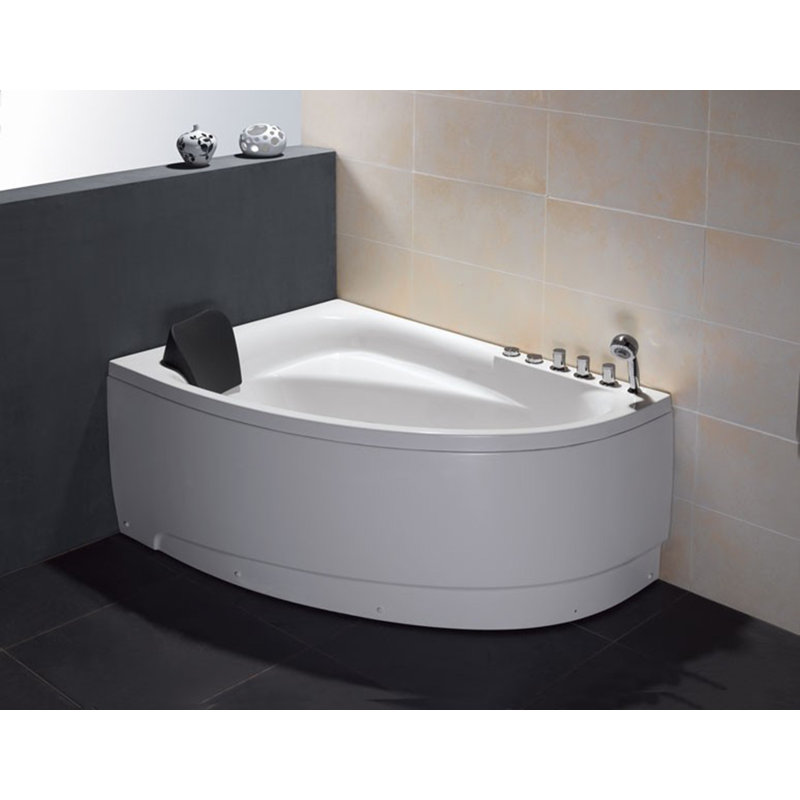 This bathtub from EAGO features a lovely design that will bring the finished look to every bathroom. It is the best whirlpool bathtub if you are after a blend of comfort and tranquillity since it comes with all the necessary amenities.
The unit features a massage system and chromatherapy lighting system for optimum relaxation. Impressively, it includes one seat for those who would want more comfort while bathing.
Key Features:
Overall Dimension: 59" L x 39.4" W x 25.4"
Basin Area Bottom: 20.8"
Soaking Depth (top-bottom) — 15"
Product Weight: 133 lb
Capacity: 45 gallons
Material: Acrylic
Chromatherapy lighting system
Included: seat, faucet, self-leveling base, overflow hole, massage system, apron front
Pros of this EAGO Single Person Corner Whirlpool Tub:
System is completely drainable
Includes backflow preventer on the shower heads and the jet system
Lighting for spa-like experience
Comes with a seat
It is UPC certified
Cons of the Whirlpool Tub:
Doesn't include pump or handles
3.  Kohler White Escale Freestanding Bubble Massage Bathtub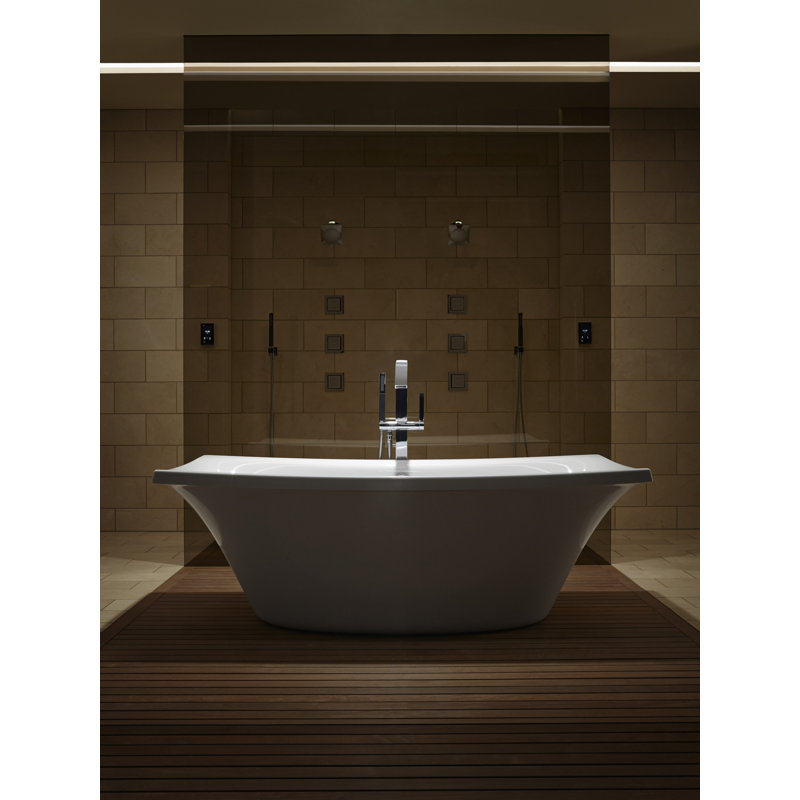 This bathtub is a great choice for those that are after a contemporary unit. It has a lightweight design, making it one of the best small whirlpool tubs to choose from.
Impressively, it includes air jets release a lot of bubbles to massage your body to the degree you desire. The bubbles are designed to wrap, massage, and sooth your body, helping to release tension in your body. Besides, there are various blowers to adjust the massaging level to 8 degrees.
Measuring 72 inches in length, it is long enough to give you a comfortable and relaxing bath experience. This standalone tub provides plenty of space to relax and enjoy a soothing air tub. Besides, since it is freestanding, you can place it anywhere you like.
Key Features:
Overall Dimension: 72" L x 36" W x 25"
Basin Area Bottom: 16.5"
Soaking Depth (top-bottom): 16.5"
Product Weight: 3 lb
Capacity: 71 gallons
120 air jets
Pros of this Kohler Freestanding Bubble Massage Bathtub:
Heater and overflow drain include
Countless bubbles to soothe the body
Massaging level can be adjusted
Large soaking space
Lightweight
Cons of the Bathtub:
Does not include faucet, handles, seat, valve, and pump
4.  White Rectangular Devonshire Acrylic Alcove Whirlpool Bathtub by Kohler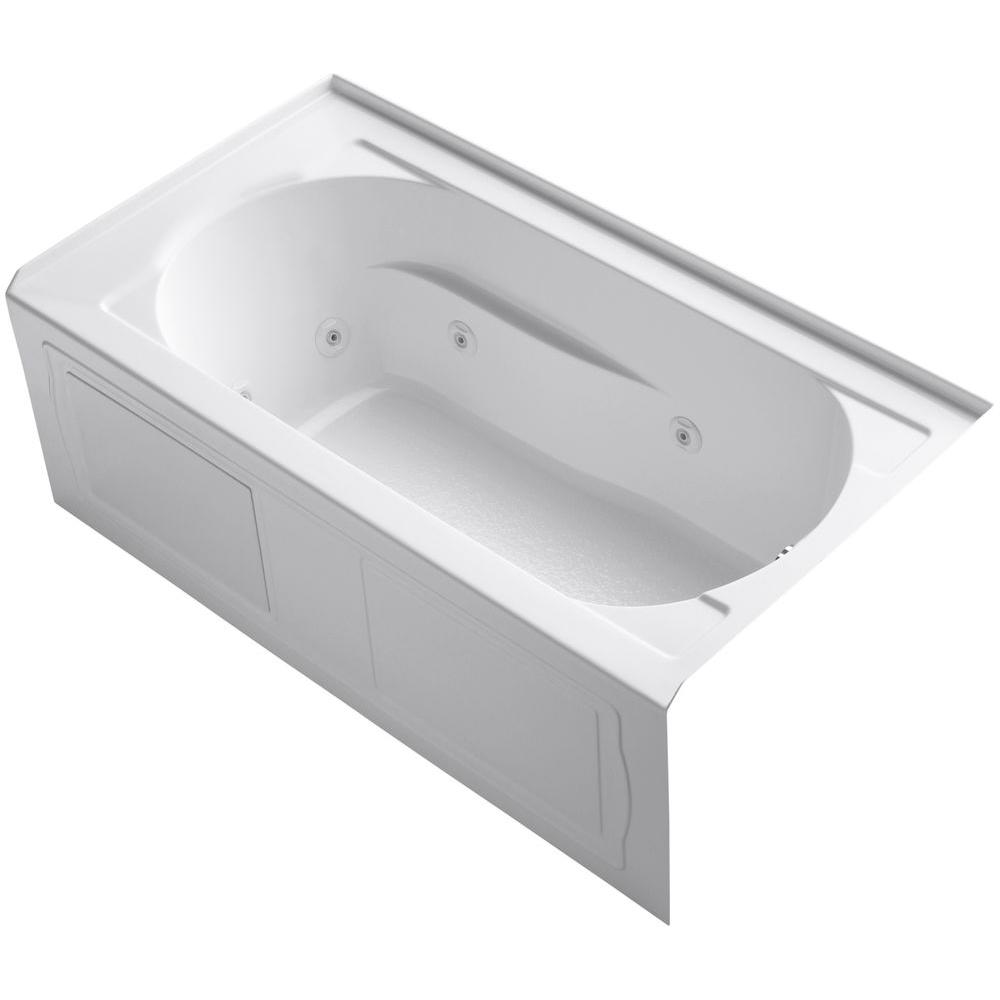 Having a lot of positive air tub reviews, this white Devonshire alcove bathtub by Kohler is likely one of the best bathtub models in the market. It has an antique and white finish design and a steady and durable hydro-massage system. Therefore, not only is it functional, but it is also aesthetically pleasing.
The transitional curved structure and acrylic construction make it durable and bright. It has an added convenience is its right-side drain. You get a spa-like experience because of the eight powerful jets, the heater, and the sophisticated pump. The factory-installed heater gives you control of the water temperature.
Highlighted Features:
Transitional design
Eight color-matching whirlpool jets
Heat-retaining material
What We Like:
Jets are strong
Heater works well
Comfortable size
Not heavy
What We Don't Like:
Inside panel is prone to leakage
Pricey
5.  Hydro Systems Drop In Whirlpool Acrylic Bathtub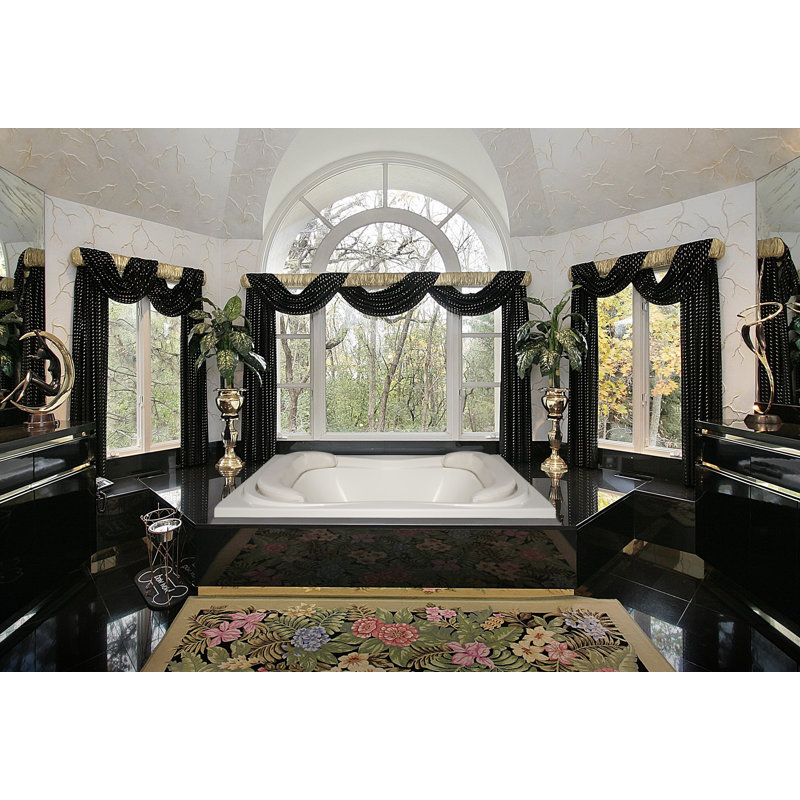 Hydro Systems has made a name for itself for providing good tubs and this unit is no exception. It features a beautiful design and comes with a selection of curtain to customize you space.
Besides the thrilling design, it also has a large length and deep soaking area, allowing you get the most out of the bathtub. The unit is designed for two people. Other great specs are the sound dampening and antimicrobial properties.
Key Features:
Overall Dimension: 72" L x 42" W x 21"
Sitting Area Length: 42"
Soaking Depth (top-bottom): 18.5"
Capacity: 75 gallons
Included: Heater, overflow drain, drain assembly/ waste
Pros of this Hydro Systems Drop-In Whirlpool Acrylic Bathtub
Aesthetically pleasing design
Designed for two people
Includes antimicrobial and sound dampening
Features faucet holes and overflow drain
It is UPC certified
Comes with heater
Cons of the Whirlpool Bathtub
Omits faucet, seat, pump, valve, handles, and supply line
6.  Ariel Platinum Acrylic Left Drain Rectangular Alcove Whirlpool Bathtub (71 inches)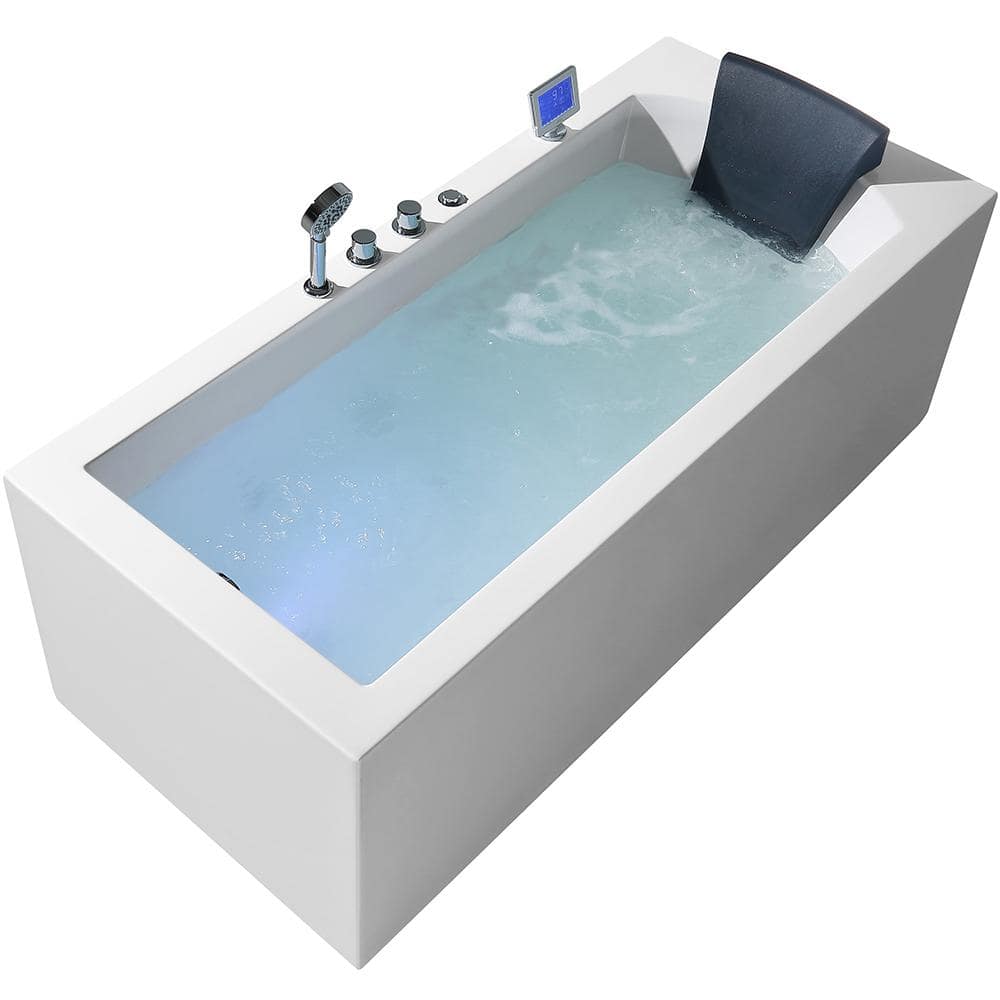 Enjoy the beauty and comfort that this whirlpool tub has to offer. It is designed with hydro-massage jets that treat muscle tension for a soothing sensation. Besides, you are likely to love the traditional rectangular design, which allows for more postures.
This unit has 6 water-flow options and 19 multi-directional Whirlpool jets that let you customize your bathe experience. A spec that really stands out is the LED underwater light that will give you a spa-like experience at the comfort of your home.
This bathtub also comes with other great features like a water pump, water temperature display, air blower, and heater FM/Bluetooth. The motor is powerful enough to operate the jet mechanism.
Key Features:
Material: Fiberglass and acrylic
6 waterflow options
LED underwater light
Left drain
Pros of this Ariel Platinum Whirlpool Bathtub
Sturdy and durable construction
Fitted chrome faucets and drainage components
LED chromotherapy illumination offers a layer of tranquility.
Control valves for air bubbles
Variety of soaking postures.
Powerful motor Integrated FM radio and Bluetooth connectivity, as well as built-in speakers
7.  ARIEL ARL-084 Whirlpool Right Drain Corner Tub (5 ft.)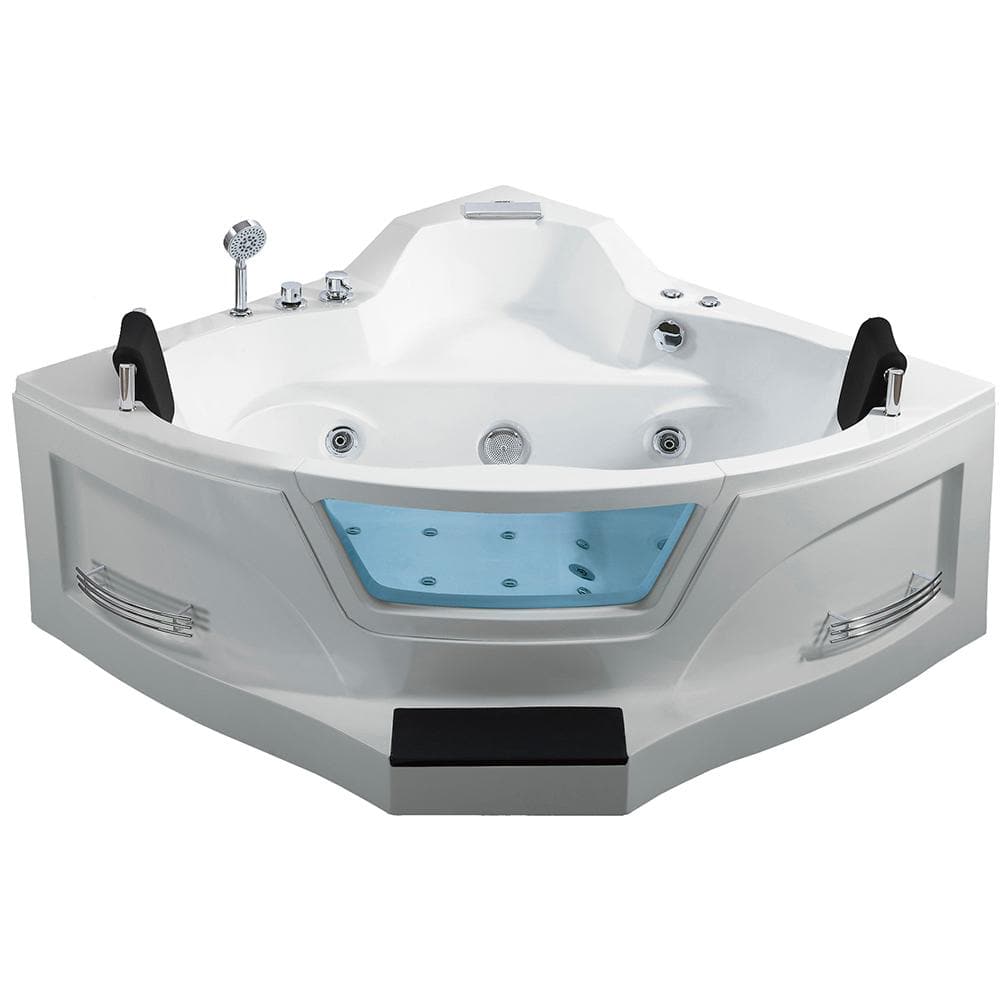 Add luxury and tranquillity to your bathroom with this whirlpool tub style. This spa has 15 jets and can store up to 92 gallons of water. It is designed to accommodate two people and features two headrests for ultimate comfort.
The fiberglass and acrylic composition is stain-resistant and long-lasting. The pneumatic switch activates the 15 jet mechanism. This whirlpool comes with hardened steel tub filler for added soaking adventure. There is also a 5 mm tempered glass screen on the front of the appliance.
Key Features:
Capacity: 92 gallons
15 jet mechanism
6 adjustable jets
Drain Placement: Right
5mm tempered glass
110 volts of power
8 bubble jets of air
Included: Drain, hand shower, hose, tub filler
Pros of this Ariel Whirlpool Bathtub
Easily accommodates two persons.
Durable and long-lasting construction
Comes with two headrests for comfort
Stylish design
Great soaking experience
Large water capacity
8.  Ariel Acrylic Clawfoot Whirlpool Tub (66.9 inches)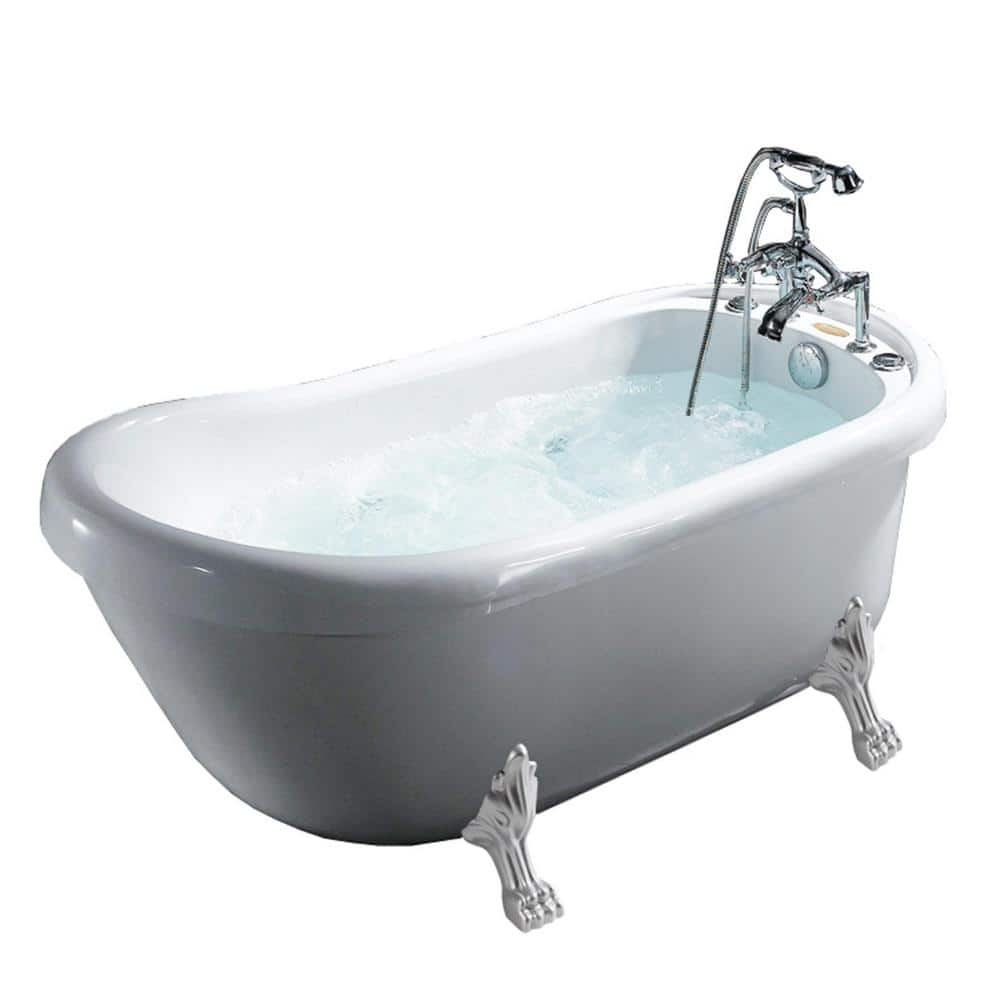 Another best whirlpool bathtub on our list is this freestanding tub that is designed with a blend of contemporary and historical design elements. The tub comes with bear claw legs and fixed chrome faucet, giving it a stylish design to fit most bathroom style.
It has 6 nozzles and comes with a 1.2 HP whirlpool motor that ensures functionality. Overall, this whirlpool tub will turn your bathroom into a gorgeous and sophisticated retreat.
Key Features:
Style: Freestanding
230 volts
Multi-purpose hand-held
6 nozzles
2 HP Whirlpool motor
It has legs with elegant bear claws
Pros of this Ariel Clawfoot Whirlpool Bathtub
Stylish chrome faucet
Includes a showerhead with a handle
Cons of the Whirlpool Bathtub
Faucet and handles are not included
9.  Aspen Walk-in Whirlpool Bathtub by Therapeutic Tubs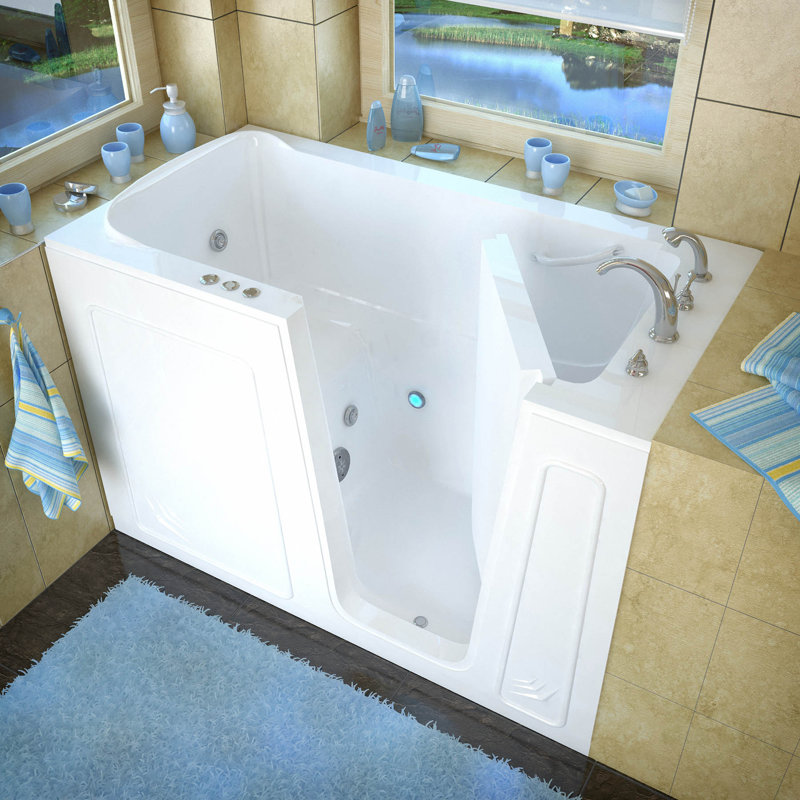 The best walk in tub has a simple-door operating mechanism so that entry and exit will be easy for those who have limited mobility. This walk-in whirlpool tub has that. Also, it has an auto-drain system that can drain water within 60 seconds. The friction heater also maintains the temperature of the water. There is no need to clean the jets because it has a self-cleaning feature.
The two metal handles ensure the safety of the user. The floor is also slip-resistant and textured. You do not need to think about the duration of your stay in this bathtub. Also, there is enough space to sit, stand, and soak in comfort.
Bathtubs from Therapeutic Tubs are known to specialize in walk-in baths. Therefore, it will meet your medical and safety needs.
Highlighted Features:
Made of acrylic
Chromatherapy lights
Six jets
With faucets and handles
What We Like:
Value for money
Beautiful chrome fixtures
High-quality faucet
Easy to use
Very large
What We Don't Like:
Comes with limited instructions
Can drain a regular water heater
10.  Evolution Undermount Whirlpool Fiberglass Bathtub by American Standard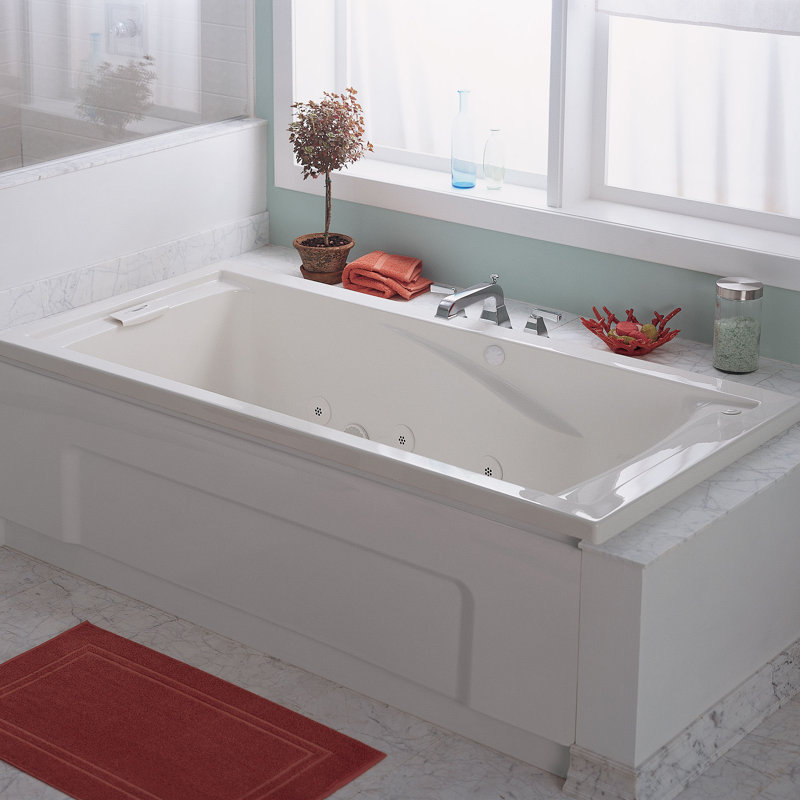 The Evolution fiberglass bathtub from American Standard offers a whole new level of relaxation. The design easily complements any bathroom furnishing, so it can easily be considered as one of the best drop in whirlpool bathtub. Because it is made from acrylic and reinforced fiberglass, the tub is sturdy and can last for a long time. Added comfort is the dual armrests and a backrest.
The tub has a large water capacity, and you can install it yourself. The bottom is pre-leveled. The EverClean hydro-massage system feature has a patented antimicrobial supplement that protects the pipes from mildew, algae, fungus, and mold. The jets can be customized depending on your target body area.
Highlighted Features:
Made with acrylic and fiberglass
Has dual and molded armrests
The bottom is pre-leveled
Undermount option
1-year limited warranty
What We Like:
Powerful jets
Reasonable price
Nice depth
Modern and stylish
The optional heater works well
What We Don't Like:
The suction drain is flat
A few reports of scratches upon receiving the tub
11.  American Standard EverClean Whirlpool Bathtub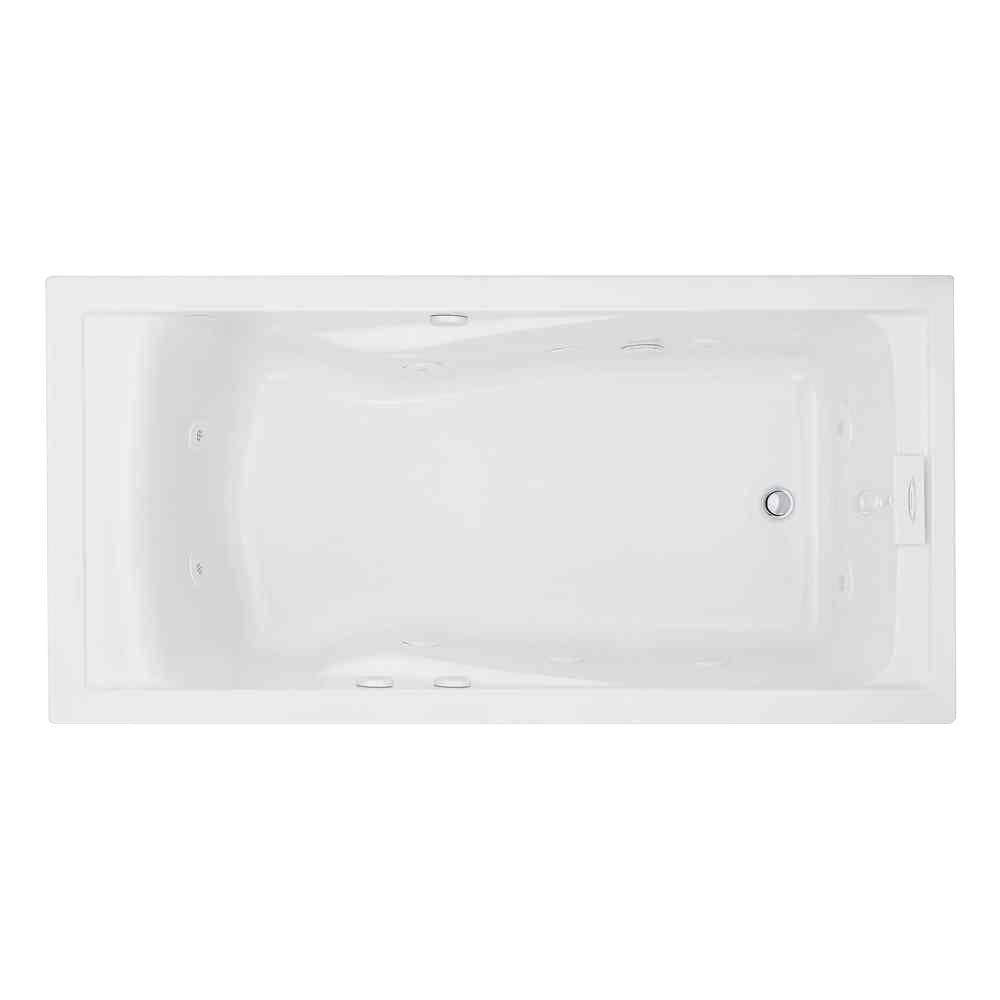 A six-foot best jetted tub contender, this bathtub has a patented antimicrobial additive that is directly molded into the water circulation piping. This discourages the growth of mildew and mold in the piping system, keeping the tub cleaner for longer.
What customers say
Customers had quite a lot to say about this tub. They liked the strong jets, the deep-soaking ability of the tub, and the long length. The easy installation was also mentioned as well as how easy it is to clean.
Best features
The product incorporates ten fully adjustable clean jets for a great therapeutic massage
Made of acrylic, the bathtub is reinforced with fiberglass for durability
An antimicrobial additive is molded into the water circulation system, inhibiting mold and mildew growth
Easy operational access is granted by means of three air volume controls
Comfort is ensured by two molded armrests and lumbar support provided
Tub floor is designed to be slip-resistant
A heater connection is provided if you want to add a heater
12.  JACUZZI® Signature Alcove Whirlpool Tub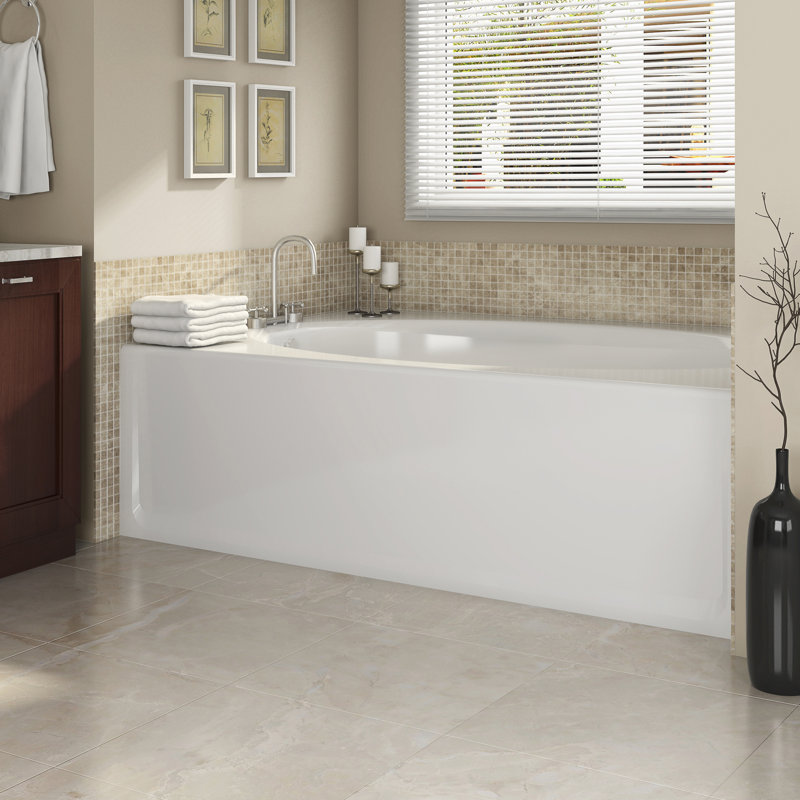 Are you in the market for the best alcove whirlpool tubs for an extremely soothing experience? If so, you will be pleased to know that this Alcove whirlpool bathtub has an ergonomic design that ensures relaxation. It can also cradle you as you soak in warm water.
However, you should not that this bathtub does not include an overflow drain, making it difficult for someone else to use the bathtub within a short time. It also doesn't include a drain assembly for easy installation.
Key Features:
Overall Dimension: 60" L x 42" W x 20.25"
Soaking Depth (top-bottom): 12.75"
Product Weight: 85 lb
Capacity: 56 gallons
Material: Acrylic
Pros of this JACUZZI® Signature Alcove Whirlpool Tub:
Body jets for hydrotherapy
Ergonomic design
Promotes relaxation and circulation
Slip resistant
Cons of the Whirlpool Tub:
Omits faucet, handles, seat, pump, and valve are not included
Doesn't include overflow hole
13.  Fuzion Drop-In/Undermount Combination Bathtub by Jacuzzi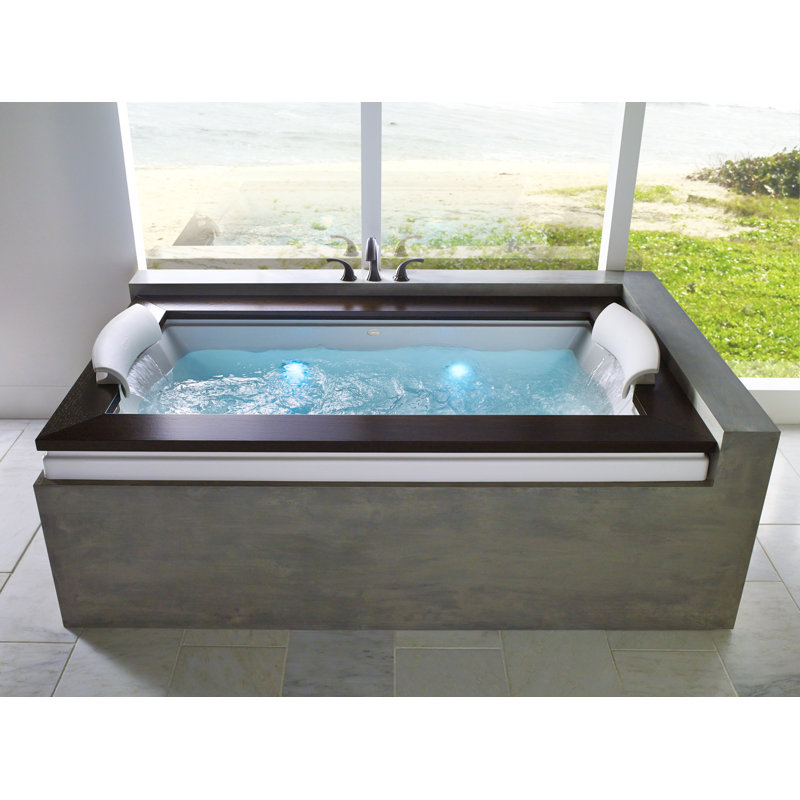 Having the right fixtures, this combination bathtub from Jacuzzi can turn your bathroom into a relaxing sanctuary. Therefore, you can have a spa right inside your bathroom. It is also very spacious, so you feel refreshed and rejuvenated. Because the drain is located at the center, it is more comfortable to use two people. Other tubs have the drain located at either end, so one of them has to sit on the drain directly. As a result, it can be uncomfortable.
Highlighted Features:
Has 14 jets and a pump
Has drain assembly and overflow drain
Made of acrylic
Drain placement is at the center
What We Like:
Comfortable size
Large water capacity
Great customer service
Customizable lighting and water features
What We Don't Like:
Faucet and seat not included
Expensive
Maintenance is needed
14.  Corner Combination Bathtub by Simba USA Inc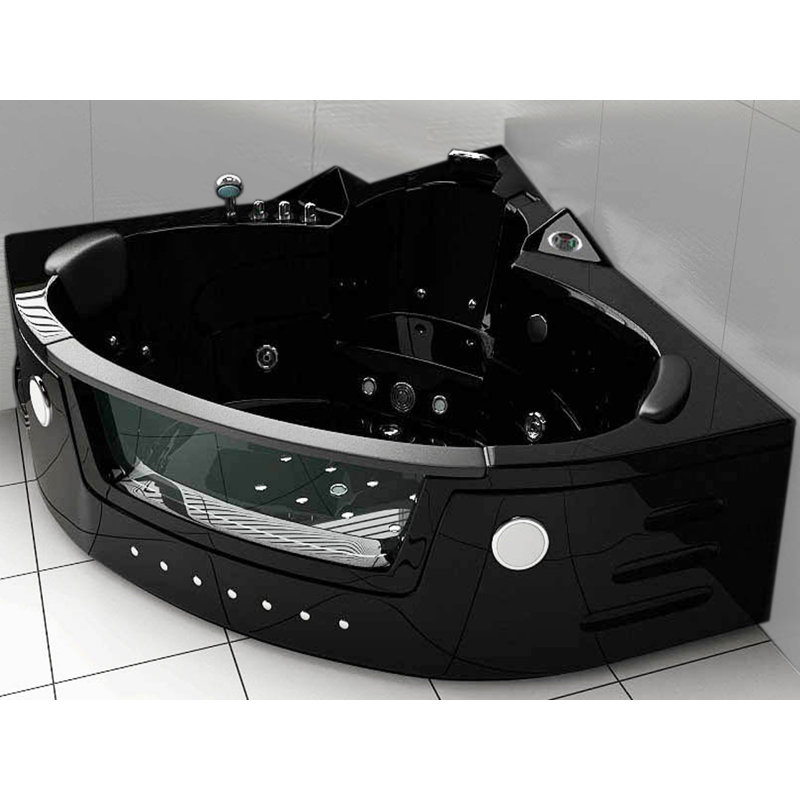 With its size, this uniquely-designed bathtub's interior space can comfortably fit two medium-sized people with a headrest per person. It is one of the best whirlpool tubs for couples. The installation will not be a problem because it comes assembled upon delivery. You only need to connect hot or cold water to the hose and plug it in.
Enhancing the overall therapeutic experience is the color therapy feature. This bathtub has LED lights inside the tub. If you want to match these lights with music, it is possible with the speakers and radio. Therefore, you get physically and mentally relaxed.
Highlighted Features:
Four different massage features
12 whirlpool jets, air pump, and eight air nozzles
Underwater LED light
Padded headrests
Radio with two loudspeakers
Includes a shower wand and faucets
What We Like:
Made of quality materials
Can comfortably accommodate two people
Modern look
Nice color therapy
What We Don't Like:
Can only be fitted in corners of the bathroom
The limited warranty is only for six months
Considerably heavy
15.  Empava Glossy White Massage Stand Alone Alcove Whirlpool Bathtub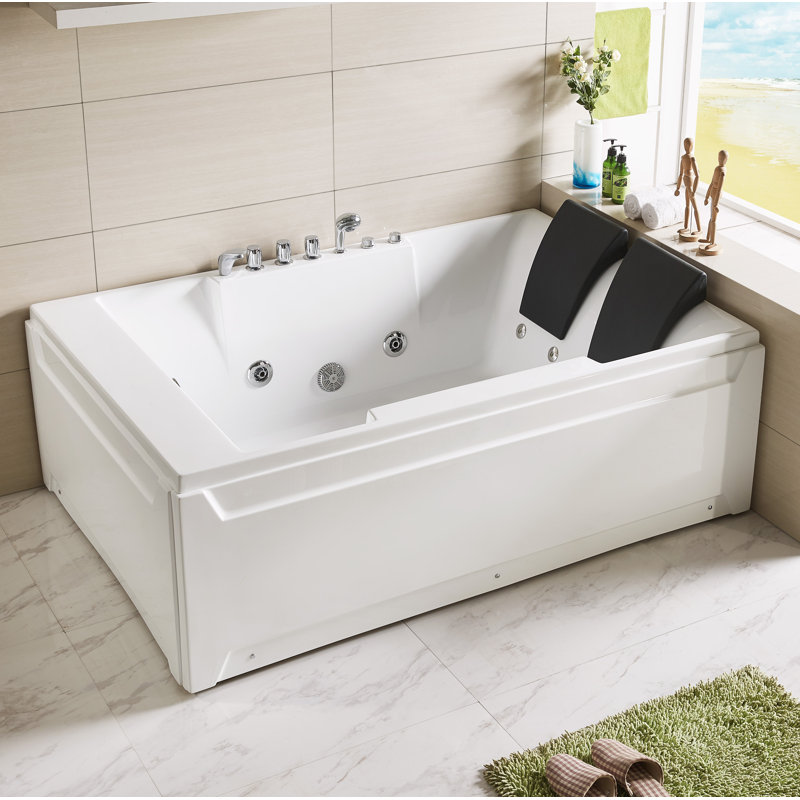 This bathtub is ideal for those who want a vigorous body massage to relieve tension or relax tight joints and muscles. It features 10 powerful jets that can give you a relaxing and rejuvenating massage. For added comfort and relaxation, the hydrotherapy and chromatherapy systems are designed to work together.
Just like the best whirlpool tubs on the market this unit comes with a pump that powers the water jets. Something that stands out about this bathtub is the faucet or tap included. This adds to its functionality and gives great value for money.
The Empava bathtub has an overall length of 72", which is adequate for a relaxing bath experience. Plus, it is designed with versatility in mind thanks to the drop-in or 3-wall alcove setup.
The tub is made from acrylic and is guaranteed to last long. Better yet, it features a  built-in color light system for an enhanced bathe experience.
Key Features:
Overall Dimension: 72" L x 48" W x 24"
Soaking Depth (Top – Bottom): 16"
Overall Product Weight: 230 lb
Capacity: 177 gallons
Faucet Centers: 2"
Drain Diameter: 1.5"
10 water jets
Built-in color system
Includes: faucet, left drain, showerhead
Pros of this Empava Alcove Whirlpool Bathtub
Attachments are pre-installed easy setup
Color light setup
10 water jets for the a relaxing experience
The warranty length is 3 years (limited warranty)
It is UPC certified
Cons of the Whirlpool Bathtub
It has no handles
Doesn't include seats
16.  Spa Escapes White Castle Alcove Whirlpool Bathtub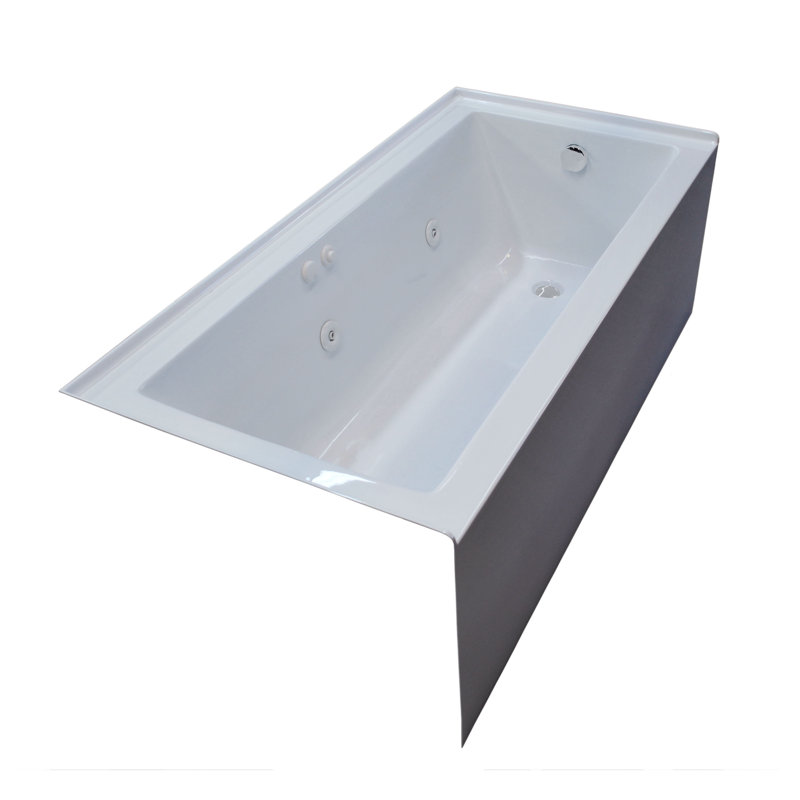 If you are after a simple yet functional bathtub, this unit may be worth considering. The simplicity of this tub is its best asset. This lovely one-piece bathtub is ideal for any remodeling job.
It features a lovely one-piece skirt finish that complements
any bathroom. Furthermore, it comes with 6 directional water jets that can easily be adjusted for a customized bath.
When it comes to construction, this tub is crafted from acrylic. It also includes a 0.75HP pump that comes with an inline friction heater.
Key Features:
Overall Dimension: 60" L x 30" W x 21"
Soaking Depth (top-bottom): 16"
Overall Product Weight: 102 lb.2
Capacity: 50 gallons
Material: Acrylic
Built-in tile flange
Includes pump
Pros of this Spa Escapes Whirlpool Bathtub:
Features 6 adjustable water jets
Great finish design
Comes with pump
Simple yet functional
Cons of the Whirlpool Bathtub:
Doesn't include faucet
Omits drain assembly
17.  Universal Tubs Sunstone Whirlpool Tub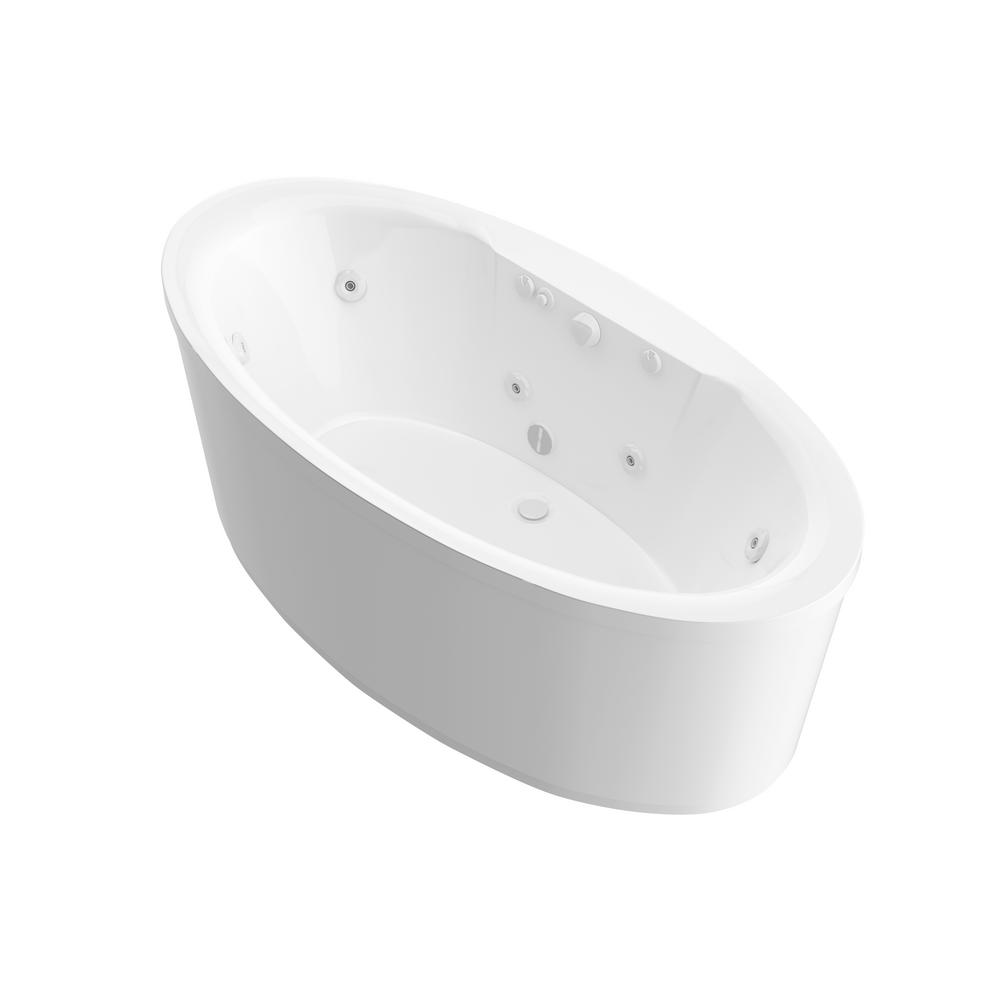 This freestanding, oval-shaped bathtub has eight fully adjustable directional water jets – giving a great massage to aching muscles. It is also safe to use with aromatic oils and salts for a real spa-like experience.
What customers say
Customers like the fact that this tub is quite deep and value for money. They also commented on the great style and easy installation process.
Best features of this bathtub
Water is kept at a steady temperature due to a friction heater
Sports a pneumatic button control
Bathing salts and essential oils can be used safely with this bathtub
A one-piece acrylic construction boasting a nonporous, easy to clean surface
Has a fifty-gallon water capacity
18.  Freestanding Combination Bathtub by WoodBridge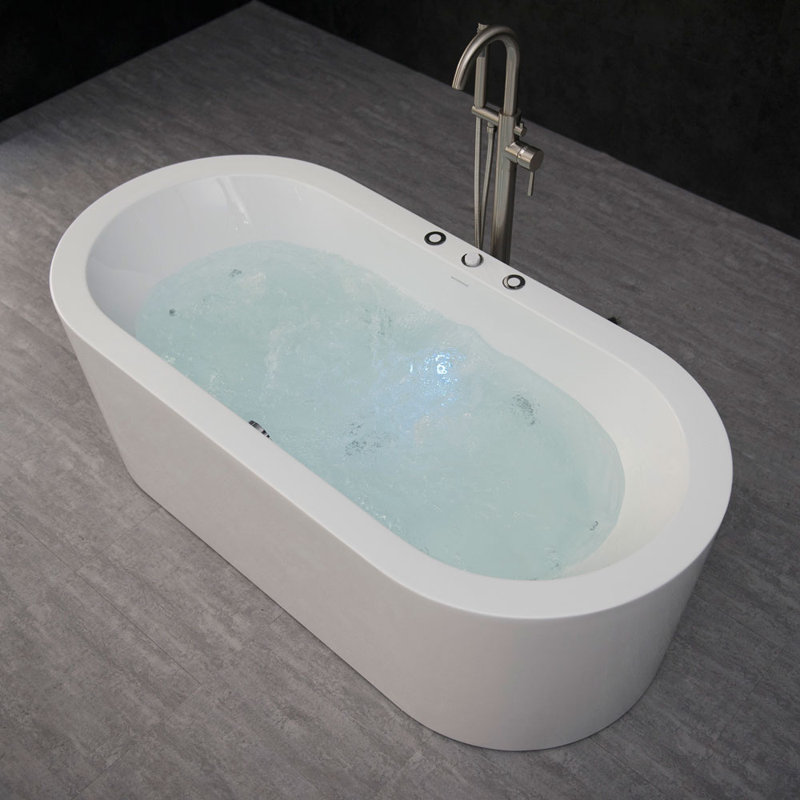 This is one of the best whirlpool tubs for a long and relaxing soak because its stylish appearance is inviting. The round edges and soft curves make this tub cozy. It has excellent insulation because of the double-wall acrylic and fiberglass structure. The water is maintained at a steady temperature.
Although it may be heavier, it is more durable than other tubs made of the same materials. The sides of the tub create a gentle slope that forms a snug barrier. Nevertheless, it may not be big enough, unlike large soaking tubs because of this feature. It might not be big enough for two people to fit in.
If you do not like freestanding tubs with feet, you can consider this since its feet are hidden and small for adjusting the level. For cleaning, you just need to wipe it down without the need to clean underneath. It does not come with a filling faucet, so you have to buy it. The additional faucet from the package is too small to fill up this tub.
Highlighted Features:
Ten adjustable body massage jets and ten whirlpool bubble bath jets
Pump and air massage
Quality pipe and drain
Five years limited warranty on the structure and surface and 1-year limited warranty on parts
What We Like:
Stylish appearance
Good insulation because of the double-wall structure
Good price
Easy to maintain
What We Don't Like:
Small for a soaking bathtub
Purchasing a separate freestanding faucet is needed
19.  Capricia Whirlpool Bathtub by Spa Escapes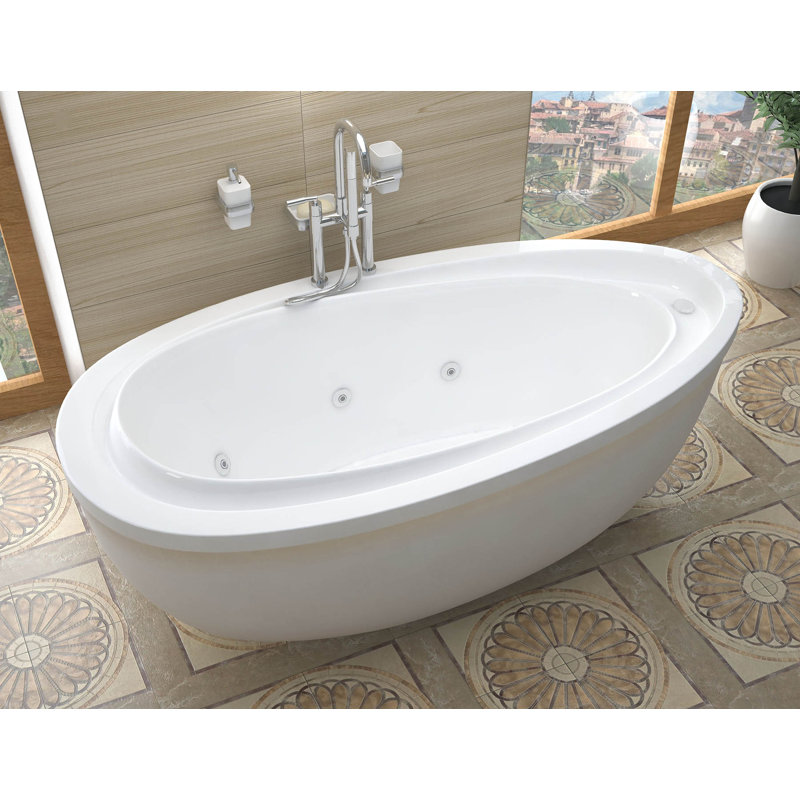 If you are looking for the best jetted tub that is not noisy? This may be the tub for you. It is hard to relax if you keep on hearing buzzing sounds from the motor of your whirlpool tub. One of the best features of this bathtub by Spa Escapes is its silent operation. With its motor making very minimal noise, you can soak and relax your body in silence.
You do not have to worry about replacing this tub fast because it is made of reinforced acrylic and fiberglass. The acrylic shell piece can be removed. You will surely have a great time here with an oval-shaped interior and a capacity of 54 gallons tub.
It does not matter if your floor or deck-mounted faucets because the tub is compatible with both. Having a high-gloss and white finish, you will not have a hard time blending it with your other bathroom decors.
Highlighted Features:
Quiet motor
Oval-shaped
White and glossy finish
Made of acrylic
Integral overflow compatibility
What We Like:
Great jets
Quiet
Not heavy
Aesthetically pleasing
Made of sturdy materials
What We Don't Like:
The rim is too thick
The base can be unstable
20.  Higgenbotham Freestanding Air and Whirlpool Bathtub by Orren Ellis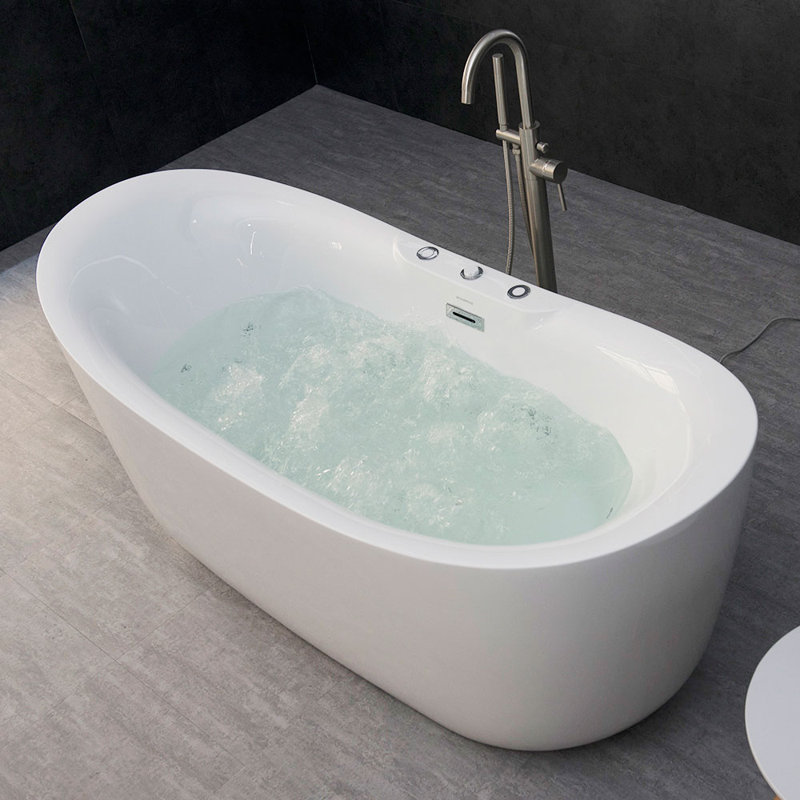 This can be the best jacuzzi tub by Orren Ellis. It has air jets which circulate water and create small bubbles. As a result, you get to experience an efficient and subtle massage-like sensation. It is like having your fancy spa in the comfort of your bathroom.
The slipper design of this white acrylic tub is made to support the natural arch of your body as you lay in the tub. It is vital because you would not want to sit uncomfortably or slouch while you try to relax.
Highlighted Features:
60-gallon water capacity
1-year limited warranty
Has chrome drain finish, overflow drain, and pump
CSA and cUPC certified
What We Like:
Produced with the highest quality craftsmanship and advanced innovations
Beautiful and well-constructed
Easy to install
Only needs mild soap and water to clean
What We Don't Like:
Longer than the measurement indicated in the listing
Jets tend to splash
21.  Lacus-Wht-Std Lacus Freestanding Soaking Bathtub by Aquatica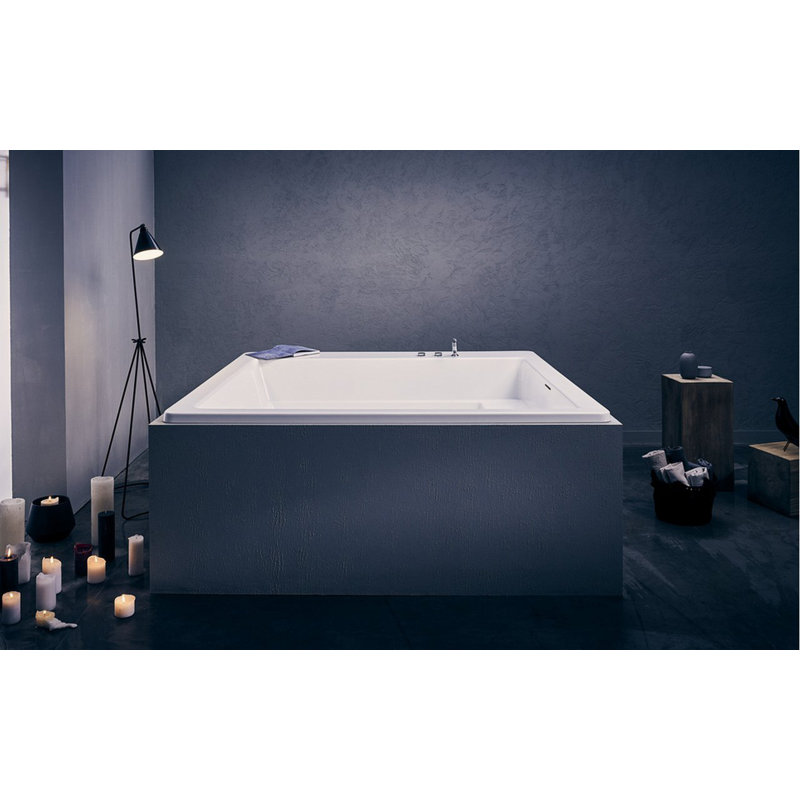 Many whirlpool tub reviews like this freestanding tub because it is made from sanitary grade and high-quality material. The wide-edge rim and square share makes sitting convenient and relaxing. You can get the ultimate comfort because the bathtub's ergonomic design is made to form the shape of your body.
The depth and size are perfect for soaking your tired body after a long day. With its upscale, modern, freestanding, and striking structure, it is like having an outdoor pool inside your home. If you want a more refreshing spa-like experience, you can get the chromotherapy system and air massage features to make bathing more enjoyable.
Highlighted Features:
Solid one-piece structure
Metal legs to adjust the height
Ten years limited warranty
Color does not fade
What We Like:
The big size gives added comfort
Safe and durable
The color is consistent throughout
Easy cleaning and sanitizing due to non-porous surface
What We Don't Like:
It might only accommodate one or two people
The drain is purchased separately
22.  KOHLER Archer Drop-in Whirlpool Bathtub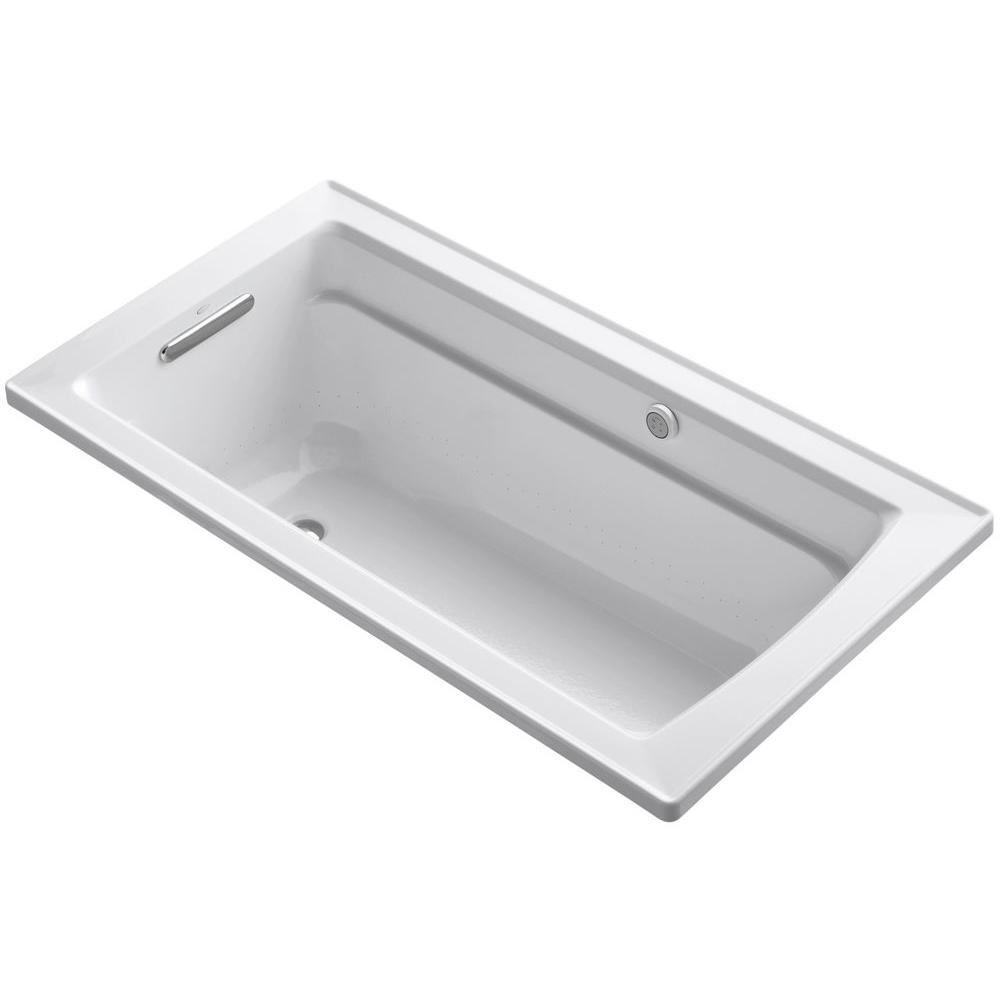 Probably one of the best air and whirlpool bathtubs we reviewed, the massage hydrotherapy experienced by the thousands of air bubbles that massage your body released by the 120 air jets gives your body a great massage. Add to this the clean, sophisticated beveled design, and you are ensured of a deep, comfortable soaking experience.
What customers say
Clients love the fact that this tub gives a gentle massage and lots of bubbles, while the air heat keeps the water warm for a long period. Also mentioned was that no water remains in the jets after use, which prevents mold from forming due to the purge cycle that blows any remaining water out of the tub's jets. They also love that it is very easy to clean.
Best Features of this product
The bathtub has 120 air jets
Massage intensity is adjustable to 18 different levels by means of the variable-speed blower
Sports a 19-inch step-over height while maintaining the same depth as a standard 21-inch bathtub
Extra comfort is supplied by the molded lumbar support
Has a reversible drain
What you should know before buying the perfect bathtub
It is not the same as buying a set of mugs for the kitchen where you just decide on the color and style. There is much more to than that.
Your Bathroom
What does your bathroom layout look like? Where would you put the bath? Where is your plumbing situated, and more importantly, your drain? How much space do you have?
By answering these questions, you know where the drain should sit in your bathtub, where your bathtub is to fit (making the type of bathtub you should look at easier) while taking your plumbing needs (do you need to make changes?) into consideration. And don't forget, in the case of buying a bathtub, size does matter!
Choosing the Bathtub
Once you have the size and shape of your bathtub figured out, as well as placement of faucets and the drain, you need to decide on the specific features you want. In the case of more luxurious bathtubs, you need to decide on whether you want air jets, water jets, or a combination of both. Many bathtubs have the latter – it is just a question of finding them.
Then you need to look at the added extras. Some bathtubs have radios, Bluetooth connectivity, a hand shower, and a list of other added features. Many of these are mentioned in our product review section – do take a look and see what is available. You might be pleasantly surprised.
The last step
Now that you have drawn up a list that incorporates your limitations (usually determined by the bathroom space involved as well as the placement of the plumbing and draining), as well as your must-haves, wants, and nice-to-haves, it is time to go about looking for the best jetted tub, best Jacuzzi tub, or generally all-around combination tub for you. So have fun!
Whirlpool Bathtub FAQ 
What is a whirlpool bathtub? 
It is a kind of bathtub that has strong water jets to help you relax your tired muscles. Because its primary purpose is to give you a therapeutic soak, it is mostly big.
What is the difference between a whirlpool tub and a Jacuzzi? 
"Jacuzzi" is a brand name, and "whirlpool tub" is a generic name. Both of them have a large water capacity, water jets, and other features and accessories.
What is the difference between jetted air and jetted whirlpool? 
The main difference between these two is the mechanism. For jetted air, jets gather air, heat it, and move it through the water in the tub. As a result, there is a continuous and gentle roll of water. For jetted whirlpool, the jets get the water from the tub and shoot water jets with pressure at targeted areas of the body.
What should I look for when buying a whirlpool tub? 
What you need to look out for when checking the best whirlpool tubs are size and weight, safety features, operations, and heating.
How long should you stay in a whirlpool? 
You should only stay in a whirlpool bathtub for 20 minutes. Misuse is the main danger of any kind of bathtub.
Conclusion 
Finally, among the ones we picked from this list, the best whirlpool bathtub is the Pedestal Whirlpool Bathtub from Ariel Bath. We love it because it is aesthetic and functional.
Aside from having a lot of hydro jets, it also has a lot of add-ons making the experience more relaxing. It is also low maintenance and affordable. You do not need any special tools or solutions to clean it.
Compared to other tubs from our whirlpool tub review, this one is packed with many features. One unique feature it has is the Bluetooth technology. From the tubs mentioned, it is the only one that offers this technology.