It might be the smallest room in the house, but it is the place most of your visitors are going to see, and making a great impression is important. Yes, we are talking about the humble bathroom. Often, the state of your bathroom leaves a lasting impression, so making it look the best it can is important. And this is where you bathtub, basin, fixtures, and fittings come into play. But where to start but with your bathtub, right? If space is at a minimum, shopping around and taking a look at some of the best drop-in bathtubs around might be just the place to start.
What is a drop in bathtub?
A drop in bathtub is a bathtub that you drop into a built frame. These bathtubs have a rim around their top that allows you to fasten it to this frame. You can then tile the surrounding area, or even give a wood trim if you like. Of course, the way you choose to finish this installation is up to you, but there are numerous possibilities you can opt for. The great part of this whole endeavor is that the sides of the bathtub are totally enclosed, and all you see is the rim, and of course, the inner portion of your bathtub.
What is good about this type of bathtub is that even the best drop in bathtubs are relatively cheap as compared to even a standard standing bathtub.
These bathtubs also come in various sizes, and to make matters even more interesting, they come in different shapes as well. To add to this, depending on your placement and the area surrounding the rim of your bathtub, you have numerous decorative possibilities, such as adding plants, candles, or any other form of ornamentation you wish. This adds to the look of your bathroom and gives it extra appeal while still putting down your own particular stamp with regards to decorating style.
Why choose a drop in bathtub?
When space is an issue, a drop in bathtub might be just the thing. They are very space efficient, often give more bathing space than a freestanding bathtub, and are usually bigger. Affordability is another plus factor when it comes to comparing prices.
This type of bathtub also has the advantage of giving you numerous installation options, as it can often easily be paired with your sink, toilet, and the hardware in your bathroom. It may also offer you a little extra storage space where you can display soaps, lotions, and bath oils, and so on.
Another point to consider is that these bathtubs are relatively easy to keep clean. You only need to take care of the interior surface as the outer surface is out of sight. They are also relatively easy (and did we mention cheap as compared to others) to replace. So when you feel your bathroom is outdated, you can do a major makeover without necessarily breaking the bank.
Drop in tub features
Drop in tubs come in a variety of sizes and shapes, and they usually fit snugly against a wall. Your faucets are usually at the bottom or side of your bathtub, so making sure the one you pick allows for your plumbing requirements ensures you have no extra costs due to extra plumbing.
But for those who want to go a step further, you could consider a drop in whirlpool tub. These bathtubs give you a regular bathing experience with a huge difference – it can be used as a little home spa as well.
If you are someone who wants some back support while bathing, do make sure to take a look and see the different bathtub options that provide you with excellent lumbar support. There are many to choose from.
Lastly, if space is a problem and you have to choose between a bathtub or a shower, you can have both with this type of bathtub. A shower attachment can easily be fixed to your wall, and you have the best of both worlds.
Materials used to make drop-in bathtubs
Most drop-in bathtubs are, these days, made of acrylic. Some are reinforced with fiberglass for added strength. The advantage of acrylic bathtubs is that they are so incredibly easy to clean, as no scouring is required. Let's not forget that these bathtubs are relatively lightweight and perfect for installation on the upper floors of a home without having to worry about any beams sagging.
You do still, however, get drop-in bathtubs made of more traditional materials, such a copper or cast iron. Some of these cast iron bathtubs have an added enamel overlay.
For those who really want to go for gold, drop in bathtubs made of natural stone or manmade stone are also out there. You just need to go look for them.
13 Of The Best Drop-In Tubs To Consider
1.  White Aloha Right Drain Rectangular Alcove Soaking Bathtub by Bootz Industries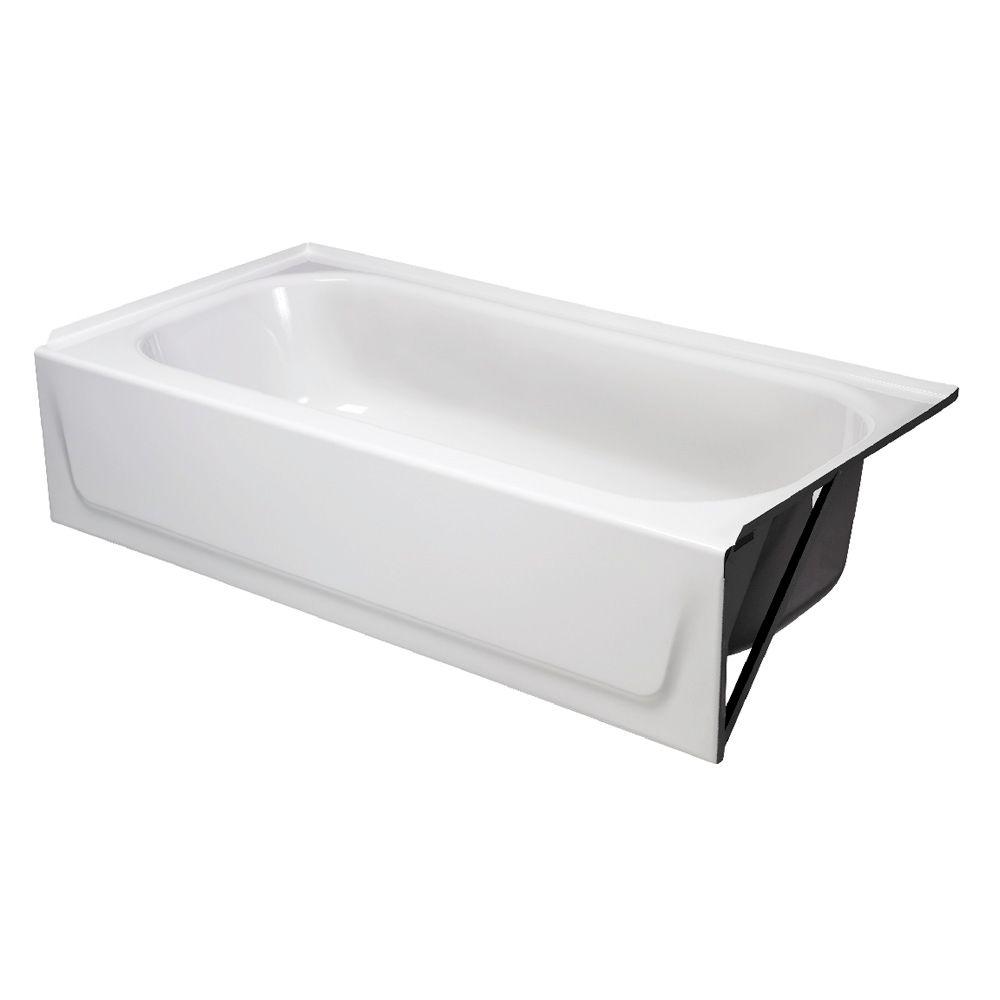 Are you looking for much-needed relaxation after a long day? You can soak your tiredness away using this bathtub from Bootz Industries.
With its full-length size, this alcove bathtub is not only beautiful, but it also delivers exceptional performance because it is made from durable steel. Its porcelain finish is non-porous, easy to clean, and resistant to burns, discoloration, and abrasion.
On top of all these, you can easily match this with your bathroom's interior because of its classic beauty and shape. The surface of the tub is slip-resistant, so you can be ensured of safety.
Highlighted Features:
Non-slip bottom for additional safety
Functional structure with straight support for the back
Non-porous and easy to clean finish
1-year warranty
The Pros:
Affordable
Installation is easy
A solid tub
Great finish
The Cons:
The coating can be improved
The surface at the bottom can feel a little rough
2.  White Classic Right Drain Rectangular Alcove Bathtub by Delta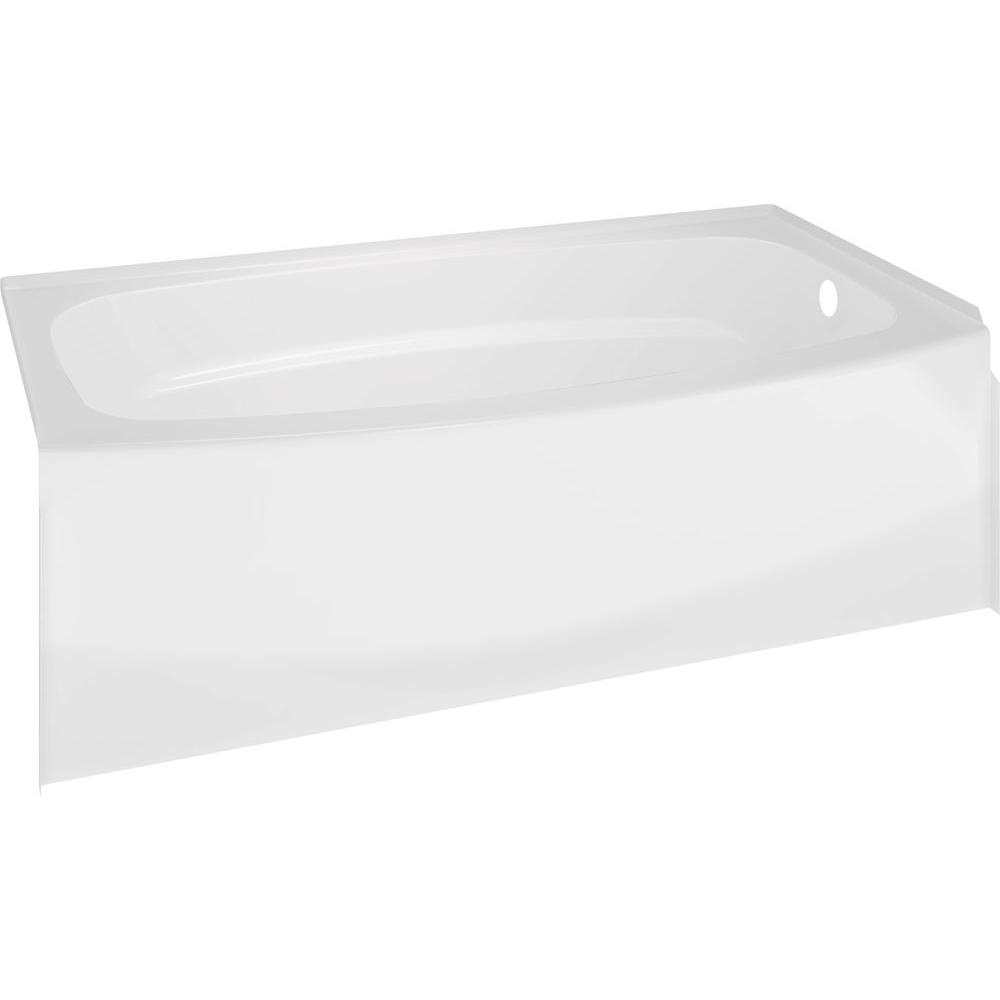 This bathtub from Delta has an attractive but durable design. Its acrylic material adds to its overall strength and durability. To boost performance and ease of installation, it has a reinforced and built-in bathtub support.
Its ProCrylic feature adds to the overall design and style of the bathtub. ProCrylic is a bright white, sturdy high-gloss kind of acrylic that has all the benefits of the material. Nevertheless, it does not require abrasive and rough fiberglass backing.
Highlighted Features:
The surface is made from premium material that is easy to clean and sturdy
Has a built-in bathtub
Scratch and stain-resistant textured surface
Bright white finish
The Pros:
Spacious and deep
Lightweight
Gives a solid feel
Great size
The Cons:
Made of thin acrylic
Reports of customer service not being reliable
3.  Evolution Drop-in Soaking Fiberglass Bathtub by American Standard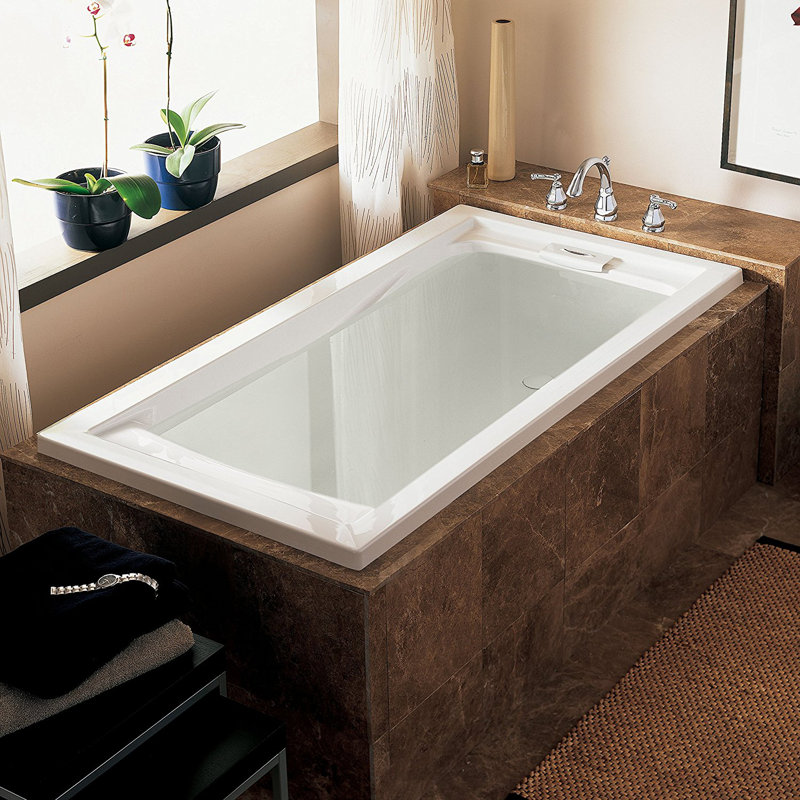 Made to help your tired body relax at the end of the day, this American Standard deep soaking tub will also make you feel classy and luxurious. With its 18.5-inch depth, it is deep enough to immerse your body and give you much comfort.
This can be one of the best drop-in bathtubs because it provides lower back support and has anti-slip floor surface, and 2 armrests that are molded in. Therefore, you can have a spa-like bathing experience in the comfort of your own home.
Highlighted Features:
Made from glossy acrylic with sturdy fiberglass reinforcement
Has a durable brass deep-soak max drain that allows 3-inch deeper water level
Offers full coverage
Has molded and comfortable armrests and contoured and wide support for the lower back
The Pros:
Ideal for deep soaking
Comfortable back neck rest
Spacious
Easy to clean
The Cons:
No draining or overflow piece included
Could be longer
4.  Starck Drop-In Soaking Bathtub by Duravit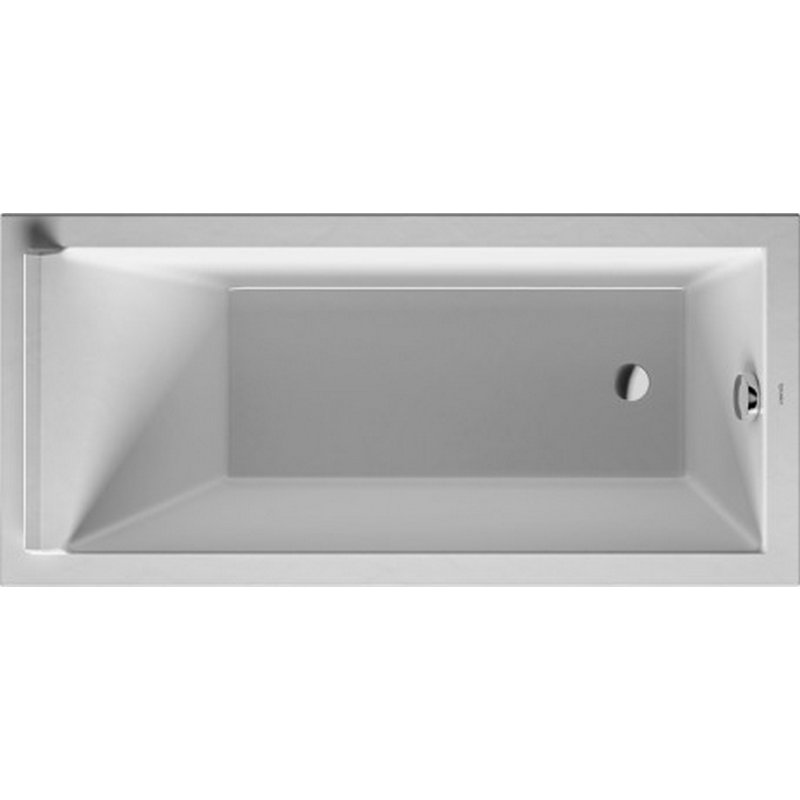 For a calm bathing experience, you can consider this rectangular bathtub from Duravit. Designed by Philippe Starck, this drop-in bathtub is made from an acrylic material that retains the heat of the water for a longer period.
You do not have to worry about blending it with your other bathroom decor since its elegant white acrylic finish is easy to match.
Highlighted Features:
Made from acrylic
Designed by Philippe Starck
Comes with shower trays and reversible drain placement
Has no flanges
The Pros:
Great for small spaces
Gives a luxury feel
Made from quality material
The Cons:
5.  Drop-in Soaking Bathtub by Fine Fixtures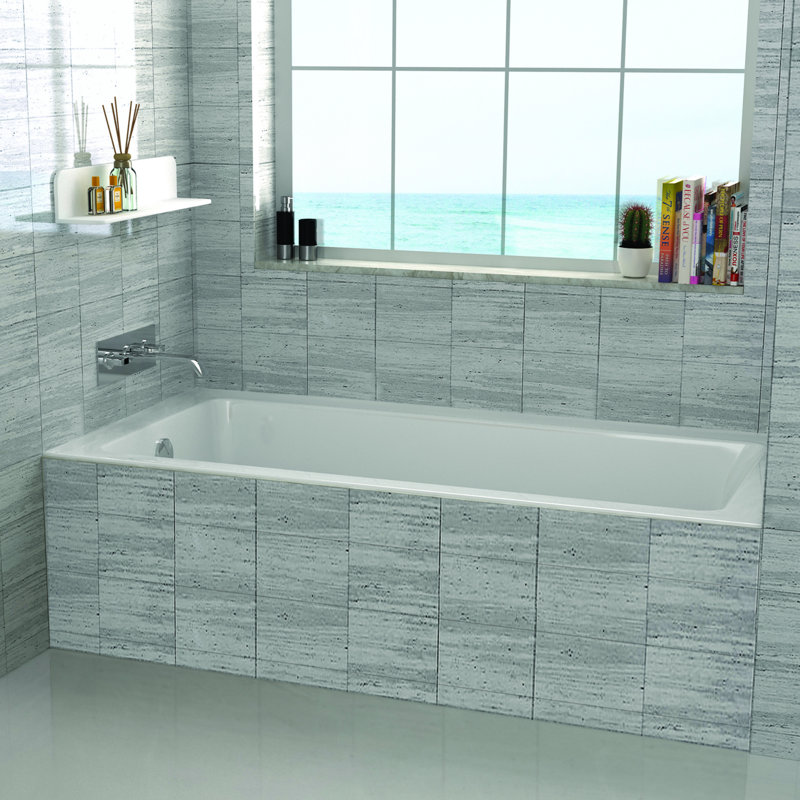 You will definitely relax in tranquil when you dip your body in this drop-in soaking tub from Fine Fixtures. The best drop-in bathtubs offer aesthetics and durability. Its alcove structure features can ease your body tensions because of the symmetrical backrest. Aside from giving you more comfort in bathing, the lower back support can prevent back pains.
Having a spacious interior, you will find yourself spending hours soaking your body here. Nevertheless, the step-in height is still convenient.
It is durable and stain- and fade-resistant because of the reinforced fiberglass and acrylic material. The bottom of the tub is pre-leveled and the legs are adjustable, so installation is a breeze. Moreover, the legs are durable and well-constructed enough to be filled in with water with you inside the tub. You can add some glue or foam to posti.on the tub properly.
Highlighted Features:
Made from acrylic material
Has an inclined backrest
Comes with a left and right drain placement
Safe to use with oils and salts
The Pros:
Good value for money
Great shape
Nice and deep design
Easy installation
The Cons:
Reports of getting scratched easily
The gloss surface can get scuffed from mild cleaning
6.  Archer Soaking Bathtub by Kohler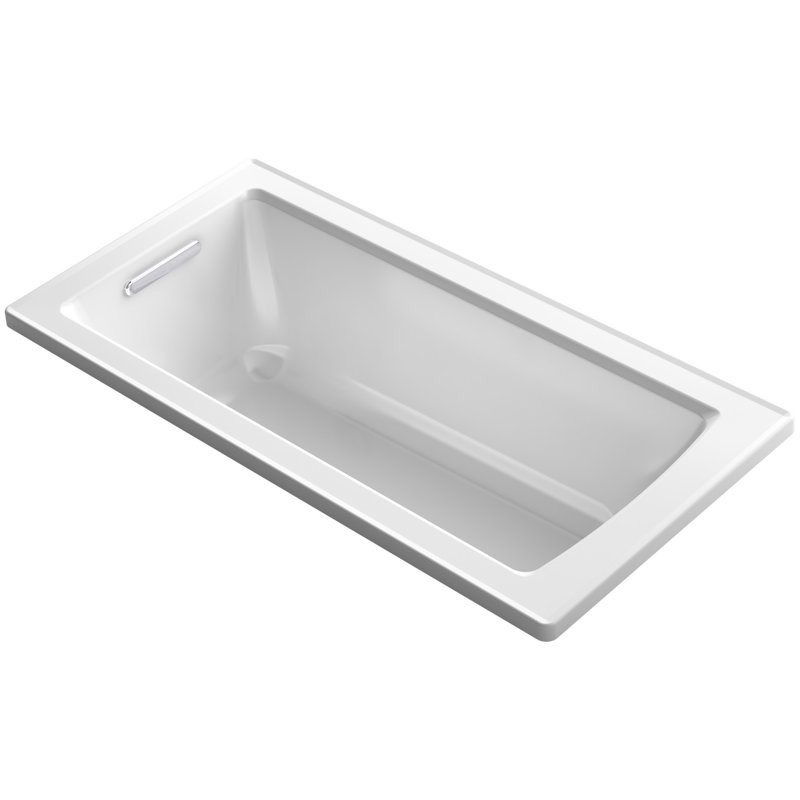 With its design inspired by traditional furniture from Craftsman, this Archer bathtub from Kohler has a sophisticated and clean structure, especially due to its curved bases and angled edges. There is a low step-over height which makes it possible for you to have a comfortable and deep soak. The lower back arch for support hugs the body providing more comfort.
The Kohler ExoCrylic feature offers a lot of benefits. This next-generation acrylic material is lightweight, so you will not have a problem when installing it. Moreover, fewer chemicals are utilized in the production of this bathtub.
Highlighted Features:
Has a Comfort Depth feature for added convenience
Has a molded support for the lower back
The bottom surface is textured
The overflow is slotted for deeper body immersion
The Pros:
Has a classic design
The tub is reversible
Perfect for remodeling of small bathrooms
Holds warm water well
The Cons:
Can be too deep for young kids to use
Tubs can get dented easily
7.  Vida Drop-In Soaking Bathtub by Clarke Products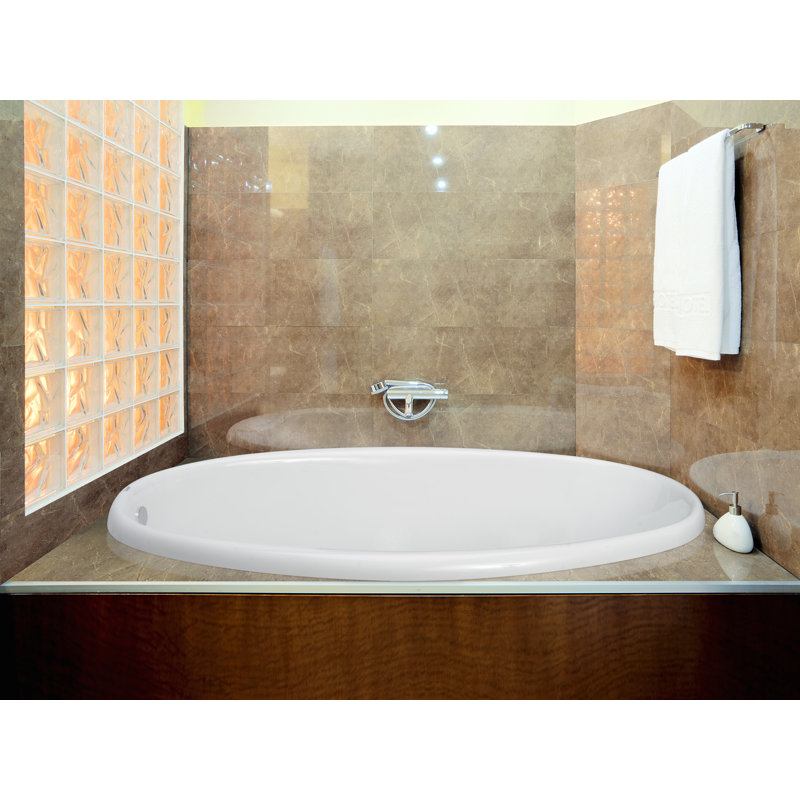 The best drop-in bathtubs are well-designed, functional, and comfortable so that people can enjoy their bathing time. The Vida bathtub from Clarke Products is not only functional and comfortable but also stylish.
Therefore, if you get this, you can have a beautiful and elegant piece inside your bathroom. The proportions and scales are ideal and the simple design is impressive.
Since it gives additional depth for soaking baths, the experience is relaxing and luxurious. You can enjoy a spacious and safe bath every time. The textured floor makes it slip-resistant. For additional safety and sophistication, the corners and edges are nicely sculpted.
Highlighted Features:
Has a white acrylic finish
Has a 40-gallon capacity
Comes with a 2-year warranty
Has an overflow drain
The Pros:
Fits in small spaces
Deep soaking tub
Reasonably priced
The rounded edge gives ample comfort
The Cons:
No seats
The cut-out template can be a bit too big
8.  St. Lucia Jetted Drop-In Whirlpool Bathtub by Spa Escapes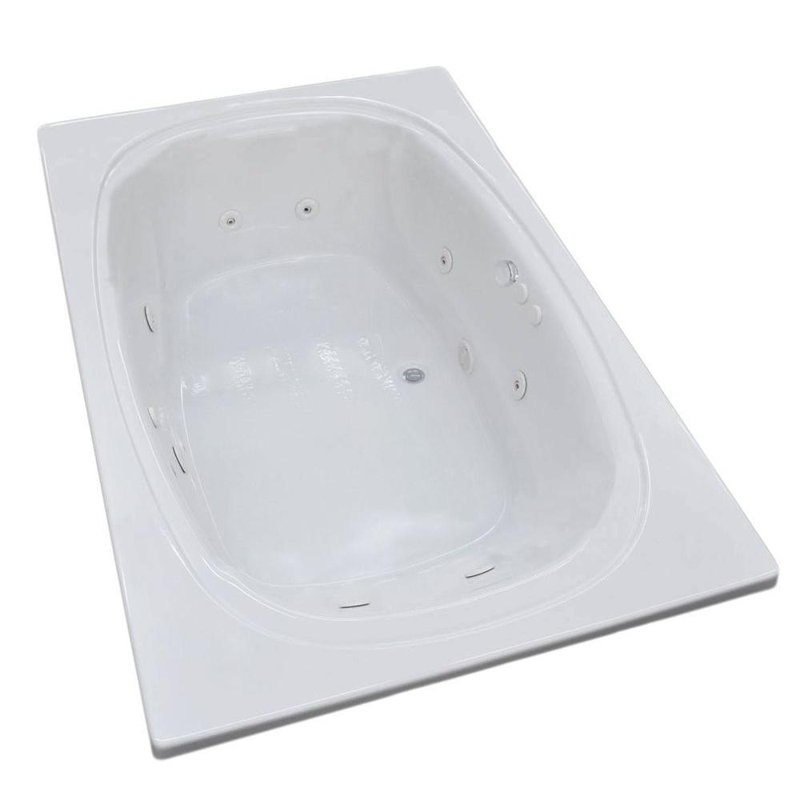 This oval-shaped drop-in bathtub from Spa Escapes gives a feel of modern luxury. The white high-gloss appearance has matching buttons and jets. The 8-directional and adjustable water jets target the pressure points of the body. Moreover, the water temperature is maintained, so you can feel warm for an extended period.
The armrests provide the ultimate relaxation making your bathing experience more luxurious. It also has the latest safety features and is very easy to clean because of the solid non-porous surface. The installation of this rectangular tub is easy since it is pre-leveled. Also, you do not have to do much for its maintenance
Highlighted Features:
Pre-leveled so installation is easy
Extra deep for a full-body soak
The surface is non-porous
The water drain system is efficient
The Pros:
Installation instructions are easy to follow
Spacious
Maintains water temperature well
The Cons:
9.  Designer Duo Drop-In Soaking Bathtub by Hydro Systems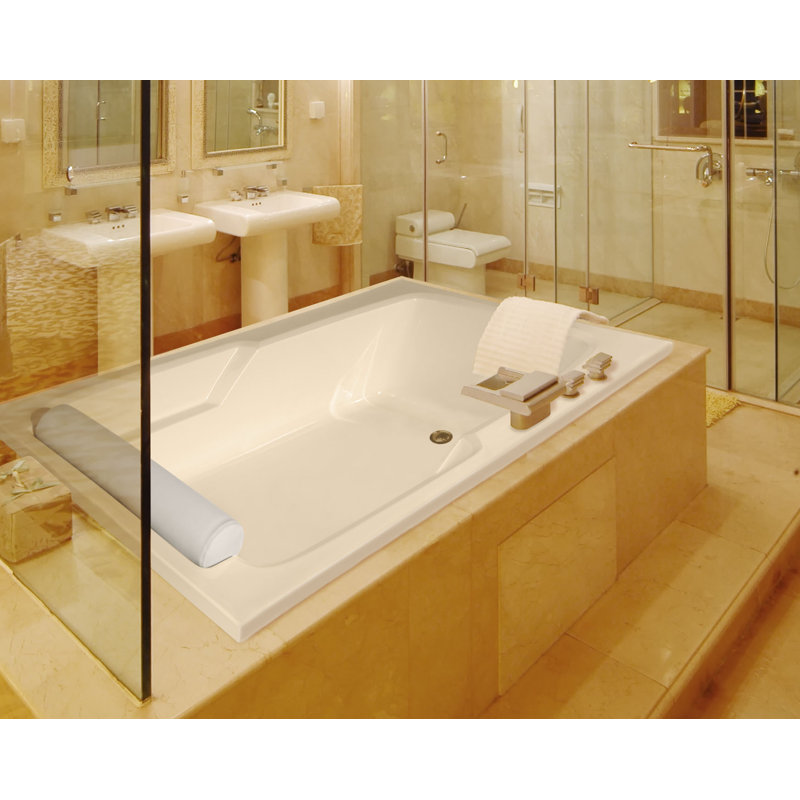 Do you want luxury and style in your bathroom? Then, you can consider getting this Designer Duo bathtub from Hydro Systems. It comes with 8 completely adjustable and directional PVC jets. Aside from angled back support and molded armrests, it also comes with a pillow headrest. The design is also functional, and you can install it as an under or deck mount in your bathroom.
It is also convenient because of the on/off switch that is soft to touch. It also has a 30-minute integral timer and an ozone sanitation system.  There is also an automatic dry and purge cycle and anti-vortex safety suction that add to its durability.
Highlighted Features:
Made from high-quality acrylic
Has an 80-gallon capacity
Can be installed as under-mount or deck mount
Comes with a 99-year limited warranty
The Pros:
Durable because of the extra thick reinforced fiberglass
Has a HyrdrOzone feature that cleans bathwater
The Cons:
No faucet and pump included
10.  Fuzion Drop-In/Under-mount Whirlpool Bathtub by JACUZZI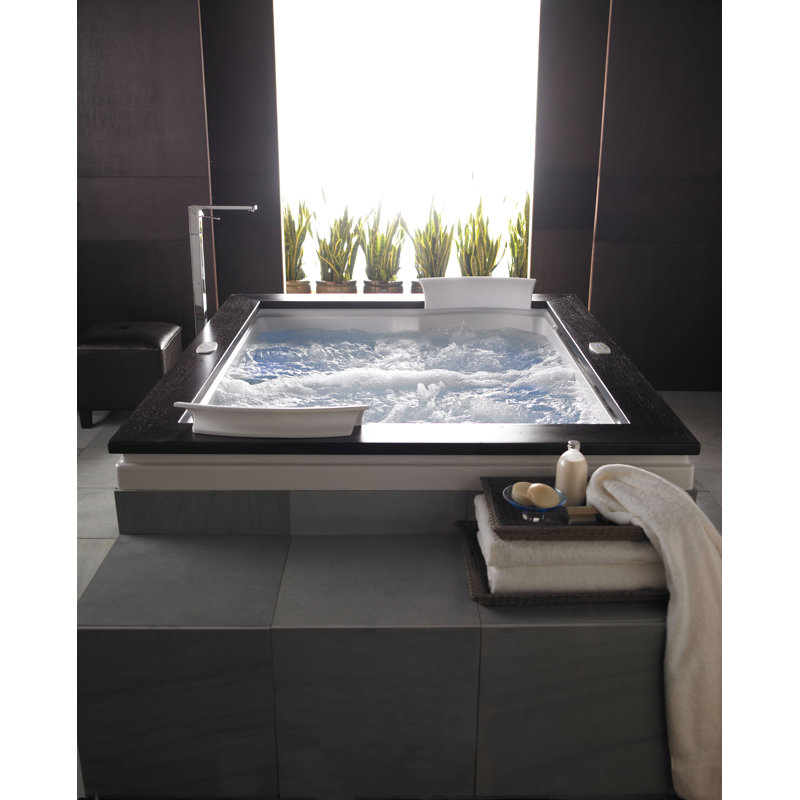 This white whirlpool bathtub looks very exquisite that it can be a beautiful bathroom furnishing. The design is also modern because of its LCD control and overflow technology. Therefore, your bathing experience will be way better than before with its Jacuzzi technology and fine decking of exotic wood or rich teak.
The full-fill view from the state-of-the-art overflow technology and interchangeable light colors are visually relaxing. This line of bathtubs is the first from Jacuzzi to utilize beautiful hardwood as an accent.
Highlighted Features:
Made from acrylic
Has a Tru-Level™ base
Comes with LCD controls
Part of the luxury series
The Pros:
Has 14 jets
Can be a unique house furnishing
Has state-of-the-art overflow technology
The Cons:
No seat and faucet included
11.  Hallmark Whirlpool by Clarke Products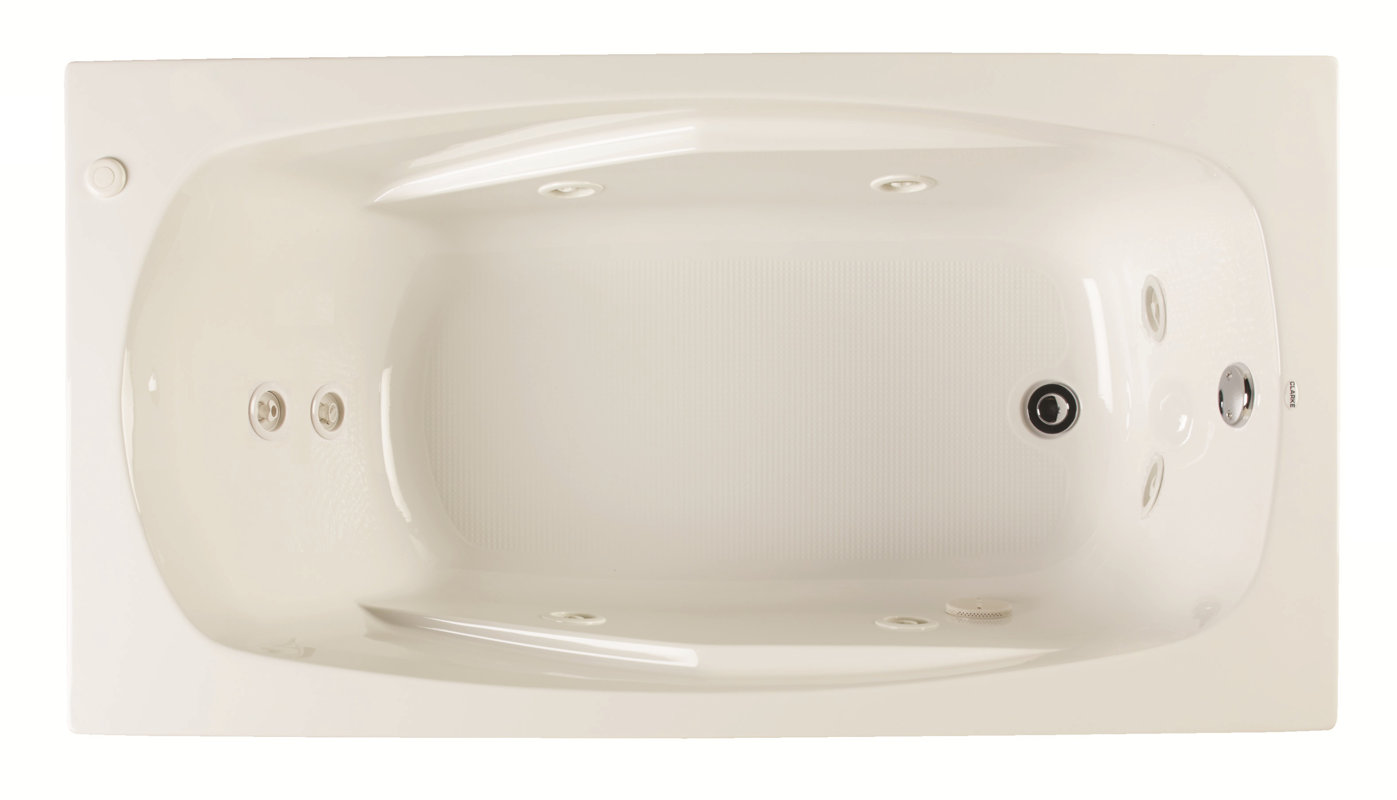 What hit us with this particular tub is that it is a whirlpool bathtub. It also gives you the option of installing an inline heater.
Best features:
Made of easy to clean acrylic
The base if pre-leveled, making installation so much easier
The bathing well is comfortable and designed for use with any sized user
You can install an inline heater if you so wish
A shower fixture can be placed onto the wall over the bathtub
12.   Saniform Plus Soaking Bathtub by Kaldewei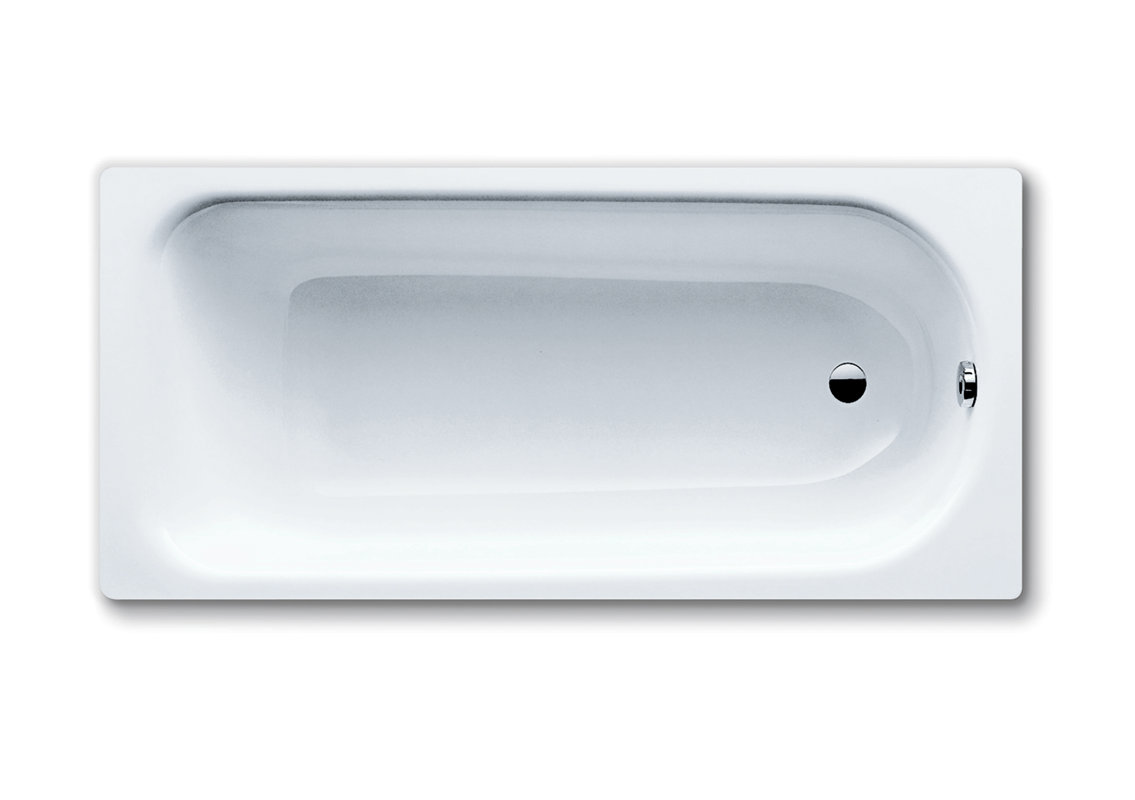 If old-school is your choice, this bathtub by Kaldewei may just be one of the best drop in soaking tubs of choice for you. The reason? It is made from enameled steel!
Best features:
Manufactured out of 3.5 mm enameled steel, making it stable, solid, and above all, durable
Both the steel and enamel are 100% recyclable
The surface is slip-resistant, antibacterial, and acid and chemical resistant
It is scratch and abrasion resistant
The drain placement is reversible
It can easily be paired with a shower installation
13.  Rhode Rectangular Drop-in Whirlpool Bathtub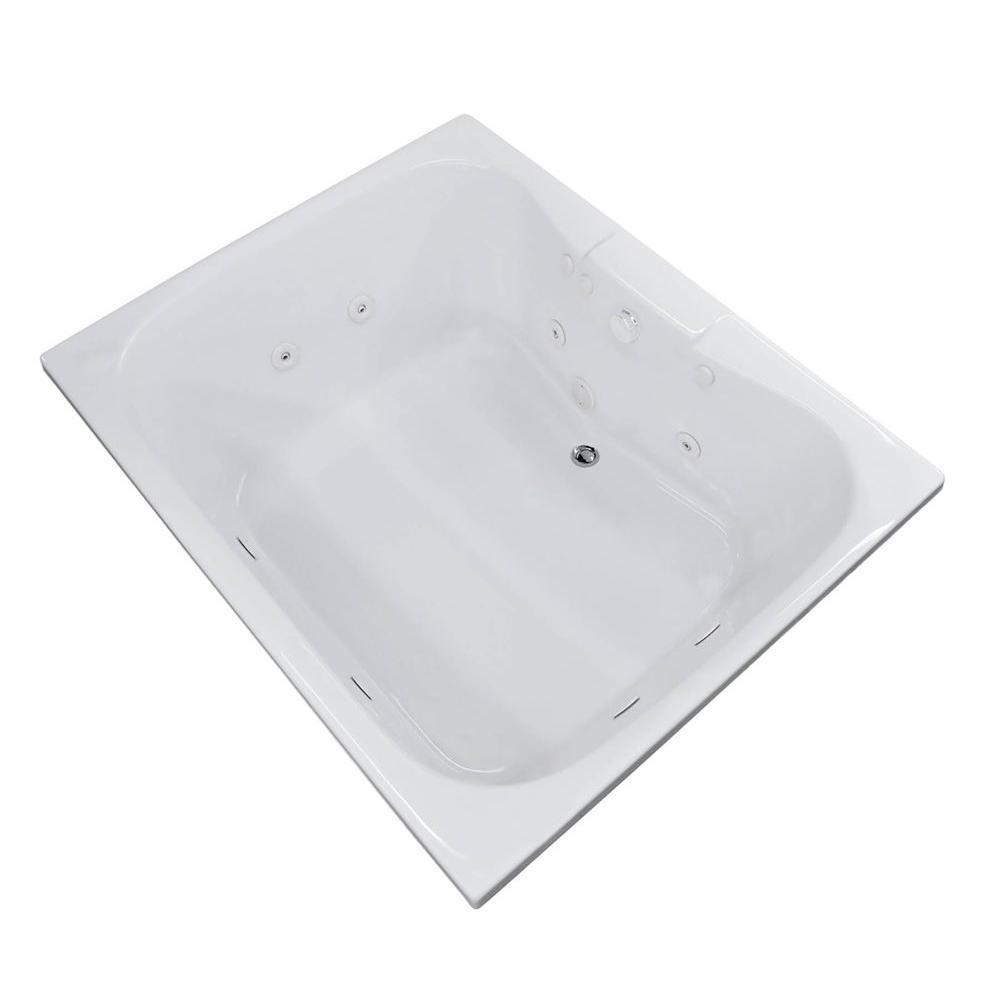 If you have the space, and you want the feeling of a sauna pool, this particular bathtub with its sixty-Gallon capacity might be what you are looking for. The classic design goes well with any modern or contemporary bathroom.
Best features:
The design incorporates eight fully adjustable water jets
The water jets are powered by a 1 HP water pump
Water temperature is maintained by means of a friction heater and needs no extra power to operate
A pneumatic button control is incorporated into the design
The bathtub has a beautiful high gloss white finish with matching white trim
It has a center drain while the pump is located on the right side
While the exterior is rectangular, the inside has a squared circular shape
The bathtub is constructed of acrylic with a fiberglass back reinforcement for added strength
FAQ
What is a drop-in bathtub?
From its name, a drop-in bathtub is a tub that you drop into a structure or frame called surround. It has a rim around the top so that you can easily secure it to a top of the frame. The frame can be tiled or made from wood or other material. The outer part of the tub is hidden by the surround, so you can only see the rim.
The best drop-in bathtubs are famous because they are affordable, functional, beautiful, and available in various sizes and shapes. The surround can be installed in an alcove, along the bathroom wall, freestanding, or any design you have in mind. Moreover, you can easily replace the tub and fit the new tub to the current surround without spending too much.
How are alcove and drop-in bathtubs different?
The alcove and drop-in bathtubs differ in terms of the type of style. For alcove bathtubs, you will not have a lot of styles to consider. The only style available is rectangular-shape, and you have to install it against your bathroom wall.
On the other hand, drop-in bathtubs have various shapes and styles you can choose from such as rectangular, oval, or square-shaped drop-in bathtubs. You also have the option to buy a single or deck mounted drop-in tub.
Is it possible to install a shower for a drop-in tub?
Depending on where the drop-in bathtub will be installed, it is possible. Nevertheless, it is not advised. In general, drop-in tubs can have a shower if they are installed in an enclosure and against the wall. It is recommended to have the doors sit atop the rim so that the water will not collect on the deck.
Is a large space needed for a drop-in bathtub?
Because the constructed deck needs a large amount of room space, most drop-in bathtubs are recommended for large spaces. You can construct a drop-in bathtub deck with a flat deck of at least 6 inches on all the sides of the bathtub. Therefore, the structure of the deck needs to be at least a foot wider and longer than the drop-in tub you have.
Can drop in bathtubs be undermounted?
Not usually, no. Most drop-in bathtubs are specifically designed to fit on top of a frame. Some drop in bathtubs, however, are designed to be both. You just need to make sure before you purchase one.
Conclusion
Finally, having a peaceful and quiet bath can do a lot to your overall health. It can lessen stress and make you feel comfortable. You can also soothe your tired muscles. Nevertheless, you can only enjoy this if you have a bathtub.
We hope that our list of the best drop-in bathtubs helped you decide. For our best pick, we chose White Aloha Right Drain Rectangular Alcove Soaking Bathtub by Bootz Industries. It has a lot of great drop-in bathtub reviews.
Also, the design and finish are excellent. The tub is easy to match in any bathroom color theme. It is also resistant to a lot of conditions that can affect the quality of the tub. It does not need much maintenance, and it is safe.