If you are looking to improve your romantic relationship, you should get a hot tub for two people. In addition to watching movies and having meals, bathing together is also a good way to enjoy quality time with your partner. In the market, there are many brands that supply quality hot tubs. And the American Spas 2 person reviews will make it easier for you to decide which one to get!
American Spas Overview
American Spas is a luxury brand when it comes to hot tubs. They provide a wide range of products with various sizes and shapes. The advantage of having a hot tub is undeniable as you can enjoy it in every season. And this brand offers its customers a lot of benefits. You can find them all in this American Spas 2 person AM-628TM model.
Special features
It provides an extraordinary pleasure to users with 28 therapy jets and allows you to control the pressure flow with an on/off system.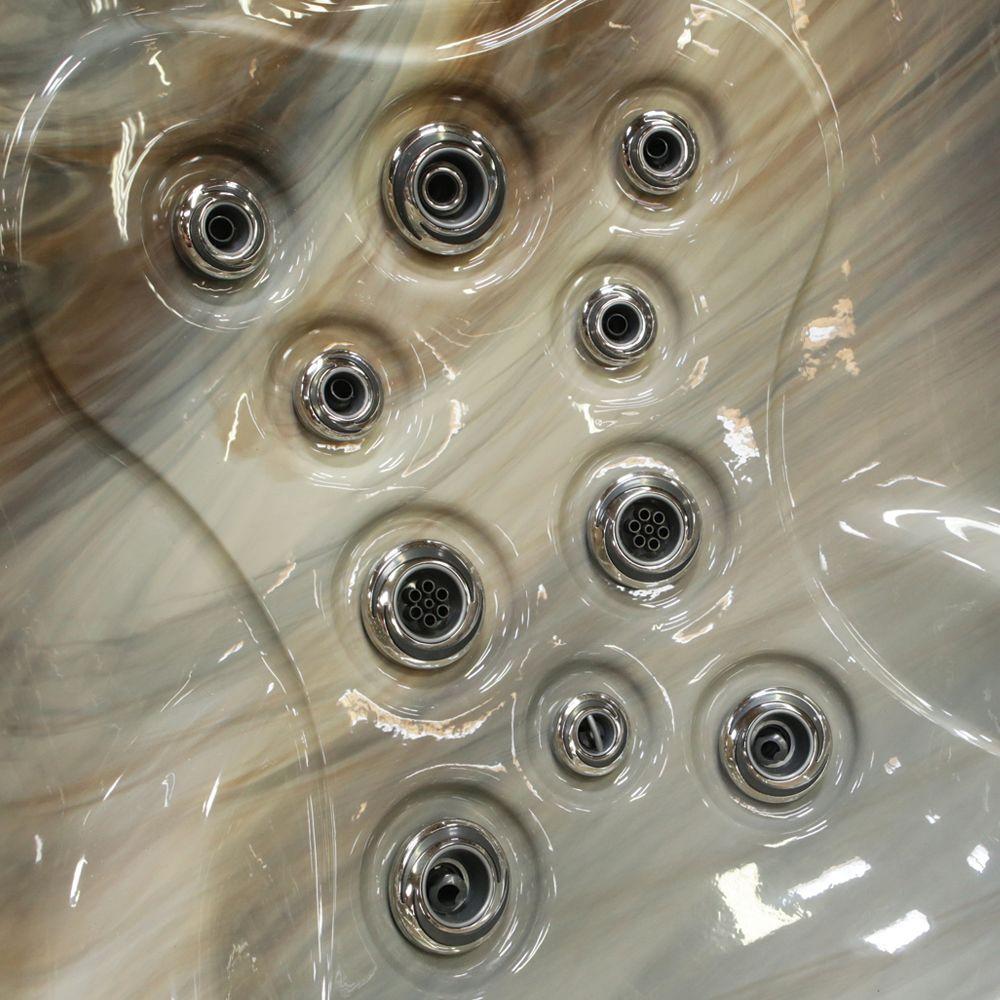 As you can find from any American Spas reviews, this model is considered to be the best hot tub in the market for two people. Mainly because it comes with a special 5.5 KW heavy-duty Titanium heater. You can expect the water to be heated quickly and it runs quietly.
Maintenance
In addition, the Hydro-Clear Ozonator makes it easy for maintenance. The water is kept pure and clean as it uses active ozone bubbles discharged from a Corona Cell. Not only does it save your cleaning time, but it also makes the job much easier.
Comfort
The most important thing is that you will feel completely relaxed when having a hot bath. It has a multi-color spa light that creates a comfortable atmosphere and makes you feel like you are actually in a spa.
Well-designed
This model has a sleek design with comfortable sitting positions for 2 people. Apart from that, the American Spas AM-628TM is perfectly designed with a 7-layer laminate system, also called Fibersteel. The 2.0 BHP jet pump adds to the list of amazing features that enhances its performance with a 110V plug-and-play kit.
Who is this product for?
The American Spas 2 person hot tub is very easy to install and use. The contoured seating for 2 makes it an ideal model for couples. After a long day at work, they can bath together, spend quality time and relax in a hot tub. Besides, if you are owning a holiday home, you can invest in this model to make it a perfect place for a relaxing holiday.
The Pros of This American Spas 2 Person AM-628TM Model
Offers hydrotherapy experience with 28 adjustable jets.
Easy to use with plug-in and play kit.
Comfortable sitting positions.
Offers better ambiance and mood with multi-colour led spa light.
The built-in heater increases water temperature.
Water is clean with the Hydro-Clear Ozonator.
Includes air blower, UV and stain-resistant.
Cons of The Hot Tub
Can't enjoy extreme hot water without an additional heater.
Takes up a large space.
Customers reviews about American Spas 2 person hot tub
In the American Spas 2 person reviews, we will provide the opinion of users who have been using the product so that it will be easier for you to make a decision.
A verified US buyer is satisfied with this hot tub after purchasing it because of its outstanding features and beautiful look. However, he is not happy with the panels and the issues when draining the tub.
Another US user is not satisfied with the heat button. Although it is comfortable, and the jets are amazing, he had some problems adjusting the temperature.
As you can see, not all customers are completely happy with this model. Therefore, you should read all the reviews and carefully research the product before purchasing.
The hot tub has high end features
Other models of American Spas 2 person hot tub:
The American Spas Am-420B is also a good choice for a hot tub that satisfies your needs for a relaxing home bath. It has an oval shape and 20 powerful massage jets.
In addition, it comes with a 2-speaker sound system that provides the best sound quality for you to enjoy music.
You will feel completely comfortable and pleasant while using it. If you prefer the shape and some features from this product, take a look at its reviews before making your decision!
Verdict
This triangular design hot tub can fit into any corner of your home. This product is one of the best hot tubs for 2 people in the market in my opinion. As you can tell from the American Spas 2 person reviews, it has the ability to provide consistent and relaxing comfort. With an affordable price, a sleek design and all the high end features from a hot tub that you can enjoy, what are you waiting for?