If you have a large family and are looking for a good spa experience, you can't miss out on Aquarest Spa. The brand comes with a few excellent options for your needs. One of their outstanding products is the Elite 600. The Aquarest Spas Elite 600 reviews will help you learn more about this model.
Aquarest Spa overview        
Aquarest Spa is a big name in the market that has been known with constant innovation. Their hot tubs are special with innovative features such as 100% water filtration, strong massage jets, and LED Backlit Waterfall.
Compared to other brands, Aquarest Spas models do not have many hydro jets. But the manufacturer places all the jets at strategic positions to ensure comfort and relaxing moments to users. Besides, having fewer jets doesn't mean that the hot tub has poorer quality. It is more important to have each jet at the right location so that it applies the hydro-massage at different parts of your body.
Furthermore, this brand comes with plenty of models, and it is not easy to choose the right spa for your home. This article will provide proper professional guidance in order to help you get a suitable one. As you can tell from the title, we are going to review the Aquarest Spas Elite 600.
Aquarest Spas Elite 600 reviews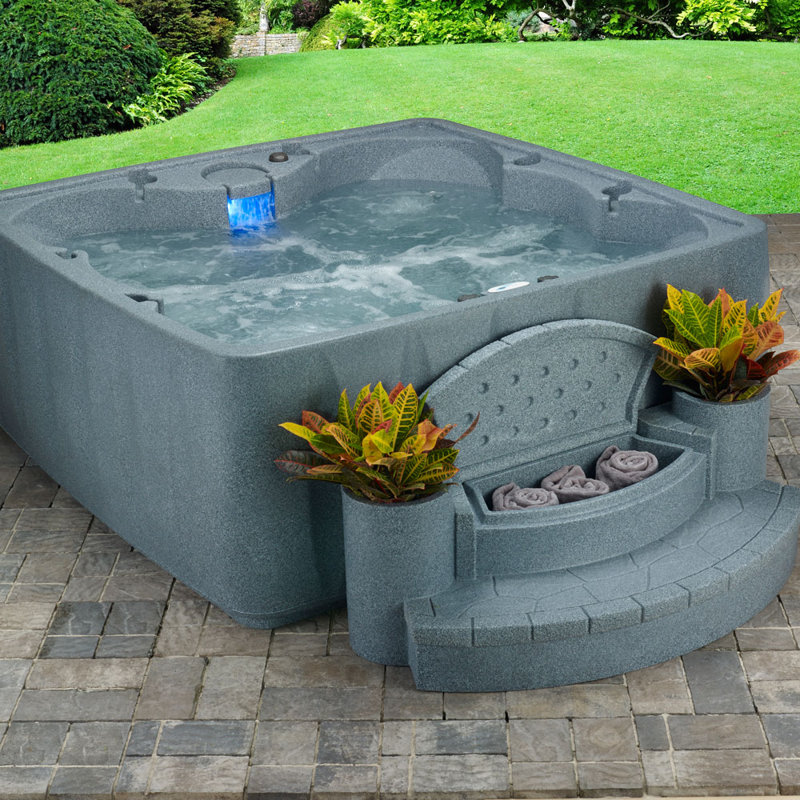 As we mentioned earlier, Aquarest Spas normally don't have a lot of jets. However, this model is for 6 people, so it has more than normal amount which is 29 hydrotherapy jets. In addition, it comes with an impact-resistant polyethylene shell. When using this hot tub, users will have full control over the jets. This model is also highly durable, so you can rest assured that it can be used for a long time. Not to mention, the multi-colored cascading waterfall adds to the perfect ambiance for your spa.
The Pros of This Aquarest Spas Elite 600
It has a durable tub design and construction
Low maintenance
Portable
Easy to use
Cons of The Aquarest Spas
Quite difficult to control the temperature
Not very powerful jets
Key features:
When choosing the right hot tub for your family, you need to look at the key features that it comes with. The Aquarest Spas Elite 600 reviews provide a few outstanding features associated with this model.
100% water filtration
It comes with the Easy Klean Filtration System that provides 100% water filtration. Therefore, you will be able to enjoy crisp and clean water. Besides, it allows you to change the filter when needed.
Ozone keeps water clear, clean and fresh
This feature helps keep your spa clean as it eliminates organic and inorganic contaminants. With ozone, you don't need to use a lot of chemicals so you don't have to worry about your skin being dried. You can use either the power or natural Oxygen to keep your spa clean.
This product is suitable for large families
Save the energy
This model comes with cabinet insulation and a sealing spa cover that helps you optimize heat and energy efficiency and save the energy.
Easy set up
The model just needs to be plugged right into a standard 120 V outlet. You don't have to be an electrician or need to hire one to install the Elite 600 to your home. All you need to do is to fill your hot tub, plug it in and enjoy!
Who is this spa suitable for?
This spa is large and can host up to 6 adults comfortably, therefore, it is perfect for a big family. Besides, it has 6 convenient beverage holders. So you can install it at your vacation property. You will have more ideas to spend time with friends or family once you own this model.
Customer reviews
It is very important to read reviews and feedback from people who have actually used this product. That's why we include a customer reviews section here for your recommendation.
According to a user named Phoebe from Hampton, VA, the Elite 600 is "easy to set up, and works perfectly. Delivery was sooner than expected, and the crew was very helpful!" She was very happy with the hot tub!!
Sean from Raleigh, NC thinks that "It's amazing. Ours fired right up with no issue. Haven't used it in the winter yet but it maintains heat well so far." The family are in love with it and use it every day.
Tracy from TX reviewed that "It was easy to move into place, filled up quickly. By the next morning it had reached temperature." In addition, "it looks great on the back porch." And for the price point, the family is extremely pleased with it.
On the other hand, Matthew from WI "had a few issues after purchase, but almost one year later, this was a great purchase!"
Verdict
This model is definitely a good investment for your home spa, especially if you have a large family with more than 5 people. With all the innovative features and the ease of use, you will be satisfied with your purchase. What are you waiting for?