Think about having a splendid hydrotherapy experience every weekend without having to go to your local spa; of course, that would be a fantastic treat for yourself. However, if you invest in one of the best 8 person hot tubs, not only are you going to have a relaxing dip on the regular but you can also share that luxurious experience with family or friends.
In this quick guide, we have narrowed down the top five hot tubs on the market, and we highly recommend you check them out.
Best 8 Person Hot Tub Reviews
1.  Futura Spas 88-Jet, 8-Person Hot Tub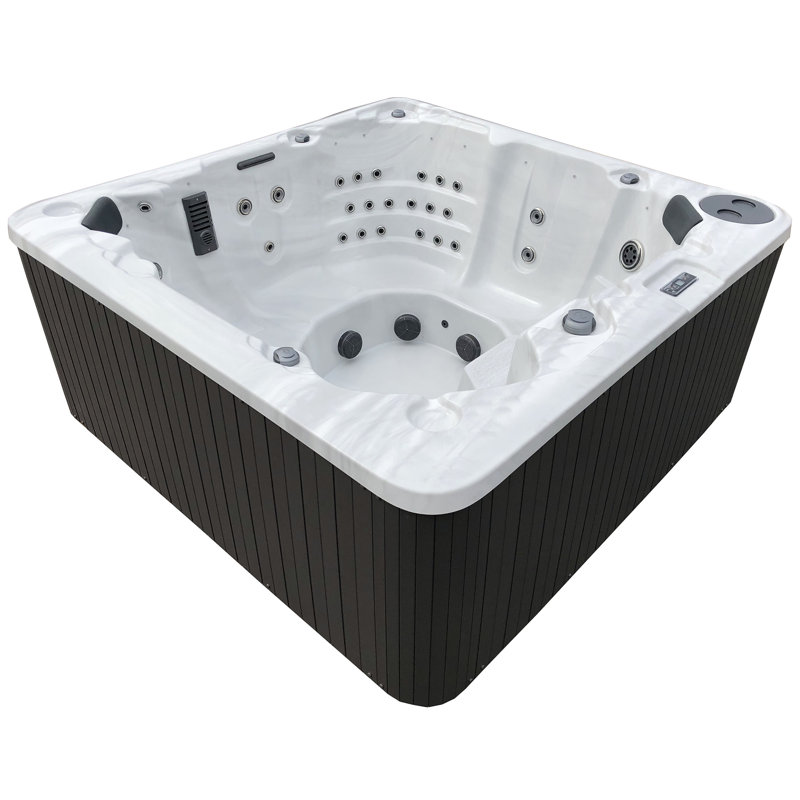 The 88-Jet, 8-Person hot tub by Futura Spas offers the ultimate luxurious hydrotherapy for you and your family. This hot tub features a waterfall and stainless jets which make it a seven-foot cutting-edge spa that delivers 88 different styles of hydrotherapy.
What makes the 88-Jet one of the best spa hot tubs is its shell design that features various styles of bucket seats that come with neck therapy. We also loved that this hot tub is equipped with three jump seats in various heights for an extensive back massage. Additionally, this tub features cuddler corner seats that deliver exceptional spa experience.
If you are someone who exercises or runs regularly, this hot tub is perfect for you as it comes with a power-plant footwell that is crafted to soothe sore feet and calves. For easy in and out access to the hot tub, the 88-Jet comes with a Cathedral staircase which also doubles up as a cool down and warm-up seat.
This top-notch hot tub features a maintenance-free perm wood cabinet construction and Thermo Service® insulated foam cover and a Lucite® acrylic material. Thus, this spa is guaranteed durable and reliable.
Highlighted Features
With Waterfall and Stainless Jets
Offers Various Hydrotherapy Styles
Delivers Tri-Zone Hydrotherapy
Shell Design Hot Tub
With Various Bucket Seat Styles
With Neck Therapy
With 3 Jump Seats With Varying Heights
With Cuddler Corner Seats
Comes With a Power-Plant Footwell
Equipped With a Cathedral Staircase
Permawood Cabinet Construction
With Thermo Service® Insulated Foam Cover and Lucite® Acrylic Material
2.  QCA Spas Cypress, 8-Person Hot Tub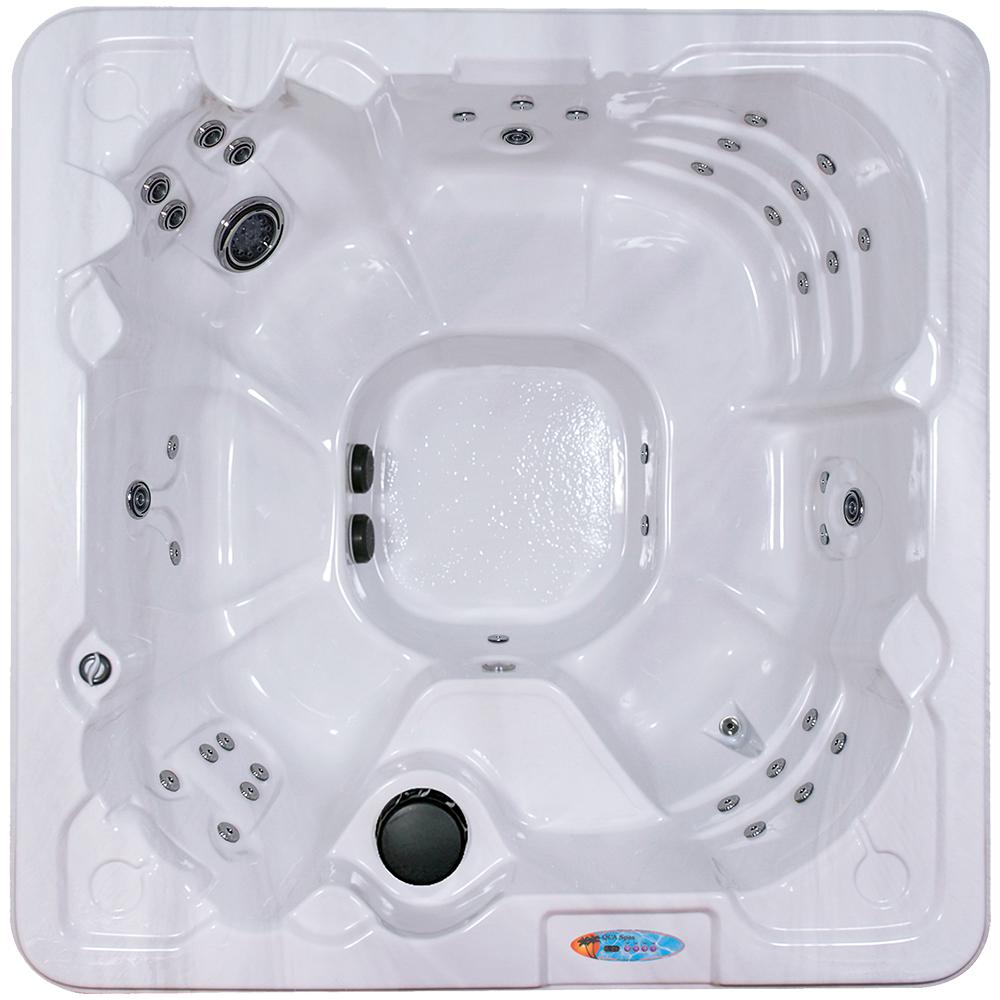 If you want a great-quality 8-person at-home spa at a reasonable price, we highly recommend the QCA Spas Cypress hot tub. This steel jet tub allows you to have quality relaxation time with your family and friends at the comforts of your own home. Additionally, with its reasonably affordable price, you will get a good bang for your buck.
The Cypress hot tub comes with multi-levels seats to accommodate every user. This tub also operates without noise and is surprisingly highly energy efficient as well. Each jet is equipped with zone controls which allow you to focus it on one side so that you can get a more potent personal massage.
This hot tub also uses a heat recovery technology called Econo-Boost that allows the heat produced by the motor and the pump to help warm up the spa.
The Cypress hot tub's shell is engineered using Lucite-Xtra Acrylic material which is then crafted through  Dura-Bond, the process of three-layer strengthening.
With all these fantastic features, we believe that the Cypress hot tub by QCA Spas is one of the best-quality affordable swim spas on the market right now.
Highlighted Features
Comes With Multi-Level Seats
Noiseless Operation
Energy-Efficient
Each Jet Come With Zone Controls
Utilizes Econo-Boost
Complies With The Energy Compliance Order of California
Lucite-Xtra Acrylic Material Shell
Engineered Through Dura-Bond Process
Durable and Comfortable
3.  QCA Spas Salerno, 8-Person Hot Tub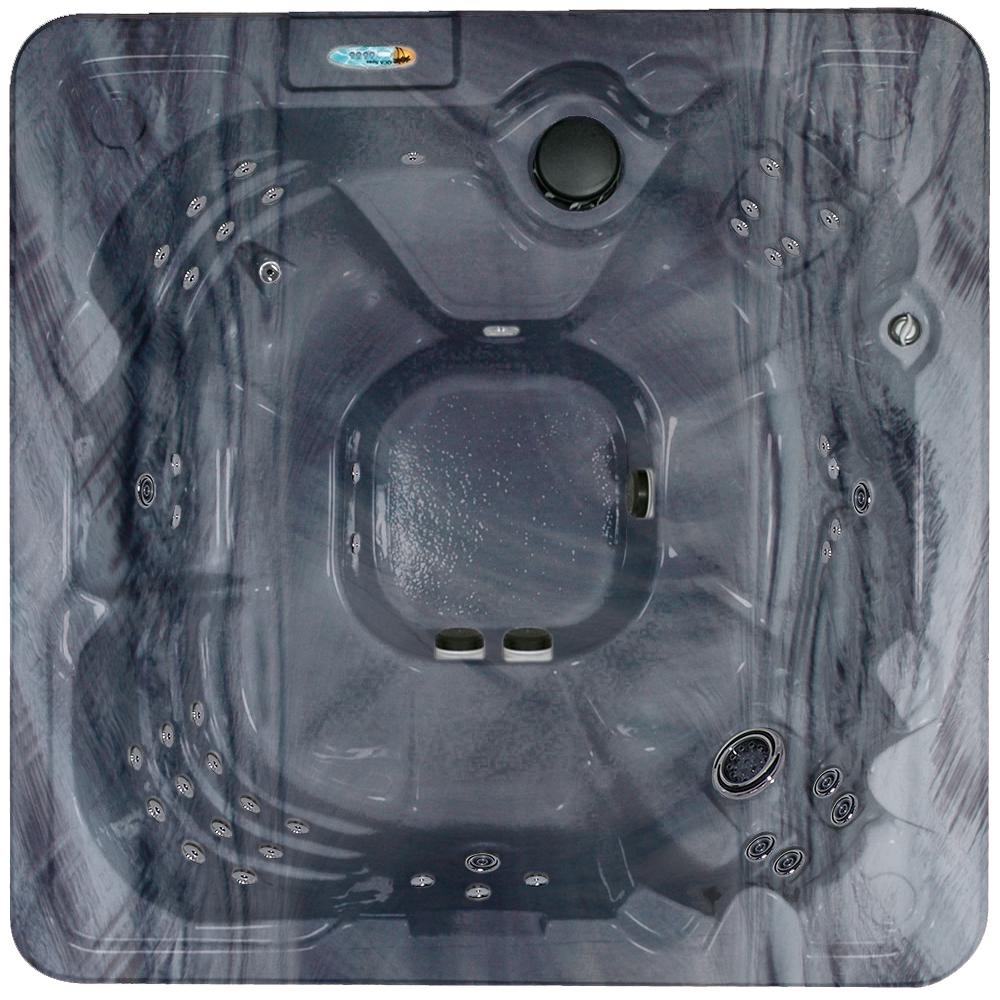 Are you looking for the perfect relaxing activity to do with your family or friends over the weekend? The QCA Spas' Salerno is the perfect hot tub to treat your loved ones to. Having the ultimate spa experience doesn't always have to be expensive. When you choose to invest in the Salerno hot tub, you will enjoy unlimited at-home hydrotherapy without splurging on a luxurious spa.
This hot tub features multi-level seats which are contoured to provide utmost comfort. It also comes with a considerable footwell that soothes the feet and calves and walk-in steps for easy in and out of the spa tub access.
The shell of this tub is made with Lucite-Xtra Acrylic through a three-layer strengthening process known as Dura-Bond. Given that the Lucite-Xtra Acrylic is well-renowned for exceptional spa durability, you are guaranteed that the Salerno is dependable for long-term use.
The Salerno hot tub features a dynamic heat recovery technology which saves valuable resources. Just like other QCA Spas hot tubs, Salerno delivers high energy-efficiency, which makes it one of the best hot tubs you can find nowadays.
Highlighted Features
Equipped With Multi-Level Seats
With a Large Footwell
With Easy-Access Walk-In Steps
Shell Material: Lucite-Xtra Acrylic
Dura-Bond Strengthening Process
Features Dynamic Heat Recovery Technology
Energy-Efficient
Complies With The Energy Compliance Order of California
4.  QCA Spas Corsica, 8-Person Hot Tub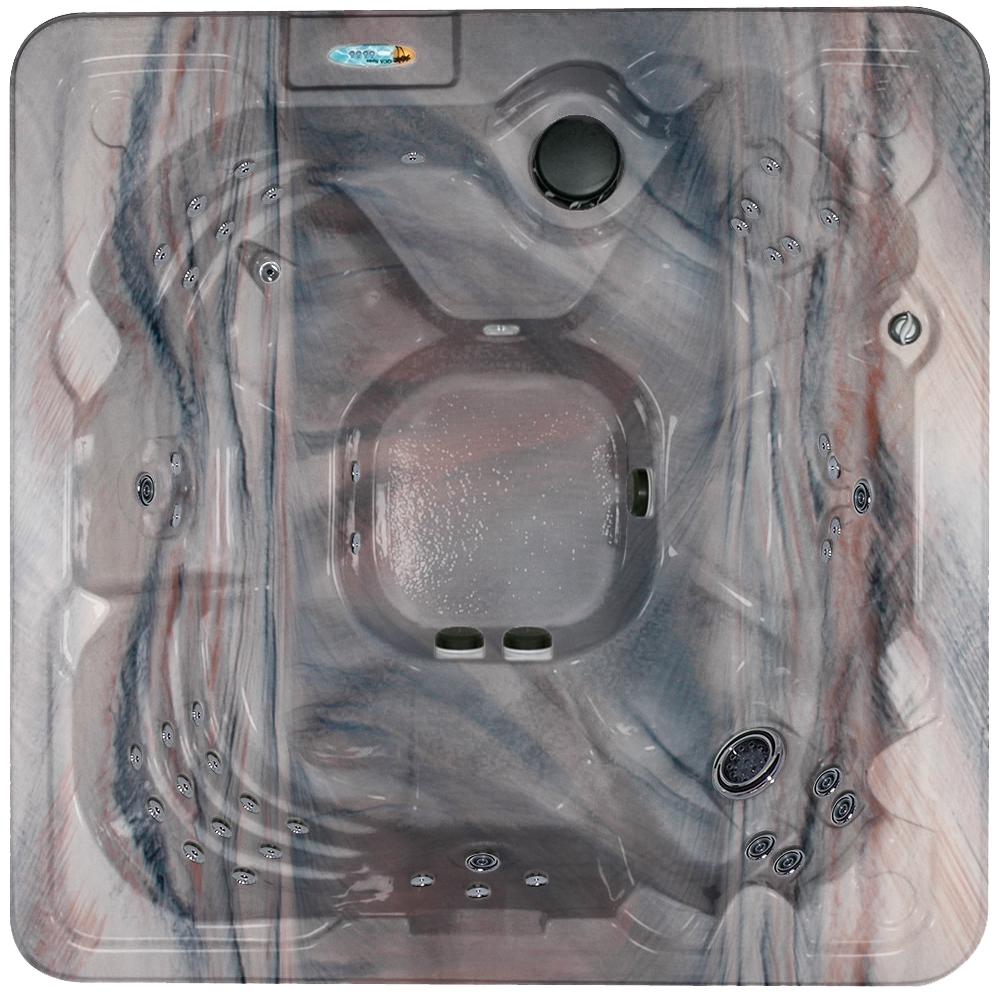 The QCA Spas is well-known for its track record of providing top-quality spas, and Corsica is no exception. This hot tub offers a luxurious hydrotherapy experience without breaking the bank. If you are looking for the best 8 person hot tub that delivers splendid at-home spa experience, we recommend you check this one out.
The Corsica utilizes a heat recovery technology called Econo-Boost, which helps save natural resources. And just like the other QCA Spas' hot tubs, this one is also highly energy-efficient. Moreover, this tub also uses two energy-saving pumps and 90 stainless-steel jets. Thus, you can enjoy having a spa at home whenever you want without having to worry about your electric bill surging.
For optimum durability, the shell of this tub is made with Lucite-Xtra Acrylic and is then engineered through Dura-Bond, a three-layer strengthening process. Furthermore, this hot tub also features StarBurst LED lighting, which offers a romantic gleam in the evenings.
The QCA Spas' Corsica offers everything we want in a hot tub; energy-efficiency, exceptional hydrotherapy, and utmost dependability.
Highlighted Features
Utilizes Econo-Boost Heat Recovery Technology
Energy-Efficient
With 2 Energy-Saving Pumps and 90 Stainless-Steel Jets
Shell Construction: Lucite-Xtra Acrylic
Shell is Constructed Through Dura-Bond Process
With StarBurst LED Lighting
Complies With The Energy Compliance Order of California
5.  Canadian Spa Company St. Lawrence, 15-Person Hot Tub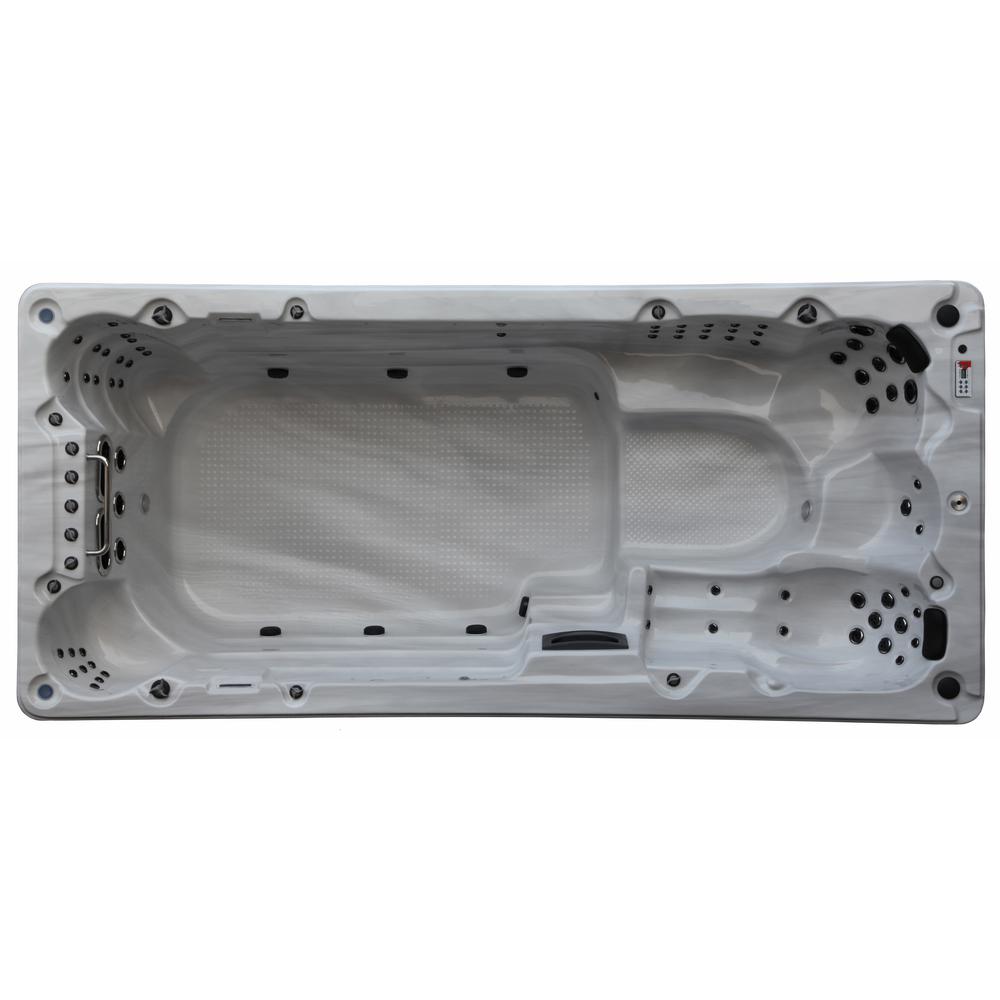 Planning on buying a hot tub that accommodates a larger group of people? Look no further than the Canadian Spa Company St. Lawrence. This massive 16-feet hot tub can accommodate up to 15 people comfortably. Hence why it is the best swim spa in our book.
This hot tub features Canadian Spa Company's "Swim Lane System" which is fully customizable to your preferred swim pattern. It is powered by four 16.4-Amp pumps to provide the optimum swim spa experience to every user. Additionally, this tub also features six multi-jet seats that deliver the ultimate hydrotherapy.
As for this tub's construction, it is crafted with high-density foam insulation as well as a heat retention trap blanket to boost the spa's efficiency.
Lastly, the St. Lawrence is loaded with additional features, including adjustable jets, waterfall, Bluetooth audio system, and many more.
Highlighted Features
16-feet
Accommodates Up to 15 People
Features Canadian Spa Company's "Swim Lane System"
Powered By 4 Pumps and 6 Multi-Jet Seats
Construction: High-Density Insulation Foam and Heat Retention Trap Blanket
Comes With Additional Features: Adjustable Jets, Waterfall, Bluetooth Audio System, Etc.
Conclusion
Our top five picks for the best 8 person hot tubs offer everything we want in an at-home spa; top-quality craftsmanship, exceptional hydrotherapy, cost-effective operation, and long term reliability. Thus, if you are on the hunt for the right hot tub to invest in, the products mentioned above might help you narrow down your choices.