After completing stressful tasks and dealing with different responsibilities, time to unwind, and relax is much-needed. One of the best ways to do that is to enjoy a dip in an indoor hot tub. When talking about hot tubs, one of the reputable products is the Lifesmart Coronado DLX.
According to most Lifesmart Coronado DLX reviews, the 7-seater hot tub can provide you the relaxation your body needs and the enjoyment with the company. It is equipped with technological features that lessen your worry for operation and maintenance. We will be breaking down the qualities of this amazing hot tub.
Reviews of Coronado DLX (LS600DX) 65-Jet, 7-Person Spa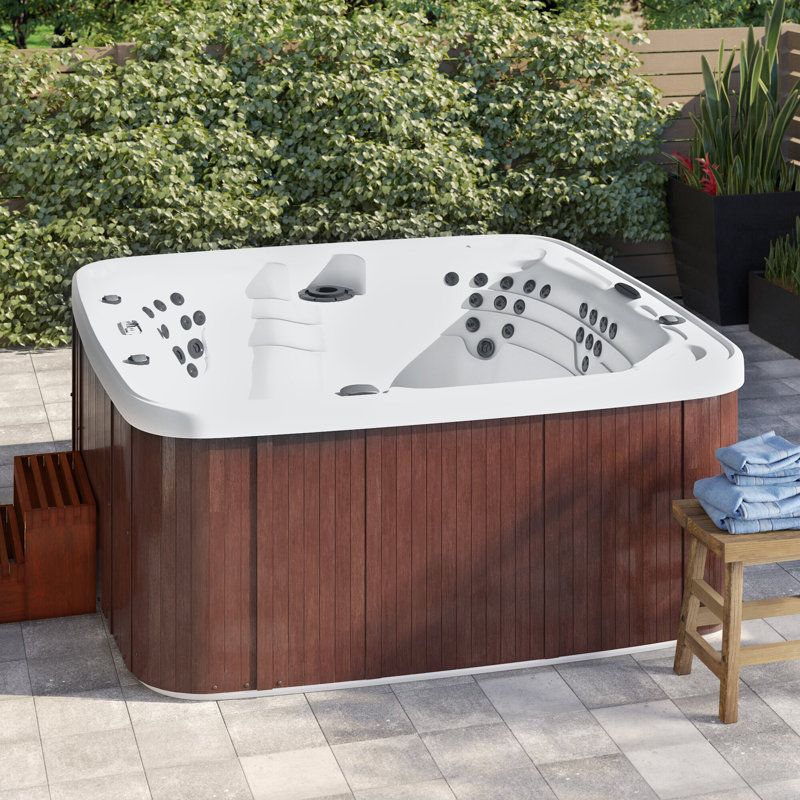 Overview of the Product
Lifesmart Spas is a company specializing in creating hot tubs and indoor Jacuzzis. They cater to middle-sized homes and also establishments that offer indoor relaxation experiences.
Their 7-seater product, the Coronado DLX (LS600DX), is equipped with 65 jets that are controlled by the technological features installed. Here is an overview of the key qualities of the product.
Pros of the Lifesmart Coronado DLX
Has a digital control for temperature, lighting, and jet operations at the topside panel
Waterfall is adjustable
Utilizes 'Ozone Water Care System' for water circulation
Installed with multi-colored, underwater LEDs
Has drainage at the bottom for ease of maintenance
Has a 'hydrotherapy' feature where-in 14 jets can be configured to have a single target
Spa cover has heat retention capabilities along with a secured locking mechanism
Cons of the Lifesmart Coronado DLX
The jets are not usable all at once; only 3 sections at a time.
Verdict
Overall, based on the many Lifesmart Coronado DLX 7 (LS600DX) reviews, the hot tub is very convenient to use and enjoyable to have. There are so many advantages that using one can provide you great experiences all the time.
The Intended Users of the Lifesmart Coronado DLX
The Lifesmart Coronado DLX is a 7-seater hot tub in which the whole family or a group of friends can thoroughly enjoy while having various conversations. They can also be used for therapeutic purposes such as muscle rehabilitation and targeted massage. They can also be an entertaining option for a business establishment that relies on comforting people.
Key Features and Benefits
2-Speed, 3-horsepower Pump
The 2-speed pump is rated at 3 horsepower. It is strong enough to provide jet streams for multiple nozzles while maintaining the heat of the water in the process. The two speeds of the jet streams can be either high or low.
Ozone Water Care System
The system utilizes the Ozonator to reduce in relying on chemical sanitizers such as chlorine and bromine. It also promotes easy cleaning by aiding in the destruction of bacteria and algae. It makes the maintenance convenient to the owners and using the hot tub can be done even daily.
Customer Reviews
Positive Reviews from Wayfair Page
Reviewed last February 16, 2020: Laura from Grants, NM
"It was impressive to see how quickly it was installed and within 5 hours under frigid weather, the temperature of the water increased from 52 degrees to 102 degrees. I am very thankful because I can use my tub daily due to having fibromyalgia. The replacements I ordered are getting me so thrilled!!"
Critical Reviews from Wayfair Page
Reviewed last August 13, 2018: Walter from NJ
"The hot tub looks amazing but there is a MAJOR drawback. The jets are NOT operating all at once. It is only limited to having 3 sections turned on at a time and need to switch for other seats. This means that the other seats are soaked in hot water 🙁 If I had known earlier, I would not have purchased this."
Lifesmart Coronado DLX FAQs / Additional Tips
Q:         How long will the product be received if purchased and how much does it cost?
A:          Wayfair priced this product, as of now. For a hot tub with technological features installed, it is quite an investment but the returns are enjoyable and less of a burden. The product can be expected to arrive at your doorstep within 18 to 20 weeks.
Q:         How does water heating work?
A:          The 2-speed pump feeds the water to a flow-through heater. The water is then heated but at the jet nozzles, when it is set at low, the heater will still function to sustain the temperature for longer usage or against the cold outdoor environment.
Final Verdict
Based on this overview of Lifesmart Coronado DLX reviews, there is no doubt that the hot tub is highly recommended. It has tons of features that offer both relaxation and enjoyment while remaining easy to operate and maintain.
The hot tub is a good investment for residential use and as part of a business commodity. This can be a great attractive and entertaining feature for the guests. If you are interested in purchasing one, click on this link.