Some bathtubs are excellent while some are just okay. But AKDY surely is a brand to consider if you want an instant revamp for your bathroom.
AKDY bathtubs are renowned not just for their quality but also for their interesting designs that you don't normally see on other brands.
Today, we pay tribute to the brand that helps transform millions of bathrooms by producing premium and visually-pleasing bathtubs and home furniture.
Review of Top 5 Best Bathtubs by AKDY
1.  AKDY BT0077 Freestanding Bathtub (64×24")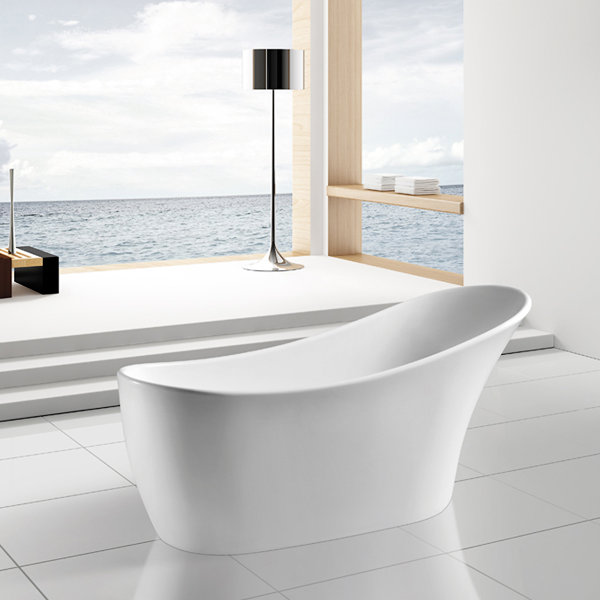 If there is one thing that we like about AKDY bathtubs, it's the unique design of their bathtubs. Take this BT0077 freestanding bathtub for example. Instead of having the conventional rectangular shape tub, this one has an asymmetrical design, which gives your bathroom an instant statement piece.
In addition, the asymmetrical design also serves as a backrest so that you can lay back comfortably while soaking in the tub. This is a right drain tub but is reversible should you want to transfer the drain placement.
Why people love it?
Unique and practical design
Includes a drain assembly
Made from fiberglass with acrylic coating, making it scratch-friendly
Reversible drain placement makes the installation process a lot easier and flexible
Sturdy and durable
Please note that it doesn't have an overflow feature.
2.  AKDY BT0075 Freestanding Bathtub (71×32")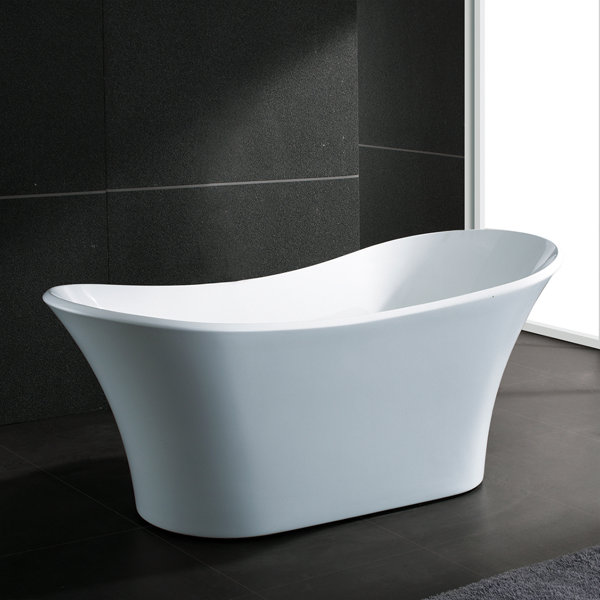 This is another soaking bathtub with asymmetrical design by AKDY. However, this time, it has a bigger size to fit people who are tall and have big body structure.
If you are 5'9 and has a curvy body, then this is the best AKDY bathtub for you. This freestanding tub is well-loved by many because of its amazing features. Check them out below!
Why people love it?
This is not purely an acrylic bathtub but is coated with one to add another layer of protection.
Made of fiberglass for a sturdy support
Drain placement is at the center
Can accommodate up to 95 gallons of water
Has adjustable legs, so you can level the tub just the way you like it
This one doesn't have an overflow drain as well.
3.  AKDY BT0071 Freestanding Bathtub (67×32")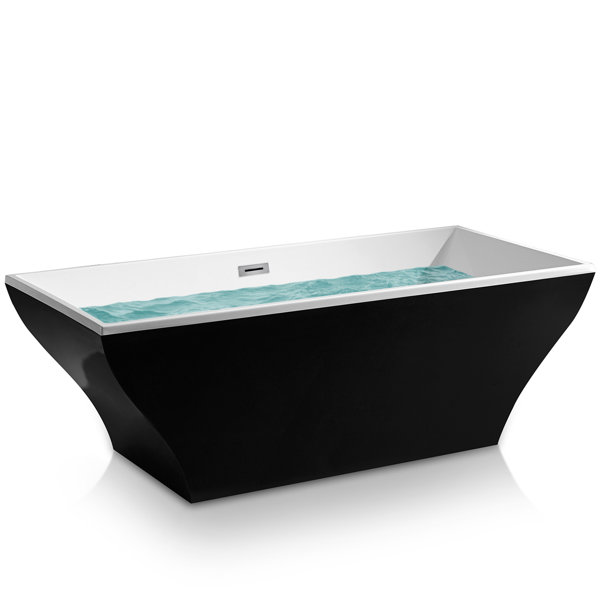 Hailed as the best by many AKDY bathtub reviews, the AKDY BT0071 bathtub is the best tub for men and for women who have a penchant for manly designs.
AKDY BT0071 is a soaking tub for a modern bachelor bathroom. It gives your bathroom an ambiance of modernism and elegance in just one single masterpiece. In fact, men reported that this is the most luxurious bathtub they have so far.
It's truly one of the best AKDY tubs.
Why people love it?
Luxurious design, perfect for modern bathrooms
Includes an overflow drain, as well as a drain assembly
Constructed from fiberglass but has an acrylic topcoat
Drain placement is at the center
Installation process is easy
Perfect for male users who are usually tall and have a bigger body built
4.  AKDY BT0037 Freestanding Bathtub (67×31")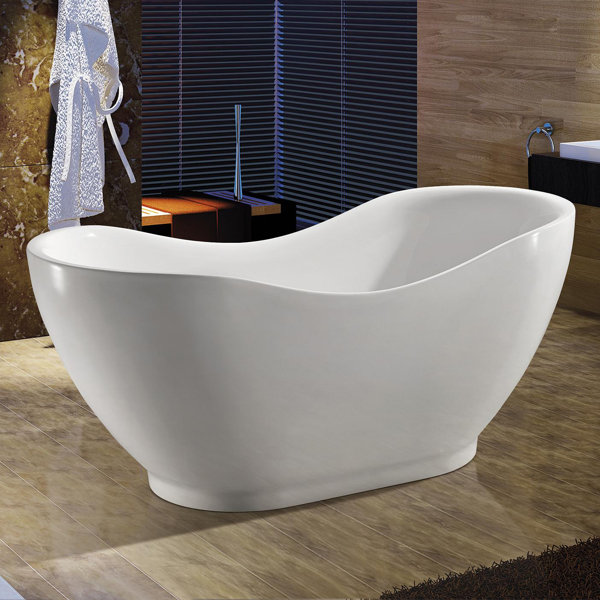 If you want a more feminine bathtub option, then AKDY BT0037 is an excellent choice. This freestanding tub has a white finish with a striking design.
This is a double slipper bathtub, which allows you easy access to the tub. Moreover, the tub's design is really ergonomic while giving your whole body the ultimate comfort.
Women users particularly said that the tub's size is perfect for them. With a total of 66 gallons of water capacity, you'll surely enjoy your soaking session with this bathtub.
Why people love it?
Has a glossy white finish that is scratch-friendly
The double slipper design makes this one of the best AKDY tubs for the elderly as well.
This is an acrylic tub, so you can expect stains and other dirt will not cling easily to the surface.
Comfortable design, which supports the natural curve of your body
Has enough space for you to move a little while soaking
Brilliance and color of the tub is long lasting
Drain placement is also at the center
5.  AKDY BT0024 Freestanding Bathtub (66.93×33.46")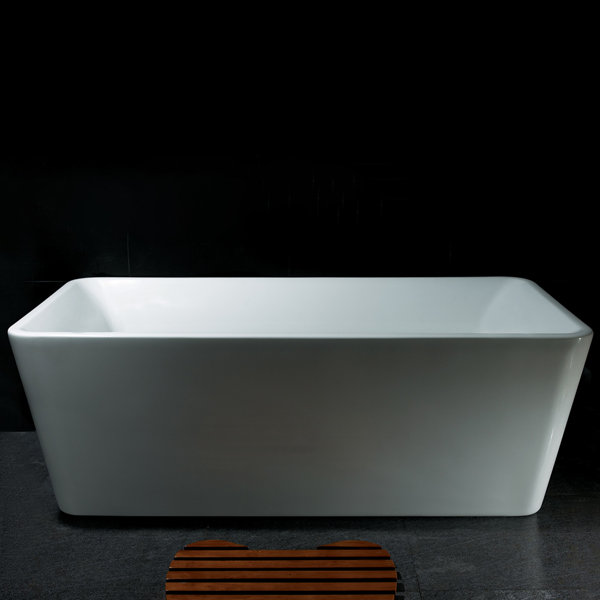 Of course, we don't want to exclude people who love just a simple bathtub design. For those who want to stick to minimalism and prefer their bathtub to be simple yet eye-catching, then the traditional rectangular shape bathtub will do good for you.
However, to make the most of your bathtub soaking experience, AKDY added some cool features to this tub. AKDY BT0024 has smooth edges so that you can blend it well to any bathroom design.
Moreover, it also has a flexible drainage pipe so that you can install and place the tub anyway you like it.
We'd say that this is the best AKDY bathtub for people who want a substantial tub but can be integrated into any bathroom motif you already have.
Why people love it?
Really versatile and flexible design
Can be freestanding and wall mounted
Has a glossy white finish
Drain placement is located at the center
Conclusion
With so many options to choose from, it's easy to get confused and end up buying a bathtub that doesn't really suit your taste and budget. To avoid being tricked into buying the wrong product, doing your research beforehand is highly recommended.
If we were to recommend the best bathtub from the list, it would be the AKDY BT0075 Freestanding Bathtub (71×32").
It's a great tub for both men and women. Also, it has a modern asymmetrical design that makes it a great statement piece. Lastly, we love the fact that it has enough space to accommodate tall and curvy users, not to mention that it has adjustable legs.
For sure, investing in an AKDY bathtub for your bathroom is a wise decision. The brand is trusted by thousands of homeowners in the U.S. AKDY also offer a good warranty service on all their bathtubs. A great deal indeed!