Hundreds of bathtub brands have sprouted in the market in the last few years, thus making it confusing for us to choose the best bathtub.
If you don't want to go through the trial and error process, then it is better to just stick to well-known bathtub brands like Kohler.
Why Choose Kohler?
Throughout the years, the "best Kohler bathtubs" has dominated the Google search, a solid indication how popular and trusted the brand is worldwide. Most Kohler bathtub reviews cited highly durable and thick enamel coating as the primary reason that puts Kohler bathtubs ahead its competitions.
Whether you are looking for a soaking, drop-in, or whirlpool bathtub, Kohler has a lot of bathtub styles in store for you to choose from.
7 Best Kohler Bathtubs 2023
To make the selection process easier on your part, we listed down 7 best Kohler bathtub options for you to choose from.
Here they are:
1.  Kohler Archer Soaking Bathtub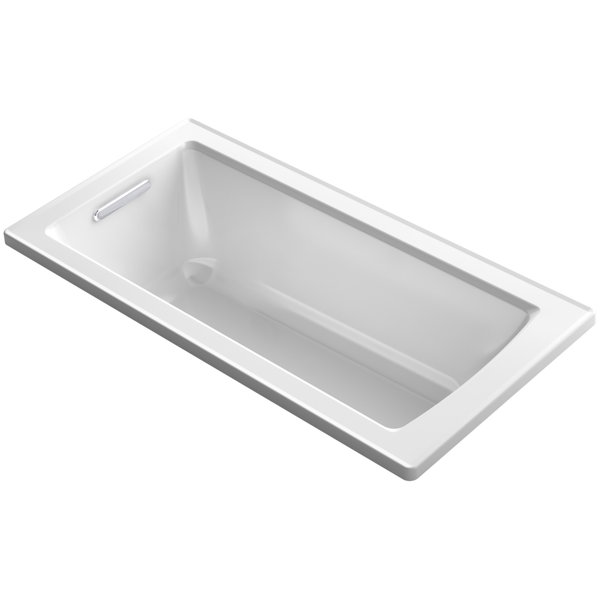 A classic looking bathtub is what Kohler offers with the Archer tub model. It is a soaking bathtub, perfect for your "me-time" to unwind and relieve stress on a weekly basis.
This measures 60 by 30 inches with smooth white finish. It has a rectangular shape with curved edges and bases for that sophisticated look.
Highlighted Features:
Made from acrylic material with quality enamel coating
Soaking bath therapy type but has a drop-in installation style
Can hold water up to 57 gallons
Made in the U.S.A.
With 1-year product warranty
You can also get this model in other finish choices, from Almond, Ice gray, Cashmere, and a lot more.
It's an ADA compliant bathtub, so people with disability can safely use the tub
2.  Kohler Bellwether Alcove Soaking Bathtub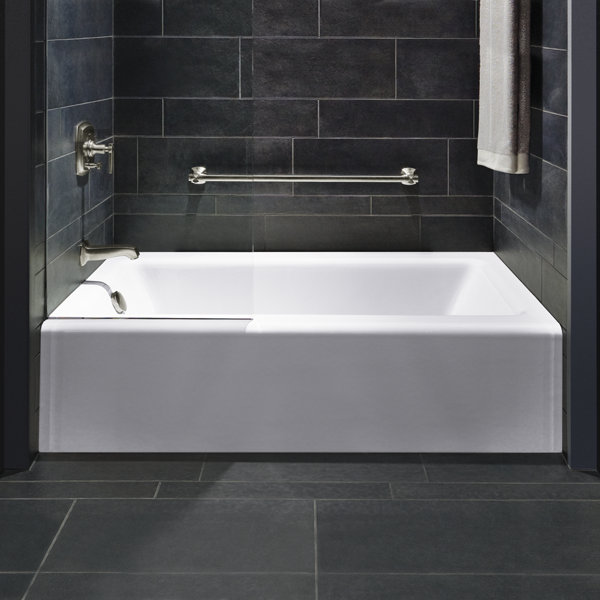 Bellwether is the tub of choice for those seeking a classic cast iron bathtub. This is a soaking bathtub with rectangular shape.
The installation style of this bathtub is either alcove or tile in. It is best placed with its back to the wall. It has a total dimension of 60 by 32 inches.
Highlighted Features:
Made from premium cast iron material
Holds up to 44 gallons of water
Made in the U.S.A.
Also available in five different finish options, namely: white, almond, biscuit, sandbar, and dune
This bathtub has an overflow drain with the drain placement on the left.
With limited lifetime warranty
3.  Kohler Underscore Drop-In Bathtub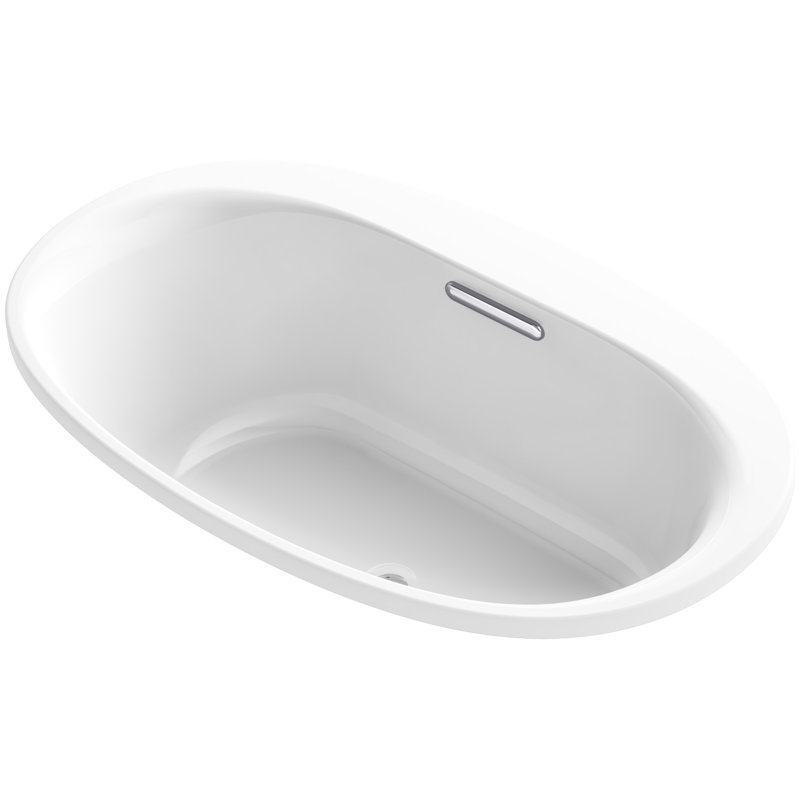 If you want to upgrade the look of your bathroom, then the easiest way to do so is to choose a bathtub with attention-grabbing shape. Just like this Underscore bathtub model by Kohler.
This is a drop-in bathtub with smooth curve edges and base. It's a great tub if you're looking for a statement piece in your bathroom, something that you can put in the middle of the room.
Highlighted Features:
This has a smooth oval shape with refine finish and style.
Has an overflow drain
The backrest is slightly sloped to support your back's natural curve as you relax and get comfortable in the tub.
Made from durable Exocrylic material
It's drain placement is at the center.
Water capacity is up to 72.017 gallons of water for that refreshing deep bath
Made in the U.S.A.
With 1-year warranty program
Has a lot of finish choices to suit well with your existing bathroom interior
4.  Kohler Archer Alcove Whirlpool Bathtub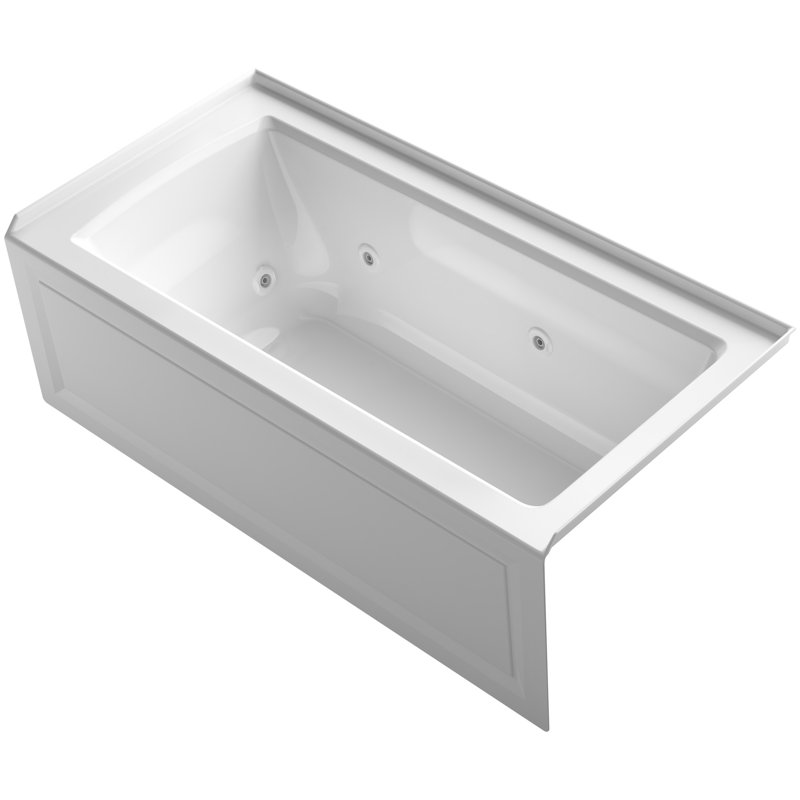 There is nothing more satisfying than having your well-deserved soak and a relaxing hydrotherapy at the same time. If you want to achieve that and more, then this whirlpool Archer bathtub by Kohler is your perfect match.
This is an alcove bathtub with a classic rectangular shape. This is one of the best-selling whirlpool bathtubs from the Kohler brand.
Wondering what makes this acrylic bathtub a hit?
Highlighted Features:
The acrylic material used in this tub is highly durable and has thick enamel coating. This makes the bathtub long-lasting.
The drain placement can be placed on the left or right side, depending on your choice.
Has a comfortable depth to make the most of your whirlpool tub experience
All 8 water jets are fully adjustable and are located strategically to give you an ultimate hydromassage.
Has a lumbar support so that you can lie down in the tub comfortably
This also has an overflow drain, so it's suitable for deep soaking.
Equipped with a reliable pump that keeps those water jets running
Fully compatible with other products in the Archer collection
5.  Kohler Greek Drop-in Soaking Bathtub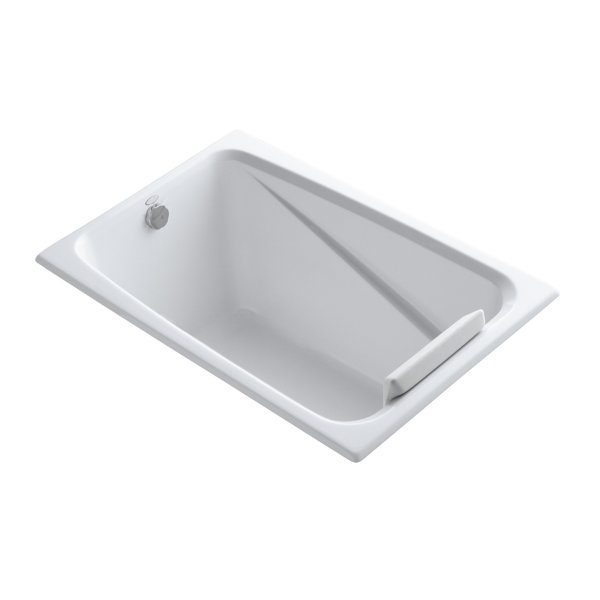 A beautifull design and well-thought construction are what you can expect from the Greek bathtub by Kohler.
Just as the name entails, this 48 by 32 inch bathtub is perfect for those longing to have their Grecian getaway but has a full schedule of work. This bathtub is one of the best Kohler bathtubs with a deep basin.
You can soak your entire body in this tub. And did we mention that this is a space-saving tub too?
Highlighted Features:
Made from enameled acrylic material that is both durable and sturdy
The drain placement of this tub is reversible, either left or right.
With its extra deep basin type tub, you can have a full-body soak any time you want.
It is a drop-in, three wall alcove installation style, thus covering only space. Perfect for smaller bathrooms!
Made in the U.S.A.
Can hold up to 68 gallons of water
Has 1-year product warranty
This is also a bathtub certified by UPC or Uniform Plumbing Code, which guarantees the product's top-notch plumbing and construction.
6.  Kohler Tea-For-Two Soaking Bathtub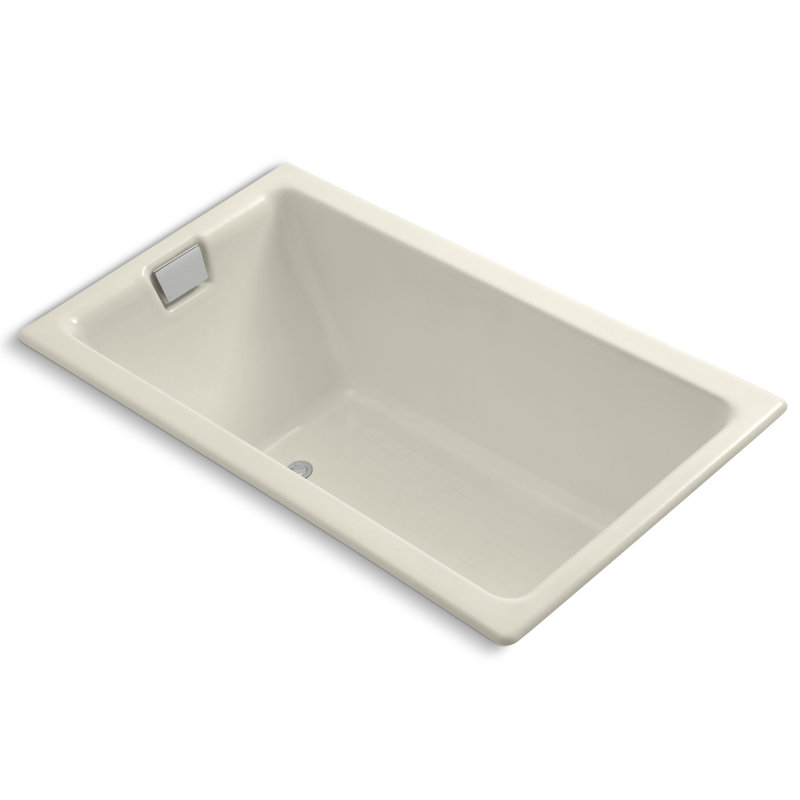 Tea-for-two bathtub by Kohler is a soaking bathtub that has bigger space to accommodate up to two people.
This is the best Kohler bathtub for couples who want to make bathtub soaking experience even more special and intimate.
This has a total size of 66 by 36 inches. The timeless rectangular shape of the tub allows you and your partner to fully stretch your body for an optimum relaxation.
Highlighted Features:
Made in the U.S.A.
Can hold up to 105 gallons of water
Made from cast iron with enamel coating for added durability
The drain placement can either be on the left or right.
The tub is best installed with its back to the wall.
Has exceptional plumbing work tested and approved by the UPC or the Uniform Plumbing Code
Also available in 9 different colors
Looks really fabulous and has excellent condition
7.  Kohler Iron Works Historic Freestanding Bathtub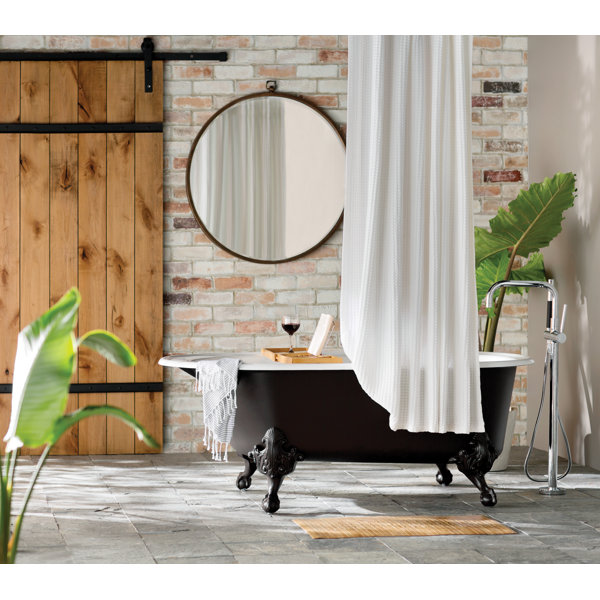 For those people who want a bathtub that can be used both indoors and outdoors, a freestanding bathtub is your best pick.
Freestanding tubs are perfect for bathroom with balcony. These tubs allow you to see the beautiful view outside. This 66 by 36 inches bathtub is particularly popular in mountain resorts and hotels.
Highlighted Features:
This is a very stylish tub that can be the ultimate statement piece in your bathroom.
The oval shape is a refreshing sight to see, a big contrast to the traditional rectangular shape bathtub.
Made in the U.S.A.
This is one of the Iron Works Collection of Kohler, which has exceptional cast iron material.
The drain placement is reversible (left and right)
Has a lumbar support for your comfort
Features Kohler's Safeguard slip-resistant surface tub floor
Holds up to 64 gallons of water
Has beautiful and smooth curved edges
Conclusion
A beautiful and intricate looking bathtub can instantly change the look of your bathroom. This is why interior designers only recommend the best bathtub style to their clients.
If you want to experience a hotel-like bathtub experience, then the Kohler Iron Works Historic Freestanding Bathtub is the one for you. For those who want a tub that can ease muscle pain and fatigue, the Kohler Archer Alcove Whirlpool Bathtub is the best choice.
Have you found your best Kohler bathtub yet? Let us know in the comment section below!