No matter what type of bathtub you choose, one thing is for certain: a bathtub is an expensive piece of equipment yet a wonderful addition to anyone's bathroom. Ranging in size, shape, and function, everyone is on the lookout for the best bathtub that meets their needs exactly. Very often, they will take a look at some of the best acrylic bathtubs around. There are many reasons why people are on the lookout for the best acrylic bathtub they can afford, and we are going to tell you why.
The How of IT
When comparing an acrylic bathtub with those made of other materials, you have to remember that you are dealing with a modern type of construction. These bathtubs are molded from acrylic sheets into just about any shape of bathtub you can imagine. Depending on the process, however, you usually find that these acrylic bathtub shells are then backed by a layer of fiberglass that not only reinforces them but gives them some added strength in the process. The end result is a beautiful bathtub in any shape or form that weighs a fraction of what a more traditional cast iron tub would weigh.
How Long do Acrylic Bathtubs Last?
How long your best acrylic tubs last depend on a number of things. Of these, the two main issues are installation – was it done 100% correctly, and of course, how well you take care of it. If you take good care of your acrylic bathtub, and the installation process was done right, you could sit with a bath that looks great for upwards of thirty years! This would probably be well past the time you decide to do some new remodeling.
The Hues
Acrylic bathtubs come in different hues. These colors are not painted on, because they are colored while the acrylic is still in the raw state. This means that the acrylic used to make a bathtub is already colored before the bath itself is molded. The end result is a bathtub that is evenly colored.
Why You Should Consider Installing an Acrylic Bathtub
1.  It fits any space
Acrylic bathtubs are easy to mold to fit just about any shape, size, and most importantly, space. So whether you are looking for something to fit into a little niche in your bathroom or something large that holds a few people, for example, a spa, you are sure to find something suitable made out of acrylic.
2.  It fits your décor
Besides being available in different sizes and shapes, acrylic bathtubs come in many different styles and colors. This means it is relatively easy to find the perfect bathtub that suits not only your bathroom size but also your décor scheme in general.
3.  It is great at retaining heat
Besides the fact that an acrylic bathtub tends to have a smooth surface, it is also warm to the touch as compared to a bathtub made out of cast iron, for example. Its great heat retaining ability means that it keeps the water warmer for longer, so you do not have to let water out while adding warm water to keep your water temperature up. In the long run, you not only save on your water bill but your electricity costs as well.
4.  It is relatively lightweight
Because an acrylic bathtub is made out of a lightweight material, you do not have the building considerations to deal with when you wish to install a bathtub made out of an older, more traditional product such as cast iron. This means you could most probably install a bathtub on your first floor without having to dish out extra money on building costs to reinforce the floor of your bathroom.
5.  Fixing scratches is not difficult
The easiest way to prevent your acrylic bathtub from scratching is to make sure you use non-abrasive products when cleaning. Other bathtubs, however, see surfaces chip. Getting these chips fixed may be difficult, not to mention expensive. With an acrylic bathtub, however, scratches can usually be polished out quite easily or filled in with acrylic.
6.  They can be made sturdier
A bathtub made only from acrylic may be a little flimsy for some people. However, if this is your concern when considering an acrylic bathtub, take a look at those that have a fiberglass reinforcement. These are much sturdier and durable, although they may be a little pricier.
Our Team's Acrylic Bathtub Reviews
Before ever making a decision to buy something for the home that is quite pricey and that you most probably need to live with for a long time, reading reviews is the place to start. Not only does it give you a good idea of what is available, but it gives you a clear indication of pricing and benefits as well.
1.  Aqua Eden Soaking Bathtub by Kingston Brass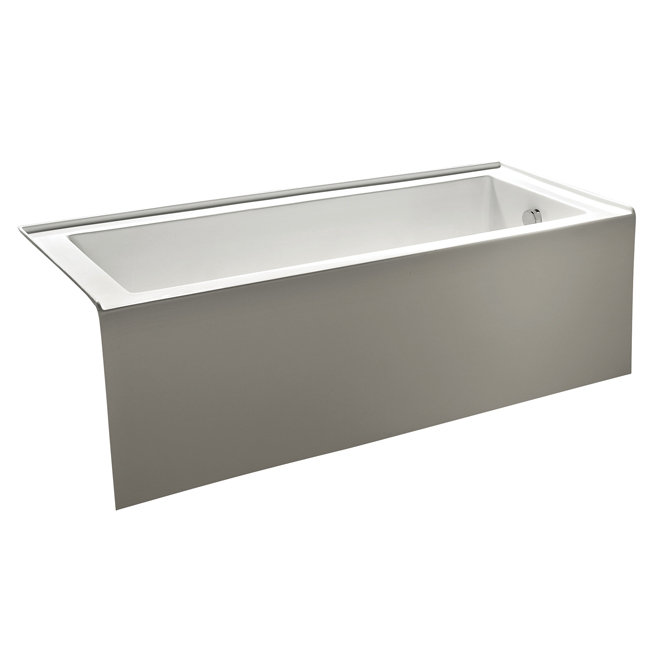 Made from solid acrylic, this alcove bathtub is durable, and most importantly, reliable. The large soaking area given by this bathtub is also most definitely worth a mention.
The best features of this bathtub include:
No tiling needed on the bath's outsides
The tub snugly fits into an alcove and has an apron
Great to use with an above-bath shower
You can choose either a left hand or right-hand drain placement
See more: Kingston Brass Bathtubs on Wayfair
2.  Archer Alcove Soaking Bathtub by Kohler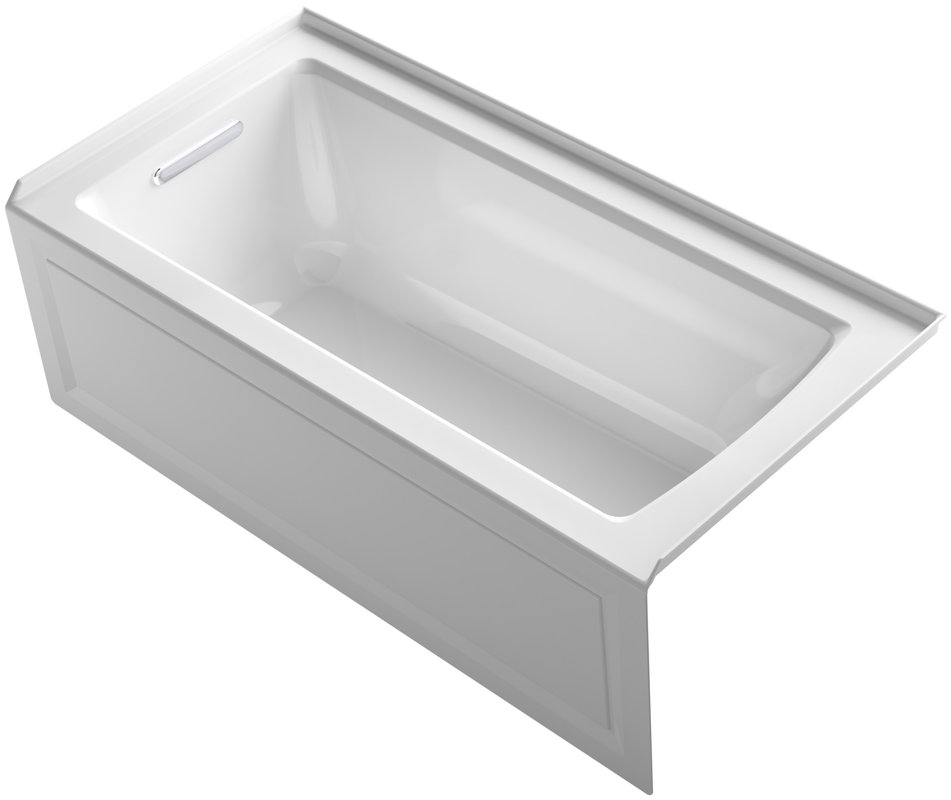 This bathtub has a sophisticated beveled edge and curved base design. The lower step-over height means easy access with deep, comfortable soaking. An added bonus is the lumbar arch that supports your body while soaking.
The best features of this bathtub include:
A nineteen-inch step-over height with a 21-inch depth
Molded lumbar support for extra bathing comfort
An integral surrounding apron
The bottom surface is textured to prevent slipping
Drain placement is either to the left or right
See more: Kohler Bathtubs on Wayfair
3.  Drop In Soaking Bathtub by Fine Fixtures
The drop in design of this bathtub also features an inclined backrest for lumbar support. This bathtub is made of lightweight acrylic yet reinforced with fiberglass, making it durable yet stain and fade resistant.
The best features of this bathtub include:
The bathtub has an inclined backrest for added comfort and support
It has a self-leveled base
It can be installed to the wall with a tile flange around
You can tile the side of the tub
An overhead shower can be installed
It can accommodate a glass shower door
You can drill the rim of the bathtub in order to install a faucet if you so desire
You can choose either a left or right drain placement
See more: Fine Fixtures Bathtubs on Wayfair
4.  Mermaid Freestanding Soaking Bathtub by Wyndham Collection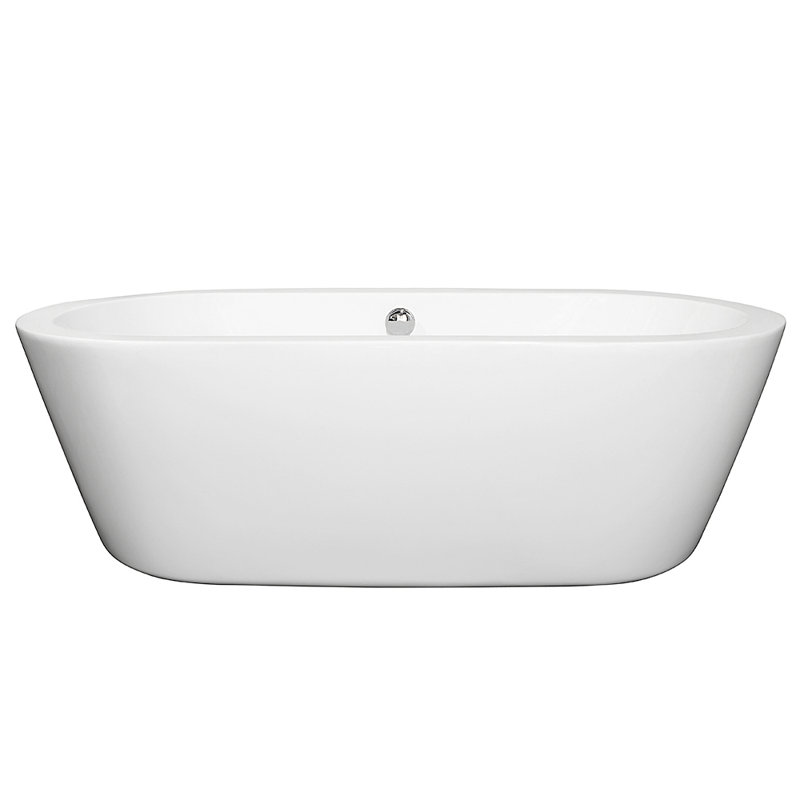 This acrylic bathtub is a freestanding tub.  The simple lines make it great for those with a contemporary style that speaks sophistication.
The best features of this bathtub include:
Easy to install as it is a freestanding bathtub
The adjustable base ensures accurate leveling and stability
Has a huge 63 gallons capacity
Has a wide, flat edge on which to place your bathing paraphernalia
Has a 130-degree slope for comfort
Large enough to hold two adults of average size
Center drain placement
See more: Wyndham Collection Bathtubs on Wayfair
5.  Jacqueline Soaking Bathtub by Vinnova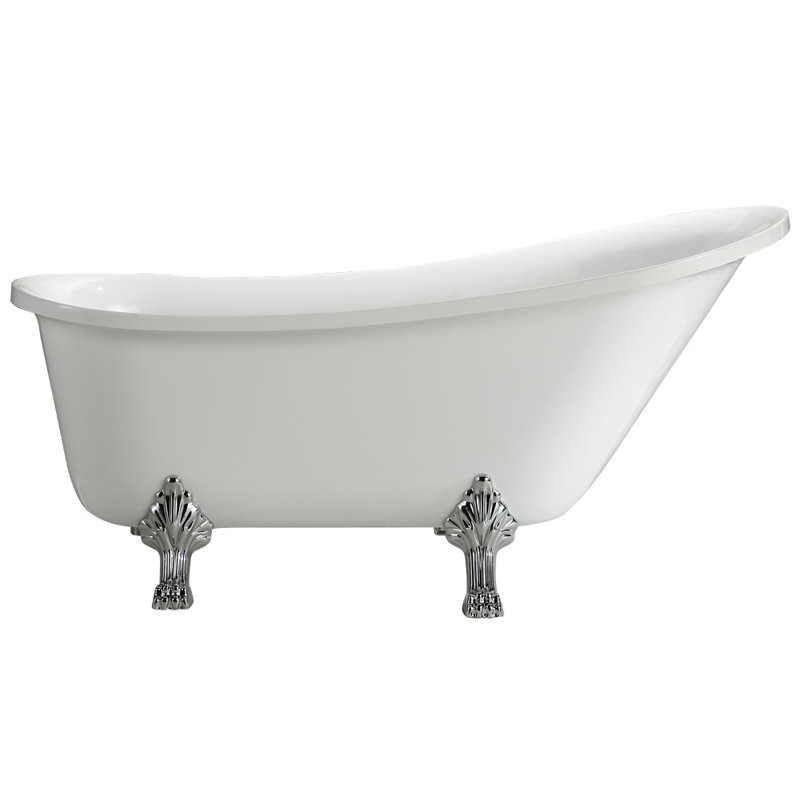 The Jacqueline acrylic bathtub has an old-fashioned, freestanding design reminiscent of the Victorian era. Standing on self-leveling legs, the ornate feet in their gleaming silver finish that contrasts with the pristine white finish of the tub itself promises long, luxurious soaks.
The best features of this bathtub include:
A gleaming white finish
Shiny silver claw feet that self-level
A sloping shape that adds comfort
A flexible drain hose
Reversible drain placement
See more: Vinnova Bathtubs on Wayfair
6.  Sparta Soaking Bathtub by Clarke Products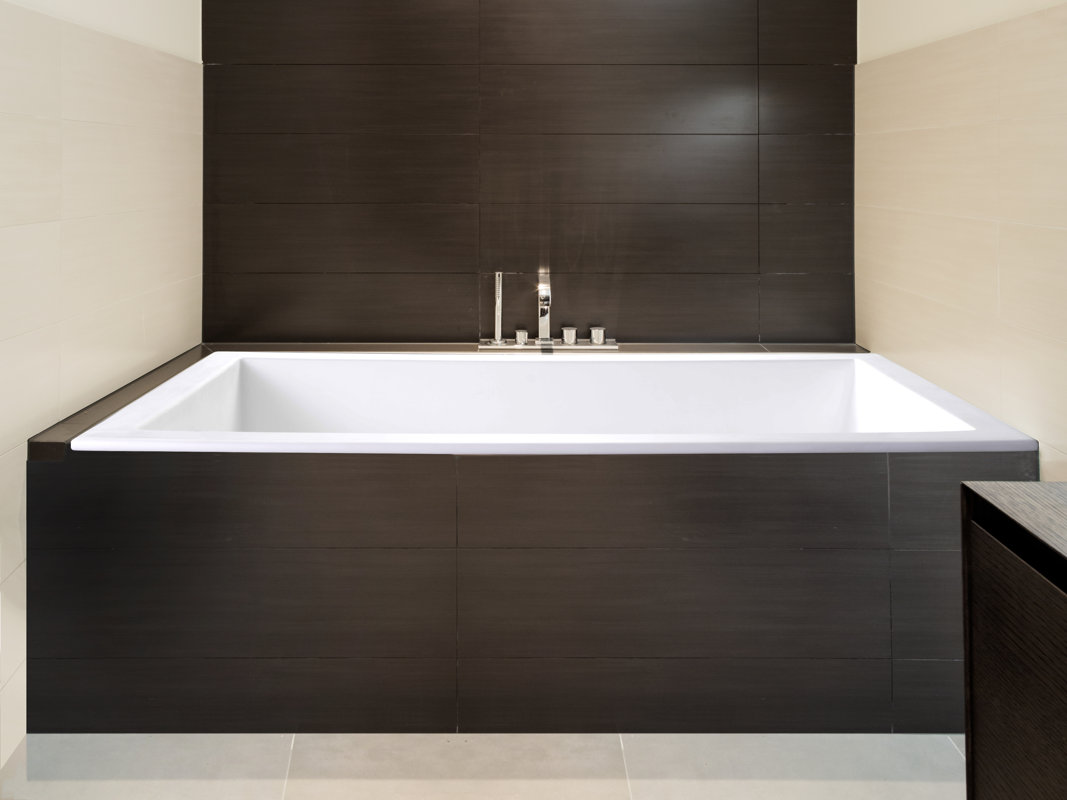 The Sparta is a drop in tub that sports a sophisticated design. It is aimed at someone who loves a more sleek, elegant, modern style without giving up on comfort.
The best features of this bathtub include:
A modern, clean design
A pre-leveled base that makes for a better installation
Can easily be used together with a shower
See more: Clarke Products Bathtubs on Wayfair
7.  Soaker Corner Bathtub by American Acrylic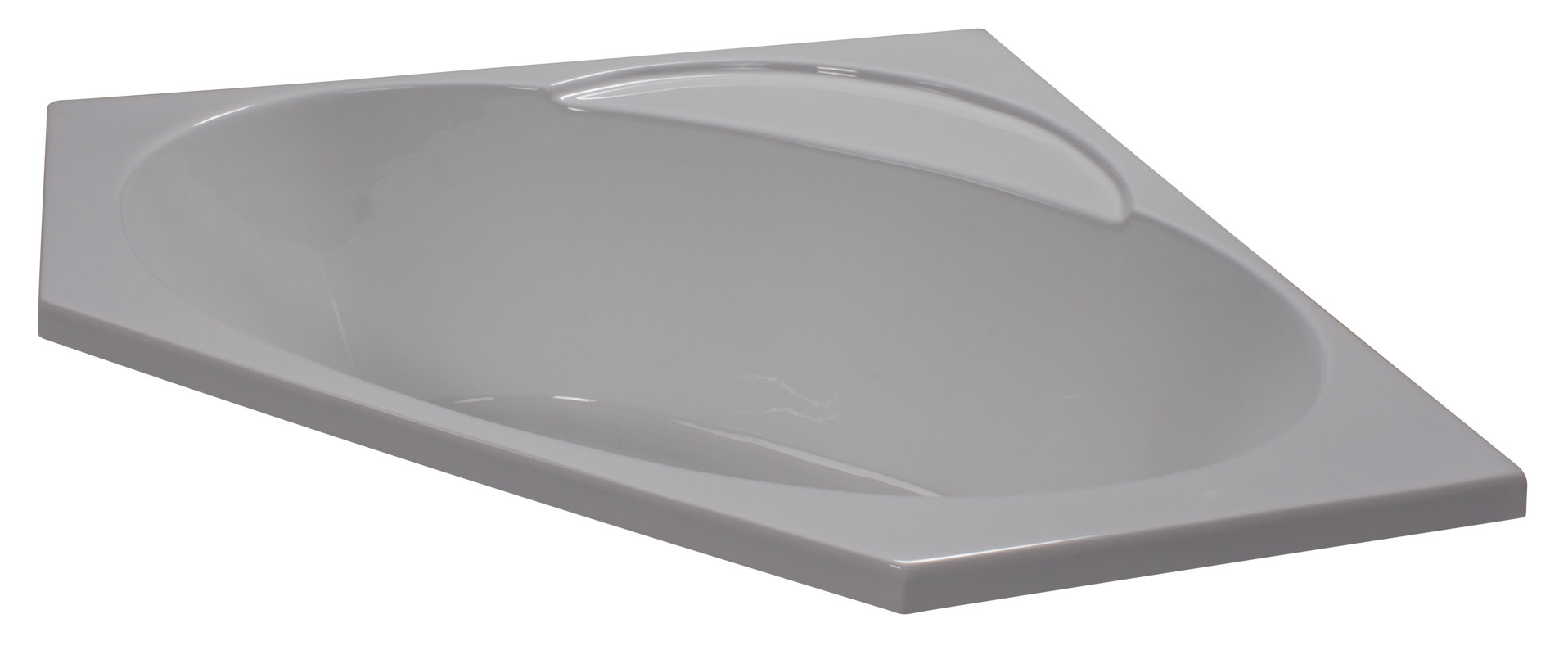 This is a great space-saving corner bathtub that fits snugly into a corner without taking up too much floor space. It has a clean, curved design that will fit most into most people's bathroom decors.
See more: American Acrylic Bathtubs on Wayfair
The best features of this bathtub include:
It is an oval-shaped corner bath made of premium acrylic
You can choose from a range of finishes chosen to blend with your bathroom décor and color scheme
The tub is slip, scratch, rust, chip, tarnish, fire, and stain resistant
It has anti-microbial as it affords no areas where moisture can gather
It is low maintenance and easily cleaned with mild abrasive products
The tub has a 70 Gallon water capacity
It is an insert
You can install a door in order to have a bathtub and shower combination
Drain placement is at the center
8.  Freestanding Soaking Bathtub by Vanity Art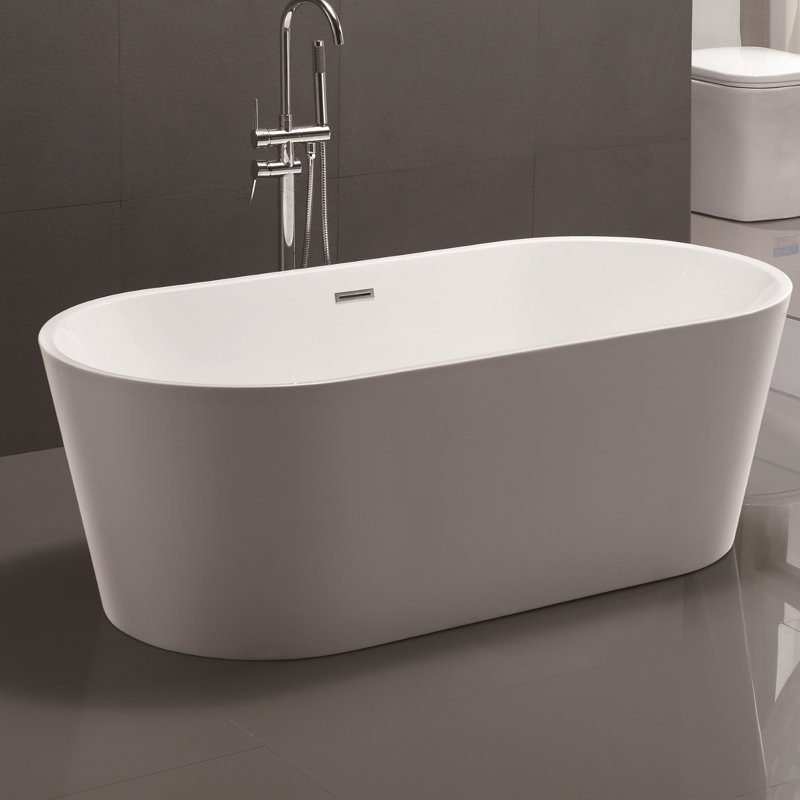 Here we have a freestanding, contemporary soaking bathtub that is self-leveling. It is finished in white and UPC certified.
The best features of this bathtub include:
It has a clean, contemporary style
A flexible hose drain is included with purchase
It is self-leveling
It is easily installed on a concrete slab
Made of durable acrylic
Has a center drain placement and an overflow drain
See more: Vanity Art Bathtubs on Wayfair
9.  Freestanding Soaking Bathtub by WoodBridge
This is a beautifully designed freestanding bathtub with a slipper effect that sports a modern twist.
The best features of this bathtub include:
To be used with freestanding faucet
Made of acrylic with a fiberglass backing for extra strength
It has a slipper bath design
It sports an overflow drain and left drain placement
See more: Woodbridge Bathtubs on Wayfair
10.  Salina Freestanding Whirlpool Bathtub by Spa Escapes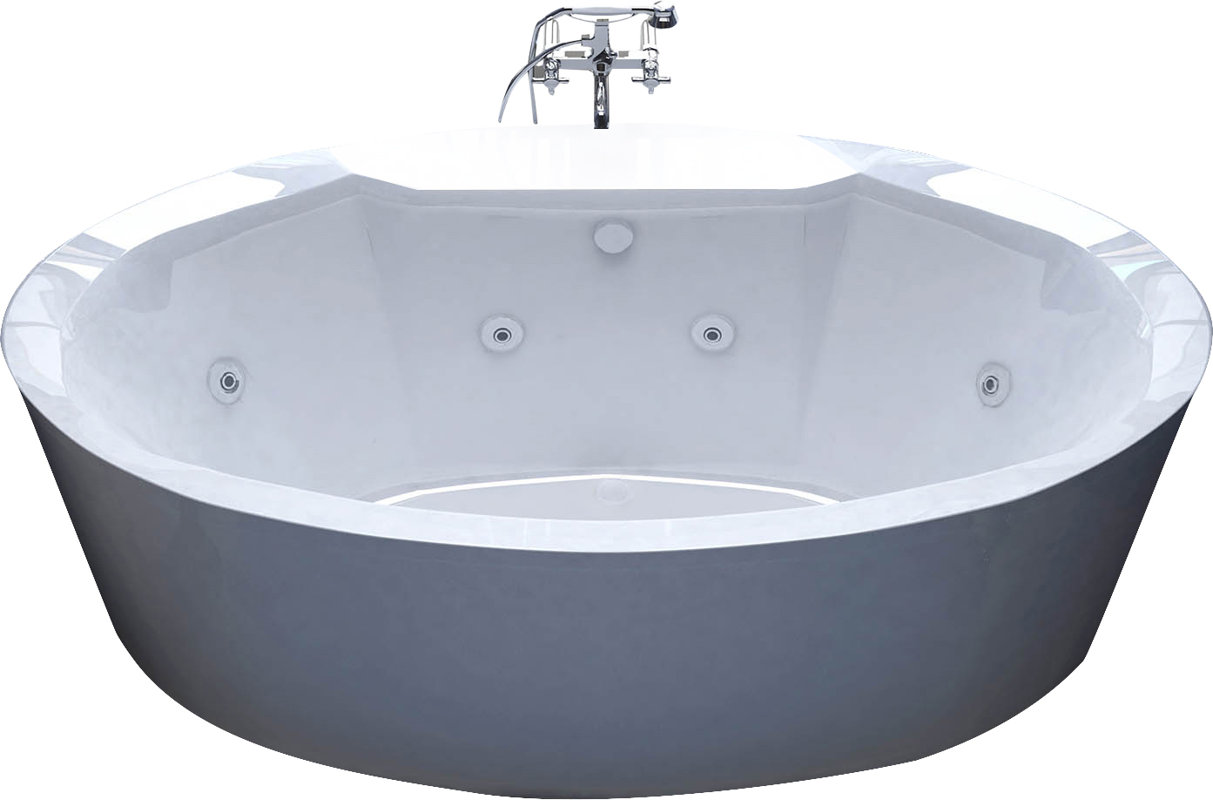 If your idea of the perfect acrylic bathtub is a whirlpool bathtub then this freestanding one from Spa Escapes is definitely worth taking a look at.
The best features of this bathtub include:
It is of a freestanding design
The acrylic design is reinforced with fiberglass and the acrylic shell piece is removable
The tub has an oval-shaped interior
The drain placement is to the center
This contemporary whirlpool tub has in-line heaters and adjustable jets
See more: Spa Escapes Bathtubs on Wayfair
11.  Whirlpool Bathtub by Ariel Bath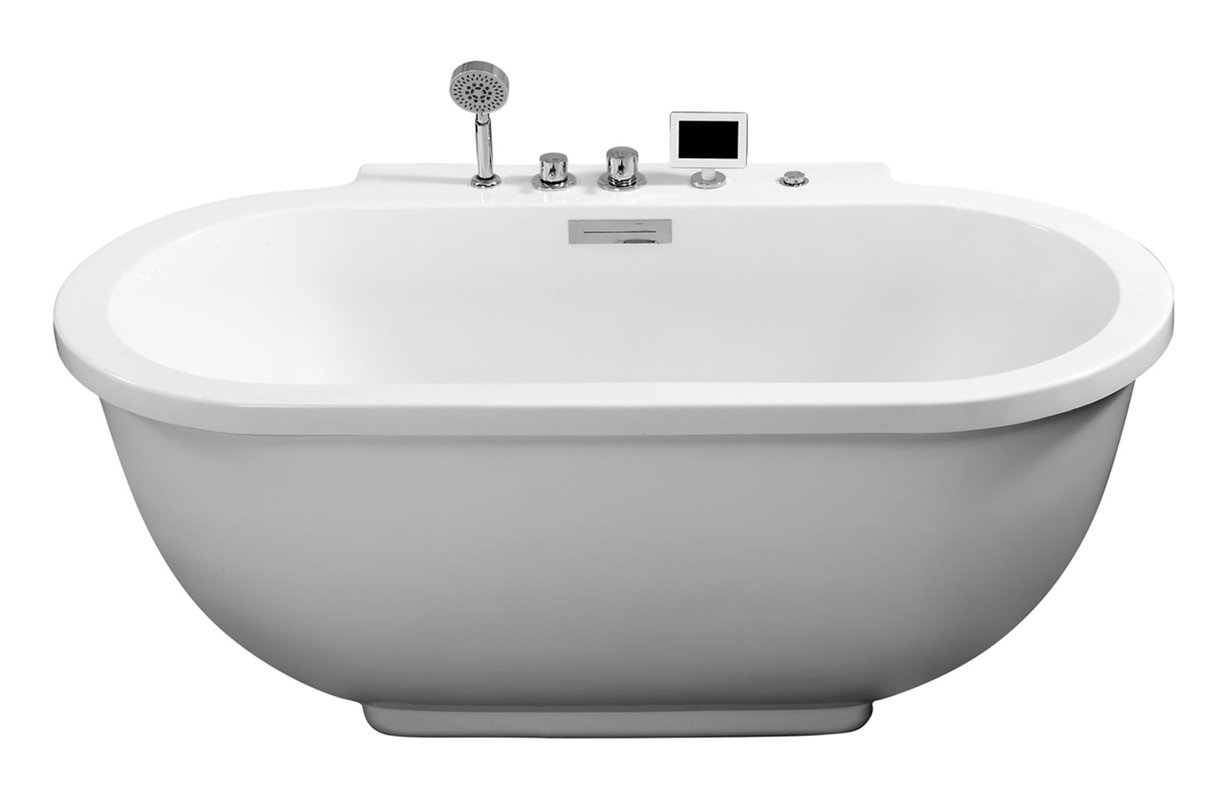 This whirlpool bathtub is sleek, elegant, and highly functional. Add to this the state-of-the-art hydro massage system and radio, and you have a relaxing, imminently enjoyable bathing experience.
The best features of this bathtub include:
This bathtub features a sleek and elegant design
It is a freestanding whirlpool tub
This whirlpool bathtub is made from acrylic and enameled steel for sturdiness and durability and sports a gorgeous, sophisticated white finish
The oval shape and wide surface allows for complete emersion
Extras include a handheld showerhead, thermostatic faucet for temperature and water adjustment, and a radio
The automatic pipe cleaning mechanism combined with the ozone disinfecting cleaning system keeps your bath germ free
It is easy to clean using a mild abrasive product
See more: Ariel Bath Bathtubs on Wayfair
FAQ
Do acrylic bathtubs come in different colors?
Yes, they do. They can come in just about every color under the sun, although most manufacturers tend to stick to those colors that are fashionable at the time. It is worth looking around though if white is not your preferred color of choice.
Conclusion
An acrylic bathtub gives everyone the opportunity to have a bathroom that looks lush, is fashionable, and most importantly, gives you the opportunity of having a wonderful long soak. Choosing the best acrylic bathtub, however, is a matter of personal preference, your style, your décor, and most importantly, the space available in your bathroom. Our personal favorite for this title, however, is most definitely the AM128 71″ x 37″ Whirlpool Bathtub by Ariel Bath. Not only does this bathtub have an elegant, sophisticated design, but the additional fact that it is a whirlpool with extras makes it a surefire winner in anyone's book.