Want to take the aesthetic look of your bathroom into a newer height? If so, you need to see how tub fillers do their magic. The thing is, how will you find the right one for your preference? Of all bath filler reviews,  this could be the one to help you.
Tub fillers are a vital piece of fixture to provide you with a spa-like experience. However, finding the right product is not an easy task. In this article, we will provide you with some pointers when looking for one and suggest you the best bath fillers in the market right now.
Introducing the Best Bath Fillers this 2021
1.  Trinsic Single Handle Floor Mounted Freestanding Tub Filler From Delta Shop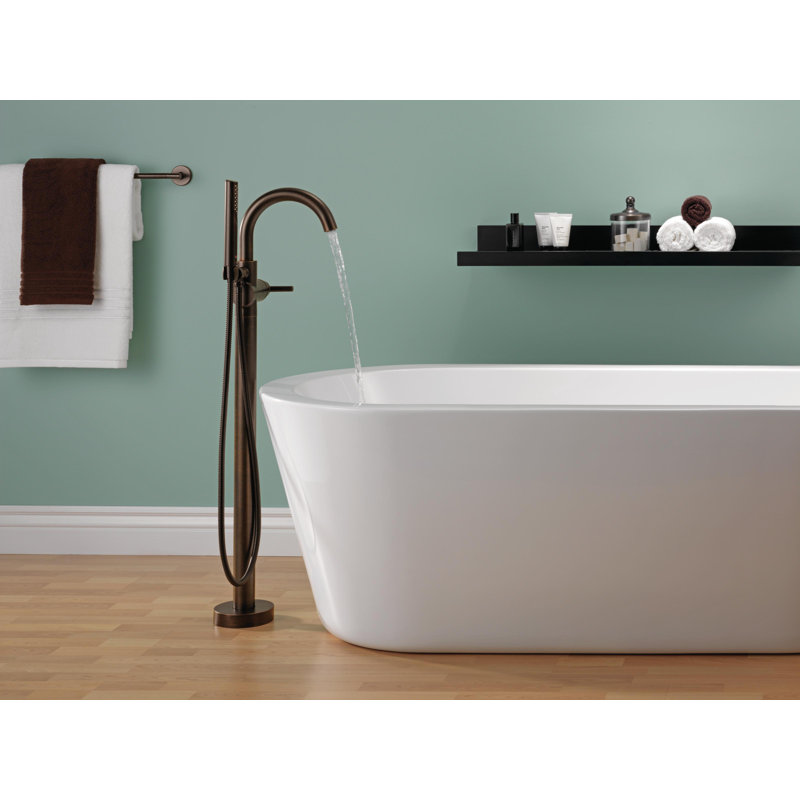 The first product we have in this list is the Trinsic Freestanding tub filler which is perfect for upgrading your bathroom. It comes with a separate hand shower and has an 8-inch reach along with an 80-inch hose. Aside from that, it also has a convenient knob which serves as a diverter switch to direct the flow of the water.
It is way taller than other similar products out there
The hose on the shower heads is 80 inches long
There are specific finishes that match only with Delta products
It doesn't have a scald prevention built-in
2.  Double Handle Floor Mounted Freestanding Tub Filler From Akdy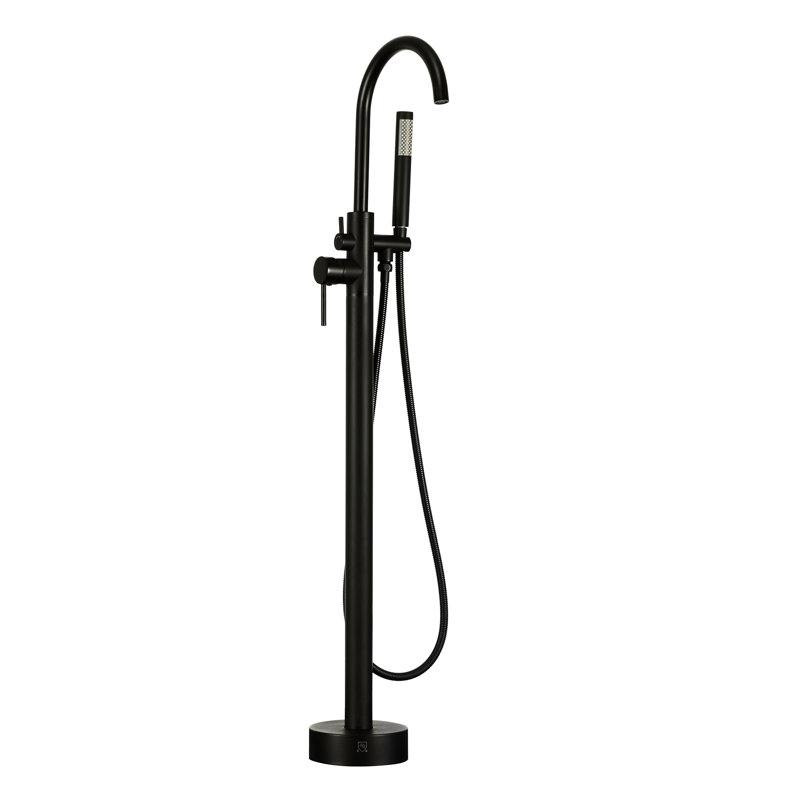 One of the best bath fillers you should take into account is this 2-Handle Freestanding Tub Filler. This stunning model features a lovely matte black finish to give your bathroom that modern look. Moreover, as it's made of stainless steel and brass material, you're rest assured that it would last for a long time.
On top of that, it also boasts of two levers on the left, offering easy control over the temperature and flow of the water.
Its handheld shower wand has 67 nozzles, giving maximum water flow
The matte black design is so sleek
It is way affordable than other similar products
It does not include rough-in valve and cartridge
3.  Single Handle Floor Mounted Freestanding Tub Filler From Vanity Shop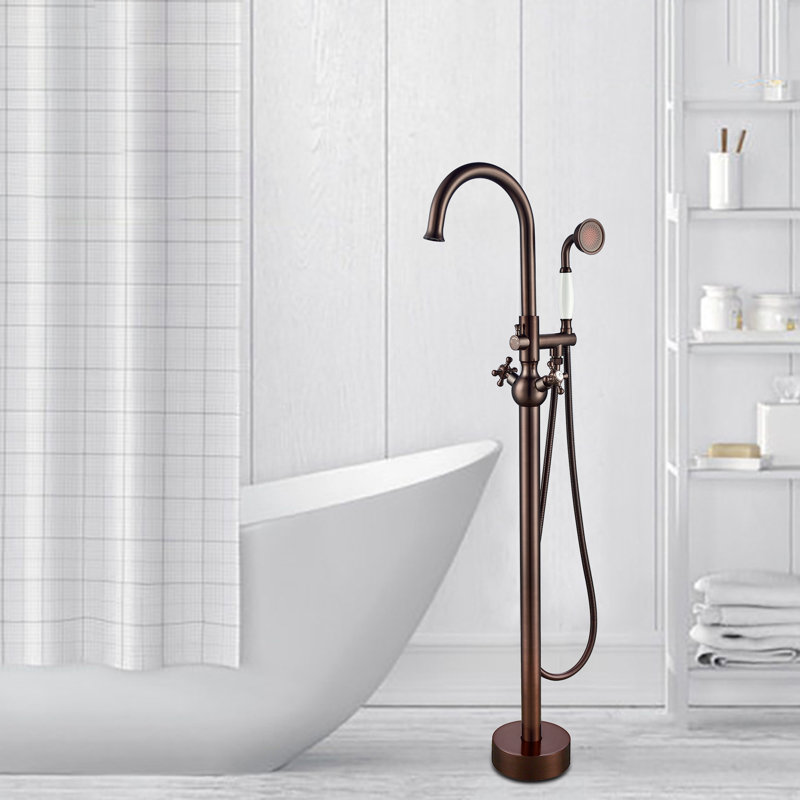 This is one of the best freestanding bathtub fillers you can find on the market right now, especially for those who want to give their vanity haven a quintessential appearance. Installation is very easy, not to mention it is quite durable as it's made from brushed brass.
Reliable and durable construction
Its hose can reach 40 inches
The hand shower is already included
The hand shower gets too hot when using. Although it has a ceramic handle, touching outside that handle can cause your skin to burn
Its base is too small
4.  Averen Shop Kebo Double Handle Freestanding Tub Filler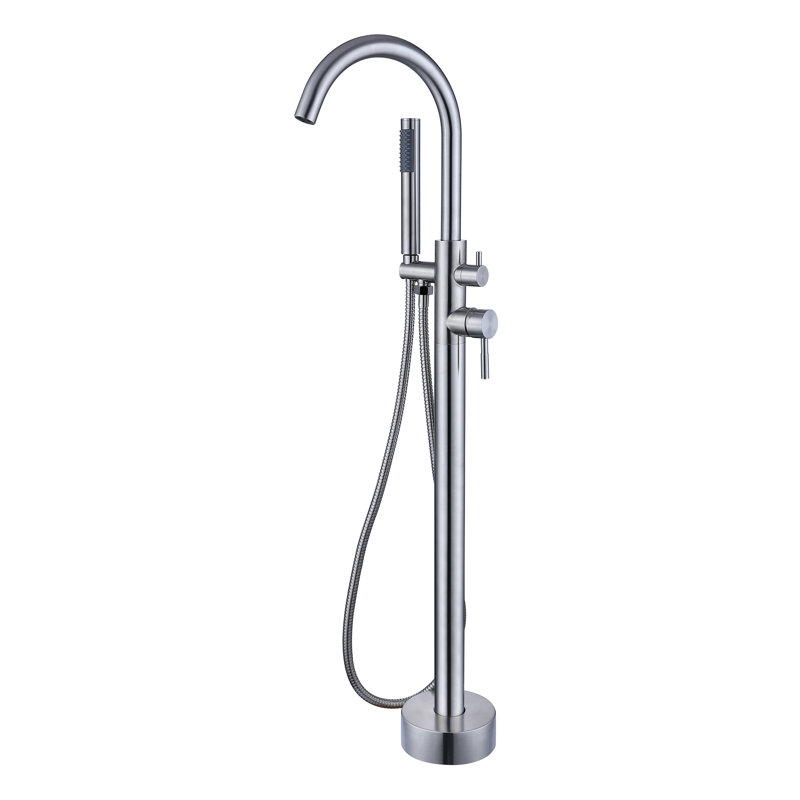 When it comes to elegance and minimalism, nothing can be compared to this bath filler.  This modern and sleek model features its high-quality ceramic cartridge. Crafted out of stainless steel, you are ensured that it will be a good investment. Additionally, it is also packed with temperature control as well as a tubular handheld showerhead.
Installation of floor mounting is easy
Its hoses and trim plate are flexible
It also comes with instruction and retail box
5.  Kingston Brass Double Handle Floor Mounted Freestanding Tub Filler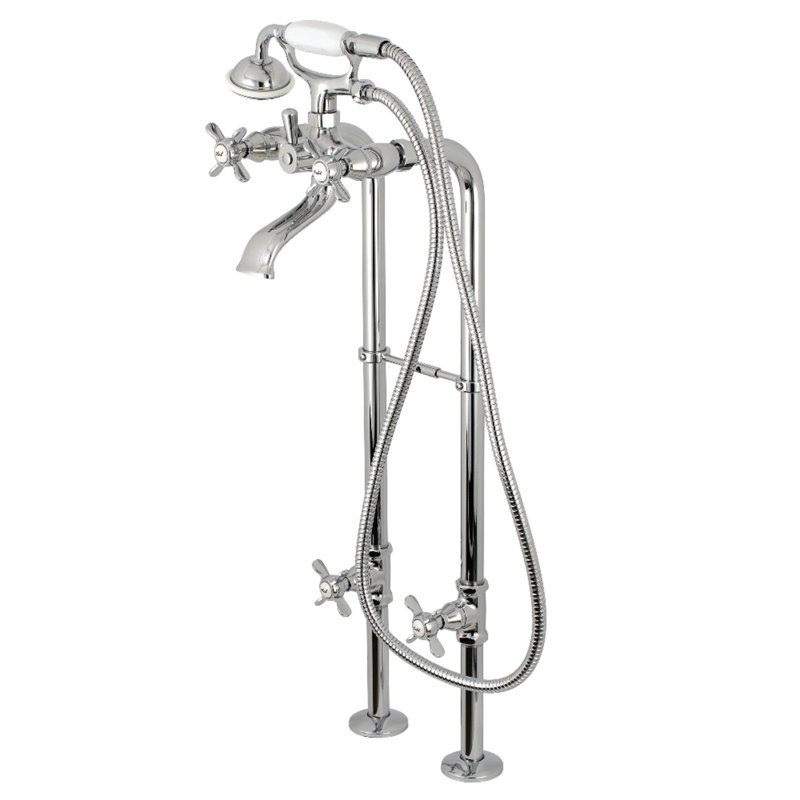 Faucets are one very important part of your home as they bestow water. Therefore, it is vital to properly keep your faucet in a good working condition. If you're looking for one of the best bath fillers out there, then you just can't go wrong with the Kingston Brass' 2-Handle Freestanding Tub Filler.
The package includes a stop valve, supply line, and handle. Moreover, the manufacturer made sure you can use this for several years through its solid brass material. It has a flow rate of 7 GPM, ensuring that it can supply you with the water pressure you desire.
Made from solid brass, making it sturdier than other tub fillers
It has a corrosion-resistant finish
Its water flow rate is 1.8 GPM/6.8GPM
Comes with a cartridge and rough-in valve
It tends to leak sometimes
6.  Kohler Kelston Floor Mounted Trim Freestanding Tub Filler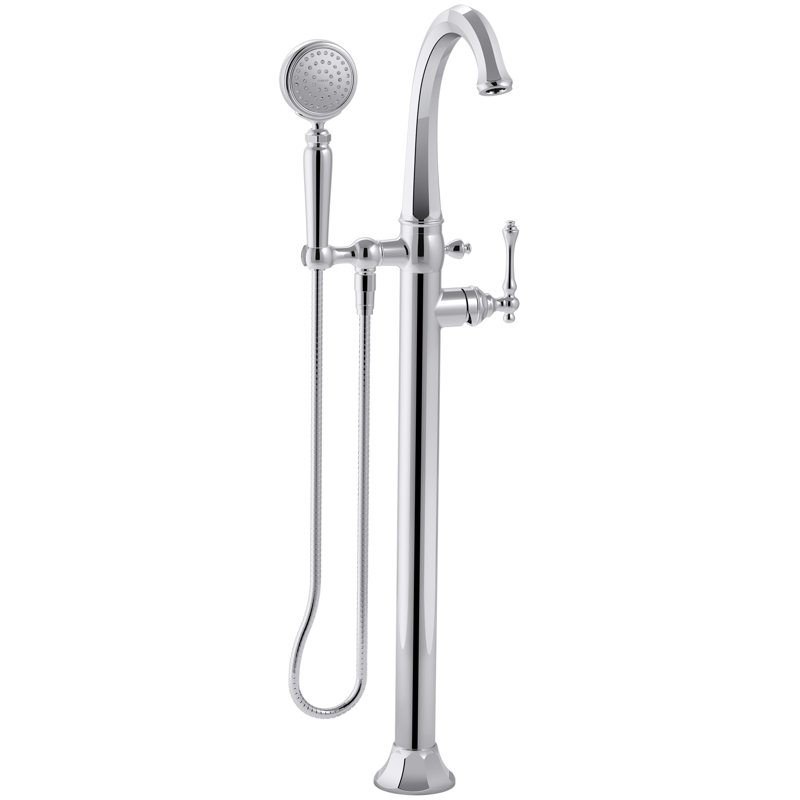 Your bathroom won't be complete without a quality tub filler, and this one from Kohler is an excellent option. Unlike other overflow bath fillers, it won't peel off or rust as it specifically designed to be corrosion-resistant.
It doesn't just end there though, as this tub filler can also help you in the kitchen through its disc valve. Boasting of its flow rate of 6 gallons every minute, you will surely love the steady water flow it can offer.
The company took pride in its product quality and durability. Hence, they offer a lifetime limited warranty.
Modern and sturdy design
Great performance
Its hand sprayer can sometimes leak water
7.  Pfister One- Handle Floor Mounted Tub Filler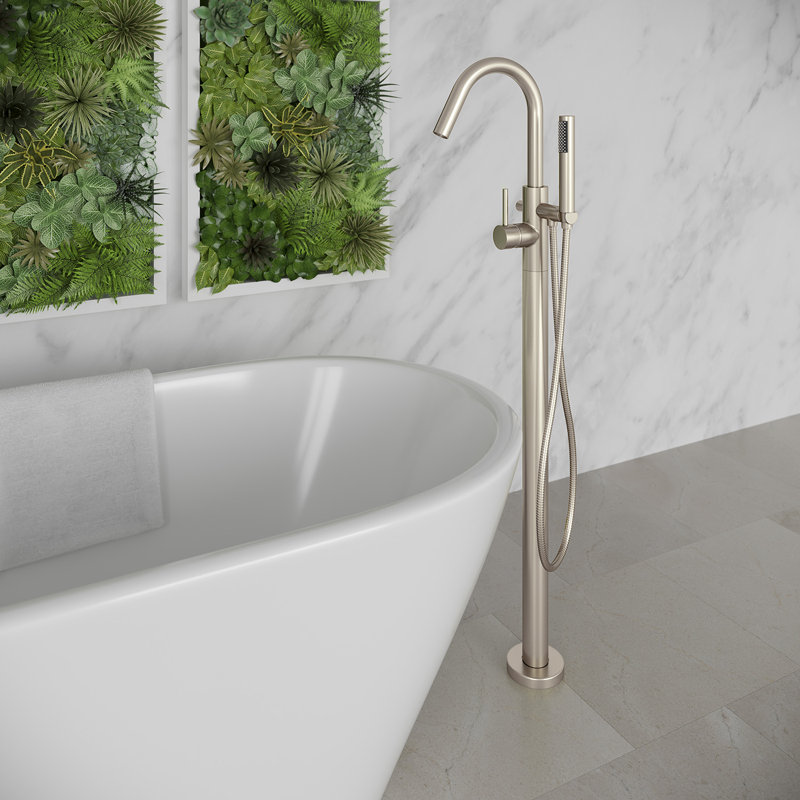 Pfister made sure that you won't be disappointed with this product. Hence, if you are looking for something that would last for several years, this one is perfect for you. It highlights a sophisticated and modern spa haven, and it even comes with a handheld shower in the package. Also, it comes in different finishes namely brushed nickel, polished chrome, Tuscan bronze, and polished nickel.
It features a modern look
It is constructed from durable metal
It comes in different varieties, giving you the freedom to pick which one suits your bathroom style
It's pricier than other products
It needs a specific valve
8.  Keeney Manufacturing Company One-Handle Freestanding Tub Filler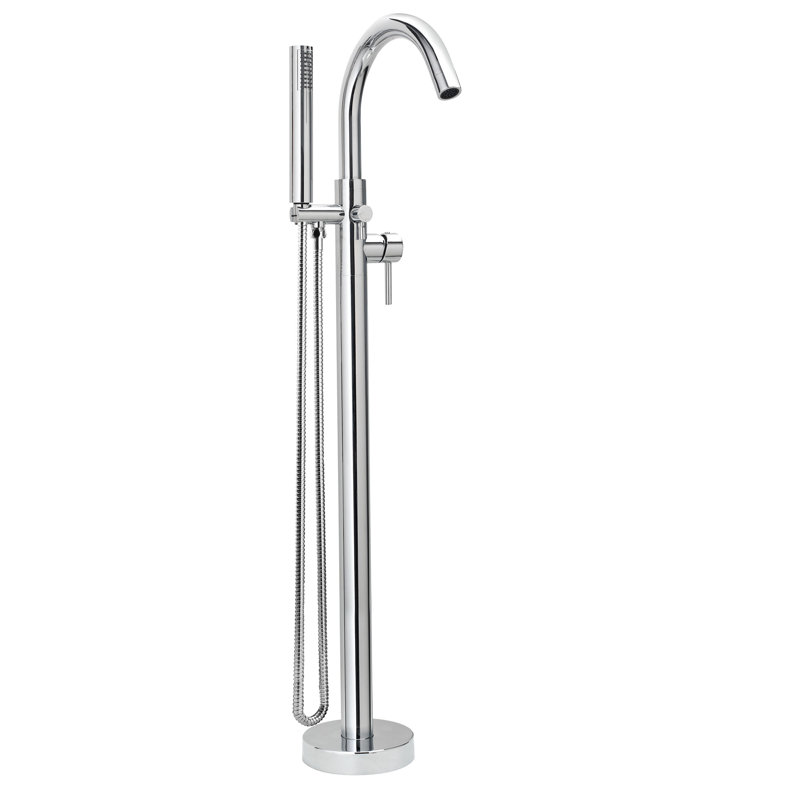 Hunting the best freestanding bathtub filler? If so, then this product from Keeney is a solid choice. Aesthetically tailored to increase the value of your home, this bath filler aims to offer luxury and elegance without breaking your bank. Its modern design provides a more relaxing feel, and it's even made of steel to ensure that it will last for several years.
It is so easy to install and clean
Its polished chrome finish can perfectly suit your haven's style.
Its hand shower features adjustable silicone nozzles and a holder
There are complaints about leakage
9.  Moen Chrome Arris Floor Mount Tub Filler (One Handle)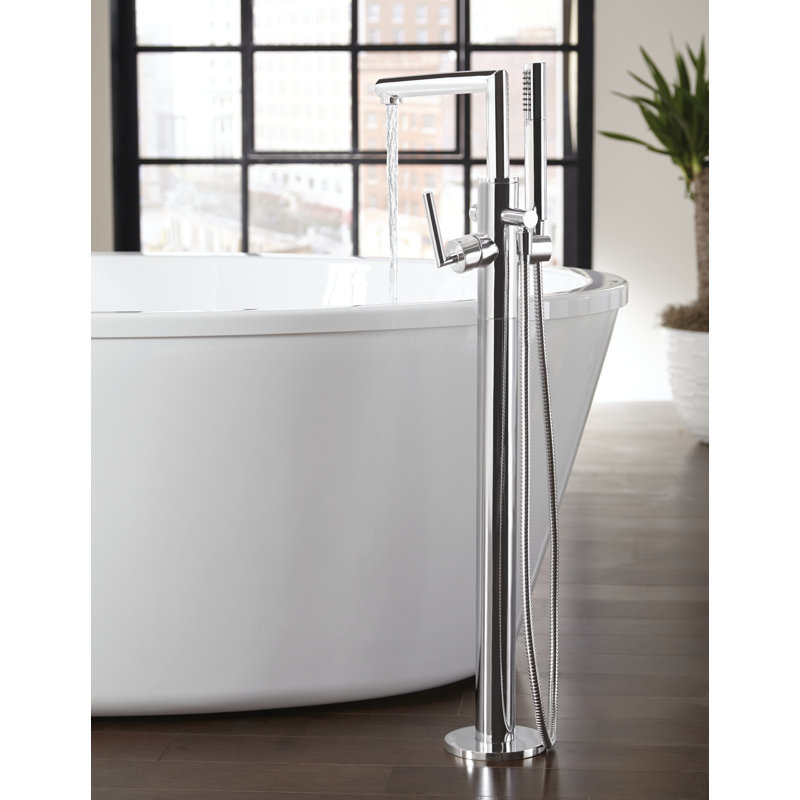 Perfect for those who want to add a touch of industrial-chic finish on their bathroom, this freestanding bathtub filler is a nice pick. It also features exposed pipes that further highlight the loft-inspired designs. It is worth investing in as the manufacturer offers a limited lifetime warranty.
It includes a single function shower (handheld) and rough-in valve
You can adjust the water easily through the one-handle lever
Some customers complained about the lack of options for its finish
10.  Delta Pivotal Wall-Mounted Tub Filler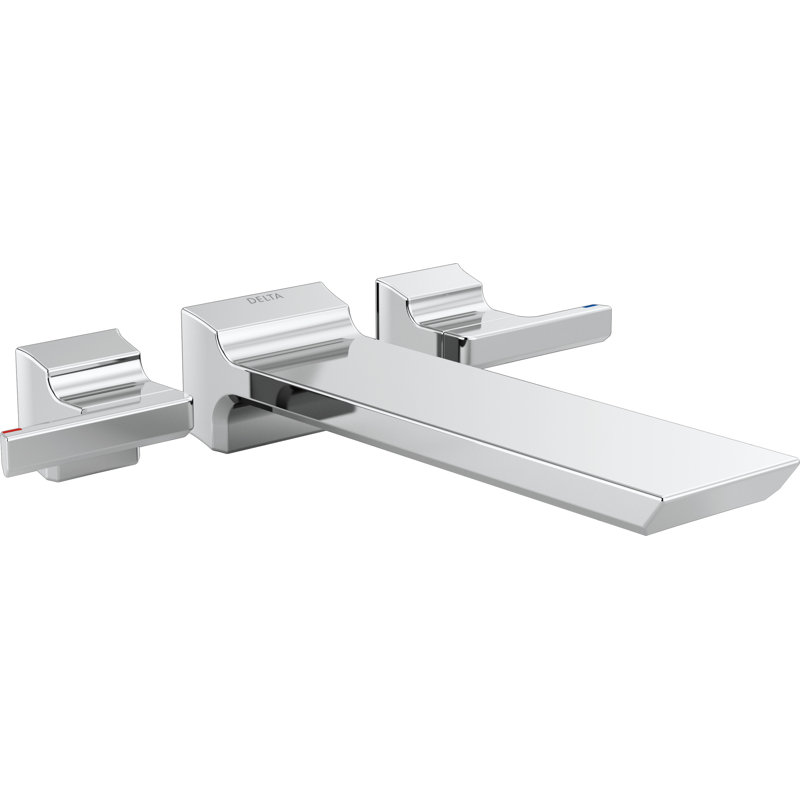 How about replacing your plain and boring fillers with a stunning spout to give your bathroom a fresher and homey look? Or rebuild your old-fashioned bathroom with designer bathtubs to give it a more modern appeal? If these are what you need in a bathtub filler, then this one from Delta will surely amaze you.
It comes with an exquisite look
It can fill your tub quickly
It is sturdy
Some customers complained about their struggle adjusting the handle.
Buying Guide for a Tub Filler
If you are not aware, tub fillers are simply plumbing fixtures that provide water (hot and cold) to the tub. Popularly known as tub faucets or spouts, they usually have levels or knobs to adjust the flow and temperature of the water.
In a nutshell, there are three types of bath fillers namely deck-mounted, wall-mounted, and free-standing. It is important for you to choose a bath filler that will perfectly suit your tub along with the style of your room. Let's have a look at each of them:
Deck-mount tub fillers – Typically placed on a flat deck around a tub, these fillers may come in different forms. The spout and handles can be installed through holes that are located in the decks.
Wall-mount tub fillers – As the name implies, wall mounted fillers are mounted to a specific wall. There are different treatments for the spot and handles. More often than not, spouts are installed specifically below the faucets.
Floor-mount tub fillers – Likewise known as freestanding tub fillers, floor mounted fillers are connected to the floor. They tend to appear more striking since the fixture is well-exposed. Moreover, since they are usually away from your walls, they are always paired along with freestanding tubs.
Now, let's talk about these pointers on how tip buy the best fillers: 
Would you like an add-on?
The majority of fillers come with a hand shower that is attached to a 4-5 inch hose. This could be an alternative option to the traditional overhead shower. On the other hand, if the hand shower is not suitable for your needs, a shower conversion kit can be a viable option.
DIY or hire a contractor?
It is also essential to know whether you need to seek help from experts or do the installation process by yourself.  If you have enough skills and knowledge in installing a filler, then it's better to go for the latter as it will save you money and time. Otherwise, hiring a contractor can save your day.
Look at the base
Although you can easily review the overall weight of a filler, most manufacturers include on the packaging list all included items. By inspecting the base, you'll be able if the base is solid. Keep in mind that a bigger base will keep you tub filler standing.
What is a good flow rate for a tub filler?
Gallon per minute or simply GPM rating pertains to the amount of gallons of water that flow out in any faucet, tap, or filler within one minute. Great models will have at least a 6 to 19 GPM flow rate. Some have higher rates. Take note that GPM differs between the tap and the spray head.
How tall should a tub filler be?
According to several home improvement experts, the best bath fillers must be placed at a traditional height suggested by the manufacturer. Consider the distance from your shower head and plumbing as well. For instance, when you are placing the filler in a shower unit and a combination tub, the filler should be installed 12-18 inches eight above your tub's rim. Generally, it should be situated 72-80 inches from the floor.
The Verdict
While you have the freedom to choose other products, we highly recommend the Delta Trinsic as the best bathtub filler. We love its stainless steel built alongside its matte black finish. However, its chrome finish captured our attention the most as it can complement any bathroom style, not to mention that the manufacturer added a balance cartridge to ensure quick water filling.
And above all, it has everything you need in a filler. This hose is long enough to reach anywhere on your tub and has a flow rate of 2 gallons per minute.