Choosing the best fixtures for your home used to be simple until a wide variety of choices became available on the market. With various options to choose from, picking the right fixture for your bathtub now becomes more confusing. If you are looking to replace your broken fixture or simply want to buy a new one, you may find these comprehensive reviews of the best bathtub faucets useful in your search.
How to Choose the Right Bathtub Faucet for Your Bathroom
Before scouting for actual products, you first need to identify the factors that you need to consider when choosing the right bathtub faucet for your bathroom. Like all fixtures, choosing the best bathroom faucets can be complicated and confusing.
To make your quest easier, below is a list of guidelines to help you simplify your search:
Mount
The first thing that you need to consider when choosing a bathtub faucet is the mount. There are three common types of tub faucet mounts, namely deck mount, wall mount, and floor mount.
Deck mount faucets are mounted on the deck (otherwise known as rim) of the bathtub or on the drop-in tub's tiled surround. Bathtubs that are designed for a deck mount need pre-drilled holes to hold it.
Wall mount faucets (also called tub mount) are used for bathtubs without faucet holes. However, there are bathtubs that have holes in the tub wall specifically designed for a tub mount.
Meantime, a floor mount or freestanding (floor-mounted) faucet is recommended for a freestanding bathtub without holes. However, you need to make sure that your plumbing is able to accommodate a freestanding faucet. Otherwise, your bathtub needs to be closer to the wall.
Faucet Configuration
Of course, you also need to consider the layout of your bathroom, as well as the patterns of usage. You need to weigh in other factors when it comes to the configuration of the faucet.
If you do not have or want to acquire a separate shower, a tub/shower combo may be your best bet. Some bathtub faucets come with a handheld showerhead, and this combo may work perfectly for you. You may also consider a hand shower attachment, so it will be easier for you to wash yourself off in the bathtub.
Projection of spout
The projection of the spout is an important aspect that you need to consider. This refers to the length of the spout or how far its reach is. Since the width and distance of bathtubs differ, you need to measure the spout projection to make sure the faucet will reach over the bathtub without interfering with the deck or rim.
Finish and style
This is probably the most fun part. Tub faucets have various finishes and styles of handles and spouts. When picking the right one, choose what will best complement the rest of your bathroom. It does not necessarily need to match your shower faucets but at least they should coordinate.
Some popular shapes of the handle include knob, loop, joystick, cross, and lever. The material it is made of may be the same as the material of the spout or accented with porcelain or crystal. Spouts may either be straight or arched, usually in varying degrees.
Meantime, finishes include polished metals such as bronze, brass, nickel, and chrome or matte. The colors usually match every color scheme virtually.
Product Reviews of the 10 Best Bathtub Faucets
1.  Kingston Brass Double Handle Clawfoot Tub Faucet with Hand shower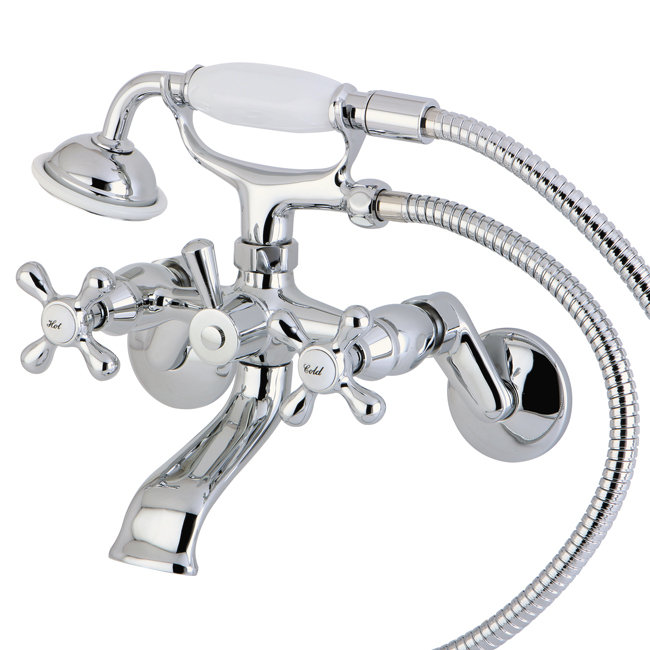 This double handle clawfoot tub faucet will give your bathroom a traditional Victorian elegance. Its stylish, graceful design blends beauty with functionality. This stylish tub filler is made from solid brass, making your home a place of elegance and beauty.
Key features:
It comes with a drip-free ceramic disc cartridge.
This product also has a vacuum breaker to prevent backflow.
A 59" hose is also included for the hand shower.
This product uses a solid brass material.
Its design is stylish and elegant.
2.  Moen Wall Mount Eva Double Handle Roman Tub Faucet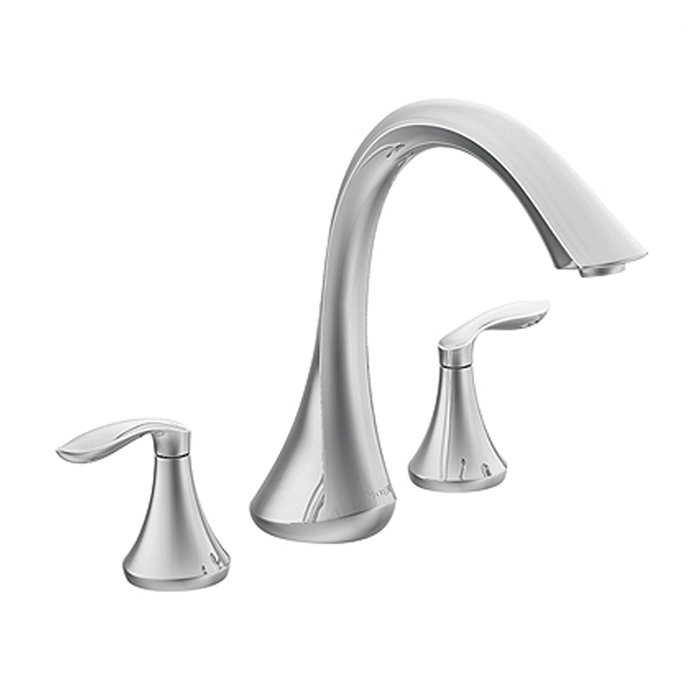 This double handle bathtub faucet offers a transitional, elegant design that provides a timeless look for your home. The Eva bathroom collection of Moen features sophisticated, tapered lines to provide an appeal that will not go out of style. This two-handle roman tub faucet has a four-function hand shower. You can have it paired with other Moen's products including towel bars, shower kits, and other accessories.
Key features:
It has a transitional design that is timeless.
The product's chrome finish gives off a highly reflective metallic look.
Its two-handle lever design makes it easier to use.
The product comes with a four-function hand shower.
Its deck mount design is conventional.
The product comes with a limited lifetime warranty.
3.  Motegi Single Handle Wall Mounted Tub Set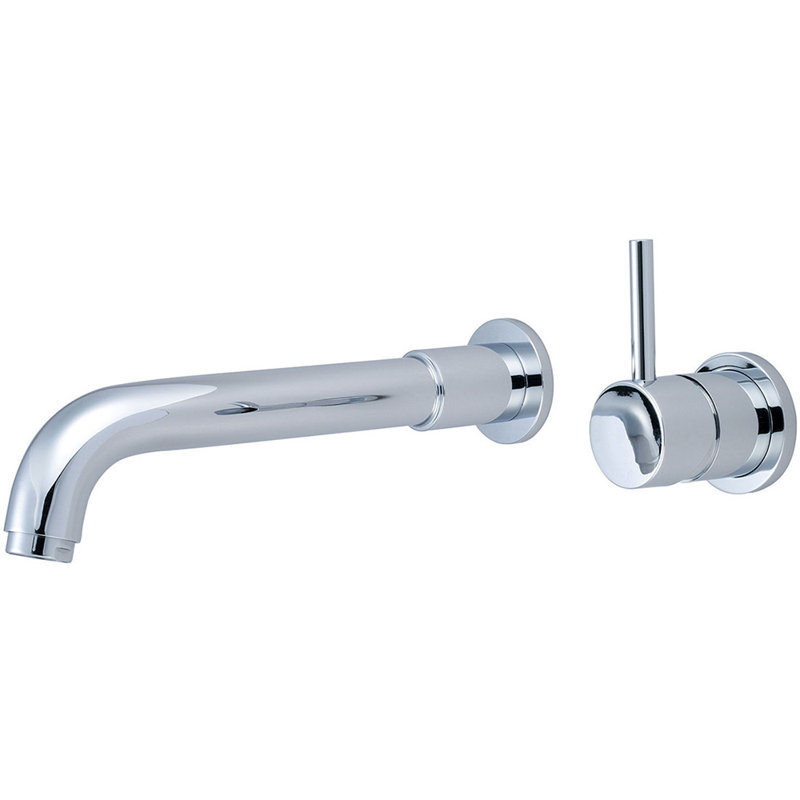 The Motegi tub set is every minimalist's dream with its sleek, luxurious design that is sure to inspire architectural masterpieces. Its simple design makes cleaning effortless. It brings sculptural art and sophistication to any room.
Key features:
This product comes as a wall-mount Roman tub set.
It has metal lever handles.
Its nose spout is bent.
It has a 10" reach.
Its ceramic disc cartridge comes with a temperature limit stop.
It includes a valve with a mounting plate.
You can easily install the product.
It comes with a lifetime warranty.
4.  Delta Trinsic Bathroom Single Handle Floor Mount Tub Filler with Hand Shower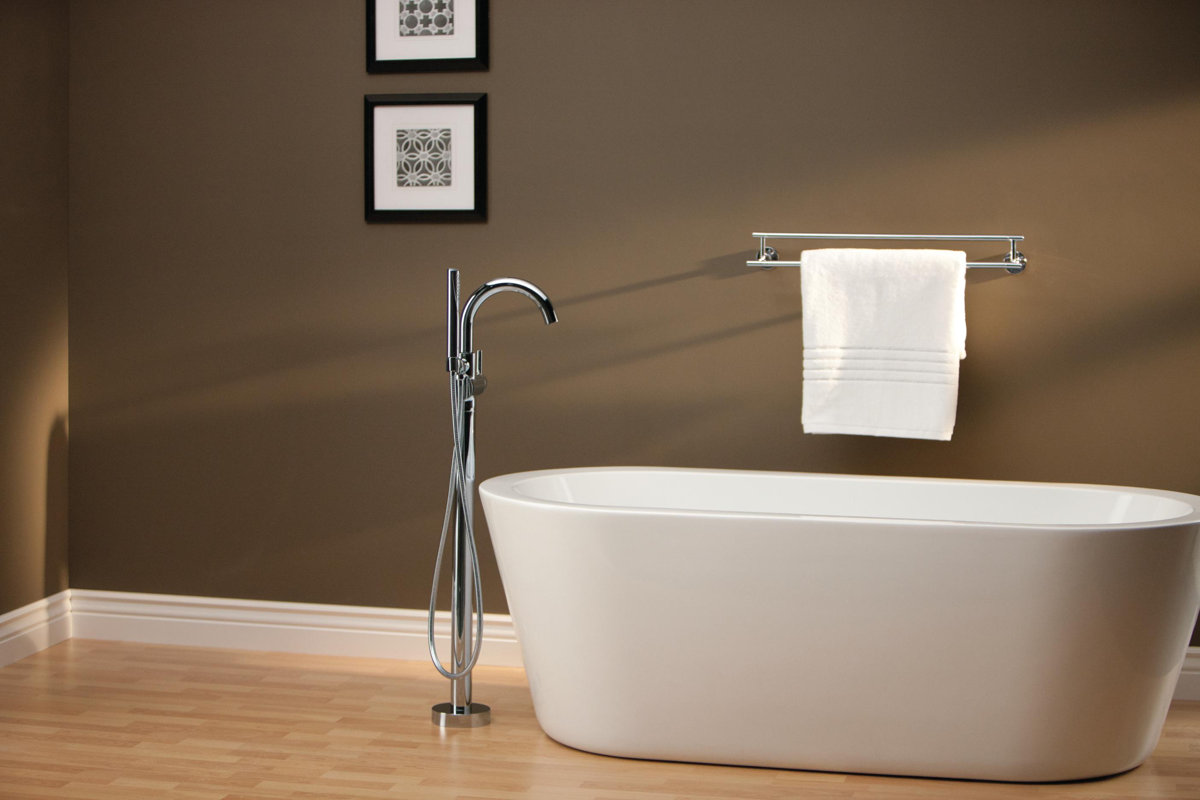 You can give your bathroom a polished update with this stylish, sleek tub filler with a hand shower.
Key features:
The product has ADA-compliant lever handle for an accurate volume and temperature control.
It comes with a matching hand shower that flows at 2.0 GPM.
The product includes double check valves intended for backflow protection.
The holder of the hand shower pivots for easier use.
The hand shower includes a hose that stretches from 60" to 82".
Its lever handles pave way for ease of operation.
The product comes with hot and cold handle temperature indicators.
5.  Dyconn Faucet tub filler faucet (Blanchard-Kingsford)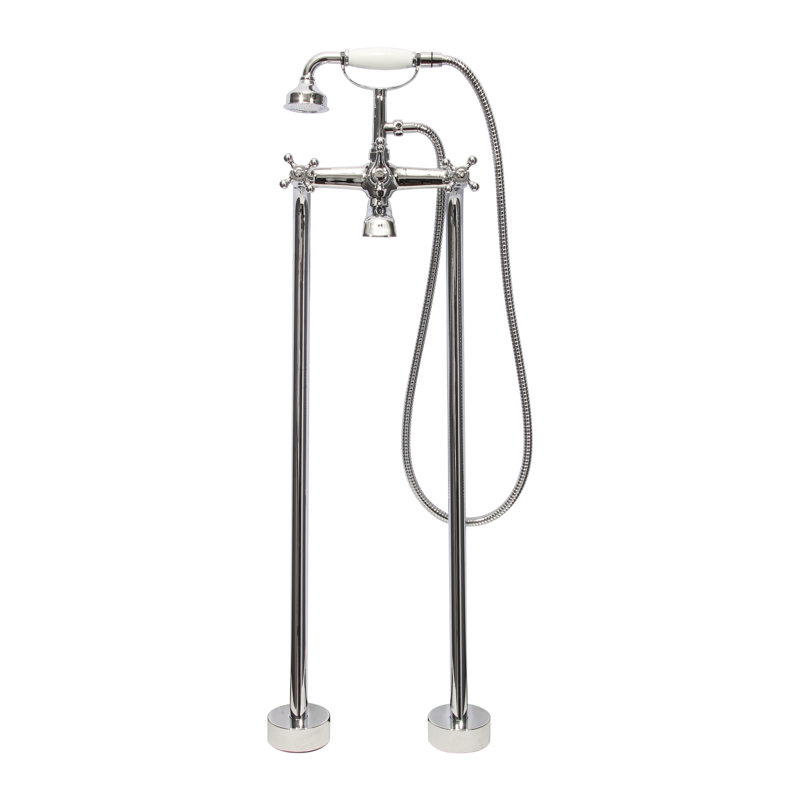 If you are looking for a freestanding tub filler, this Dyconn Tub Filler Faucet may be a good option for you. It has a traditional, classy design to make your bathing experience a pleasurable one. This product is ideal for any bathroom with a traditional décor. Dyconn faucets have a 3-year warranty. Also, included in their package are the faucet, installation instructions, and mounting hardware.
Key features:
The product has a solid brass construction.
It comes with an elegant, stylish brass hand shower.
The product comes with ¼ turn ceramic disc cartridge.
It has two lever handles for hot and cold, and a pull knob to control the hand shower.
It is easy to install.
6.  Ove Decors Infinity Faucet Infinity Floor Mounted Tub Faucet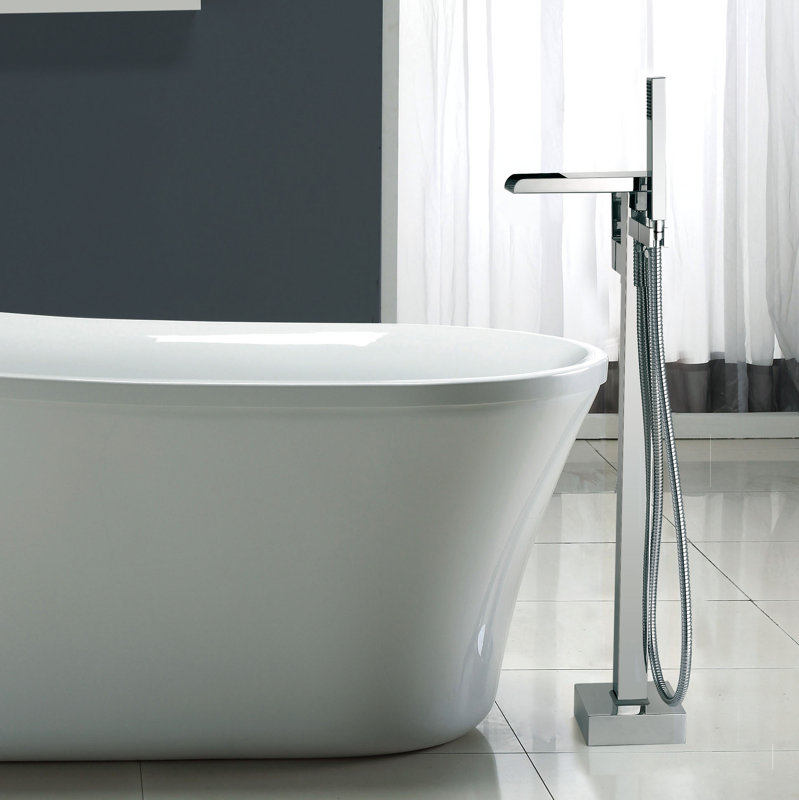 This infinity faucet by Ove Decors is soothing and futuristic, charming your bathroom with the use of a waterfall's physics. This tub faucet, with its freestanding design, can be used within different tub configurations. Its pressure balancing valve and handheld shower head extension are ideal for day-to-day use.
Key features:
This chrome-finished tub faucet gives a metallic, reflective appeal.
This adjustable freestanding faucet has a single-lever handle to easily control the temperature.
It includes a stylish handheld shower with a 59" long hose.
You can easily switch from bath to shower by simply pulling a knob under the spout.
Its brass construction provides long-lasting durability.
7.  American Standard Times Square Single Handle Floor Mounted Bath Faucet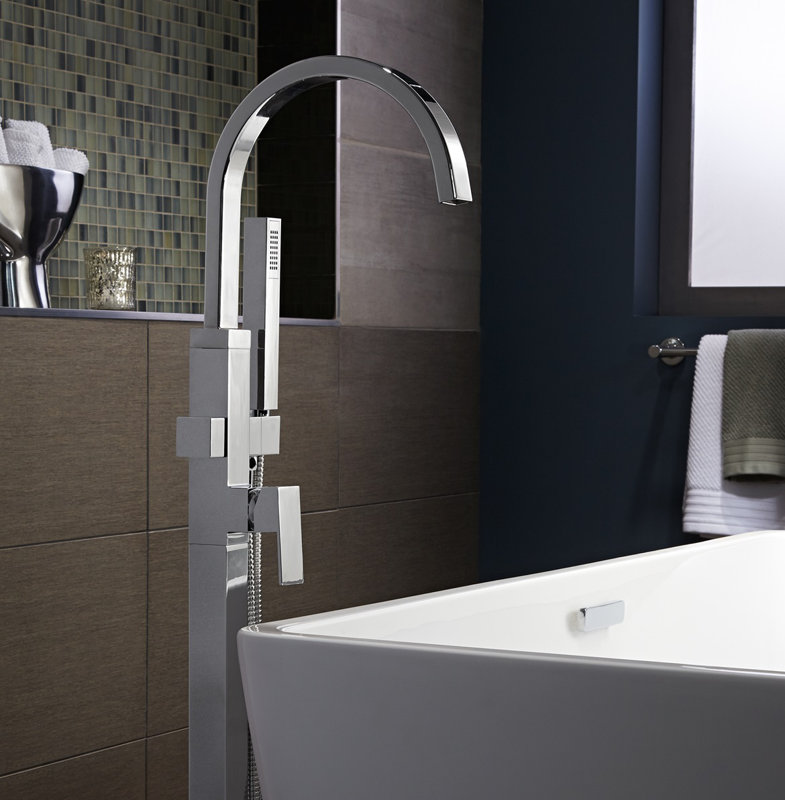 This floor-mounted tub faucet is a great option for cosmopolitan, contemporary settings around your freestanding bath. It comes with a personal shower that you can use for bathing kids, rinsing yourself and cleaning the bathtub.
Key features:
This is perfect for a contemporary style.
It comes with a metal hand shower.
It is included in the Times Square collection.
Its maximum flow rate is 2.5 GPM or 9.5L/min.
For residential installations, it comes with a limited lifetime warranty.
8.  Kohler Kelston Bath Filler Floor Mount with Hand Shower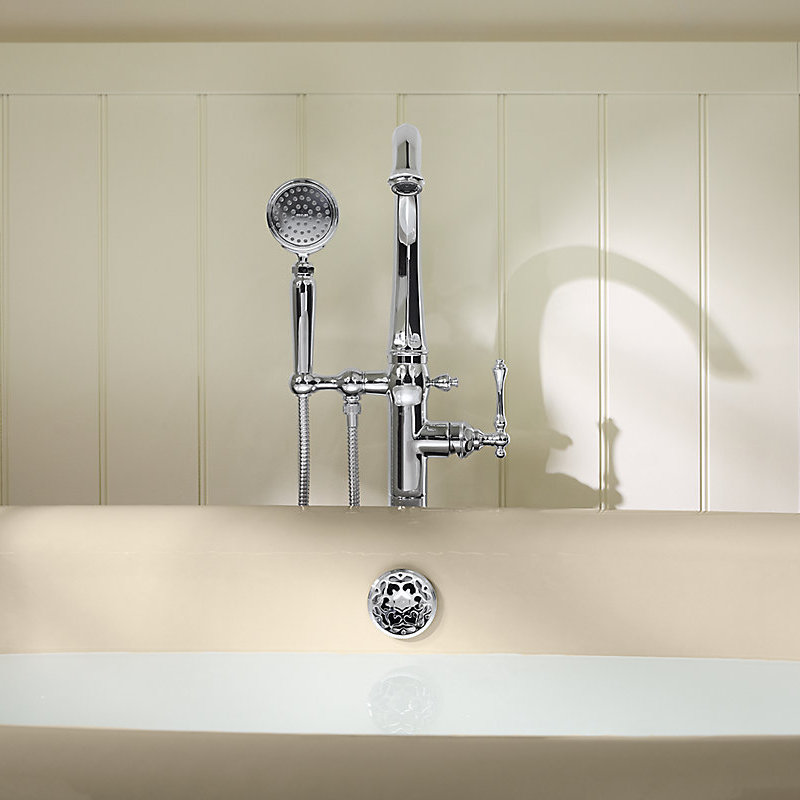 The Kelston floor-mount bath filler offers a grand traditional design while providing an outstanding performance. It is a perfect complement to traditional freestanding tubs.
Key features:
Its single lever handle can be used for on and off activation, as well as the temperature setting
Its flow rate is 6 gallons per minute (GPM) at 45 PSI.
It comes with artifact 2 GPM hand shower and hose.
It needs mounting block "K-97339-NA".
It is made in the USA.
9.  Kokols Single Handle Wall Mount Tub Faucet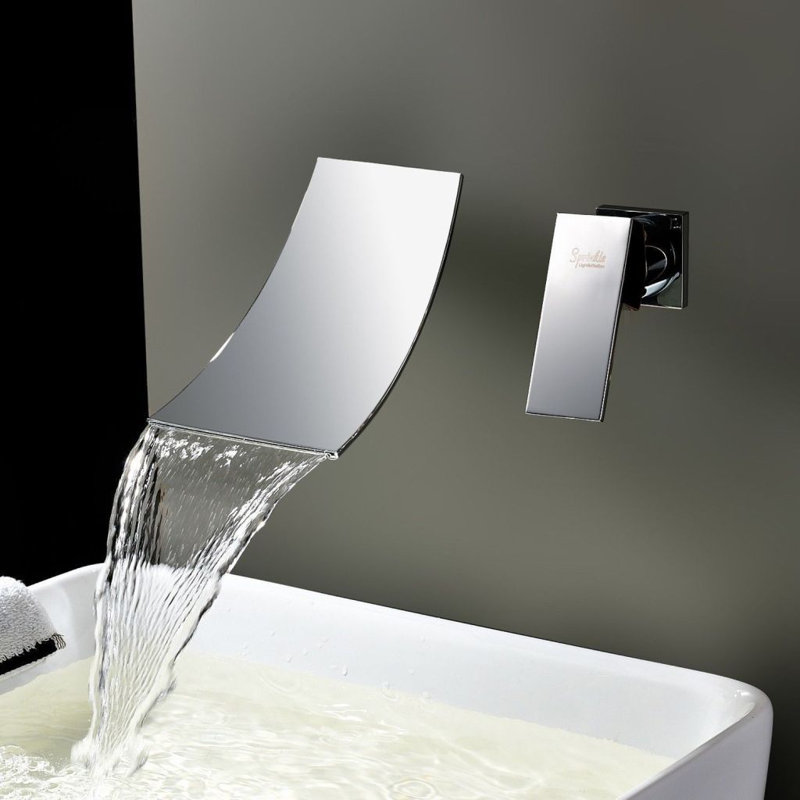 Your bathroom can be an enchanting sanctuary with this deck mount faucet's soothing waterfall. It is specifically designed to fill a tub with its spout transforming into a miniature waterfall. It is easy to clean and durable as well. The product's single handle faucet is made of solid brass. You can be impressed by its modern design that will give your bathroom features an extra sophistication.
Key features:
It is made of brass material.
Its valve core material is ceramic.
The surface finishing is polished chrome.
It has an attractive appeal.
It is engineered for long-term use.
See more: Kokols Bathtub Faucets on Wayfair
10.  Ancona Prima Single Handle Floor Mount Bathtub Faucet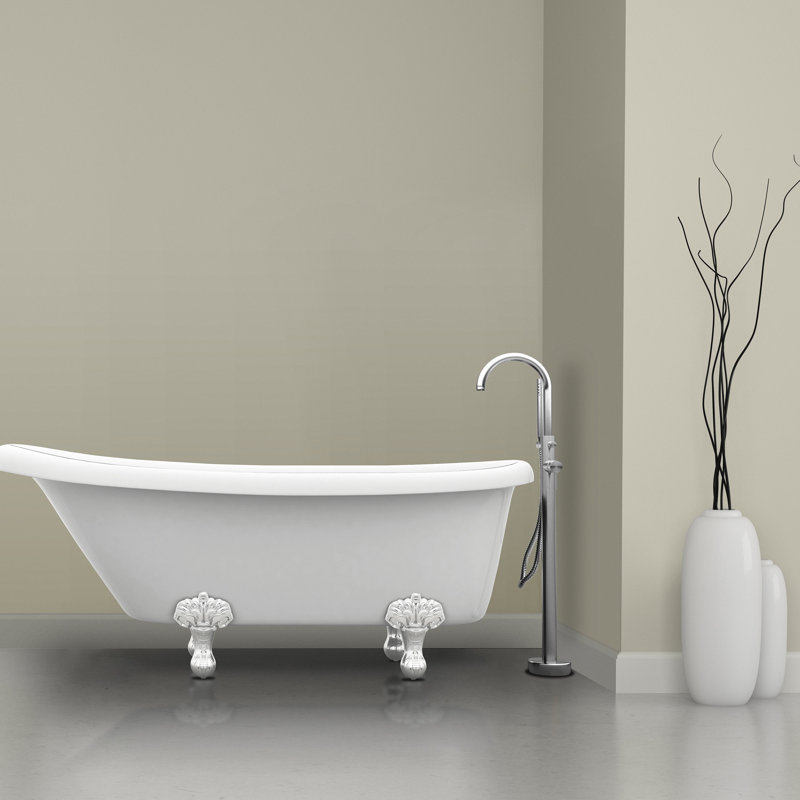 The modern and sleek design of this floor-mount tub faucet can complement various freestanding bathtub styles. The wand of its integrated handheld shower provides a nice balance of a relaxing spray and water pressure.
Key features:
It is included in the Prima collection.
It is constructed with solid brass and has a chrome finish.
Its total lead content is less than a quarter of one percent.
Its faucet swivels.
It includes a valve.
Conclusion
Finding the best bathtub faucets for your bathroom can be quite a challenge for some, but with thorough research, you may be able to find just the right fixture that you need. After rounding up the bathtub faucet reviews though, it appears that the Moen Wall Mount Eva Double Handle Roman Tub Faucet is the clear winner. Users commend its graceful design and great water flow performance. Others even say it cannot be beaten with its excellent appeal and reasonable price.
Did you find these bathtub faucets review helpful? Let us know what you think in the comments section below.