Garbage sheds are extremely important in making sure that the things you don't need don't clutter up your home. Of course, you still need to consider the best garbage sheds when looking for one.
That's where our guide comes in. We have a list of garbage shed reviews of the best brands, plus a buying guide for the best garbage shed. If this is something of interest to you, let's get started right away.
Let's begin with the buying guide.
Garbage Sheds Buying Guide
In order to choose one of the best garbage sheds from our list, you need to first have a list of criteria when choosing. These criteria will help you intelligently choose which is the best. With that in mind, you can use the guide below when picking out your purchase:
Material
The first thing that you have to take into consideration is the material of the shed. The material will determine the shed's durability, aesthetics, and shelf life. The three most common types are the plastic shed, wood shed, and metal shed. Each of them has their own pros and cons.
For plastic sheds, the main benefit is that they're easy to maintain and inexpensive. The disadvantage of plastic is that it's not very durable and is not that beautiful to look at. For wood sheds, the advantage is that they're very beautiful while the disadvantage is that they're quite tedious to maintain.
Lastly, we have the metal sheds. These are very durable, have long shelf lives and look pretty good. However, they are pretty prone to leaks and they're not easy to assemble.
Design
When we talk about design, we usually refer to roof and door configuration. There are single or double door types for door configuration. For roof configuration, you may have a fixed roof or a top lid. You may even have customized designs as well. This is all up to your own preference.
Size
The next thing you should consider is the size of the shed. Size is important because it determines how much garbage you can fit inside. Make sure to take into consideration the usual size of your containers and garbage bags so that you'll know how much you can fit.
Features
The last thing you need to take into consideration are the extra features that come with the door. You'll need to find features that can keep your shed secure, such as locks on the doors, hard metal hinges, and a reinforced floor.
9 Best Garbage Sheds Review
1.  Keter Shop Store It Out Plastic Shed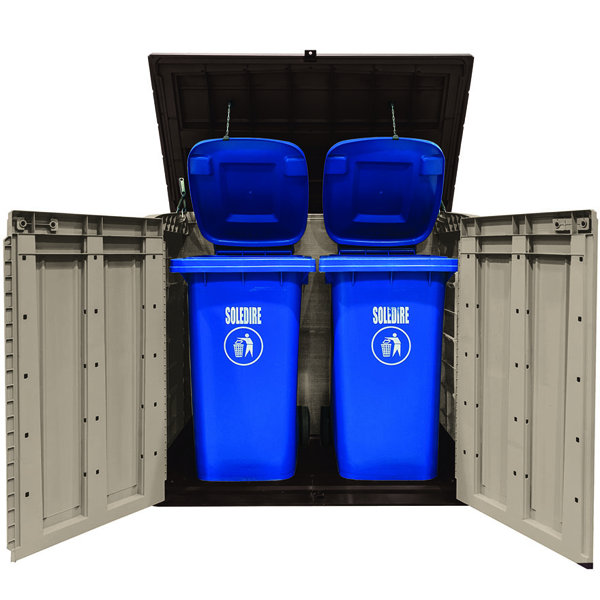 The Keter Shop Store It Out Plastic Shed looks like it's made out of wood, but it's really just plastic. Because of that, you don't need to maintain it like you will with a wood shed nor do you have to paint it. You can just leave it and use it without having to think too much about maintenance.
Plus, it's got some of the sturdiest features that you can find as well. This shed happens to be weather resistant, UV resistant, and also water-proof. With all of these features, you won't have any problem leaving your shed out in the open even during the rainy season.
It's definitely one of the most reliable sheds that you can find in the market.
Best Features:
Sturdy floor
Storage size of 38.97 cubic feet
Resistant to weather and UV rays
Waterproof
2.  Suncast Garbage Shed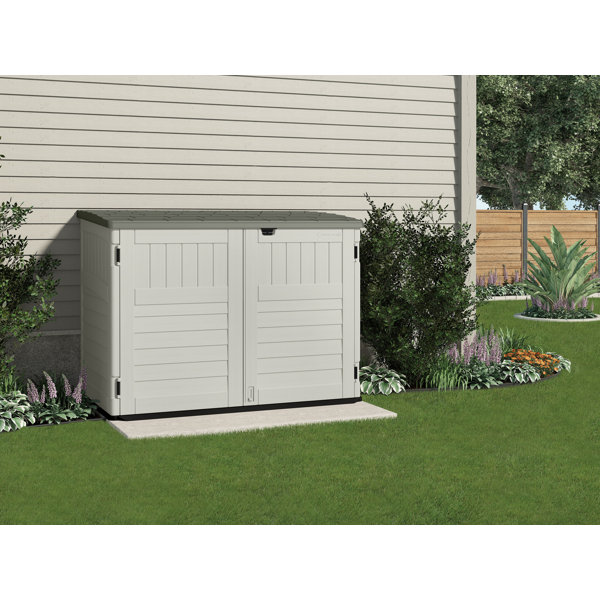 For those who are looking for size, this one can provide it. This is a shed with the size of 70 cubic feet, making it able to store a lot of garbage cans at once. In fact, the size allows you to store up to 96-gallon type waste containers. Other than just regular trash, you can also store in old bicycles, old furniture, and other big things.
Aside from just its size, it's also very sturdy. It is reinforced by a steel frame, making it able to stand still even during windy weather. Not even a storm can have the chance to blow away the shed.
Best Features:
Big size of 70 cubic feet
Two front doors
Steel frame
High security with 3 door lock system
Weather resistant
Wind rate of 60 MPH
Low key and versatile design
Multi wall resin
3.  Starplast Plastic Garbage Shed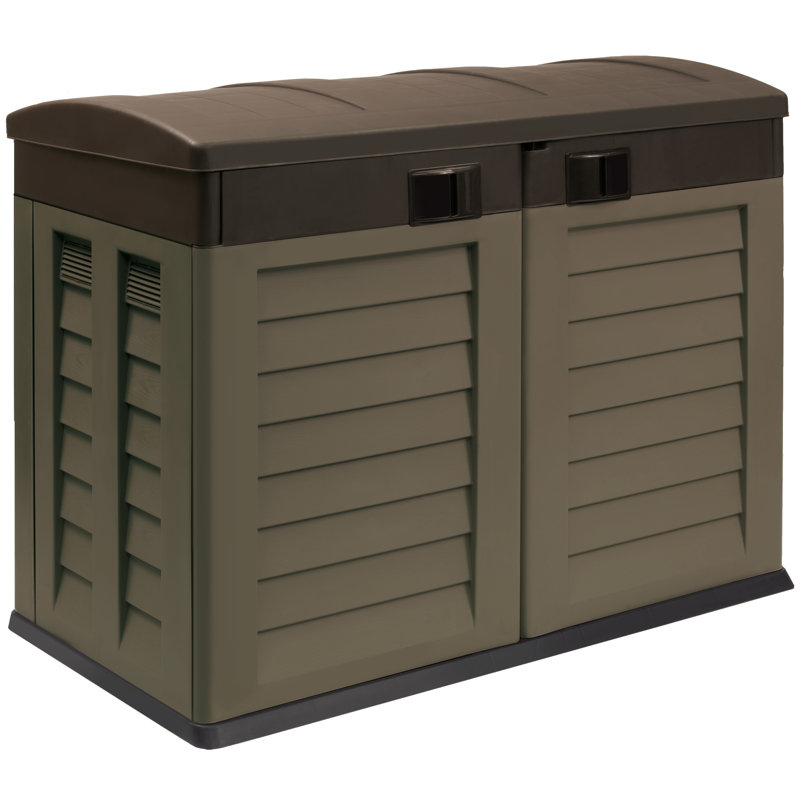 The Starplast Plastic Garbage shed is well known for its sophisticated ventilation system. That's why this is the ideal shed to have if you store a lot of trash that smell. These include sports equipment, shed tools, and big trash cans among other things.
To be specific, this shed has 4 ventilation panels that allows it to circulate the air properly. Aside from the ventilation system, it's also got a very sturdy locking system. It has a strong lockable lid.
It's also resistant to weather because it is waterproof and also UV proof. That means it can take rainstorms and even very strong sun rays. It's very reliable and can keep the smell away from your home.
Best Features:
Sophisticated ventilation system
Easy lifting lid
Strong lock for the lid
Comes with a strong floor
Easy to assemble
Weather resistant
Warm and dark color
4.  Direct Wicker Store Storeit Out Metal Shed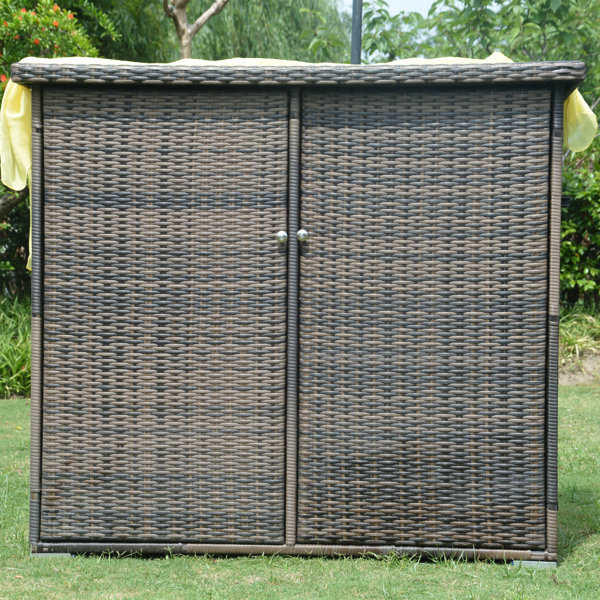 What you'll find really unique about this garbage shed is its design. The design isn't like most sheds as it looks like it is made out of rattan sewn together. That's why it's a garden shed that goes really well with porches that have Zen designs.
In reality though, it isn't made out of rattan but metal. Because of the metal built, it is extremely sturdy and won't back down during bad weather. However, it also won't rust or peel, making it really durable and long lasting.
Other cool things about this storage is that it is 39 cubic feet in size but spacious enough to hold 146-gallon garbage containers.
Best Features:
Beautiful Zen design
39 cubic feet size
Easy to open lid
Strong ventilation
Very spacious design
Made of durable metal container
Sturdy frame
5.  Leisure Season Refuge Wood Shed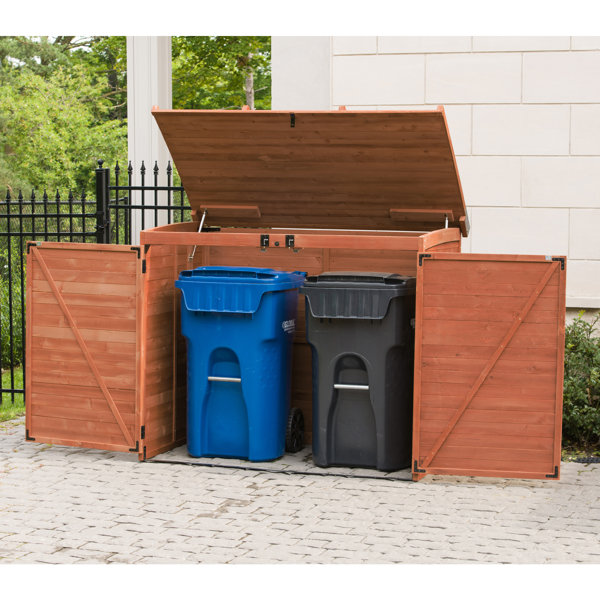 If you like rustic designs, then you'll love this wood shed. This wood shed is made out of very beautiful wood with an amazing finish. The shed is made of wood from natural wood grain variation making it a beauty to the eyes.
Aside from just the aesthetics, it has a double door lock to keep the shed safe from anyone who wants to break in. Also, it also has a great size. The size of this shed is tantamount to storage capacity. This one in particular, has a storage capacity of more than 70 cubic feet. It's also weather and water resistant.
Best Features:
Beautiful rustic wood design
Comes with a double door lock
Resistant to strong weather
Has a high storage capacity of more than 70 cubic feet
Strong metal hinges
6.  Rubbishwrap Vinyl Garage Shed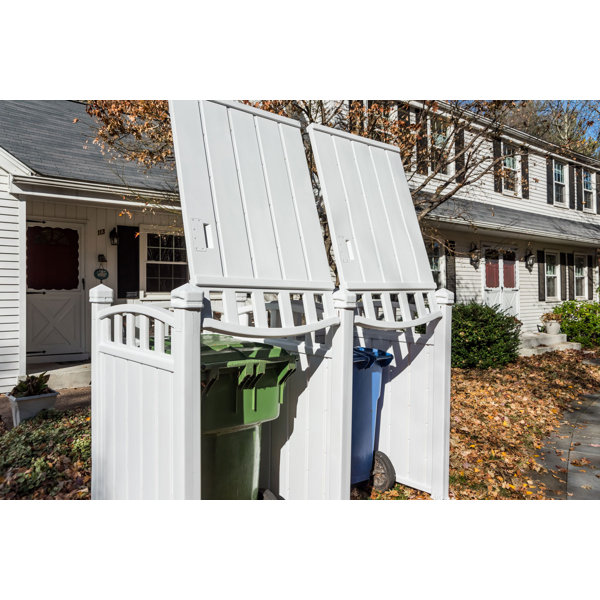 This is another beautiful garage shed that you can get from this list. However, it's made out of vinyl.
Vinyl is not only a durable material, but it's beautiful as well. The texture makes it similar to wood in many ways. In fact, the way it is designed makes it look like something out of a fairy tale storybook. It is made to look like old wooden closets.
Also, it can store 96-gallon trash bins inside. Of course, it also has a built-in ventilation, allowing you to keep the smell away from near the house or the garden. It's a shed that you can count on and that you can enjoy looking at.
Best Features:
Old wooden closet design
Beautiful vinyl texture
Able to store 96-gallon trash bins
Smooth white finish
Efficient built in ventilation system
7.  Rubbermaid Plastic Shed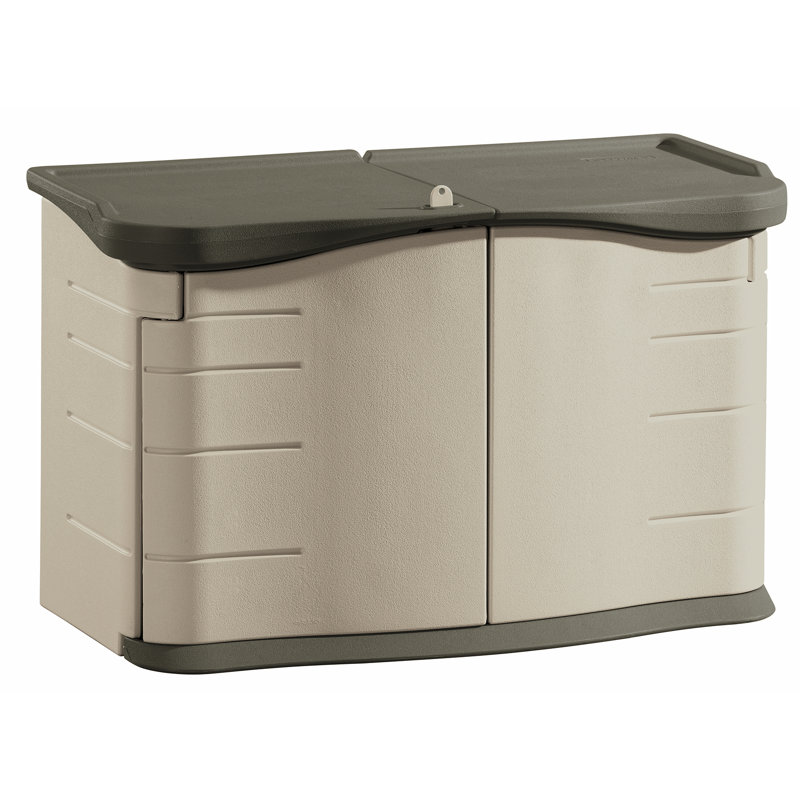 While this is one of the smaller sheds, it's also one of the more simplistic ones that can go with any exterior design. Specifically, it has a storage capacity of 18 cubic feet. While it is pretty small, it does have a really nice design to it. In fact, it has a more modern and contemporary design.
Because of its size and versatility, it is not only great for outdoors but also indoors if your house is big enough to fit it. So, if you want to have a shed that you can carry around, then you'll want to have this one. It also includes a floor so that you don't need to buy a separate one.
Best Features:
Storage capacity of 18 cubic feet
Contemporary design
Weather and waterproof
Already includes a floor
Made out of beautiful vinyl material
8.  Kinying Outdoor Multi Function Cabinet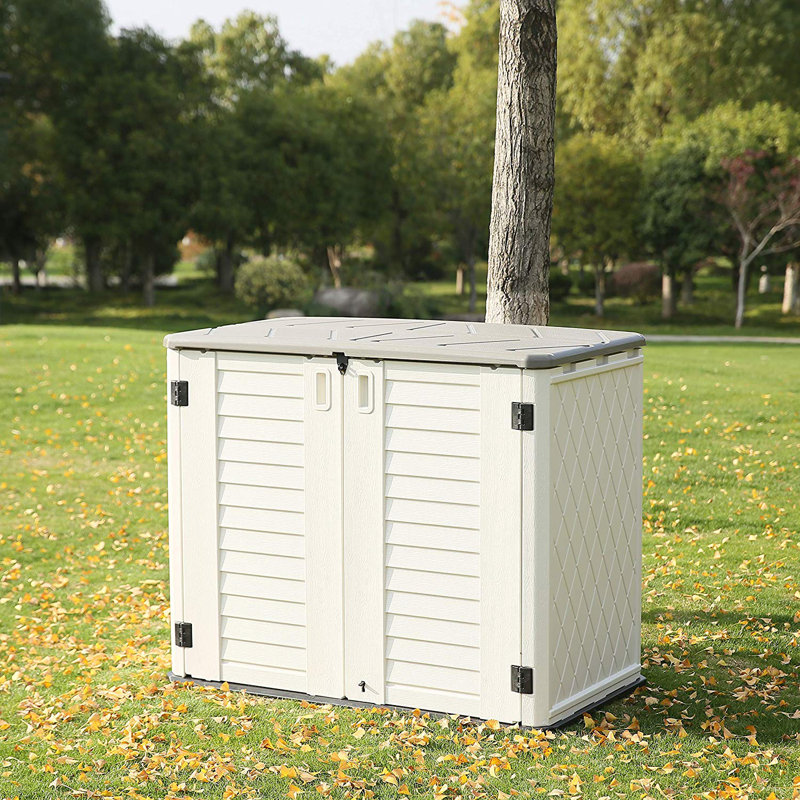 If you're looking for something that's easy to handle, then you've got the Kinying Outdoor Multi-Function Cabinet. Compared to other sheds, this one can be assembled in less than an hour. It actually can be assembled in just 30 minutes if you follow the very easy instructions given by the brand.
Also, it's a multi-function storage allowing it to store pretty much any item that you want. From trash to even garden tools and other things. It can even be used indoors as well. It's also very durable which means that it can last really long without fading away in color.
Best Features:
Very easy to assemble
Can be used for storage a multitude of items
Very thick material
Sturdy metal frame
UV resistant finish
Iron bars included on the roof
9.  Arrow Versa Steel Shed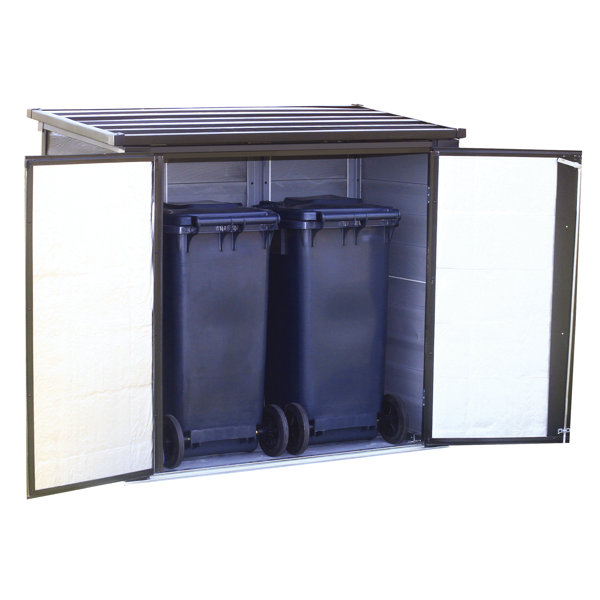 For ultimate durability, you'll want the Arrow Versa Steel Shed. This steel shed is made out of very strong steel material that can store your trash cans and recycling materials. Just to give you an idea of how strong the material is, it is actually made out of electro galvanized steel, making it extremely sturdy.
Also, the steel material is zinc plated allowing it to be rust proof. With that in mind, you can even leave it out in the rain without worrying about it wearing out.
Best Features:
Made of electro galvanized steel
48 cubic feet storage
Resistant to water and strong weather
Conclusion
These 9 sheds happen to be the best of the best garbage sheds. If you're looking for the best out of the 9 picks that we've chosen, then we'd definitely suggest that you go with the Suncast Garbage Shed.
We believe that this happens to be the sturdiest one of them all. Even if it is made out of plastic, it has a very strong steel frame making it sturdy even during harsh weather. It also has a multi wall resin that further reinforces its durability. Finally, it has a big size of 70 cubic feet, sophisticated security, and great design.
It's pretty much the entire package if you're looking for a well-rounded shed. For the best pick we'll definitely choose this one.