Have you ever tried spilling drinks in your hot tub? It's bothersome, isn't it?
While drinking alcoholic drinks is highly discouraged by experts and health professionals alike, drinking your favorite juice drink is not.
But knowing what to drink and what not is just another concern. Most hot tub users also express their frustration to the lack of flat surface where they can leave their drinks but still within reach.
Do you have the same sentiments? There is no doubt that what you need is the best hot tub table!
Want to know what a Hot Tub Table is? Read below:
What Is a Hot Tub Table?
Hot tub table is not your ordinary coffee or dinner table. This one is specifically design to make your hot tub spa experience even more luxurious, relaxing, and satisfying.
Please do know that the best hot tub table comes in various shapes, sizes, designs, and heights. So, whether you have an inflatable hot tub or a permanent hot tub, you can find the perfect table for your tub.
This table can either be a bar type (freestanding), caddy style (should be attached), or a surrounding curved type. And the most recent one is the floating hot tub table that may or may not have a waterfall design.
How to Choose the Most Functional Style?
There are basically three buying tips that we follow when it comes to purchasing an amazing hot tub table.
These 3 considerations are:
The Style
We personally think that hot tub table style should be subject to personal preference, which we still believe until now. But by "style" here, we actually want to focus on choosing among the freestanding vs. caddy vs. floating style table.
If you have a permanent tub, it's better to get a bar type table, which you can DIY to suit your liking. This table type is sturdier and more stable.
Choose the caddy style if you have limited space around your hot tub since this one can be easily attached and detached whenever you like it.
Lastly, we think a floating hot tub table is more suitable for parties where people just want to have fun and not worry about spilling drink while soaking in the tub.
The Material
Hot tub tables are also made from different materials, making it even more confusing to choose the best model.
If you have some sort of a decking, then you better invest in a high-quality cedar wood hot tub table. It goes well with the deck and cedar is the best material for outdoor settings.
A heat and weather resistant plastic material is also a great alternative.
The Height
We love a table that can be adjusted in various heights. And we think you should consider this one too.
So, whether you need that extra height for your hot tub deck or just a normal height for a side bar table, you can easily adjust and use the same furniture.
The Most Reviewed Hot Tub Tables at the Moment!
1.  Leisure Concept Spa Caddy Table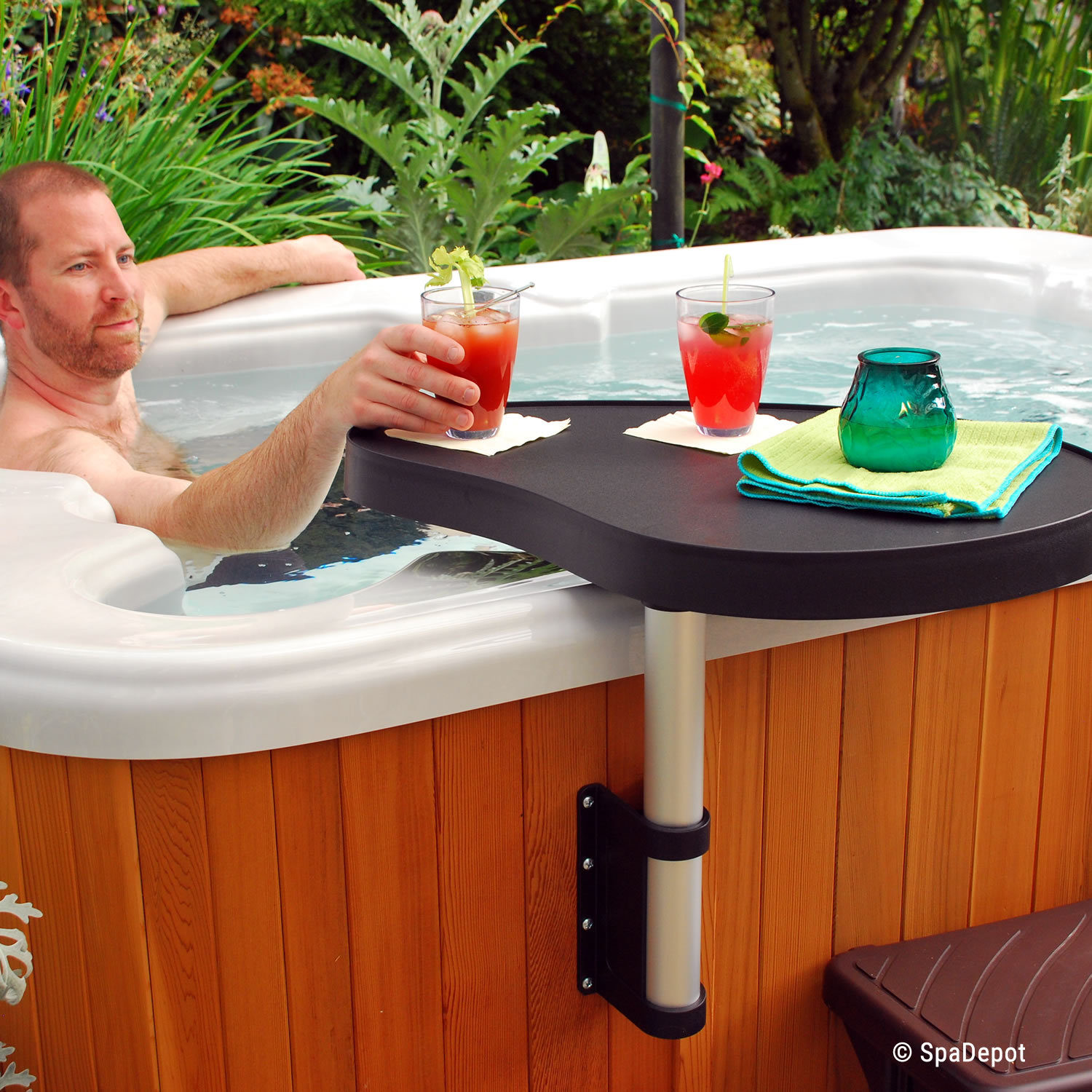 A modern hot tub table that would suit well in both permanent and inflatable tubs. It has a nice black-gray finished tray with a steel base to support the tray.
This is a caddy style table, which means you can easily attach it to the side of the tub.
Best Features:
Can be swing in and out of the tub
Made from weather-resistant plastic
Easy to set up
The gray granite color complements any tub color
2.  QCA Spas 6950G Spa Tray Table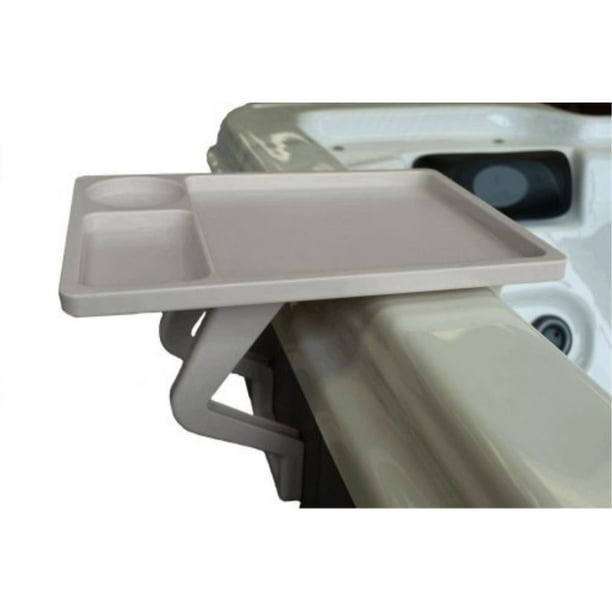 This table is suitable for inflatable hot tubs. It is a snack tray that measures 9.5 by 13 inches, just enough to hold a couple of drinks, chips, or sandwiches.
If you want a non-hassle snack tray that is both affordable and easy to use, then this is a great option.
Best Features:
Nice light gray color that matches any spa
Easy to attach to the spa's side or corner
Can be adjusted and quite sturdy
Very affordable
3.  LIFE Tray Table
A lightweight and portable tray table has also become popular these days, especially among homeowners.
If you have a tub solely for residential use, then a small tray table like this Life Tray Table is suitable for you.
Best Features:
Has protective strips
Can be adjusted with its universal adjustment heights
Can be fit securely to both permanent and inflatable hot tubs
With drainage holes on one side
4.  Essentials Spa Caddy Table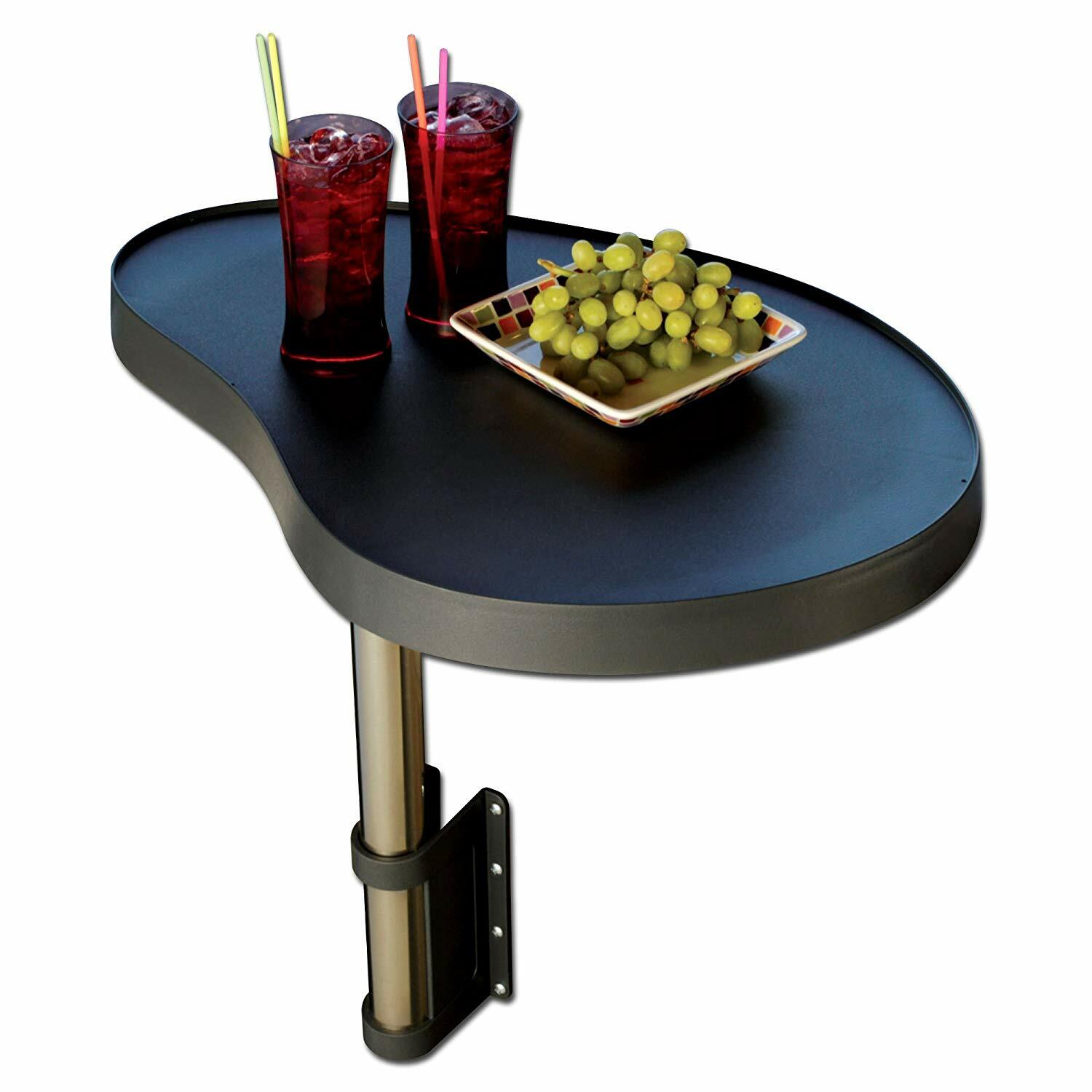 Essentials is also one of our go-to brands when it comes to hot tub tray table. They have one of the most unique and minimalist designs.
This Spa caddy table in particular is 24 by 21 inches in size and can hold more drinks, foods, and even towels
Best Features:
It is bigger than most caddy tray tables
Swings in and out of the tub easily
Really easy to install
Doesn't hit the hot tub cover at all
Stable and very sturdy with its stainless-steel base
5.  Pool Systems USA Floating Tray
This floating tub tray is what you need to enjoy a full good meal while soaking in your tub. This tray has dividers where drinks and foods can be settled securely.
It is a small refreshment float but can hold a lot of things at the same time.
Best Features:
Ideal for pool and hot tub parties
Can fit a lot of drinks and foods
Very easy to inflate and store
There's just enough sand inside to make the float stable in the water
6.  IntexPureSpa Cup Tray Holder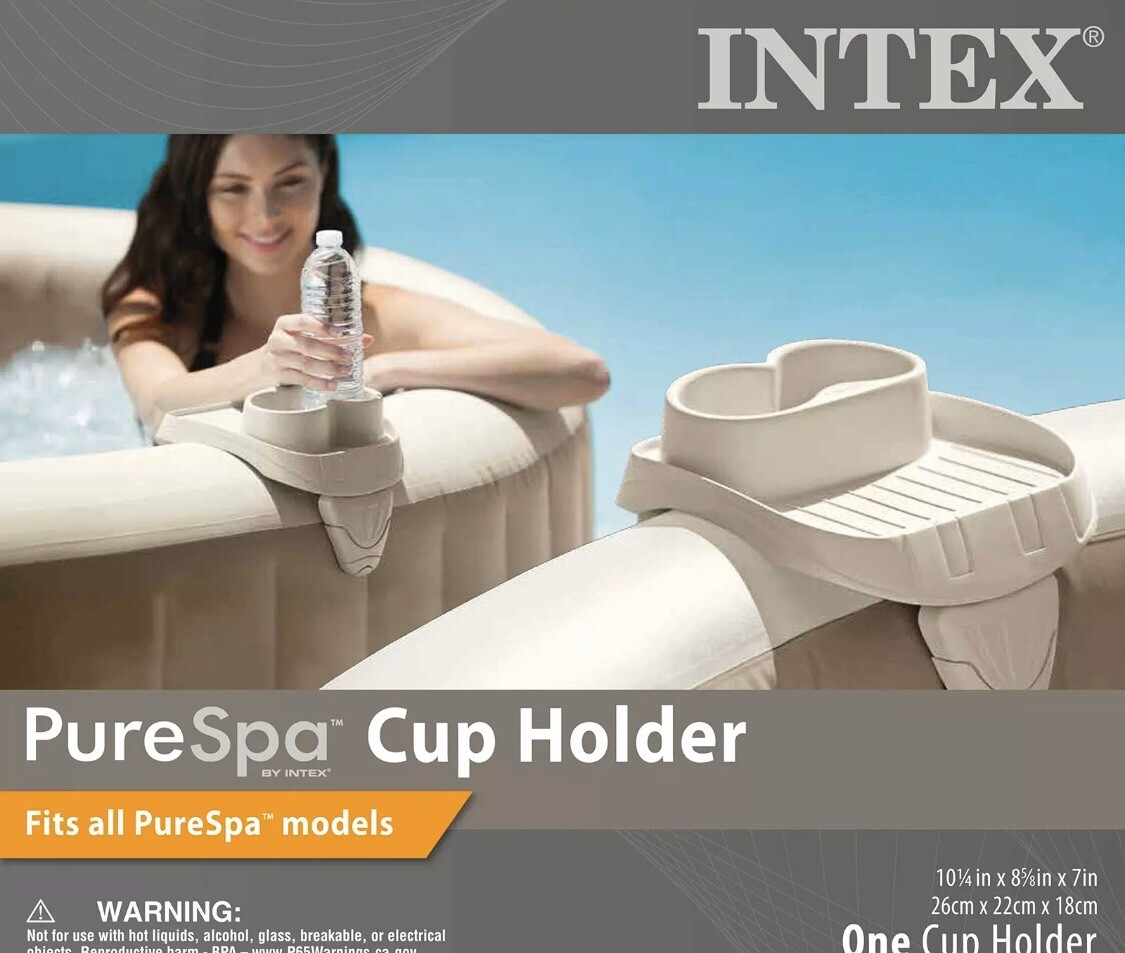 Intex is a leading hot tub brand and many people are thrilled when it releases new products. IntexPureSpa Cup Tray Holder is the ultimate choice if you want a secure, sturdy cup holder attach to your spa wall.
Best Features:
Its light beige color matches any tub.
The tray is removable, so you can easily move this around the tub.
Hold up to 2 size beverages
Works great in inflatable tubs
Fits bottles and cans perfectly
Conclusion
Among the hot tub tables on the list, we think the Leisure Concept Spa Caddy Table offers the best value. Why? The material used on the tray alone is very impressive. Heat and weather-resistant plastic works well with the high temperature environment of the hot tub. Also, we love its clean and seamless design. Plus, it can hold a lot of foods and drinks. Lastly, it's stable and can be swing in and out of the spa tub easily.
How about you? Which hot tub table are you using now?