Intex Inflatable Hot Tub is among the most trusted and innovative brands worldwide that are recognized for its exceptional merchandise. With its inflatable and portable products, you can provide your family and friends with the joy of plunging into a bubble massage spa without having to break the bank. The products are also designed for comfort and safety, so you rest assured that your kids are in good hands.
This article is dedicated for those who are deciding to purchase the best portable hot tubs currently available on the market. Also provided are quick tips on how you can best maximize this home accessory.
Top 8 Intex Inflatable Hot Tubs Reviews
1. Intex 77" Portable Bubble Massage Spa Set
Do you want a relaxing hot tub that's good for your small family of four? This 77" portable spa set will give you just the experience you want!
What Did Customers Have To Say:
Many customers love that the product is easy to assemble and its water heating system is reliable. Everything that's needed (chlorine dispenser, filters, blow-up cover etc.) is included the product, except for the chemicals used in cleaning.
It uses an electronic hard water treatment system that makes water flow gentler on the skin.
Its cover is well-insulated and locked to reduce heat loss and provide a worthwhile experience.
The product is constructed using fiber technology for exemplary structural stability and comfort.
The product is convenient to store and transport inside its carry bag.
2. Intex 120 Octagonal Bubble Jets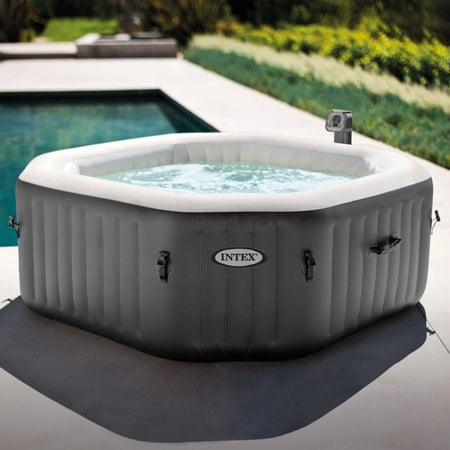 This octagonal bubble jet spa is of fiber technology construction, so you are assured of a quality purchase that's also well-loved by many customers.
What Did Customers Have To Say:
Although some clients had some minor concerns with this product, it remains highly-acclaimed by most for being well-engineered and highly powerful.
It is easily operable with only a touch of a button.
It can provide a comfortable spa experience to 4 people at the same time.
This inflatable tub can be installed and filled with water in an hour or so.
You can pick your own water temperature (up to 104 degrees).
Receiving a defective purchase is not uncommon.
3. Intex Portable Heated Bubble Hot Tub
If you want a reliable portable bubble tub that'll fit up to 6 persons, then this tub is for you! It is just as relied upon as its cousins from Intex.
What Did Customers Have To Say:
This larger Intex hot tub model is well-received by the company's old customers, as well as the new ones. It has similar features with others but can sit more people, which adds to the fun.
It activates 170 high-powered bubble jets to give you a soothing pool experience.
The product can accommodate a larger group of 6 people.
It is inflatable and deflatable in 20 minutes.
It comes with 2 filter cartridges for simple maintenance, colored LED lights, and 2 inflatable pillows.
The replacement filters are sold separately at additional costs.
4. Intex 140 Octagonal Bubble Jets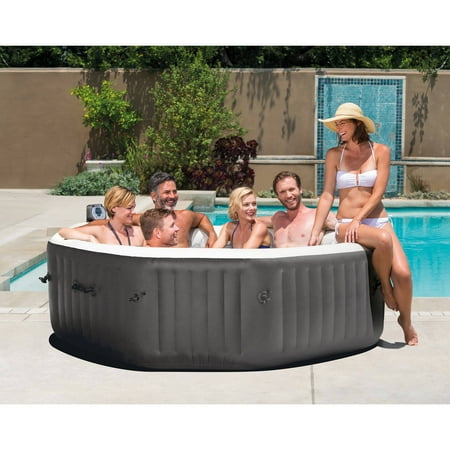 Another 6-seater bubble tub on the list is this octagonal hot tub that lets out 140 bubble jets. it is guaranteed comfortable and durable due to its fiber-tech construction and puncture-resistant material.
What Did Customers Have To Say:
Many customers enjoyed their experience with the product. In particular, they commend its sturdiness that's unbeatable for its price.
It has an easy to install and feature.
The product is among the most cost-efficient 6-seater hot tubs on the market.
It's fiber-tech construction and 3-ply laminated material make it extremely comfortable and durable.
This tub is made operational with just a click.
The full-year warranty didn't seem useful for some verified customers.
5. Intex Bubble Jet Massage Set
Want your home accessory investment to be worth the money? Try this bubble jet massage set by Intex that comes with a high-performing bubble jet and an easy-to-operate control panel.
What Did Customers Have To Say:
Customers love the efficiency of setting up this product which took most only about 20 minutes or anything less than an hour. Many also find it very cost-efficient.
Packed with high-performing bubble jets for a refreshing massage.
The heating system is adjustable to your preference (68-104 degrees).
The hard water treatment system is a key feature.
Heat loss is minimized by its insulated cover and lock.
It comes with easy to replace film cartridges, floating chlorine dispenser, thermal ground cloth, carry bag, inflation hose, and headrests.
This product does not prove to be durable for some buyers.
6. Intex Jet Massage Spa Set
Included among the best hot tubs in this Intex pure spa reviews is one with four very powerful bubble jet packs. You and three other loved ones can now relax at a touch of a button.
What Did Customers Have To Say:
Families and friends enjoy the cold nights better after purchasing the product. The look may not be perfect as there were some marks found on the vinyl, but the function is top-notch.
Its control panel activates 4 high-powered jets for optimum performance.
The tub inflates and deflates in 20 minutes, saving you time in the process.
It is easy to store and transport to places.
For more effective heating, the spa heats the surrounding air prior to bubbling.
The design does not pass certain consumer's standards.
7. Intex Octagon Portable Hot Tub
In this Intex inflatable hot tub reviews, nothing features both jet and massage spa at the same time yet. This product would be the first one, and it is for this obvious reason, as well as the product's quality and dependability, that puts it here.
What Did Customers Have To Say:
Customers with positive reviews loved the ease of setting up this hot tub, as well as in using the controls. They particularly adore the air bubbles that are very strong yet comforting.
This hot tub combines the power of 120 bubble jets and 4 massages jets that provide users with an intense yet relaxing hot tub bath.
It can sit a maximum of 4 people.
The water temperature can be adjusted between 68- 104 degrees
Comes with excellent features like the hard-water system, salt-water sanitation system, and filtration system.
Some customers experienced troubles with water leaking from the tub.
Quick Tips for Would-be Buyers
To help you pick from our list, or any other product on the market, here are some quick tips that enumerate the essential things to consider before any purchase is made.
Pick a size based on the number of users.
Before splashing out your money on a hot tub, do a headcount of the people who will use it. Typically, tubs can hold 2 to 8 people on it, so it may be wiser to opt for the bigger one to make sure everybody fits.
However, make sure that you're ready for the increased water and electricity bill as a larger size bathtub will require more water and more time to be heated.
Check your available space and the leveling of the area.
If you consider using your hot tubs indoors, be sure to have an approximate idea of how large the available space is so that it won't cramp out.
It could be the lawn, patio or the extra bathroom space. Along with the needed space, be sure that the area is flat and levelled to reduce the chance of damage to your above ground pool.
Make the plug socket readily accessible.
Just like any home appliance, inflatable hot tubs should be plugged straight into a socket to make it work. Oftentimes, there is no special wiring needed, so all you have to ensure is its close proximity to the socket. Be sure that the wires are not dangled or stepped upon for safety.
Your new hot tub should meet your desired temperature.
Enjoying a fresh hot bath is your main intention for buying a hot tub. Thus, it logical to think that it should satisfy your desired temperature.
Although most hot tubs advertise to reach and keep a certain temperature of up to 104-degree Fahrenheit, not all of them actually do. Look for reliable brands whose products have undergone tests that deliver both the power and heating capacity you yearn.
Check the tub's energy consumption.
Hot tubs have varying heating requirements, but you can easily tell from its size how large this can be. Basically, the larger the tub, the higher the energy and maintenance costs. In this case, a tub timer can be of utmost importance.
Choose one with the best cover.
A cover may be secondary to your concerns, but it is essential to help prevent heat loss when the tub is not in use. The best inflatable hot tub should contain a good thermal element and child-proof straps as a safety feature.
Your budget matters.
Hot tubs with added features like a salt-water system are understandably costlier than the medium models. Decide which features and size you need and opt for the one you are willing to spend money on.
Conclusion
Among all great hot tubs listed in this Intex Hot Tub Reviews, our best choice is Intex Octagon Portable Hot Tub. It is an ultimate combination of jet and bubble hot tub whose quality and functionality are adored by many verified purchasers.
The product contains the extraordinary features of a premium spa's 120 soothing bubble jets, high-performing massage jets, hard-water treatment system, salt-water sanitation system, and filtration system. All these can be attained in this very cost-efficient deal.
Not sure if our recommendation fits your needs? Leave us a comment below, and we'll reply to your query at the earliest. Thanks for reading!