Intex Inflatable Hot Tub is among the most trusted and innovative brands worldwide that are recognized for its exceptional merchandise. With its inflatable and portable products, you can provide your family and friends with the joy of plunging into a bubble massage spa without having to break the bank. The products are also designed for comfort and safety, so you rest assured that your kids are in good hands.
This article is dedicated for those who are deciding to purchase the best portable hot tubs currently available on the market. Also provided are quick tips on how you can best maximize this home accessory.
Top 6 Intex Inflatable Hot Tubs Reviews
1.  Intex PureSpa Bubble Massage Hot Tub in 85 Inches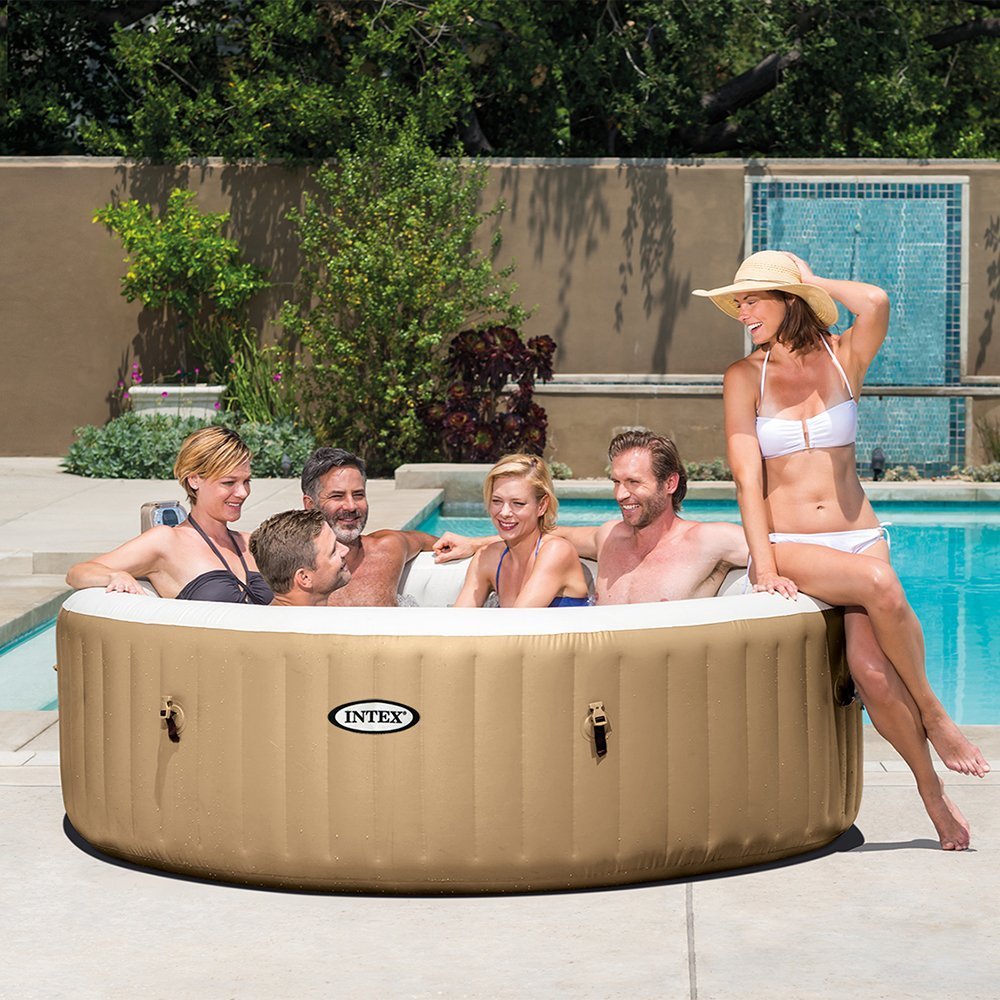 Intex is a popular hot tub and inflatable pool brands. One of the reasons is the products' portability. Just like all the other bubble massage hot tubs by Intex, this 85-inches version of their PureSpa portable bubble massage hot tub spa set is buyers' favorite.
What Did Customers Have to Say?
With a bigger size, 4 adults can comfortably sit inside the tub, which users really like. The compact design allows you to transport this tub easily on your yard. But to top it all, its excellent technology that softens the water is one thing that a lot of Intex hot tubs reviews rave about.
Seats 4 adults (6 people if petite)
140 high-powered bubble jets
Can withstand 68 to 104 degrees Fahrenheit
The spa is insulated
Has its own filtration system using cartridge filters
Has a hard water system
Made from premium polyester fibers
The environment temperature must be below 50 degrees Fahrenheit minimum for it to reach its maximum water temperature.
Heater needs constant maintenance to last long
Intex 85in PureSpa Portable Bubble Massage Spa Set Set-Up & Review
2.  Intex PureSpa Bubble Massage Hot Tub in 77 Inches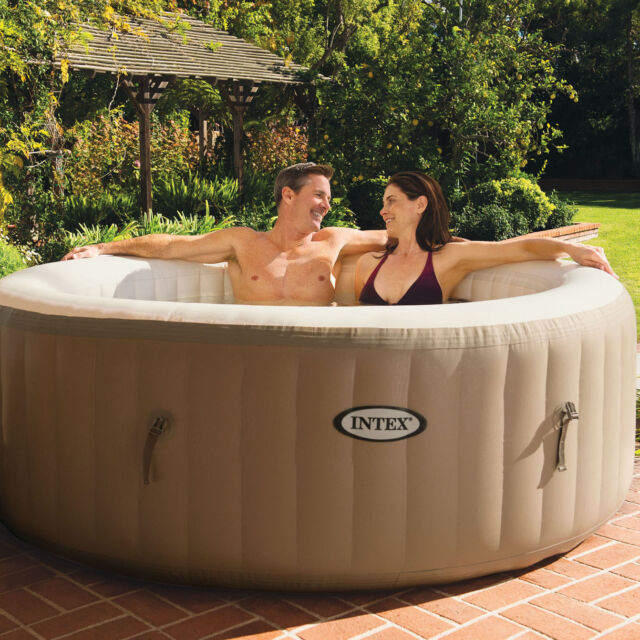 Another popular hot tub spa by Intex is the 77-inches version. This is a bit smaller in size, but it has all the positive features that you can find it is sister model.
Besides its smaller size, this also has a lower jet power as compared to the 85 inches model. It has a total of 120 high-powered bubble jets. But no worries, this number is more than enough for you to feel the gentle bubble massage all throughout your body.
What Did Customers Have to Say?
Users of this hot tub love its gentle yet satisfying bubble massage. The size maybe smaller but many think that its performance is topnotch.
The best Intex hot tub for 2 people.
Has a total of 120 bubble jets
Can withstand temperature of 68 to 104 degrees Fahrenheit
Comes with insulated cover and lock
Uses cartridge filters
Has its own filtration system
Only holds 210 gallons of water
Not suitable for big families
Intex 77 inch PureSpa Portable Bubble Massage Spa Set Unboxing Assembly, Set-Up and Full Review
3.  IntexPureSpa 28409E Heated Bubble Massage Hot Tub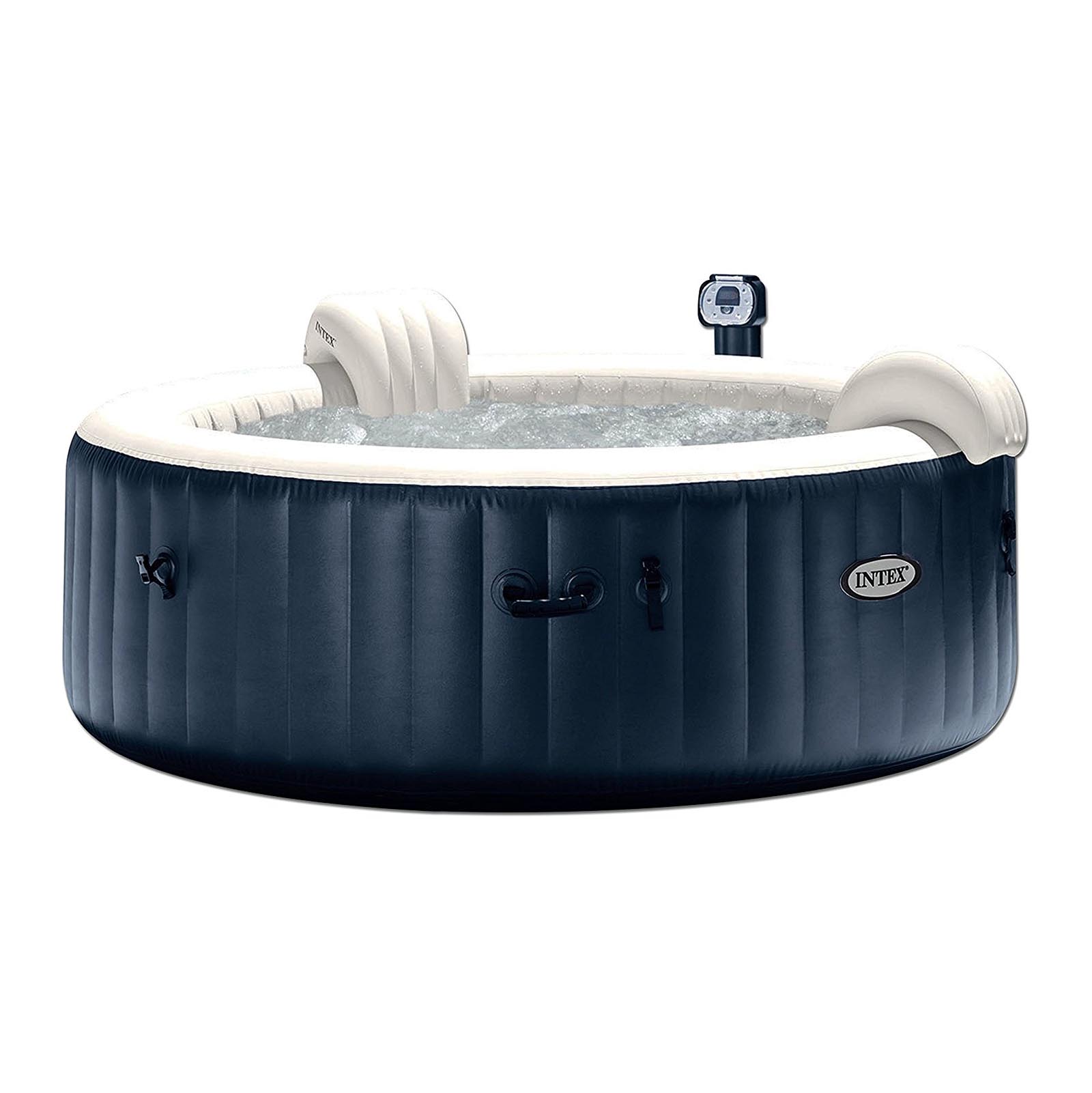 If you fancy a more technologically advanced Intex 6-person hot tub, then we highly recommend this 6-person heated bubble massage hot tub.
But what sets this apart from the PureSpa 85 inches version is the added features that include LED lighting system and comfortable headrests.
What Did Customers Have to Say?
A lot of IntexPurespa reviews cited this as one of the best-value Intex hot tubs. Many love the fact that it has the perfect size and is equipped with all features you would ever need for a relaxing soak.
Has easy to control panels
Hot tub is ready after just 20 minutes
Can be quickly deflated and folded for easy storage
The two headrests allow you
With insulated cover to retain the heat
Suitable for temperatures between 68 to 104-degree Fahrenheit
Has its own hard water filtration system with cartridge filters
Equipped with LED lighting system
Easy to get leak
Produces noise when in use
Intex Pure Spa 6-Person Inflatable Portable Heated Bubble Hot Tub Review
4.  IntexPureSpa Bubble Jet Spa Massage Octagonal Hot Tub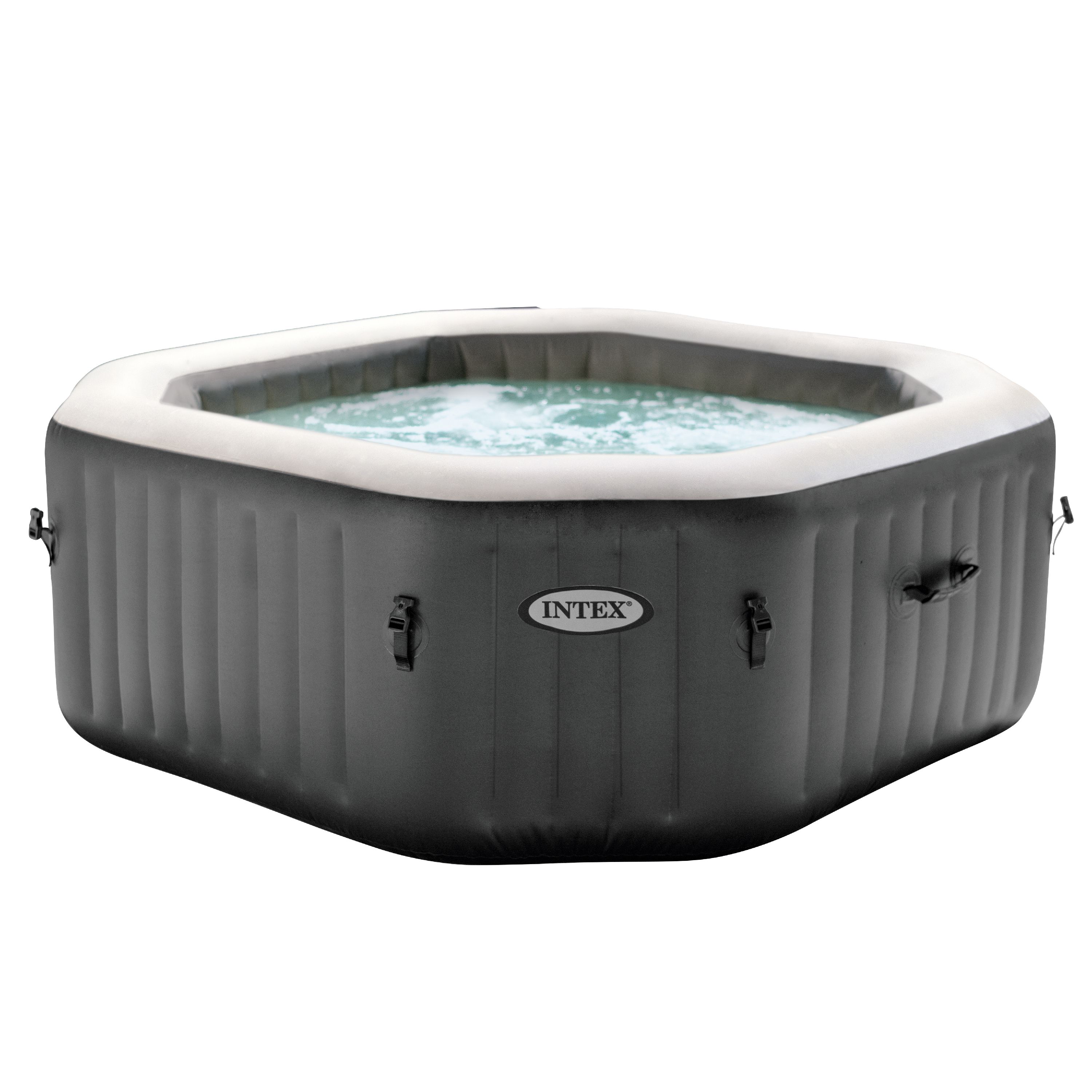 If a round shape hot tub is not your cup of tea, and you seek something with a different look, then perhaps this octagonal hot tub from Intex suits your needs.
In many Intex inflatable hot tub reviews, this one also received a great deal of praises from buyers. Its fiber-tech construction and puncture resistant material are a proof of its durability. Moreover, this hot tub also allows you to adjust and turn on/off some features through its control button.
What Did Customers Have to Say?
A lot of those who have actually bought this hot tub commented how they'd wish the tub is available in a much larger size. In terms of performance, they have nothing to say but praises for this one.
A perfect Intex hot tub for 4 people
With 120 high-powered bubble jets
The octagonal shape complements a more modern and luxurious feel.
Has built-in hard water treatment system
Includes insulated cover and lock which minimizes heat lose
An excellent heat control adjustment setting
Not available in some states
A bit pricey
5.  Intex PureSpa Bubble Jet Spa Greywood Deluxe Hot Tub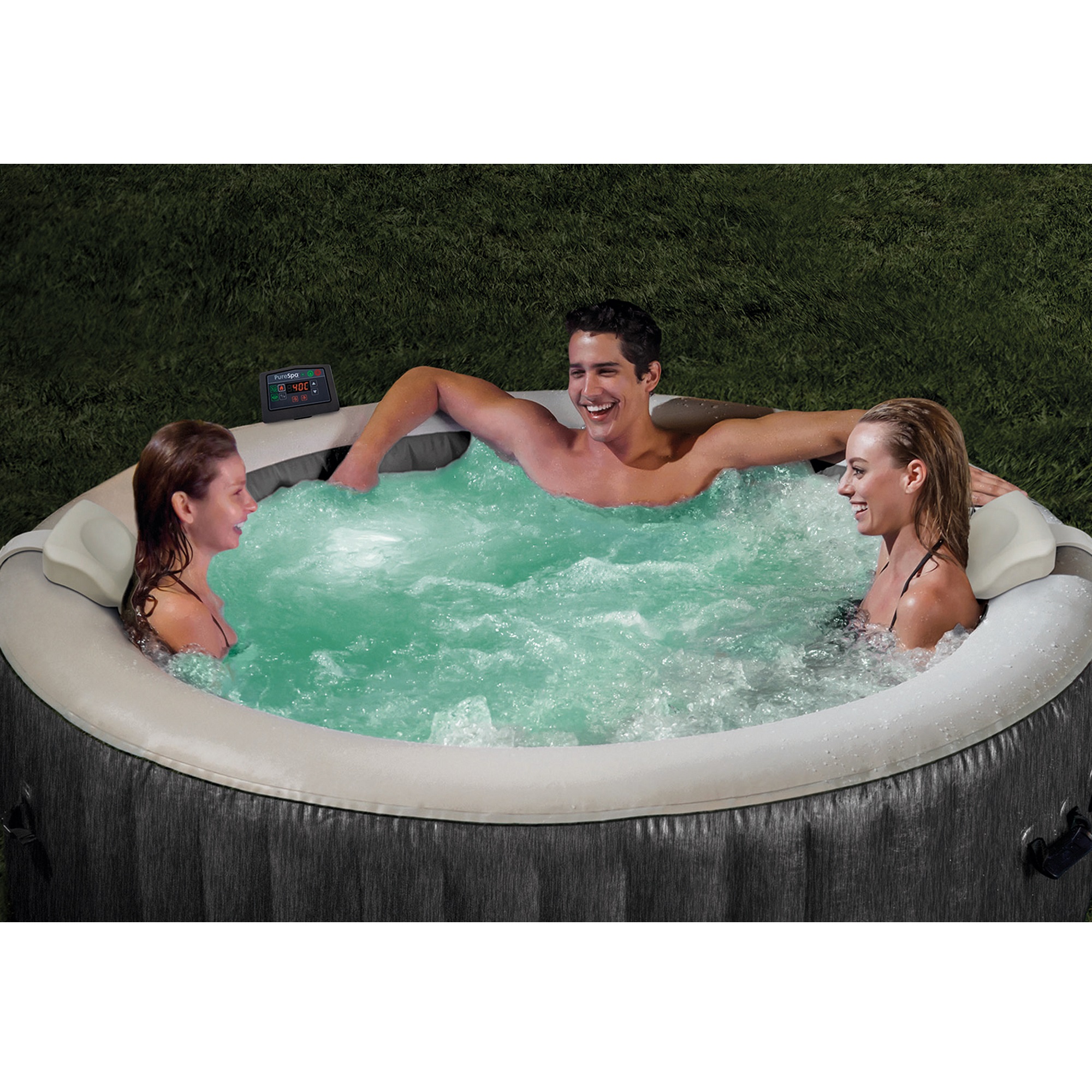 Last on our list is the IntexPureSpa Greywood Deluxe. This is advertised as a 6-person hot tub spa and is also packed with many amazing features.
Portability, power, efficiency, and design are what makes this hot tub model popular in many Intext portable hot tub reviews.
What Did Customers Have to Say?
People particularly love it for its smooth and soothing bubble massage jets. To top it all, it also boasts a good LED lighting system. "A perfect buy" is what they say.
Has its own hard water treatment system
Uses cartridge filters to ensure the water is well sanitized
Equipped with 170 high-power bubble jets
The best Intex hot tub for pampering and ultimate relaxation
Has an LED lighting system
Durable and offers satisfying water bubble massage
Doesn't actually accommodate 6 people when in a sitting position
6.  Intex 140 Octagonal Bubble Jets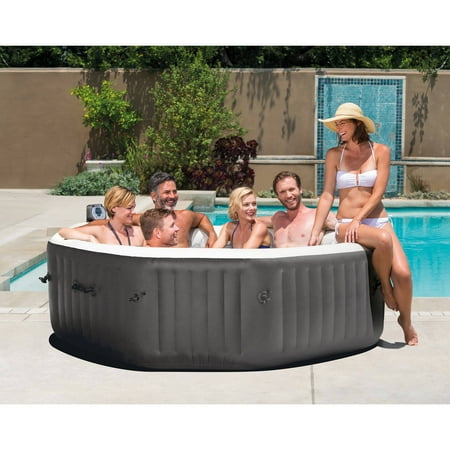 Another 6-seater bubble tub on the list is this octagonal hot tub that lets out 140 bubble jets. it is guaranteed comfortable and durable due to its fiber-tech construction and puncture-resistant material.
What Did Customers Have To Say:
Many customers enjoyed their experience with the product. In particular, they commend its sturdiness that's unbeatable for its price.
It has an easy to install and feature.
The product is among the most cost-efficient 6-seater hot tubs on the market.
It's fiber-tech construction and 3-ply laminated material make it extremely comfortable and durable.
This tub is made operational with just a click.
The full-year warranty didn't seem useful for some verified customers.
Quick Tips for Would-be Buyers
To help you pick from our list, or any other product on the market, here are some quick tips that enumerate the essential things to consider before any purchase is made.
Pick a size based on the number of users.
Before splashing out your money on a hot tub, do a headcount of the people who will use it. Typically, tubs can hold 2 to 8 people on it, so it may be wiser to opt for the bigger one to make sure everybody fits.
However, make sure that you're ready for the increased water and electricity bill as a larger size bathtub will require more water and more time to be heated.
Check your available space and the leveling of the area.
If you consider using your hot tubs indoors, be sure to have an approximate idea of how large the available space is so that it won't cramp out.
It could be the lawn, patio or the extra bathroom space. Along with the needed space, be sure that the area is flat and levelled to reduce the chance of damage to your above ground pool.
Make the plug socket readily accessible.
Just like any home appliance, inflatable hot tubs should be plugged straight into a socket to make it work. Oftentimes, there is no special wiring needed, so all you have to ensure is its close proximity to the socket. Be sure that the wires are not dangled or stepped upon for safety.
Your new hot tub should meet your desired temperature.
Enjoying a fresh hot bath is your main intention for buying a hot tub. Thus, it logical to think that it should satisfy your desired temperature.
Although most hot tubs advertise to reach and keep a certain temperature of up to 104-degree Fahrenheit, not all of them actually do. Look for reliable brands whose products have undergone tests that deliver both the power and heating capacity you yearn.
Check the tub's energy consumption.
Hot tubs have varying heating requirements, but you can easily tell from its size how large this can be. Basically, the larger the tub, the higher the energy and maintenance costs. In this case, a tub timer can be of utmost importance.
Choose one with the best cover.
A cover may be secondary to your concerns, but it is essential to help prevent heat loss when the tub is not in use. The best inflatable hot tub should contain a good thermal element and child-proof straps as a safety feature.
Your budget matters.
Hot tubs with added features like a salt-water system are understandably costlier than the medium models. Decide which features and size you need and opt for the one you are willing to spend money on.
Frequently Asked Questions About Intex Hot Tubs
Why is the spa water not warming up?
There are three things that cause this to happen, namely 1) poor water circulation, 2) heating element fault, and 3) control board problem. So, check these three and identify which one causes the problem.
Also, make sure the ambient temperature is not less than 50 degrees, the heater is set to "flame" and the spa is covered properly while heating.
Can I leave the spa water heated all the time?
Well, hot tub is meant to be heated, so technically this works well when it is heated at all times rather than heating it up from cold. If you frequently use your hot tub, then leave it running all the time. Just set it to idle water temperature. 
I turn on the heat but the water does not feel warm coming into the spa.
If you notice that the water flows smoothly, then the reason could be a fault heating element. Check the hot tub's thermostat and make sure that your hot tub also has enough water to be heated.
Can I leave my INTEX spa outside in the winter?
No. Well, not unless you want your hot tub to be damaged by extremely low temperatures.
There is a thing called "winterizing" hot tub, which means draining all the water out and preventing snow and water to cause rust and corrosion inside the tub's system. 
Can the heating system be activated separately without filtration function?
No. The two parts work hand-in-hand. The heater only works when there is water pump through the heating element. 
How long will it take to warm the spa water?
It depends actually, and this is what you have to consider when buying a hot tub. Of course, you would want an Intex hot tub that can heat up the water in the shortest time. Some models only takes 20 to 30 minutes to get heated. 
How often should the spa water be changed?
It is advisable to change your hot tub water every 2 months, but if it gets cloudy, please do change immediately. 
How often should I clean and change the filter cartridge?
Maintenance is very important and experts suggest you clean the filters once per week. Changing it, however, should be done when needed. 
Can I fill the spa with hot water?
It is possible to fill the tub with heated water. The hot tub itself is designed to withstand hot temperature, but make sure to check your tub's manual to see its temperature level limitations. 
Can or should I add chemicals into my spa water, and how do I do it?
Yes, you can. You may use hot tub sanitizers and testing kits to constantly check the water chemistry of your hot tub. However, please follow the stated instructions to avoid damaging the hot tub.
It is also best to dissolve the chemicals in separate bucket with hot tub water then pouring it gently into the tub.
Read more: https://www.intexdevelopment.com/support/faqlist?catkey=1061#collapse0
Conclusion
Among all great hot tubs listed in this Intex Hot Tub Reviews, our best choice is IntexPureSpa 28409E Heated Bubble Massage Hot Tub. It is an ultimate combination of jet and bubble hot tub whose quality and functionality are adored by many verified purchasers.
The product contains the extraordinary features of a premium spa's 120 soothing bubble jets, high-performing massage jets, hard-water treatment system, salt-water sanitation system, and filtration system. All these can be attained in this very cost-efficient deal.
Not sure if our recommendation fits your needs? Leave us a comment below, and we'll reply to your query at the earliest. Thanks for reading!