These days, your best infrared quartz heater has become much safer and is often housed in a cool-to-touch casing that makes it a safer type of heating for when children or pets are around. But what is an infrared quartz heater, how does it work, and more importantly, what great examples are out there? We strive to answer all these questions.
How an Infrared Quartz Heater Works
The best infrared heater works by means of what is known as radiant heating. In other words, it uses infrared waves to directly heat an object. All tangible objects, both living and non-living, are able to absorb and give off infrared heat. Infrared red is a part of the electromagnetic spectrum and has a frequency that we cannot see with the naked eye. The warmer the object is, the more it radiates heat. Quartz heaters work on this principle.  But let's take a closer look.
When it comes to the best infrared fireplace, we have heating elements that are surrounded by a quartz tube. When the heating elements, which may be made from copper or another heat-conducting element, are heated, the quartz tube also heats up. Quartz is able to absorb, and give off, heat very effectively. Once the quartz is heated, it then sends out this radiant heat.
It is an effective means of heating because radiant energy only heats up objects. It does not heat up air. In fact, it passes through the air directly, much like the sun's rays passes through space and air to heat up human beings, animals, and the ground, etc. This means that only something standing directly in the path of these rays are heated. Anything that is standing outside of this field of radiant energy, or standing behind an object, will not feel the effect of the heat. This principle is much like sitting in the shade of a tree – it is cooler because the sun's radiant heat is being deflected by the tree and not reaching you.
The Pros and Cons of an Infrared Quartz Heater
As with anything, even the best infrared quartz heater has pros and cons attached.
First, the pros:
An infrared heater does not give off any pollution and has no toxic by-products. This is because they do not add anything to the air at all. In fact, they do not heat or affect the air in any way, shape, or form.
This type of heater only warms a specific area of your home. It also only heats objects in its vicinity. It also works immediately, as it does not heat the air.
The majority of heaters work on heating the air around it. A room is only warmed up once this warm air has circulated through the entire area. An infrared quartz heater, on the other hand, does not warm the air. Instead, it heats up all objects in the path of the radiant heat that is emitted by the quartz crystal element. This means you feel the heat immediately.
These heaters are silent because they have no moving parts such as a fan that is found in most conventional heaters. This makes them silent yet effective.
Now for the cons:
Heat stops when turned off
Because these heaters have no effect on air temperature itself, the room in which it is used will cool down very quickly.
This type of heater only warms things up in its direct path, as radiant heat travels in a direct line. Anyone sitting outside this path will not feel the benefit.
The heating element of this type of heater gets incredibly hot. Newer quartz infrared heaters, however, these days come with a cool housing unit that is a much safer bet.
Top 9 Infrared Quartz Heater Reviews
1.  Duraflame Portable Infrared Quartz Heater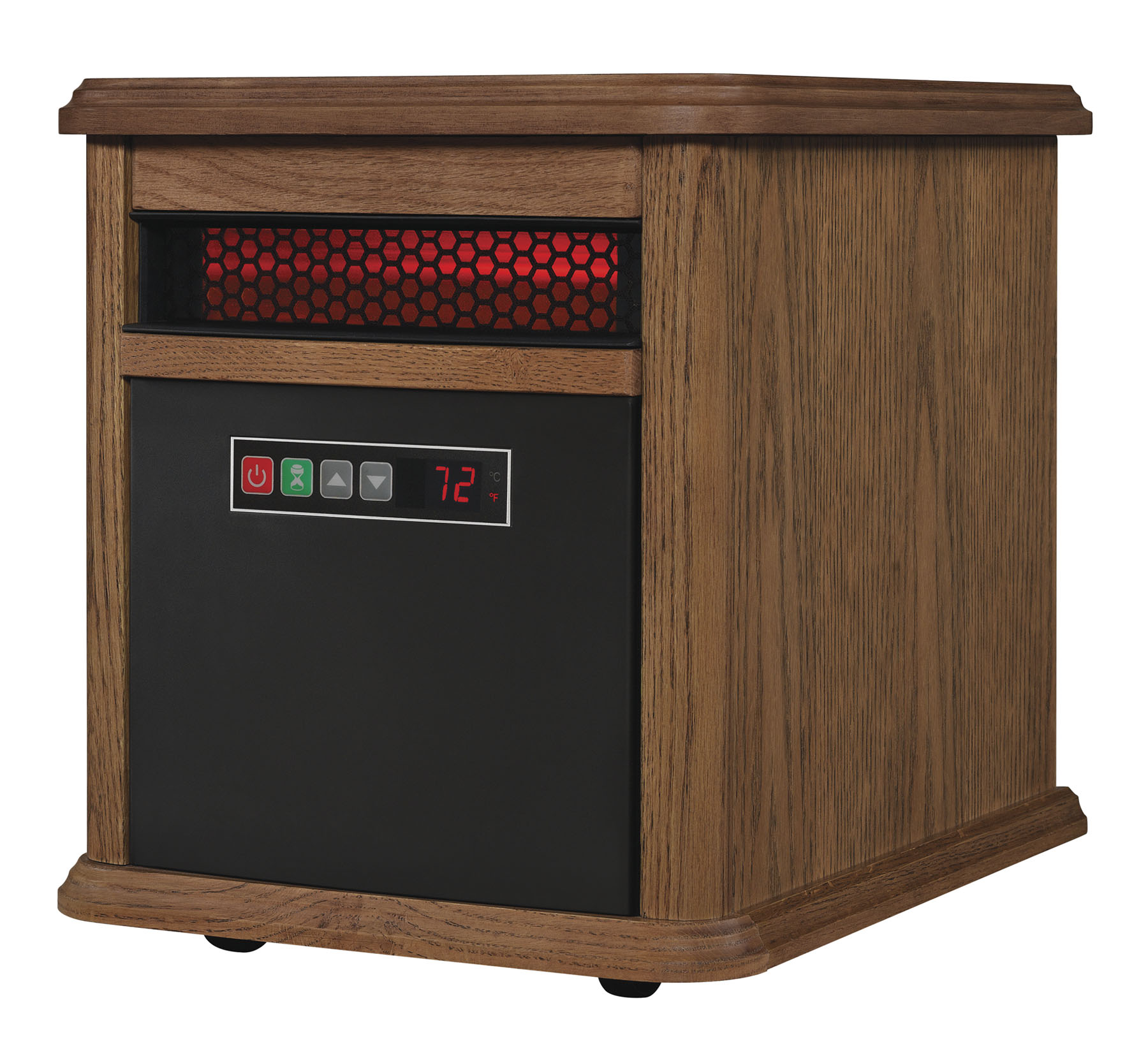 A portable solution for any smaller area, this freestanding heater can be moved to where you want it exactly, helping to maintain your air's natural humidity.
Highlighted features:
The product provides supplemental heating for an area of 1,000 square feet
Helps maintain natural air humidity
Children and pet-friendly
The overheat protection feature instantly shuts off in order to prevent overheating
You determine the desired temperature by means of an adjustable thermostat
Remote control provides for easy control of the unit
2.  LifeSmart LifePro Infrared Quartz Tower Space Heater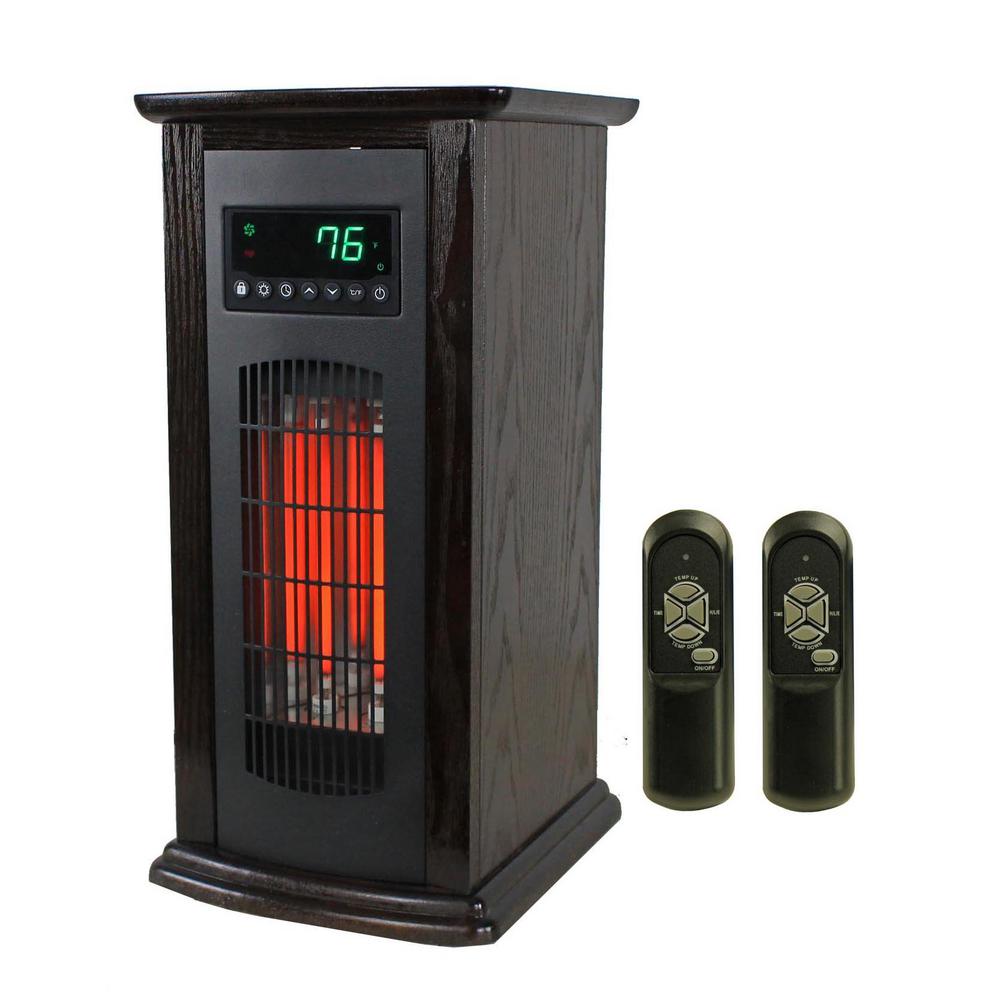 A product that provides even heating from floor to sealing by using infrared technology effectively.
Highlighted features:
Product features an auto shut off heat safety valve
The product cord is six feet in length
Cuts utility costs
Provides a natural warmth without drying out the air
It is an addition to your home's eating system
Incorporates three quartz heating elements and a digital readout and remote control supplying twelve hours of heat
Has an overheat and tip-over safety feature
3.  Plow & Hearth Panoramic Quartz Infrared Stove Heater
This electric stove heater has three clear sides, exposing realistic electric flames from almost every angle.
Highlighted features:
The 3-D open design gives you a great view of open flames
This 5,000 BTU quartz heater has a thermostat control that provides instant, direct warmth
The surface stays cool
Flames can operate independently, i.e. with or without actual heat
The stove is able to heat an area of up to 1,000 square feet
The compact size makes it easy to move around
4.  Duraflame Infrared Quartz Fireplace Stove Heater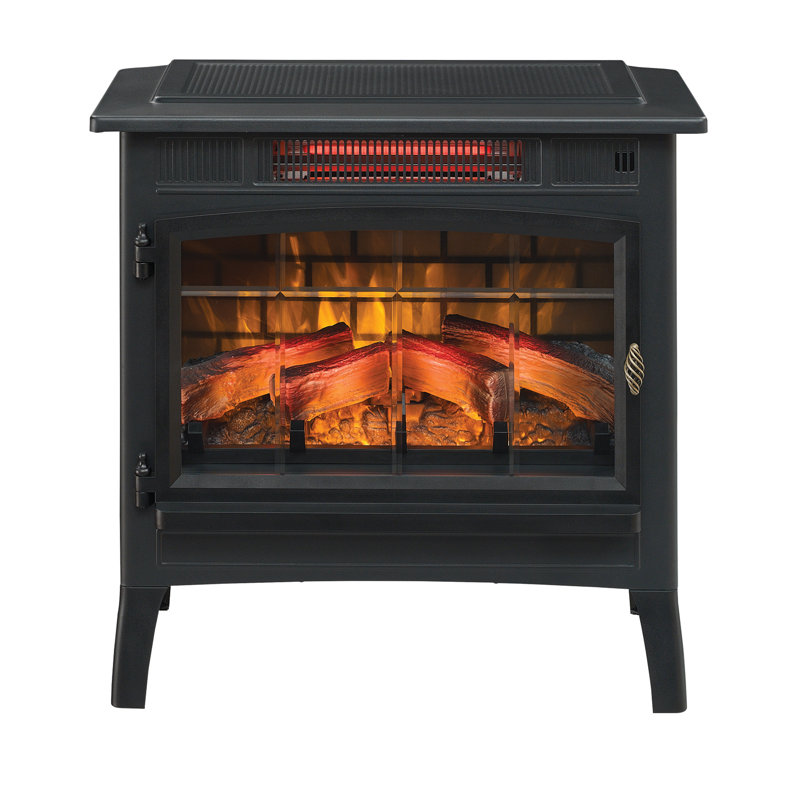 Easy to use, durable, and safe to use around children and pets, this infrared fireplace stove has a design that gives off realistic flames.
Highlighted features:
The 3D flame effect gives realistic, dancing flames behind logs
These flames have 5 adjustable settings regarding color, speed settings, and brightness
Natural air humidity is maintained by the infrared quartz heat
You have control of room temperature by means of the adjustable digital thermostat
Being compact in size, moving around from one to another room is easy
The stove is safe around both children and pets
5.  Lifesmart Infrared Quartz Fireplace for Large Room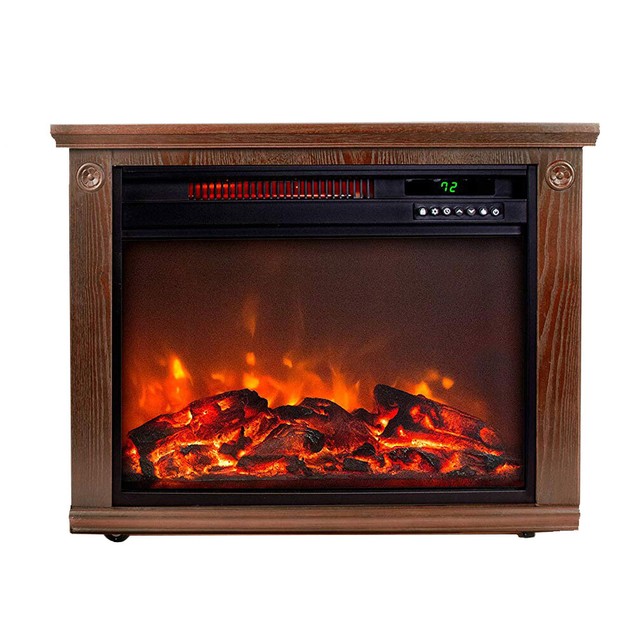 A product that provides great spot heat where and when you need it without the use of vents or any costly installation. The mantle surround is in a beautiful oak finish.
Highlighted features:
The product can be used anywhere in the home
No venting is needed
It sports an oak mantle surround
Heats a leger than average area
A soft, cozy heat is supplied by three commercial grade quartz elements
It still provides realistic flames if you wish even when turning down the heat
The remote control allows you to control the fireplace from quite a distance
The glide casters allow for easy maneuverability
Plugs into a stand wall outlet
6.  XtremepowerUS Infrared Quartz Heater, Humidifier, Plasma Inverter Air purifier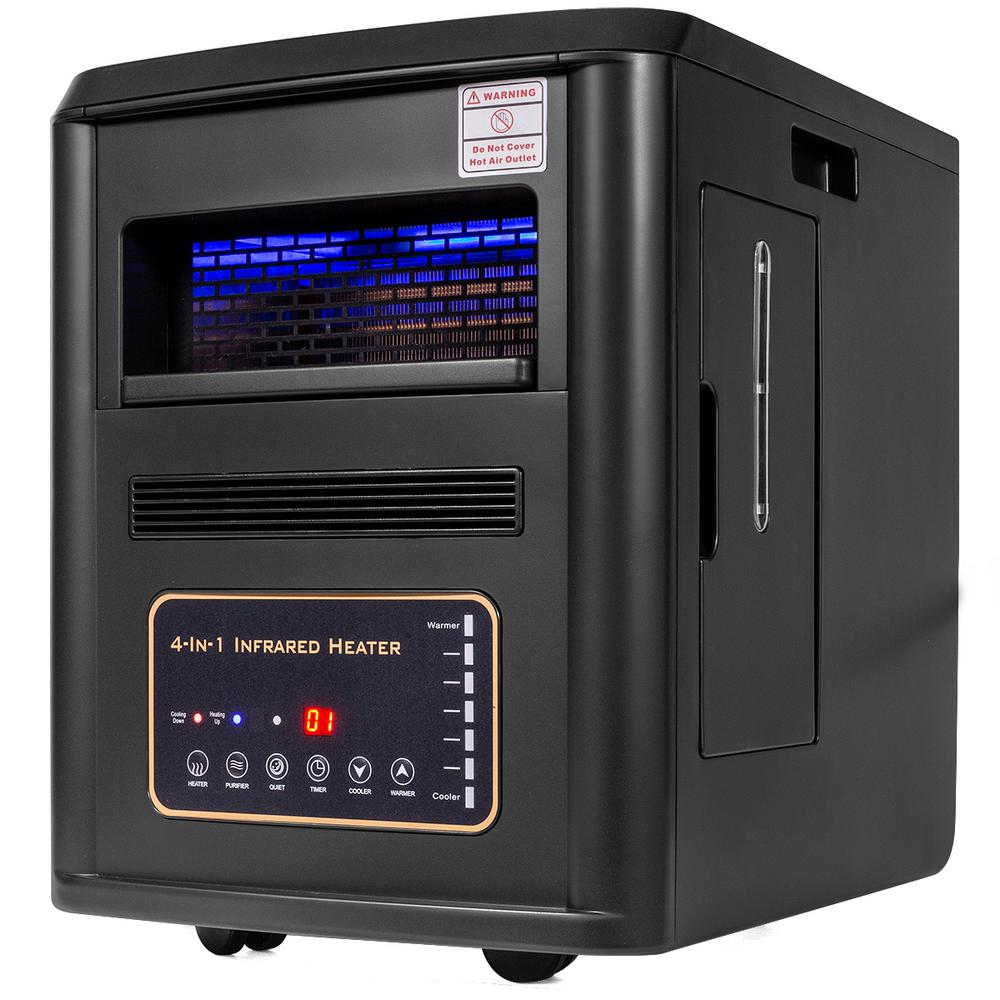 This is an infrared heater with four different applications. It is a heater, a plasma purifier, sterilizer, and humidifier.
Highlighted features:
One unit housing a quartz infrared heater, plasma purifier, sterilizer, and humidifier in one
Provides warmth and comfort in a clean atmosphere
Very low noise level
Comes with an IR remote control
Has an overheat safe cut out tip over switch
The HEPA filter removes up to 99.5% of all air particles
The plasma ION generator attacks airborne pollutants
7.  LifeSmart Wood Cabinet, 6 Element Infrared Quartz Heater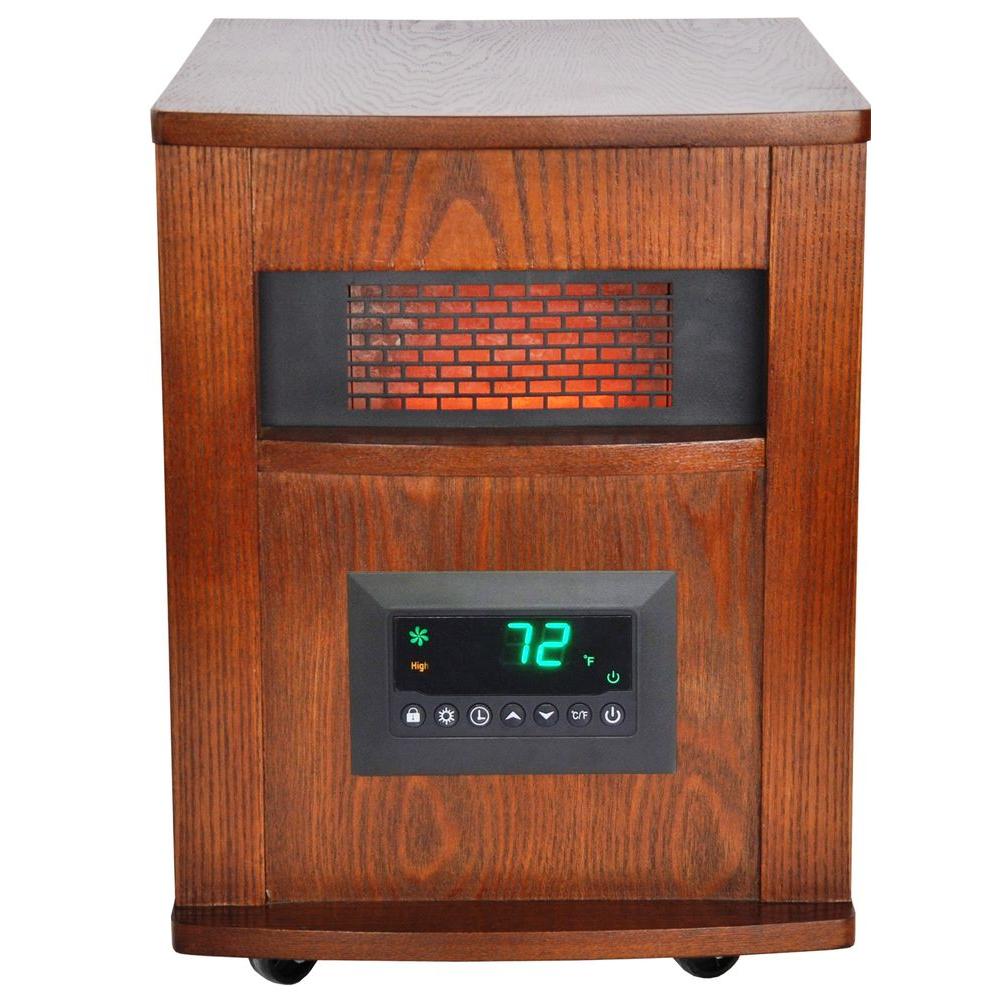 Fitted with three energy savings settings, one of which is an eco setting, this infrared heater is designed to make even a larger room toasty throughout the winter.
Highlighted features:
Six quartz infrared elements wrapped in a metal heat exchanger coil
A washable air filter
Three energy savings settings, including one that is an eco setting for heating of smaller areas
Housed inside a stylish black-fronted wood cabinet that is cool to the touch
Fitted with castors that make moving from one room to another relatively easy
The included remote control allows for easy operation and control settings
A dual timer setting means you can turn the heater on or off 12 hours in advance
8.  Snow Joe Dark Oak Wood, Portable Infrared Quartz Heater
The four quartz heating elements of this product heats up to 150 square meters. The product is also kitted out with an adjustable digital thermostat with a two-speed timer function.
Highlighted features:
Four quartz heating elements
Features temperature sync technology that ensures the heat given off matches that of your thermostat
Remote control allows you to adjust your temperature with the touch of a button
The dark oak finish adds to your home décor
The fitted easy glide castors provide maneuverability while the automatic safety cut-off prevents any overheating
9.  KUPPET Portable Infrared Quartz Heater
This digital quartz infrared heater has an elegant, wooden case with a vintage look.
Highlighted features:
The heater is portable and sports six 1500 Watts high power quartz infrared heaters
Has three copper heat exchangers and a digital thermostat with a 59 to 86 degrees Fahrenheit range
It sports a safety tip-over power cut-off switch and safety temperature overheat cut-off switch
Air is safely filtered by the air inlet's filter screen
The remote control with five different buttons and on/off setting provides ease of control while operating
This is a portable heater with swivel casters that allow you to move it around with ease
It has a 12-hour automatic on and off timer and a backlit LED display
Conclusion
There is no doubt that the pros of an infrared quartz heater outweigh the cons by far. This type of heater is energy efficient, targets a specific area, and with the cool-to-touch encasement of so many of these, pet and child safe. When it comes to picking the best infrared quartz heater from those we reviewed, we decided on the stylish Lifesmart Large Room Infrared Quartz Fireplace in Burnished Oak Finish w/Remote. We loved the beautiful oak finish of this product and the fact that it has the capacity to heat a relatively large area and gives off lifelike flames, even when the heat is turned off. This last bit means you have the overall 'look' of a log fire at any time of the year, without having to necessarily turn on the heat as well.